Art of Boxing Series: Sergio 'The Latin Snake' Mora of East L.A.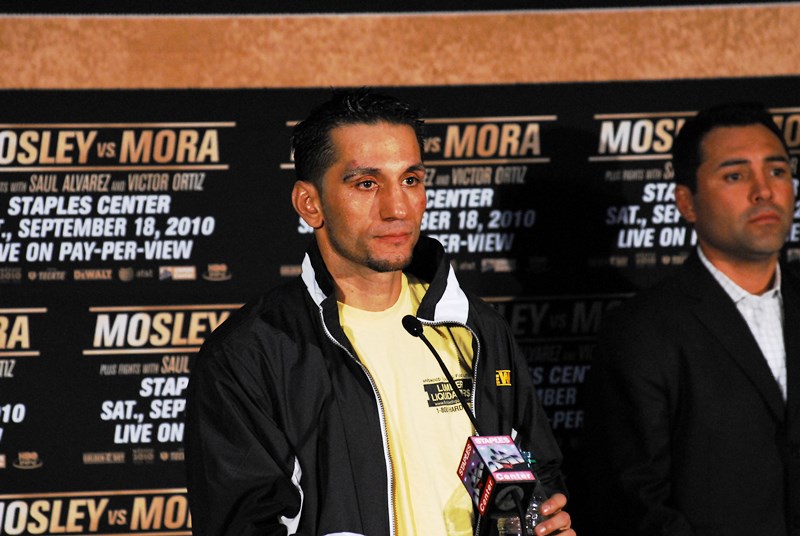 Art of Boxing Series: Sergio 'The Latin Snake' Mora of East L.A.
Not all prizefighters are built or fight the same. This is a series devoted to those who mastered the art of boxing.
Meet Sergio Mora the "Latin Snake".
Thumping neighborhood boys in an East Los Angeles backyard led to eventually winning a reality television tournament called The Contender, to winning a world championship and now sitting as an expert analyst for DAZN's boxing series.
It's been an extraordinary journey for Mora, the boxer from East L.A. who traded punches against neighbors and relatives as a teen for fun.
"We called it barbecue boxing," said Mora of his inauspicious discovery of his talent. "We used to box each other when I was a kid in junior high. We made videos of the fights. You can look it up. I was knocking out older guys."
A few boxing experts advised that he should look deeper into the sport and he did. After a few hits and misses looking for a gym, he found a perfect location at a Montebello gym. He hooked up with a trainer named Dean Campos and advisor in John Montelongo and they made history together.
"I owe it all to Dean and John," said Mora now 39.
But we are getting ahead of ourselves.
Mora's natural abilities included quickness, agility and the ability to absorb punishment. He also relished competition and proving others wrong.
But the East L.A. youngster finally put all of his traits together artistically when he followed the advice of the young trainer Campos whose radical boxing ideas fit perfectly.
"Nobody believed in his unorthodox ideas but they worked for me," said Mora.
For several years Mora and Campos and Montelongo befuddled the amateur competition, first in Southern California and then nationally. He made the semi-finals of the 2000 Olympic Trials and fought to a draw with Darnell Wilson. Somebody decided to determine the winner by who threw the most punches. Wilson threw more punches and moved forward.
It was a severe disappointment for Mora.
The Contender
After three years of dwelling in the amateur boxing world Mora and his team entered the non-structured prizefighting universe not knowing what to expect.
Though Campos taught an unorthodox style of fighting to Mora, the youngster didn't feel confident in using its assets to full capacity in the beginning.
"It wasn't until I fought a guy named Charles Blake that I used everything that Dino (Campos) taught me," said Mora who fought the undefeated Blake at the Arrowhead Pond in Anaheim in 2001. "I did everything he told me and I won pretty easily."
It was also the first time I spotted Mora and quickly determined he would be difficult to beat especially with that fighting style that utilized his speed and agility. I had never seen or heard of Mora before but he stood out.
Two months later he fought again at the Pond and then in June 2001 he fought a hard-charging opponent named Warren "War Dog" Kronberger. It was a middleweight fight set for six rounds but War Dog kept running into Mora's punches and was stopped in three.
After the fight I met the team and discovered Mora was from East L.A. near my family's home. I don't know if he remembers, but I told him he was going to be a world champion someday. It was the first time I ever said that to a fighter though I had been a boxing reporter since 1985.
For the next several years Mora kept knocking off opposition with his crouching tiger style and soon a television production company came calling. Actually, it was a radio announcement during a morning Hip Hop show calling for all boxers interested in making $1 million dollars in a television tournament.
"I was driving in the morning listening to Big Boy when he made the announcement," said Dean Campos who trains Mora. "I couldn't believe what I heard and I told Sergio and John about it. They didn't believe me at first until we went to San Diego to spar somebody and they asked if we were going to try out."
A reality television show called the Contender pit young talented fighters against each other and housed them together in a studio-made home. Week by week the NBC network telecast the show to millions of living rooms across the country.
After months of auditions and tryouts Mora was among those selected.
Filming was done in Pasadena and those prizefighters who participated were Peter Manfredo Jr., Ishe Smith, Alfonso Gomez, Jesse Brinkley and several others including Mora.
The fights were taped and later shown to the public in edited form. But few outside of the production crew knew who the winners were for many weeks. The finals of the first season took place at Caesars Palace in Las Vegas. The winner would take home $1 million dollars and a free truck among other things including a promotion deal.
Fans of boxing did not like watching edited fights but despite the many criticisms from hardcore fans, when the finals took place on May 24, 2005, thousands of fans showed up in Las Vegas to watch Manfredo battle Mora in the championship fight.
Manfredo's fans arrived in droves and shouted "Pi-Ta!" "Pi-Ta" which confused many who were not familiar with the New England accent. Manfredo fans were shouting the first name Peter but it comes out as Pi-Ta. Southern California fans arrived but were muted in comparison to the East Coast fans.
It was a surprise to see Manfredo in the semi-final because he had lost earlier to Alfonso Gomez. But he returned as a wild card participant and vanquished his way to the finals against Mora who had defeated Najai Turpin, Ishe Smith, and Jesse Brinkley to get to the finals.
In the finals the boisterous crowd saw Mora defuse Manfredo's attacks and win the seven-round middleweight The Contender championship fight by unanimous decision. Mora went from unknown boxer to a nationally and internationally recognized prizefighter in not just the boxing world, but households everywhere.
The East L.A. youngster who was 24 years old at the time, suddenly morphed from impoverished boxer to bankable fighter. His team also benefited from the massive exposure. It also remained the same three members from start to finish with Dean Campos serving a trainer and manager, John Montelongo as assistant trainer and benefactor and Mora the fighter.
"Rolando Arrellano who worked as a manager and promoter said he couldn't believe we had been together that long with no changes," said Campos, who managed Mora's fighting career without a written contract. "Nobody else does that, but we never wrote anything down."
Montelongo, a motorcycle police officer, always took care of the team's needs especially in terms of equipment and facilities. In the beginning Mora would train at the Montebello Police headquarters small gym.
Forrest, Mosley and More
For several years Mora continued fighting under the Contender promotions banner and always sought better competition. After a 10-round draw against Elvin Ayala in Carson, the East L.A. native decided to accept any world title match.
"I didn't want to slip up so I figured let's just go for a big fight," said Mora. "That's when we got the offer for Vernon Forrest, may he rest in peace."
When the fight was announced only two boxing writers picked Mora to win. Those two were the only journalists familiar with the boxing abilities of the stance switching fighter. It was not seen as a competitive fight by other writers or announcers.
"Vernon Forrest really under-estimated me," said Mora who had sparred Forrest once at the Wild Card Gym in Hollywood years earlier. "It was my one of my most satisfying wins because I proved I was good enough to beat one of the best."
Mora utilized his crouching style to perfection and basically stymied most of Forrest's attacks. Though it appeared the East L.A. boxer won clearly, one judge saw it a draw but two saw Mora out-performing the champion.
After capturing the WBC super welterweight title Mora went on a celebration binge according to his own words. Three months later they fought again.
"We had a rematch clause and I partied too much," said Mora. "I was in no way ready for Vernon Forrest in the second fight. He beat me good in the rematch."
Two years later Mora accepted a fight against Sugar Shane Mosley at the Staples Center on September 2010. It remains the biggest disappointment in Mora's career.
Mosley and Mora battled 12 rounds in a slow-moving battle in which both engaged in counter-punching. There was a weight problem Mora suffered that resulted in him weighing 157 pounds instead of the 154 contracted weight.
"There was something wrong with the scale in the hotel for the B side of the fight card," said Mora. "Almost everyone on the B-side missed their weight."
Regardless of losing weight before the fight, Mora felt he was far enough ahead in the fight to win handily against Mosley.
"I should have listened to my corner," said Mora. "Dino told me that I needed to throw more punches, that it could be a close fight. But I thought I was comfortably ahead. It was a huge mistake on my part. I lost a lot of money because of it."
After 12 rounds the fight was scored a split-decision draw. The HBO commentators eviscerated Mora and not Mosley.
Mora remained a viable contender for the remainder of his career and on August 2015 he was offered a shot at the WBA middleweight title against Daniel Jacobs at Brooklyn, New York. He eagerly accepted the fight.
"He really underestimated me and thought he would run over me," said Mora of their clash at Barclays Center. "He knocked me down with a punch. I've never been hit that hard before. But then I knocked him down when he ran into my punch. It was a perfectly placed left hook."
The fight proceeded but in the second round the two middleweights got entangled and Mora went down to the floor writhing in pain from a severe ankle injury. He could not go on.
"Jacobs leaned on me with his full body and it just tore my ligament," said Mora.
The fight was ruled a knockout win for Jacobs and though they would meet again Mora's leg had seen better days. He lost in the rematch badly a year later by technical knockout in the seventh round.
"I had no legs anymore," said Mora regarding the rematch held a year later. "It was my worst training camp. I don't think I ever looked good even in sparring. But Jacobs was the better man and was definitely the hardest puncher I ever faced."
Mora fought once more against his old pal Alfredo "El Perro" Angulo. They had sparred many times over the years especially when they both trained at the same gyms in South El Monte and in Montebello.
"I love Angulo but it was a fight," said Mora. "I won the first half of the fight and he won the second half of the fight. But fans will tell you it was one of the most entertaining fights I've ever been in."
Mora won the fight that night on April 2018 and it was the final time Mora entered the prize ring.
DAZN
One day Mora received an unlisted phone call and answering it led to another change in his boxing life.
"I never answer unknown numbers but for some reason I answered it. I'm glad I did," said Mora.
That phone call was from John Learing of Perform Group who wanted him as an analyst for the DAZN boxing series. They put Mora on a live broadcast for a prize fight and ever since that night he has been a regular analyst on DAZN's boxing shows.
"It's been one of the most satisfying experiences I've ever had," said Mora. "Not only do I get to stay in boxing, I love what I do and I love the challenges. It's hard work and I'm learning every day."
Mora has steadily established himself as an acute analyst whose own ring intelligence plays out with his new work as a boxing journalist. He's always been a quick study especially when it pertains to the sweet science.
"Now I'm learning the other side of boxing," said Mora who had 36 pro bouts in an 18-year career as a prizefighter. "I really love it."
Few would have predicted that the East L.A. kid who didn't pack a big punch would last in this business. Instead, Mora mastered the art of boxing that allowed him to match blows against some of the best that ever fought. And he won.
Photos credit: Al Applerose
Check out more boxing news on video at The Boxing Channel 
To comment on this story in The Fight Forum CLICK HERE
Mercito Gesta Victorious Over Jojo Diaz at the Long Beach Pyramid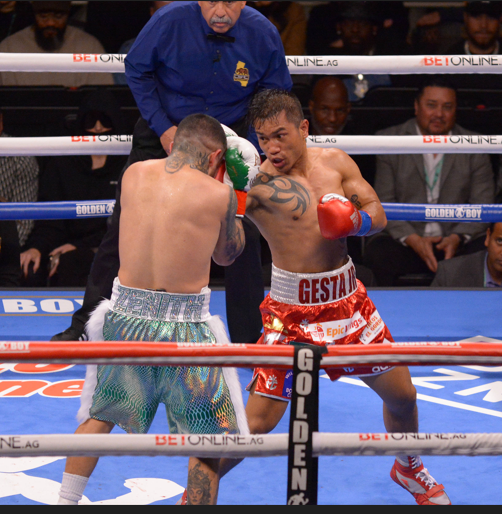 LONG BEACH, CA.-Those in the know knew Mercito Gesta and Jojo Diaz would be a fight to watch and they delivered.
Gesta emerged the winner in a super lightweight clash between southpaws that saw the judges favor his busier style over Diaz's body attack and bigger shots and win by split decision on Saturday.
Despite losing the main event because the star was overweight, Gesta (34-3-3, 17 KOs) used an outside method of tactic to edge past former world champion Diaz (32-4-1, 15 KOs) in front of more than 5,000 fans at the Pyramid.
The speedy Gesta opened up the fight with combination punching up and down against the peek-a-boo style of Diaz. For the first two rounds the San Diego fighter overwhelmed Diaz though none of the blows were impactful.
In the third round Diaz finally began unloading his own combinations and displaying the fast hands that helped him win world titles in two divisions. Gesta seemed stunned by the blows, but his chin held up. The counter right hook was Diaz's best weapon and snapped Gesta's head back several times.
Gesta regained control in the fifth round after absorbing big blows from Diaz. He seemed to get angry that he was hurt and opened up with even more blows to send Diaz backpedaling.
Diaz targeted his attack to Gesta's body and that seemed to slow down Gesta. But only for a round.
From the seventh until the 10th each fighter tried to impose their style with Gesta opening up with fast flurries and Diaz using right hooks to connect with solid shots. They continued their method of attack until the final bell. All that mattered was what the judges preferred.
After 10 rounds one judge saw Diaz the winner 97-93 but two others saw Gesta the winner 99-91, 98-92. It was a close and interesting fight.
"I was expecting nothing. I was the victor in this fight and we gave a good fight," said Gesta. "It's not an easy fight and Jojo gave his best."
Diaz was surprised by the outcome but accepted the verdict.
Everything was going good. I thought I was landing good body shots," said Diaz. "I was pretty comfortable."
Other Bouts
Mexico's Oscar Duarte (25-1-1, 20 KOs) knocked out Chicago's Alex Martin (18-5, 6 KOs) with a counter right hand after dropping him earlier in the fourth round. The super lightweight fight was stopped at 1:14 of the round.
A battle between undefeated super welterweights saw Florida's Eric Tudor (8-0, 6 KOs) emerge the winner by unanimous decision after eight rounds versus Oakland's Damoni Cato-Cain.
The taller Tudor showed polished skill and was not bothered by a large cut on his forehead caused by an accidental clash of heads. He used his jab and lead rights to defuse the attacks of the quick-fisted southpaw Cato-Cain. The judges scored the fight 80-72 and 78-74 twice for Tudor.
San Diego's Jorge Chavez (5-0, 4 KOs) needed less than one round to figure out Nicaragua's Bryan Perez (12-17-1, 11 KOs) and send him into dreamland with a three-punch combination. No need to count as referee Ray Corona waved the fight over. Perez shot a vicious right followed by another right and then a see-you-later left hook at 3.00 of the first round of the super featherweight match.
Photo credit: Al Applerose
Jojo Diaz's Slump Continues; Mercito Gesta Prevails on a Split Decision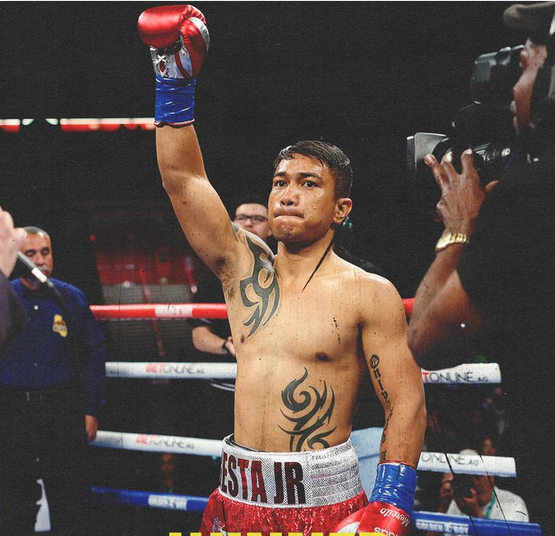 At age 30, Jojo Diaz's career is on the skids. The 2012 U.S. Olympian, a former world title holder at 126 and 130 pounds and an interim title holder at 135, Diaz suffered his third straight loss tonight, upset by Mercito Gesta who won a split decision at the Walter Pyramid in Long Beach, CA.. The scoring was strange with Gesta winning nine of the 10 rounds on one of the cards and only three rounds on another. The tie-breaker, as it were, was a 98-92 tally for Gesta and even that didn't capture the flavor of what was a closely-contested fight.
Originally listed as a 12-rounder, the match was reduced to 10 and that, it turned out, did Diaz no favors. However, it's hard to feel sorry for the former Olympian as he came in overweight once again, having lost his 130-pound title on the scales in February of 2021.
Diaz also has issues outside the ropes. Best elucidated by prominent boxing writer Jake Donovan, they include a cluster of legal problems stemming from an arrest for drunk driving on Feb. 27 in the LA suburb of Claremont.
With the defeat, Diaz's ledger declined to 32-4-1. His prior losses came at the hands of Gary Russell Jr, Devin Haney, and William Zepeda, boxers who are collectively 83-2. Mercito Gesta, a 35-year-old San Diego-based Filipino, improved to 34-3-3.
Co-Feature
Chihuahua, Mexico super lightweight Oscar Duarte has now won nine straight inside the distance after stopping 33-year-old Chicago southpaw Alex Martin in the eighth frame. Duarte, the busier fighter, had Martin on the deck twice in round eight before the fight was waived off.
Duarte improved to 25-1-1 (20). Martin, who reportedly won six national titles as an amateur and was once looked upon as a promising prospect, declined to 18-5.
Other Bouts of Note
New Golden Boy signee Eric Tudor, a 21-year-old super welterweight from Fort Lauderdale, overcame a bad laceration over his right eye, the result of an accidental clash of heads in round four, to stay unbeaten, advancing to 8-0 (6) with a hard-fought unanimous 8-round decision over Oakland's Damoni Cato-Cain. The judges had it 80-72 and 78-74 twice. It was the first pro loss for Cato-Cain (7-1-1) who had his first five fights in Tijuana.
In the DAZN opener, lanky Hawaian lightweight Dalis Kaleiopu went the distance for the first time in his young career, improving to 4-0 (3) with a unanimous decision over 36-year-old Colombian trial horse Jonathan Perez (40-35). The scores were 60-52 across the board. There were no knockdowns, but Perez, who gave up almost six inches in height, had a point deducted for a rabbit punch and another point for deducted for holding.
To comment on this story in the Fight Forum CLICK HERE
'Big Baby' Wins the Battle of Behemoths; TKOs 'Big Daddy' in 6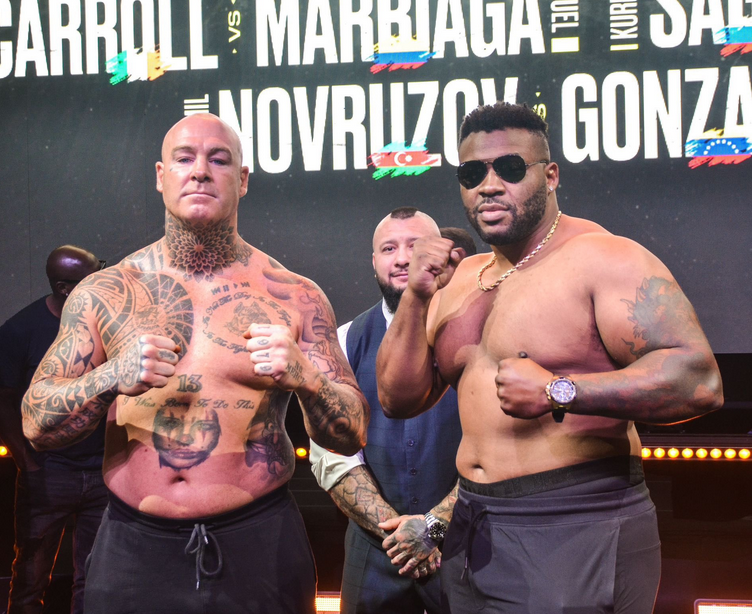 Lucas "Big Daddy" Browne weighed in at a career-high 277 pounds for today's battle in Dubai with Jarrell "Big Baby" Miller, but he was the lighter man by 56 pounds. It figured that one or both would gas out if the bout lasted more than a few stanzas.
It was a war of attrition with both men looking exhausted at times, and when the end came it was Miller, at age 34 the younger man by nine years, who had his hand raised.
Browne was the busier man, but Miller, whose physique invites comparison with a rhinoceros, hardly blinked as he was tattooed with an assortment of punches. He hurt 'Bid Daddy' in round four, but the Aussie held his own in the next frame, perhaps even forging ahead on the cards, but only postponing the inevitable.
In round six, a succession of right hands knocked Browne on the seat of his pants. He beat the count, but another barrage from Miller impelled the referee to intervene. The official time was 2:33. It was the 21st straight win for Miller (26-0-1, 22 KOs). Browne declined to 31-4 and, for his own sake, ought not fight again. All four of his losses have come inside the distance, some brutally.
The consensus of those that caught the livestream was that Floyd Mayweather Jr's commentary was an annoying distraction that marred what was otherwise an entertaining show.
As for what's next for "Big Baby" Miller, that's hard to decipher as he has burned his bridges with the sport's most powerful promoters. One possibility is Mahmoud Charr who, like Miller, has a big gap in his boxing timeline. Now 38 years old, Charr – who has a tenuous claim on a WBA world title (don't we all?) —  has reportedly taken up residence in Dubai.
Other Bouts of Note
In a 10-round cruiserweight affair, Suslan Asbarov, a 30-year-old Russian, advanced to 4-0 (1) with a hard-fought majority decision over Brandon Glanton. The judges had it 98-92, 97-93, and a more reasonable 95-95.
Asbarov was 12-9 in documented amateur fights and 1-0 in a sanctioned bare-knuckle fight, all in Moscow, entering this match. He bears watching, however, as Glanton (18-2) would be a tough out for almost anyone in his weight class. In his previous fight, at Plant City, Florida, Glanton lost a controversial decision to David Light, an undefeated Australian who challenges WBO world title-holder Lawrence Okolie at Manchester, England next week.
A 10-round super featherweight match between former world title challengers Jono Carroll and Miguel Marriaga preceded the semi-windup. Carroll, a 30-year-old Dublin southpaw, overcame a cut over his left eye suffered in the second round to win a wide unanimous decision in a fairly entertaining fight.
It was the sixth straight win for Carroll (24-2-1, 7 KOs) who elevated his game after serving as a sparring partner for Devin Haney. Marriaga, a 36-year-old Colombian, lost for the fourth time in his last five outings, declining to 30-7.
To comment on this story in the Fight Forum CLICK HERE