Noted Boxing Buffs Name Their Favorite Boxing Book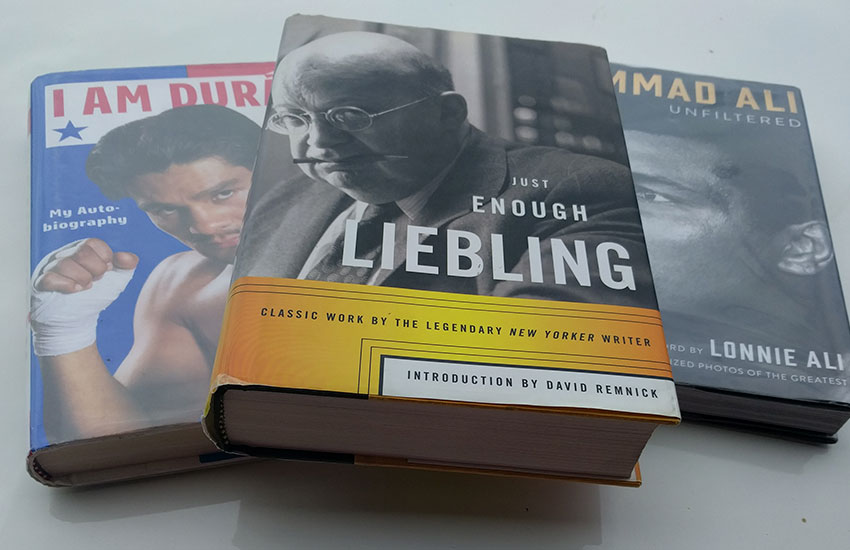 If you happen to have a lot of time on your hands (and, unfortunately, many of us do) this might be a good time to cuddle up with a good book. If you are like us, you promised yourself that you would get acquainted with a particular author, but somehow never found the time. Well, now just may be the right time to fulfill that promise.
And it just so happens that we have a ready-made list of recommendations.
In August of 2017, TSS writer Ted Sares reached out to more than two dozen noted boxing buffs and asked them to name their favorite boxing book. Many felt compelled to name more than one, which was fine with us. We thought this would be a good time to re-visit Ted's survey.
Yes, we know that bookstores and libraries are closed right now throughout most of the English-speaking world, but almost every title can be found on Amazon and some of the classics – even books prized by collectors – can be acquired very cheaply from independent online booksellers who specialize in used books. Their ranks have mushroomed in recent years.
We listed Ted's correspondents alphabetically by their last name. Here are their picks:
JIM AMATO (writer, historian): A.J. Liebling's "The Sweet Science."
RUSS ANBER (elite trainer, corner man, and TV personality): "Joe Louis -Black Hero in White America" by Chris Mead. I remember reading this from cover to cover, unable to put it down. Others: "The Greatest Fight of Our Generation" by Lewis A. Erenberg, "The Sixteenth Round" by Rubin "Hurricane" Carter, "Beyond Glory" by David Margolick.
JOE BRUNO (former New York Tribune sportswriter; author of more than 45 crime-related books, including true crime, novels and screenplays): AJ Liebling's "The Sweet Science."
TRACY CALLIS (eminent boxing historian, writer, and journalist): Seven come quickly to mind. I love to read about boxing so I like almost any book about the game.
"A Man among Men" by Kelly Richard Nicholson
"Chicago's Greatest Sportsman" by Mark T. Dunn
"Hitters, Dancers and Ring Magicians" by Kelly Richard Nicholson
"In the Ring with Bob Fitzsimmons" by Adam Pollack
"In the Ring with James J. Jeffries" by Adam Pollack
"The Choynski Chronicles" by Chris LaForce
"Ultimate Tough Guy" by Jim Carney Jr.
STEVE CANTON (A member of the International Boxing Research Organization, Steve has been involved in every aspect of boxing for more than 52 years): There are so many excellent boxing books. "Only The Ring Was Square" by Teddy Brenner with Barney Nagler was outstanding. "Bummy Davis vs. Murder Inc." by Ron Ross, "Boxing Babylon" by Nigel Collins, just to name a few.
WILLIAM DETLOFF (former amateur boxer, author, editor of Ringside Seat magazine): I'll go with Liebling's "The Sweet Science." Wiley's anthology is certainly up there. It's underrated.
JILL DIAMOND (boxing writer, official, and matchmaker): BOX: "The Face of Boxing" by Holgar Keifel because I love a good photography book. "Four Kings" by George Kimball. In fiction, "The Harder They Fall" by Budd Schulberg. There are so many others.
BERNARD FERNANDEZ (boxing writer and lifetime member of the BWAA): It's a tough call. There are a lot of good ones floating around, but I'll go with John Schulian's "Writers' Fighters and Other Sweet Scientists." But then I'm kind of biased as John, a colleague of mine for a time at the Philadelphia Daily News, is a friend.
IVAN GOLDMAN (ex-Washington Post and LA Times newspaperman, boxing writer, novelist): I humbly submit my novel "The Barfighter" for consideration.
Dr. MARGARET GOODMAN (President of VADA, former Nevada boxing official, neurologist, author): Actually my novel "Death in Vegas" is my favorite book as it tells the truth about the sport via thinly-veiled fiction. Writing it was very cathartic.
LEE GROVES (boxing writer, author): If I had to pick one, it would be "McIlvanney on Boxing" by Hugh McIlvanney. Anytime I want to get a booster shot of excellent, muscular prose, that's what I read. The two A.J. Liebling books "The Sweet Science" and "The Neutral Corner" also provide inspiration.
KEVIN IOLE (Yahoo combat sports writer): I loved "The Fight" by Norman Mailer, which I found to be a well-reported, gripping tale of one of the seminal events of my youth. I also loved "Muhammad Ali: His Life and Times" by Thomas Hauser and "Fight of the Century" by Michael Arkush.
MIGUEL ITURRATE (TSS writer and Senior Archivist at The Boxing Channel): I really enjoy the history books, especially biographies. Battling Nelson's autobiography is a good one. I also really enjoyed "Muldoon: The Solid Man of Sport" by Edward Van Every.
Dr. STUART KIRSCHENBAUM (former amateur boxer; co-founder National Association of Boxing Commissioners): "Empire of Deceit" by Dean Allison. It's a fascinating true story of the Wells Fargo Bank embezzlement by boxing promoter Harold Smith. I had dealings with him while I was the head of the boxing commission in Michigan. He promoted several Kronk championship fights. Cast of characters include Muhammad Ali, Thomas Hearns, and a who's who of that era. Only in America and only in boxing… crime does pay.
HAROLD LEDERMAN (famous boxing judge, member of HBO team, and 2016 IBHOF inductee): "All Time Greats Of Boxing" by Peter Arnold is my favorite boxing book because it's a great book.
FRANK LOTIERZO: (TSS writer emeritus): I can't pick a favorite….so I'll give you a few of my favorites that I've read this summer. "In This Corner" by Peter Heller which I read for the third time; "Sugar Ray Robinson" with Dave Anderson, "Joe Louis: The Great Black Hope" by Richard Bak, "Hard Luck: The Triumph and Tragedy of Jerry Quarry" by Steve Springer and Blake Chavez
ARNE LANG (historian, author, editor-in-chief of The Sweet Science): Many years ago I stumbled on a book called "Bella of Blackfriars" in a used book store in Carlsbad, California. Bella was Bella Burge, the widow of Dick Burge, an English middleweight champion who went to prison for eight years in a massive bank fraud. From her husband's death in 1918 until 1940, Bella ran "The Ring," a boxing house in a circular building on Blackfriars Road in London that was originally an Anglican chapel. I would liken "The Ring" to the Olympic Auditorium in LA. It didn't get the biggest fights but housed many important fights and attracted a loyal clientele that included some salty characters. I found the book a great window into the world of boxing in London. By the way, The Ring had fallen on hard times when it was reduced to rubble by the German Luftwaffe in 1940. I never tire of reading A.J. Liebling, whether he's writing about boxing or Louisiana politics or whatever. I read Liebling for pleasure and also in hopes that some of his skill as a wordsmith will rub off on me but it never has.
RON LIPTON (world class referee): I enjoyed "Jersey Boy: The Life and Mob Slaying of Frankie DePaula" and "Dick Tiger: The Life and Times of a Boxing Immortal," both by Adeyinka Makinde, and the Rocky Graziano biography "Somebody Up There Likes Me." Also, anything by Ted Sares, Springs Toledo, Mike Silver, and William Detloff.
GORDON MARINO (philosophy professor, Wall Street Journal boxing writer, trainer): I guess I would go with Carlo Rotella's "Cut Time" and Roger Kahn's "A Flame of Pure Fire: Jack Dempsey and the Roaring 20's."
ROBERT MLADINICH (former NYPD police detective, author, boxing writer): "Writers, Fighters and Other Sweet Scientists" by John Schulian. It is a collection of his columns from the Chicago Sun-Times and there is not a weak story in the batch. He is a master storyteller and my favorite boxing writer. I also immensely enjoyed "Beyond Glory: Joe Louis vs. Max Schmeling and a World on the Brink" by David Margolick for its historical and social significance and the underrated but exceptional "Weigh-In: The Selling of a Middleweight" by title challenger Fraser Scott.
TED SARES (TSS writer) Ralph Wiley's "Serenity: A Boxing Memoir." I also enjoyed Mike Silver's "The Arc of Boxing: The Rise and Decline of the Sweet Science" for the primary reason that it stirred up a lot of much needed debate between Old School and New School.
JOHN SCULLY (elite trainer, former world title challenger): My favorite boxing book is one that I believe to be one of the greatest books ever written on the inside of boxing called "The Black Lights" by Thomas Hauser. It was actually sent to me by Mike Jones back in 1988 when he was trying to sign me to a professional contract. He sent me the book I assumed as a way to show me how he deals in the boxing game as it is centered around his fighter, Billy Costello. It is a truly great book.
MIKE SILVER (boxing historian; author): I could easily name at least a dozen truly outstanding boxing books that are my favorites, but if asked to name just one I would place David Margolick's "Beyond Glory Joe Louis vs. Max Schmeling and a World on the Brink" in the top spot. Another all-time favorite is the great Nat Fleischer's "50 Years at Ringside."
CARYN A. TATE (boxing writer) While it encompasses more than boxing, Bruce Lee's "Tao of Jeet Kune Do" is probably my favorite book on combat. The book is filled with priceless instruction that is relevant and insightful. Lee was a great admirer of many Western boxers and incorporated some of their techniques into the martial art he founded. More than just an instruction manual, the book fuses technique with philosophy and real world psychology. The book shows that Lee was on the same page with great minds in boxing like Emanuel Steward and Cus D'Amato.
BRUCE TRAMPLER (Top Rank matchmaker; a member of the International Boxing Hall of Fame): Off the top of my head, "The Professional" by W.C. Heinz, "Fat City" by Leonard Gardner, "A Boxing Companion" by Richard O'Brien, "Only The Ring Was Square," and "James Norris and the Decline of Boxing" by Barney Nagler.
GARY "DIGITAL" WILLIAMS: (boxing writer, blogger and "Master of the Beltway"): I have two. Jack Newfield's "Only in America: The Life and Crimes of Don King" is one of the great investigative books of all time. It was riveting. Also, Brad Berkwitt's "Boxing Interviews of a Lifetime." I love the range of people — in and out of the sport — that he interviews in the book.
PETER WOOD: (former boxer, author): My favorite iconic boxing books are "The Sweet Science" by A.J. Liebling and "The Harder They Fall" by Budd Schulberg. My favorite non-fiction boxing books are "Weigh-In" by Fraser Scott; "In This Corner" by Peter Heller, "Atlas" by Teddy Atlas, and "The Raging Bull" by Joseph Carter and Peter Savage. My favorite fictional boxing books are "My Father's Fighter" by Ronald K. Fried and "The Professional" by W.C. Heinz.
Special Mention goes to "Flash Gordon's 1970 East Coast Boxing Yearbook" with Johnny Bos and Bruce Trampler. My all-time favorite boxing autobiography is "Confessions of a Fighter" by Peter W. Wood.
EDITOR'S NOTE: Several interesting books have been published since Ted Sares conducted this survey. A new publishing house in Boston, Hamilcar Publications, released several boxing books, both hardcover and paperback, with more on the way. One of Hamilcar's initial offerings was a reprint of Donald McRae's 1997 opus "Dark Trade: Lost in Boxing," which many consider one of the best boxing books of all time. The Hamilcar edition, with a new chapter by the author, clocks in at 552 pages.
Each year during the holiday season, Hall of Fame boxing writer Thomas Hauser publishes a list of what he considers the best books on boxing. It's a long list. Here's a recent compilation.
Check out more boxing news on video at The Boxing Channel 
To comment on this story in The Fight Forum CLICK HERE
Boxing's Great Rivalries: Another TSS Trivia Quiz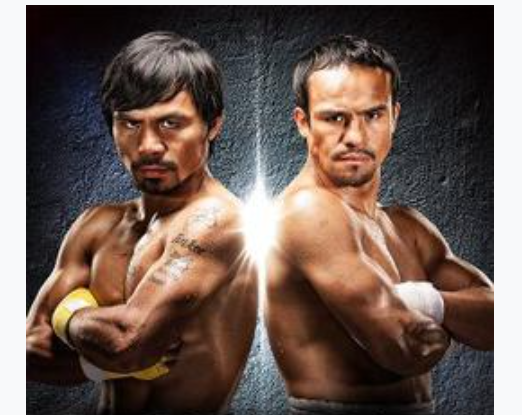 Test your knowledge of boxing history in this 15-question multiple-choice trivia quiz. Get 12 or more right and go to the head of the class.
To find the correct answers you will need to visit the TSS Fight Forum (CLICK HERE). There this quiz will repeat and you will find the answers sitting below the final question.
What was the outcome of the second fight between Muhammad Ali and Joe Frazier?
(a) Muhammad Ali won a 12-round decision.
(b) Joe Frazier won a 12-round decision
(c) Muhammad Ali won a 15-round decision
(d) Joe Frazier won a 15-round decision
2. Sugar Ray Robinson was 1-2-1 vs. this rival including a loss at the Las Vegas Convention Center in their final meeting.
(a) Carmen Basilio
(b) Gene Fullmer
(c) Paul Pender
(d) Carl "Bobo" Olson
3. From Union City, New Jersey, he had six fights with Jack Johnson in 1905 and 1906 and likely many more with "Papa Jack" that haven't yet found their way into the record book.
(a) Klondike Haynes
(b) Joe Jeannette
(c) Sam Langford
(d) Denver Ed Martin
4. The first fight between Sugar Ray Leonard and Roberto Duran was held in the city where Sugar Ray Leonard won his Olympic gold medal. What city?
(a) Tokyo
(b) Montreal
(c) Los Angeles
(d) Mexico City
5. Manny Pacquiao had a memorable four-fight series with Juan Manuel Marquez. What title was at stake in their first encounter?
(a) Bantamweight
(b) Featherweight
(c) Lightweight
(d) Welterweight
6. Carmen Basilio lost, won, and drew, in that order, with this cagey welterweight, best remembered for losing a hotly disputed decision to Kid Gavilan.
(a) Johnny Saxton
(b) Johnny Bratton
(c) Billy Graham
(d) Hedgemon Lewis
7. This great middleweight was 1-4 in five bouts with Gene Tunney. In most record books, his victory in their first encounter is considered the only blemish on Tunney's record.
(a) Stanley Ketchel
(b) Harry Greb
(c) Mickey Walker
(d) Billy Miske
8. He participated in four world championship fights, the last three with archrival Barney Ross.
(a) Fritzie Zivic
(b) Sammy Mandell
(c) Jimmy McLarnin
(d) Tony Canzoneri
9. Sandy Saddler and Willie Pep met four times with the featherweight title on the line. How many of these fights went the full scheduled distance?
(a) none
(b) one
(c) two
(d) three
10. Sugar Ray Robinson and Jake LaMotta fought six times, Robinson winning five. How many of these fights were world title fights?
(a) one
(b) two
(c) three
(d) four
11. Charley Burley won two of three fights with intra-city rival Fritzie Zivic. What city?
(a) Brooklyn
(b) Boston
(c) Philadelphia
(d) Pittsburgh
12. He was 1-2 in three nationally televised fights with Vinny Pazienza.
(a) Greg Haugen
(b) Hector Camacho
(c) Ray "Boom Boom" Mancini
(d) Roger Mayweather
13. He defeated Mike Tyson twice as an amateur, knocking Tyson out of the 1984 Olympic Games, but Tyson had his number when they met as a pro, knocking him out in the opening round.
(a) Marvis Frazier
(b) Tyrell Biggs
(c) Henry Tillman
(d) Mitch "Blood" Green
14. Future Hall of Famers Jack Britton and Ted "Kid" Lewis met an astounding 19 times between 1915 and 1921 with all but two of those engagements packaged as welterweight title fights. Britton was born William J. Breslin. What was the birth name of Ted "Kid" Lewis?
(a) Alfonso Brown
(b) Harry Besterman
(c) Guiseppe Berardinelli
(d) Gershon Mendelhoff
These great Mexican warriors met four times with their second and third encounters named The Ring magazine Fight of the Year.
(a) Ruben OIivares and Jesus "Chucho" Castillo
(b) Carlos Zarate and Daniel Zaragoza
(c) Marco Antonio Barrera and Erik Morales
(d) Israel Vazquez and Rafael Marquez
Want more? Check out our previous boxing trivia tests.
"Sparring with Smokin' Joe" is a Great Look into a Great, Complicated Man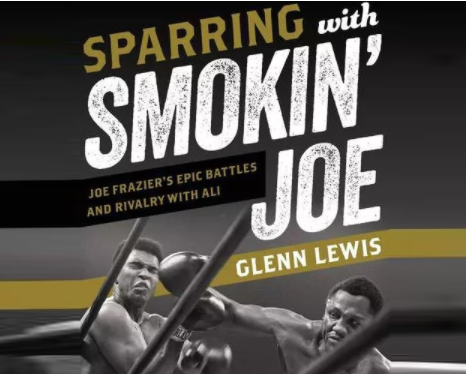 BOOK REVIEW – Some rare moments arrive, as either a blessing or a curse, to cast definitive impressions of how someone might be remembered. As anyone reading this should well know, such a moment occurred 50 years ago today (March 8, 1971) at Madison Square Garden for Joe Frazier and Muhammad Ali.
For Frazier, a punishing 15-round victory became the foundation to his legacy. That leads us to Sparring with Smokin' Joe by Glenn Lewis, the latest biographical volume to focus on Frazier, with a timely release date close to the "Fight of the Century" anniversary that should provide plenty of solid promotional material for the book.
As a piece of literature the book, published by Rowman & Littlefield, stands up quite well on its own, and as a piece of boxing literature it stands out, through previously unpublished situational information on Frazier.
I found it to be a must-read for Frazier fans and a solid plus for most boxing libraries.
Author Lewis is a graduate school professor at the City University of New York (CUNY) and director of journalism at the affiliated York College with decades of expertise on his resume. This project is expertly constructed and reads very smoothly throughout. Beside the many insightful instances regarding Frazier himself, a very thoughtful portrait of his son Marvis Frazier runs through the narrative, which also conjures a vivid depiction of Frazier's Broad Street Gym in North Philadelphia.
The book's unique highlight is the ongoing tale of traveling with Frazier and his all-white band (with multiple Berklee school members) during a tour of southern states.
The first 140 pages or so (out of a listed 256), make up a fascinating memoir of getting to know Frazier and his circle during 1980, around four years after his second crushing defeat to George Foreman. At that point in his life, Frazier was trying to settle into retirement, guide Marvis's culminating amateur career, and transition from boxing superstar to fledgling vocal attraction.
I devoured the opening sections of the book with reader's glee, far more than enough to highly recommend Lewis' book, but toward the end it seemed maybe he should have quit while and where he was ahead.
The last third gets substantially less engaging. The author grew distanced from his subject's proximity and it shows, as the tale becomes far more familiar in relating already well-documented fight data.
There is still some fine perspective from Lewis like Joe's hugely destructive obsession with rushing Marvis into disaster versus Larry Holmes, but for many of the closing segments you could cut and paste the same period of Frazier's career out of Mark Kram Jr's recent book Smokin' Joe (2019) and gain a bit more personal touch.
That's not at all to imply that the boxing writing is weak. Lewis makes an excellent case that Frazier won the rematch with Ali, not only the first fight; which leads to justified speculation on what could have occurred had Frazier gotten the second nod. Back then I shared Lewis' opinion on the scoring, and his detailed analysis inspires taking another look at the replay.
Some minor gym characters or business associates become animated as if they're standing in front of you, but I was disappointed in how a charming, complicated guy like Jimmy Young was overlooked and how larger-than-life characters like Gil Clancy and especially George Benton (a living example of where playwright August Wilson drew inspiration) came across rather subdued compared to the boisterous conversationalists I spoke with many times not long after the year Lewis's story begins.
There are also a couple of minor omissions that, though based on very brief listings, still stick out when considering Lewis's scholarly, journalistic credentials.
James Shuler is mentioned, but there's nothing about his tragic death in a motorcycle accident a week after losing to Tommy Hearns in a minor title fight, nor the touching story about Hearns at the funeral, offering to put the belt in Shuler's coffin. Frazier's restaurant, Smokin' Joe's Corner, is also listed a couple times but there is no mention of the horrible murders that took place there during an inside job robbery and how that tragedy probably put the final nail into Frazier's aspirations in the food industry.
I also hoped for some tidbits from Frazier's thoughtful and wise older brother Tommy who provided me with some rare insights (and had an offbeat sense of humor about his name), a stoic trickster who seemed to lovingly enjoy putting his famous sibling on the spot.
Still, the overall impression I got was fantastic. A memoir should share time, location, emotion, and reflection. Lewis achieves all those things many times over.
Which leads to my primary, personal takeaway of this very worthwhile book. Based on a few of the lengthy encounters I was lucky enough to share with Joe Frazier (boxing and non-boxing related), it's difficult for me to imagine that a canny observer like Lewis didn't emerge from the amazing and enviable access he got with more wild tales, especially from nights on the road.
So, I'd have to guess, and bet, that Lewis let some of the more sensational situations or quotes remain aloft in the mist of the past, which to me is admirable, even more so in these social media dominated days.
Here's a non-controversial quote that is included, which provides a sample of the many fine nuggets to be found:
"I don't think you're less of a man for crying," said Joe, taking me by surprise. "It's healthy for you. I cry if something goes wrong- I'll cry right out. But if I cry out of anger, look out! Somebody's in trouble. Crying shows a man has heart and helps him out of his pressures. Just don't cry for nothing."
I could almost hear Frazier's voice when I read that, and descriptions of places I've been like Frazier's gym read true enough to give the entire book an aura of accuracy.
A dozen excellent photographs serve as a first-class coda.
Fifty years after his biggest triumph, Joe Frazier remains a compelling topic in the discourse of sociological significance. This well written tribute does him plenty of justice.
Check out more boxing news on video at the Boxing Channel
To comment on this story in the Fight Forum CLICK HERE
The Fight of the Century: A Golden Anniversary Celebration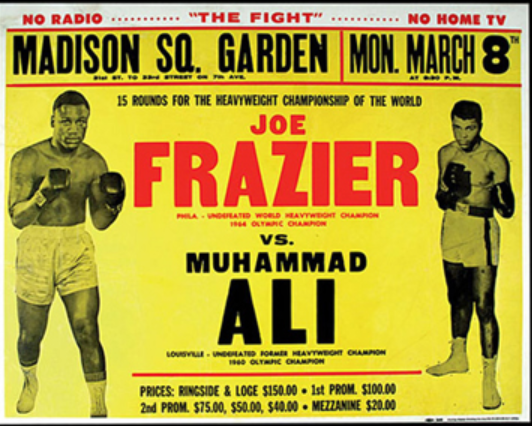 In professional boxing, fights can be rank-ordered as generic fights, big fights, bigger fights, mega-fights, and spectacles. The first fight between Muhammad Ali and Joe Frazier wasn't merely a spectacle, but the grandest spectacle of them all. This coming Monday, March 8, is the 50th anniversary of that iconic event.
Ali-Frazier I was staged at three-year-old Madison Square Garden, the fourth arena in New York to take that name. It drew a capacity crowd: 20,455 (19,500 paid). An estimated 60 percent of all the tickets sold fell into the hands of scalpers.
The fight was closed-circuited to more than 350 locations in the United States and Canada. At some of the larger venues, it established a new record for gate receipts, and this for an attraction that wasn't produced in-house. In Los Angeles, 15,333 saw the fight at the Forum and 11,575 at the nearby Sports Arena.
Bill Ballenger, the sports editor of the Charlotte (NC) News, saw the fight at the Charlotte Coliseum. He reported that the audio – Don Dunphy did the blow-by-blow with Burt Lancaster and Archie Moore serving as color commentators – was loud enough to be heard outside the arena and that many folks, either unable or unwilling to purchase a ticket, loitered outside and followed the action in 30 degrees weather.
An estimated three hundred million people saw the fight worldwide. In England, by some estimates, half the population tuned in, watching either at home on BBC1 or at a theater where one could watch the fight unfold on a movie screen. Now keep in mind that in England the fight didn't commence until 6:40 in the morning on a Tuesday!
Inside Madison Square Garden, the large flock of celebrities included many folks one wouldn't expect to find at a prizefight. Marcello Mastroianni, Italy's most famous movie star, made a special trip from Rome. Salvador Dali was there and Barbra Streisand and Ethel Kennedy, widow of Bobby Kennedy, seated next to her escort, crooner Andy Williams. Frank Sinatra was there working as a photographer for Life magazine. Lore has it that Sinatra wangled the assignment after failing to boat one of the coveted ringside seats.
The scene was made brighter by human "peacocks," the label applied to Harlemites with an outrageous sense of fashion, and the electricity was palpable. When Ali appeared at the back of the arena, making his way from his dressing room to the ring, everyone had goosebumps.
The late, great New York sportswriter Dick Young once wrote that there is no greater drama than in the moments preceding a big heavyweight title fight and that was never more true than on March 8, 1971 at Madison Square Garden.
Ali (31-0, 25 KOs) and Frazier (26-0, 23 KOs) were both undefeated. Both had a claim to the heavyweight title, Ali because the belt had been controversially stripped away from him for his political beliefs. Opinions as to who would win were pretty evenly divided. In Las Vegas, Joe Frazier was the favorite at odds of 6 to 5. Across the pond in England, bookies were quoting odds of 11 to 8 on Ali.
Those that favored Ali were of the opinion that 'Smokin' Joe was too one-dimensional. That much was true. Joe was as subtle as a steam locomotive on a downhill grade. He ate Ali's hardest punches, said Boston Globe reporter Bud Collins, as if they were movie house popcorn and he eventually wore Ali down. There was little doubt as to how the judges would see it after Joe knocked Ali down in the 15th round with a frightful left hook. When Ali arose, it appeared that he had been afflicted with a sudden case of the mumps. The decision was unanimous: 11-4, 9-6, 8-6-1.
This wasn't the greatest fight of all time, but it was a fight that more than lived up to the hype. And, as several people have noted, the event took on a life of its own without the benefit of modern technology to push it along. The buzz was fueled in a large part by newspapers, the "antiquated" sort of newspapers that a fellow fished from his driveway or purchased at a newsstand on the way to or from work. If twitter and facebook had been around during Muhammad Ali's prime, Ali would have blown the doors off the internet.
A cultural touchstone is an event that remains sealed in our memory. As we slide into old age, if we are lucky enough to live that long, we may not remember what we had for breakfast in the morning, but some long-ago events are as vivid as if they had happened just yesterday.
Boxing historian Frank Lotierzo has written poignantly about how overjoyed he was when he was surprised with the news that his father would be taking him to the fight. "To this day it remains the biggest thrill of my life!" wrote Lotierzo, who was then in the seventh grade. "And it's not even close!"
I didn't see the fight, but I can recall the faces of people that I overheard talking about it, people whose interest in the fight struck me as odd as I knew they had little interest in the world of sports. So, when the fight is replayed in its entirety on Sunday – it airs on ABC at 2 p.m ET and again at 6 p.m. ET on ESPN – I will be watching it for the first time. And it will be bittersweet as I will be reminded that I am in the twilight of my life and my thoughts will inevitably drift to my friends and loved ones that have left this mortal world in the years since that grand night in 1971 when Muhammad Ali and Joe Frazier locked horns in the Fight of the Century.
I get misty-eyed just thinking about it.
Check out more boxing news on video at the Boxing Channel
To comment on this story in the Fight Forum CLICK HERE