Avila Perspective, Chap. 93: Best of Prizefighting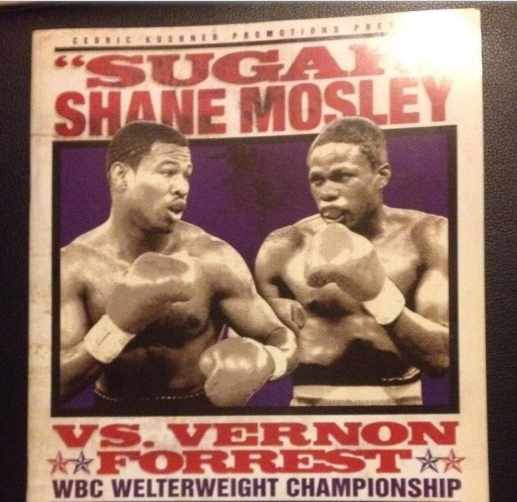 Avila Perspective, Chap. 93: Best of Prizefighting
Boxing powers are suggesting a return could be imminent but minus the clatter and chatter of a live audience. The threat of death by virus still looms large.
No fans allowed.
Television and streaming devices pay for the bulk of major prize fight confrontations so promotion companies like Top Rank, UFC, and Matchroom Boxing are considering a return next month, but minus the fans.
It got me thinking.
Though the actual combat participants may or may not be affected, whether its boxing or MMA the audience or fans will truly be missing a major reason they love prizefighting.
Watching a prize fight live in person just cannot be beat by any other sport. Though I love baseball, basketball, football and soccer without the flopping, when it comes to watching a world championship fight those other sports take a back seat.
Over the years I've witnessed some incredible feats in person. Watching fights on television is fine, but watching in person I've witnessed remarkable displays of physical talent that stand out. Here are some of the things I've seen:
Fastest Combinations with Power
Manny Pacquiao, Roy Jones Jr. Oscar De La Hoya
Manny "Pacman" Pacquiao could reel off a powerful combination faster than most people could think. He did it against Marco Antonio Barrera and then did it again. There are a lot of fighters that have fast hands, but few could muster up a fast combination with power behind it. Pacman could. Today, not so much, but when he began mowing down the featherweight division it was something to behold. He seemed like a freak of nature.
Roy Jones Jr. could hit you with a lightning combination as could Oscar De La Hoya in their primes. Any one of their lightning blows could result in seeing another fighter unconscious.
Fastest Feet
Mark "Too Sharp" Johnson, Roy Jones Jr., Guillermo Rigondeaux
When Mark "Too Sharp" Johnson dominated the flyweights, he was near impossible to hit. He would dart in and out quicker than anyone I have ever seen. If he didn't want someone to hit him, they could not hit him. But he did occasionally take some chances or else everyone in the audience would have fallen asleep from boredom. In his prime, he was untouchable.
Roy Jones Jr. was pretty fast on his feet too. What makes Jones special was he did it in the light heavyweight division for years. When those legs got older and heavier is when the competition finally caught up to Roy Jones. I still remember when he fought the late Julio Gonzalez at the Staples Center and though 10 feet away Jones covered the 10 feet distance in the blink of an eye and connected with a left hook. I couldn't believe my eyes.
Cuba's Guillermo Rigondeaux also has very quick feet and deserves honorable mention.
Best Left Hook
Oscar De La Hoya, Felix Trinidad, Mike Tyson
It was a sound I'll never forget when Oscar De La Hoya connected with a left hook to the jaw of Rafael Ruelas in their lightweight unification battle in Las Vegas on May 6, 1995. It sounded like a bazooka blast. De La Hoya could unleash a left hook so potent and seemingly from any angle. When he knocked out Oba Carr that blow was almost invisible and left the talented fighter unable to defend himself. But that knockout against Ruelas when they met outdoors at Caesars Palace remains the single loudest punch I've ever heard in person. That sound remains vivid in my memory.
Puerto Rico's Felix Trinidad also possessed a lethal left hook and it was fully loaded when he dropped and stopped David Reid outdoors at Caesars Palace in Las Vegas.
"Iron" Mike Tyson also had one heck of a left hook too. I only saw Tyson fight once live and witnessed his speed and power when he eliminated Orlin Norris when they met in Las Vegas. He was a human tornado.
Best Right Cross
Floyd Mayweather, Roy Jones Jr. Juan Manuel Marquez
Floyd Mayweather rarely knocked out opponents after he entered the welterweight division, but in his super featherweight and lightweight days that lightning quick right cross was deadly. Nobody throws a more perfect right cross than Mayweather. It is short, concise and undetectable. It's also one of the hardest punches to land when the opposition knows it's coming. Yet, Mayweather could land the right cross better than anyone I've ever seen. Just look at his knockdowns of Diego Corrales when they fought.
Roy Jones Jr. was cat-quick with his right cross, but needed his legs to deliver it. Because of his overall quickness, he was able to deliver a right cross from across the ring.
Juan Manuel Marquez had his right cross cocked and loaded at all times as he showed against Manny Pacquiao in their last fight that ended in knockout.
Best Uppercut
Vernon Forrest, Randall Bailey, Nonito Donaire
The late, great Vernon Forrest had one of the best uppercuts I've ever seen and when he delivered it the opponent was usually out. He caught Shane Mosley with that uppercut and almost turned out his lights. Forrest was a technically perfect fighter and his uppercut was a thing of beauty.
Randall Bailey was able to win world titles years apart thanks to his power punching. But when things got nasty Bailey could end the fight quickly via the uppercut. He won his first world title in 1999 against Carlos "Bolillo" Gonzalez by knockout. Lost the title in 2000 and kept his place in line via the uppercut until he regained a world title in 2012 against Mike Jones in Las Vegas.
Nonito Donaire had lightning in both fists but his uppercut was a thing of beauty. You never saw the punch coming. Whether his knockout win over Vic Darchinyan was a true uppercut or a slightly tilted left hook is debatable. But the uppercut he dropped Fernando Montiel in a world title unification battle in February 2011 was scary good. That was an uppercut to remember.
Best in the Pocket Defensive Fighters
James Toney, Winky Wright, Paulie Ayala, Floyd Mayweather
James "Lights Out" Toney was a master at fighting in close distance and making an opponent miss. Watch his fight against Evander Holyfield and be amazed. Or take a look at his fights against Mike McCallum or Iran Barkley. Amazing stuff. His defense is why I consider him the greatest fighter in the last 60 years. And his offense is not shabby either. He could write a master thesis on the subject.
Winky Wright often gets overlooked but if you need proof watch him disable Felix Trinidad's offensive tools round by round when they fought. Wright might be one of the most under-rated fighters of all time. Nobody had an easy fight against Winky. Nobody.
Paulie Ayala is another who gets overlooked because he fought in close. But he could catch and parry with the best of them. Recently, Showtime televised some of his fights and it was a revelation. He could fight toe-to-toe and come out looking fresh as a daisy. Even CompuBox stats were bamboozled by his abilities to block, catch and slip. They seldom got the numbers right when Ayala fought.
Best Counter Punchers
Floyd Mayweather, James Toney, Juan Manuel Marquez
All three of these fighters are so equal in talent especially when it comes to counter-punching. Mayweather, Toney and Marquez could be lumped into one when it comes to delivering counter blows effectively.
All three of these fighters mentioned had so many examples that it's needless to point out any single fight. My favorite of Mayweather was his single punch knockout of Ricky Hatton on Sept. 8, 2007. That night thousands of Brits invaded Las Vegas and saw Mayweather deliver his counter-punching magic.
Toney introduced his counter-punching skills to the boxing world when he knocked out the speedy Michael Nunn in May 1991. He brought back a surgical fighting style used by Ezzard Charles, or Jersey Joe Walcott, and dumped many a bigger man using his  counter-punching style throughout his career.
Mexico's Marquez was another counter-punching master. He showed that speed is good, but timing is everything.
Best Chins
James Toney, Vitali Klitschko, Oscar De La Hoya, Floyd Mayweather, Shane Mosley
These fighters, all now retired, displayed chins made of granite during their careers. I vouch for all five of these retired fighters who absorbed some of the biggest blows and remained standing.
Klitschko, for example, took tremendous punishment when he fought Lennox Lewis in Los Angeles. He was tougher than his brother who was the technician. Vitali had one heck of a chin.
Toney was a middleweight fighting heavyweights when he finally retired. He never came close to hitting the floor.
De La Hoya began at super featherweight and showed his chin could withstand middleweight power. Mayweather also began at super featherweight and even super welterweights could not knock him out.
Mosley was another who fought incredible wars and remained standing despite fighting killers like Miguel Cotto, Saul "Canelo" Alvarez, Fernando Vargas and De La Hoya.
Best Jabs
Floyd Mayweather, Joe Calzaghe, Oscar De La Hoya, Vernon Forrest
All four of these fighters could win a fight by merely using his jab. Mayweather, in particular, did it on several occasions. De La Hoya could split an opponent's eye open with his jab. Forrest was one of the best and could have posed a big problem for smaller welterweights like Mayweather had he lived. We will never know. Calzaghe could fire off a four-jab combination jab like a machine gun. The guy retired undefeated because of his jab. So did Mayweather.
Best Body Punchers
Marco Antonio Barrera, James Toney, Julio Cesar Chavez
I'm starting with Barrera because I saw him fight in person many more times than I saw Chavez. But, of course, Chavez was a master of the body shot or the "gancho."
Barrera stopped two world champions, Johnny Tapia and Paulie Ayala, with body shots that still send shivers down my spine. If you have ever been hit with a good body shot you will never forget the pain. The Mexico City assassin was as good a body puncher as I've ever seen.
I only saw Chavez fight a few times live and he was not the young destroyer that used his body attack to render his opponents helpless.
Toney showcased his skills, especially when he broke down the bigger Evander Holyfield and defeated the gladiator by knockout via the body shots. Those body blows were fearsome and enabled the much smaller Toney to invade and defeat bigger competition throughout his Hall of Fame career.
Most Flamboyant
Prince Naseem Hamed, Jorge Paez, Hector Camacho Jr.
Who can forget Prince Hamed descending into the boxing ring dangling from a steel line at the MGM when he fought Marco Antonio Barrera. The speedy Brit was probably the most flamboyant fighter to ever come out of Europe. And he was as quick with the word as he was with his fists.
Jorge Paez, "El Maromero," was the king of flamboyant when he fought and often to the point of distraction. More than once he fought in a dress. But the boxer from Mexicali, Mexico was a world champion. He could truly fight and was quite a character.
Hector Camacho Jr. once arrived to fight on top of a camel. I don't think his pops did that.
Smartest Fighters
Ricardo Lopez, Bernard Hopkins, Joe Calzaghe, Floyd Mayweather
When it comes to intelligence these guys reign supreme. The quickest at analyzing and dissecting an opponent in my estimation was the little guy Ricardo "Finito" Lopez. The Mexican minimum and light flyweight world champion had a variety of moves and flinches that would open up an opponent's defense. Once he figured it out, that guy was gone in an instant.
Perhaps the most spectacular was his one punch knockout over Thailand's Anucha Phothong (Ratanapol Sor Vorapin) at the Mandalay Bay Resort and Casino in Las Vegas on Dec. 2, 2000. Both were two feet apart and frozen when Lopez fired a crisp uppercut and down went Phothong for a knockout loss. It was so quick and effortless that it left the audience amazed and dumbfounded. I asked one world champion what he thought happened and he said "the other guy blinked." I felt that was a good enough answer.
Lopez never lost a fight and retired undefeated.
Talk about smart fighters, Bernard Hopkins and Joe Calzaghe were two of the smartest fighters to ever meet. They used every trick in the book against each other when they fought in 2008 in Las Vegas. It was like watching two warlocks cast spells on each other and sometimes it was difficult to decipher. But the busier fighter Calzaghe won by split decision and eventually retired undefeated. Hopkins was just getting started. He would fight for the light heavyweight world title and win when the odds were against him. According to odds makers Hopkins was not supposed to beat Kelly Pavlik, Roy Jones Jr., Jean Pascal, Tavoris Cloud, or Antonio Tarver.
Then of course there is Mayweather. The Las Vegas fighter who began at super featherweight used his ring intellect to win world titles and become the richest fighter in the history of the sport. He figured out what he wanted to do and then used it to perfection such as his dominant signature wins over Manny Pacquiao and Ricky Hatton. They don't come smarter than Mayweather who like Calzaghe and Lopez retired undefeated.
Fights to Watch
Showtime Boxing will be televising Lucas Matthysse versus John Molina on Friday, April 24. They are also televising John Molina versus Mickey Bey. Both were interesting slam bang affairs that displayed Molina's willingness to take a shot to give a shot. Great stuff.
Check out more boxing news on video at The Boxing Channel 
To comment on this story in The Fight Forum CLICK HERE
Mercito Gesta Victorious Over Jojo Diaz at the Long Beach Pyramid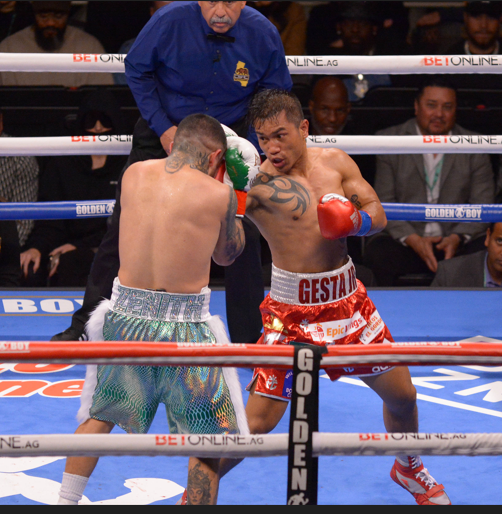 LONG BEACH, CA.-Those in the know knew Mercito Gesta and Jojo Diaz would be a fight to watch and they delivered.
Gesta emerged the winner in a super lightweight clash between southpaws that saw the judges favor his busier style over Diaz's body attack and bigger shots and win by split decision on Saturday.
Despite losing the main event because the star was overweight, Gesta (34-3-3, 17 KOs) used an outside method of tactic to edge past former world champion Diaz (32-4-1, 15 KOs) in front of more than 5,000 fans at the Pyramid.
The speedy Gesta opened up the fight with combination punching up and down against the peek-a-boo style of Diaz. For the first two rounds the San Diego fighter overwhelmed Diaz though none of the blows were impactful.
In the third round Diaz finally began unloading his own combinations and displaying the fast hands that helped him win world titles in two divisions. Gesta seemed stunned by the blows, but his chin held up. The counter right hook was Diaz's best weapon and snapped Gesta's head back several times.
Gesta regained control in the fifth round after absorbing big blows from Diaz. He seemed to get angry that he was hurt and opened up with even more blows to send Diaz backpedaling.
Diaz targeted his attack to Gesta's body and that seemed to slow down Gesta. But only for a round.
From the seventh until the 10th each fighter tried to impose their style with Gesta opening up with fast flurries and Diaz using right hooks to connect with solid shots. They continued their method of attack until the final bell. All that mattered was what the judges preferred.
After 10 rounds one judge saw Diaz the winner 97-93 but two others saw Gesta the winner 99-91, 98-92. It was a close and interesting fight.
"I was expecting nothing. I was the victor in this fight and we gave a good fight," said Gesta. "It's not an easy fight and Jojo gave his best."
Diaz was surprised by the outcome but accepted the verdict.
Everything was going good. I thought I was landing good body shots," said Diaz. "I was pretty comfortable."
Other Bouts
Mexico's Oscar Duarte (25-1-1, 20 KOs) knocked out Chicago's Alex Martin (18-5, 6 KOs) with a counter right hand after dropping him earlier in the fourth round. The super lightweight fight was stopped at 1:14 of the round.
A battle between undefeated super welterweights saw Florida's Eric Tudor (8-0, 6 KOs) emerge the winner by unanimous decision after eight rounds versus Oakland's Damoni Cato-Cain.
The taller Tudor showed polished skill and was not bothered by a large cut on his forehead caused by an accidental clash of heads. He used his jab and lead rights to defuse the attacks of the quick-fisted southpaw Cato-Cain. The judges scored the fight 80-72 and 78-74 twice for Tudor.
San Diego's Jorge Chavez (5-0, 4 KOs) needed less than one round to figure out Nicaragua's Bryan Perez (12-17-1, 11 KOs) and send him into dreamland with a three-punch combination. No need to count as referee Ray Corona waved the fight over. Perez shot a vicious right followed by another right and then a see-you-later left hook at 3.00 of the first round of the super featherweight match.
Photo credit: Al Applerose
Jojo Diaz's Slump Continues; Mercito Gesta Prevails on a Split Decision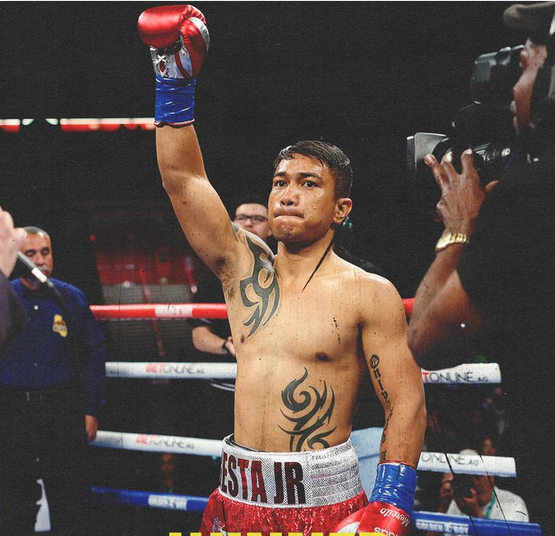 At age 30, Jojo Diaz's career is on the skids. The 2012 U.S. Olympian, a former world title holder at 126 and 130 pounds and an interim title holder at 135, Diaz suffered his third straight loss tonight, upset by Mercito Gesta who won a split decision at the Walter Pyramid in Long Beach, CA.. The scoring was strange with Gesta winning nine of the 10 rounds on one of the cards and only three rounds on another. The tie-breaker, as it were, was a 98-92 tally for Gesta and even that didn't capture the flavor of what was a closely-contested fight.
Originally listed as a 12-rounder, the match was reduced to 10 and that, it turned out, did Diaz no favors. However, it's hard to feel sorry for the former Olympian as he came in overweight once again, having lost his 130-pound title on the scales in February of 2021.
Diaz also has issues outside the ropes. Best elucidated by prominent boxing writer Jake Donovan, they include a cluster of legal problems stemming from an arrest for drunk driving on Feb. 27 in the LA suburb of Claremont.
With the defeat, Diaz's ledger declined to 32-4-1. His prior losses came at the hands of Gary Russell Jr, Devin Haney, and William Zepeda, boxers who are collectively 83-2. Mercito Gesta, a 35-year-old San Diego-based Filipino, improved to 34-3-3.
Co-Feature
Chihuahua, Mexico super lightweight Oscar Duarte has now won nine straight inside the distance after stopping 33-year-old Chicago southpaw Alex Martin in the eighth frame. Duarte, the busier fighter, had Martin on the deck twice in round eight before the fight was waived off.
Duarte improved to 25-1-1 (20). Martin, who reportedly won six national titles as an amateur and was once looked upon as a promising prospect, declined to 18-5.
Other Bouts of Note
New Golden Boy signee Eric Tudor, a 21-year-old super welterweight from Fort Lauderdale, overcame a bad laceration over his right eye, the result of an accidental clash of heads in round four, to stay unbeaten, advancing to 8-0 (6) with a hard-fought unanimous 8-round decision over Oakland's Damoni Cato-Cain. The judges had it 80-72 and 78-74 twice. It was the first pro loss for Cato-Cain (7-1-1) who had his first five fights in Tijuana.
In the DAZN opener, lanky Hawaian lightweight Dalis Kaleiopu went the distance for the first time in his young career, improving to 4-0 (3) with a unanimous decision over 36-year-old Colombian trial horse Jonathan Perez (40-35). The scores were 60-52 across the board. There were no knockdowns, but Perez, who gave up almost six inches in height, had a point deducted for a rabbit punch and another point for deducted for holding.
To comment on this story in the Fight Forum CLICK HERE
'Big Baby' Wins the Battle of Behemoths; TKOs 'Big Daddy' in 6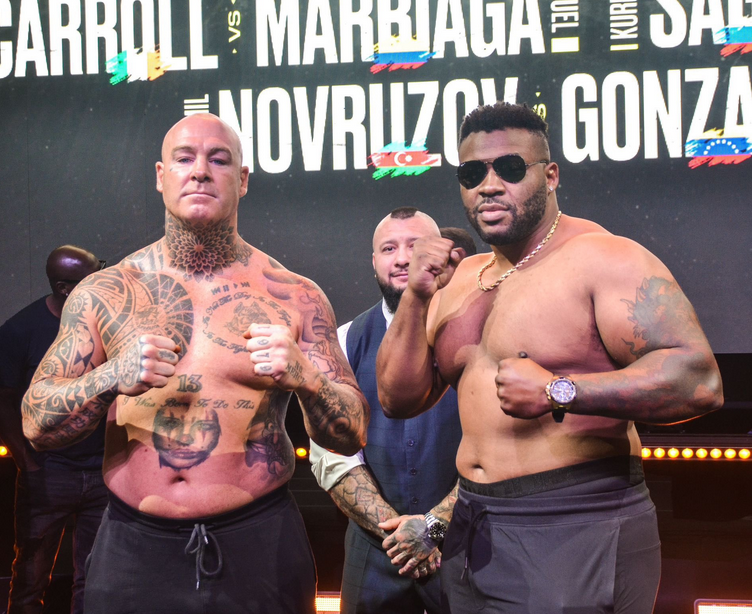 Lucas "Big Daddy" Browne weighed in at a career-high 277 pounds for today's battle in Dubai with Jarrell "Big Baby" Miller, but he was the lighter man by 56 pounds. It figured that one or both would gas out if the bout lasted more than a few stanzas.
It was a war of attrition with both men looking exhausted at times, and when the end came it was Miller, at age 34 the younger man by nine years, who had his hand raised.
Browne was the busier man, but Miller, whose physique invites comparison with a rhinoceros, hardly blinked as he was tattooed with an assortment of punches. He hurt 'Bid Daddy' in round four, but the Aussie held his own in the next frame, perhaps even forging ahead on the cards, but only postponing the inevitable.
In round six, a succession of right hands knocked Browne on the seat of his pants. He beat the count, but another barrage from Miller impelled the referee to intervene. The official time was 2:33. It was the 21st straight win for Miller (26-0-1, 22 KOs). Browne declined to 31-4 and, for his own sake, ought not fight again. All four of his losses have come inside the distance, some brutally.
The consensus of those that caught the livestream was that Floyd Mayweather Jr's commentary was an annoying distraction that marred what was otherwise an entertaining show.
As for what's next for "Big Baby" Miller, that's hard to decipher as he has burned his bridges with the sport's most powerful promoters. One possibility is Mahmoud Charr who, like Miller, has a big gap in his boxing timeline. Now 38 years old, Charr – who has a tenuous claim on a WBA world title (don't we all?) —  has reportedly taken up residence in Dubai.
Other Bouts of Note
In a 10-round cruiserweight affair, Suslan Asbarov, a 30-year-old Russian, advanced to 4-0 (1) with a hard-fought majority decision over Brandon Glanton. The judges had it 98-92, 97-93, and a more reasonable 95-95.
Asbarov was 12-9 in documented amateur fights and 1-0 in a sanctioned bare-knuckle fight, all in Moscow, entering this match. He bears watching, however, as Glanton (18-2) would be a tough out for almost anyone in his weight class. In his previous fight, at Plant City, Florida, Glanton lost a controversial decision to David Light, an undefeated Australian who challenges WBO world title-holder Lawrence Okolie at Manchester, England next week.
A 10-round super featherweight match between former world title challengers Jono Carroll and Miguel Marriaga preceded the semi-windup. Carroll, a 30-year-old Dublin southpaw, overcame a cut over his left eye suffered in the second round to win a wide unanimous decision in a fairly entertaining fight.
It was the sixth straight win for Carroll (24-2-1, 7 KOs) who elevated his game after serving as a sparring partner for Devin Haney. Marriaga, a 36-year-old Colombian, lost for the fourth time in his last five outings, declining to 30-7.
To comment on this story in the Fight Forum CLICK HERE