Errol Spence Jr. Showcased on Friday on SHOWTIME BOXING CLASSICS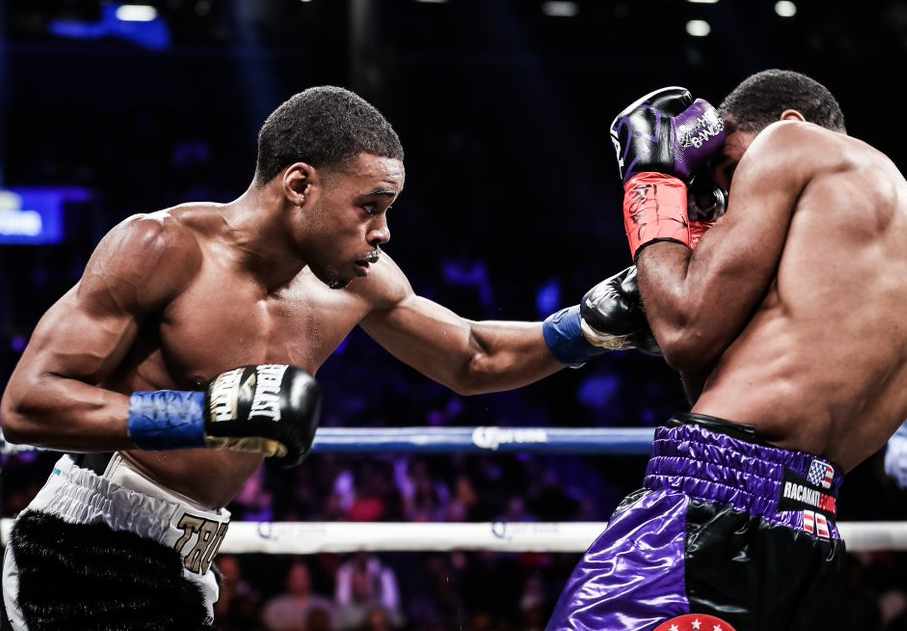 PRESS RELEASE: NEW YORK – April 28, 2020 – SHOWTIME Sports will continue to present classic bouts from its vast archive of world championship fights every Friday night at 10 p.m. ET/PT on SHOWTIME throughout the month of May. SHOWTIME BOXING CLASSICS will also be available via the SHOWTIME streaming service and SHOWTIME ANYTIME®.
Friday, May 1 at 10 p.m. ET/PT

Kell Brook vs. Errol Spence Jr.
Spence vs. Lamont Peterson
SYNOPSES
Brook-Spence (May 27, 2017, Spence KO 11) – Spence goes into enemy territory and takes the IBF Welterweight Title away from Sheffield, England's own Brook in an all-action affair at Bramall Lane in Sheffield. Brook's left eye is badly damaged from Spence's powerful punches and that proves to be the deciding factor in the bout. By the end of round nine, Brook's left eye is grotesquely swollen and in round 10, Spence drops Brook with a flurry of punches. The 27-year-old Spence pours on the pressure in round 11 and with Brook's eye in serious condition, he takes a knee on his own accord. Brook gets up at the count of 9 but referee Howard Foster waves it off, much to the disappointment of the 27,000 fans in attendance.
Spence-Peterson (January 20, 2018, Spence TKO 7) – Undefeated welterweight world champion Spence retains his IBF title with an impressive stoppage of former two-division champion Peterson. In his first defense since dethroning Brook, Spence outboxes a tough Peterson from start to finish, showcasing a wide array of skills, speed and power. The fight is ends prior to the start of the eighth round after Peterson's trainer, Barry Hunter, calls for the stoppage.
Photo credit: SHOWTIME (modified by Leah Capobianco)
Check out more boxing news on video at The Boxing Channel 
To comment on this story in The Fight Forum CLICK HERE
Triller, Holyfield, and Trump: Did Evander Get Hustled? (Part 2)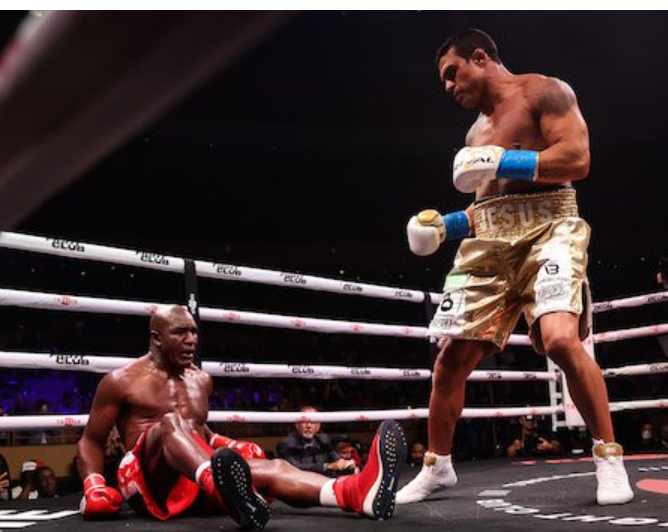 Triller, Holyfield, and Trump: Did Evander Get Hustled? Part Two of a Two-Part Story
The last thing a fighter loses isn't his legs, speed, or power. It's his ego.
Evander Holyfield was a great fighter. His victories over Mike Tyson, Riddick Bowe, Buster Douglas, George Foreman, Larry Holmes, and Dwight Muhammad Qwai are the stuff of legend. But Holyfield is 58 years old. Prior to fighting Vitor Belfort on September 11, he hadn't fought in more than ten years. He had nothing left as a fighter except his ego.
Evander needed money. After the exhibition between Mike Tyson and Roy Jones engendered a reported 1.6 million pay-per-view buys, he thought he knew where to find it. Tyson was a goose that could lay a golden egg. But where fighting Holyfield again was concerned, Iron Mike could have been forgiven for thinking, "Been there, done that. It didn't work out well the first two times, so why do it again?"
On March 22, 2021, Kris Lawrence (Holyfield's manager) issued a media release stating that Tyson's representatives had turned down a $25 million guarantee to fight Evander at Hard Rock Stadium in Miami on May 29. "We thought this was a done deal," Lawrence said. "But it fell apart when Tyson's people declined all offers. We were negotiating in good faith all along and it appears we just ended up wasting our time."
Then Triller came calling.
On April 16, 2021 (one day before Jake Paul vs. Ben Askren), Holyfield and Kevin McBride attended a press conference in Atlanta where it was announced that they would face each other on the undercard of Teofimo Lopez vs. George Kambosos (then scheduled for June 5 at LoanDepot Park in Miami).
McBride – best known as "the conqueror of Mike Tyson" – had last fought in 2011 when he was knocked out by Mariusz Wach at Mohegan Sun in Connecticut. He'd lost six of his final seven fights and was just shy of 48 years old.
After losing to Wach, McBride was placed on an indefinite medical suspension by the Mohegan Tribe Department of Athletic Regulation with the notation "needs neuro and MRI." There had been no administrative change in his status since then.
Multiple sources say that Holyfield-McBride was to have been an exhibition with neither man using best efforts to hurt the other. Informed sources say that Evander was to receive slightly more than $7,000,000 and McBride $500,000.
Soon after Holyfield-McBride was announced, Triller moved Lopez-Kambosos to June 19. But when the new date was set, Holyfield-McBride had been taken off the card. On May 13, Triller announced that Holyfield-McBride would be rescheduled for an unspecified date in August. At the end of May, as mandated by contract, Triller sent Holyfield a substantial check as an advance. But the fight wasn't rescheduled.
On September 1, Holyfield filed a demand for arbitration against Triller, alleging breach of contract and demanding the unpaid portion (approximately $5,000,000) of what was to have been his purse for the exhibition against McBride. Then Oscar De La Hoya contracted COVID and Triller concluded that it could salvage its September 11 card and settle its dispute with Holyfield at the same time by making Holyfield-Belfort. McBride was paid $250,000 in step-aside money, and Holyfield-Belfort was on.
Or was it?
On August 11, 2021, Triller had announced a pay-per-view undercard for De LaHoya vs. Belfort consisting of Anderson Silva vs. Tito Ortiz, Andy Vences vs. Jono Carroll, and David Haye vs. Joe Fournier. Then California State Athletic Commission executive director Andy Foster refused to sanction Haye-Fournier as an official fight, which seemed like the right move. Fournier is a London-born entrepreneur (inaccurately described as a "billionaire") who'd compiled a 9-0 ring record but whose five previous fights had been against opponents with a composite ring record of 2 wins, 40 losses, and 37 KOs by. Also, Fournier and Haye were friends. At that point, there was talk of a split-site event with Haye-Fournier moving to Miami or, alternatively, being clearly labeled an "exhibition."
Holyfield-Belfort was more troubling to Foster. As a person ages, his or her brain begins to shrink. This means that the veins connecting the brain to its coverings are at increased risk of a brain bleed when the head is struck.
Holyfield is 58 years old and had been hit in the head thousands of times by men who hit much harder than Belfort. But no matter how limited in power Vitor's punches might be – and no matter what the pre-fight understanding between the fighters might have been – any blows to the head that landed on Evander had the potential to cause serious damage.
The California State Athletic Commission refused to approve Holyfield-Belfort.
"I was not agreeable with the match based on a variety of regulatory factors," Foster later said. "There were issues as to whether it was going to be an exhibition or a fight, and we did not have adequate time for Evander to go through an appropriate licensing process."
The Florida Athletic Commission allowed what California wouldn't.
"They tried California," Association of Boxing Commissions president Mike Mazzulli told this writer. "Andy turned it down, and I commend him for that. I reached out to the Florida commission on several occasions and did not get a call back. I hope they understand the consequences of something like this. It was dangerous and a disgrace to boxing. It was a fiasco and I think it was horrible."
But was Holyfield-Belfort to be an exhibition or a fight? Evander and Vitor signed separate contracts. It's unclear what Vitor's contract said. However, multiple sources say that Holyfield's contract made it clear that the fighters would not use best efforts to win the fight.
"I knew from the beginning that it wasn't supposed to be a legitimate boxing match," Mike Mazzulli says. "You can quote me on that. I'm one hundred percent sure the contract was written as an exhibition."
"There were meticulous negotiations as to how things would be conducted," another person familiar with the situation says. "Evander went into the fight thinking that it was an exhibition with each man making an effort to put on a good show for the fans. That was the contractual understanding he had for Kevin McBride and that's what he had here. Evander's mindset was 'we'll go out, put on a show, and get a good payday.' I don't know what Belfort signed. I only know what Evander signed. Evander had no intention of hurting the other guy."
Multiple sources also say that the contract Holyfield signed contained a confidentiality clause and prohibited him from publicly calling the event an exhibition.
Meanwhile, Triller was promoting the event as a fight. And a compliant Florida Athletic Commission went along with that notion. On September 8 (three days before the event), FAC executive director Patrick Cunningham issued a statement that read, "The Florida Athletic Commission has approved the Evander Holyfield vs. Vitor Belfort bout as a fully regulated professional boxing match. It will be conducted under the Unified Rules of Boxing and scored by three judges on the 10-point must system. All boxers on this card have successfully met all requirements to be licensed by the Florida Athletic Commission."
Similarly, Triller's promotional material for Holyfield-Belfort was marketing the event as a "fight," not an exhibition. And Triller arranged for it to be entered on BoxRec.com (the official registry for the Association of Boxing Commissions) as an official fight. Then Mike Mazzulli stepped in.
"We were not going to allow it to be placed on BoxRec," Mazzulli says. "We contacted them, explained the situation, and BoxRec removed it from its listing of official fights."
At the final pre-fight press conference on September 9, both Holyfield and Belfort presented their encounter as a real fight. When asked specifically if it would be an exhibition, Evander responded, "All I know is it's a fight and they got the rules. If I can get him in one second, I'll get him in one second. I do what I have to do."
During fight week for Tyson-Jones, Donald Trump Jr (who has seven million Twitter followers) had sent out five tweets supporting the event and sharing links to promotional videos and pay-per-view ordering information. For Holyfield-Belfort, Triller went one giant step further, offering viewers what it called a "Donald Trump alternative commentary" stream with live onsite "unfiltered boxing commentary" at no extra charge on top of the $49.99 pay-per-view buy.
At the September 9 press conference, Donald Trump Jr talked for thirteen minutes, noting his father's "total recall" of fights from decades ago and voicing the view that it was "really cool" that he and his father would be commentating on the fights. He also opined, "Americans are learning the hard way that they've been lied to and manipulated by the media. You're seeing the results of that every day. I wake up every day, I go to sleep, thinking that we've hit rock bottom and then you see another thing. It goes on and on."
Later in the proceedings, Donald Trump Sr came on an audio feed and answered pre-screened questions for seven minutes, ending with the thought that, if he had to fight somebody or box somebody, "I think probably my easiest fight would be Joe Biden. I think he would go down very very quickly."
Thereafter, Jerry Izenberg (the dean of American sportswriters who, unlike either Trump, actually served in the Armed Forces), noted that Joe Biden, Barack Obama, and George W. Bush would all commemorate the twentieth anniversary of 9/11 by visiting attack sites and closed his column with a thought regarding Holyfield-Belfort: "The bad news: It will cost you $50 to see this farce. The good news: You can save every penny of it by simply not watching."
When fight night came, Ray Flores and Shawn Porter carried the regular (sans Trump) blow-by-blow commentary. Mario Lopez was the emcee. Ashley Haas served as a roving interviewer. References to a "sold-out arena" were somewhat disingenuous. The Seminole Hard Rock Hotel and Casino theater has three levels. Two of them were curtained off.
Todd Grisham and a series of rotating mixed martial artists were on the alternative commentary desk with Donald Trump Sr and Donald Trump Jr. Trump Sr's comments often centered on himself. Trump Jr's comments often centered on himself or his father.
Trump Sr began his commentary by attacking "some very bad decisions" made by Joe Biden with regard to Afghanistan. Later, in a tribute to America, scantily-clad women carried American flags around the ring prior to the singing of the National Anthem after which the crowd chanted "We want Trump" and "Knock out Biden."
Trump Sr also expressed delight at being in Florida: "We had a tremendous result in Florida. We love Florida. And they ran the election clean. That's very important . . . You have a lovely crowd here. You've got so many [pro-Trump] signs. I love the signs . . . If you do a lot of talking, you have to back it up. I do a lot of talking and I won."
After one fight, Trump Sr cautioned, "Let's see what happens with the scoring. It's like elections. It could be rigged."
Trump Jr once again praised his father's recall of fights. But that recall failed Trump Sr when he started talking about George Foreman vs. Michael Moorer and couldn't remember Moorer's name. Then, in going off on a tangent to show off his great knowledge of boxing, Trump Sr and Grisham confused Gennady Golovkin with Sergey Kovalev. Trump Sr also voiced the view on several occasions that changing championship fights from fifteen to twelve rounds "really hurt boxing."
The first "fight" of the evening matched David Haye against Joe Fournier in an encounter that had all the credibility of a WWE confrontation but wasn't choreographed nearly as well. Haye fought like a boxing instructor who was sparring with a pupil of limited ability and had promised ahead of time that he wouldn't hurt him. Fournier boxed with the confidence of a man who had an understanding with his opponent that all would be well. This lasted for eight long two-minute rounds after which the judges rendered an 80-71, 79-72, 79-72 verdict in Haye's favor.
Next up, Jono Carroll won a 97-93, 97-93, 95-95 majority decision over Andy Vences in a tedious affair that saw thirty seconds of action spread over ten rounds. After that, in a match-up of previously-retired, 46-year-old MMA fighters, Anderson Silva knocked out Tito Ortiz in 81 seconds.
Then it was time for Holyfield-Belfort. The contest was scheduled for eight two-minute rounds. Holyfield had weighed in at 225 pounds, Belfort at 206.
Watching Evander in the ring was sad. His balance was poor. His reflexes were shot. He pawed with his jab and seemed to have no defense against punches. Fifty-five seconds into the contest, Belfort landed a straight left to the body that knocked Holyfield off balance and pushed him back into the ropes. Then he attacked. Evander covered up and, seeming to understand at this point that he was in a real fight, threw a wild left hook that looked like it was designed to hurt. But it missed by a wide margin and his momentum caused him to plummet into the bottom ring strand and then to the canvas.
Holyfield rose. Belfort attacked again and, at the 1:22 mark, dropped Evander with a left uppercut to the jaw. Evander beat the count but was in trouble. Showing no mercy, Belfort threw eighteen unanswered punches. One minute 49 seconds into the round, referee Sammy Burgos stopped the fight.
When it was over, Holyfield complained to Todd Grisham about the stoppage and said he'd still like to fight Mike Tyson. Belfort said he'd like to fight Jake Paul next and called him "a little bitch." Ryan Kavanaugh and Triller executive chairman Bobby Sarnevesht then told Grisham that Triller would put up a $30 million winner-take-all purse for Belfort vs. Jake Paul on Thanksgiving. That bout is unlikely to come to pass since Paul has an exclusive multi-fight contract with Showtime.
Several days after Holyfield-Belfort, a source with knowledge of what transpired told this writer, "Evander was fighting Belfort like David Haye fought Fournier. Then Belfort started unloading on him, and Evander realized it was for real and threw a left hook to put him in his place. But he missed, fell into the ropes, and went down.
"I was with Evander in his suite after the fight," the same source continued. "One of the first things he said was, 'I couldn't believe how hard the guy was throwing. When I realized he was trying to hurt me, I threw back. But before I could change my mindset and put things together, I got knocked down. I got up and was covering up the way you're supposed to and the referee stopped the fight."
So . . . Where does all of this leave boxing?
First, Holyfield got a lot of money and that's good. I hope it's invested wisely so he can live off the income and be financially secure for the rest of his life.
Second, to quote Mark Kriegel, "Boxing can't survive, much less grow, if it keeps pushing out its past at the expense of its present and its future."
And as Matt Christie wrote, "I don't care how many new eyes they bring to the sport; creating this new precedent, which essentially says it's okay for boxers who long ago realized they shouldn't be boxing anymore to come back and take more punches is not just irresponsible. It's deadly."
Holyfield-Belfort seems to have performed poorly in the marketplace. A well-placed source says that FITE (which had exclusive streaming rights) chalked up approximately 50,000 buys. Add on cable and, most likely, the total number of buys will be in the neighborhood of 125,000.
That's bad news for Triller. Counting fighter purses, music acts, Donald Trump Sr and Jr and other talent costs, production, publicity, travel, and the like, the promotion is estimated to have cost between $15 million and $20 million to mount. And unlike some past events that Triller might have classified as loss leaders, this one brought far more bad publicity than good. And no! Not all publicity is good publicity. Triller got dragged over the coals on this one.
Sports have always been about entertainment, and sports are monetized as entertainment. Boxing, at the moment, isn't very entertaining. It isn't giving the public the fights that the public wants. To fill this void, a wave of trash boxing is flooding the market.
But trash boxing won't save the sweet science. Sports don't thrive on sideshow events. The NBA slam-dunk contest and three-point competition enliven All-Star Weekend, but the league is built around regular-season games and the play-offs. Football fans might be intrigued by the idea of a punt-pass-kick competition between Peyton Manning and Brett Favre, but that competition would never outdraw an NFL playoff game. Boxing can't be healthy if sideshows are the main event.
Keep in mind though; the proliferation of trash boxing is a symptom of boxing's problems, not the cause. Trash boxing in and of itself isn't bad for boxing. In recent years, boxing has been bad for boxing.
Photo credit: Amanda Westcott / Triller Fight Club
This is Part Two of a two-part series. Part One can be found HERE.
 Thomas Hauser's email address is thomashauserwriter@gmail.com. His next book – Broken Dreams: Another Year Inside Boxing – will be published this autumn by the University of Arkansas Press. In 2004, the Boxing Writers Association of America honored Hauser with the Nat Fleischer Award for career excellence in boxing journalism. In 2019, he was selected for boxing's highest honor – induction into the International Boxing Hall of Fame.
Check out more boxing news on video at the Boxing Channel
To comment on this story in the Fight Forum CLICK HERE
Triller, Holyfield, and Trump: Did Evander Get Hustled? (Part 1)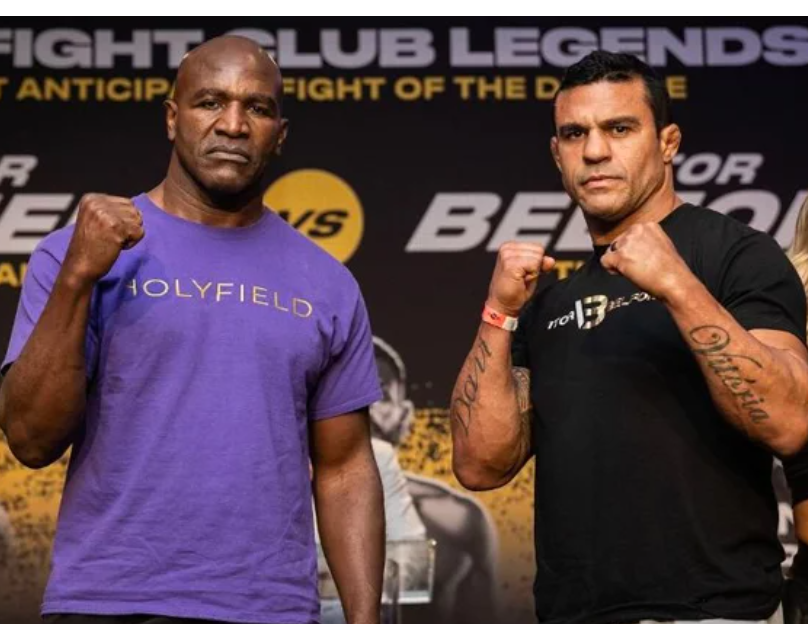 Triller, Holyfield, and Trump: Did Evander Get Hustled? (Part One of a Two-Part Story)
On September 11, Evander Holyfield was knocked out by Vitor Belfort in the first round of a boxing event at the Seminole Hard Rock Hotel and Casino in Hollywood, Florida. There was widespread criticism of the event before it took place and more criticism when it was over. Holyfield is 58 years old and shouldn't be getting punched in the head by men trained in the art of hurting.
Worse, interviews with multiple people involved with the promotion suggest that Holyfield was hustled. That he went into the ring thinking he was about to participate in an exhibition in which neither man would use best efforts to hurt the other only to find himself double-crossed in a scenario akin to an old-time boxing movie.
How did boxing get into this mess? Read on.
In 2015, two musicians in search of an inexpensive way to edit their work launched a video app called Triller that enabled them and other users to avoid the cost of renting studio space. A year later, Triller was transitioning to becoming a social video app but had still not entered the mainstream consciousness. Enter Ryan Kavanaugh.
Kavanaugh is a 46-year-old businessman, a big concept guy who's adept at raising money. Over the years, he has been meshed in a wave of litigation touching upon his professional and personal life.
In 2004, Kavanaugh founded an entertainment company called Relativity Media that purported to use sophisticated algorithms to eliminate the risk from film financing. Variety named him "Showman of the Year" and he made his way onto the Forbes list of billionaires. Then Relativity Media filed for bankruptcy. Twice. Kavanaugh told the Wall Street Journal that he took Relativity into Chapter 11 bankruptcy in 2015 "to fend off vulture investors who were trying to steal the company" and that he wasn't involved in the second bankruptcy. In 2018, as reported by the Los Angeles Times, Relativity Media sold substantially all of its remaining assets to a holding company called UltraV.
Meanwhile, in 2017, Kavanaugh founded a company called Proxima Media. In 2019, Proxima Media acquired a majority stake in Triller. Kavanaugh sought to position Triller as an American version of TikTok (the Chinese-owned, social networking service that was under attack by then-president Donald Trump). To date, Triller has fallen far short of TikTok's success.
In describing Triller, a company press release states, "The Triller Network is a consolidation of companies, apps and technologies. Triller Network pairs the culture of music with sports, fashion, entertainment and influencers through a 360-degree tech and content-based vertical."
Triller became a significant player in boxing when it put together a November 28, 2020, exhibition between Mike Tyson and Roy Jones that engendered an estimated 1.6 million pay-per-view buys. DAZN and Matchroom had jumpstarted the move of "trash boxing" into the mainstream of the sport when they partnered to stream Logan Paul vs. KSI on November 9, 2019. Tyson-Jones brought this phenomenon to a new level.
Triller got what it wanted most out of Tyson-Jones – massive publicity and clicks. And the event fit perfectly into what Kavanaugh (pictured below with Oscar De La Hoya) calls Triller Fight Club's "four-quadrant model" consisting of "influencers, legends, music artists, and contemporary fighters."
Then Triller shook up the boxing world. At a February 25, 2021, purse bid, it offered $6,018,000 for rights to the four-belt title-unification bout between Teofimo Lopez and George Kambosos. That was $2.5 million more than the next highest bid (submitted by Matchroom) and $3.7 million more than the number submitted by Top Rank (Lopez's promoter). Lopez-Kambosos is currently scheduled to be contested at Madison Square Garden on October 4. Triller's bid was a statement that – temporarily at least – it's a significant player in legitimate boxing.
More Triller events followed. Most notably, on April 17, 2021, Jake Paul knocked out former MMA fighter Ben Askren in one round. One month later, it was announced that Paul was leaving Triller pursuant to a multi-bout deal with Showtime. The April 17 card also saw a more traditional boxing match between Regis Prograis and Ivan Redkach. The event and others that followed seemed to be mired in red ink. But they were aimed at building Triller's base and were showpieces for potential investors.
Meanwhile, on April 14, 2021, Triller announced that it had acquired FITE – a small but successful technology company that has become a leader in the distribution of pay-per-view combat sports events. After numerous snags in ironing out the contracts, the acquisition was finalized in late-July.
As all of this was unfolding, Triller was looking for its next big legendary fighter. Mike Tyson was unhappy with the money he'd received in the aftermath of his encounter with Roy Jones and, on March 21, had issued a statement that read, "Just to be clear, there is no Tyson with Triller fight. I don't know any Triller executives personally. I don't have a deal with Triller or any head executive representing them for the next event. I will never do another event or any business with Triller, so anyone misrepresenting that they own the rights to my name or my next event isn't true. I am not with or ever will be with Triller's Fight Club."
With Tyson unavailable, Triller turned to Oscar De La Hoya.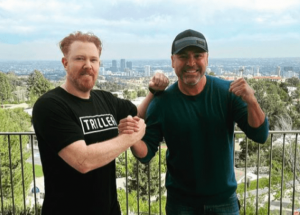 For more than a decade, De La Hoya was one of boxing's brightest stars. But he's now 48 years old and last fought in 2008 when he was brutalized by Manny Pacquiao.
There's kindness in Oscar. But he has been wounded many times, physically and psychologically. The psychological wounds seemed to have caused more suffering than the physical. He has acknowledged having problems with alcohol and cocaine and has been in rehab multiple times. The ravages of his lifestyle and years as a fighter have taken a toll.
Three days before Tyson-Jones, De La Hoya said that he was considering a comeback fight against Gennady Golovkin. "You know how easy GGG would be for me?" Oscar asked rhetorically. "I always took a good shot and I always took apart fighters like him."
Of course, in 2019, Oscar was talking about running for president of the United States.
Appearing at a March 26, 2021, press conference in Las Vegas to promote the Jake Paul vs. Ben Askren Triller card, De La Hoya took the microphone, announced "July 3, I'm making my comeback," dropped the microphone, and walked off the stage.
Paul-Askren, when it came to pass, featured performances by Justin Bieber, The Black Keys, Doja Cat, Saweetie, Diplo, Major Lazer, and what was advertised as "the exclusive world premiere of the hip hop supergroup Mt. Westmore (Snoop Dogg, Ice Cube, Too $hort and E-40)." There were pole dancers with big butts and lots of cleavage. Taylor Hill, Charli D'Amelio, and other social media personalities made appearances.
There was also a lot of weed (much of which was openly smoked on camera) and alcohol. The commentating team of Ray Flores, Mario Lopez, and Al Bernstein was joined from time to time by Snoop Dogg, Pete Davidson, and De La Hoya.
Oscar looked bloated, sounded as though he'd participated liberally in hospitality room offerings, and said that he wanted to fight Mike Tyson. Ray Flores observed on air, "Oscar is definitely high."
One might ask why the people around De La Hoya who care about him allowed that scenario to unfold. Four days later, Oscar appeared on "The DAZN Boxing Show" and was asked about his commentating that night.
"I've been in beast mode for about six weeks," De La Hoya answered. "And I got a little into it; you know. I started having a couple drinks. And then they told me, 'Why don't you go and commentate?' And I was like, 'Oh, man! Okay. Okay.' I got a little over carried away. And I apologize. But it's all good. I'm back in beast mode."
Thereafter, Ryan Kavanaugh told The Sun, "It was a fun event. You had two people up on stage smoking joints, so Oscar had a couple of drinks. He wasn't falling over. He wasn't so awful that he did something terrible. People love to talk sh**. I don't think Oscar was that bad. He was just having fun with it. We told him to have fun with it. We said go and enjoy it. Anybody that has enough time to go onto the internet and start commenting negatively in big ways and making a point of it, they obviously have other issues."
Then, on June 17, 2021, it was announced that De La Hoya would box against former MMA fighter Vitor Belfort in a Triller Fight Club pay-per-view event to be held in Las Vegas on September 11. Belfort, age 44, had retired in 2018 after compiling a 26-14 career record and losing four of his last six fights. He'd boxed only once as a pro and that was fifteen years earlier.
"This isn't that WWE theatrics we've been seeing in boxing lately," De La Hoya declared. "This is the real deal, a real fight with real knockouts for a real win. I'm in better shape than I was fifteen years ago. I want to make the biggest comeback in boxing history."
On July 21, Triller announced that De La Hoya vs. Belfort was moving to the Staples Center in Los Angeles. The contract weight was 180 pounds and the bout would be contested over eight two-minute rounds. That brought the California State Athletic Commission into the act.
"We were told that Tyson and Jones would be an exhibition and we regulated it as such," CSAS executive director Andy Foster said. "An exhibition in the State of California is when you don't use your best efforts to win. Here, the fighters want to use their best efforts, so by definition it can't be an exhibition. They want a fight and we'll regulate it as such. They're gonna box and we're gonna score it."
Asked about drug testing, Foster told this writer, "Both fighters will have to pass their medicals. We're still working out the details on drug testing. Most likely, it will be conducted by California, not VADA. I think we'll be focusing on PEDs, not recreational drugs."
As for possible drug use by the TV commentators, Foster pledged, "The commission will control the environment in the technical zone at ringside."
The formal kick-off press conference for De La Hoya vs. Belfort took place on July 27.
"I'm doing it for myself," Oscar told a group of reporters before the formalities began. "I've had a f***ing crazy life, you know. I've had a crazy life. And sorry if I get all emotional and s***. I've done this for thirty-five years. I've always done it for my family and fans all over the world. I've gone into the ring and just let it all out because I love what I do. I love what I represent for people. But I'm finally fighting for myself. I can't f***ing wait. It's going to be hell, but I've been through hell and back. There's nothing that can faze me. There is nothing that can break me down, all the s***, all the bulls***, whatever. I'm strong as a rock. I'm at peace. I finally got here. I'm getting f***ing crazy emotional. It's been a f***ing struggle. People can talk all the s*** they want to but I will never give up. I feel that age is just a number, and I have to literally thank yoga. It's not a f***ing joke. Yoga, like really, literally almost saved my life."
That was followed by pronouncements like, "This is not a game. I said, 'Look, if we're gonna do this, let's do it for real. Let's not do this song and dance. Let's not do these exhibitions, you know, that we're tired of.' This is the real thing. And the fact that we both agree that it's gonna be a real fight, it's gonna be a lot of fun. We're gonna kick the s*** out of each other. That's one thing for sure. Call me crazy, but I'm looking forward to it. It's gonna be a lot of fun."
Asked about the possibility of fighting Canelo Alvarez, De La Hoya responded, "Why not? It's only power. That's all it is. Power, I can withstand. Speed, like Pacquiao, is a whole different story. I have a good chin, you know."
At times, promoting the Belfort fight seemed like a therapy session for Oscar.
"I was raped at thirteen, from a woman, an older woman," he told Dylan Hernandez of the Los Angeles Times. "Thirteen, lost my virginity over being, you know, being raped, basically. I was in Hawaii, I think, at some tournament. She was over thirty-five. You suppress everything. You're living this life, the Golden Boy. But, oh s***, wait, that's still there. Like I never, like, thought about it. I never processed it. I never really thought how my feelings are until one day it just comes out and you don't know how to deal with it."
More troubling, perhaps, was the ugly reality that De La Hoya was on track to be hit in the head multiple times by a man who could punch.
Over the years, Oscar traded blows with fighters like Manny Pacquiao, Felix Trinidad, Bernard Hopkins, Shane Mosley, Ike Quartey, Julio Cesar Chavez, Pernell Whitaker, and Floyd Mayweather Jr. Later, he offered a stark assessment of the risks inherent in the trade he'd chosen. "I hate getting hit," De La Hoya said. "Getting hit hurts. It damages you. When a fighter trains his body and mind to fight, there's no room for fear. But I'm realistic enough to understand that there's no way to know what the effect of getting hit will be ten or fifteen years from now."
However, at an August 25, 2021, media workout, Oscar declared, "Call me crazy but I just miss it. I missed getting hit and doing the hitting. I wasn't ready to retire after I lost to Manny Pacquiao. I never felt like I was in wars. In boxing you're just as old as how you feel. I went through hell and back treating my body wrong, but these last six months I feel amazing. I refocused myself and rededicated myself and I'm actually doing this for me. I can't wait. I'm going to give the fans a war. I've been studying Marvin Hagler versus Thomas Hearns for a reason. I want a fight, a war. I have a good chin and I can take the punch. My inspiration for this fight is Arturo Gatti. I want one of those types of fights."
No one asked about a September 27, 2010, interview with Broadcasting & Cable. In that interview, De La Hoya had acknowledged, "I did have tests done after every single fight. My last fight, they found something that they couldn't really understand in my head. It didn't help me to make my decision to retire, but it was obviously a concern. I had second and third opinions. It was something in my head that they thought could maybe have an effect thirty years down the road, but they just weren't sure. Maybe they were being extra-careful."
Then, on September 3, De La Hoya vs. Belfort ground to a halt. Oscar announced that he had tested positive for COVID and that the fight was off. One day later, 58-year-old Evander Holyfield was substituted as Belfort's opponent.
Thomas Hauser's email address is thomashauserwriter@gmail.com. His next book – Broken Dreams: Another Year Inside Boxing – will be published this autumn by the University of Arkansas Press. In 2004, the Boxing Writers Association of America honored Hauser with the Nat Fleischer Award for career excellence in boxing journalism. In 2019, he was selected for boxing's highest honor – induction into the International Boxing Hall of Fame.
Holyfield-Belfort photo credit: Amanda Westcott / Triller Fight Club
Check out more boxing news on video at the Boxing Channel
To comment on this story in the Fight Forum CLICK HERE
Serhii Bohachuk Gets 20th KO Win Plus Undercard Results from Montebello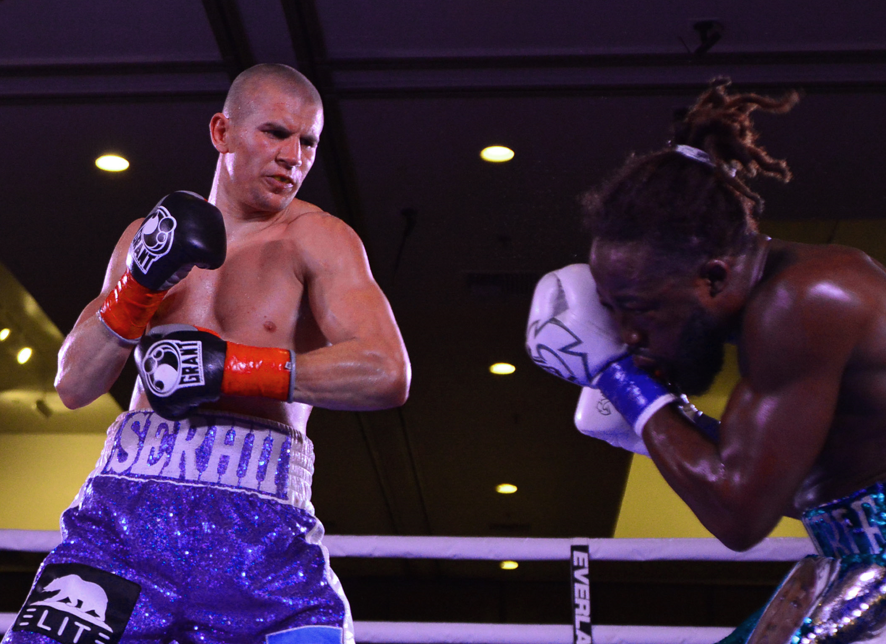 Serhii Bohachuk Gets 20th KO Win Plus Undercard Results from Montebello
Montebello, CA.-Two contenders looking to rebound found their mark on Thursday.
Super welterweight Serhii Bohachuk (20-1, 20 KOs) needed a round to figure out the southpaw style of Raphael Igbokwe (16-3, 7 KOs) and then increased the pressure round by round until the pipes broke. More than 1,000 fans at the Quiet Cannon Event center were pleased.
Bohachuk likes to wheel and deal like a whirling dervish, but seemed to find a better lane for his lethal right when he slowed down a bit. Right after right connected on Igbokwe but the Texas fighter was pretty strong at first.
Though Igbokwe took a pounding early on, he seemed strong enough to absorb the head shots. But when the Ukrainian fighter began targeting the body that seemed to open up all the firing lanes. Bohachuk was like a hunter at a turkey shoot.
For the next three rounds Bohachuk pounded away at Igbokwe's body and head. It didn't seem possible for the lefty to absorb too much. He tried to fight back but nothing seemed to be able to slow down Bohachuk.
Referee Jack Reiss kept looking at Igbokwe and finally around the sixth round he signaled outside the ring to a ringside physician that assistance might be needed to make an evaluation. As the round ended Igbokwe's corner signaled with a towel to stop the fight. Reiss called the fight over at the end of the sixth round.
Bohachuk was back and the fans were pleased.
Akhmedov
In the co-main event, Ali Akhmedov (17-1, 12 KOs) was bigger, stronger and seemingly faster than Texan David Zegarra (34-6-1, 21 KOs) and quickly took over the super middleweight fight. It lasted only four rounds.
Zegarra was unable to keep Akhmedov from charging in. Though he never went down he took a pounding in every round from the Kazakhstan fighter. Just as Akhmedov began to gain momentum, the fight was halted at the end of the fourth round.
Akhmedov was the winner by technical knockout.
Female War
Think Hagler-Hearns and that's what you got with Chelsea Anderson (4-0) and Elvina White (5-1) clashing in a four-round lightweight explosion.
Anderson the taller fighter and White the slightly more experienced, ring-wise, let loose with a flurry of blows from the opening bell with each connecting early. Anderson used her reach to connect under and over especially with the rights. White seemed more successful with the left hook. A left and right shot through White's guard and down she went. She beat the count and nodded her head as if signifying it was a good shot.
In the second round White knew that Anderson packed power but proceeded to attack anyway. Once again Anderson connected with that lethal right cross and down went White again. This time seemingly a little more stunned and the round ended.
The referee seemed concerned about White and signaled the ringside physician to take a look. He seemed satisfied by her response and allowed the fight to resume. White attacked with even more fury and though Anderson always seemed fully loaded with the right, the shorter White was able to avoid it.
It was hard to believe that the two lightweights were able to continue the high volume battle. Anderson seemed even more fresh than in the third round, and White seemed to be able to avoid that monster right from Anderson. But the taller fighter from Yorba Linda kept the pressure and used her reach to keep White at the end of her blows. Though White did connect it wasn't enough to hurt Anderson who seemingly walked through them at times. The crowd stood on its feet for the final 30 seconds as both unloaded.
"I was ready for her movement," said Anderson who lives and trains in Orange County. "I've been working on that over and under move for weeks."
Two judges scored it 39-35 twice and a third 40-34 all for Anderson.
Other Bouts
In a battle of undefeated super featherweights Adrian Corona (8-0, 2 KOs) of Rialto, Calif. knocked out Oxnard's Daniel Robles (7-1-1, 5 KOs) in the first round. It was supposed to be the boxer versus the puncher but it turned out that the Rialto's Corona can punch too.
Corona moved in early at the opening bell and fired a crisp one-two through Robles guard and delivered him to the floor for a count. Robles beat the count and tried to rally. Corona moved in and floored him with a right cross and that was it. The referee stopped the fight at 2:45 of the first round.
Light heavyweights Rafayel Simonyan (9-1-1, 8 KOs) and Adrian Taylor (11-1-1, 4 KOs) went to war on the inside for eight rounds. It ended in a split draw.
Eric Mondragon (4-0-1) dominated all four rounds against Braulio Avila (3-11) to win by unanimous decision after four rounds in a lightweight bout.
An amateur featherweight fight saw Glendale, California's Chantel Navarro win by unanimous decision over Riverside's Daniela Rojas in a three-round fight that was far closer than might seem.
Photo credit: Al Applerose
Check out more boxing news on video at the Boxing Channel
To comment on this story in the Fight Forum CLICK HERE