What is the True Mark of Greatness in Boxing?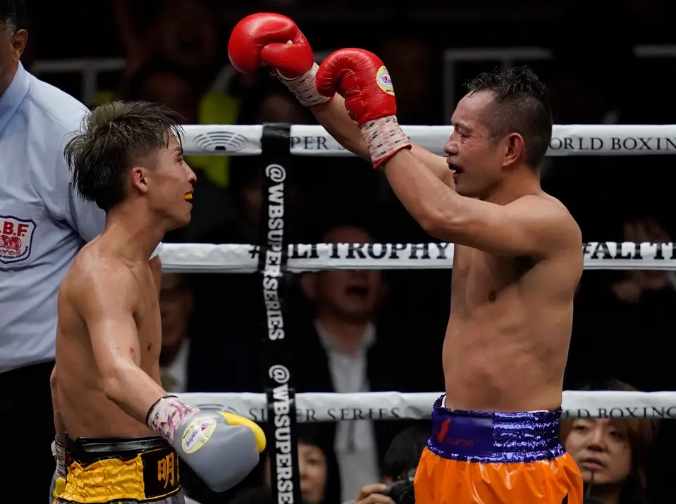 What is the True Mark of Greatness in Boxing?
By Special Correspondent Darren Martindale — Is it about mesmerising opponents with dazzling displays of defensive genius? Is it reducing them to rubble with devastating punching power? Is it having the guts to overcome adversity – getting off the floor to win, finding a way to triumph against an opponent of equal talent, or landing that last-round haymaker when trailing on the scorecards?
Greatness can contain any, or all, of the above. But there's something else. It's a precious ingredient that can define someone – not only as a fighter, but as a human being. It can either ruin or revitalise a career, especially when the stakes are high, and yet it's just as critical to a novice amateur as it is to a world champion.
It is knowing how to lose.
Very few quality world champions have managed to retire undefeated. Heavyweight icon Rocky Marciano is one oft-cited example. In more recent years, Welshman Joe Calzaghe became another paid-up member of that exclusive club. Sooner or later, however, almost all the greats are beaten.
How they come back from that defeat often defines the merely 'good' from the genuinely 'great'.
Can a fighter turn a loss into a learning experience? Are they able to come back stronger, smarter and with a renewed focus, like Lennox Lewis following his upset stoppage by Oliver McCall in 1994? After that shock, Lewis went soul-searching, switched trainers to Manny Steward and returned a better, more mature fighter. He easily dispatched McCall in their rematch.
Or, are they psychologically damaged, their confidence and aura ruined along with their unbeaten record, as American Jeff 'Left Hook' Lacy seemed to be after Calzaghe outclassed, dominated and destroyed him in ripping away his IBF Super Middleweight  title?
The reaction to a loss can be particularly telling in the early stages – when the fighter's response is instinctive, their emotions raw. It offers a fascinating insight into their character, intelligence and motivation. It can reflect where they've been prior to the loss and which way they're likely to go after it. Here is how the days and weeks that follow a prize fight can be as revealing, and sometimes as entertaining, as what went on between the ropes.
We've seen two big-name boxers taste defeat in recent months, then display fantastically differing reactions to it. One showed us everything that is pure and good about this sport that we love. The other revealed, perhaps, rather too much about what's wrong with it.
Nobody would consider Deontay Wilder's destruction at the hands of Tyson Fury, in February 2020, as anything less than traumatic for the banger from Alabama. Fury out-jabbed him. Then he out-punched him. Then he mauled, manhandled and bludgeoned him until Wilder's treasured WBC heavyweight title belt fell off his shell-shocked frame. It was a defeat so complete that Wilder must have wondered whether he'd disappeared down a wormhole and then popped back up in some parallel universe where, instead of a feared, undefeated world champion, he was some hapless journeyman getting paid to be crucified by this grinning, taunting, shaven-skulled giant.
Yet, even with all that considered, the now ex-champ's excuses, following his mugging by the self-styled 'Gypsy King', ranged from the ludicrous to the outright embarrassing.
Wilder couldn't seem to make up his mind about who, or what, to blame. One moment, it was his cornerman's fault for pulling him out too early. Then, it was his bicep, which was apparently torn during the bout and had him feeling 'like a zombie'. At times, Wilder had us wondering whether he'd paid an impersonator to fight Fury for him:
"He [Fury] knows that wasn't me. I know that wasn't me. Everyone knows that wasn't the real Deontay Wilder…"
The greatest howler of all, however, was Wilder blaming his defeat on his elaborate ring walk costume. Reportedly weighing about 40 pounds, this crushing burden had drained his legs of all their strength ("my legs were just shot all the way through"). Unfortunately, with its mask, gown, tinselly crown and glowing red eyes, the outfit also made the 'Bronze Bronzer' look like a Transformer that had got all dressed up for the Christmas party – and gone way over the top.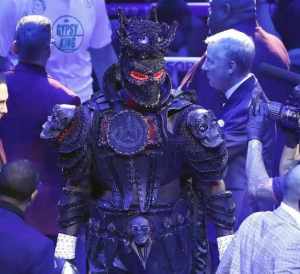 I like Wilder. Although his comments, in the past, have swerved in tone from pure class to the totally crass, you instinctively feel that he's a good guy. I'd like to think he's a great father to his many children, and that's a far more important job than being a boxer.
What really stuck in the craw of the boxing establishment, however, was that this man – who had once slammed an opponent, Bermane Stiverne, for making excuses after Wilder had beaten him ("nobody wants to hear an excuse once you lose. When you lose, you lose. Deal with it.") – refused to recognise the legitimacy of Fury's win and his status as a unified champion. It was as if this reversal was entirely unconnected with the shovel-sized fists of Fury, and had everything to do with everything else.
Dumb move, Deontay.
According to the Swiss psychologist Kubler-Ross, there are 5 stages in the process of coping with grief: Denial, Anger, Bargaining, Depression and Acceptance. While it's not a bereavement, it is reasonable to see the removal of Wilder's hard-earned champion status and unbeaten record as a crushing loss for him. Parallels might be drawn with George Foreman's reaction after his 1973 knockout at the hallowed hands of Muhammad Ali, in the iconic 'Rumble in the Jungle'. Foreman has since reflected that he felt he'd lost, not only his unbeaten record and world heavyweight title, but also part of himself as a man.  It took Big George years to recover.
Wilder is clearly stuck at the same stage of anger and denial. How he moves toward 'acceptance', what he learns about himself and how he rebuilds, is likely to determine his ultimate place in history.
In stark contrast, let's look again at the World Boxing Super Series final, in November 2019, when Naoya Inoue and Nonito Donaire staged 12 rounds of beautiful brutality to determine who was the best bantamweight on the planet.
Inoue's nickname is terrifyingly simple – and simply terrifying: 'The Monster'. A rising star in the 'pound for pound' rankings, the unbeaten Japanese knockout artist had dispatched his quarter and semi-final opponents in a grand total of five minutes and 29 seconds. Donaire, while a former 'pound-for-pounder' himself, now had several losses to his name. Ten years Inoue's senior at 36, the 'Filipino Flash' was generally considered lucky to have reached the final. The scene was set for a classic 'passing of the torch' finale, with Donaire swept aside and Inoue assuming his rightful place as WBA and IBF kingpin and the division's undisputed leading man.
The players opened the drama as might be expected, with Donaire pressing forward behind a high guard, targeting Inoue's body with sweeping hooks. The seasoned veteran was playing the long game; looking to patiently wear down the young pretender. Inoue played his part with a more swashbuckling style; flashing jabs with his low-held left, then slamming in hooks or dropping right hand bombs over the top.
If Inoue hadn't realised he was in for a tough night by the end of the first round, it certainly registered in the second. Donaire decided he'd dispense with the script and crashed in a left hook which ripped open the flesh over Inoue's right eye. Inoue later reported that the punch had fractured his orbital bone and that he suffered double vision for the remainder of the fight. One can only imagine what it looks like to be attacked by two Nonito Donaires.
An orbital fracture is a serious injury – it has led to stoppages, retirements, and fighters losing their eyesight in the past. Inoue simply shrugged it off and battled on for 10 more gruelling rounds.
Indeed, he controlled most of them, but every minute was a dour struggle for both men. Hurt in the fifth, Donaire clawed his way back then rocked Inoue with a booming right in the ninth. Yet, the pendulum would swing again as Inoue floored his opponent with a perfectly-placed left hook to the liver in the penultimate round. Somehow, the 'Filipino Flash' survived both this and the furious onslaught that followed.
When the bell finally rang to end a torrid twelfth, the pair fell into each other's arms, drained but jubilant.
The post-fight hug is surely one of the most beautiful, bizarre, mystifying and life-affirming factors in the crazy sport of boxing. It is a moment of tacit recognition, between exhausted rivals, that they have found, bared and shared parts of themselves that very few people will ever need – or wish – to explore.
Yet there were, at first, interesting differences in the body language of the conqueror and the conquered. Donaire gripped his rival tightly around the shoulders and held him to his chest, like a loving father welcoming a prodigal son, while Inoue's grip was slightly looser, and he was the first to break away. He knew he'd won, and he was the star with the glittering future. He had one eye on the ring that he stood in, but the other was peering toward the horizon where future rings, battles and conquests awaited.
The nuances told us that this episode had meant more to Donaire, in a sense, than it had to his opponent. It could have been his last hurrah, after all, and he'd made his statement – he'd gone down proudly and with all guns blazing. He would not be brushed aside. The titles were Inoue's, but the night belonged to Donaire.
Moments later, the victor walked over to Donaire's corner to, again, offer his commiserations and thanks for the broken eye. This time he knelt before Nonito, who slid off his stool to meet him, and they embraced again. The now ex-champion almost seemed to be consoling Inoue, tenderly cradling his head, as if it were the younger fighter who had lost.
The image of two proud, unbelievably tough warriors embracing on their knees, in a palpable expression of gratitude and respect, will live long in the memories of anyone privileged enough to witness it.
Later, there was one final scene to this heroic drama. Inoue loaned his former foe the WBSS trophy so that Donaire could fulfil a promise to his sons – that they would see it in the morning (Donaire: "And with tears in my eyes, I humbly asked Inoue to borrow it for a night, not for me but for my word"). A video of the hooded ex-champ, consoling his distraught sons with the huge golden trophy, is another memorable image in a story that's studded with them.
Indeed, Donaire framed his defeat as a 'life lesson' for his boys (take note, Mr Wilder): "You will win. You will lose. But in either aspect you will do so graciously."
This was a fighter showing his class. This was how to accept a defeat and grow from it. This was a true mark of greatness.
About the Author: Darren Martindale is a senior manager in education in the UK, and an ex-teacher, and moonlights as a freelance writer. When he's not writing about education, he indulges his passion as a lifelong boxing fanatic. Once the world returns to a semblance of normality, he will resume training for a White Collar boxing bout, which he's also writing a story about…watch this space! 
Check out more boxing news on video at The Boxing Channel 
To comment on this story in the Fight Forum CLICK HERE
Tyson Fury Returns on Saturday with a Familiar Foe in the Opposite Corner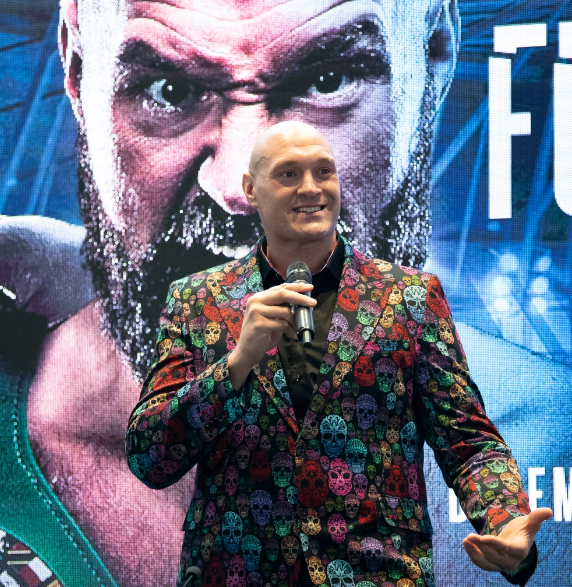 "Tyson Fury made a name for himself last night, one that already has a ready-made ring about it and will be destined to become familiar in boxing." Alan Hubbard, a ringside correspondent for The (London) Examiner wrote those words after Fury wrested the British and Commonwealth heavyweight titles from Derek Chisora with a comprehensive 12-round decision on July 23, 2011.
Those words were prescient. Tyson Fury did go on to become a familiar name in the sport. Indeed, one could argue that at this moment in history no active boxer is more famous.
More than 11 full years have elapsed since Fury toppled Chisora. In the ensuing years, the Gypsy King outpointed Wladimir Klitschko in Germany to win the world heavyweight title, battled personal demons that sidelined him for two-and-half years, returned to the ring with a flourish, ultimately regaining the world heavyweight title, or at least a version of it, in the second chapter of his memorable trilogy with Deontay Wilder, and rising so high in the opinion of boxing enthusiasts that he would be favored over any other boxer on the planet.
Oh, and lest we forget, since defeating Chisora in 2011, Fury whipped Chisora again, stopping him after 10 one-sided frames in 2014. Fury's eight-inch height advantage enabled him to control the distance vs. "Dell Boy" who was never knocked down but who absorbed a great deal of punishment before his chief second said "no mas."
A third meeting between Fury (32-0-1, 23 KOs) and the soon-to-be-39-year-old Chisora (33-12) would seem to be superfluous. Del Boy, coming off a narrow win over Kubrat Pulev, has lost three of his last four. But on Saturday, Dec. 3, they will go at it again. The venue is London's Tottenham Hotspur Stadium, capacity 62,850, and by all indications, despite a chill in the air (the temperature is expected to hover around 40 degrees), there won't be too many empty seats.
For promoter Frank Warren, Fury vs Chisora is Plan B – he was hoping to match Fury against Anthony Joshua – but he believes that Fury has become so popular that he can make a tidy profit no matter who is in the opposite corner. The Gypsy King, once referenced as the enfant terrible of British boxing, has toned down his rhetoric (one might say that he proactively distanced himself from Kanye West) and become almost cuddly, a source of inspiration for many Brits, the first member of the black sheep Traveler community about whom this could ever be said.
Fury, needless to say, is a heavy favorite. The odds are in the 25/1 range. The co-feature is likewise looked upon as a mismatch. Daniel Dubois, who shares the diluted WBA heavyweight title with Oleksandr Usyk, is a consensus 16/1 favorite over Kevin Lerena (28-1, 19 KOs) who rides in on a 17-fight winning streak. The six-foot-one Lerena carried a career-high 234 pounds for his last assignment against ancient Mariusz Wach, but the South African southpaw has fought most of his career as a cruiserweight.
The undercard includes featherweight Isaac Lowe, Tyson Fury's bosom buddy, and Hosea Burton, Fury's cousin, both of whom appear to be matched soft in scheduled six-rounders, plus 18-year-old phenom Royston Barney Smith in a 4-rounder against a transplanted Nicaraguan.
This is a pay-per-view event in the UK, but U.S. fight fans who subscribe to ESPN+ can see it for free. The ring walks for the main event are expected to go about 4 pm ET.
To comment on this story in the Fight Forum CLICK HERE
What Path will Yokasta Valle Choose Next?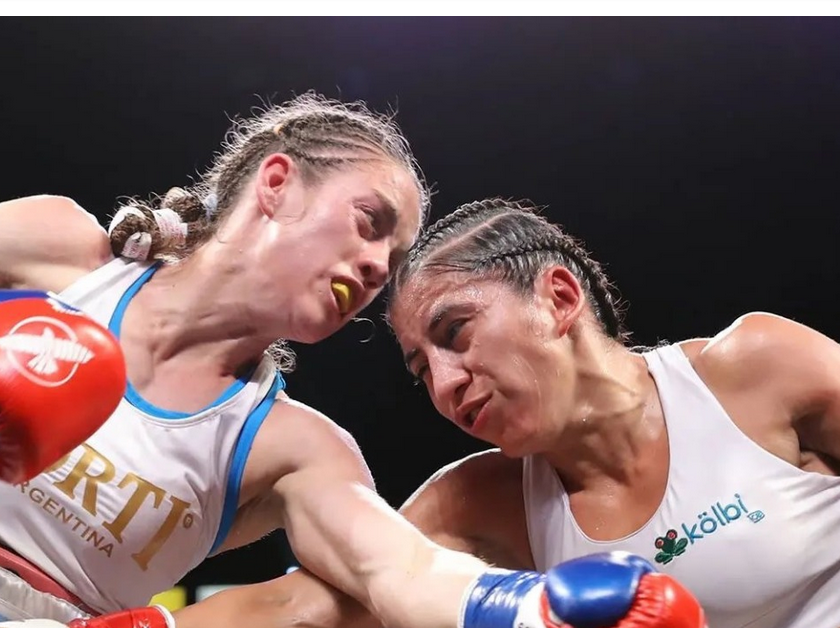 After the recent controversial ruling that made her a world champion in three different divisions, the fans of the Costa Rican Yokasta Valle are wondering: What path will the successful boxer choose next?
On Saturday, November 26th, in a fight of continuous exchanges with the then undefeated Argentine Evelyn Bermúdez (17-1-1, 6 KOs), "Yoka" Valle (27-2, 9 KOs) came out with her arm raised at the Dignity Health Sports Park in Carson, California, where she won the IBF and WBO belts, which Bermúdez was defending for the seventh and second time, respectively.
Although the Costa Rican fighter (pictured on the right) went on the attack for practically the entire 10 rounds, the exchanges were even, give and take, with good moments for both fighters, which made it difficult to evaluate each round. Hence the discomfort of many fans, especially in the Bermúdez camp, with the card of judge Adalaide Byrd (99-91), which apparently had Bermúdez prevailing in only one round. Neither did Judge Daniel Sandoval's card (97-93) represent what transpired in the ring, while Zachary Young's score of 95-95 was more accurate, distributing five rounds for each combatant.
In the case of Byrd, she also received innumerable criticism in the first fight between Saúl "Canelo" Álvarez and Gennady "GGG" Golovkin, which was held in September 2017 at the T-Mobile Arena in Las Vegas and which ended with a favorable scorecard for each boxer and another of 114-114.
At that time, Byrd had judged more than 400 fights over a 20-year span, and her discordant scorecard of 118-110 reflected Canelo winning 10 rounds and GGG only two (the fourth and the seventh). Dave Moretti leaned towards Golovkin (115-113), while Don Trella (114-114) saw it even.
CHAMPION IN THREE CATEGORIES
Born in Matagalpa, Nicaragua on August 28, 1992 and living in Costa Rica since her childhood, Valle made her boxing debut at the age of 22 in the light flyweight category. In that first experience at the pro level, she defeated Mexican María Guadalupe Gómez by unanimous decision in four rounds, on July 26, 2014, in Alajuela, Costa Rica.
Two years later, in her twelfth fight, she conquered the IBF title at 102 pounds by split decision against Ana Victoria Polo in San José, Costa Rica. In December 2017, Valle suffered her first professional failure against the local Naoko Fujioka, who won by unanimous decision at Korakuén Hall in Tokyo where they fought for the vacant WBO light flyweight belt.
Six months later, on June 16, 2018, Valle lost again by unanimous decision against German Christina Rupprecht (11-0-1, 3 KOs) in Munich, a duel that was for the WBO strawweight interim belt. Rupprecht maintains that belt and is again in Valle's sights.
Following those two setbacks, "Yoka" Valle compiled 14 victories, including the one she obtained in Marbella against Spaniard Joana Pastrana in August 2019, which she won by split decision securing the IBF 105-pound belt.
More recently, on September 8th in Costa Rica, Valle became a two-division champion at 105 pounds, by unanimously prevailing (the three judges scored the fight 100-90) over Vietnamese Thi Thu Nhi Nguyen, who ceded the WBO title. And then with her success against Bermúdez last weekend, Valle made history in Costa Rican boxing by adding her third crown in three different divisions (102, 105 and 108 pounds).
WHERE WILL YOKASTA VALLE GO NEXT?
Valle, who now owns two light flyweight titles (IBF and WBO) could next go in search of unification with Mexican Jéssica Nery (WBA super champion) or with Canadian Kim Clavel, who holds the WBC title. (Clavel and Nery collide on Thursday in Laval, Quebec.)
However, a more viable option would be to return to 105 pounds and seek a fight with American Seniesa Estrada (23-0, 9 KOs), who maintains the WBA belt, or with Rupprecht, who remains unbeaten. That seemed to be Valle's immediate objective, as she affirmed it in the ring after defeating Nguyen. In an indirect reference to Seniesa Estrada and Tina Rupprecht, Valle said "I want the belts. I've been saying it from the beginning, I want the WBC and WBA next, whoever has 'em."
At Friday's weigh-in for her fight with Bermúdez, Valle stated "I want to fight the best. I want to be undisputed. When Tina (Rupprecht) and Seniesa (Estrada) were not available, my team and I made the decision to move up in weight and challenge Evelyn for her world title belts. I have to fight. [MarvNation CEO] Marvin Rodriguez presented this fight to me. This is the type of fight I want. It is champion versus champion. I want to give the fans these types of fights."
EDITOR'S NOTE: Kim Clavel caught the flu and pulled out on Wednesday just prior to the weigh-in. Her match with Jessica Nery was rescheduled for Jan. 13.
Photo credit: Tom Hogan / Hogan Photos
Article submitted by Jorge Juan Alvarez in Spanish
Please note any adjustments made for clarification purposes and any errors in translation were unintentional.
To comment on this story in the Fight Forum CLICK HERE
Regis Prograis Knocks Out José Zepeda and Clears the Way for José Ramírez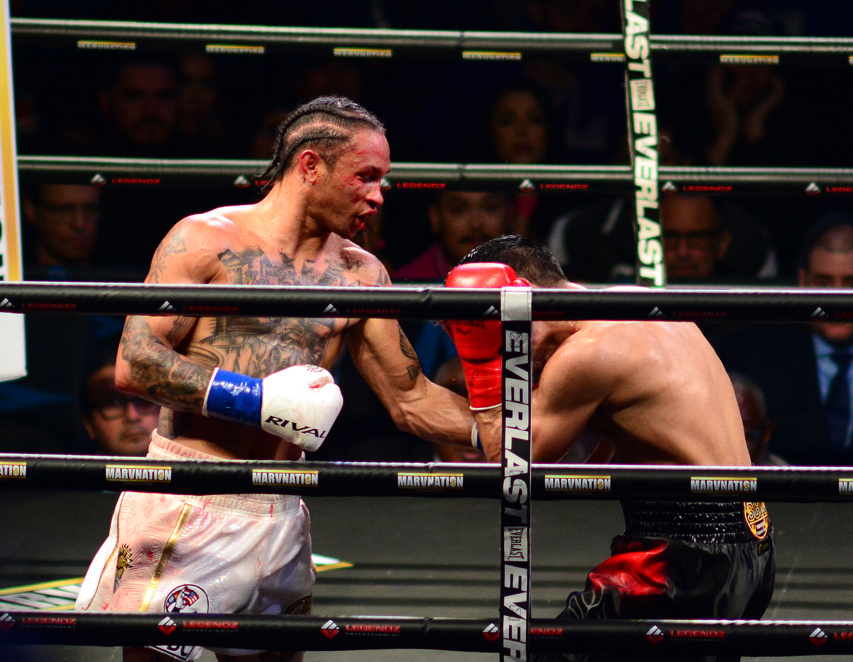 American Regis Prograis had to wait three years and a month for the opportunity to hold a world crown once again. On Saturday, November 26, at the Dignity Health Sports Park, in Carson, California, Prograis faced José Zepeda for the vacant WBC junior welterweight belt. Prograis was victorious by applying chloroform to Zepeda in the eleventh round.
Previously, on October 26, 2019, Prograis (28-1, 24 KOs) had lost the WBA junior welterweight belt by majority decision to Scotsman Josh Taylor at the 02 Arena in England.
Since then, the thirty-three-year-old Prograis who is based in Houston, Texas has obtained four wins (including vs Zepeda), all before the limit, as proof of the devilish power of his powerful fists, especially the left one.
Prior to the duel with Zepeda (35-2, 27 KOs), most experts favored Prograis, who after winning the intense battle, recognized that it was the most demanding fight of his career. "That dude is tough, tough, tough. He came to fight, he probably gave me one of my hardest fights, I'm not even gonna lie," said Prograis. "This dude is tough, bro. I've got so much respect for you. You prepared me to get this belt and hold this belt. I congratulate you. All the best to you, bro. Don't stop, I feel like you can still be a world champion."
Almost from the very beginning of the fight, Prograis showed greater speed with his hands and legs, and a general sense of technical superiority over Zepeda, who in the second round opened up a wound above his left eye with a legal blow.
From then on, Prograis's strong impacts gradually undermined Zepeda's resistance. Zepeda arrived totally exhausted in the eleventh round, where he received a straight left to the face, putting him in poor condition. A run with both fists from Prograis knocked him down and referee Ray Corona called the match with 59 seconds remaining in the round. This is the first setback that Zepeda has suffered by knockout in professional boxing.
On several occasions, Prograis has stated that he wants revenge against the undefeated Taylor (19-0, 13 KOs), but now, by order of the WBC, he must face American José Carlos Ramírez (27-1, 17 KOs).
Ramírez, 30 years old, is currently ranked second by the WBC. In February of 2019, in his second defense of his 140-pound belt, he defeated Zepeda by majority decision.
Twenty-five months later, Ramírez succumbed by unanimous decision to Taylor at the Virgin Hotels in Las Vegas, enabling the Scotsman to become the undisputed king of the category by winning the four most prestigious belts (WBA, WBC, WBO, IBF).
Recently, Ramírez expressed an interest in dueling with the main 140-pound contenders, including a second fight with Zepeda; although he did not rule out clashing with Prograis or Taylor. "Every fighter has the same amount of risk," said Ramirez. "We're a little under-promoted compared to other weight classes but I think that the best fights are at 140. You see guys fighting twice or three times, doing a trilogy. Honestly, I would love to face Regis, because I've never faced him. I would love to make the rematch with Zepeda, because he's such a good fighter. Obviously I want Josh Taylor, man. I want Josh Taylor bad."
Photo credit: Al Applerose
Article submitted by Jorge Juan Alvarez in Spanish.
Please note any adjustments made were for clarification purposes and any errors in translation were unintentional.
To comment on this story in the Fight Forum CLICK HERE