Beat The Press: Awkward Moments With Problematic Boxers (A TSS Classic)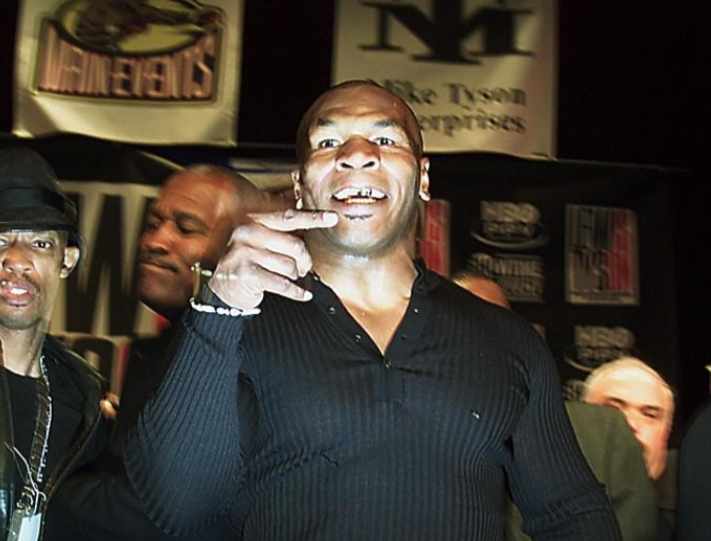 Beat The Press: Awkward Moments With Problematic Boxers (A TSS Classic)
"Get him a straitjacket!"
That's how all this craziness started.
In 2002, boxing writer Mark 'Scoop' Malinowski stood at the back of a Mike Tyson press conference in New York City and shouted his exasperation at the former baddest man on the planet. Tyson, having just bitten Lennox Lewis on the leg during a media face-off gone horribly wrong, was livid. Hearing what Malinowski said, Tyson turned his attention to the fedora-clad reporter and let loose with one of the most vulgar diatribes ever heard in professional sports.
"Put your mother in a straitjacket," the crazy-eyed Tyson screamed back at the "white boy" newshound best known (until this moment) for his informative Biofile write-ups about boxers. It only got so much worse from there with a totally unhinged Iron Mike threatening to sodomize Malinowski in public.
Seventeen years later, it's becoming more and more common for angry boxers to take their frustrations out on credentialed media members charged with asking them questions and covering the sport on their behalf. It's happened to me on conference calls and at live events, most memorably with Andre Berto in the lead-up to his 2011 bout with Jan Zaveck. Triggered by my suggestion that he was now at risk of becoming a forgotten fighter, Berto got pugnacious.
"Is that what it is?" Berto responded to me on the media teleconference. "You lose one fight and now you're forgotten about? Saying that kind of thing just blows my mind about you reporters."
Berto continued to let me have it.
"You've seen a guy like Shane Mosley resurrect his career three or four times, a guy like Bernard Hopkins and all these other guys, and they have four, five, six losses. I went through a tough defeat. I had a bad night. I don't care about what people think or what you're gonna write. I'm doing this for me, my family, and the real Berto fans out there and that's it."
I definitely got under his skin.
Last week in Las Vegas, Adrien Broner got into beefs with Showtime's Al Bernstein and with ESPN's Dan Rafael. Before his January 19th PPV non-effort against Manny Pacquiao, Broner refused to answer softball questions tossed by Bernstein during the final press conference.
It was an ugly scene, AB vs. AB.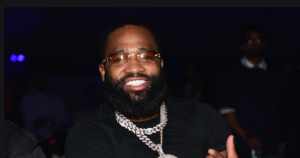 Bernstein, miffed but maintaining his professionalism, backed down when Broner disrespectfully told him he had nothing to say to him, calling him a "bitch ass nigga" and saying that he'd rather be questioned by Roy Jones Jr. or Stephen A. Smith.
No less indignant after losing a unanimous decision to Pacquiao, Broner was asked by Rafael if he really believed what he was saying about being robbed. Broner went for the low-hanging fruit.
He fat shamed Big Dan Rafael. "Hell ya I believe I won that fight," he told the plus-sized writer. "It's like when you believe you want cheese on that burger." Broner, giggling like a goof, amused by his own mean-spirited sense of humor, threatened to go even lower before the mic was passed to South Central News.
Why are these confrontations with the fight media happening? Is it just a case of "fake news" getting what's rightfully coming back at them by those they insult and otherwise misrepresent? Clearly, the days of Muhammad Ali verbally sparring with Howard Cosell and harmlessly playing with the man's toupée are long gone. Is social media to blame or is it all just a sign of the times?
I don't have all the answers.
What I do have are questions. That's how this job is supposed to work for any working journalist. We ask you. You answer us. We then report to our readers and/or followers, the boxing fans.
Unfortunately, this dynamic is dying if it's not already dead. Perhaps fighters no longer feel they need the boxing media to get their message out, particularly when they (like any President or entertainer) can use Twitter to say whatever the heck they want, whenever the hell they like.
Before going any further let me just say that the vast majority of boxers are exceedingly polite in their interactions with the media but boxing is a sport where passions run deep and tempers often flare. Sometimes we wordsmiths get burned. Here then are five infamous instances of boxers behaving truculently in the presence of writers, reporters, and television/radio announcers.
James Toney vs. Jim Gray: After becoming one of only two men to stop Evander Holyfield, 'Lights Out' Toney gave Showtime's Jim Gray a little taste of the streets. Gray, interviewing Toney in the ring after the 2003 upset in Las Vegas, asked the tough talking former middleweight champion of the world if he was just "too quick and too fast" for the aging Holyfield. It seemed like a legitimate question but Toney responded as if Gray had personally disrespected him. "Don't come up in here trying to give me no bad ass questions, trying to degrade me."
Undeterred, Gray pressed on but to no avail. "I ain't gotta answer nobody's questions," said Toney before knocking the mic out of Gray's hand and onto the canvas; then turning his back on the announcer and starting to walk away. As Gray went to recover his fallen tool of the trade, Toney spun back around to accost Gray for "walking up" on him. "I don't like you," griped Toney.
Deontay Wilder vs. Radio Raheem: In L.A. last year to cover Wilder-Fury for the website Seconds Out, boxing personality Radio Raheem quickly fell afoul of the 'Bronze Bomber' at the final fight week press conference following Wilder's face-off with Tyson Fury. Raheem made the mistake of bringing up the history of slavery. He reminded Wilder of comments he had made but had not elaborated on. "You said your people have been fighting for four hundred years…"
This upset Wilder more than Fury ever could.
"They your people too," Wilder sneered at his brother from another mother. Raheem asked for clarification but Wilder was fuming, accusing the reporter of trying to "bait" him. Raheem asked again for an explanation. "I don't have to explain what's understood," dismissed Wilder, now mocking 'Radio Raheem' for his on-air name. "Go Google that shit," he angrily instructed. Wilder ripped off his own glasses and then asked Raheem how he could dare ask such a thing, getting in his face with a loud rant about their people still fighting "to this day, to this day, to this day!"
Tyson Fury vs. Elie Seckbach: The comebacking 'Gypsy King' won respect and admiration from the mainstream media for his brutal honesty about addiction and depression, but he got off on the wrong foot with American boxing media veteran and YouTube sensation Elie Seckbach.
During an in-ring media event held to promote his then upcoming WBC heavyweight title fight with Deontay Wilder, Fury was introduced to Seckbach and encouraged to be interviewed by him. Fury was having none of it. He waved his finger at Seckbach and told him to leave the ring immediately. The publicist in charge of media relations was surprised at Fury's attitude towards the videographer. "I don't want him," Fury bluntly blurted. The publicist tried to tell Fury how good Seckbach had been for the fight's promotion but Fury's mind was already made up about him.
"Elie is a wanker, that's who he is."
"He's a hater," said Fury.
Floyd Mayweather Jr. vs. Larry Merchant: After winning an ugly dog fight on HBO PPV against Victor Ortiz by using a well-deserved cheap shot to win the WBC welterweight title by knockout, Mayweather took a few more cheap shots at Merchant during the post-fight interview. The result was a spectacularly uncomfortable exchange between a fighter and an announcer.
With Merchant congratulating the winner and commenting on how he was "in charge" of the fight, Mayweather suddenly snapped. "You never give me a fair shake," he said. "HBO needs to fire you, you don't know shit about boxing." The deer in the headlights look on Merchant's face told the whole story. "You ain't shit," Mayweather repeatedly told the 80-year-old broadcasting legend. Protecting himself at all times, Merchant shot back with a line that's sure to go down in history as one of the great comebacks. "I wish I was 50 years younger, I'd kick your ass!"
Mayweather wasn't done feuding with the media. In 2015, he revoked the May-Pac press credentials for three journos whose applications for press passes had already been approved. They were CNN's Rachel Nichols, ESPN's Michelle Beadle and TSS's own Thomas Hauser.
Victor Ortiz vs. Joel Sebastianelli: More amusing than obnoxious, this case of vicious fighter versus writer happened in 2011, just five months before the aforementioned Mayweather-Ortiz bout. The scene was the MGM Grand at Foxwoods in Connecticut. Ortiz had just won the WBC welterweight title; defeating Andre Berto in the 'Fight of the Year' on HBO. The post-fight press conference was buzzing with media eager to question the new champ. Then it happened.
A baby-faced writer for Ring News 24 stood up and put a well-crafted question to Ortiz. It had to do with Ortiz overcoming adversity in this fight after he'd failed to overcome it against Marcos Maidana two years prior. Stupefied by such an inquiry, Ortiz ducked the question and threatened to come down off the stage to "spank" the teenaged cub reporter with his newly won green belt.
Everyone laughed. Next question please.
I later hired that kid to do KO Digest interviews including fully fleshed out Q&A's with Wladimir Klitschko, Ray Mancini, Keith Thurman, Paulie Malignaggi, Marlon Starling, Shannon Briggs, Steve Cunningham, Jeff Fenech, Virgil Hill, Mike Alvarado, and Mike Weaver among others.
Way to go Scoop, way to go!
Boxing writer Jeffrey Freeman grew up in the City of Champions, Brockton, Massachusetts from 1973 to 1987, during the marvelous career of Marvin Hagler. He then lived in Lowell, Mass during the best years of Micky Ward's illustrious career. A member of the Boxing Writers Association of America, Freeman covers boxing for The Sweet Science in New England.
EDITOR'S NOTE: This article originally appeared on Jan. 22, 2019.
Check out more boxing news on video at the Boxing Channel 
To comment on this story in the Fight Forum CLICK HERE
Regis Prograis KOs Jose Zepeda at Dignity Sports Health Park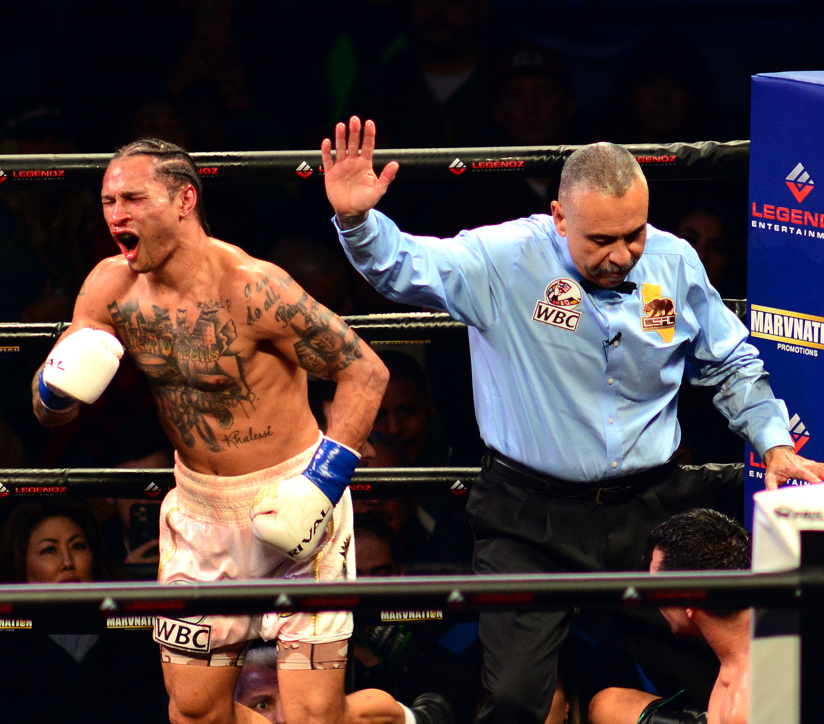 Not all big bangers are the same.
Regis Prograis slugged it out with fellow knockout artist Jose "Chon" Zepeda and after 11 rounds of tactical battle ended the WBC super lightweight battle with a flourishing knockout on Saturday.
Prograis (28-1, 24 KOs) becomes the first two-time super lightweight champion from New Orleans after his win over Zepeda (36-3, 27 KOs) at SoCal's Dignity Health Sports Park. It had been more than three years since he last held a world title.
"This was the hardest fight of my career," said Prograis after the strategic clash between the super lightweight division's biggest punchers.
The heavily favored Prograis and Zepeda were cautious under the cold outdoor weather arena. Many a previous world title match ended quickly under similar circumstances and both were wary.
Zepeda was slightly busier and able to connect early with his deceptively fast left cross. Though the first two rounds were not very action-packed, it seemed Zepeda landed more effective blows.
Then Prograis went to work.
"At first, I wanted to come out and box him. Maybe in the third round I caught my rhythm," said Prograis. "Then he caught on to that."
Behind his awkward head movements and more agile movements Prograis used jabs and counters to force Zepeda into a more defensive stance. Though neither fighter dominated a round it was the New Orleans native who dictated the pace and action.
Round after round was going into the books favoring Prograis, not until the eighth round did Zepeda make a move into a more aggressive mode and finally out-punched Prograis. But the former world champion adapted again.
Prograis and Zepeda slugged it out in the ninth round. Zepeda connected with a left uppercut but Prograis withstood the blow and continued moving forward. Once again Prograis out-punched Zepeda in a very close round.
Both seemed ready to make the 10th round their own and Zepeda connected with a left cross that landed flush. Prograis barely was moved and then increased his output and the two super lightweights exchanged furiously with the New Orleans fighter seeming to out-punch Zepeda again. It was a telling round.
Prograis had withstood Zepeda's biggest blows and was ready to unload some of his firepower. He had dominated most of the fight behind his jab and quick combinations. Now he was ready for the big shells.
Both super lightweights opened up in the 11th round with each connecting early. Suddenly an overhand left by Prograis sent Zepeda reeling backward and he did not let up. A furious 13-punch barrage was unloaded and down went Zepeda. Referee Ray Corona did not bother to count and ended the fight at 59 seconds of the 11th round.
"In the 11th round I felt like taking him to deep waters and drown him," said Prograis.
Once again Prograis holds a super lightweight world title.
"I heard the small talk. I heard the rumors. I want to congratulate Zepeda, that guy was tough, tough, tough. He gave me my hardest fight," said an ecstatic Prograis. "Listen, I got 29 fights, this was probably my hardest fight."
Yokasta Valle beats Evelin Bermudez
Seeking big challenges Yokasta Valle (27-2, 9 KOs) rallied after a slow start and out-boxed Argentina's Evelin Bermudez (17-1-1, 6 KOs) to win the WBO and IBF light flyweight world titles by majority decision after 10 rounds.
After absorbing big right hands from Bermudez during the first two rounds, Valle solved the problem and out-hustled the taller world champion behind quick combinations and making the champion shift her feet. It was a simple but effective plan and led to Valle storming down the stretch with more effective punching.
Bermudez had steamrolled most of her opponents behind a relentless attack that focused mainly on her big right cross. But against Valle that punch was mostly eliminated after the third round.
Valle slipped under Bermudez's attacks and countered with her combination punching. Occasionally the Costa Rican fighter connected with a big shot that caught the eye of the judges.
After 10 rounds, one judge scored it 95-95, while two others saw Valle the winner by majority decision 99-91, 97-93.
Valle, an IBF and WBO minimumweight world titlist, moved up a division to win her second weight division world title.
Conwell Wins
In a savage battle Ohio's Charles Conwell (18-0, 13 KOs) bludgeoned his way to victory over Juan Carlos Abreu (25-7-1, 23 KOs) by unanimous decision after 10 rounds in a super welterweight contest. It was a skillful display of 1950s-style fighting that saw Conwell showcase his strength and canny punch selection in out-fighting veteran slugger Abreu.
Heavyweights
Former Olympic super heavyweight gold medalist Bakhodir Jalolov (12-0, 12 KOs) knocked out Curtis Harper (14-9) in the fourth round with a barrage if blows. Twice he knocked down Harper who had been deducted a point for an intentional head butt.
Vargas Brothers
Both sons of boxing great Fernando Vargas emerged victorious in their bouts. Fernando Vargas Jr. (7-0, 7 KOs) knocked out Alejandro Martinez (3-3-1) in the second round of their super welterweight bout. Amado Vargas (5-0, 2 KOs) won by decision after four rounds versus Osmar Hernandez (1-2) in a featherweight match.
Photo credit: Al Applerose
To comment on this story in the Fight Forum CLICK HERE
John Ryder and Fabio Wardley Triumph on Dueling Shows in London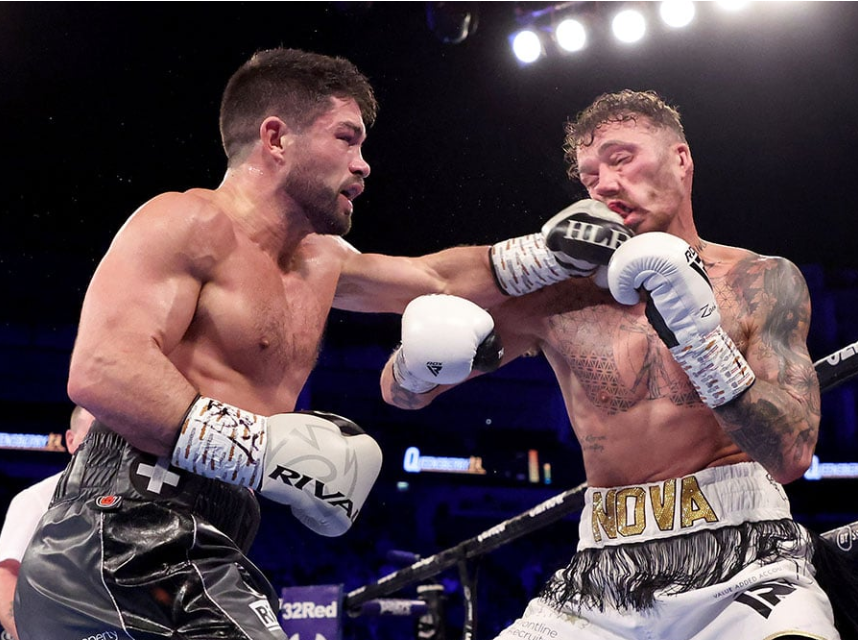 John Ryder and Fabio Wardley Triumph on Dueling Shows in London
If one were driving from Greenwich township in London to that city's Wembley sector, or vice versa, one would travel about 18 miles. No doubt many hardcore British fight fans would have gladly made the trip if the starting times of today's shows had been sufficiently staggered so that one could attend both events. But no, rival promoters Eddie Hearn (Matchroom) and Frank Warren (Queensberry) elected to go head-to-head.
Warren's Greenwich show at the O2 Arena, which aired in the U.S. on ESPN+, had the main event with the highest stakes and the deepest undercard. Hearn's show at Wembley, live-streamed on DAZN, had the allurement of heavyweights.
O2 Arena
The WBO interim 168-pound title was at stake plus pole position for a Cinco de Mayo showdown with Canelo Alvarez when Zach Parker squared off with countryman John Ryder. A second-generation boxer who came in undefeated (22-0, 16 KOs), Parker entered the ring an 11/5 favorite.
This was shaping up as a good fight, arguably tilting Ryder's way, when Parker pulled out after four rounds with a broken right hand. It was a bitter defeat for the Derbyshire man who was making his first start of 2022 after matches with defending WBO title-holder Demetrius Andrade kept falling out.
Although Canelo Alvarez has no fear of Englishmen having defeated Matthew Hatton, Amir Khan, Liam Smith, Rocky Fielding, Callum Smith, and Billy Joe Saunders in world title fights. John Ryder, a 34-year-old southpaw, nicknamed "Gorilla," may have the tools to make things interesting. Today's win, albeit somewhat tainted, was his fourth straight after losing a controversial decision to Callum Smith in Smith's hometown, elevating his record to 32-5 (18).
If Canelo chooses to spurn his mandatory and go in a different direction when he next laces on the gloves, the WBO will anoint John Ryder its full super middleweight champion.
Other O2 Bouts
Highly-touted middleweight Hamzah Sheeraz scored his 11th straight knockout and improved to 17-0 (13) with a fast beatdown of overmatched River Wilson-Bent (13-2-1) who was bruised and battered when the referee interceded in the waning seconds of round two. Sheeraz has been training in the U.S. at Joe Goossen's Ten Goose Gym in California.
Southpaw Dennis McCann, a 21-year-old Irish Traveler, continued his climb up the super bantamweight ranks with an eighth round stoppage of Scotland's Joe Ham. McCann (14-0, 8 KOs) was pummeling Ham (17-4) against the ropes when the bout was waived off. Ham hadn't previously been stopped.
Knockout artist Sam Noakes, a lightweight, employed a vicious body attack to score his 10th stoppage in as many opportunities, halting Calvin McCord (12-1, 2 KOs) in the fourth frame. Noakes showed no after-effects of the broken thumb that had kept him out of the ring since March.
Junior welterweight Pierce O'Leary scored two knockdowns but wasn't able to polish off Namibian import Emanuel Mungandjela who was still standing after 10 rounds. The judges had it 99-89, 99-90, and 96-92.
It was the first scheduled 10-rounder for O'Leary (11-0, 6 KOs), a Dubliner with a strong amateur pedigree. Mungandjela (16-4-1) was making his U.K. debut.
Wembley Arena
The main event pitted Dillian Whyte against Jermaine Franklin, but most of the pre-fight talk centered around the co-feature, a 12-round contest between Fabio Wardley and Nathan Gorman for the vacant British heavyweight title.
Wardley (14-0 heading in) had stopped his last 13 opponents while answering the bell for only 31 rounds, but the jury was still out on him. He had no amateur experience and was thought to be very much a work in progress. Nathan Gorman, Tyson Fury's cousin, had come up short in his first crossroads fight, getting stopped by former amateur rival Daniel Dubois, but was considered something more than a gatekeeper.
Wardley rose to the occasion with the biggest win of his career, stopping Gorman (19-2) in the third frame in a fan-friendly fight. Gorman clearly won the first round and busted Wardley's nose wide open in round two, but the Ipswich man, a protégé of Dillian Whyte, cranked up the juice at the sight of his own blood and scored two knockdowns before the second round was over. Another knockdown in the third prompted Gorman's corner to toss in the towel.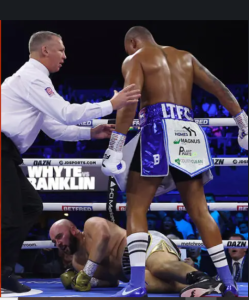 The main event was anticlimactic.
It was thought that Dillian Whyte, who has been matched tough throughout his career, would have little trouble with Saginaw, Michigan's Jermaine Franklin who had misleading 21-0 record, lacked fight-altering power, had fought only once in the last three years, and came in at a too-heavy 257 pounds. But the "Body Snatcher," in his first fight with trainer Buddy McGirt, delivered a lackluster performance while walking away with a majority decision (114-114, 116-112, 116-112).
Whyte, 35, improved his ledger to 29-3 (19) in what some are calling a hometown decision. To his credit, he came on strong in the final rounds after being rocked in the ninth. There is talk that he will be granted a rematch with Anthony Joshua who stopped him in the seventh round at this venue in December of 2015.
Other Wembley Bouts of Note
Welterweight Pat McCormack, a silver medalist at the Tokyo Olympics, was forced to go the distance for the first time in his young pro career, but swept all six rounds on the referee's card, improving to 3-0 against Argentina's clumsy, feather-fisted Christian Nicolas Andino (16-6-2). McCormack is trained by Ben Davison.
Derby super welterweight Sandy Ryan improved to 5-1 (2) with a wide decision over Argentine veteran Anahi Ester Sanchez (21-6). The scores were 98-92, 99-91, and 100-92. Ryan, who avenged her lone defeat at the pro level, spent 10 years in the amateurs racking up more than 50 wins.
Photo credits:
Ryder-Parker — Alex Morton / Getty
Wardley-Gorman — Mark Robinson / Matchroom
To comment on this story in the Fight Forum CLICK HERE
Avila Perspective, Chap 213: Regis Prograis vs Jose Zepeda Harks to Pryor-Aguello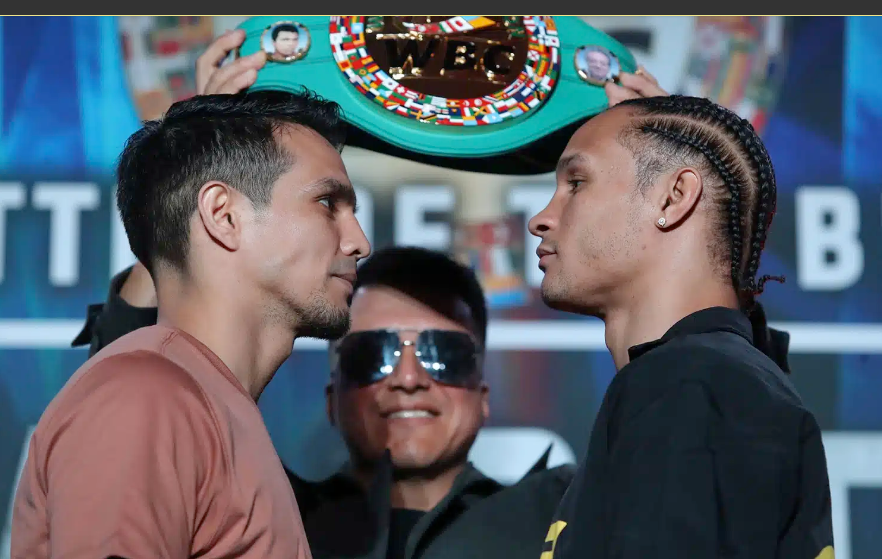 Two of the most avoided super lightweights in the last 40 years, Jose "Chon" Zepeda and Regis Prograis cross paths. One a strong, intense athlete reared in the competitive American amateur boxing world and the other a learn-in-the-ring slugger with heavy fists.
Both are 33-year-old southpaws steeped in dangerous power.
Prograis (27-1, 23 KOs) meets Zepeda (36-2, 27 KOs) on Saturday, Nov. 26, at Dignity Health Sports Park in Carson, Calif. for the vacant WBC super lightweight title. FITE.TV pay-per-view will show the loaded card staged by MarvNation Promotions and Legendz Entertainment.
Not since Aaron Pryor and Alexis Arguello roamed the super lightweights in the early 1980s have two more dynamic fighters with advanced boxing pedigrees met in the prize ring.
Fans still debate their two fights that saw Pryor win consecutive clashes loaded in controversy regarding a mysterious bottle containing an unknown substance imbibed during the final rounds of their first fight. Pryor would proceed to stop Arguello twice in battles that still create excitement when seen.
Can Prograis and Zepeda deliver with equal zeal?
When Hurricane Katrina flooded Progais' neighborhood in New Orleans his family was forced to move to Houston. In high school he was an outstanding athlete in football and engaged in the amateur boxing program. Errol Spence Jr. blocked his entry into the US Olympic team.
As a professional Prograis proved too strong for most foes and bludgeoned his way to a world title with dominant wins over Joel Diaz Jr., Terry Flanagan and Kiryl Relikh and won the WBA title. In October 2019, he met IBF titlist Josh Taylor of Scotland and lost the unification bout by majority decision to the Scotsman.
Since that loss few are willing to face Prograis who knocked out three foes in three years.
"When I was the world champion everybody called my name but once I didn't have the belt it all stopped and I know I'm a dangerous fighter and that's part of the reason," said Prograis.
Zepeda took a different path.
The American-born Mexican fighter began performing professionally at the late age of 20 in Mexico, in the border town of Mexicali. His heavy hands immediately ended all four of his first pro fights via knockout.
Slowly Zepeda was matched against different style of fighters in Southern California club shows like Ontario, Commerce, Montebello and Burbank. He was always a deliberate and careful pugilist and never the wild swinging type. But if an opponent got too frisky Zepeda could easily unload the left or right to end the fight quickly. That was never more evident than last year when the braggadocious Josue Vargas attempted to intimidate him with words and shoving in a press conference. The Puerto Rican was bludgeoned in the first round in front of his own fans at Madison Square Garden.
Never flashy but deliberate, Zepeda likes finishing the fight inside the distance.
"I have all the experience I need. Regis Prograis is going to be fighting the best version of Jose Zepeda. I really believe it's now or never," Zepeda said.
Prograis respects Zepeda and vice versa. But he remains confident.
"I have more experience and I've been at the top already. If you compare strength, power, chin, stamina, speed, defense, I feel like I win every time. Every category, it's me," said Prograis. "He's been hurt, he's been dropped a bunch of times. I've never been hurt and I destroy people."
Zepeda shrugs at the comments.
"Prograis is going to be very surprised by my power and speed. We're both going to fight the way we've been fighting. He hits hard, I hit hard and both of us are desperate to win which will make for a great fight," Zepeda says.
Expect one of the best super lightweight fights in the last 40 years when they finally exchange blows.
Women co-main
Argentina's Evelin Bermudez (17-0-1, 6 KOs) defends the WBO and IBF light flyweight world titles against Costa Rica's Yokasta Valle (26-2, 9 KOs) in a 10-round match. It's Bermudez's pressure versus Valle's speed and agility.
Bermudez, 26, is younger, taller and relentless in her attacks, especially with the right hand. She loves the right and has no left hook. But she does possess a strong left jab to set up the right cross. She has never fought in the USA.
Valle, 30, has plenty of speed and has been working on her power with American-based trainer Gloria Mosquera. This will be a tough test for the Costa Rican who recently signed promotion deals with MarvNation and Golden Boy Promotions. This is her second fight in the USA and toughest foe since losing to Naoko Fujioka in 2017.
It's a very tough match to predict the winner.
Others on the card include undefeated Ruben Torres, the tall lightweight promoted by Thompson Boxing Promotions. He was popular on social media for a recent knockout of a guy who tapped gloves with him and then was knocked out a single second later. Super welterweight Charles Conwell is another budding contender out of Cleveland. He's extraordinarily strong for the weight class and opened eyes with his knockout of Kazakhstan's Madiyar Ashkeyev who was undefeated when they met.
Also, two sons of the great Fernando Vargas are planned to fight too. Super welterweight prospect Fernando Vargas Jr. and featherweight Amado Vargas are scheduled to perform.
Doors open at 3 p.m. Tickets can be purchased at AXS.com.
Fights to Watch
Sat. DAZN 2:00 p.m. ET Dillian Whyte (28-3) vs Jermaine Franklin (21-0); Sandy Ryan (4-1) vs Anahi Sanchez (21-5).
Sat. ESPN+ 2:00 p.m. ET (main card) 5:00 p.m. ET (main event) Zach Parker (22-0) vs John Ryder (31-5).
Sat. FITE.TV ppv 9 p.m. ET (main card) 11:15 p.m. ET (main event) Regis Prograis (27-1) vs Jose Zepeda (36-2); Yokasta Valle (26-2) vs Evelin Bermudez (17-0-1); Ruben Torres (19-0) vs Eduardo Estela (13-1); Charles Conwell (17-0) vs Juan Carlos Abreu (25-6-1).
Photo credit: Tom Hogan / Hogan Photos
To comment on this story in the Fight Forum CLICK HERE