Beat The Press: Awkward Moments With Problematic Boxers (A TSS Classic)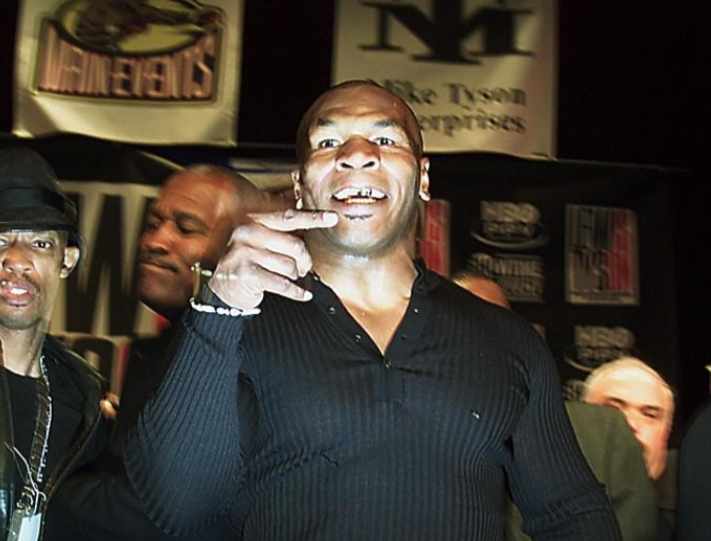 Beat The Press: Awkward Moments With Problematic Boxers (A TSS Classic)
"Get him a straitjacket!"
That's how all this craziness started.
In 2002, boxing writer Mark 'Scoop' Malinowski stood at the back of a Mike Tyson press conference in New York City and shouted his exasperation at the former baddest man on the planet. Tyson, having just bitten Lennox Lewis on the leg during a media face-off gone horribly wrong, was livid. Hearing what Malinowski said, Tyson turned his attention to the fedora-clad reporter and let loose with one of the most vulgar diatribes ever heard in professional sports.
"Put your mother in a straitjacket," the crazy-eyed Tyson screamed back at the "white boy" newshound best known (until this moment) for his informative Biofile write-ups about boxers. It only got so much worse from there with a totally unhinged Iron Mike threatening to sodomize Malinowski in public.
Seventeen years later, it's becoming more and more common for angry boxers to take their frustrations out on credentialed media members charged with asking them questions and covering the sport on their behalf. It's happened to me on conference calls and at live events, most memorably with Andre Berto in the lead-up to his 2011 bout with Jan Zaveck. Triggered by my suggestion that he was now at risk of becoming a forgotten fighter, Berto got pugnacious.
"Is that what it is?" Berto responded to me on the media teleconference. "You lose one fight and now you're forgotten about? Saying that kind of thing just blows my mind about you reporters."
Berto continued to let me have it.
"You've seen a guy like Shane Mosley resurrect his career three or four times, a guy like Bernard Hopkins and all these other guys, and they have four, five, six losses. I went through a tough defeat. I had a bad night. I don't care about what people think or what you're gonna write. I'm doing this for me, my family, and the real Berto fans out there and that's it."
I definitely got under his skin.
Last week in Las Vegas, Adrien Broner got into beefs with Showtime's Al Bernstein and with ESPN's Dan Rafael. Before his January 19th PPV non-effort against Manny Pacquiao, Broner refused to answer softball questions tossed by Bernstein during the final press conference.
It was an ugly scene, AB vs. AB.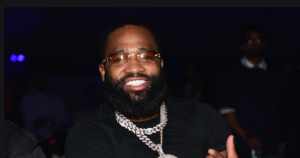 Bernstein, miffed but maintaining his professionalism, backed down when Broner disrespectfully told him he had nothing to say to him, calling him a "bitch ass nigga" and saying that he'd rather be questioned by Roy Jones Jr. or Stephen A. Smith.
No less indignant after losing a unanimous decision to Pacquiao, Broner was asked by Rafael if he really believed what he was saying about being robbed. Broner went for the low-hanging fruit.
He fat shamed Big Dan Rafael. "Hell ya I believe I won that fight," he told the plus-sized writer. "It's like when you believe you want cheese on that burger." Broner, giggling like a goof, amused by his own mean-spirited sense of humor, threatened to go even lower before the mic was passed to South Central News.
Why are these confrontations with the fight media happening? Is it just a case of "fake news" getting what's rightfully coming back at them by those they insult and otherwise misrepresent? Clearly, the days of Muhammad Ali verbally sparring with Howard Cosell and harmlessly playing with the man's toupée are long gone. Is social media to blame or is it all just a sign of the times?
I don't have all the answers.
What I do have are questions. That's how this job is supposed to work for any working journalist. We ask you. You answer us. We then report to our readers and/or followers, the boxing fans.
Unfortunately, this dynamic is dying if it's not already dead. Perhaps fighters no longer feel they need the boxing media to get their message out, particularly when they (like any President or entertainer) can use Twitter to say whatever the heck they want, whenever the hell they like.
Before going any further let me just say that the vast majority of boxers are exceedingly polite in their interactions with the media but boxing is a sport where passions run deep and tempers often flare. Sometimes we wordsmiths get burned. Here then are five infamous instances of boxers behaving truculently in the presence of writers, reporters, and television/radio announcers.
James Toney vs. Jim Gray: After becoming one of only two men to stop Evander Holyfield, 'Lights Out' Toney gave Showtime's Jim Gray a little taste of the streets. Gray, interviewing Toney in the ring after the 2003 upset in Las Vegas, asked the tough talking former middleweight champion of the world if he was just "too quick and too fast" for the aging Holyfield. It seemed like a legitimate question but Toney responded as if Gray had personally disrespected him. "Don't come up in here trying to give me no bad ass questions, trying to degrade me."
Undeterred, Gray pressed on but to no avail. "I ain't gotta answer nobody's questions," said Toney before knocking the mic out of Gray's hand and onto the canvas; then turning his back on the announcer and starting to walk away. As Gray went to recover his fallen tool of the trade, Toney spun back around to accost Gray for "walking up" on him. "I don't like you," griped Toney.
Deontay Wilder vs. Radio Raheem: In L.A. last year to cover Wilder-Fury for the website Seconds Out, boxing personality Radio Raheem quickly fell afoul of the 'Bronze Bomber' at the final fight week press conference following Wilder's face-off with Tyson Fury. Raheem made the mistake of bringing up the history of slavery. He reminded Wilder of comments he had made but had not elaborated on. "You said your people have been fighting for four hundred years…"
This upset Wilder more than Fury ever could.
"They your people too," Wilder sneered at his brother from another mother. Raheem asked for clarification but Wilder was fuming, accusing the reporter of trying to "bait" him. Raheem asked again for an explanation. "I don't have to explain what's understood," dismissed Wilder, now mocking 'Radio Raheem' for his on-air name. "Go Google that shit," he angrily instructed. Wilder ripped off his own glasses and then asked Raheem how he could dare ask such a thing, getting in his face with a loud rant about their people still fighting "to this day, to this day, to this day!"
Tyson Fury vs. Elie Seckbach: The comebacking 'Gypsy King' won respect and admiration from the mainstream media for his brutal honesty about addiction and depression, but he got off on the wrong foot with American boxing media veteran and YouTube sensation Elie Seckbach.
During an in-ring media event held to promote his then upcoming WBC heavyweight title fight with Deontay Wilder, Fury was introduced to Seckbach and encouraged to be interviewed by him. Fury was having none of it. He waved his finger at Seckbach and told him to leave the ring immediately. The publicist in charge of media relations was surprised at Fury's attitude towards the videographer. "I don't want him," Fury bluntly blurted. The publicist tried to tell Fury how good Seckbach had been for the fight's promotion but Fury's mind was already made up about him.
"Elie is a wanker, that's who he is."
"He's a hater," said Fury.
Floyd Mayweather Jr. vs. Larry Merchant: After winning an ugly dog fight on HBO PPV against Victor Ortiz by using a well-deserved cheap shot to win the WBC welterweight title by knockout, Mayweather took a few more cheap shots at Merchant during the post-fight interview. The result was a spectacularly uncomfortable exchange between a fighter and an announcer.
With Merchant congratulating the winner and commenting on how he was "in charge" of the fight, Mayweather suddenly snapped. "You never give me a fair shake," he said. "HBO needs to fire you, you don't know shit about boxing." The deer in the headlights look on Merchant's face told the whole story. "You ain't shit," Mayweather repeatedly told the 80-year-old broadcasting legend. Protecting himself at all times, Merchant shot back with a line that's sure to go down in history as one of the great comebacks. "I wish I was 50 years younger, I'd kick your ass!"
Mayweather wasn't done feuding with the media. In 2015, he revoked the May-Pac press credentials for three journos whose applications for press passes had already been approved. They were CNN's Rachel Nichols, ESPN's Michelle Beadle and TSS's own Thomas Hauser.
Victor Ortiz vs. Joel Sebastianelli: More amusing than obnoxious, this case of vicious fighter versus writer happened in 2011, just five months before the aforementioned Mayweather-Ortiz bout. The scene was the MGM Grand at Foxwoods in Connecticut. Ortiz had just won the WBC welterweight title; defeating Andre Berto in the 'Fight of the Year' on HBO. The post-fight press conference was buzzing with media eager to question the new champ. Then it happened.
A baby-faced writer for Ring News 24 stood up and put a well-crafted question to Ortiz. It had to do with Ortiz overcoming adversity in this fight after he'd failed to overcome it against Marcos Maidana two years prior. Stupefied by such an inquiry, Ortiz ducked the question and threatened to come down off the stage to "spank" the teenaged cub reporter with his newly won green belt.
Everyone laughed. Next question please.
I later hired that kid to do KO Digest interviews including fully fleshed out Q&A's with Wladimir Klitschko, Ray Mancini, Keith Thurman, Paulie Malignaggi, Marlon Starling, Shannon Briggs, Steve Cunningham, Jeff Fenech, Virgil Hill, Mike Alvarado, and Mike Weaver among others.
Way to go Scoop, way to go!
Boxing writer Jeffrey Freeman grew up in the City of Champions, Brockton, Massachusetts from 1973 to 1987, during the marvelous career of Marvin Hagler. He then lived in Lowell, Mass during the best years of Micky Ward's illustrious career. A member of the Boxing Writers Association of America, Freeman covers boxing for The Sweet Science in New England.
EDITOR'S NOTE: This article originally appeared on Jan. 22, 2019.
Check out more boxing news on video at the Boxing Channel 
To comment on this story in the Fight Forum CLICK HERE
Season 2 of the World Boxing Super Series Concludes on Saturday in Munich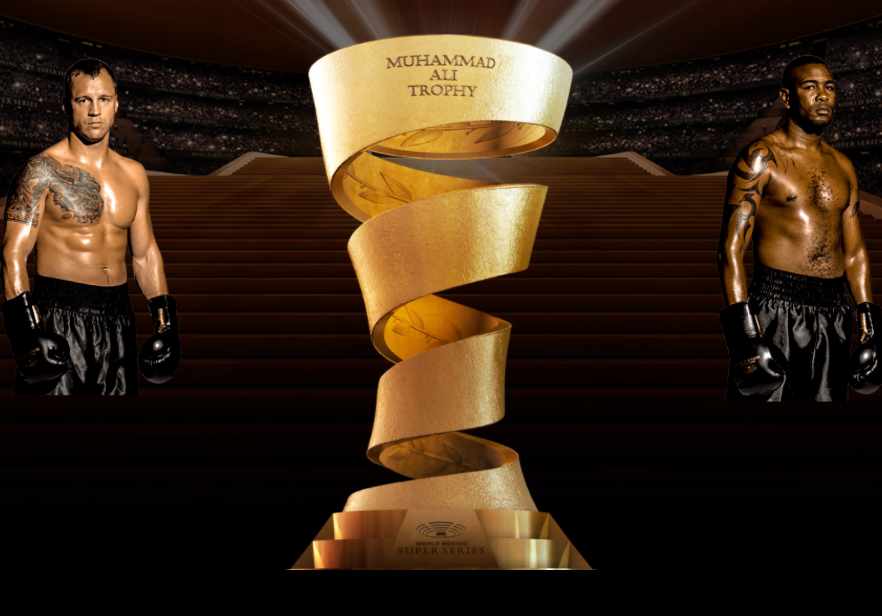 PRESS RELEASE: The hotly-anticipated World Boxing Super Series Season II Cruiserweight Final between Mairis Briedis and Yuniel Dorticos takes place behind-closed-doors in a film studio at Plazamedia Broadcasting Center in Munich, Germany on Saturday, 26 September. On the line: The Muhammad Ali Trophy, IBF World Title, and vacant Ring Magazine 200 lbs belt.
The final will be shown live on DAZN in the US and Sky Sports in the UK.
"A final for the Muhammad Ali Trophy has proved to be something extraordinary. We have seen that it brings out the best in boxers which reflects the DNA of our tournament as to deliver and continue to deliver boxing at its very best to fans of the sport," said Andreas Benz, CEO of Comosa, the event organizer.
"Plazamedia is a phenomenal solution, the studios are providing a controlled environment which is of huge benefit to us and the production team to keep everyone safe while also putting on a great show.
"At the same time, we have done everything to secure fair conditions for both teams, and to ensure they remain healthy and isolated until the action starts."
Mairis Briedis, tournament No. 1 seed, qualified for the final through wins over Noel Mikaelian (UD) and Krzysztof Glowacki (TKO3), while Dorticos, No. 2 seed conquered Mateusz Masternak (UD) and Andrew Tabiti (KO10) to enter the 200 lbs decider.
"We are very happy about the announcement of the final," said Latvia's Mairis Briedis. "I love the fact that it will be in Munich as it reminds me of every time I went to train with the Klitschko brothers in Germany and the flights were always via Munich. Those are some great memories of the time spent with them there."
Said Miami-based Cuban, Yuniel 'The KO Doctor' Dorticos, IBF World Cruiserweight Champion: "To all my fans worldwide, In Europe and especially in Munich, Germany: I am super happy the World Boxing Super Series final will take place in Munich, Germany, and I will see you all on Saturday, September 26th. The KO Doctor is back and ready to prescribe another dose of pain and take the Muhammad Ali Trophy back to Miami."
Kalle Sauerland, Chief Boxing Officer of the WBSS, said: "On 26 September we will not only crown the best cruiserweight on the planet but also send a sign to the world that boxing is back with the first major transatlantic championship bout between the undisputed number one and two in their division.
The final is not only about honour and glory, but cementing a legacy. The winner will become a member of an exclusive 'Ali Trophy Winner Club' that includes Oleksandr Usyk, Callum Smith, Naoya Inoue and Josh Taylor. It doesn't get much bigger in boxing, and we expect Briedis and Dorticos to have an absolute barnstormer!"
The Muhammad Ali Trophy was created by the late world-renowned artist Silvio Gazzaniga who also designed the iconic FIFA World Cup Trophy.
Check out more boxing news on video at the Boxing Channel 
To comment on this story in the Fight Forum CLICK HERE
Avila Perspective, Chap. 106: Return of LA Boxing, Josh Taylor, Charlos and More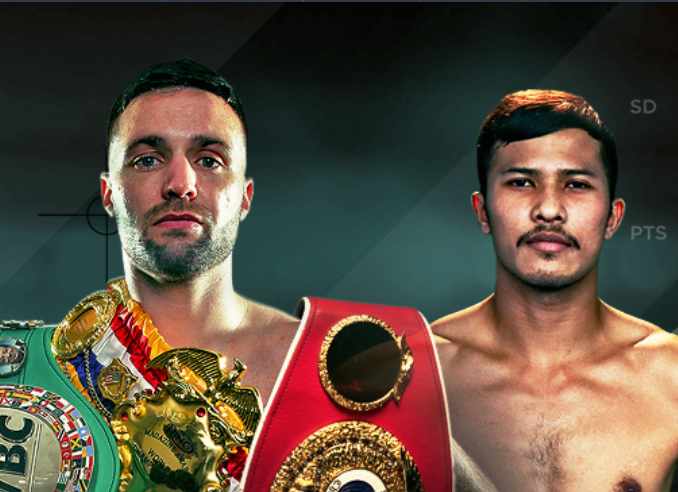 Avila Perspective, Chap. 106: Return of LA Boxing, Josh Taylor, Charlos and More
Let's call this week the Big Build Up.
Back in the 1920s to the 1950s the City of Angels was known as the place where Humphrey Bogart lived and played characters out of Raymond Chandler's novels. Books like the "Big Sleep" and "Lady in a Lake" were made into movies based in Los Angeles.
Well, here we are back where boxing thrives, people or not.
Los Angeles kicks off the big boxing week starting with a televised fight card that features home grown featherweight Vic Pasillas at the Microsoft Theater in the downtown area. Fox Sports 1 will televise the Premier Boxing Championship card on Wednesday, Sept. 23.
Pasillas (15-0,8 KOs) faces Dominican fighter Ranfis Encarnacion (17-0, 13 KOs) in the co-main event at a fan-less event that begins a crowded week of boxing as we near the end of 2020.
"Coming out on top against Encarnación is going to catapult me into some big fights at featherweight. The division is wide open and I know with hard work I can take it over," said Pasillas who is originally from Los Angeles. "This is by far the most important fight of my career. I'm coming with everything I got, because I know this is the turning point that will lead to bigger and better fights. I am ready to bring an exciting fight to the fans and get my hand raised in victory."
Both Pasillas and Encarnacion are undefeated and unknown to most of the boxing world. A win changes everything especially when it's difficult to even stage a boxing card.
Promoters are anxious to get their fighters in the ring by any means necessary.
On Thursday in Biloxi, Mississippi, super lightweight Michael Williams Jr. meets Thomas Miller in the headline attraction of a boxing card that will be streamed by UFC Fight Pass.
On Friday in southern Mexico, Serhii Bohachuk (17-0, 17 KOs) meets Alejandro Davila (21-1-2, 8 KOs) in Merida, Yucatan. No word if it will be streamed. The super welterweight from Ukraine has a 17-fight knockout streak and has become a main attraction in Hollywood, California for 360 Promotions.
"Serhii has become one of the most talked about rising stars in boxing," said Tom Loeffler, promoter of 360 Promotions. "Boxing fans are excited to see if he can continue his knockout streak against Alejandro Davila, the toughest opponent he's faced. He's been training very hard with Manny Robles for this fight and if victorious, we're certain there will be bigger opportunities for him in the near future."
These are all tasty appetizers for the big buffet coming on Saturday.
Breakfast, Lunch and Dinner
Saturday morning, especially if you live in the California area, ESPN+ will showcase the IBF, WBA super lightweight world title fight between champion Josh Taylor (16-0, 12 KOs) and Apinun Khongsong (16-0, 13 KOs) in London. It will be streamed live on Sept. 26, Saturday morning, starting at 11 a.m PST.
This is an important match for Taylor (pictured on the left) who needs a win to nail down a unification clash with Jose Carlos Ramirez the WBC and WBO titlist. If Scotland's Taylor emerges victorious the super lightweight clash will be one of the top fights of the year.
And if that fight happens to take place, then that winner more than likely meets WBO welterweight champion Terence Crawford.
But first things first. Taylor needs to defeat Thailand's Khongsong on Saturday.
"I didn't want a warm-up fight, so getting straight back in there against my mandatory challenger is great, as it's kept me fully focused. I want big fights in my career, so this is an important fight with my belts on the line," said Taylor.
Charlos Pay-per-view
The Charlos brothers asked for it and they got it.
Long have the brothers from Houston, Texas asked for a pay-per-view fight card and it never seemed possible until now. The Charlos will headline a pay-per-view double-header on Saturday via Showtime.
Beginning at 4 p.m PT/ 7 p.m. ET the Showtime pay-per-view card begins with three top notch bouts:
WBO bantamweight titlist John Riel Casimero (29-4) vs Ghana's Duke Micah (24-0, 19 KOs).
WBA super bantamweight titlist Brandon Figueroa (20-0-1, 15 KOs) vs Damien Vazquez (15-1-1, 8 KOs).
WBC middleweight titlist Jermall Charlo (30-0, 22 KOs) v Sergiy Derevyanchenko (13-2, 10 KOs).
Charlo was not impressed with Derevyanchenko's performances against Daniel Jacobs and Gennady Golovkin because both were losses. He expects to dominate.
Derevyanchenko says he's ready for Charlo.
"Golovkin is a very different fighter than Charlo, but Jacobs is similar stylistically, so that's something I'll be used to," said Derevyanchenko. "This training camp has been very similar to camps for my previous fights though. We just brought in different sparring partners for this one. We're using fighters who can show us what Charlo will bring to the ring."
After a 30-minute intermission the second half of the boxing card begins.
Former bantamweight world champion Luis Nery (30-0, 24 KOs) moves up in weight to face Aaron Alameda (25-0, 13 KOs) for the vacant WBC super bantamweight world title. Both fighters are from Mexico.
Former super bantamweight titlists Danny Roman (27-3-1) and Juan Carlos Payano (21-3) meet in a 12-round bout.
In the grand finale WBC super welterweight titlist Jermell Charlo (33-1, 17 KOs) challenges IBF and WBA super welterweight titlist Jeison Rosario (20-1-1, 14 KOs) in a fight for all three belts.
"We lions," said Charlo.
It's a very big week for boxing that begins on Wednesday and ends Saturday.
Check out more boxing news on video at the Boxing Channel 
To comment on this story in the Fight Forum CLICK HERE
The Return of Wednesday Boxing Evokes Memories of a Golden Era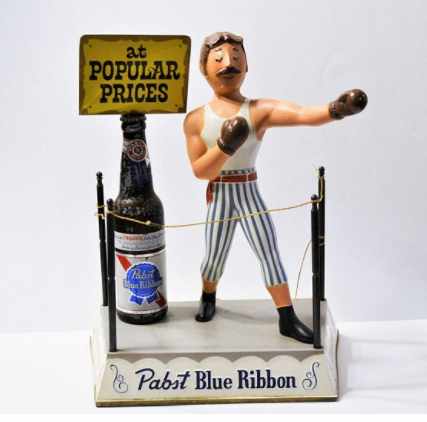 There's a Wednesday card on the boxing docket this week. The card, which features several undefeated up-and-comers of the sort usually found on Showtime's developmental series, "ShoBox: The New Generation," will play out at the Microsoft Theater in Los Angeles and air on Fox Sports 1.
Not to be out-done, "ShoBox" is returning. The long-running series, which suspended operations in March in obeisance to COVID-19 restrictions, returns on Oct. 7 with a show emanating from Connecticut's Mohegan Sun Casino. The contestants in the main go of the four-fight card, Charles Conwell and Wendy Toussaint, have identical 12-0 records.
It just so happens that Oct. 7 is also a Wednesday. And these upcoming Wednesday shows transported this reporter back to his boyhood when boxing was a fixture on radio and television on Wednesday nights. The Wednesday series sponsored by Pabst Blue Ribbon beer ran from 1950 to 1960, airing the first five years on CBS and then on ABC.
Fights were all over the TV dial during the 1950s, not that there was much competition. The Big Three — NBC, CBS, and ABC — ruled the airwaves with DuMont a very distant fourth and cable television well off into the future. (For a time, the short-lived DuMont network aired boxing shows on Mondays.)
When televisions first came out, they were a big-ticket item. In 1948, RCA's cheapest model sold for $395. That's the equivalent of $10,400 today. By 1954, the cost of the least expensive model had declined to $189 and it came in a bigger box, with a 17-inch screen compared with the 13-inch screen that was standard six years earlier.
With the cost of the coveted contraption beyond the means of many wage earners, saloonkeepers cashed in. Boxing fans flocked to the neighborhood tavern to get their boxing fix. The saloonkeeper could write off his television sets on his taxes as a business expense.
Those were the days, and I date myself, when every town had a TV repair shop and the repairman, like the family doctor, made house calls.
The Wednesday Night Fights were a spin-off of the Friday Night Fights on NBC. The matchmaker for both series (through 1958) was the International Boxing Club which was headquartered at Madison Square Garden. The president of the IBC was James D. Norris (who would come to be seen as a puppet for mobster Frankie Carbo, but that's a story for another day).
James D. Norris inherited a vast fortune from his father, Canadian businessman James E. Norris. The elder Norris was a big wheel in the sport of hockey and had a financial interest in the arenas that housed NHL teams in Chicago, Detroit, and St. Louis. He made these arenas available to his son and the Wednesday fight cards moved around, unlike the Friday fights which were pinned to Madison Square Garden.
Both series would eventually venture out at times into virgin territory, but the Wednesday series was the trailblazer. The first nationally televised boxing show from the West Coast was a Wednesday affair. Jimmy Carter defended his world lightweight title against LA fan favorite Art Aragon, the original Golden Boy, at the Olympic Auditorium on Nov. 14, 1951. Aragon had upset Carter in a non-title fight 11 weeks earlier, but Carter took him to school in the rematch, winning a lopsided decision.
The Friday boxing series, which took the name "Gillette Cavalcade of Sports," would come to be more fondly remembered, but once the TV became a living room staple, which happened fast, the Wednesday series drew higher ratings. This was predictable as more folks stayed home on Wednesday nights than on Friday nights. And although the Friday series had a larger budget, some of the most important fights of the era were staged on Wednesdays.
One of the highlights of the 1951 season was Ezzard Charles' world heavyweight title defense against Jersey Joe Walcott at Pittsburgh's Forbes Field. It was Walcott's fifth crack at the title and he was considered ancient at age 37, but he avenged his two previous losses to Charles with a thunderous one-punch knockout.
Carmen Basilio appeared in The Ring magazine Fight of the Year in five consecutive years (1955-1959). The first two — his second meeting with Tony DeMarco and his second meeting with Johnny Saxton – were televised on a Wednesday.
Although he would be quickly forgotten, the Wednesday series brought Bob Satterfield a cult following because of his unpredictability. He certainly left an impression on octogenarian boxing writer Ted Sares who recently named Satterfield his all-time favorite fighter.
To conjure up a portrait of Satterfield, think Deontay Wilder and then fix Wilder with a glass jaw. Satterfield, whose best weight was about 182 pounds, was a murderous puncher, but during his career he was stopped 13 times.
LA's Clarence Henry and Pittsburgh's Bob Baker were ranked #3 in the heavyweight division when they ventured to Chicago to tangle with Satterfield, Henry in 1952 and Baker the following year. Henry knocked out Satterfield in the opening round. Satterfield hit the canvas so hard, said a ringside reporter, the resin dust flew up.
The Satterfield-Baker fight would also end in the opening round. Baker out-weighed Satterfield by 34 pounds, but Satterfield flattened him. Later on, in a non-Wednesday fight, Satterfield knocked out Cleveland "Big Cat" Williams in the third round. Williams, 33-1 heading in, was the larger man by 25 pounds.
One bet on or against Bob Satterfield at one's own peril.
The Wednesday Night Fights had a nice run before the series was cancelled and supplanted in its time slot by "The Naked City," a critically acclaimed police drama series. Perhaps the return of boxing on Wednesdays augurs well for another mid-week boxing series, but we won't hold our breath.
Check out more boxing news on video at the Boxing Channel 
To comment on this story in the Fight Forum CLICK HERE