25 Years Ago Today, Buster Mathis, the Dancing Bear, Took His Earthly 10-Count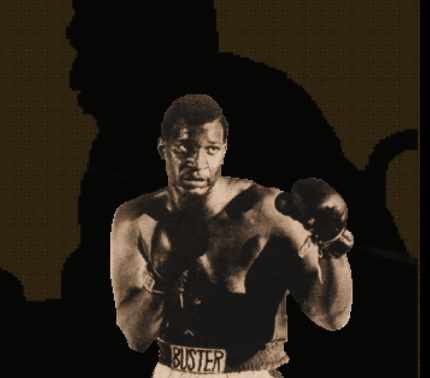 Sept. 6 marks the 25th anniversary of the death of former heavyweight contender Buster Mathis, who was 51 when he took his earthly 10-count in 1995. Although he never was a world champion, Buster, the dancing bear of a contender who came closer to making it all the way to the top than anyone of his overstuffed dimensions had any reasonable right to expect, may have already been dethroned in the court of public opinion in the one area where he once was thought to forever reign supreme.
By virtue of his shocking, seventh-round stoppage of IBF/WBA/WBO heavyweight titlist Anthony Joshua on June 1, 2019, in Madison Square Garden, Andy Ruiz Jr., another noticeably plump practitioner of the pugilistic arts, likely laid claim to the unofficial designation of "patron saint of fat heavyweights" that long before had been conferred upon Mathis, a legendary chow hound who once had dubbed himself a "world champion eater."
It was an apt description, too, although the 6'3½" Mathis, whose one shot at a somewhat less legitimate world title (the vacant New York State Athletic Commission version, also recognized in Pennsylvania, Illinois, Maine and Massachusetts) had ended in an 11th-round knockout loss to his personal boogeyman, Joe Frazier, on March 24, 1968, weighed as much as 300 pounds only once as a pro, for his debut against Bob Maynard. But even when he tipped the scale in the high 220s and low 230s, Buster always appeared to be much heavier than he should have been. Try as he might to transform himself into a more presentable physical specimen, the Grand Rapids, Mich. product never could completely rid himself of the love handles that lapped over the waistband of his trunks like ocean waves breaking across a reef.
"I remember getting down as low as 229 pounds for one fight (in 1968, against Jim Beattie)," recalled Buster in May 1989, when I first interviewed him. "I looked pretty good, but I didn't feel good. I felt really, really weak. I was so weak, I couldn't break an egg.
"Man, did I have to work hard to get down to 230, 235 pounds. It wasn't natural for me. I'd been over 300 pounds most of my life, so that's the weight at which I felt most comfortable."
The same might be said of Ruiz, who also apparently has given up on the notion that the aesthetics of appearance are as important to a fighter as genetics. If nature has decreed that an aspiring boxer is never going to snag a Calvin Klein underwear commercial, so be it. It is still possible to succeed, love handles or not, if one if fortunate enough to have been bestowed with surprisingly nimble footwork, quick hands, and a fundamental mastery of the nuances of a sport in which what you see isn't always indicative of what you get.
In retrospect, it might be said that Buster Mathis – his son, Buster Mathis Jr., who prefers to be called "Bus," also went on to become a heavyweight of some note – is at least a hard-luck figure, and possibly a tragic one given the myriad physical ailments his high-caloric lifestyle imposed upon him once he hung up his gloves and his weight continued to rise like a soufflé in the oven. Not that the elder Mathis' 30-4 record, with 21 victories inside the distance, with more than a few of those bouts against elite-level opponents, is anything to casually dismiss, but had he emerged victorious in any of his three pivotal bouts – against Muhammad Ali (UD12) and Jerry Quarry (UD12), in addition to Frazier – it would have certified Buster as one of the best big men in an exceptionally deep era for heavyweights.
"I used to be really, really good. I think the record shows that," Mathis told me for a story I did for the Philadelphia Daily News when he was training Buster Jr. for a run at the sort of ring glory that had always seemed to be just beyond the father's grasp.
"Nobody my size ever moved like I did. In my neighborhood, if you wasn't fast you'd be last. So I made myself fast. I might have been big, but I learned how to run on my toes. I even thought fast. When people called me names and told me I couldn't do this or couldn't do that, it only made me more determined to prove them wrong."
But it is the loss to Frazier that rankled Mathis more than any other, in part because their clash was for a bejeweled belt but also because of the fact that it was Frazier, not Mathis, who was the United States' heavyweight representative at the 1964 Tokyo Olympics. Mathis actually had earned a spot on the USA team, but he broke a hand in training and was replaced by Frazier, the alternate, who went on to win the gold medal and enjoy the kind of Hall of Fame pro career that Buster, at best, only got to sniff.
Maybe it all had been preordained by fate, with the first tumbling domino of disappointment being Mathis' unwise decision to part company with trainer Cus D'Amato, who had previously taken Floyd Patterson to the heavyweight championship and would later do so with Mike Tyson.
"I regret leaving Cus D'Amato," Mathis said, whose son's full name is Buster D'Amato Mathis. "There were people around me who kept saying that Cus would ruin my life, that I should be more independent. All Cus ever did was look out for me. He was one of the best things that ever happened to me in boxing.
"And the '64 Olympics, that's another big regret. I guess I've thought about that two million times. I had made the team, I was going to Tokyo. But then I broke my hand in training, and they replaced me with Joe Frazier. So what happens? Frazier wins the gold medal and goes on to become world champion. Would it have happened for me if I had gone instead? Man, I don't know. But I can't help but wonder."
So, it was perhaps with a need to get some payback when Mathis, reasonably fit by his relaxed standards, came in at 243½ pounds for his matchup with Smokin' Joe, four years after a still-raw Frazier had slid into the Olympic vacancy created by Buster's busted hand. But Frazier, more polished than he'd been in 1964 and always a lights-out puncher, stopped his much larger opponent in 11 rounds.
"In the quiet hours, when I'm in my chair, lights out, everybody in bed, I think about Joe Frazier," Mathis told me in a subsequent interview in 1994, the year before he died. "I bet I've fought Joe Frazier a million times in my mind. And you know what? I always beat him.
"But you can't change the facts. You can cry over them when they don't turn out your way, but you can't change them. The fact is that when I did fight Joe Frazier, I lost. Got knocked out. I'm not complaining. I've had a pretty good life. I was never champion, but I guess everybody can't get to be champion. I was fortunate enough to get close. That's more than a lot of people in this business can say."
Mathis was just 29 when he stepped away in 1972, after his final bout, a second-round knockout loss to Ron Lyle that may have convinced him that being nearly good enough was never really going to be good enough. Also, at 263 pounds for that fight, his ongoing war with weight appeared to be a battle he was destined from birth to lose, and, well, lose big. When he worked on the loading dock of the Interstate Trucking Company after his retirement from boxing, Mathis was known as the "Human Forklift" because of his size and strength. He reluctantly gave up that job when his doctors warned him of the dangers of overexertion.
In 1989, when he was 45, Mathis – who had ballooned to 500-plus pounds a few years earlier – had pared down to 330, primarily because of a diet free of saturated fats and the soft drinks he used to consume by the case. But he suffered from diabetes, hypertension and heart disease, and his already precarious health would continue to worsen; two strokes left him with limited motor control on his left side and forced him to use a walker. He suffered kidney failure in 1992 and had a pacemaker installed after a 1993 heart attack.
Although he continued to work with Buster Jr., who had taken up boxing as a means of avoiding the ongoing physical deterioration that seemed to be killing his father in stages, Buster Sr. no longer could demonstrate what he wanted his son to do in the ring. It was all he could do to sit in a chair at the Pride Boxing Club in Grand Rapids and tell  Bus, by then the United States Boxing Association heavyweight champ, what to do, and even then on those increasingly rare occasions when he could summon enough energy to make it to the gym.
"I can't show Bus what to do," Mathis said. "My health isn't good enough to allow me to do that."
Medical bills, and maybe grocery bills, by then had so depleted the nest egg he had socked away from boxing that Mathis' family, which included wife Joan and daughter Antonia, mostly subsisted on disability payments.
"I wasn't dealt a good hand, but I'm doing OK," he told me. "I'm not starving." That last comment quickly elicited an ironic smile.
"I'm not starving, get it?" he said with a chuckle. "But then nobody ever could say that Buster Mathis was starving. Food is my weakness, my downfall. For some people it's booze or drugs. For me, it's always been food."
It had been Buster Sr.'s dream to stick around long enough to help guide his son to a place higher on the heavyweight ladder than he'd been able to attain. It was not to be; Mathis was found unconscious by his wife at the family home in Wyoming, Mich., a Grand Rapids suburb. Family members and emergency workers tried to revive him, but he was pronounced dead upon arrival at Butterworth Hospital in Grand Rapids.
Brian Lee, Buster Jr.'s manager, said the father's passing was not unexpected, but "it's a blessing he went so peacefully after so many struggles, so many ailments. He was not afraid to die. He was comfortable with it.
"Not many people know this, but he was starting to lose his eyesight, too. He put on a brave front for the kids (in addition to Buster Jr., Mathis was working with 20 or so other young fighters). The gym kind of kept him going."
Buster Jr., now 50, posted a 21-2 record with just seven wins inside the distance, an indication that, like his father, he was more a technician than a big blaster. Also like his father, he was acutely aware of his genetic predisposition to pack on pounds at an alarming rate. He was 325 pounds at 14, and his taking up of his dad's profession was less a nod to his legacy than an acknowledgment that there really can be too much of a good thing.
"I just wanted to change my life," Bus said in the lead-up to his Aug. 13, 1994, bout with Riddick Bowe in Atlantic City, which ended as a no-contest when Bowe, who was winning easily, made the mistake of hitting his opponent when he was down on one knee. "You know how it is in high school. The jocks wear the letter jackets and get all the girls. When you're my size, though, you don't have all that stuff. I didn't have a girlfriend, and it was hard to shop for clothes. People don't accept you when you are fat.
"But it's not only that. I've seen what being too big for too long has done to my father. His health isn't what it should be. For a long time I didn't think about being big, because there are a lot of big people on my dad's side of the family. I figured I was going to be big, too, because that's just the way it is.
"Now I know it doesn't necessarily have to be that way. Everybody has a choice."
Check out more boxing news on video at the Boxing Channel 
To comment on this story in the Fight Forum CLICK HERE
Weekend Boxing Recap: The Mikey Garcia Stunner and More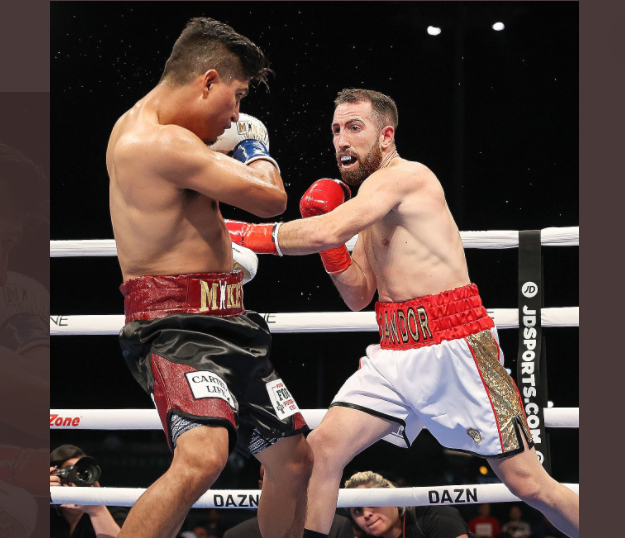 Weekend Boxing Recap: The Mikey Garcia Stunner and More
Boxing was all over the map on the third Saturday of October with many of the shows pulled together on short notice as promoters took advantage of relaxed COVID constraints to return to business as usual. When the smoke cleared, a monster upset in Fresno overshadowed the other events.
Mikey Garcia, a shoo-in to make the Hall of Fame, was on the wrong side of it. Spain's Sandor Martin, in his USA debut, won a well-deserved decision over Garcia at a Triple-A baseball park in Fresno.
Garcia, a former four-division belt-holder, was 40-1 coming in with his only loss coming at the hands of Errol Spence. Martin, a 28-year-old southpaw, brought a nice record with him from Europe (38-2) but with only 13 wins coming by way of stoppage it was plain that he wasn't a heavy hitter. His only chance was to out-box Garcia and that seemed far-fetched.
But Martin did exactly that, counter-punching effectively to win a 10-round majority decision. Two judges had it 97-93 with the third turning in a 95-95 tally.
Neither Garcia nor Martin were natural welterweights. The bout was fought at a catch-weight of 145 pounds. After the bout, the Spaniard indicated a preference for dropping back to 140 where enticing opportunities await.
There was another upset, albeit a much milder one, in the co-feature where Puerto Rico's Jonathan Gonzalez improved to 25-3-1 (14) while shearing the WBO world flyweight title from the shoulders of Mexicali's Elwin Soto (19-2).
Soto was making his fourth defense of the title and rode into the match with a 17-fight winning streak. Gonzalez, a southpaw, had formerly fought for the WBO world flyweight title, getting stopped in seven rounds by Kosei Tanaka in Nagoya, Japan.
One of the judges favored Soto 116-112, but he was properly out-voted by his colleagues who had it 116-112 the other way.
Riga, Latvia
The first major fight on Saturday took place in Riga, Latvia, where hometown hero Mairis Briedis successfully defended his IBF cruiserweight title with a third-round stoppage of Germany's Artur Mann who was on the deck three times before the match was halted at the 1:54 mark.
Briedis (28-1, 20 KOs) was making his first start since dismantling KO artist Yuniel Dorticos in the finals of season two of the World Boxing Super Series cruiserweight tournament. He scored the first of his three knockdowns in the waning seconds of round two when he deposited Mann (17-2) on the canvas with a straight right hand.
Although boosters of fast-rising WBO champ Lawrence Okolie would disagree, the Latvian is widely regarded as the best cruiserweight in the world. His only setback came when he lost a narrow decision to current WBA/IBF/WBO heavyweight champ Oleksandr Usyk in this ring in January of 2018. Now 36 years old, Briedis has yet to appear in a main event outside Europe. That's undoubtedly about to change and a rematch with Usyk is well within the realm of possibility.
Newcastle, England
Chris Eubank Jr, whose fight two weeks ago in London with late sub Anati Muratov was cancelled at the 11th hour when Muratov failed his medical exam, was added to this Matchroom card and his bout with Wanik Awdijan became the de facto main event. A 26-year-old German, born in Armenia, Awdijan was 28-1 and had won 21 straight (against very limited opposition), but he was no match for Eubank Jr who broke him down with body shots, likely breaking his ribs and forcing him to quit on his stool after five frames.
Eubank Jr, 32, improved to 31-2 (23) His only defeats came at the hands of former world title-holder George Groves and BJ Saunders. He dedicated this fight to his late brother Sebastian Eubank who died in July while swimming in the Persian Gulf.
In other bouts, Hughie Fury, the cousin of Tyson Fury, stayed relevant in the heavyweight division with a stoppage of well-traveled German Christian Hammer and Savannah Marshall successfully defended her WBO world middleweight title with a second-round TKO of Lolita Muzeya.
Akin to Eubank-Awdijan, the Fury-Hammer fight also ended with the loser bowing out after five frames. A biceps injury allegedly caused Hammer to say "no mas," but Fury, in what was arguably his career-best performance, was well ahead on the cards.
The Marshall-Muzeya fight was a battle of unbeatens, but Muzeya's 16-0 record was suspicious as the Zambian had never fought outside the continent of Africa. She came out blazing, but Marshall, who improved to 11-0 (9) had her number and retained her title.
Brooklyn
In the featured bout of a TrillerVerz show at Barclays Center, Long Island's Cletus Seldin, the Hebrew Hammer, knocked out William Silva in the seventh round. It was the fifth-straight win for the 35-year-old Seldin, a junior welterweight who was making his first start in 20 months.
Silva, a 34-year-old Brazilian who fights out of Florida, brought a 28-3 record. His previous losses had come at the hands of Felix Verdejo, Teofimo Lopez, and Arnold Barboza Jr. Seldin improved to 26-1 (22 KOs).
In other bouts, junior welterweight Petros Ananyan, a Brooklyn-based Armenian, improved to 16-2-2 (7) with a 10-round majority decision over local fighter Daniel Gonzalez (20-3-1) and Will Madera of Albany, NY, scored a mild upset when he stopped Jamshidbek Najmitdinov who was pulled out after five rounds with an apparent shoulder injury.
Najmitdinov, from Uzbekistan, was making his U.S. debut but he brought a 17-1 record blemished only by former world title-holder Viktor Postol. Madera improved to 17-1-3.
Photo credit: Ed Mulholand / Matchroom
Check out more boxing news on video at the Boxing Channel
To comment on this story in the Fight Forum CLICK HERE
Emanuel Navarrete Retains WBO Featherweight Title in a San Diego Firefight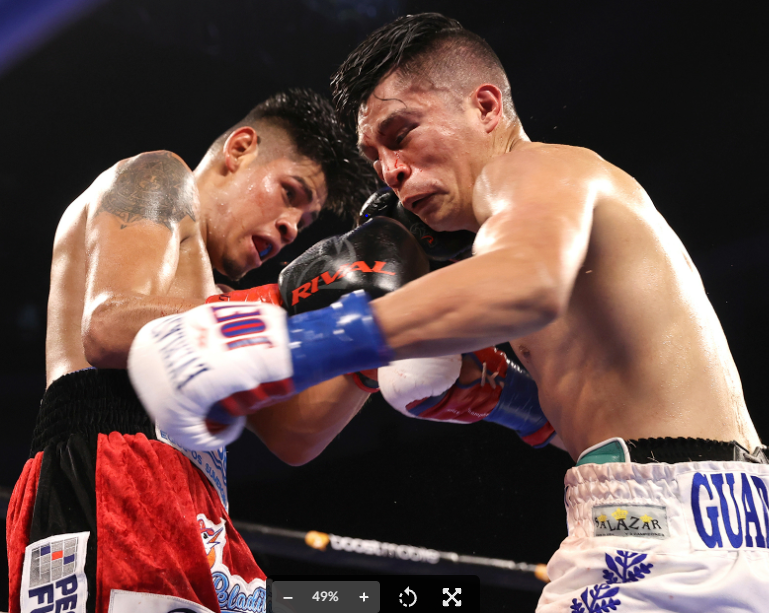 SAN DIEGO-WBO featherweight titlist Emanuel Navarrete won by unanimous decision over Joet Gonzalez in a slugfest that had fans cheering nonstop on Friday night. Fans were mesmerized by the savagery.
More than 2,000 fans saw Mexico City's Navarrete (35-1, 29 KOs) and Southern California's Gonzalez (24-2, 14 KOs) bounce brutal shots off each other for 12 successive rounds at Pechanga Sports Arena.
Both Navarrete and Gonzalez were about equal in height with the champion maybe a slight taller, but not by much. As soon as the first bell rang the two featherweights opened up in furious fashion.
Gonzalez was making his second attempt to grab a world title. His first attempt fell short a year ago. He was eager to atone for the defeat by clobbering Navarrete. Body shots were the weapon of choice.
The Mexican fighter Navarrete was accustomed to battling shorter fighters, this time the two were equal in size and in fury. Blows were flying in bunches and by the third round Gonzalez suffered a cut on his right cheek.
At several points Navarrete would connect with a solid blow and eagerly seek to finish the fight. Each time it happened Gonzalez would fight back even more furiously and beat back the champions attacks.
Gonzalez also connected with big shots and moved in for the kill only find Navarrete take a stand and fire back. Neither was able to truly gain a significant edge. After 12 rounds of nonstop action the decision was given to the judges. One scored it 118-110, two others saw it 116-112 all for Navarrete.
Fans were pleased by the decision and even more pleased by the breath-taking action they had witnessed.
Welterweights
Local fighter Giovani Santillan (28-0, 15 KOs) remained undefeated by unanimous decision after 10 rounds versus Tijuana's Angel Ruiz (17-2, 12 KOs). The two southpaws were evenly matched.
San Diego's Santillan was able to outwork Ruiz in almost every round. Though Ruiz has heavy hands he was not able to hurt Santillan even with uppercuts. It was clear very early in the fight that Santillan was the more technical and busier of the two. No knockdowns were scored.
After 10 rounds two judges scored it 100-90 for Santillan and a third saw it 99-91.
Other Results
Lindolfo Delgado (14-0, 12 KOs) battered and knocked down fellow Mexican Juan Garcia Mendez (21-5-2) in the last round of an 8-round super lightweight bout, but could not score the knockout win.
Delgado, a Mexican Olympian, was the quicker and stronger fighter yet discovered Garcia Mendez has a solid chin. All three judges scored it 80-71 for Delgado.
Puerto Rico's Henry Lebron (14-0, 9 KOs) defeated Manuel Rey Rojas (21-6) by decision after eight rounds in a lightweight match.
Javier Martinez (5-0, 2 KOs) soundly defeated Darryl Jones (4-3-1) by decision after six rounds in a middleweight clash. Jones was tough.
Las Vegas bantamweight Floyd Diaz (3-0) knocked down Tucson's Jose Ramirez (1-1) in the first round but was unable to end the fight early. Diaz won by decision.
Heavyweight Antonio Mireles (1-0) knocked out Demonte Randle (2-2) at 2:07 of the first round.
Photo credit: Mikey Williams / Top Rank for Getty Images
Check out more boxing news on video at the Boxing Channel
To comment on this story in the Fight Forum CLICK HERE
Russell Peltz's "Thirty Dollars and a Cut Eye": Book Review by Thomas Hauser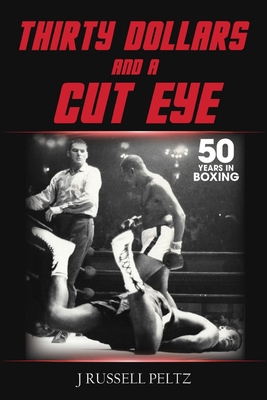 Russell Peltz's "Thirty Dollars and a Cut Eye": Book Review by Thomas Hauser
Russell Peltz has been promoting fights for fifty years and is as much a part of the fabric of Philadelphia boxing as Philly gym wars and Philly fighters. He was inducted into the International Boxing Hall of Fame in 2004 and deservedly so. Now Peltz has written a memoir entitled Thirty Dollars and a Cut Eye that chronicles his many years in the sweet science.
Peltz started in boxing before it was, in his words, "bastardized by the alphabet groups" and at a time when "world titles still meant something."
"I fell in love with boxing when I was twelve," he writes, "saw my first live fight at fourteen, decided to make it my life, and never looked back." He promoted his first fight card in 1969 at age 22.
Peltz came of age in boxing at a time when promoters – particularly small promoters – survived or died based on the live gate. Peltz Boxing Promotions had long runs at the Blue Horizon in Philadelphia and both Harrah's Marina and the Sands  in Atlantic City. His journey through the sweet science included a seven-year stint as director of boxing for The Spectrum in Philadelphia. At the turn of the century, he was a matchmaker for ESPN.
Along the way, Peltz's office in Philadelphia was fire-bombed. He was robbed at gunpoint while selling tickets in his office for a fight card at the Blue Horizon and threatened in creative ways more times than one might imagine. He once had a fight fall out when one of the fighters was arrested on the day of the weigh-in. No wonder he quotes promoter Marty Kramer, who declared, "The only thing I wish on my worst enemy is that he becomes a small-club boxing promoter."
Now Peltz has put pen to paper – or finger to keyboard. "The internet is often a misinformation highway," he writes. "I want to set the record straight as to what actually went on in boxing in the Philadelphia area since the late-1960s. I'm tired of reading tweets or Facebook posts or Instagram accounts from people who were not around and have no idea what went on but write like they do."
Thirty Dollars and a Cut Eye is filled with characters (inside and outside the ring) who give boxing its texture. As Peltz acknowledges, his own judgment was sometimes faulty. Russell once turned down the opportunity to promote Marvin Hagler on a long-term basis. There are countless anecdotes about shady referees, bad judging, and other injustices. Middleweight Bennie Briscoe figures prominently in the story, as do other Philadelphia fighters like Willie "The Worm" Monroe, Bobby "Boogaloo" Watts, Eugene "Cyclone" Hart, Stanley "Kitten" Hayward, and Matthew Franklin (later Matthew Saad Muhammad). Perhaps the best fight Peltz ever promoted  was the 1977 classic when Franklin knocked out Marvin Johnson in the twelfth round.
There's humor. After Larry Holmes pitched a shutout against Randall "Tex" Cobb in 1982, Cobb proclaimed, "Larry never beat me. He just won the first fifteen rounds."
And there are poignant notes. Writing about Tanzanian-born Rogers Mtagwa (who boxed out of Philadelphia), Peltz recalls, "He couldn't pass an eye exam because he didn't understand the alphabet."
Remembering the Blue Horizon, Peltz fondly recounts, ""The Blue Horizon was a fight fan's nirvana. The ring was 15-feet-9-inches squared inside the ropes. No fighter came to the Blue Horizon to pad his record. Fans wanted good fights, not slaughters of second-raters."
That ethos was personified by future bantamweight champion Jeff Chandler who, after knocking out an obviously inept opponent, told Peltz, "Don't ever embarrass me like that again in front of my fans."
Thereafter, whenever a manager asked Peltz to put his fighter in soft to "get me six wins in a row," Russell thought of Chandler. "I enjoyed promoting fights more than promoting fighters," he writes. "If I was interested in promoting fighters, I would have been a manager."
That brings us to Peltz the writer.
The first thing to be said here is that this is a book for boxing junkies, not the casual fan. Peltz is detail-oriented. But do readers really need to know what tickets prices were for the April 6, 1976, fight between Bennie Briscoe and Eugene Hart? The book tends to get bogged down in details. And after a while, the fights and fighters blur together in the telling.
It brings to mind the relationship between Gene Tunney and George Bernard Shaw. The noted playwright and heavyweight great developed a genuine friendship. But Shaw's fondness for Tunney stopped short of uncritical admiration. In 1932, the former champion authored his autobiography (A Man Must Fight) and proudly presented a copy to his intellectual mentor. Shaw read the book and responded with a letter that read in part, "Just as one prayer meeting is very like another, one fight is very like another. At a certain point, I wanted to skip to Dempsey."
Reading Thirty Dollars and a Cut Eye, at a certain point I wanted to skip to Hagler.
There's also one jarring note. Peltz recounts how, when Mike Jones fought Randall Bailey for the vacant IBF welterweight title in Las Vegas in 2012, Peltz bet five hundred dollars against Jones (his own fighter) at the MGM Sports Book and collected two thousand dollars when Bailey (trailing badly on the judges' scorecards) knocked Jones out in the eleventh round.
"It was a tradition from my days with Bennie Briscoe," Russell explains. "I'd bet against my fighter, hoping to lose the bet and win the fight."
I think Russell Peltz is honest. I mean that sincerely. And I think he was rooting for Mike Jones to beat Randall Bailey. But I don't think that promoters should bet on fights involving their own fighters. And it's worse if they bet against their own fighters. Regardless of the motivation, it looks bad. Or phrased differently: Suppose Don King had bet on Buster Douglas to beat Mike Tyson in Tokyo?
Philadelphia was once a great fight town. in 1926, the first fight between Jack Dempsey and Gene Tunney drew 120,000 fans to Sesquicentennial Stadium. Twenty-six years later, Rocky Marciano knocked out Jersey Joe Walcott at same site (renamed Municipal Stadium) to claim the heavyweight throne.
Peltz takes pride in saying, "I was part of Philadelphia's last golden age of boxing."
An important part.
Thomas Hauser's email address is thomashauserwriter@gmail.com. His most recent book – Broken Dreams: Another Year Inside Boxing – was published by the University of Arkansas Press this autumn. In 2004, the Boxing Writers Association of America honored Hauser with the Nat Fleischer Award for career excellence in boxing journalism. In 2019, he was selected for boxing's highest honor – induction into the International Boxing Hall of Fame.
Check out more boxing news on video at the Boxing Channel
To comment on this story in the Fight Forum CLICK HERE