25 Years Ago Today, Buster Mathis, the Dancing Bear, Took His Earthly 10-Count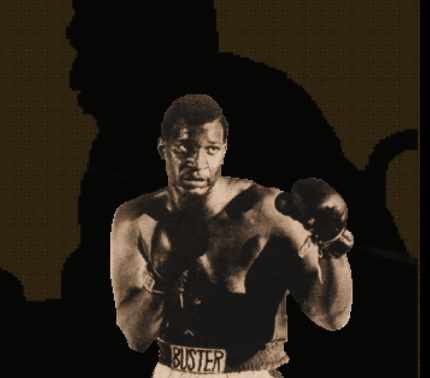 Sept. 6 marks the 25th anniversary of the death of former heavyweight contender Buster Mathis, who was 51 when he took his earthly 10-count in 1995. Although he never was a world champion, Buster, the dancing bear of a contender who came closer to making it all the way to the top than anyone of his overstuffed dimensions had any reasonable right to expect, may have already been dethroned in the court of public opinion in the one area where he once was thought to forever reign supreme.
By virtue of his shocking, seventh-round stoppage of IBF/WBA/WBO heavyweight titlist Anthony Joshua on June 1, 2019, in Madison Square Garden, Andy Ruiz Jr., another noticeably plump practitioner of the pugilistic arts, likely laid claim to the unofficial designation of "patron saint of fat heavyweights" that long before had been conferred upon Mathis, a legendary chow hound who once had dubbed himself a "world champion eater."
It was an apt description, too, although the 6'3½" Mathis, whose one shot at a somewhat less legitimate world title (the vacant New York State Athletic Commission version, also recognized in Pennsylvania, Illinois, Maine and Massachusetts) had ended in an 11th-round knockout loss to his personal boogeyman, Joe Frazier, on March 24, 1968, weighed as much as 300 pounds only once as a pro, for his debut against Bob Maynard. But even when he tipped the scale in the high 220s and low 230s, Buster always appeared to be much heavier than he should have been. Try as he might to transform himself into a more presentable physical specimen, the Grand Rapids, Mich. product never could completely rid himself of the love handles that lapped over the waistband of his trunks like ocean waves breaking across a reef.
"I remember getting down as low as 229 pounds for one fight (in 1968, against Jim Beattie)," recalled Buster in May 1989, when I first interviewed him. "I looked pretty good, but I didn't feel good. I felt really, really weak. I was so weak, I couldn't break an egg.
"Man, did I have to work hard to get down to 230, 235 pounds. It wasn't natural for me. I'd been over 300 pounds most of my life, so that's the weight at which I felt most comfortable."
The same might be said of Ruiz, who also apparently has given up on the notion that the aesthetics of appearance are as important to a fighter as genetics. If nature has decreed that an aspiring boxer is never going to snag a Calvin Klein underwear commercial, so be it. It is still possible to succeed, love handles or not, if one if fortunate enough to have been bestowed with surprisingly nimble footwork, quick hands, and a fundamental mastery of the nuances of a sport in which what you see isn't always indicative of what you get.
In retrospect, it might be said that Buster Mathis – his son, Buster Mathis Jr., who prefers to be called "Bus," also went on to become a heavyweight of some note – is at least a hard-luck figure, and possibly a tragic one given the myriad physical ailments his high-caloric lifestyle imposed upon him once he hung up his gloves and his weight continued to rise like a soufflé in the oven. Not that the elder Mathis' 30-4 record, with 21 victories inside the distance, with more than a few of those bouts against elite-level opponents, is anything to casually dismiss, but had he emerged victorious in any of his three pivotal bouts – against Muhammad Ali (UD12) and Jerry Quarry (UD12), in addition to Frazier – it would have certified Buster as one of the best big men in an exceptionally deep era for heavyweights.
"I used to be really, really good. I think the record shows that," Mathis told me for a story I did for the Philadelphia Daily News when he was training Buster Jr. for a run at the sort of ring glory that had always seemed to be just beyond the father's grasp.
"Nobody my size ever moved like I did. In my neighborhood, if you wasn't fast you'd be last. So I made myself fast. I might have been big, but I learned how to run on my toes. I even thought fast. When people called me names and told me I couldn't do this or couldn't do that, it only made me more determined to prove them wrong."
But it is the loss to Frazier that rankled Mathis more than any other, in part because their clash was for a bejeweled belt but also because of the fact that it was Frazier, not Mathis, who was the United States' heavyweight representative at the 1964 Tokyo Olympics. Mathis actually had earned a spot on the USA team, but he broke a hand in training and was replaced by Frazier, the alternate, who went on to win the gold medal and enjoy the kind of Hall of Fame pro career that Buster, at best, only got to sniff.
Maybe it all had been preordained by fate, with the first tumbling domino of disappointment being Mathis' unwise decision to part company with trainer Cus D'Amato, who had previously taken Floyd Patterson to the heavyweight championship and would later do so with Mike Tyson.
"I regret leaving Cus D'Amato," Mathis said, whose son's full name is Buster D'Amato Mathis. "There were people around me who kept saying that Cus would ruin my life, that I should be more independent. All Cus ever did was look out for me. He was one of the best things that ever happened to me in boxing.
"And the '64 Olympics, that's another big regret. I guess I've thought about that two million times. I had made the team, I was going to Tokyo. But then I broke my hand in training, and they replaced me with Joe Frazier. So what happens? Frazier wins the gold medal and goes on to become world champion. Would it have happened for me if I had gone instead? Man, I don't know. But I can't help but wonder."
So, it was perhaps with a need to get some payback when Mathis, reasonably fit by his relaxed standards, came in at 243½ pounds for his matchup with Smokin' Joe, four years after a still-raw Frazier had slid into the Olympic vacancy created by Buster's busted hand. But Frazier, more polished than he'd been in 1964 and always a lights-out puncher, stopped his much larger opponent in 11 rounds.
"In the quiet hours, when I'm in my chair, lights out, everybody in bed, I think about Joe Frazier," Mathis told me in a subsequent interview in 1994, the year before he died. "I bet I've fought Joe Frazier a million times in my mind. And you know what? I always beat him.
"But you can't change the facts. You can cry over them when they don't turn out your way, but you can't change them. The fact is that when I did fight Joe Frazier, I lost. Got knocked out. I'm not complaining. I've had a pretty good life. I was never champion, but I guess everybody can't get to be champion. I was fortunate enough to get close. That's more than a lot of people in this business can say."
Mathis was just 29 when he stepped away in 1972, after his final bout, a second-round knockout loss to Ron Lyle that may have convinced him that being nearly good enough was never really going to be good enough. Also, at 263 pounds for that fight, his ongoing war with weight appeared to be a battle he was destined from birth to lose, and, well, lose big. When he worked on the loading dock of the Interstate Trucking Company after his retirement from boxing, Mathis was known as the "Human Forklift" because of his size and strength. He reluctantly gave up that job when his doctors warned him of the dangers of overexertion.
In 1989, when he was 45, Mathis – who had ballooned to 500-plus pounds a few years earlier – had pared down to 330, primarily because of a diet free of saturated fats and the soft drinks he used to consume by the case. But he suffered from diabetes, hypertension and heart disease, and his already precarious health would continue to worsen; two strokes left him with limited motor control on his left side and forced him to use a walker. He suffered kidney failure in 1992 and had a pacemaker installed after a 1993 heart attack.
Although he continued to work with Buster Jr., who had taken up boxing as a means of avoiding the ongoing physical deterioration that seemed to be killing his father in stages, Buster Sr. no longer could demonstrate what he wanted his son to do in the ring. It was all he could do to sit in a chair at the Pride Boxing Club in Grand Rapids and tell  Bus, by then the United States Boxing Association heavyweight champ, what to do, and even then on those increasingly rare occasions when he could summon enough energy to make it to the gym.
"I can't show Bus what to do," Mathis said. "My health isn't good enough to allow me to do that."
Medical bills, and maybe grocery bills, by then had so depleted the nest egg he had socked away from boxing that Mathis' family, which included wife Joan and daughter Antonia, mostly subsisted on disability payments.
"I wasn't dealt a good hand, but I'm doing OK," he told me. "I'm not starving." That last comment quickly elicited an ironic smile.
"I'm not starving, get it?" he said with a chuckle. "But then nobody ever could say that Buster Mathis was starving. Food is my weakness, my downfall. For some people it's booze or drugs. For me, it's always been food."
It had been Buster Sr.'s dream to stick around long enough to help guide his son to a place higher on the heavyweight ladder than he'd been able to attain. It was not to be; Mathis was found unconscious by his wife at the family home in Wyoming, Mich., a Grand Rapids suburb. Family members and emergency workers tried to revive him, but he was pronounced dead upon arrival at Butterworth Hospital in Grand Rapids.
Brian Lee, Buster Jr.'s manager, said the father's passing was not unexpected, but "it's a blessing he went so peacefully after so many struggles, so many ailments. He was not afraid to die. He was comfortable with it.
"Not many people know this, but he was starting to lose his eyesight, too. He put on a brave front for the kids (in addition to Buster Jr., Mathis was working with 20 or so other young fighters). The gym kind of kept him going."
Buster Jr., now 50, posted a 21-2 record with just seven wins inside the distance, an indication that, like his father, he was more a technician than a big blaster. Also like his father, he was acutely aware of his genetic predisposition to pack on pounds at an alarming rate. He was 325 pounds at 14, and his taking up of his dad's profession was less a nod to his legacy than an acknowledgment that there really can be too much of a good thing.
"I just wanted to change my life," Bus said in the lead-up to his Aug. 13, 1994, bout with Riddick Bowe in Atlantic City, which ended as a no-contest when Bowe, who was winning easily, made the mistake of hitting his opponent when he was down on one knee. "You know how it is in high school. The jocks wear the letter jackets and get all the girls. When you're my size, though, you don't have all that stuff. I didn't have a girlfriend, and it was hard to shop for clothes. People don't accept you when you are fat.
"But it's not only that. I've seen what being too big for too long has done to my father. His health isn't what it should be. For a long time I didn't think about being big, because there are a lot of big people on my dad's side of the family. I figured I was going to be big, too, because that's just the way it is.
"Now I know it doesn't necessarily have to be that way. Everybody has a choice."
Check out more boxing news on video at the Boxing Channel 
To comment on this story in the Fight Forum CLICK HERE
Juan Francisco Estrada Holds Off 'Chocolatito' Again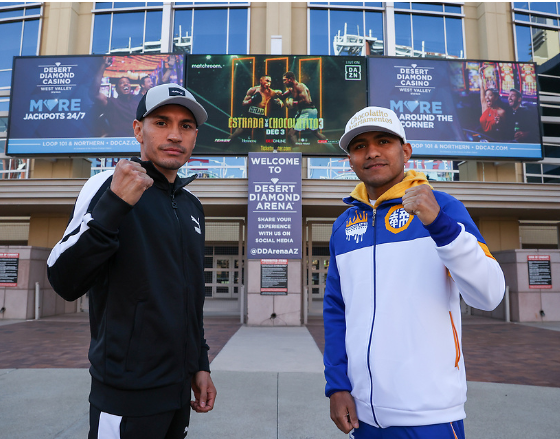 Once again Juan Francisco Estrada jumped out in front early and Roman "Chocolatito" Gonzalez needed time to crank up the engine, but fell too far behind as the Mexican fighter won the vacant WBC flyweight world title on Saturday.
Estrada wins the trilogy 10 years in the making.
Once again Estrada (44-3, 28 KOs) surged ahead early in the fight against Nicaragua's Gonzalez (51-4, 41 KOs) and then navigated toward another win, this time at the Gila River Arena in Glendale, Arizona on the Matchroom Boxing card.
"We had excellent preparation at high altitude and I think we left the fight clear on who won the fight this time," said Estrada about the third encounter.
Ten years ago, the trilogy began in Los Angeles as "Chocolatito" confronted an unknown fighter at the time in Estrada. The two surprised the crowd who expected Gonzalez to destroy yet another Mexican fighter. But it did not happen that night though Chocolatito proved too experienced and battered his way to victory in a light flyweight world title clash.
Then, in March 2021, Estrada finally fought Gonzalez in a rematch and the two engaged in a closely-fought super flyweight world title match. This time Estrada proved slightly better according to the judges and won by split decision in Dallas, Texas.
Few knew what to expect in a third encounter.
At first the coronavirus stalled plans for the trifecta so Chocolatito fought a replacement and dominated. Meanwhile Estrada fought another Mexican and did not look good.
On Saturday, a decade after their first encounter, Estrada looked fluid and accurate in dominating the first six rounds of the fight. Though he did not hurt Gonzalez, he was repeatedly scoring at will.
Gonzalez woke up around the seventh round.
Suddenly the Nicaraguan who was once considered the best fighter Pound for Pound showed up and fired rapid combinations. The spring in his legs suddenly appeared and the energy level was cranked up high after nearly being on idle.
Estrada suddenly found himself against the ropes forced to slip and slide away from Gonzalez's powerful combination punches. A real fight suddenly erupted during the final six rounds.
"All fights are different and all fights are difficult and this was the most difficult one," said Gonzalez, a four-division world champion.
Though neither fighter was ever visibly hurt, Gonzalez's pressure kept Estrada expending too much energy trying to evade the Nicaraguan's traps during the final six rounds.
"He always goes 100 miles an hour," said Estrada of his nemesis.
Estrada used uppercuts and slide steps to maneuver against Gonzalez's hard charges. It seemed to work and allowed the Mexican fighter more room and time to apply counter-measures.
In the final round, those maneuvers allowed Estrada to connect with a hard punch to the body that forced Chocolatito to cover up. It also allowed Estrada to unravel a combination that gave him the last round if needed. After 12 rounds one judge scored it 114-114, while two others saw it 116-112, 115-113 for Estrada who becomes the new WBC super flyweight world titlist.
"We did an excellent fight and I got the victory," said Estrada. "I've always said Chocolatito is a future Hall of Famer."
Gonzalez was gracious in defeat.
"What is important is we gave that good fight to the fans and we came out in good health," Gonzalez said.
There is even talk of a fourth fight.
"As long as they pay well, of course," said Gonzalez.
Other Fights
Julio Cesar Martinez (19-2, 14 KOs) retained the WBC flyweight world title by majority decision over Spain's Samuel Carmona (8-1) in a rather dull affair. Mexico's Martinez chased Carmon all 12 rounds in a fight that saw Carmona slap and run, then hold.
No knockdowns were scored and Martinez won 114-114, 117-111, 116-112.
Diego Pacheco (17-0, 14 KOs) ran over Mexico's Adrian Luna (24-9-2) with three knockdowns in winning by stoppage in the second round of the super middleweight fight. It was no surprise.
The 21-year-old from South Central L.A. once again showed that despite his youth his power seems to be continually increasing as evident in the knockout win.
Now training with Team David Benavidez, the young super middleweight looked sharp, especially with the lead overhand right that floored Luna in the second round. Luna was floored two more times and the fight was wisely stopped by his own corner.
"You put in the hard work then you come in here and shine," said Pacheco. "I joined team Benavidez this year."
Nicaragua's former world titlist Cristofer Rosales (35-6, 21 KOs) won a dog fight over Mexico's Joselito Velasquez (15-1-1, 10 KOs) by unanimous decision after 10 rounds in a flyweight clash.
It was a back-and-forth struggle that saw the taller Rosales take over in the second half of the fight and win by simply out-punching Velasquez and handing the Mexican his first loss as a professional by scores 97-93 three times.
Photo credit: Milena Pizano
To comment on this story in the Fight Forum CLICK HERE
Tyson Fury TKOs Derek Chisora in Round 10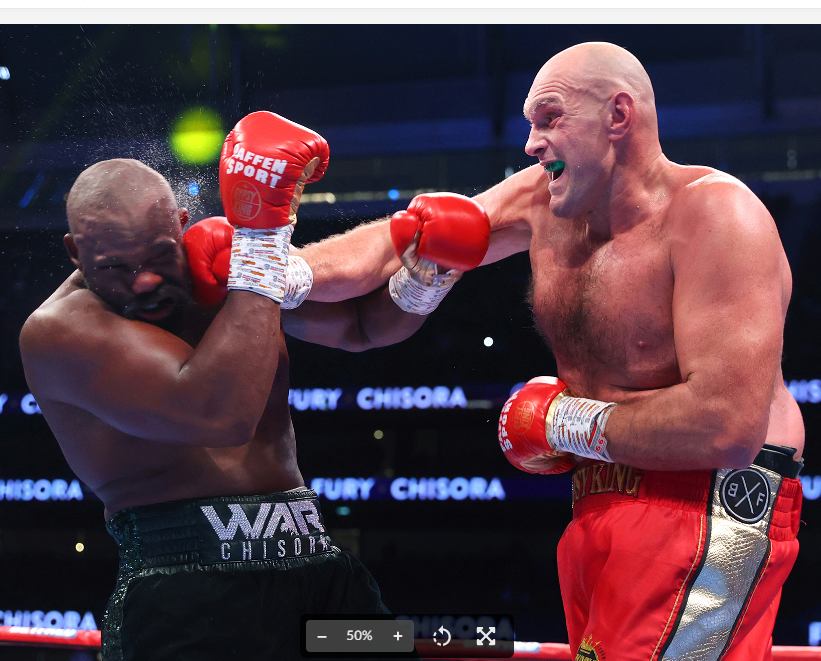 It was a chilly night in London but that didn't deter a near-capacity crowd from turning out at Tottenham Hotspur Stadium to witness the third rumble between Tyson Fury and Derek Chisora. The Gypsy King was heavily favored to retain his WBC and lineal heavyweight title and performed as expected. Indeed, this fight closely resembled their second encounter back in 2014.
In that bout, Chisora absorbed a terrific amount of punishment before his corner pulled him out at the conclusion of the 10th round. Tonight's fight ended nine seconds earlier at the 2:51 mark of round 10 and it was the referee who terminated the match.
When is a heavyweight not a heavyweight? When the man in the opposite corner is substantially bigger. With an 8-inch height advantage and a 15-inch reach advantage, the six-foot-nine Fury was simply too big a mountain to climb for the brave Derek Chisora, a fighter who changed his nickname in mid-career, transitioning from "Dell Boy" to "War."
Fury dominated round two, especially the last minute, a round in which he was credited with landing 18 power punches. The writing was on the wall for Chisora who ate a lot of thudding uppercuts in the ensuing rounds and ended the contest with a badly swollen right eye and a bloody mouth. With the victory, Fury improved his ledger to 32-0-1 with his 24th win inside the distance. The Zimbabwe-born Chisora falls to 33-13.
Oleksandr Usyk and Joe Joyce were in attendance and the Gypsy King addressed both before he left the ring. Calling Usyk "The Rabbit," he indicated that he would fight Usyk next in a true unification fight, but said if there were a snag in negotiations he wouldn't mind trading blows with the Juggernaut, Joe Joyce, who wore down and stopped former heavyweight title-holder Joseph Parker, a former Fury sparring partner, in his most recent engagement. However, Fury also revealed that he had an issue with his right elbow that may require surgery.
Co-Feature
In a heavyweight match that lasted only three rounds but was chock-full of action, Daniel Dubois overcame three knockdowns to retain his secondary WBA heavyweight title he won at the expense Trevor Bryan with a third-round stoppage of upset-minded Kevin Lerena.
In the opening stanza, Johannesburg's Lerena, landed an overhand left on the top of Dubois's head that put the Englishman on the canvas and left him all at sea. He went down twice more before the round was over, the first time of his own volition when he took a knee (reminiscent of his match with Joe Joyce) and the second from a glancing blow.
Dubois, whose legs are spindly for a man of his poundage, had trouble regaining his equilibrium in round two, but Lerena didn't press his advantage. In the next frame, a short right from Dubois penetrated Lerena's guard and down went the South African. Smelling blood, Dubois knocked him down again and was pummeling him against the ropes when the referee interceded just as it appeared that Lerena would be saved by the bell.
It was the fourth straight win for Dubois (19-1, 18 KOs) since his mishap versus Joyce. Lerena, who entered the bout on a 17-fight winning streak, lost for the second time in 30 fights.
Also
In a ho-hum affair, Denis Berinchyk, a 24-year-old Ukrainian, captured the European lightweight title and remained undefeated with a unanimous decision over French-Senagalese warhorse Ivan Mendy. Berinchyk (17-0, 9 KOs) was making his first appearance in London since winning a silver medal at the 2012 Olympics where he was a teammate of Oleksandr Usyk and Vasiliy Lomachenko.
The judges had it 117-112 and 116-112 twice for the Ukrainian. The 37-year-old Mendy, who has answered the bell for 380 rounds, falls to 47-6-1.
Photo credit: Mikey Williams / Top Rank via Getty Images
To comment on this story in the Fight Forum CLICK HERE
Light Nips Glanton in Florida; across the pond, Kelly UD 12 Williamson in Newcastle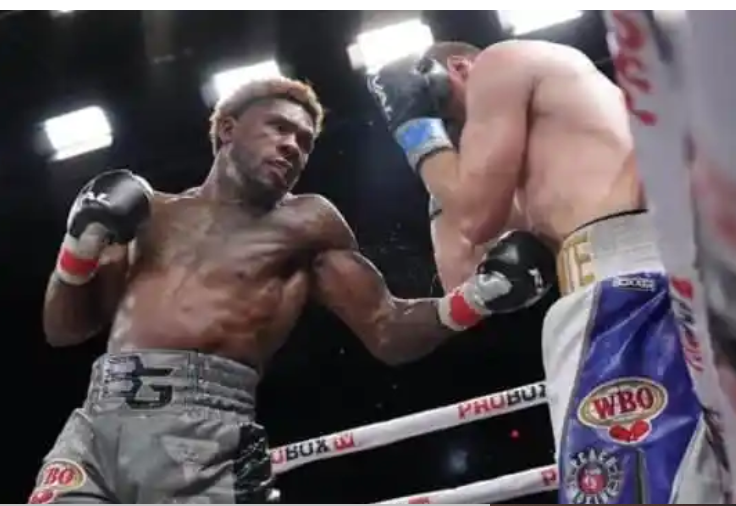 ProBox TV, a fledgling promotional group co-founded by former world champions Roy Jones Jr, Juan Manuel Marquez, and Paulie Malignaggi, has found a home for their bi-monthly shows at an events center in Plant City, Florida, near Tampa. The main event of last night's show (Friday, Dec. 2) was a well-matched 10-rounder between world ranked cruiserweights Brandon Glanton (pictured on the left) and David Light, both undefeated.
Light, a 31-year-old New Zealander who was 19-0 (12 KOs) heading in, had a strong amateur background that included a silver medal at the 2014 Commonwealth Games, but was virtually unknown outside the Antipodes, having fought almost exclusively on small shows in Auckland. Glanton, a 30-year-old Atlanta native who had trimmed down considerably since his days as a defensive lineman at HBCU Albany State, had caught the eye of hardcore fight fans with a thrilling split decision over previously unbeaten Efetobor Apochi on a TBS show in Minneapolis.
The oddsmakers made Glanton (17-0, 14 KOs heading in) a small favorite and after 10 hard rounds there were many who thought he deserved the nod. He turned the fight into a "phone booth" affair, pressing the action while working the body effectively, and scored the bout's lone knockdown, knocking Light off his pins (he wasn't badly hurt) in the final frame with what appeared to be a glancing blow. But two of the judges were more impressed by Light's counter-punching, scoring the bout 97-92 and 95-94 for the kiwi, overruling the dissenter who had it 95-94 for Blanton.
It was the sort of fight that cries out for a rematch, but David Light will undoubtedly go in a different direction. Both he and Glanton were pointing toward a match with WBO title-holder Lawrence Okolie.
Newcastle
Earlier on Friday, across the pond in Newcastle, England, former Olympian Josh Kelly got the signature win that had eluded him with a lopsided 12-round decision over defending British 154-pound title-holder and former amateur teammate Troy Williamson.
This was Kelly's third fight since David Avanesyan burst his bubble in a welterweight affair, stopping Kelly in the sixth stanza. The local fighter, who boosted his record to 13-1-1 (7) blamed his poor performance on his struggle to make weight.
The previously undefeated Williamson, 19-0-1 heading in, was making the second defense of the title he won in a barnburner with Ted Cheeseman. He went to post a small favorite, but was outclassed by Kelly who won by scores of 119-109, 119-111, and 118-110.
In the co-feature, Manchester's Lyndon Arthur (21-1, 15 KOs) stayed relevant in the light heavyweight division with a second-round stoppage of overmatched Joel McIntyre (20-5). In his lone defeat, Arthur was TKOed by revenge-minded Anthony Yarde.
To comment on this story in the Fight Forum CLICK HERE