Award-Winning Writer John Schulian Reflects on His Days on the Boxing Beat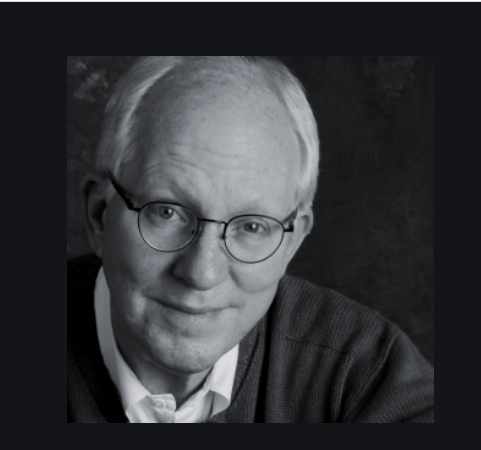 A TSS CLASSIC: Bill Shoemaker was born to ride thoroughbred race horses. Pablo Picasso to paint. Tony Bennett to sing. Marlon Brando to act. John Schulian to write.
Schulian has written for six newspapers including the Washington Post, Chicago Sun-Times and Philadelphia Daily News, and has contributed to such weighty periodicals as Sports Illustrated, Gentlemen's Quarterly, Inside Sports and Playboy.
In time, Schulian would turn his attention to the bright lights of Hollywood where he was a staff writer for "L.A. Law," "Miami Vice," "Wiseguy," "The Slap Maxwell Story," and "Midnight Caller."
Schulian also co-created the worldwide hit television show "Xena: Warrior Princess."
And if that wasn't enough, Schulian edited or co-edited four sports anthologies and had three collections of his sports writing published: "Writers' Fighters And Other Sweet Scientists," "Twilight of the Long-ball Gods," and "Sometimes They Even Shook Your Hand."
After our initial meeting over a three-hour lunch and through continued correspondence via email, the Los Angeles native who holds journalism degrees from the University of Utah (BA) and Northwestern University (MS) agreed to answer a handful of questions for "The Sweet Science."
Like so many people, Muhammad Ali's passing at age 74 in Arizona hit home for Schulian.
"My first thought is that I'm hardly alone in having memories of Ali," he said. "He belonged to the public in a way that no other athlete – no other public figure, really – has belonged to the public. Some people still remember how he shed the name Cassius Clay and stood over the supine Sonny Liston in Lewiston, Maine, daring the big ugly bear he had just knocked down – or had he? – to get up.
"Others remember Ali's trembling hand when he lit the Olympic torch in Atlanta in 1996. And then there are those who lucked into more personal moments: a kid who met Ali by chance in an airport or a woman who saw him give her husband the once-over at a banquet and then tell her, "You can do better."
"Sometimes it seemed as if Ali was put on earth to brighten peoples' lives that way. I know he certainly brightened mine the night I was sitting next to him on the dais at a banquet in New York. He drew the globe complete with continents on a paper placemat, then he nudged me and pointed at it. "I used to be champion of all that," he said in a raspy voice. He was through with fighting by then, and yet his words still gave me a chill. For some of us, he would always be a champion even if he wore no crown."
Schulian, who was offered Red Smith's column at The New York Times, which he turned down, covered boxing in the 1970s and 1980s. Among the many fights he watched, which stand out?
"I wish I could put an Ali fight on this list, but all the fights I covered showcasing him never should have happened," he said. "He left the last vestiges of his greatness in Manila, just as Joe Frazier did, and it was only after he was back home that I began writing about him.
"The one really good fight Ali had in that era was with Earnie Shavers in Madison Square Garden, but Ali still took some ferocious shots, and I'm sure he paid for them later.
"Now, to get back to your question: [Ray] Leonard-[Thomas] Hearns was a great fight. Hearns had him beat twice, but Leonard had too much heart and brainpower to be stopped.
"The first [Aaron] Pryor-[Alexis] Arguello fight, in Miami, was a study in courage and the thrilling nobility that such a brutal sport can summon from combatants. Of course, a lot of people scarcely remember that because of Duk Koo Kim's fatal injuries in the ring the next evening.
"[Roberto] Duran-Leonard I was fascinating because of the education Leonard took away from it. In their second fight, he let Duran know that school was out. The best fight I covered – the most electric fight and the most dramatic – was [Marvin] Hagler-Hearns. I never saw anything like it. They charged out of their corners at the start of the first round, and everybody at press row and in the crowd came out of their seats like they'd just taken 1,000 volts in the ass.
"Nobody sat down until Hagler had landed so many punches that all of Hearns' synapses were misfiring. Of such violence are legends made."
There are enough great boxers to fill a good-size garage. Who stands above the rest?
"I didn't start writing about boxing extensively until after the Thrilla in Manila, which means I covered Ali at a time he shouldn't have been fighting at all," said Schulian, who had his first novel, "A Better Goodbye," published in 2015. "So I can't call him the best. The Hagler-Hearns fight was the best I covered and the most electric event I've seen in any sport, but that doesn't put Marvelous Marvin atop my list.
"The same goes for Roberto Duran, who was a brilliant defensive fighter as well as a terrifying puncher, and Larry Holmes, a great heavyweight with a wrecking-ball jab and the bad luck to succeed Ali as champion.
"The best fighter in my time, however, was Sugar Ray Leonard. He proved how big his heart and talent were when he beat Hearns, but that was just part of what made him so great. He also had a rapacious intellect when it came to boxing. He watched film of every great old fighter  and he went to school on all of them. And his education in the ring was enhanced exponentially by the way his trainer Angelo Dundee brought him along, pitting him against every possible type of opponent, sluggers and cutie pies, southpaws and stylists, and defensive specialists and guys who, given the chance, would try to gouge out his eyes.
"Leonard beat them all, and did it with the same flair and personality that the public fell in love with at the 1976 Olympics in Montreal. Once his name was included among boxing's all-time greats, however, something in him changed. He began retiring and un-retiring and he slowly got rid of all the people who had helped him get to the top, Dundee and lifetime friends like Dave Jacobs and Janks Morton, and the lawyer who made sure he would always be financially secure, Mike Trainer.
"It happens in every profession, I suppose, but that doesn't mean I have to like it. For what it's worth, I don't think Leonard beat Hagler, either. But he was still the best fighter I covered in what was boxing's last golden era."
What separates covering boxing from other sports? "I hope you don't mind if I quote myself," he said. "This is from my introduction to "At The Fights," which George Kimball (RIP) and I edited for the Library of America.
"[Boxing] is the best friend a writer ever had. It doesn't matter whether the writer is a newspaper wage-slave feverishly trying to make his deadline after a title fight or a big-name author who has parachuted in to survey toe-to-toe gladiators and the exotica surrounding them.
"There is an undeniable jolt to watching violence in the ring, an almost electrical charge composed of equal parts beauty and savagery, and it can stir the poet in a writer who doesn't realize he has poetry in him.
"I'm sure our very best boxing writers, from A.J. Liebling to Mark Kram to Richard Hoffer, would have wonderful things to add to that, but if you read their work, you'll see the points I made driven home in high style."
Was it more fun covering boxing during your era versus the present day? "I'm not out in the gyms and ballparks anymore so it's hard for me to give you a definitive answer," Schulian pointed out. "But judging by what I hear from old sports writing friends, read in papers and magazines, and see on TV, the job looks a hell of a lot harder than it used to be.
"The best sport of all for guys who would bend your ear was boxing. If you walked into a gym or arena with a notebook in your hand, you were instantly surrounded by people with stories to tell. All anyone cared about was that you spelled his name right, and that included Don King, who just laughed every time he got caught short-changing another fighter.
When Angelo Dundee was in his final years, I needed to talk to him for a piece I was writing about Ali. It had been years since we'd last spoken, so I felt compelled to introduce myself. "Why you doin' that?" Angelo said. "I oughta punch you in the nose. We're friends, for crying out loud."
For the late Sports Illustrated scribe Pat Putnam, he used Liebling's words to help elevate his prose. What took Schulian to the next level?
"Maybe I would have written better if I'd read Liebling too, but, no, I never did anything like Pat did," he noted." The fighters were always my inspiration. If they weren't up to the challenge, then I'd fall back on the world I was in at every fight, with a cast of characters that seemed to have stepped out of a noir novel. I didn't always write an "A" story, but the material for one was almost always at my disposal."
Schulian received the prestigious PEN/ESPN Lifetime Achievement Award for Literary Sports Writing this year.
"It was the biggest and best surprise of my career," he said. "You have to realize that I left daily newspapering for Hollywood thirty years ago. It was a move that I always assumed rendered me a non-candidate for any journalism awards even if I kept my hand in sports writing by doing occasional pieces for GQ, Sports Illustrated, the L.A. Times, Deadspin, and Alex Belth's Bronx Banter Blog.
"What can I tell you? I'm a compulsive writer. And there were things I wanted to say and subjects that editors wanted me to write about. The great discovery of this second phase of my sports writing career was that l felt like I'd somehow become better at putting words on paper.
"Maybe I needed time away from the grind of doing four columns a week and always having a freelance magazine piece going on the side. Maybe I learned something from the incredibly smart people I worked with in TV – nothing about writing prose, mind you, but plenty about thinking and challenging the norm and being exposed to new ideas.
"Whatever the reason, I ended up doing some of the best pieces of my career, about Ali, Josh Gibson, Chuck Bednarik and the obscure legends that help make baseball such a compelling game. But once they were in print and I'd cashed the checks I got for them, I figured that was the end of the line.
"When PEN e-mailed me early this year to say I'd won the award, I was gobsmacked. I didn't even know I was in the running, and I still don't know who nominated me, but I hope that whoever it was realizes how grateful I am. I'm equally grateful to Dave Kindred, Sally Jenkins and Senator Bill Bradley, who comprised the panel that selected me.
"They put me in the same sentence with Roger Angell, Dan Jenkins, Frank Deford, Dave Anderson and Bob Ryan, the award's previous winners. It's hard to believe that a guy who co-created "Xena" could keep such distinguished company, but I've got the plaque to prove it."
EDITOR'S NOTE: This story originally ran on August 23, 2016
——
Rick Assad has covered sports in Southern California for almost three decades. You may contact him at yankeespride55@gmail.com
Check out more boxing news on video at the Boxing Channel 
To comment on this story in the Fight Forum CLICK HERE
Late Sub Jonnie Rice Bursts Michael Coffie's Bubble on a PBC Card in Newark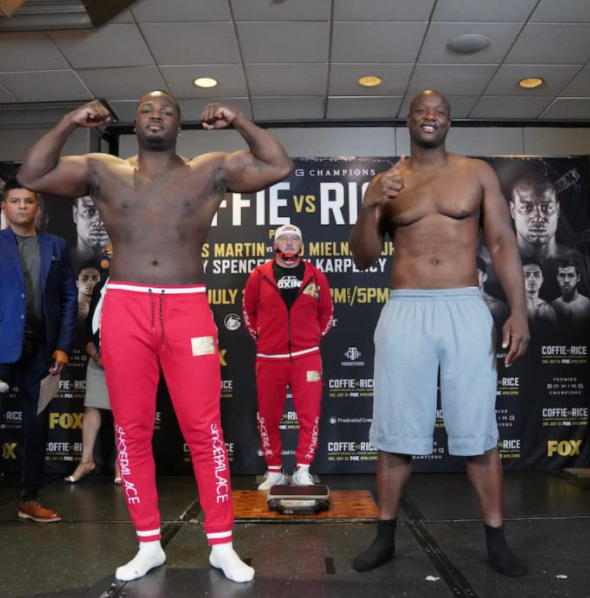 Every thing that could go wrong went wrong as promoter Al Haymon and his associates were patching together tonight's card at the Prudential Center in Newark, New Jersey. But it couldn't have worked out better for journeyman heavyweight Jonnie Rice who turned his career around with a smashing TKO of heavily favored and previously undefeated Michael Coffie.
Positive Covid tests scuttled two 10-round fights on the undercard. The main event had already been disheveled when Coffie's original opponent Gerald Washington flunked his Covid test. Enter Rice (pictured on the right) who was on standby and seized the moment.
Rice, a Columbia, South Carolina native who has been living and training in Las Vegas, came in sporting a 13-6-1 record but five of his wins had come against no-hopers in Tijuana and he had yet to defeat an opponent in a match where he was the "B" side. But these facts were misleading as five of his six losses had come against hot prospects with undefeated records and he had honed his craft sparring against the likes of Tyson Fury, Filip Hrgovic, and Michael Hunter.
Based on "strength of schedule," Rice, 34, had the edge over Coffie, the 35-year-old ex-Marine who brought a 12-0 record but was relatively untested. And Rice, who started fast, took the fight to Coffie and out-landed him. Coffie's left eye was swelling and he wasn't firing back when the referee waived it off in the fifth round.
Dirrell-Brooker
Tonight's PBC fare came in two helpings with appetizers and the main event on FOX preceding a club-level show on FOX's affiliate FS1. The main event of the nightcap was a 10-round light heavyweight bout between Andre Dirrell and Christopher Brooker.
Dirrell, who previously held an interim version of the IBF 168-pound world title, looked very sharp coming off a 19-month layoff, scoring three knockdowns before the fight was waived off in the third round. The Flint, Michigan native improved to 28-3 (18). Philadelphia's Brooker fell to 16-8.
More
Junior middleweight Joey Spencer (13-0, 9 KOs) scored an 8-round unanimous decision over James Martin (7-3). Spencer won comfortably on the scorecards – 80-72 and 79-73 twice – but was unimpressive.
Local fan favorite Vito "White Magic" Mielnicki Jr (9-1, 5 KOs) rebounded from his first pro loss with an impressive second-round stoppage of Noah Kidd (6-4-2).
Philadelphia welterweight Karl Dargan (20-1, 9 KOs), a former two-time national amateur champion, returned to the ring after a long absence and  stopped LA's Ivan Delgado (13-4-2) in the third round.
New Jersey heavyweight Norman Neely advanced to 9-0 (7) with a unanimous decision over rugged Texas brawler Juan Torres (6-4-1). Neely won all six rounds on all three cards.
Check out more boxing news on video at the Boxing Channel
To comment on this story in the Fight Forum CLICK HERE
Leigh Wood's Big Upset Spangles the Rebirth of Eddie Hearn's Garden Party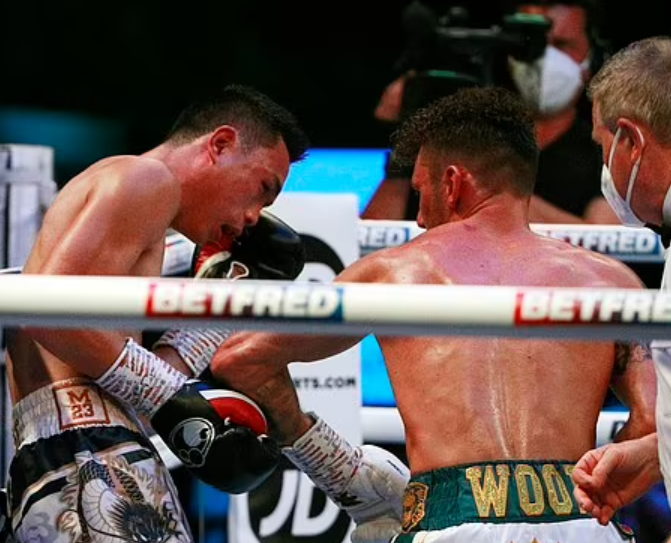 Last summer, hamstrung by the pandemic, Eddie Hearn hit upon the idea of holding boxing events outdoors in the expansive backyard of the family estate on the outskirts of London (now Matchroom Sport headquarters) where he grew up. Four shows were staged there.
The series has been revived. Today was "episode 1" of Season Two of Matchroom Fight Camp, otherwise known as Eddie Hearn's Garden Party. Two more shows are penciled in over the next two weekends.
The match-up getting the most buzz was the welterweight contest between fast-rising Conor Benn and battle-tested Adrian Granados. Unfortunately, Benn tested positive for Covid-19. But the main event, a WBA world featherweight title defense by Can Xu (aka Xu Can) against Nottingham's Leigh Wood stayed intact and produced a memorable upset.
Xu, who is co-promoted by Oscar De La Hoya, was installed a 4/1 favorite. Although he wasn't a big puncher with only three knockouts to his credit in 20 starts, he rode into Hearn's backyard riding a 15-fight winning streak for the third defense of his WBA "regular" title. But he started slow, perhaps the result of ring rust — it was his first fight of 2021 after missing all of 2020 – and he never did crank up the volume that had carried him to victory in his three title fights.
Wood, a stablemate of Josh Taylor who has made great gains since hooking up with Ben Davison and Lee Wylie, landed the heavier punches and was ahead on the cards when he took the fight out of the judges' hands in the final minute of the final round. He decked Xu with a hard right hand and then trapped him on the ropes, forcing the stoppage that came with only 17 seconds remaining.
The 32-year-old Wood improved to 25-2 (15). Xu falls to 18-3. The deposed champion has a rematch clause so we may have a sequel.
Other Bouts
Chris Billam-Smith, trained by Shane McGuigan, won a hard-fought 12-round split decision over Belfast's Tommy McCarthy in a cruiserweight scrap with three domestic titles at stake. The judges had it 116-112 and 115-114 for Billam-Smith, now 13-1, with the dissenter favoring McCarthy (18-3) by a 115-114 tally.
McCarthy wobbled Billam-Smith late in the first round with on overhand right, but could never land his Sunday punch on the Bournemouth fighter in a see-saw struggle with many close rounds. There were no knockdowns but McCarthy suffered a cut over his right eye near the end of round six from an apparent head butt.
McCarthy had Carl Frampton helping out in his corner which infused the contest with the aura of a grudge match. Frampton was the best man at Shane McGuigan's wedding, but their friendship dissolved in a bitter court fight. At the end of the grueling fight, Billam-Smith and McCarthy embraced in a show of mutual respect.
Liverpool super-welterweight Anthony Fowler whose lone setback came at the hands of Scott Fitzgerald (a split decision) won his sixth straight with an eighth-round stoppage of Germany's Rico Mueller whose cornerman was on the ring apron when the slow-acting referee waived it off at the 2:12 mark. Fowler, who is also trained by Shane McGuigan, improved to 15-1 (11). His next bout is expected to come against fellow Scouser Liam Smith in October. This was the second fight this month for the game but out-gunned 33-year-old Mueller (28-4-1) who was subbing for veteran Tex-Mex campaigner Roberto Garcia who pulled out with a back injury.
Also, Jack Cullen (20-2-1, 9 KOs) scored a 10-round unanimous decision over Avni Yildirim (21-4) in a 10-round super middleweight contest. Yildirim, from Turkey, was looking to atone for his hollow performance against Canelo Alvarez this past February. While he had his moments, he was out-worked by the lanky Lancashire man who won by scores of 100-90, 08-92, and 97-93.
Photo credit: Alan Walton / Matchroom Boxing
Check out more boxing news on video at the Boxing Channel
To comment on this story in the Fight Forum CLICK HERE
Avila Perspective, Chap 146: De La Hoya Returns Plus Other Boxing Notes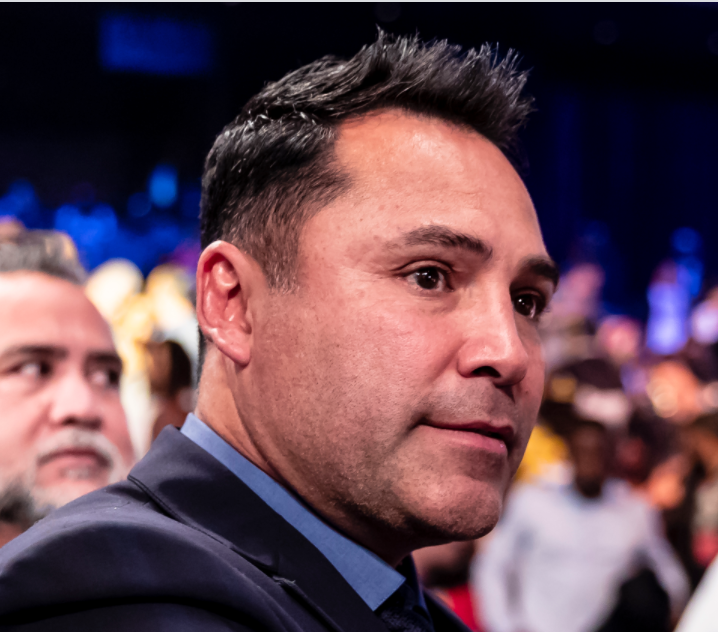 Sitting in front of several dozen reporters, the favorite son of Los Angeles area boxing, Oscar De La Hoya, and former MMA champion Vitor Belfort spoke about their mutual return to prizefighting.
"I can't lie. I miss getting hit," said De La Hoya.
It was a statement also shared by Belfort.
After years away from the prize ring, both return to exchange hits as boxing's De La Hoya (39-6, 30 KOs) meets MMA's Belfort (26-14, 18 KOs) on Sept. 11, at the Staples Center in Los Angeles. The Triller Fight Club card will be shown on pay-per-view via FITE.tv and other modes.
De La Hoya, 48, last absorbed hits from a fighter when Manny Pacquiao battered him almost 13 years ago back in December 2008. It was a shock to the senses to see the great East L.A. fighter take blow after blow while unable to hit back.
He was only 35.
Many attribute that loss to a ridiculous agreement to weigh under 145 pounds before facing Pacquiao. At the time De La Hoya was the real gate attraction and pay-per-view king. He held all the cards but agreed to the demands acutely devised by Freddie Roach. It proved to leave De La Hoya too weak to fight back and after eight rounds the one-sided beating was stopped.
De La Hoya retired after that fight. Ironically, he called for a press conference and it was held right where he recently announced this upcoming fight against Belfort. It's also near a statue built in his honor.
Sitting nearby, Belfort patiently waited his turn to speak. For the Brazilian MMA fighter, it's only been a mere three years since he exchanged blows in a prize fight. It was a knockout loss to Lyoto Machida at UFC 224 in Brazil.
When Belfort spoke to the media, he expressed a desire to get hit too.
"Its fun. I'm going to have joy when I get hit. You cannot get better than that," said Belfort.
It's a common sentiment held by former greats. I've heard the same comments from James "Lights Out" Toney who ridiculously was not voted into the International Boxing Hall of Fame this past year.
Getting hit becomes as common as breathing for most professional fighters, especially those that began boxing at a young age such as De La Hoya.
"The truth is I miss it. I miss it very much," said De La Hoya who began lacing up gloves as an amateur at five years old.
According to oddsmakers, Belfort is the favorite to win. Probably for a number of reasons including he fought a mere three years ago. Belfort is the heavier fighter and has fought foes in the 205 pound-division called light heavyweight in MMA. Plus, he is simply bigger than his foe.
"I hope I don't end up killing him, but everything is on the table," said Belfort. "If he doesn't have joy in what he does he could come back in a coffin."
Prizefighters are masochists. All truly good fighters have a streak of masochism inside. They know they'll be pummeled with blows that truly hurt and they look forward to it. But the bitter truth is taking hits in your 30s and taking hits near your 50s are two vastly different scenarios.
It's an extremely dangerous fight for both.
As someone who spent nearly a month in a hospital after experiencing a cerebral hemorrhage, otherwise known as a "brain bleed," I'm stunned by the fact that more boxers are not damaged from brutal blows. I pray nothing like this occurs to De La Hoya, Belfort, or any retired boxer who returns to the prize ring for a possible payday.
They are prizefighters and like any former high-performance athlete, they miss competition.
"When you love it, no matter what happens, I'm ok with it," said De La Hoya.
Fans will attend Staples Center by the thousands simply to see "the Golden Boy" once again and pay tribute to one of the greats. Many of those attending will be praying silently for the fighter's safety.
I know I will.
England Fights
WBA featherweight titlist Xu Can (18-2, 3 KOs) defends against Leigh Wood (24-2, 14 KOs) on Saturday July 31, at Brentwood, England. DAZN will stream the world title fight.
This is the third defense for Can who has not fought in almost two years. The last defense was at Fantasy Springs Casino in Indio, California when he soundly defeated Manny Robles III.
Can took the title from Puerto Rico's Jesus Rojas, a rough and tumble fighter who takes a pound of flesh from everyone he faces. Against Can he was unable to deal out the usual punishment.
Wood is a former super bantamweight contender who has never really faced international competition. He did face former world champion Gavin McDonnell but was stopped. Perhaps the move up in weight will help.
Fights to Watch
Fri. Estrella TV 7 p.m. Erick Leon (14-1) vs Juan Marcos Rodriguez (10-3).
Sat. DAZN 11 a.m. Xu Can (18-2) vs Leigh Wood (24-2).
Sat. FOX 5 p.m. Michael Coffie (12-0) vs. Jonnie Rice (13-6-1)
Check out more boxing news on video at the Boxing Channel
To comment on this story in the Fight Forum CLICK HERE