A Fistful of Murder: The Fights and Crimes of Carlos Monzon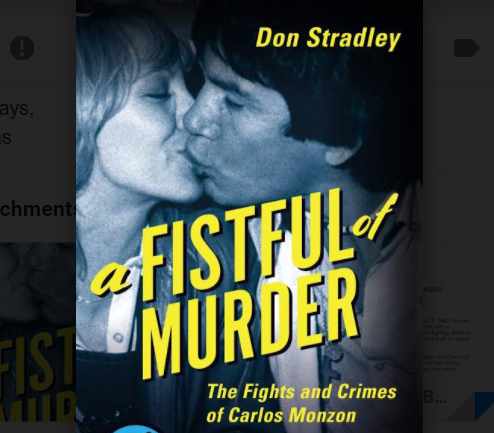 Book Review by Thomas Hauser — Carlos Monzon was born into extreme poverty in Argentina on August 7, 1942. He was mean, violent, surly, brutal, arrogant, occasionally charming, handsome with a smoldering sensuality, and remorseless. His life was marked by street fighting, drunken behavior, domestic violence, and more than forty arrests. In the midst of it all, he found boxing.
Monzon's story is told by Don Stradley in A Fistful of Murder: The Fights and Crimes of Carlos Monzon. It's the latest in a series of short books from Hamilcar Publications published under the imprint Hamilcar Noir that deal with boxers whose lives were marked and often terminated by violent crime. Told in 128 pages, the story moves at a brisk pace.
Monzon had one hundred professional fights in a career that began in 1962. He reigned as middleweight champion from 1970 until his retirement in 1977 and was honored as the 1972 "Fighter of the Year" by the Boxing Writers Association of America. All told, he compiled an 87-3-9 (59 KOs) record with 1 no contest. The three losses came during the first two years of his career when he was a novice.
Monzon was a big, strong, tough fighter with a good chin and a basic skill set: stand tall, throw a sharp jab, and follow with a hard right behind it. Mark Kram described him as "a perfectly shaped middleweight, tall with long arms and with style running through every sinew up to his dramatic Belmondo face."
By contrast, British boxing commentator Reg Gutteridge described Monzon as having "little ring grace" and added "he clubs as if wearing a Roman cestus on his fist."
Those who question Monzon's greatness point to the fact that the best of the fighters he beat were past their prime (e.g. Nino Benvenuti) or past their prime and naturally smaller men (e.g. Emile Griffith and Jose Napoles). Monzon was also held to a draw by Benny Briscoe before besting Briscoe on a close decision in a rematch. And he only narrowly defeated Rodrigo Valdez in the last two fights of his ring career.
But as Stradley writes, "A strange thing happened to Monzon in retirement. He became a better fighter. The boxer who had often been dismissed as a classless thug was now revered as an all-time great. During the next decade when lists were made of the top middleweights or of great championship reigns, Monzon's name would always be near the top."
How good was Monzon?
Hall of Fame matchmaker Bruce Trampler says that he would have been competitive with any middleweight in any era. More significantly, in 2007, I had a conversation with Bernard Hopkins in which I asked Bernard to speculate as to how he would have fared in the ring against Sugar Ray Robinson, Marvin Hagler, and Monzon. Hopkins' answer is instructive:
"Sugar Ray Robinson at 147 pounds was close to perfect," Bernard said. "But at middleweight, he was beatable. I would have fought Ray Robinson in close and not given him room to do his thing. He'd make me pay a physical price. But at middleweight, I think I'd wear him down and win. Me and Marvin Hagler would have been a war. We'd both be in the hospital afterward with straws in our mouth. We'd destroy each other. My game-plan would be, rough him up, box, rough him up, box. You wouldn't use judges for that fight. You'd go by the doctors' reports. Carlos Monzon? I could lose that fight. Monzon was tall, rangy, did everything right. I see myself losing that fight more than winning it."
Stradley's recounting of Monzon's ring career is largely pro forma. The more compelling portions of the book lie in the portrait he paints of Monzon's personal life.
Monzon had virtually no formal education and was close to illiterate. At age 19, he married 15-year-old Mercedes Beatriz Garcia. The newly-wed couple lived with her family in a two-room shack where they slept on a mattress on the floor.
"In many ways," Stradley writes, "Monzon was the typical wife abuser. He was obsessed with control; he had an evil temper; he drank too much." In 1973, Mercedes shot her husband in the arm and shoulder after a quarrel between them.
Monzon's pattern of physically abusing women, assaulting people in public, reckless driving, and other anti-social acts was a constant in his life before, during, and after his championship reign. But as his fame grew, so did his following.
"Monzon," Stradley notes, "didn't look like other fighters of the day. He was photographed to look like a stylish Latin pop star, usually in a long leather coat, with plenty of gold jewelry. Argentina's El Grafico [a popular magazine] treated Monzon like a model, featuring him in regular photo spreads."
In 1974, while married to Mercedes, Monzon met Susana Gimenez (a popular actress and talk show host). Soon, they were involved in a torrid affair that lasted for four years. At one point, Mercedes complained to her husband about Susana and he punched her in the face, breaking the superciliary arch above her eye. Monzon was arrested and avoided a prison term by pleading temporary insanity. A divorce followed.
Susana's film credits included adult-oriented comedies. In Stradley's words, "Monzon had abandoned the mother of his children for a slutty clown. It didn't help that her sartorial sense ran towards pink denim."
Even so, Stradley recounts, "Monzon and Susana were now the most photographed twosome in Argentina. Journalist Alfredo Serra estimated they appeared on more than three hundred magazine covers, describing the pair as combining 'the strength, beauty, fame and glamour of the world in a single couple.'"
During his championship reign, Monzon parleyed his fame as a fighter into several film roles. Then he retired; his relationship with Susana ended; and he met Alicia Muniz Calatayud.
Alicia had worked as a model and belly dancer in addition to once managing a hair salon. She and Monzon married in Miami because his divorce from Mercedes wasn't recognized under Argentine law. They lived together from May 1979 through August 1986 and again during a brief reconciliation in 1987. On several occasions, Alicia filed complaints with the police alleging that Monzon had beaten her.
By 1988, Stradley writes, "Monzon was still famous but no longer important. Most of the time he was drunk."
On February 14, 1988, during a weekend they were spending together, Monzon murdered his estranged wife.
"Here's what probably happened," Stradley posits. "When Alicia came for the weekend, she reminded him that he was late with his monthly payments [for child support]. They returned from their night out, a night where they'd been unfriendly to each other and a witness had seen Monzon hitting Alicia. At some point before 6 a.m., she said something that made the dynamite in his head go off."
Monzon told conflicting stories after Alicia's death, all of which centered on the claim that she'd accidentally fallen over a balcony railing during an argument between them. Then an autopsy report revealed that Alicia had been strangled to death.
"Medical examiners," Stradley recounts, "estimated thirty-five pounds of pressure or more had been applied to Alicia's throat. Strangling only requires eleven pounds. They estimated it had been done with a two-fingered grip, probably thumb and forefinger in a kind of one-handed death clamp. It takes only twenty seconds or so to strangle someone into unconsciousness. The damage to Alicia's throat would take much longer. It wasn't done by accident or in the heat of the moment. It took a few minutes of full-on rage. Alicia had been strangled long after she had passed out. It's also rare that a strangling victim has visible marks on the neck or throat. The imprints on Alicia were clear and deep, as if someone had tried to squeeze her head off at the neck. He dumped her body over the balcony to make it look like she'd fallen."
Monzon was charged with murder. The trial was broadcast live on radio throughout Argentina. Monzon testified that he and Alicia had argued about money and admitted that he had slapped her. "I have hit women on other occasions and nothing happened to any of them," he told the court. "I hit all of my women except one. My mother."
A three-judge panel found Monzon guilty of murder. He was sentenced to eleven years in prison with the possibility of time off for good behavior.
By 1993, Monzon was allowed to spend daytime hours and weekends outside of prison. On Sunday, January 8, 1995, after attending a barbeque, he was behind the wheel of a car, probably drunk and definitely speeding.
"By the rules of his furlough agreement," Stradley writes, "he had to be back at the Las Flores prison by 8 p.m. He didn't want to risk being late. He only had a short time left to serve on his sentence and didn't want any infractions on his record. So he drove fast. He'd always been a terrible driver. Being in prison hadn't made him any better at it."
While speeding back to the prison, Monzon lost control of the vehicle which turned over multiple times, killing him instantly. Two other passengers also died in the accident. He was 52 years old.
After Monzon's death, his body lay in state at City Hall in his hometown of Santa Fe. An estimated ten thousand people filed past it. Twenty thousand more lined the route to the Municipal Cemetery while six thousand mourners waited at the cemetery entrance.
Argentine president Carlos Menem told the nation. "Remember Carlos Monzon as a champion, not as a man jailed for murder." But Argentinian journalist and political commentator Bernardo Neustadt took a contrary view, declaring, "We are a macho society that idolizes a man who beats or violates a woman; a macho society that taught Monzon to dress up, to speak a bit better, but didn't teach him to think; a macho society that wasn't horrified when Monzon said he beat all his women."
Thomas Hauser's email address is thomashauserwriter@gmail.com. His next book – Staredown: Another Year Inside Boxing – will be published by the University of Arkansas Press this autumn. In 2004, the Boxing Writers Association of America honored Hauser with the Nat Fleischer Award for career excellence in boxing journalism. He will be inducted into the International Boxing Hall of Fame with the Class of 2020.
Check out more boxing news on video at the Boxing Channel 
To comment on this story in the Fight Forum CLICK HERE
The Winning Purse Bid for Teofimo's Next Fight has the Boxing World Buzzing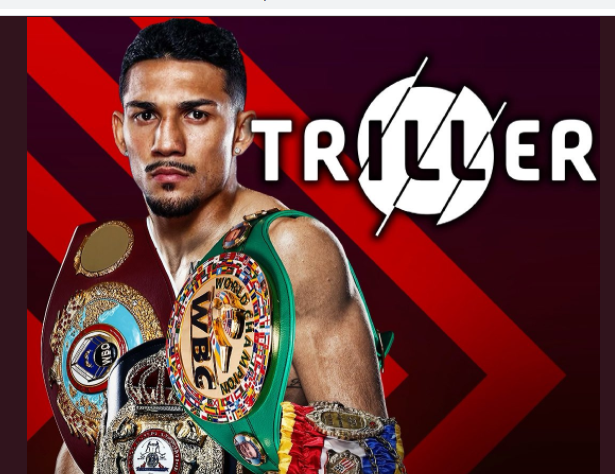 The big buzz this week in boxing was the enormous fee ponied up by the video-sharing, social-networking service Triller to lasso Teofimo Lopez's lightweight title defense against IBF mandatory challenger George Kambosos. Triller didn't merely out-bid Eddie Hearn's Matchroom and Bob Arum's Top Rank, but out-bid them by a whopping margin. Triller's purse bid was $6.02 million compared with $3.51 million for Matchroom and $2.32 million for Top Rank.
Triller's initial venture into boxing was the Nov. 28, 2020 show at the Staples Center in Los Angeles, a three-hour boxing and music festival, the centerpiece of which was an 8-round exhibition between 55-year-old Mike Tyson and 51-year-old Roy Jones Jr. There were four legitimate supporting bouts — legitimate in the sense that the competitors were active professional boxers – plus a freak fight between YouTuber Jake Paul and former NBA point guard Nate Robinson.
When the event was announced, it was panned by hard-core boxing fans, but it was slickly promoted and received a considerable amount of ink from both mainstream sports and gossip magazines. At a list price of $49.99, the event purportedly attracted 1.8 million pay-per-view buys which translated into a gross profit of more than $80 million. The honchos at Triller gambled that folks were still infatuated with Mike Tyson, an astute apprehension, but hedged their bets by conjoining the exhibition with non-traditional boxing fare and they came out a big winner.
Tyson vs. Jones was a pop culture event and the shebang itself, noted Thomas Hauser, was best understood as an infomercial. Triller's core demographic is urbanites aged 15 to 27, the so-called hip-hop generation, and the company is playing catch-up in a fierce two-horse race for market share with China-based TikTok, an Internet phenomenon.
The driving force behind Triller is 47-year-old Hollywood hustler Ryan Kavanaugh who made it big with Relativity Media, a firm that arranged financing for movie projects, but left a few bodies in its wake. The firm filed for Chapter 11 bankruptcy in 2015 and again in 2018.
Kavanaugh's business dealings came under scrutiny again this month when Universal Music Group, the world's largest record company, pulled its catalog from Triller because Triller wasn't paying its artists. In its response, Triller noted that many of the top earners in MSG are shareholders in Triller. Triller's most prominent shareholder is rapper Snoop Dogg whose waggish commentary for the Tyson-Jones exhibition was widely hailed as the highlight of the telecast.
When the Teofimo vs. Kombosos match was announced, it was immediately speculated that it would be hinged to another Mike Tyson exhibition, perhaps against his nemesis Evander Holyfield. Kavanaugh insists that won't happen. As for the date and location, that too is up in the air with the best guess being that it will be anchored in Miami, likely in May. It can't happen in Australia, where Kambosos resides, unless the authorities relax the rule that requires visitors to quarantine for 14 days upon arriving in the country.
The deal with Triller may mark the end of Teofimo's partnership with Top Rank. If so, Bob Arum is nonplussed. By rule, Teofimo Lopez, as the defending champion, is entitled to 65 percent of the purse. He is contractually obligated to give Top Rank 20 percent, nearly $800,000. Lou DiBella, who promotes George Kambosos, also comes out a big winner.
Who is George Kambosos?
The headline in an English-language, on-line publication directed at the Greek community reads "Undefeated Greek boxing sensation…." That's over the top. In the click-bait era, words like "sensation" have wide currency.
Kambosos, born and raised in Sydney, Australia, of Greek ancestry (his grandparents are from Sparta) is indeed undefeated: 19-0 (10 KOs). But until recently he was best known as Manny Pacquaio's sparring partner. He worked in three of Pacquiao's camps and, by his reckoning, sparred about 250 rounds with the Filipino legend.
Kambosos won his last two fights by split decision. On Dec. 14, 2019, he outpointed former IBF world lightweight champion Mickey Bey at Madison Square Garden. On Oct. 31 of last year, he outpointed former IBF featherweight champion Lee Selby at Wembley Arena. Neither bout was the featured attraction. Kambosos vs. Bey was underneath Terence Crawford vs. Egidijus Kavaliauskas. Kambosos vs. Selby was the chief supporting bout to the heavyweight contest between Oleksandr Usyk and Dereck Chisora.
Kambosos punctuated his win over Bey with a knockdown in the final round, but would have prevailed without it. There was no controversy when his hand was raised. Similarly, his triumph over Selby was generally well-received although few fans would have quibbled if the match had been scored a draw.
In a 2019 interview, Freddie Roach said of Kambosos that he was very quick with hand-speed on a par with PacMan. The biggest difference between the two, said Roach, was Pacquiao's superior footwork.
Roach may have been diplomatic when he said that the Aussie had the potential to go all the way as Kambosos will be a big underdog when he steps into the ring against Teofimo Lopez who figures to close in the 12/1 range. And the pre-fight pub will be all about Teofimo, in common with the Tyson-Jones exhibition where all the pre-fight hype was about Iron Mike.
—
This reporter bumped into Mickey Bey yesterday afternoon. Bey noted that he was hampered going into his fight with George Kambosos as he did not have the benefit of a full training camp. He took the fight on three-and-a-half weeks notice and had been out of the ring for 14 months.
The personable Bey, who is transitioning to the role of a trainer, waxed euphoric about Devin Haney who he regards as a once-in-a-generation talent. "I really believe he has a chance to surpass Floyd," he said, referencing Floyd Mayweather's 50-0 mark. "Haney is better right now than Floyd was at the same age."
That's open to debate, but Devin Haney, currently 25-0, is halfway there and he's only 22 years old. Whether he stays at 135 or moves up to 140, he will have to run through a gauntlet to get through the next few years unscathed. Both divisions are brimming with talent.
Check out more boxing news on video at the Boxing Channel
To comment on this story in the Fight Forum CLICK HERE
Avila Perspective, Chap 125: Canelo and other 4-Division Title-holders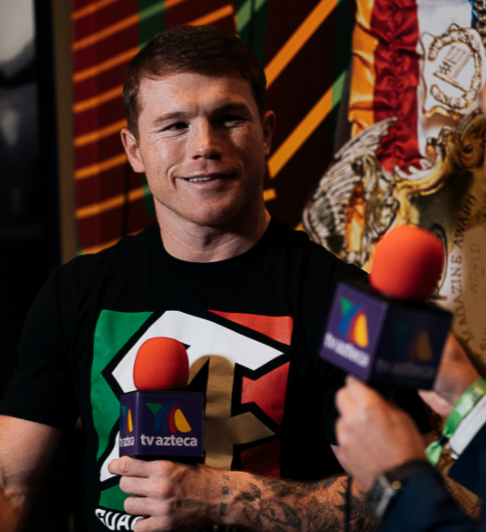 Mexico's Saul "Canelo" Alvarez (54-1-2, 36 KOs) defends the WBA and WBC super middleweight titles against Avni Yildirim (21-2, 12 KOs) on Saturday Feb. 27, at the Hard Rock Stadium in Miami, Florida. DAZN will stream the fight card.
For the second consecutive week a four-division world champion performs.
"I always imagined the best for myself but never to this magnitude," said Alvarez, 30. "I want to keep making history."
Last week four-division titlist Adrien "The Problem" Broner returned to the boxing ring after a two-year absence and defeated Jovanie Santiago by unanimous decision. It was a battle designed for Broner to shake off the cobwebs developed since his prior fight against Manny Pacquiao.
Fans forget Broner captured world titles in four divisions. It's quite an accomplishment for any fighter to win world titles in multiple divisions. For a fan to deride or devalue either Broner's or Canelo Alvarez's accomplishment of four-division world titles means only one thing said one true expert:
"They don't know s*** about boxing," said the late great Roger Mayweather. His words and overall boxing wisdom remain strong in my memory.
One of my goals whenever I hit Las Vegas in the past was to visit two-division world champ Roger Mayweather. If you ever had a chance to converse with any of the Mayweathers you know what I mean; they have deep-rooted knowledge about the history of the fight game.
Once at the Top Rank Gym, probably around 2007, I was chatting with Mayweather in the office with another boxing writer who was discrediting Oscar De La Hoya's accomplishments as a multi-division world champion.
Mayweather straightened up from his chair and looked dead in the guy's eyes and said to the writer "you ever fight in the ring?"
The writer shook his head.
Mayweather waved both his hands at him and said his now legendary line "you don't know s*** about boxing." He further explained that anytime you win a world title is a big thing. And if you win world titles in multiple divisions well that's super human. He called them special fighters. They don't come along very often.
Roger Mayweather passed away last March 17. It was a great loss to the boxing world. I'll never forget his words on multiple-division winners. Mayweather captured world titles in the super featherweight and super lightweight divisions. If you consider the IBO title legitimate, Mayweather also won the welterweight title.
I can imagine Mayweather telling today's fans and writers that they don't know boxing if they think winning world titles in four divisions is nothing.
Roger Mayweather was one of the smartest boxing people I ever met and one heck of a fighter who sold out venues like the Inglewood Forum. As trainer for "Money" Mayweather he was very under-rated in my opinion. And gone too soon.
More Broner and Alvarez.
The first world title achieved by Broner was the WBO super featherweight title by knockout of Vicente Rodriguez in November 2011. Then he moved up a division and defeated Mexico's super tough Antonio DeMarco for the WBO lightweight title by stoppage in November 2012. Broner jumped up again in weight to challenge Paul Malignaggi for the WBA welterweight title and squeaked out a split decision over the Brooklyn fighter in June 2013. After losing to Marcos Maidana in December 2013, he dropped down to super lightweight and defeated Khabib Allakhverdiev for the WBA world title by technical knockout in the 12th round October 2015. He eventually lost a version of the title by decision to Mikey Garcia on July 2017.
At 30 years old, Canelo has now entered his prime years. He grabbed his first world title in March 2011 beating Ricky Hatton for the WBC super welterweight title. He lost that title to Floyd Mayweather in 2013. Not until November 2015 did he move up to take the WBC middleweight title from Miguel Cotto. Alvarez then fought Gennady Golovkin twice, and Julio Cesar Chavez Jr. before moving up to win the WBA super middleweight title from Rocky Fielding in December 2018. Then Canelo moved up to light heavyweight in November 2019 and knocked out Sergey Kovalev.
Alvarez now has won four division world titles like Broner and is poised to defend the super middleweight titles against Yildirum on Saturday. Two months ago, Alvarez handed Callum Smith his first professional defeat while taking away his WBA title and adding the WBC. The Mexican redhead continues to make history.
"It's really important for me to leave a legacy in this sport," said Alvarez. "There are still many milestones I have to achieve."
Four-Titles or More Club
Among those with four or more division world titles are:
Leo Gamez (1985-2005) minimum weight, light flyweight, flyweight, and super flyweight
Jorge Arce (1996-2014) light flyweight, super flyweight, bantamweight and super bantamweight.
Roman Gonzalez (2005-present) minimum weight, light flyweight, flyweight and super flyweight
Nonito Donaire (2003-present) flyweight, bantamweight, super bantamweight and featherweight
Miguel Cotto (2001-2015) super lightweight, welterweight, super welterweight and middleweight
Juan Manuel Marquez (1993-2014) featherweight, super featherweight, lightweight, and super lightweight.
Erik Morales (1993-2011) super bantamweight, featherweight, super featherweight and super lightweight
Pernell Whitaker (1984-2001) lightweight, super lightweight, welterweight and super welterweight
Roberto Duran (1968-2001) lightweight, welterweight, super welterweight and middleweight
Roy Jones Jr. (1988-present) middleweight, super middleweight, light heavyweight and heavyweight.
Five-Titles Club
Sugar Ray Leonard (1977-1997) welterweight, super welterweight, middleweight, super middleweight and light heavyweight
Tommy Hearns (1977-2006) welterweight, super welterweight, middleweight, super middleweight, light heavyweight
Floyd Mayweather Jr. (1996-present) super featherweight, lightweight, super lightweight, welterweight and super welterweight
Naoko Fujioka (2009-present) minimum weight, light flyweight, flyweight, super flyweight and bantamweight.
Six-Titles Club
Oscar De La Hoya (1992-2008) super featherweight, lightweight, super lightweight, welterweight, super welterweight and middleweight
Seven-Titles Club
Amanda Serrano (2009-present) super flyweight, bantamweight, super bantamweight, featherweight, super featherweight, lightweight and super lightweight
Eight-Titles Club
Manny Pacquiao (1995-present) flyweight, super bantamweight, featherweight, super featherweight, lightweight, super lightweight, welterweight, and super welterweight
Straw Stirrers
New WBC super featherweight titlist Oscar Valdez joined the unique list of fighters who are in position to dictate their respective weight divisions in a big way. I call them the straw stirrers or to mimic New York Yankee great Reggie Jackson's famous quote "the straw that stirs the drink."
Valdez's knockout win over the heavily favored Miguel Berchelt last week to win the WBC world title was one of those moments that captivates the world on multiple levels:
First, Valdez was not supposed to win according to the experts. Second, his emphatic one-punch knockout win via the vaunted Mexican left hook was a moment that will be viewed more than a million times on YouTube.com. Third, the super featherweight division is crackling with talent and gate attractions like Jojo Diaz, Jamel Herring, Tevin Farmer, Carl Frampton, Leo Santa Cruz, Vasyl Lomachenko and Shakur Stevenson. And if Valdez seeks an even bigger payday he can move up one division where he will definitely find big money guys like Gervonta Davis, Ryan Garcia, Devin Haney, and the other straw stirrer Teofimo Lopez.
At the moment, Valdez holds the key to stirring the super featherweight drink.
Fights to Watch
Sat. 5 p.m. FOX Anthony Dirrell (33-2-1) vs Kyrone Davis (15-2).
Sat. 5 p.m. DAZN Saul Alvarez (54-1-2) vs Avni Yildirim (21-2).
Check out more boxing news on video at the Boxing Channel
To comment on this story in the Fight Forum CLICK HERE
Ten Heavyweight Prospects: 2021 Catchup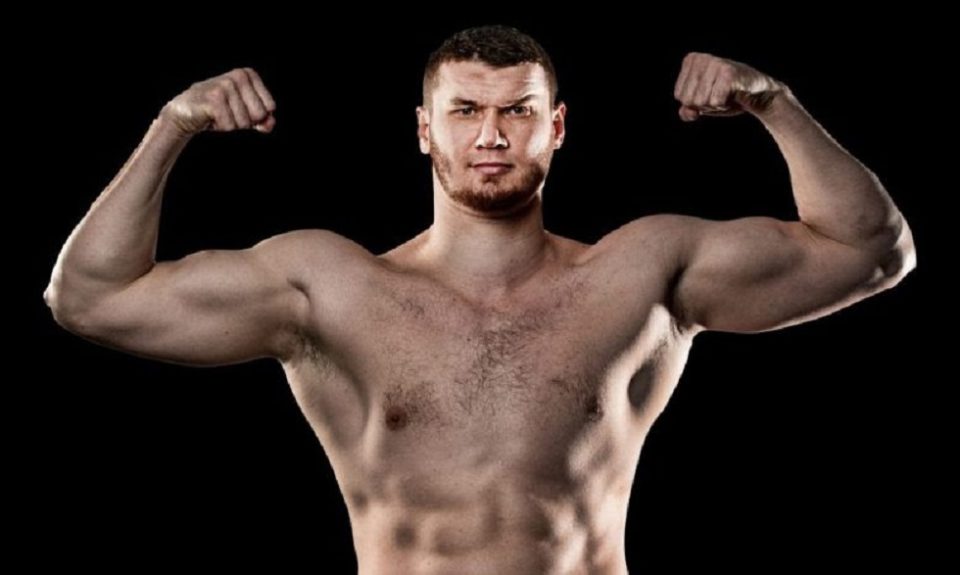 I started this series in 2018, selecting ten fascinating heavyweight prospects and committing to follow them until such time as they were eliminated or entered the Transnational Boxing Rankings and this time, we have a few.
The series was updated in the summer of 2019 and this entry was delayed due to the most severe of circumstances, the COVID-19 pandemic that prevented not just boxing but so many other aspects of life. It's nice to be able to catch up with these men once again in what was a twenty months as incident-filled as the preceding twelve.
THE COLOSSUS: ARSLANBEK MAKHMUDOV
FROM: Russia HEIGHT: 6'5.5 WEIGHT IN SHAPE: 250lbs AGE: 31 RECORD: 11-0 with 11 KOs
The enormous Arslanbek Makhmudov has been out just three times since the summer of 2019, slow going in more ways than one. Yes, inactivity is a consequence of a global pandemic that has hampered more than the prospects of exciting boxing prospects, but the selection of Makhmudov's opposition has remained stubbornly unambitious.
That looked momentarily set to change in September of 2019 when Julian Fernandez, then 14-1, stepped into Makhmudov's ring. While Fernandez has certainly never beaten meaningful opposition, he had been in with meaningful opposition, stopped in two by Tom Schwartz the year before. Makhmudov, who was a clean clear winner in his usual impressive style, nevertheless for the first time came off worse in the meaningless comparisons so often thrust upon heavyweight prospects, in that he took three rounds to do what it had taken the much more experienced Schwartz just two rounds to do.
More than this, the response of collective fighting news was disinterest. The fight was neither widely reported upon nor remarked upon and nothing is more discouraging to a promotions team than that. Perhaps in an attempt to increase coverage of their prospect, promoter Camille Estephan took the well-trodden path of digging up the bones of a once notorious contender and lobbing them at his charge. Samuel Peter was the victim and Makhmudov (pictured) disposed of him in seconds. Though the fight succeeded in generating column inches, it also did nothing for Makhmudov's learning curve.
Doubly disappointing then was his first pandemic-opponent, Dillon Carman. Having boxed even fewer rounds than Makhmudov in 2019, Carman was also coming off two quick stoppage losses. Of course, he was butchered in the first. Since, Makhmudov's team have been calling for Joe Joyce, Anthony Joshua and Tyson Fury.  That is exciting and in the case of Joyce might even be serious, though Joyce's people will have little problem sidestepping Makhmudov, who is a massive-punching problem nobody needs. Hopefully Estephan and his team will take note of the wide open space between a fighter like Carman and a fighter like Joyce and act upon it, fast.
SIX NINE: IVAN DYCHKO
FROM: Kazakhstan HEIGHT: 6'9 WEIGHT IN SHAPE: 245lbs AGE: 30 RECORD: 9-0 with 9 KOs
Ivan Dychko is in danger of becoming a cautionary tale.
Last time we discussed the towering Kazak he had failed in a seemingly serious campaign to replace the disgraced Jarrell Miller against Anthony Joshua based upon their amateur rivalry. Having missed the boat on that chance, grabbed so forcefully by Andy Ruiz, Dychko consoled himself by fighting someone named Nate Heaven.
Heaven, who retired in 2015 and has not won a meaningful fight since April of 2014, inexplicably unretired to absorb this beating, which he did, showing bravery all the while. Dychko looked organised and quick, heavy-handed and well-organised.
Since then: nothing.
Dychko has sparred with Wladimir Klitschko and Deontay Wilder, apparently without upset. He now seems to be hocking those wares to Tyson Fury. Meanwhile, he avoids the ring entirely. Dychko looks fabulous in training footage and is still spoken of highly by those who have worked with him, but that makes his inexplicable inactivity more, not less, frustrating. It should be remembered that Dychko spent eight months doing nothing before the pandemic hit and fought six rounds in twelve months before that. Dychko is a potentially splendid fighter going very much to waste.
THE QUIET ONE: DANIEL DUBOIS
FROM: Great Britain HEIGHT: 6'5 WEIGHT IN SHAPE: 239lbs AGE: 23 RECORD: 15-1 with 14 KOs
Great Britain continues to deliver on meaningful clashes between heavyweight prospects and the past eighteen months has delivered something of a blockbuster in the shape of Daniel Dubois versus Joe Joyce.
The reason the world is more likely to contain Dychko or Makhumudov than Joyce or Dubois could not be illustrated more keenly than it is by the fallout from this fight. Dubois has been routed by both social media and boxing reporters, very much along the lines of "did he quit?" and "was he exposed?"
But when two prospects meet, of course, some shortcomings and some failings are to be revealed.  By very definition, a prospect is not a finished article. It is true, also, that there was something depressing about Daniel's apparent inability to defend a wounded eye that came to define his fight as he was jabbed into literal submission by a tougher, technically superior, much more experienced, older boxer. Worse was that he seemed so under-prepared for a potential change in the manner in which he might defend himself. His failings were not entirely his own.
Still, aged just twenty-three and with his heavy hands confirmed by fourteen knockouts, Dubois has plenty to rebuild with, most of all keeping in mind that his hands are just tools and his plans in the ring are mostly there to be disrupted. Watching him explain openly and honestly his decision to "take the knee" despite a clear understanding of the unfortunate cultural associations with our sport that has developed around any notion of surrender has been heartening and frankly impressed me.
Perhaps this a young man who actually will "learn from a defeat" rather than merely paying it lip service. It is that opportunity and where it might lead him that convinced me to leave him on this list, and we will drop in on him next February to see what has occurred.
THE BRUTE: SERGEY KUZMIN
FROM: Russia HEIGHT: 6'3.5 WEIGHT IN SHAPE: 245lbs AGE: 33 RECORD: 15-2 with 11 KOs
Last time we spoke of Sergey Kuzmin he was 15-0; this time he is 15-2. I'll avoid platitudes such as "it's a long road back for the thirty-three-year-old" on this occasion and just state Kuzmin will never be champion.
The scene for his downfall straddled the continents and boxing history as he was found wanting first in the immortal Madison Square Gardens, New York, and then Wembley, London. Tough to the last, Kuzmin was stopped by neither Michael Hunter, who he met in America, nor Martin Bakole, who he met in Great Britain. On each occasion though, he was thoroughly beaten.
His Waterloo came in the fifth against Hunter. Hunter, who had been making all the running, flashed Kuzmin in the fifth with an unexpected cannonball left. Generous onlookers may have found two rounds for the Russian but it was clear he did not belong in the ring with a fighter as good as Hunter. As if to prove it, he took a step down in his next contest against Bakole. Looking fleshy and tentative, Kuzmin dropped a clear and drab decision.
Boxing isn't kind and it was possible to feel the world's interest wane during the Bakole fight, or at least that part of the world that remained interested up until that point. Kuzmin tried to take control in the second round, got hit and seemed cowed. He has proved a disappointment; I predicted he would get as far as a legitimate heavyweight ranking. He did not get there, and it seems unlikely now he ever will. Either way, he passes from the realm of prospect to that of gatekeeper and will not figure on our prospect list this time next year.
THE AMERICAN: DARMANI ROCK
FROM: USA HEIGHT: 6'5 WEIGHT IN SHAPE: 240lbs AGE: 24 RECORD: 17-1 with 12 KOs
If I hoped for a ranking for Kuzmin, I was less convinced by Darmani Rock, whose promotional team seemed either to be very smart or very dumb in the glacial way they moved the youngster along.  Still just twenty-four they could even have continued to make him wait – instead, they took the plunge and the result was a disaster.
Michael Polite Coffie, a fascinating 6'5 southpaw, prides himself on his ability to learn and his military record both, although his time in service prevented him applying learning to boxing until he was rather late in life. Arguably though, he had already achieved more in his eleven professional fights than Rock had in his seventeen. It showed. Coffie, ripped where Rock was flabby, showed the supposedly more experienced man more looks in the first than Rock mustered in the three short rounds the fight lasted. In the third, Rock rattled out of the corner and fired with real aggression having been out-hit through the first two rounds. It was an exciting moment for our prospect-watch, one where we were to learn about a man we were interested in. Instead, Rock revealed a jaw that was anything but as Coffie cleaned him out before a minute of the round had elapsed.
Rock's moment of truth came and went; Coffie is interesting. If he continues to fight and goes unbeaten, perhaps we will even sneak him in here this time next year. At 34 I think the former Marine will be a little too late to the game though.
MY FAVOURITE: FILIP HRGOVIC
FROM: Croatia HEIGHT: 6'6 WEIGHT IN SHAPE: 230lbs AGE: 26 RECORD: 12-0 with 10 KOs
"Technically proficient, quick of hand and thought, physically imposing and clearly in great shape," I wrote of Filip Hrgovic in 2019, "[he] is confirmed as having everything he needs to be a champion in the heavyweight division except the important ones: chin and stamina. These still remain unconfirmed, although his adventures in the WSB suggest he owns a sturdy mandible at the very least."
And that, pretty much, is where we still stand today. Hrgovic has been busy though, managing four outings, well above average for this list, it's just that none of them really told us anything we don't already know. He thrashed a molasses-like Mexican named Mario Heredia in August 2019, and turned in an impressive display. Using the left hand to open up opportunities for the right, Hrgovic scored with straights, bodyshots, narrowed it up to throw a short overhand on the inside, and most of all landed brutal uppercuts. Heredia was fearless but wilted under this attention. The brutally of those right hands escalated in the third and final round.
From here, Hrgovic went on to dispatch a wobbly Eric Molina in December, and also in three, before waiting out much of the pandemic and returning to the ring in September of 2020 against an ageing Greek with ten fights named Alexandre Kartozia, who offered even less resistance. In November he met the forty-year-old Rydell Booker and beat him up for an eye-watering five founds.
It's not so much that his opposition is truly awful, more that you can't shake the feeling that Arslanbek Makhmudov would have knocked them all over too – and in double quick time, too.  Either way, there is still an awful lot that is not known about Hrgovic that I would like to know before he fights for a title, which, to hear the fighter tell it, is imminent. Maybe Martin Bakole will tell us more. He has been chasing Hrgovic for a year now and seems convinced he can trouble him.
Either way, we won't be hearing any more from Hrgovic in our prospect-watch; he breached the TBRB rankings in December of 2019.  He is a contender now, a prospect no more.
HAYMAKING: JOE JOYCE
FROM: Great Britain HEIGHT: 6'6 WEIGHT IN SHAPE: 255lbs AGE: 35 RECORD: 12-0 with 11 KOs
"From the supposed pick of the crop in Hrgovic to the man who beat him."
Yes indeed; but Joe Joyce needn't rest on the laurels in earned back in his World Boxing Series any more. He arguably owns the best win of any of the fighters on this list.
Nor was he the betting favourite when he met Daniel Dubois late last year in a match that for the boxing-loyal, fight-starved British public was something of an event. Joyce, a rarity in that he feels even bigger in the ring than his listed stats, spent ten rounds doing essentially the same thing, pushing out hard straight punches to allow metronomic scoring while occasionally getting hit with harder punches, as in the second, where Dubois seemed ready to clean him out. But Joyce is hard; the science to that remark, such as it is, is only in that it is an observable fact. While Dubois lashed him, Joyce calmly continued to deploy himself and by the eighth, although Dubois was in touch on the cards, there was a sense of inevitability about the Joyce victory, which came via TKO in the tenth round.
Joyce is probably a little better than I credited him for, though I always figured him the fighter on this list most in a hurry; that urgency will continue as David Haye's prodigy has now turned thirty-five.  Britain is stuffed with heavyweights currently. Joyce is now third among them, an enviable spot, one that is now seeing him hunted by names.
He is also wonderfully positioned for a shot at a strap, and if he can keep it right, he might even be positioned for the many millions a fight with the emergent victor from any Tyson Fury-Anthony Joshua series.
Either way, Joyce will no longer be labelled a prospect the next time we come around. He will be replaced by a new man next year.
THE PUB BOUNCER: NATHAN GORMAN
FROM: Great Britain HEIGHT: 6'3 WEIGHT IN SHAPE: 250lbs AGE: 24 RECORD: 17-1 with 11 KOs
After the hurt that Joe Joyce put on him, it is forgotten that Daniel Dubois had previously won his own battle of the prospects, beating up Nathan Gorman in July of 2019.
"The Dubois fight is everything to Gorman," I wrote in 2019. "There will be no unearned second coming should he lose, just a long and difficult slog back to where he is now followed by the real work…Gorman's status next time we check in with him will be more dramatically affected by his next fight than every other man on this list."
And so it was. Gorman was brave and he had certain but slight advantages that did nothing like enough to cover the distance in talent that lay between them. Cut in the second round, dropped in the third before being stopped in the fifth, he was clearly outmatched. Gorman will never be a legitimate contender to the world's heavyweight champion.
That does not mean there isn't money to be made and fights to be won. Gorman was back and winning late last year after a prolonged rest and goes again in March. Likeable and brave, Gorman remains on my watch list, for all that we won't see him again on this list.
THE LITTLE GUY: OLEKSANDR USYK
FROM: Ukraine HEIGHT: 6'3 WEIGHT IN SHAPE: 220lbs AGE: 34 RECORD: 18-0 with 13 KOs
Oleksander Usyk is another fighter to be removed from our heavyweight prospect list, but for different reasons; Usyk made the TBRB top ten and as such is no longer eligible. Usyk is stalking belts, not status.
I've followed Usyk since before the beginning of his professional career and written about him for years. During all those years I've been clear about one thing: he will grab himself a heavyweight strap. In truth, everything truly meaningful is tied up with Tyson Fury and Anthony Joshua so while I continue to stand by my ancient prediction, it is likely to come now only in the most unsatisfactory of fashions, perhaps upgraded from some ridiculous interim alphabet belt to "full champion" when Joshua or Fury refuses to match him but rather rematches the other for tens of millions.
My other prediction – that Usyk is serious trouble for Joshua and all but chanceless against Fury – may be undone on all fronts by the passage of time. Usyk is thirty-four and like the rest of us, is getting no younger.
During the time between lists, Usyk has beaten up journeyman Chazz Witherspoon for a seventh- round stoppage and out-pointed gatekeeper Dereck Chisora in an interesting fight seen by many as his first true test at the poundage. In many ways, Usyk did it the old-fashioned way, for all that he served his "apprenticeship" as an all-time great cruiserweight. The next eighteen months will tell us whether or not he can achieve major status at heavyweight.
AT THE SCHOOL OF MANNY STEWARD: VLAD SIRENKO
FROM: Ukraine HEIGHT: 6'3.5 WEIGHT IN SHAPE: 243lbs AGE: 26 RECORD: 15-0 with 13 KOs
Vlad Sirenko's most recent opponent was a 7-8-1 Ukranian named Kostiantyn Dovbyshchenko who has now lost five of the last six but who nevertheless rattled Sirenko in Kiev last December.
On the face of it, this seems a disaster, but of all the fighters on this list, Sirenko is the one most deserving of time. Aged just twenty-six and with little to speak of in terms of an amateur career, Sirenko's 15-0 is real; as are the numbers, so is his experience.
Despite this, when Dovbyshchenko opened an irritating cut on his right brow in the fifth round, Sirenko did not panic. He stuck to a tidy-handed, neat boxing style that got him across the line over ten and gifted him something the likes of Makhmudov and Hrgovic have yet to receive: a genuine test of his temperament.
Still, the scores were not wide and although Dovbyshchenko was a little better than his paper record allows – neat, tidy and mobile, and never stopped – Sirenko's limitations were underlined. He can hit, but his power isn't darkening; he is organised, but he often waits his turn – he is busy but cannot counter or punch well enough to truly discourage his opponent. In short, well-schooled quality on technical punching is what won him this fight. That is honourable, but it is not what should be separating him from journeymen. If he is unable to overwhelm or at least control such limited opposition with physical advantages, heavyweight waters will likely be too deep.
Still, he speaks so well about boxing that I want to believe he can learn about boxing. Sirenko, who is not shy at sharing his opinions, predicted Joyce's victory over Dubois with calm certainty having previously sparred with both. It is only one example, but every time I hear him speak in excellent English, I am impressed with what he has to say. Connections to Manny Steward disciple James Ali Bashir and therefore to the Oleksandr Usyk camp are other reasons to be hopeful.
As is Sirenko's abandonment of his South African base and relocation to Germany, under the auspices of Maxim Michailew who has so far preferred him to box in his native Ukraine. He has also made Sirenko one of the busier prospects on this list and that, too, bodes well for the future.
Sirenko though remains the most interesting prospect here listed, which is another way of saying he has the most to prove.
THIS TIME NEXT YEAR
It was strange re-reading former entries in this series before writing this one. That I would be writing another a year later seemed a given and if 2020/21 has taught us anything it is that nothing should be taken for granted. None of us could imagine an event so overwhelming as to make an absence of boxing seem meaningless, but it happened.
It hurt the prospect more than any other kind of fighter; even the true journeyman will tend to have other sources of income. For an elite prospect who has devoted himself to boxing, the end of the fight game was a disaster. That said, the fight fan may prosper; it could be that a sudden and unplanned break might press some reluctant promoters, managers and boxers into action.
Hopefully we will be back in around a year to find out why.
Check out more boxing news on video at the Boxing Channel
To comment on this story in the Fight Forum CLICK HERE