HITS and MISSES: Halloween Weekend Edition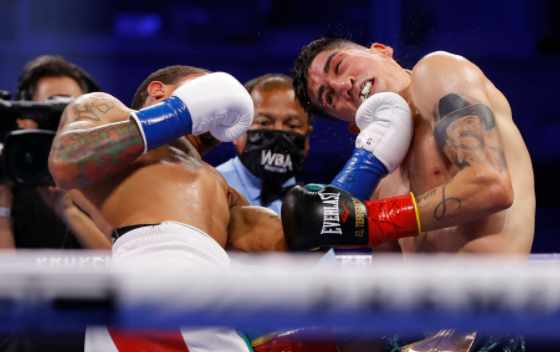 HITS and MISSES: Halloween Weekend Edition
It was an absurdly busy weekend in boxing, so let's get right to all the action.
Here are boxing's biggest HITS and MISSES after Gervonta Davis vs. Leo Santa Cruz, Naoya Inoue vs. Jason Maloney, Oleksandr Usyk vs. Derek Chisora, Jaime Munguia vs. Tureano Johnson and so much more.
HIT: Gervonta Davis Breaks the Internet
Davis broke Leo Santa Cruz, then the Internet on Saturday night by delivering a savage uppercut to his opponent's jaw in the sixth round of the main event of a Showtime pay-per-view card in San Antonio, Texas.
Davis, 24, received high praise for the spectacular one-punch KO from all over the world, including the likes of NBA superstar LeBron James, UFC megastar Conor McGregor and many other celebrities.
In a nutshell, his epic performance shows two very important things about "Tank".
First, Davis is an excellent enough fighter to make good on his incredible promise. Davis was favored to beat Santa Cruz, but the 32-year-old had owned world titles in three divisions and appeared to be in prime form at the Alamodome.
Second, Davis is already drawing tons of attention, and it's the right kind of attention, the kind that shows what an amazing fighter he is and how he really might be the next Floyd Mayweather.
MISS: Deontay Wilder's 'Heinous Accusations' 
Ex-champ Deontay Wilder finally broke his silence about Tyson Fury choosing to move on to bigger and better things in his career other than the third fight against him that almost nobody wants or needs to see.
Wilder started by posting a bizarre rant via social media on Saturday in which he accused Fury of loading his gloves in both of their previous fights. Things only got worse from there, though, as Wilder went on to accuse his own ex-trainer Mark Breland of poisoning him during the second fight as well as tossing out several other wild accusations.
As noted by Yahoo's Kevin Iole, Wilder's "heinous accusations" are backed by no evidence but are evidence themselves that Wilder probably shouldn't be boxing again anytime soon. Wilder is clearly in need of some kind of mental or emotional help. That, or he just needs to stop surrounding himself with the types of people who lead him down these dangerous and ridiculous ways of thinking.
HIT: Naoya Inoue and Jaime Munguia
Lebron and Conor might have loved watching Davis do his thing, but hardcore boxing fans had two other young boxing stars to get excited about, too.
It started on Friday night when ex-154-pound titleholder and new middleweight contender Jaime Munguia stopped a very game Tureano Johnson in the sixth round of a DAZN card at Fantasy Springs Casino in Indio, California.
Munguia, 24, from Mexico, is still a work in progress. Heck, Munguia even still appears to be growing into his frame. But the rising Mexican star wins fights, and he does so in a fan-friendly style that should only help build him a larger and larger fan base for years to come.
Meanwhile, Naoya Inoue, from Japan, finally made his main event debut for his new promoter Bob Arum in the United States. "The Little Monster" walloped Jason Moloney in the seventh round on Saturday night in a Top Rank Boxing on ESPN card at the MGM Grand Bubble in Las Vegas, Nevada.
After the fight, The Athletic's Lance Pugmire hailed the undefeated World Boxing Super Series winner and unified bantamweight champion Inoue as "best fighter I've seen in years in person…he has the ability to be as popular as Manny Pacquiao."
That's incredibly high praise, and something that can't be argued against at this point in his career. Inoue is already a pound-for-pound elite superstar. He's still just 27, and he constantly seems to be getting better.
MISS: Too Much Boxing?
Is too much boxing going on at the same time a bad thing? Maybe in the past, I would have said that the idea was silly, but after experiencing Saturday in the McCarson household, I'm starting to think maybe there is such a thing as too much.
Boxing is one of the best sports in the world, but as the television networks and streaming platforms continue to proliferate faster than the alphabet gang can come up with names of titles, there might be a point where boxing is just punching itself in the face.
Covering combat sports is my full-time job, yet there seemed to be no way for even someone like me, who wanted to watch all the fights, had all the required cable packages and subscription services, and possessed the vested financial interest to do it could actually pull it off in real-time.
Maybe that's just the way things are going. Content creators see 168 hours in each week and aim to fill every bit of it. But I'm not sure that's a good thing, and I'm equally not able to understand how any regular fight fan out there was supposed to keep up with everything all at once.
HIT: Everything About Oleksandr Usyk vs. Derek Chisora
Former undisputed cruiserweight champion Oleksandr Usyk continued his march toward challenging for a heavyweight title by outworking veteran contender Derek Chisora over 12 rounds in the main event of a Matchroom Boxing card at Wembley Arena in London.
Usyk, 33, from Ukraine, hopes to follow in the footsteps of Evander Holyfield, the first undisputed cruiserweight champion in history and the only one to accomplish the same thing as a heavyweight. Like Holyfield, Usyk needs time to acclimate to the much bigger fighters in boxing's glamour division, so Chisora seemed the perfect next opponent.
The fight itself was a fun battle, thanks largely to Usyk's beautiful boxing and Chisora's crafty pressure. Additionally, much had been made on social media before the fight about how much the two fighters love and respect each other.
That same thing continued after the fight when the two shared burgers that Chisora brought over to Usyk's dressing room.
So, yeah, everything about Usyk vs. Chisora was awesome. Boxing could use as many heartwarming stories and brilliant sportsmen as possible.
Photo credit: Esther Lin / SHOWTIME
Check out more boxing news on video at the Boxing Channel 
To comment on this story in the Fight Forum CLICK HERE
A Conversation About Boxing with Author and Journalist Rick Marantz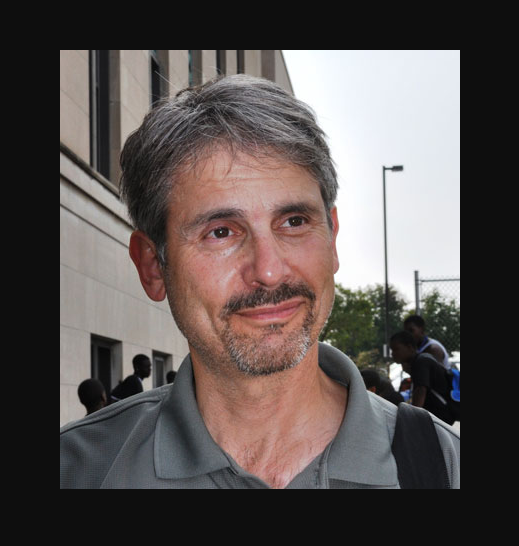 If you ask former sportswriter Steve Marantz when was boxing's Golden Age, he's quick with a response.
His answer just so happens to coincide with the period when he was on the beat as a boxing columnist for the Boston Globe (1979-1987).
"You could argue that boxing has had a few Golden Ages, but yes, that was an exciting and memorable era," said Marantz, who sat ringside for many legendary matches. "The round-robin bouts amongst [Ray] Leonard, [Marvin] Hagler, [Thomas] Hearns and [Roberto] Duran, certainly was a major element."
Those four legends are important but other weight division kings also played an integral role in boxing's global popularity.
"Let's not forget [Aaron] Pryor, [Alexis] Arguello, [Julio Cesar] Chavez, [Salvador] Sanchez, [Hector] Camacho, [Wilfredo] Gomez, Michael Spinks, [Dwight Muhammad] Qawi, [Donald] Curry, [Mike] Tyson and [Evander] Holyfield," Marantz offered. "The key was competitive balance in most of the divisions."
Marantz began his journalism career in 1973 at the Kansas City Star after graduating from the University of Missouri. After leaving the Globe, he worked for the Boston Herald (1999-2004) and ESPN (2004-2016). Nowadays, in addition to freelance writing for publications such as the Jewish Journal of Greater Boston, he produces the podcast "Championship Stories."
Marantz recalled one particular moment that stood out while covering boxing and it happened at Aaron Pryor's training camp.
"I have a vivid memory of his workout before he fought Arguello in Miami, November 1982. He had a hot funk song on the speakers, "You Dropped A Bomb On Me," and as it played, loudly, he shadow-boxed to its beat and lyrics," he recalled. "A rope was stretched across the gym, four feet off the floor, and Pryor moved along the rope, ducking under and back, gloves flashing. He was hypnotized by the music, in a trance. Hypnotized me, too. A moment that made boxing so cool to cover."
That classic matchup at the famed Orange Bowl was halted in the 14th round with Pryor winning by technical knockout.
Anyone at Caesars Palace on April 15, 1985, knows what happened over roughly eight minutes of hot action when Hagler and Hearns tangled. It was nonstop punches from both participants.
"Hagler and Hearns fought as if possessed," recalled Marantz of that showdown. "The stark final image [for me] was that of Hearns, now helpless, semiconscious, looking very like a black Christ taken from the cross, in the arms of a solemn aide.
"Hagler's pent-up bitterness found release in a violent attack, even as each crack of Hearns' gloves reinforced a lifetime of slights. In the end, Hearns was martyred to absolve Hagler of victimization. The first round is legendary, among the most vicious and splendid ever fought on the big fight stage. Action accelerated so quickly that spectators were left breathless. Punches windmilled into a blur, though the actual count was 82 punches for Hagler and 83 for Hearns, about three times that of a typical round."
While that fight has blended into boxing folklore, a 1976 Olympic gold medal winner from Palmer Park, Maryland, was the epitome of true greatness for Steve Marantz.
"The way Sugar Ray Leonard maneuvered [Roberto] Duran to 'No Mas' in their rematch was brilliant. His grit and toughness beat Hearns, one of the great fights of the 1980s. And he beat Hagler with brains and psychology. Not to overlook his win over [Wilfred] Benitez in 1979. He was gorgeous to watch, stylish and rhythmic. His combinations were a blur. And he strategized like a chess master. Smooth and cooperative in interviews, always aware of the marketing and promotional necessities. Leonard was the gold standard."
Marantz re-visited the Hagler-Leonard fight and the drama that surrounded it in "Sorcery at Caesars: Sugar Ray's Marvelous Fight," first released in 2008 and now available as an eBook.
Boxing's been called the cruelest and the most unforgiving sport, but it's also filled with high drama.
"It's a test of athleticism, intelligence, grit and character. At its best, it's dramatic and unpredictable, exciting," Marantz said of the fight game. "A rich history of iconic personalities and events. Joe Louis and Max Schmeling, for example. A window into history bigger than just sport, a window into popular culture and politics."
Marantz fondly recalls some of the characters he met while covering the sweet science: "Promoters Don King and Bob Arum, both conniving quotable snakes. Trainer Ray Arcel, in his 80s, a pillar of honesty and integrity. Emanuel Steward and Prentiss Byrd, running the Kronk Gym as a beacon of light and hope in Detroit's blighted inner city. In Brockton, Massachusetts, two Italian-American brothers, Goody and Pat Petronelli, formed a sacred trust with an African- American boxer, Marvin Hagler."
Marantz went on: "On my first newspaper job with the Kansas City Times/Star, I met a kindly trainer, Peyton Sher, who welcomed me into his gym and taught me the basics," he said. "Never will forget Daeshik Seo, the Korean therapist for Larry Holmes who two weeks before the Holmes-[Gerry] Cooney fight in June 1982, tipped me to a story that a member of Holmes' entourage pulled a pistol on Cooney's entourage at Caesars Palace. Caesars top brass had to call Holmes on the carpet to get his people under control. Holmes was incensed at the story. In his media session after he won, he said I wrote it because I was [expletive] … and that I worked in a racist city, Boston."
Marantz has never been put off by the seedy elements of the sport. "I don't feel polarized by it.," he says. Nobody is forced to box. Nobody is forced to watch it. The world has bigger problems than boxing."
Marantz has fond memories of the people he met and the friendships he made while covering boxing. Does he miss not being rinigside? "Not really," he says. "My time came and went. Journalism and life took me in other directions. I do have some nostalgia for that era, and for the people who were part of it."
Having been around the sweet science for a spell, Marantz offered sage advice to anyone inclined to mix it up: "Be disciplined, work hard, find a good trainer, learn the subtleties, read the tea leaves and don't be pig-headed."
Actually, all of those traits are always handy, even if one doesn't step into the ring
You can read more about Steve Marantz at his website: www.stevemarantz.com
To comment on this story in the Fight Forum CLICK HERE
Mercito Gesta Victorious Over Jojo Diaz at the Long Beach Pyramid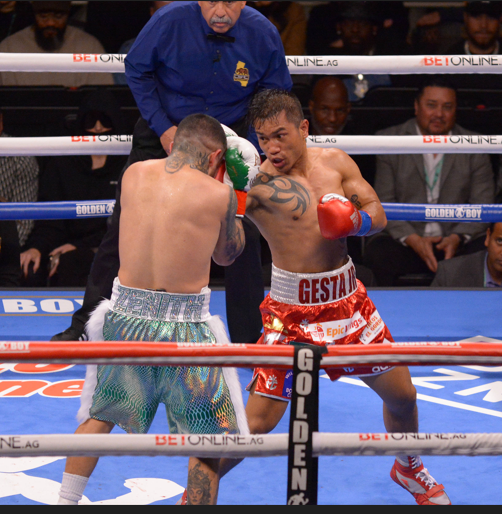 LONG BEACH, CA.-Those in the know knew Mercito Gesta and Jojo Diaz would be a fight to watch and they delivered.
Gesta emerged the winner in a super lightweight clash between southpaws that saw the judges favor his busier style over Diaz's body attack and bigger shots and win by split decision on Saturday.
Despite losing the main event because the star was overweight, Gesta (34-3-3, 17 KOs) used an outside method of tactic to edge past former world champion Diaz (32-4-1, 15 KOs) in front of more than 5,000 fans at the Pyramid.
The speedy Gesta opened up the fight with combination punching up and down against the peek-a-boo style of Diaz. For the first two rounds the San Diego fighter overwhelmed Diaz though none of the blows were impactful.
In the third round Diaz finally began unloading his own combinations and displaying the fast hands that helped him win world titles in two divisions. Gesta seemed stunned by the blows, but his chin held up. The counter right hook was Diaz's best weapon and snapped Gesta's head back several times.
Gesta regained control in the fifth round after absorbing big blows from Diaz. He seemed to get angry that he was hurt and opened up with even more blows to send Diaz backpedaling.
Diaz targeted his attack to Gesta's body and that seemed to slow down Gesta. But only for a round.
From the seventh until the 10th each fighter tried to impose their style with Gesta opening up with fast flurries and Diaz using right hooks to connect with solid shots. They continued their method of attack until the final bell. All that mattered was what the judges preferred.
After 10 rounds one judge saw Diaz the winner 97-93 but two others saw Gesta the winner 99-91, 98-92. It was a close and interesting fight.
"I was expecting nothing. I was the victor in this fight and we gave a good fight," said Gesta. "It's not an easy fight and Jojo gave his best."
Diaz was surprised by the outcome but accepted the verdict.
Everything was going good. I thought I was landing good body shots," said Diaz. "I was pretty comfortable."
Other Bouts
Mexico's Oscar Duarte (25-1-1, 20 KOs) knocked out Chicago's Alex Martin (18-5, 6 KOs) with a counter right hand after dropping him earlier in the fourth round. The super lightweight fight was stopped at 1:14 of the round.
A battle between undefeated super welterweights saw Florida's Eric Tudor (8-0, 6 KOs) emerge the winner by unanimous decision after eight rounds versus Oakland's Damoni Cato-Cain.
The taller Tudor showed polished skill and was not bothered by a large cut on his forehead caused by an accidental clash of heads. He used his jab and lead rights to defuse the attacks of the quick-fisted southpaw Cato-Cain. The judges scored the fight 80-72 and 78-74 twice for Tudor.
San Diego's Jorge Chavez (5-0, 4 KOs) needed less than one round to figure out Nicaragua's Bryan Perez (12-17-1, 11 KOs) and send him into dreamland with a three-punch combination. No need to count as referee Ray Corona waved the fight over. Perez shot a vicious right followed by another right and then a see-you-later left hook at 3.00 of the first round of the super featherweight match.
Photo credit: Al Applerose
Jojo Diaz's Slump Continues; Mercito Gesta Prevails on a Split Decision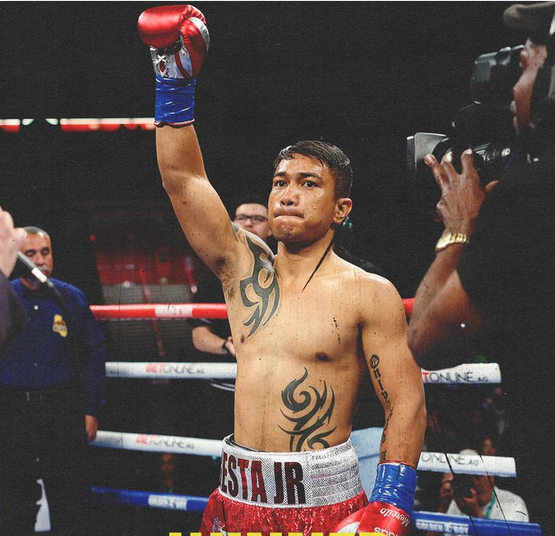 At age 30, Jojo Diaz's career is on the skids. The 2012 U.S. Olympian, a former world title holder at 126 and 130 pounds and an interim title holder at 135, Diaz suffered his third straight loss tonight, upset by Mercito Gesta who won a split decision at the Walter Pyramid in Long Beach, CA.. The scoring was strange with Gesta winning nine of the 10 rounds on one of the cards and only three rounds on another. The tie-breaker, as it were, was a 98-92 tally for Gesta and even that didn't capture the flavor of what was a closely-contested fight.
Originally listed as a 12-rounder, the match was reduced to 10 and that, it turned out, did Diaz no favors. However, it's hard to feel sorry for the former Olympian as he came in overweight once again, having lost his 130-pound title on the scales in February of 2021.
Diaz also has issues outside the ropes. Best elucidated by prominent boxing writer Jake Donovan, they include a cluster of legal problems stemming from an arrest for drunk driving on Feb. 27 in the LA suburb of Claremont.
With the defeat, Diaz's ledger declined to 32-4-1. His prior losses came at the hands of Gary Russell Jr, Devin Haney, and William Zepeda, boxers who are collectively 83-2. Mercito Gesta, a 35-year-old San Diego-based Filipino, improved to 34-3-3.
Co-Feature
Chihuahua, Mexico super lightweight Oscar Duarte has now won nine straight inside the distance after stopping 33-year-old Chicago southpaw Alex Martin in the eighth frame. Duarte, the busier fighter, had Martin on the deck twice in round eight before the fight was waived off.
Duarte improved to 25-1-1 (20). Martin, who reportedly won six national titles as an amateur and was once looked upon as a promising prospect, declined to 18-5.
Other Bouts of Note
New Golden Boy signee Eric Tudor, a 21-year-old super welterweight from Fort Lauderdale, overcame a bad laceration over his right eye, the result of an accidental clash of heads in round four, to stay unbeaten, advancing to 8-0 (6) with a hard-fought unanimous 8-round decision over Oakland's Damoni Cato-Cain. The judges had it 80-72 and 78-74 twice. It was the first pro loss for Cato-Cain (7-1-1) who had his first five fights in Tijuana.
In the DAZN opener, lanky Hawaian lightweight Dalis Kaleiopu went the distance for the first time in his young career, improving to 4-0 (3) with a unanimous decision over 36-year-old Colombian trial horse Jonathan Perez (40-35). The scores were 60-52 across the board. There were no knockdowns, but Perez, who gave up almost six inches in height, had a point deducted for a rabbit punch and another point for deducted for holding.
To comment on this story in the Fight Forum CLICK HERE