Avila Perspective, Chap. 117: Anthony Joshua, Shakur and More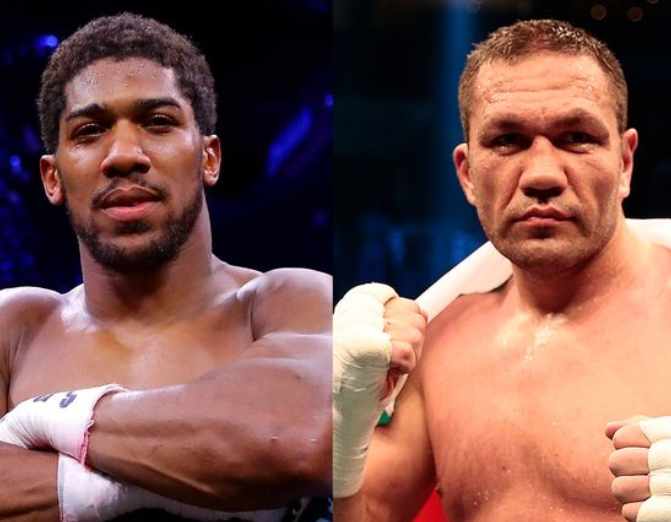 Avila Perspective, Chap. 117: Anthony Joshua, Shakur and More
Here's the tall and the short of it.
A large bloke with numerous heavyweight title belts fights in England and a thin, small Jersey guy looking to fight bigger guys fights in Las Vegas. Both, on Saturday in different parts of the world.
But before we get to the weekend, a boxing card of interest takes place on Thursday.
Mexican Style
For the past month Roy Jones Jr. Promotions has been organizing fight cards in Northern Mexico, not New Mexico, featuring American fighters versus Mexican fighters. They're 50/50 fights. No one really knows who is going to win.
This Thursday, Dec. 10, the main event pits an undefeated welterweight from Texas, Santiago Dominguez (23-0, 18 KOs) versus hard-nose Ricardo Lara (22-8, 10 KOs) from Jalisco, Mexico. If you know anything about Mexican fighters, they do not want to lose to Mexican-American fighters, especially on their home turf.
UFC Fight Pass streams the fight card.
Expect do-or-die fights.
A co-feature matches undefeated Luis "El Koreano" Torres (9-0, 6 KOs) versus Juan Rodriguez-Ortiz (9-2, 7KOs) in an eight-round lightweight clash. Also on the boxing card are three undefeated Cuban fighters now based in Guatemala.
Take a look at this boxing card which starts around 7 p.m. Pacific Time.
Return of Anthony Joshua in London
Matchroom Boxing presents the humongous Anthony Joshua (23-1, 21 KOs) defending his IBF, WBA and WBO heavyweight world titles against Bulgaria's Kubrat Pulev (28-1, 14 KOs) on Saturday afternoon from London, England. DAZN will stream the boxing card beginning at 11 a.m. Pacific Time.
Big as Joshua may be on paper, I think it's safe to say he was taken down a couple of pegs when knocked out by "little" Andy Ruiz last year. In the rematch this huge heavyweight ran around the ring like a tinker bell jabbing and avoiding any semblance of hard contact.
Is this any way to fight?
It was an embarrassment to see the heavyweight world champion who towered over Ruiz run away from the much shorter and overweight Mexican fighter. Of course, his fans loved it, but it was really laughable to see Joshua run. Sure, he won by decision, but lost respectability by the manner of his victory.
Can he regain his pride?
Pulev is known for two things: losing to Wladimir Klitschko by knockout and for kissing a reporter during a post-fight interview in Orange County, California.
Not much is expected, but hopefully he can at least deliver a rousing fight.
British fans are craving an eventual Joshua showdown with WBC heavyweight titlist Tyson Fury who has never been defeated. That would be a clash of heavyweight proportions. Joshua needs to win convincingly against Pulev this weekend.
Also on the same boxing card is Hughie Fury (24-3, 14 KOs) who meets Poland's Mariusz Wach (36-6) in a 10-round heavyweight match. Fury is the first cousin of Tyson Fury.
Las Vegas – Shakur
On Saturday evening, Top Rank features a lengthy boxing card pitting a projected star, Shakur Stevenson (14-0, 8 KOs), in a super featherweight test against Toka Kahn Clary (28-2, 19 KOs).
Stevenson possesses off-the-charts athleticism but it's a quality that can lead to boredom for fans.
When are some fighters going to realize that pro boxing is entertainment? Very few fans want to see a fighter exhibit the "hit and don't get hit" philosophy by running around the ring and firing occasional jabs and combos.
It seemed that Stevenson had finally learned the pro style but then reverted back to the amateur style when he fought Joet Gonzalez for the vacant WBO featherweight world title. Yes, he won, but fans turned off the television after a few rounds. I doubt that anyone outside of his family and circle of friends watched the replay. There was zero excitement. And now he departs the featherweights for the super featherweights.
Learning how to use all of that athleticism without running can be tough. Stevenson has the ability to learn how to fight without running. He has all of the weapons including fighting out of a southpaw stance. He's also lightning-quick.
It's southpaw versus southpaw when Stevenson meets Clary in the 10-round main event. Both have speed and both can punch. When lefties fight lefties the guy with the better right hook usually wins.
Also, on the same card will be Puerto Rico's Felix Verdejo (27-1, 17 KOs) meeting Japan's Masayoshi Nakatani (18-1, 12 KOs) in a lightweight clash that looks to be pretty good.
Nakatani lost by decision against unified lightweight champion Teofimo Lopez and that is his only defeat. He's pretty tall and definitely tough.
Verdejo's last loss was two years ago and he is making up lost time. He has a big advantage in his fight. The Boricua last fought this past July, while Nakatani has not fought in 18 months.
We shall see.
We shall also see some big hitters including super middleweight Edgar Berlanga trying to go 16 for 16 in first-round knockouts. Plus, just recently added is Freddie Roach's protégé Elvis Rodriguez, another big banger, in a super lightweight bout.
Texas Lookback
Two things I got from watching the PBC card from Arlington, Texas last week: First, Errol Spence Jr. seemed pretty on point despite the vicious car roll he endured a year ago.
Spence was always the favorite, but the way he won proved he hasn't lost that intensity and willingness to gut it out. He definitely beat Danny Garcia and that is not easy to do.
Can he do that against Terence Crawford?
That's a fight the entire world would love to see.
One other fighter who stood out was Josesito Lopez, the "Riverside Rocky." I'm flabbergasted about his talent level. He's definitely moved up a few notches to near elite level.
Check out his last four fights. He handed undefeated Miguel Cruz his first loss, nearly toppled Keith Thurman, losing by majority decision, stopped John Molina Jr. and stopped Francisco Santana. That is a murderer's row.
Lopez, 36, has been fighting professionally for 17 years now. I remember attending his first pro fight back in 2003 at the Mandalay Bay in Las Vegas. Time flies.
One thing is certain: whoever fights him next, watch out. Ever since teaming up with Robert Garcia he has advanced his fighting skills. How could he not? Sparring against the likes of Mikey Garcia, Vergil Ortiz Jr. or Jose Carlos Ramirez you better learn or go home. Or vice versa.
Check out more boxing news on video at the Boxing Channel 
To comment on this story in the Fight Forum CLICK HERE
Ian Thomsen Recalls His Days with Buster Douglas Before Buster 'Shocked the World'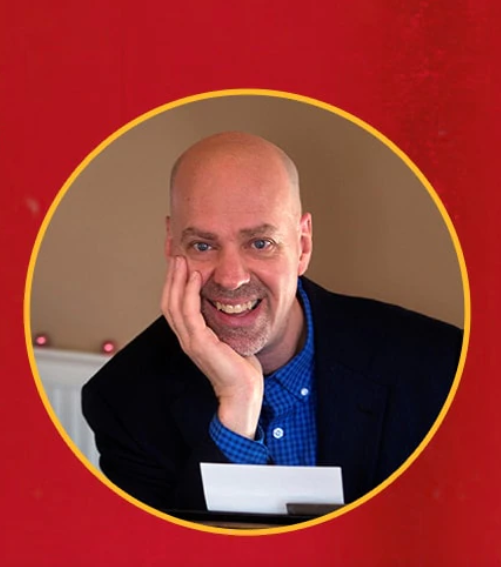 Mike Tyson's reign of terror in the heavyweight division began on March 6, 1985 at the Plaza Convention Center in Albany, New York, when he flattened Hector Mercedes in one round and it concluded for all intents and purposes on February 11, 1990 at the Tokyo Dome in Japan when James "Buster" Douglas stunned the boxing world by knocking him out in the tenth round, scooping up the World Boxing Association, World Boxing Council and International Boxing Federation titles in the process.
Several weeks before the bout in which odds-makers had established "Iron Mike" as a 42-1 betting favorite, sportswriter Ian Thomsen spent time with Douglas in his hometown. The result was an insightful feature in the short-lived National Sports Daily that appeared in the February 9-10 issue and ran four pages.
On the cover and at the bottom of the newspaper, this teaser appeared: "Buster: Big Talk, Little Chance" and the subhead said "Tyson's Saturday Opponent Confident Of Upset."
The headline above the story blared: "All Alone With Mike Tyson" and the subhead stated: "Alone, Except For Jesus Christ And Woody Hayes And Even They Might Not Be Able To Help."
"I was with The National Sports Daily [1989 through 1991] and they had four of us doing long stories. They called them the main event and they were take outs. They wanted me to go out to Columbus, Ohio, and spend a week up there and get to know him and let people know who he was before he submitted to what everybody figured would be a loss," explained Thomsen who came to "The National" from the Boston Globe. He subsequently worked for the International Herald Tribune (1992-1997) and was with Sports Illustrated from 1998 until 2014 where he covered the NBA and wrote the first story on Kobe Bryant for the magazine.
Given Tyson had a 37-fight winning streak and had stopped 23 of his victims within the first two rounds, few gave Douglas any chance of coming away with a victory.
"I didn't go to Japan for the fight, I just spent the time with Buster," Thomsen said. "There is a story that when [Associated Press boxing writer] Ed Schuyler was filling the form for security at the airport and he said it was a business appointment, they asked how long he was going to be there and he said about ninety seconds. That's what everybody thought."
Thomsen, who currently works for news.northeastern.edu, a website that covers Northeastern University in Boston where he has been a multimedia reporter since 2018 writing on all subjects involving Northeastern happenings and interviewing university experts for their opinions on national and global events, said the set-up for Douglas wasn't filled with glitz and fanfare, but there was a sense of confidence within the camp.
"When I went out there I didn't know a thing about Buster. I remember my first day there I went out that night and went to the training ground and he was at a health club in Columbus and they roped off a corner of the health club so all these people are there after work," he said. "Behind a curtain in the health club there was a ring set up for Buster and the only people I remember being there were his manager John Johnson, his uncle and trainer, J.D. McCauley and another trainer [John Russell], who helped him out."
Johnson was a former assistant football coach at Ohio State University during the time head coach Woody Hayes patrolled the sideline. In many ways, Hayes, who passed away in March 1987 at 74, was a mentor and an inspiration to Johnson.
Thomsen, a Northwestern University journalism graduate who penned the 2018 book "The Soul Of Basketball: The Epic Showdown Between LeBron, Kobe, Doc, And Dirk That Saved The NBA," said the more time he spent at the camp, the more he could see Douglas feeling at ease.
Still, there's always that bit of doubt because of what Tyson had accomplished.
"And you're watching him work out and you're saying to yourself, 'this guy is going to beat Mike Tyson?' It was such a small production," Thomsen remembered.
That aside, there was a real belief in the camp that Tyson was going to have his hands full.
"He [Buster] thought he was going to win and John Johnson thought he was going to win but doesn't every fighter think he's going to win?" Thomsen said.
Tyson seemed indestructible at this juncture of his career and it was almost inconceivable that he would lose.
"You watch Tyson's fights and you see what happens to them [his opponents]. Buster was going to take on a great challenge and the more I got to know him, the more you had to admire him," Thomsen said of Douglas.
Boxing was in his DNA, Thomsen pointed out.
"His dad [William "Dynamite" Douglas] was an ex-fighter and a really tough guy and was hard on Buster," he noted. "It was one of those troubled relationships that you're never good enough. It was an impossible standard to live up to."
The elder Douglas, who posted a 42-16-1 professional ring record with 32 knockouts, was a contender in the middleweight and light heavyweight divisions.
Father and son were vastly different according to Thomsen.
"Buster was a more gentle guy than his father. That was clear from spending time with both of them," he pointed out. "His mother [Lula Pearl] was a wonderful person and spoke highly of everybody. You could see how important she was in his life. After I left she died [at age 46 from a stroke] about a week before the fight. Obviously there were questions of whether Buster would fight."
Though Thomsen wasn't certain of the outcome, he felt Douglas was sincere and hard-working. "Maybe if I hadn't spent any time with him I would have dismissed him as another guy that's going to get killed by Mike Tyson, but when you spend a week there and you see what it's all about and everything he's overcome and the fact that he's put in this position, instead of writing a story dismissing him or making fun of him, you want to convey a sense of respect for him," he said.
It seems Douglas and his handlers were impressed by Thomsen's feature because after the victory, he was asked to join them in Sin City.
"It meant something to him. That's why I was invited to be part of the group after he beat Tyson," he said. "I flew out to Las Vegas in Steve Wynn's private jet."
Thomsen said Tyson's loss that night was the beginning of the end for the one-time Brooklyn bad boy.
"Tyson was not as technically sound a fighter as he had been before," he said. "When Tyson lost he was a global figure. Everybody knew the heavyweight champion. No one came along to match the stature of Tyson. It was the end of boxing as we knew it."
Like so many during the 1970s, Thomsen followed boxing and recalled some of the big names and bouts of that era.
"I loved boxing as a kid growing up and watching it and the big fights that would be on ABC on the weekends, especially Friday nights," he said. "You knew all the heavyweights. It was a great honor to be heavyweight champion of the world."
Some of the names of that era are folk heroes.
"I remember [Muhammad] Ali was making his comeback against Joe Frazier," Thomsen said. "I remember and was horrified to see what [George] Foreman did to Frazier and [Ken] Norton breaking Ali's jaw."
"The one big fight I covered was the [Marvin] Hagler-[Ray] Leonard fight in Las Vegas," he said. "Steve Marantz [the boxing writer] and [columnists] Leigh Montville and Ron Borges were there. I was a young guy. I didn't talk to Hagler. I spent more time talking to Angelo Dundee. But you could see the energy there."
When Thomsen worked at the International Herald Tribune and was based in Europe, he spent more time ringside.
"I covered a few Lennox Lewis fights. I covered a fight in Cardiff, Wales, against Frank Bruno [1993]. It was like midnight and 2 or 3 in the morning," he said. "It was very strange. Frank Bruno was a limited fighter. He had a big punch but not much else."
Thomsen recalled a prescient conversation he had more than two decades ago.
"I used to work at the Boston Globe [1983 through 1989] and it was an honor to work with Will McDonough, who was one of the top newsmakers in sports writing," he said. "We were playing golf one day about 20 years ago and he said in the 1950s the big three sports in America were horse racing, boxing and baseball. He was pointing out just how quickly things change. Back then in the 1950s in the NBA, you couldn't make enough of a salary to do it full time. A lot of NBA players had off-season jobs to make ends meet. Boxing was the glamour sport. Now it's the opposite."
It seems that no truer words were ever spoken.
To comment on this story in the Fight Forum CLICK HERE
Regis Prograis KOs Jose Zepeda at Dignity Sports Health Park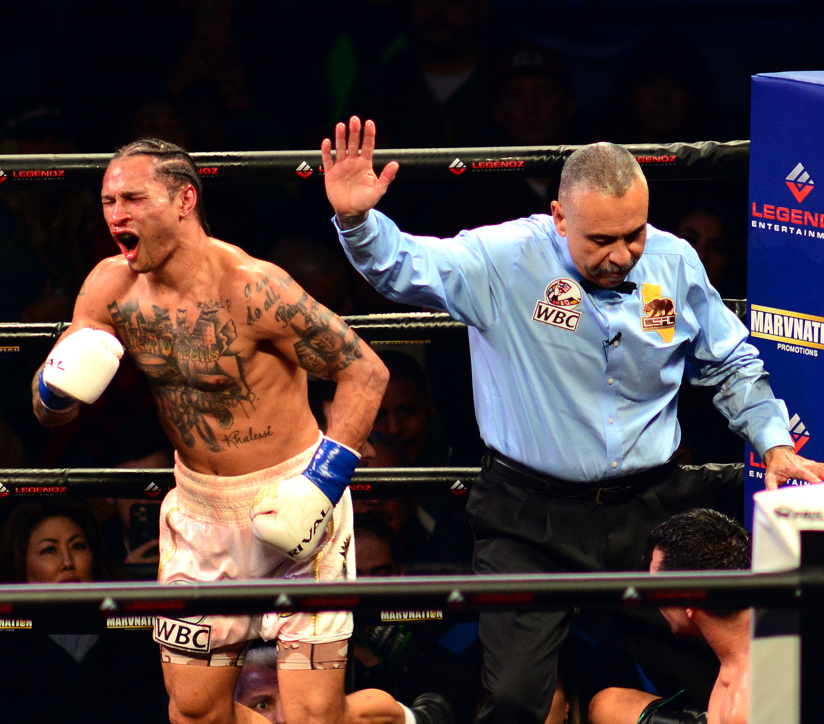 Regis Prograis KOs Jose Zepeda at Dignity Sports Health Park
Not all big bangers are the same.
Regis Prograis slugged it out with fellow knockout artist Jose "Chon" Zepeda and after 11 rounds of tactical battle ended the WBC super lightweight battle with a flourishing knockout on Saturday.
Prograis (28-1, 24 KOs) becomes the first two-time super lightweight champion from New Orleans after his win over Zepeda (36-3, 27 KOs) at SoCal's Dignity Health Sports Park. It had been more than three years since he last held a world title.
"This was the hardest fight of my career," said Prograis after the strategic clash between the super lightweight division's biggest punchers.
The heavily favored Prograis and Zepeda were cautious under the cold outdoor weather arena. Many a previous world title match ended quickly under similar circumstances and both were wary.
Zepeda was slightly busier and able to connect early with his deceptively fast left cross. Though the first two rounds were not very action-packed, it seemed Zepeda landed more effective blows.
Then Prograis went to work.
"At first, I wanted to come out and box him. Maybe in the third round I caught my rhythm," said Prograis. "Then he caught on to that."
Behind his awkward head movements and more agile movements Prograis used jabs and counters to force Zepeda into a more defensive stance. Though neither fighter dominated a round it was the New Orleans native who dictated the pace and action.
Round after round was going into the books favoring Prograis, not until the eighth round did Zepeda make a move into a more aggressive mode and finally out-punched Prograis. But the former world champion adapted again.
Prograis and Zepeda slugged it out in the ninth round. Zepeda connected with a left uppercut but Prograis withstood the blow and continued moving forward. Once again Prograis out-punched Zepeda in a very close round.
Both seemed ready to make the 10th round their own and Zepeda connected with a left cross that landed flush. Prograis barely was moved and then increased his output and the two super lightweights exchanged furiously with the New Orleans fighter seeming to out-punch Zepeda again. It was a telling round.
Prograis had withstood Zepeda's biggest blows and was ready to unload some of his firepower. He had dominated most of the fight behind his jab and quick combinations. Now he was ready for the big shells.
Both super lightweights opened up in the 11th round with each connecting early. Suddenly an overhand left by Prograis sent Zepeda reeling backward and he did not let up. A furious 13-punch barrage was unloaded and down went Zepeda. Referee Ray Corona did not bother to count and ended the fight at 59 seconds of the 11th round.
"In the 11th round I felt like taking him to deep waters and drown him," said Prograis.
Once again Prograis holds a super lightweight world title.
"I heard the small talk. I heard the rumors. I want to congratulate Zepeda, that guy was tough, tough, tough. He gave me my hardest fight," said an ecstatic Prograis. "Listen, I got 29 fights, this was probably my hardest fight."
Yokasta Valle beats Evelin Bermudez
Seeking big challenges Yokasta Valle (27-2, 9 KOs) rallied after a slow start and out-boxed Argentina's Evelin Bermudez (17-1-1, 6 KOs) to win the WBO and IBF light flyweight world titles by majority decision after 10 rounds.
After absorbing big right hands from Bermudez during the first two rounds, Valle solved the problem and out-hustled the taller world champion behind quick combinations and making the champion shift her feet. It was a simple but effective plan and led to Valle storming down the stretch with more effective punching.
Bermudez had steamrolled most of her opponents behind a relentless attack that focused mainly on her big right cross. But against Valle that punch was mostly eliminated after the third round.
Valle slipped under Bermudez's attacks and countered with her combination punching. Occasionally the Costa Rican fighter connected with a big shot that caught the eye of the judges.
After 10 rounds, one judge scored it 95-95, while two others saw Valle the winner by majority decision 99-91, 97-93.
Valle, an IBF and WBO minimumweight world titlist, moved up a division to win her second weight division world title.
Conwell Wins
In a savage battle Ohio's Charles Conwell (18-0, 13 KOs) bludgeoned his way to victory over Juan Carlos Abreu (25-7-1, 23 KOs) by unanimous decision after 10 rounds in a super welterweight contest. It was a skillful display of 1950s-style fighting that saw Conwell showcase his strength and canny punch selection in out-fighting veteran slugger Abreu.
Heavyweights
Former Olympic super heavyweight gold medalist Bakhodir Jalolov (12-0, 12 KOs) knocked out Curtis Harper (14-9) in the fourth round with a barrage if blows. Twice he knocked down Harper who had been deducted a point for an intentional head butt.
Vargas Brothers
Both sons of boxing great Fernando Vargas emerged victorious in their bouts. Fernando Vargas Jr. (7-0, 7 KOs) knocked out Alejandro Martinez (3-3-1) in the second round of their super welterweight bout. Amado Vargas (5-0, 2 KOs) won by decision after four rounds versus Osmar Hernandez (1-2) in a featherweight match.
Photo credit: Al Applerose
To comment on this story in the Fight Forum CLICK HERE
John Ryder and Fabio Wardley Triumph on Dueling Shows in London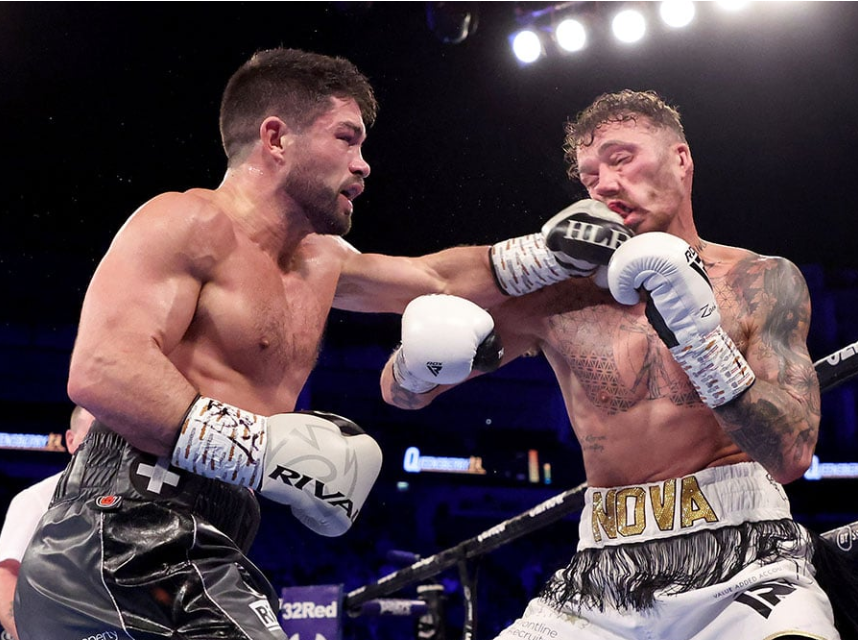 John Ryder and Fabio Wardley Triumph on Dueling Shows in London
If one were driving from Greenwich township in London to that city's Wembley sector, or vice versa, one would travel about 18 miles. No doubt many hardcore British fight fans would have gladly made the trip if the starting times of today's shows had been sufficiently staggered so that one could attend both events. But no, rival promoters Eddie Hearn (Matchroom) and Frank Warren (Queensberry) elected to go head-to-head.
Warren's Greenwich show at the O2 Arena, which aired in the U.S. on ESPN+, had the main event with the highest stakes and the deepest undercard. Hearn's show at Wembley, live-streamed on DAZN, had the allurement of heavyweights.
O2 Arena
The WBO interim 168-pound title was at stake plus pole position for a Cinco de Mayo showdown with Canelo Alvarez when Zach Parker squared off with countryman John Ryder. A second-generation boxer who came in undefeated (22-0, 16 KOs), Parker entered the ring an 11/5 favorite.
This was shaping up as a good fight, arguably tilting Ryder's way, when Parker pulled out after four rounds with a broken right hand. It was a bitter defeat for the Derbyshire man who was making his first start of 2022 after matches with defending WBO title-holder Demetrius Andrade kept falling out.
Although Canelo Alvarez has no fear of Englishmen having defeated Matthew Hatton, Amir Khan, Liam Smith, Rocky Fielding, Callum Smith, and Billy Joe Saunders in world title fights. John Ryder, a 34-year-old southpaw, nicknamed "Gorilla," may have the tools to make things interesting. Today's win, albeit somewhat tainted, was his fourth straight after losing a controversial decision to Callum Smith in Smith's hometown, elevating his record to 32-5 (18).
If Canelo chooses to spurn his mandatory and go in a different direction when he next laces on the gloves, the WBO will anoint John Ryder its full super middleweight champion.
Other O2 Bouts
Highly-touted middleweight Hamzah Sheeraz scored his 11th straight knockout and improved to 17-0 (13) with a fast beatdown of overmatched River Wilson-Bent (13-2-1) who was bruised and battered when the referee interceded in the waning seconds of round two. Sheeraz has been training in the U.S. at Joe Goossen's Ten Goose Gym in California.
Southpaw Dennis McCann, a 21-year-old Irish Traveler, continued his climb up the super bantamweight ranks with an eighth round stoppage of Scotland's Joe Ham. McCann (14-0, 8 KOs) was pummeling Ham (17-4) against the ropes when the bout was waived off. Ham hadn't previously been stopped.
Knockout artist Sam Noakes, a lightweight, employed a vicious body attack to score his 10th stoppage in as many opportunities, halting Calvin McCord (12-1, 2 KOs) in the fourth frame. Noakes showed no after-effects of the broken thumb that had kept him out of the ring since March.
Junior welterweight Pierce O'Leary scored two knockdowns but wasn't able to polish off Namibian import Emanuel Mungandjela who was still standing after 10 rounds. The judges had it 99-89, 99-90, and 96-92.
It was the first scheduled 10-rounder for O'Leary (11-0, 6 KOs), a Dubliner with a strong amateur pedigree. Mungandjela (16-4-1) was making his U.K. debut.
Wembley Arena
The main event pitted Dillian Whyte against Jermaine Franklin, but most of the pre-fight talk centered around the co-feature, a 12-round contest between Fabio Wardley and Nathan Gorman for the vacant British heavyweight title.
Wardley (14-0 heading in) had stopped his last 13 opponents while answering the bell for only 31 rounds, but the jury was still out on him. He had no amateur experience and was thought to be very much a work in progress. Nathan Gorman, Tyson Fury's cousin, had come up short in his first crossroads fight, getting stopped by former amateur rival Daniel Dubois, but was considered something more than a gatekeeper.
Wardley rose to the occasion with the biggest win of his career, stopping Gorman (19-2) in the third frame in a fan-friendly fight. Gorman clearly won the first round and busted Wardley's nose wide open in round two, but the Ipswich man, a protégé of Dillian Whyte, cranked up the juice at the sight of his own blood and scored two knockdowns before the second round was over. Another knockdown in the third prompted Gorman's corner to toss in the towel.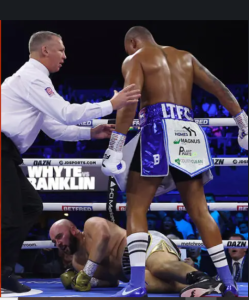 The main event was anticlimactic.
It was thought that Dillian Whyte, who has been matched tough throughout his career, would have little trouble with Saginaw, Michigan's Jermaine Franklin who had misleading 21-0 record, lacked fight-altering power, had fought only once in the last three years, and came in at a too-heavy 257 pounds. But the "Body Snatcher," in his first fight with trainer Buddy McGirt, delivered a lackluster performance while walking away with a majority decision (114-114, 116-112, 116-112).
Whyte, 35, improved his ledger to 29-3 (19) in what some are calling a hometown decision. To his credit, he came on strong in the final rounds after being rocked in the ninth. There is talk that he will be granted a rematch with Anthony Joshua who stopped him in the seventh round at this venue in December of 2015.
Other Wembley Bouts of Note
Welterweight Pat McCormack, a silver medalist at the Tokyo Olympics, was forced to go the distance for the first time in his young pro career, but swept all six rounds on the referee's card, improving to 3-0 against Argentina's clumsy, feather-fisted Christian Nicolas Andino (16-6-2). McCormack is trained by Ben Davison.
Derby super welterweight Sandy Ryan improved to 5-1 (2) with a wide decision over Argentine veteran Anahi Ester Sanchez (21-6). The scores were 98-92, 99-91, and 100-92. Ryan, who avenged her lone defeat at the pro level, spent 10 years in the amateurs racking up more than 50 wins.
Photo credits:
Ryder-Parker — Alex Morton / Getty
Wardley-Gorman — Mark Robinson / Matchroom
To comment on this story in the Fight Forum CLICK HERE