How I Became a Boxing Writer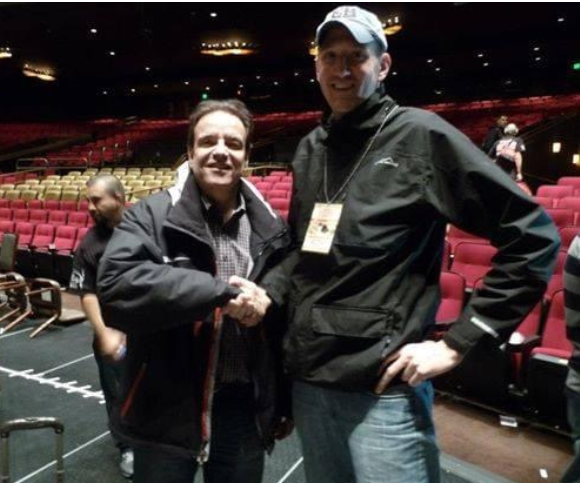 In 2010, I wanted to get back into boxing.
After enjoying the unforgettable 80's and 90's, my rooting interest in the cruelest sport waned in the wake of the 9/11 attack on America. When Lennox Lewis retired and the thrilling Gatti-Ward trilogy was history, I moved on. I didn't watch much boxing in the first decade of the new millenium. I just wasn't into the lumbering Klitschko brothers or the lighter-weight fighters.
That Christmas, my brother-in-law gifted me a subscription to The Ring Magazine, a print publication I had not enjoyed in many years. This awakened my interest in the Sweet Science. Soon I was commenting on boxing websites and dreaming of how to get more involved.
A childhood friend of mine from Brockton, Mass (the late Edwin Ayala) provided ultimate inspiration; getting hired a few years prior by Pedro Fernandez of "Ring Talk" to write up results from New England shows. Ayala, afflicted with a rare and incurable disease, inspired me. Soon, we were covering cards together and later, Ed left Pedro's website to write and report for me.
Ayala, an Honorable Army Veteran, was 50 when he passed away on June 17, 2020. Ed suffered from a condition called Chorea-acanthocytosis. Despite this curse, my friend authored two short books, one a boxing fiction story entitled A Puncher's Chance and the other an autobiography, Up Before The Count. He is survived by wife Loita and daughter Rosangela.
Rest in peace Ed.
HARD KNOCKS
I never went to journalism school.
My degree is in Criminal Justice from the University of Massachusetts. Later employed by Detective Joe Moura's National Investigation Bureau (NIB) as a special investigator, I learned to gather hard to obtain facts and write detailed reports for clients. Some years after I left the field, Joe was hired by Arturo Gatti's manager Pat Lynch to "prove" Gatti's death was not a suicide.
In 2011, I was contacted by the administrator of a boxing website called Knockout Digest. A young Pinoy fellow named Bert Narvales asked me if I wanted to write articles and cover shows in New England. There was no pay but I jumped at the chance to live a dream, to find a way.
The first fight I was asked to cover was an HBO aired WBC welterweight title fight between Victor Ortiz and Andre Berto at Foxwoods Casino in Connecticut. This was my introduction to auxiliary media seating. Naive as I was, I expected to be sitting at ringside. Instead, Ed and I sat in the last row of the venue surrounded by loud and drunken fans. Ed was 5'7'' while I'm 6'11''.
My height helped me see the ring.
At an unforgettable post-fight presser, I questioned Ortiz about the close unanimous decision scores and whether he was certain of the victory. "In my mind and in my heart a fighter always knows if he won or if he lost or if it was close and I didn't see it as close," the beaming victor told me of beating Berto.
Theirs turned out to be the Fight of the Year.
DIGEST THIS
Bert's boxing website wasn't very well received. It was put together with press releases and other low-quality content. I wrote a few forgettable articles before figuring out I could do better myself. So, I left and created my own boxing blog. I used the experience and industry contacts I'd quickly picked up to join media conference calls, apply for press passes—and crash press row!
It was here (working at ringside) that I met Full Court Press publicist Bob Trieger. One of the few nice guys in boxing, Bob mentored me and shared his experiences with me. Though we don't always see eye to eye, Bob remains a friend. I am grateful to him for showing me the ropes.
At an Edwin Rodriguez fight in 2012, Bob introduced me to Boston sports writer Ron Borges (pictured on my right) and later I got to work side-by-side with "KO JO" Jack Obermayer before Jack succumbed to liver cancer in 2016. Before he gave up the ghost, I carpooled with Obermayer (and fight writer Jeff Jowett) to cover the professional debut of Brandon "The Cannon" Berry in Skowhegan, Maine.
The media credentials piled up. My handheld tape recorder filled with boxing media content and fighter quotes. I wrote stories. I collaborated with two ringside photographers, Pattee Mak and Emily Harney. I became "an island of common sense in a sea of hysteria" or so said one reader.
I earned the respect of fans and fighters. Don Halpin, a Lowell journeyman who shared a ring with a young Mike Tyson in 1985, told me I did a great job of "keeping faithful readers up on what's next, what's gone down, and embracing the spirit of a sport that has given so many young men and women the means to reach for a dream."
It was a special time in my life.
(Interesting thing about Halpin: Tyson hit him with an awfully late punch, a vicious uppercut, when Don was already down. Halpin endured arguably the worst of Tyson's many fouls. It encapsulated the reality of Tyson early on in his career and the many blind-eyes turned to his flagrant acts of violence. Don told me he bears no ill-will towards Tyson despite acknowledging that Iron Mike was "trying to end a man's life in the ring" at that point and that he's glad Tyson was not successful with him—but not for lack of trying.)
THE SWEET SCIENTIST
Through the unfolding decade, I was fortunate enough to speak with and directly question many Hall of Fame fighters on media conference calls. I talked to Mike Tyson on one of these calls. George Foreman on another. Sometimes promoters would get testy with tough questions and rebuke a reporter. I'm pretty sure I got "yelled at" at least once by Bob Arum or Lou DiBella.
On my first such conference call, I somehow spoke with Lennox Lewis and Vitali Klitschko, asking both champions to recollect on their bloody 2003 heavyweight title fight in Los Angeles.
Lewis was humble but it was Klitschko who really gave me something, confessing: "I never met an opponent as strong as Lennox. I never took so many punches. I never looked so horrible."
"Lennox Lewis was the hardest fight of my career."
By 2013, I had put together a small team of contributors to meet the growing demand of my new readers. I used social media to promote our work—and it worked. I'm forever grateful to the eager writers who joined me and helped to make our website what it was—a success. They were David McLeod, Joel Sebastianelli, Derek Bonnett, Mark Jones, and Terence Strawson.
David still writes boxing (for photographer Ed Diller) in NYC, Joel is an Indy Car pit reporter who interviewed World Heavyweight Champion Wladimir Klitschko for KO Digest in 2014, Derek is a Dad, Mark is still expert in the world of women's boxing, and Terry went on to promote shows.
Around this time, I was made an offer by experienced beat writer Lem Satterfield. Lem had heard me on conference calls and occasionally used quotes from my exchanges in his stories.
Lem wanted to know if I'd be interested in joining his "Ask The Experts" panel on RingTV. This was a group of reporters and insiders who penned predictions for upcoming big fights. Those predictions were then made into an article by Lem and published on the magazine's website.
I built a reputation for prognostication.
That lasted nearly four years. British boxing writer Anson Wainwright later took over the popular column when Lem left and it was retitled as Fight Picks. I continued to contribute until 2017 when I was told the column would now only feature Ring magazine staff. Regardless, I'm truly grateful for the opportunity I was given by Lem to grow as a writer and expand my readership.
Though I was still writing for free, I was proving to anyone who might have been reading that I could actually do this boxing writing thing if given half a chance. I'd been published in boxing programs (Lowell's Finest) and on the pages of Beyond The Badge, a law enforcement print periodical. KO was climbing the ranks in the small but competitive world of boxing media.
One of my earliest goals was to obtain a media credential for a big fight at Madison Square Garden in New York City. In 2013, I applied to cover Fury-Cunnigham and "KO Digest" was approved. Unfortunately, I didn't make it to MSG to cover Tyson's dramatic comeback when the Boston Marathon bombing caused all Amtrak trains out of Massachusetts to be suspended.
Incredibly, the bomber was a local amateur boxer. Because I closely covered the 2012 Lowell Golden Gloves and made basement contacts there, I was one of the first people in the boxing media to make the connection and report on it. How? Gloveboy Ryan Lones messaged me during the manhunt with a photo of an old boutsheet bearing the name Tammy Tamlor.
Such was the misspelling of Tamerlan Tsarnaev.
I continued to work hard. I improved as a writer. I grew as a journalist. Every day was something new to write and report about. Articles, ratings, interviews, predictions, live shows. KO Digest was running regularly scheduled features. Keeping up with all that was a full-time job for me.
One that still didn't pay. (To Be Continued…)
Part 2: Pressrow at Madison Square Garden, Breaking Heavyweight News, Hired by The Sweet Science, Auxiliary Acceptance by the Boxing Writers Association of America, On The Beat in Boston, Winning My First Bernie, Boxing Writers Breakfast of Champions.
—
Boxing Writer Jeffrey Freeman grew up in the City of Champions, Brockton, Massachusetts from 1973 to 1987, during the Marvelous career of Marvin Hagler. JFree then lived in Lowell, Mass during the best years of Irish Micky Ward's illustrious career. A new member of the Boxing Writers Association of America and a Bernie Award Winner in the Category of Feature Under 1500 Words, Freeman covers boxing for The Sweet Science in New England.
Check out more boxing news on video at the Boxing Channel 
To comment on this story in the Fight Forum CLICK HERE
Tyson Fury Returns on Saturday with a Familiar Foe in the Opposite Corner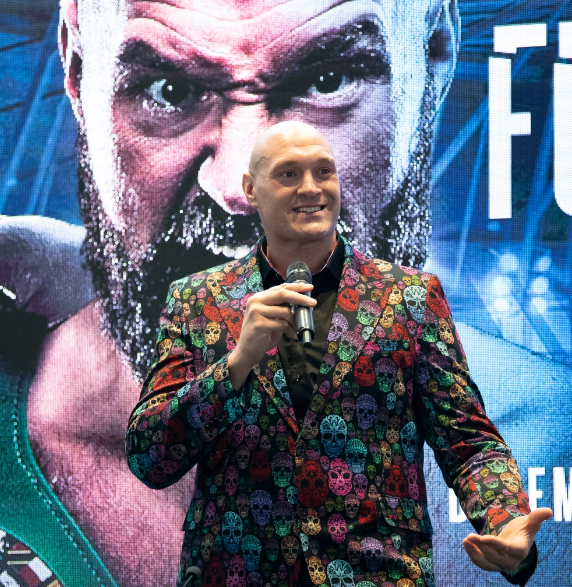 "Tyson Fury made a name for himself last night, one that already has a ready-made ring about it and will be destined to become familiar in boxing." Alan Hubbard, a ringside correspondent for The (London) Examiner wrote those words after Fury wrested the British and Commonwealth heavyweight titles from Derek Chisora with a comprehensive 12-round decision on July 23, 2011.
Those words were prescient. Tyson Fury did go on to become a familiar name in the sport. Indeed, one could argue that at this moment in history no active boxer is more famous.
More than 11 full years have elapsed since Fury toppled Chisora. In the ensuing years, the Gypsy King outpointed Wladimir Klitschko in Germany to win the world heavyweight title, battled personal demons that sidelined him for two-and-half years, returned to the ring with a flourish, ultimately regaining the world heavyweight title, or at least a version of it, in the second chapter of his memorable trilogy with Deontay Wilder, and rising so high in the opinion of boxing enthusiasts that he would be favored over any other boxer on the planet.
Oh, and lest we forget, since defeating Chisora in 2011, Fury whipped Chisora again, stopping him after 10 one-sided frames in 2014. Fury's eight-inch height advantage enabled him to control the distance vs. "Dell Boy" who was never knocked down but who absorbed a great deal of punishment before his chief second said "no mas."
A third meeting between Fury (32-0-1, 23 KOs) and the soon-to-be-39-year-old Chisora (33-12) would seem to be superfluous. Del Boy, coming off a narrow win over Kubrat Pulev, has lost three of his last four. But on Saturday, Dec. 3, they will go at it again. The venue is London's Tottenham Hotspur Stadium, capacity 62,850, and by all indications, despite a chill in the air (the temperature is expected to hover around 40 degrees), there won't be too many empty seats.
For promoter Frank Warren, Fury vs Chisora is Plan B – he was hoping to match Fury against Anthony Joshua – but he believes that Fury has become so popular that he can make a tidy profit no matter who is in the opposite corner. The Gypsy King, once referenced as the enfant terrible of British boxing, has toned down his rhetoric (one might say that he proactively distanced himself from Kanye West) and become almost cuddly, a source of inspiration for many Brits, the first member of the black sheep Traveler community about whom this could ever be said.
Fury, needless to say, is a heavy favorite. The odds are in the 25/1 range. The co-feature is likewise looked upon as a mismatch. Daniel Dubois, who shares the diluted WBA heavyweight title with Oleksandr Usyk, is a consensus 16/1 favorite over Kevin Lerena (28-1, 19 KOs) who rides in on a 17-fight winning streak. The six-foot-one Lerena carried a career-high 234 pounds for his last assignment against ancient Mariusz Wach, but the South African southpaw has fought most of his career as a cruiserweight.
The undercard includes featherweight Isaac Lowe, Tyson Fury's bosom buddy, and Hosea Burton, Fury's cousin, both of whom appear to be matched soft in scheduled six-rounders, plus 18-year-old phenom Royston Barney Smith in a 4-rounder against a transplanted Nicaraguan.
This is a pay-per-view event in the UK, but U.S. fight fans who subscribe to ESPN+ can see it for free. The ring walks for the main event are expected to go about 4 pm ET.
To comment on this story in the Fight Forum CLICK HERE
What Path will Yokasta Valle Choose Next?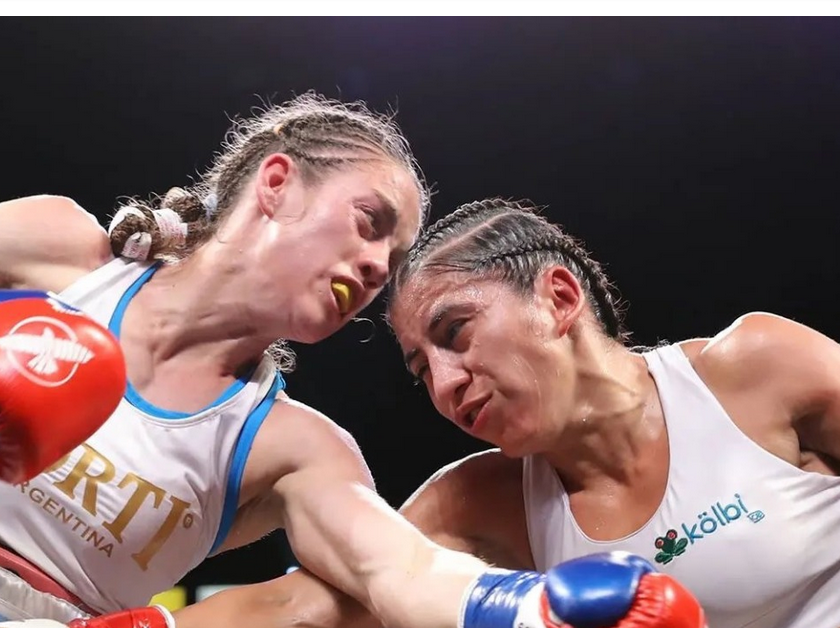 After the recent controversial ruling that made her a world champion in three different divisions, the fans of the Costa Rican Yokasta Valle are wondering: What path will the successful boxer choose next?
On Saturday, November 26th, in a fight of continuous exchanges with the then undefeated Argentine Evelyn Bermúdez (17-1-1, 6 KOs), "Yoka" Valle (27-2, 9 KOs) came out with her arm raised at the Dignity Health Sports Park in Carson, California, where she won the IBF and WBO belts, which Bermúdez was defending for the seventh and second time, respectively.
Although the Costa Rican fighter (pictured on the right) went on the attack for practically the entire 10 rounds, the exchanges were even, give and take, with good moments for both fighters, which made it difficult to evaluate each round. Hence the discomfort of many fans, especially in the Bermúdez camp, with the card of judge Adalaide Byrd (99-91), which apparently had Bermúdez prevailing in only one round. Neither did Judge Daniel Sandoval's card (97-93) represent what transpired in the ring, while Zachary Young's score of 95-95 was more accurate, distributing five rounds for each combatant.
In the case of Byrd, she also received innumerable criticism in the first fight between Saúl "Canelo" Álvarez and Gennady "GGG" Golovkin, which was held in September 2017 at the T-Mobile Arena in Las Vegas and which ended with a favorable scorecard for each boxer and another of 114-114.
At that time, Byrd had judged more than 400 fights over a 20-year span, and her discordant scorecard of 118-110 reflected Canelo winning 10 rounds and GGG only two (the fourth and the seventh). Dave Moretti leaned towards Golovkin (115-113), while Don Trella (114-114) saw it even.
CHAMPION IN THREE CATEGORIES
Born in Matagalpa, Nicaragua on August 28, 1992 and living in Costa Rica since her childhood, Valle made her boxing debut at the age of 22 in the light flyweight category. In that first experience at the pro level, she defeated Mexican María Guadalupe Gómez by unanimous decision in four rounds, on July 26, 2014, in Alajuela, Costa Rica.
Two years later, in her twelfth fight, she conquered the IBF title at 102 pounds by split decision against Ana Victoria Polo in San José, Costa Rica. In December 2017, Valle suffered her first professional failure against the local Naoko Fujioka, who won by unanimous decision at Korakuén Hall in Tokyo where they fought for the vacant WBO light flyweight belt.
Six months later, on June 16, 2018, Valle lost again by unanimous decision against German Christina Rupprecht (11-0-1, 3 KOs) in Munich, a duel that was for the WBO strawweight interim belt. Rupprecht maintains that belt and is again in Valle's sights.
Following those two setbacks, "Yoka" Valle compiled 14 victories, including the one she obtained in Marbella against Spaniard Joana Pastrana in August 2019, which she won by split decision securing the IBF 105-pound belt.
More recently, on September 8th in Costa Rica, Valle became a two-division champion at 105 pounds, by unanimously prevailing (the three judges scored the fight 100-90) over Vietnamese Thi Thu Nhi Nguyen, who ceded the WBO title. And then with her success against Bermúdez last weekend, Valle made history in Costa Rican boxing by adding her third crown in three different divisions (102, 105 and 108 pounds).
WHERE WILL YOKASTA VALLE GO NEXT?
Valle, who now owns two light flyweight titles (IBF and WBO) could next go in search of unification with Mexican Jéssica Nery (WBA super champion) or with Canadian Kim Clavel, who holds the WBC title. (Clavel and Nery collide on Thursday in Laval, Quebec.)
However, a more viable option would be to return to 105 pounds and seek a fight with American Seniesa Estrada (23-0, 9 KOs), who maintains the WBA belt, or with Rupprecht, who remains unbeaten. That seemed to be Valle's immediate objective, as she affirmed it in the ring after defeating Nguyen. In an indirect reference to Seniesa Estrada and Tina Rupprecht, Valle said "I want the belts. I've been saying it from the beginning, I want the WBC and WBA next, whoever has 'em."
At Friday's weigh-in for her fight with Bermúdez, Valle stated "I want to fight the best. I want to be undisputed. When Tina (Rupprecht) and Seniesa (Estrada) were not available, my team and I made the decision to move up in weight and challenge Evelyn for her world title belts. I have to fight. [MarvNation CEO] Marvin Rodriguez presented this fight to me. This is the type of fight I want. It is champion versus champion. I want to give the fans these types of fights."
EDITOR'S NOTE: Kim Clavel caught the flu and pulled out on Wednesday just prior to the weigh-in. Her match with Jessica Nery was rescheduled for Jan. 13.
Photo credit: Tom Hogan / Hogan Photos
Article submitted by Jorge Juan Alvarez in Spanish
Please note any adjustments made for clarification purposes and any errors in translation were unintentional.
To comment on this story in the Fight Forum CLICK HERE
Regis Prograis Knocks Out José Zepeda and Clears the Way for José Ramírez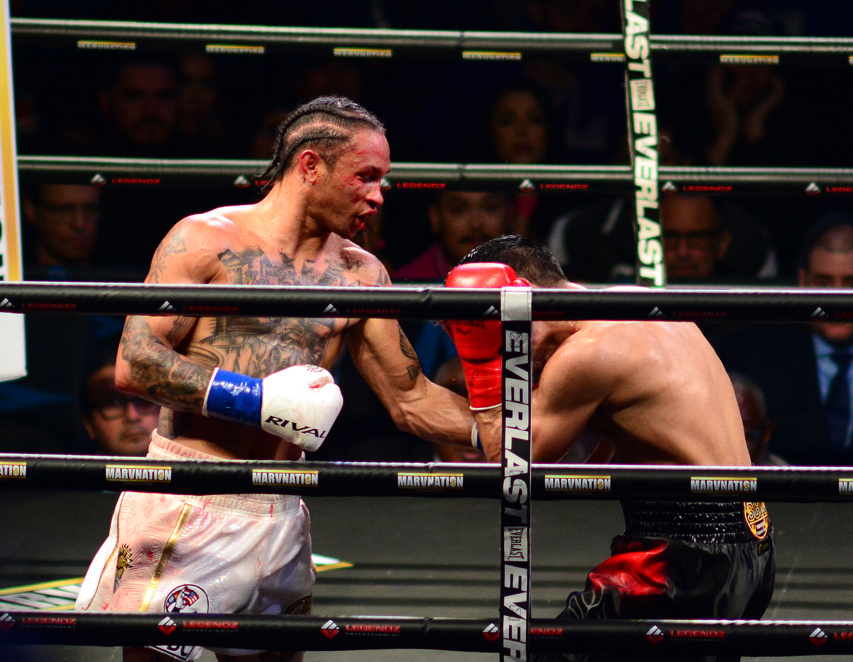 American Regis Prograis had to wait three years and a month for the opportunity to hold a world crown once again. On Saturday, November 26, at the Dignity Health Sports Park, in Carson, California, Prograis faced José Zepeda for the vacant WBC junior welterweight belt. Prograis was victorious by applying chloroform to Zepeda in the eleventh round.
Previously, on October 26, 2019, Prograis (28-1, 24 KOs) had lost the WBA junior welterweight belt by majority decision to Scotsman Josh Taylor at the 02 Arena in England.
Since then, the thirty-three-year-old Prograis who is based in Houston, Texas has obtained four wins (including vs Zepeda), all before the limit, as proof of the devilish power of his powerful fists, especially the left one.
Prior to the duel with Zepeda (35-2, 27 KOs), most experts favored Prograis, who after winning the intense battle, recognized that it was the most demanding fight of his career. "That dude is tough, tough, tough. He came to fight, he probably gave me one of my hardest fights, I'm not even gonna lie," said Prograis. "This dude is tough, bro. I've got so much respect for you. You prepared me to get this belt and hold this belt. I congratulate you. All the best to you, bro. Don't stop, I feel like you can still be a world champion."
Almost from the very beginning of the fight, Prograis showed greater speed with his hands and legs, and a general sense of technical superiority over Zepeda, who in the second round opened up a wound above his left eye with a legal blow.
From then on, Prograis's strong impacts gradually undermined Zepeda's resistance. Zepeda arrived totally exhausted in the eleventh round, where he received a straight left to the face, putting him in poor condition. A run with both fists from Prograis knocked him down and referee Ray Corona called the match with 59 seconds remaining in the round. This is the first setback that Zepeda has suffered by knockout in professional boxing.
On several occasions, Prograis has stated that he wants revenge against the undefeated Taylor (19-0, 13 KOs), but now, by order of the WBC, he must face American José Carlos Ramírez (27-1, 17 KOs).
Ramírez, 30 years old, is currently ranked second by the WBC. In February of 2019, in his second defense of his 140-pound belt, he defeated Zepeda by majority decision.
Twenty-five months later, Ramírez succumbed by unanimous decision to Taylor at the Virgin Hotels in Las Vegas, enabling the Scotsman to become the undisputed king of the category by winning the four most prestigious belts (WBA, WBC, WBO, IBF).
Recently, Ramírez expressed an interest in dueling with the main 140-pound contenders, including a second fight with Zepeda; although he did not rule out clashing with Prograis or Taylor. "Every fighter has the same amount of risk," said Ramirez. "We're a little under-promoted compared to other weight classes but I think that the best fights are at 140. You see guys fighting twice or three times, doing a trilogy. Honestly, I would love to face Regis, because I've never faced him. I would love to make the rematch with Zepeda, because he's such a good fighter. Obviously I want Josh Taylor, man. I want Josh Taylor bad."
Photo credit: Al Applerose
Article submitted by Jorge Juan Alvarez in Spanish.
Please note any adjustments made were for clarification purposes and any errors in translation were unintentional.
To comment on this story in the Fight Forum CLICK HERE