How I Became a Boxing Writer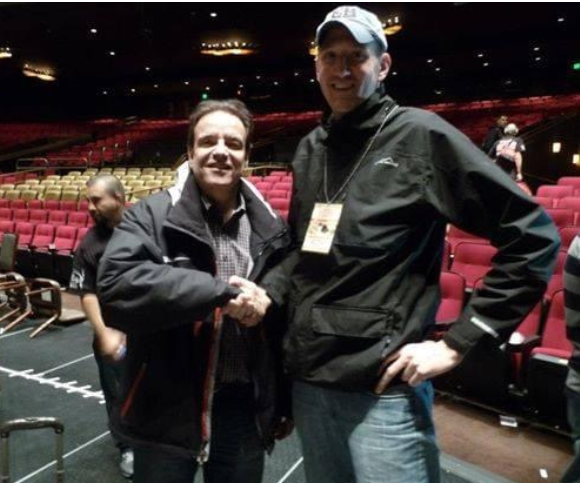 In 2010, I wanted to get back into boxing.
After enjoying the unforgettable 80's and 90's, my rooting interest in the cruelest sport waned in the wake of the 9/11 attack on America. When Lennox Lewis retired and the thrilling Gatti-Ward trilogy was history, I moved on. I didn't watch much boxing in the first decade of the new millenium. I just wasn't into the lumbering Klitschko brothers or the lighter-weight fighters.
That Christmas, my brother-in-law gifted me a subscription to The Ring Magazine, a print publication I had not enjoyed in many years. This awakened my interest in the Sweet Science. Soon I was commenting on boxing websites and dreaming of how to get more involved.
A childhood friend of mine from Brockton, Mass (the late Edwin Ayala) provided ultimate inspiration; getting hired a few years prior by Pedro Fernandez of "Ring Talk" to write up results from New England shows. Ayala, afflicted with a rare and incurable disease, inspired me. Soon, we were covering cards together and later, Ed left Pedro's website to write and report for me.
Ayala, an Honorable Army Veteran, was 50 when he passed away on June 17, 2020. Ed suffered from a condition called Chorea-acanthocytosis. Despite this curse, my friend authored two short books, one a boxing fiction story entitled A Puncher's Chance and the other an autobiography, Up Before The Count. He is survived by wife Loita and daughter Rosangela.
Rest in peace Ed.
HARD KNOCKS
I never went to journalism school.
My degree is in Criminal Justice from the University of Massachusetts. Later employed by Detective Joe Moura's National Investigation Bureau (NIB) as a special investigator, I learned to gather hard to obtain facts and write detailed reports for clients. Some years after I left the field, Joe was hired by Arturo Gatti's manager Pat Lynch to "prove" Gatti's death was not a suicide.
In 2011, I was contacted by the administrator of a boxing website called Knockout Digest. A young Pinoy fellow named Bert Narvales asked me if I wanted to write articles and cover shows in New England. There was no pay but I jumped at the chance to live a dream, to find a way.
The first fight I was asked to cover was an HBO aired WBC welterweight title fight between Victor Ortiz and Andre Berto at Foxwoods Casino in Connecticut. This was my introduction to auxiliary media seating. Naive as I was, I expected to be sitting at ringside. Instead, Ed and I sat in the last row of the venue surrounded by loud and drunken fans. Ed was 5'7'' while I'm 6'11''.
My height helped me see the ring.
At an unforgettable post-fight presser, I questioned Ortiz about the close unanimous decision scores and whether he was certain of the victory. "In my mind and in my heart a fighter always knows if he won or if he lost or if it was close and I didn't see it as close," the beaming victor told me of beating Berto.
Theirs turned out to be the Fight of the Year.
DIGEST THIS
Bert's boxing website wasn't very well received. It was put together with press releases and other low-quality content. I wrote a few forgettable articles before figuring out I could do better myself. So, I left and created my own boxing blog. I used the experience and industry contacts I'd quickly picked up to join media conference calls, apply for press passes—and crash press row!
It was here (working at ringside) that I met Full Court Press publicist Bob Trieger. One of the few nice guys in boxing, Bob mentored me and shared his experiences with me. Though we don't always see eye to eye, Bob remains a friend. I am grateful to him for showing me the ropes.
At an Edwin Rodriguez fight in 2012, Bob introduced me to Boston sports writer Ron Borges (pictured on my right) and later I got to work side-by-side with "KO JO" Jack Obermayer before Jack succumbed to liver cancer in 2016. Before he gave up the ghost, I carpooled with Obermayer (and fight writer Jeff Jowett) to cover the professional debut of Brandon "The Cannon" Berry in Skowhegan, Maine.
The media credentials piled up. My handheld tape recorder filled with boxing media content and fighter quotes. I wrote stories. I collaborated with two ringside photographers, Pattee Mak and Emily Harney. I became "an island of common sense in a sea of hysteria" or so said one reader.
I earned the respect of fans and fighters. Don Halpin, a Lowell journeyman who shared a ring with a young Mike Tyson in 1985, told me I did a great job of "keeping faithful readers up on what's next, what's gone down, and embracing the spirit of a sport that has given so many young men and women the means to reach for a dream."
It was a special time in my life.
(Interesting thing about Halpin: Tyson hit him with an awfully late punch, a vicious uppercut, when Don was already down. Halpin endured arguably the worst of Tyson's many fouls. It encapsulated the reality of Tyson early on in his career and the many blind-eyes turned to his flagrant acts of violence. Don told me he bears no ill-will towards Tyson despite acknowledging that Iron Mike was "trying to end a man's life in the ring" at that point and that he's glad Tyson was not successful with him—but not for lack of trying.)
THE SWEET SCIENTIST
Through the unfolding decade, I was fortunate enough to speak with and directly question many Hall of Fame fighters on media conference calls. I talked to Mike Tyson on one of these calls. George Foreman on another. Sometimes promoters would get testy with tough questions and rebuke a reporter. I'm pretty sure I got "yelled at" at least once by Bob Arum or Lou DiBella.
On my first such conference call, I somehow spoke with Lennox Lewis and Vitali Klitschko, asking both champions to recollect on their bloody 2003 heavyweight title fight in Los Angeles.
Lewis was humble but it was Klitschko who really gave me something, confessing: "I never met an opponent as strong as Lennox. I never took so many punches. I never looked so horrible."
"Lennox Lewis was the hardest fight of my career."
By 2013, I had put together a small team of contributors to meet the growing demand of my new readers. I used social media to promote our work—and it worked. I'm forever grateful to the eager writers who joined me and helped to make our website what it was—a success. They were David McLeod, Joel Sebastianelli, Derek Bonnett, Mark Jones, and Terence Strawson.
David still writes boxing (for photographer Ed Diller) in NYC, Joel is an Indy Car pit reporter who interviewed World Heavyweight Champion Wladimir Klitschko for KO Digest in 2014, Derek is a Dad, Mark is still expert in the world of women's boxing, and Terry went on to promote shows.
Around this time, I was made an offer by experienced beat writer Lem Satterfield. Lem had heard me on conference calls and occasionally used quotes from my exchanges in his stories.
Lem wanted to know if I'd be interested in joining his "Ask The Experts" panel on RingTV. This was a group of reporters and insiders who penned predictions for upcoming big fights. Those predictions were then made into an article by Lem and published on the magazine's website.
I built a reputation for prognostication.
That lasted nearly four years. British boxing writer Anson Wainwright later took over the popular column when Lem left and it was retitled as Fight Picks. I continued to contribute until 2017 when I was told the column would now only feature Ring magazine staff. Regardless, I'm truly grateful for the opportunity I was given by Lem to grow as a writer and expand my readership.
Though I was still writing for free, I was proving to anyone who might have been reading that I could actually do this boxing writing thing if given half a chance. I'd been published in boxing programs (Lowell's Finest) and on the pages of Beyond The Badge, a law enforcement print periodical. KO was climbing the ranks in the small but competitive world of boxing media.
One of my earliest goals was to obtain a media credential for a big fight at Madison Square Garden in New York City. In 2013, I applied to cover Fury-Cunnigham and "KO Digest" was approved. Unfortunately, I didn't make it to MSG to cover Tyson's dramatic comeback when the Boston Marathon bombing caused all Amtrak trains out of Massachusetts to be suspended.
Incredibly, the bomber was a local amateur boxer. Because I closely covered the 2012 Lowell Golden Gloves and made basement contacts there, I was one of the first people in the boxing media to make the connection and report on it. How? Gloveboy Ryan Lones messaged me during the manhunt with a photo of an old boutsheet bearing the name Tammy Tamlor.
Such was the misspelling of Tamerlan Tsarnaev.
I continued to work hard. I improved as a writer. I grew as a journalist. Every day was something new to write and report about. Articles, ratings, interviews, predictions, live shows. KO Digest was running regularly scheduled features. Keeping up with all that was a full-time job for me.
One that still didn't pay. (To Be Continued…)
Part 2: Pressrow at Madison Square Garden, Breaking Heavyweight News, Hired by The Sweet Science, Auxiliary Acceptance by the Boxing Writers Association of America, On The Beat in Boston, Winning My First Bernie, Boxing Writers Breakfast of Champions.
—
Boxing Writer Jeffrey Freeman grew up in the City of Champions, Brockton, Massachusetts from 1973 to 1987, during the Marvelous career of Marvin Hagler. JFree then lived in Lowell, Mass during the best years of Irish Micky Ward's illustrious career. A new member of the Boxing Writers Association of America and a Bernie Award Winner in the Category of Feature Under 1500 Words, Freeman covers boxing for The Sweet Science in New England.
Check out more boxing news on video at the Boxing Channel 
To comment on this story in the Fight Forum CLICK HERE
Late Sub Jonnie Rice Bursts Michael Coffie's Bubble on a PBC Card in Newark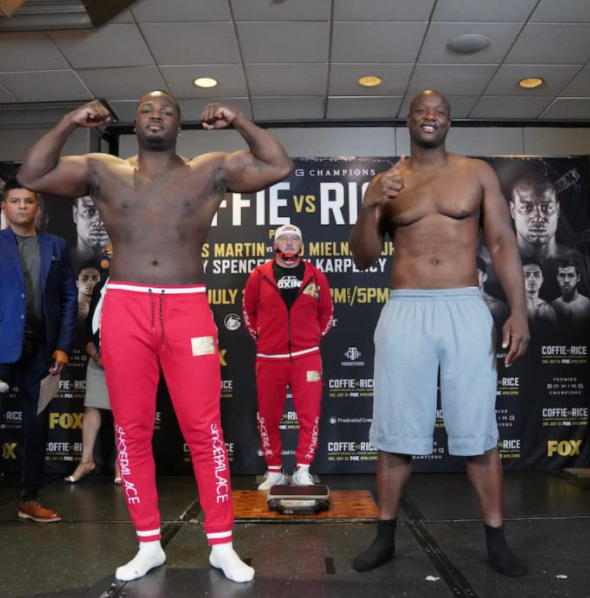 Every thing that could go wrong went wrong as promoter Al Haymon and his associates were patching together tonight's card at the Prudential Center in Newark, New Jersey. But it couldn't have worked out better for journeyman heavyweight Jonnie Rice who turned his career around with a smashing TKO of heavily favored and previously undefeated Michael Coffie.
Positive Covid tests scuttled two 10-round fights on the undercard. The main event had already been disheveled when Coffie's original opponent Gerald Washington flunked his Covid test. Enter Rice (pictured on the right) who was on standby and seized the moment.
Rice, a Columbia, South Carolina native who has been living and training in Las Vegas, came in sporting a 13-6-1 record but five of his wins had come against no-hopers in Tijuana and he had yet to defeat an opponent in a match where he was the "B" side. But these facts were misleading as five of his six losses had come against hot prospects with undefeated records and he had honed his craft sparring against the likes of Tyson Fury, Filip Hrgovic, and Michael Hunter.
Based on "strength of schedule," Rice, 34, had the edge over Coffie, the 35-year-old ex-Marine who brought a 12-0 record but was relatively untested. And Rice, who started fast, took the fight to Coffie and out-landed him. Coffie's left eye was swelling and he wasn't firing back when the referee waived it off in the fifth round.
Dirrell-Brooker
Tonight's PBC fare came in two helpings with appetizers and the main event on FOX preceding a club-level show on FOX's affiliate FS1. The main event of the nightcap was a 10-round light heavyweight bout between Andre Dirrell and Christopher Brooker.
Dirrell, who previously held an interim version of the IBF 168-pound world title, looked very sharp coming off a 19-month layoff, scoring three knockdowns before the fight was waived off in the third round. The Flint, Michigan native improved to 28-3 (18). Philadelphia's Brooker fell to 16-8.
More
Junior middleweight Joey Spencer (13-0, 9 KOs) scored an 8-round unanimous decision over James Martin (7-3). Spencer won comfortably on the scorecards – 80-72 and 79-73 twice – but was unimpressive.
Local fan favorite Vito "White Magic" Mielnicki Jr (9-1, 5 KOs) rebounded from his first pro loss with an impressive second-round stoppage of Noah Kidd (6-4-2).
Philadelphia welterweight Karl Dargan (20-1, 9 KOs), a former two-time national amateur champion, returned to the ring after a long absence and  stopped LA's Ivan Delgado (13-4-2) in the third round.
New Jersey heavyweight Norman Neely advanced to 9-0 (7) with a unanimous decision over rugged Texas brawler Juan Torres (6-4-1). Neely won all six rounds on all three cards.
Check out more boxing news on video at the Boxing Channel
To comment on this story in the Fight Forum CLICK HERE
Leigh Wood's Big Upset Spangles the Rebirth of Eddie Hearn's Garden Party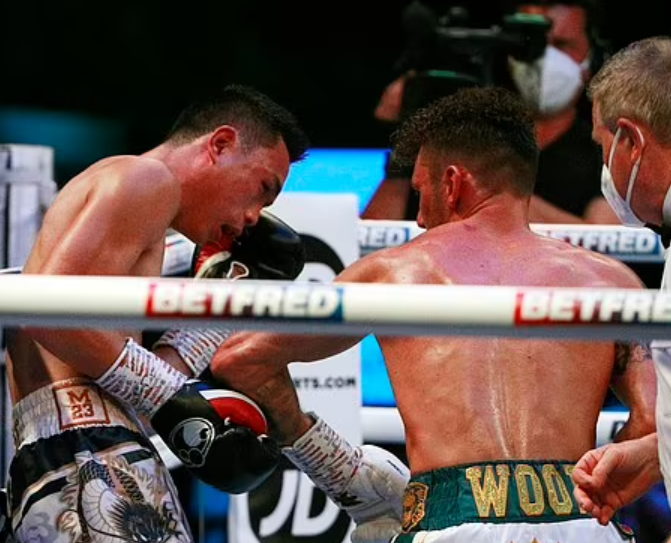 Last summer, hamstrung by the pandemic, Eddie Hearn hit upon the idea of holding boxing events outdoors in the expansive backyard of the family estate on the outskirts of London (now Matchroom Sport headquarters) where he grew up. Four shows were staged there.
The series has been revived. Today was "episode 1" of Season Two of Matchroom Fight Camp, otherwise known as Eddie Hearn's Garden Party. Two more shows are penciled in over the next two weekends.
The match-up getting the most buzz was the welterweight contest between fast-rising Conor Benn and battle-tested Adrian Granados. Unfortunately, Benn tested positive for Covid-19. But the main event, a WBA world featherweight title defense by Can Xu (aka Xu Can) against Nottingham's Leigh Wood stayed intact and produced a memorable upset.
Xu, who is co-promoted by Oscar De La Hoya, was installed a 4/1 favorite. Although he wasn't a big puncher with only three knockouts to his credit in 20 starts, he rode into Hearn's backyard riding a 15-fight winning streak for the third defense of his WBA "regular" title. But he started slow, perhaps the result of ring rust — it was his first fight of 2021 after missing all of 2020 – and he never did crank up the volume that had carried him to victory in his three title fights.
Wood, a stablemate of Josh Taylor who has made great gains since hooking up with Ben Davison and Lee Wylie, landed the heavier punches and was ahead on the cards when he took the fight out of the judges' hands in the final minute of the final round. He decked Xu with a hard right hand and then trapped him on the ropes, forcing the stoppage that came with only 17 seconds remaining.
The 32-year-old Wood improved to 25-2 (15). Xu falls to 18-3. The deposed champion has a rematch clause so we may have a sequel.
Other Bouts
Chris Billam-Smith, trained by Shane McGuigan, won a hard-fought 12-round split decision over Belfast's Tommy McCarthy in a cruiserweight scrap with three domestic titles at stake. The judges had it 116-112 and 115-114 for Billam-Smith, now 13-1, with the dissenter favoring McCarthy (18-3) by a 115-114 tally.
McCarthy wobbled Billam-Smith late in the first round with on overhand right, but could never land his Sunday punch on the Bournemouth fighter in a see-saw struggle with many close rounds. There were no knockdowns but McCarthy suffered a cut over his right eye near the end of round six from an apparent head butt.
McCarthy had Carl Frampton helping out in his corner which infused the contest with the aura of a grudge match. Frampton was the best man at Shane McGuigan's wedding, but their friendship dissolved in a bitter court fight. At the end of the grueling fight, Billam-Smith and McCarthy embraced in a show of mutual respect.
Liverpool super-welterweight Anthony Fowler whose lone setback came at the hands of Scott Fitzgerald (a split decision) won his sixth straight with an eighth-round stoppage of Germany's Rico Mueller whose cornerman was on the ring apron when the slow-acting referee waived it off at the 2:12 mark. Fowler, who is also trained by Shane McGuigan, improved to 15-1 (11). His next bout is expected to come against fellow Scouser Liam Smith in October. This was the second fight this month for the game but out-gunned 33-year-old Mueller (28-4-1) who was subbing for veteran Tex-Mex campaigner Roberto Garcia who pulled out with a back injury.
Also, Jack Cullen (20-2-1, 9 KOs) scored a 10-round unanimous decision over Avni Yildirim (21-4) in a 10-round super middleweight contest. Yildirim, from Turkey, was looking to atone for his hollow performance against Canelo Alvarez this past February. While he had his moments, he was out-worked by the lanky Lancashire man who won by scores of 100-90, 08-92, and 97-93.
Photo credit: Alan Walton / Matchroom Boxing
Check out more boxing news on video at the Boxing Channel
To comment on this story in the Fight Forum CLICK HERE
Avila Perspective, Chap 146: De La Hoya Returns Plus Other Boxing Notes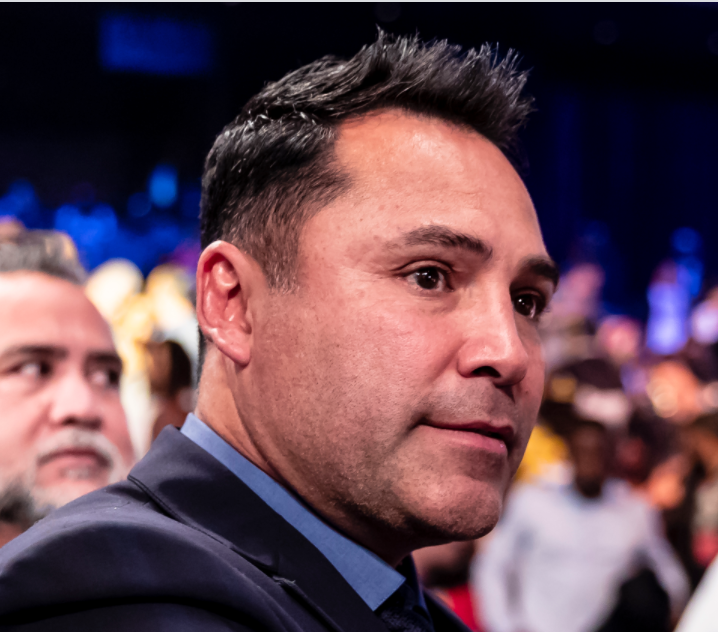 Sitting in front of several dozen reporters, the favorite son of Los Angeles area boxing, Oscar De La Hoya, and former MMA champion Vitor Belfort spoke about their mutual return to prizefighting.
"I can't lie. I miss getting hit," said De La Hoya.
It was a statement also shared by Belfort.
After years away from the prize ring, both return to exchange hits as boxing's De La Hoya (39-6, 30 KOs) meets MMA's Belfort (26-14, 18 KOs) on Sept. 11, at the Staples Center in Los Angeles. The Triller Fight Club card will be shown on pay-per-view via FITE.tv and other modes.
De La Hoya, 48, last absorbed hits from a fighter when Manny Pacquiao battered him almost 13 years ago back in December 2008. It was a shock to the senses to see the great East L.A. fighter take blow after blow while unable to hit back.
He was only 35.
Many attribute that loss to a ridiculous agreement to weigh under 145 pounds before facing Pacquiao. At the time De La Hoya was the real gate attraction and pay-per-view king. He held all the cards but agreed to the demands acutely devised by Freddie Roach. It proved to leave De La Hoya too weak to fight back and after eight rounds the one-sided beating was stopped.
De La Hoya retired after that fight. Ironically, he called for a press conference and it was held right where he recently announced this upcoming fight against Belfort. It's also near a statue built in his honor.
Sitting nearby, Belfort patiently waited his turn to speak. For the Brazilian MMA fighter, it's only been a mere three years since he exchanged blows in a prize fight. It was a knockout loss to Lyoto Machida at UFC 224 in Brazil.
When Belfort spoke to the media, he expressed a desire to get hit too.
"Its fun. I'm going to have joy when I get hit. You cannot get better than that," said Belfort.
It's a common sentiment held by former greats. I've heard the same comments from James "Lights Out" Toney who ridiculously was not voted into the International Boxing Hall of Fame this past year.
Getting hit becomes as common as breathing for most professional fighters, especially those that began boxing at a young age such as De La Hoya.
"The truth is I miss it. I miss it very much," said De La Hoya who began lacing up gloves as an amateur at five years old.
According to oddsmakers, Belfort is the favorite to win. Probably for a number of reasons including he fought a mere three years ago. Belfort is the heavier fighter and has fought foes in the 205 pound-division called light heavyweight in MMA. Plus, he is simply bigger than his foe.
"I hope I don't end up killing him, but everything is on the table," said Belfort. "If he doesn't have joy in what he does he could come back in a coffin."
Prizefighters are masochists. All truly good fighters have a streak of masochism inside. They know they'll be pummeled with blows that truly hurt and they look forward to it. But the bitter truth is taking hits in your 30s and taking hits near your 50s are two vastly different scenarios.
It's an extremely dangerous fight for both.
As someone who spent nearly a month in a hospital after experiencing a cerebral hemorrhage, otherwise known as a "brain bleed," I'm stunned by the fact that more boxers are not damaged from brutal blows. I pray nothing like this occurs to De La Hoya, Belfort, or any retired boxer who returns to the prize ring for a possible payday.
They are prizefighters and like any former high-performance athlete, they miss competition.
"When you love it, no matter what happens, I'm ok with it," said De La Hoya.
Fans will attend Staples Center by the thousands simply to see "the Golden Boy" once again and pay tribute to one of the greats. Many of those attending will be praying silently for the fighter's safety.
I know I will.
England Fights
WBA featherweight titlist Xu Can (18-2, 3 KOs) defends against Leigh Wood (24-2, 14 KOs) on Saturday July 31, at Brentwood, England. DAZN will stream the world title fight.
This is the third defense for Can who has not fought in almost two years. The last defense was at Fantasy Springs Casino in Indio, California when he soundly defeated Manny Robles III.
Can took the title from Puerto Rico's Jesus Rojas, a rough and tumble fighter who takes a pound of flesh from everyone he faces. Against Can he was unable to deal out the usual punishment.
Wood is a former super bantamweight contender who has never really faced international competition. He did face former world champion Gavin McDonnell but was stopped. Perhaps the move up in weight will help.
Fights to Watch
Fri. Estrella TV 7 p.m. Erick Leon (14-1) vs Juan Marcos Rodriguez (10-3).
Sat. DAZN 11 a.m. Xu Can (18-2) vs Leigh Wood (24-2).
Sat. FOX 5 p.m. Michael Coffie (12-0) vs. Jonnie Rice (13-6-1)
Check out more boxing news on video at the Boxing Channel
To comment on this story in the Fight Forum CLICK HERE