The Ups and Downs of Hall of Fame Boxing Writer Jack Fiske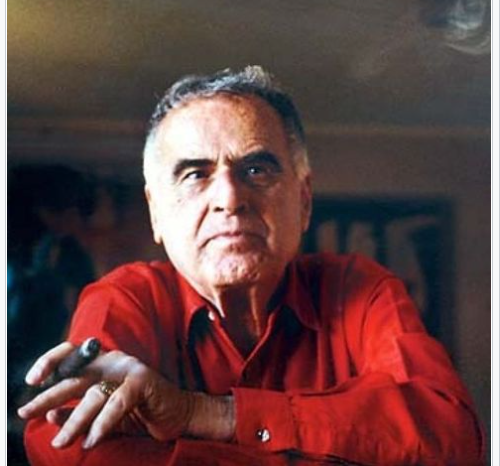 Hall of Fame boxing writer Jack Fiske passed away 15 years ago this coming Sunday, Jan. 24, 2006. Fiske was 88 years old.
Fiske was one of the last of the breed, a full-time boxing writer for a major metropolitan daily. They don't make them like that anymore.
In his final years as a journalist, however, Fiske no longer worked for the San Francisco Chronicle, his longtime employer. To read his stuff required a subscription to a newsletter. And the newsletter, in common with Fiske, had become a dinosaur in a world where the only constant is change. It went belly-up several weeks before Fiske passed away.
Born in New York City in 1917, Jack Fiske attended the University of Alabama where he covered the school's boxing team for the school newspaper. The star of the team, Fiske was fond of recollecting, was a fiery bantamweight, George Wallace. America would come to know Wallace as the fiery segregationist who served four terms as Governor of Alabama and was a failed U.S. presidential candidate.
After graduation, Fiske worked for a paper in Virginia and two small papers in the Bay Area before latching on with the Chronicle. In addition to covering the fights as a ringside reporter, Fiske authored a twice-weekly feature called "Punching The Bag" that circulated widely among hard-core fans and industry insiders.
Fiske had to be on his toes because for much of his tenure at the paper the arch-rival San Francisco Examiner had a fine full-time boxing man of their own, Eddie Muller, whose son of the same name hosts "Noir Alley" on Turner Classic Movies.
"Punching The Bag" was jam-packed with information and editorial content. Fiske had little tolerance for inept ring officials and regulators who owed their cushy jobs to political connections. First-time promoters, the lifeblood of the sport, were assured of positive ink. But once a promoter became established, he had to earn his props by making competitive matches.
During Fiske's early days with the Chronicle, the top sports in terms of newspaper coverage were baseball, horseracing, and boxing, and the Bay Area was a beehive of boxing activity. In 1955, there were 73 boxing shows in San Francisco, Oakland, and nearby Richmond. The biggest shows were usually held at the Cow Palace. Ten title fights were staged here beginning with Ezzard Charles' 1949 world heavyweight title defense against local fan favorite Pat Valentino.
One can guess where this is heading. Bit by bit, the Bay Area boxing scene became fallow. In the eyes of the Chronicle higher-ups, Fiske came to be seen as superfluous. In 1992, the paper let him go. "Punching The Bag" died after an amazing 43-year run.
Fiske hastened his demise as a newspaperman by his disinclination to become more versatile. He never wanted to cover any sport other than boxing. His attraction to the sweet science was manifested in his vast collection of boxing memorabilia which dominated every room of his home.
In 1994, Fiske was persuaded to resurrect his column for "Professional Boxing Update" and its sister publication, "Flash." These were 12-page newsletters cranked out by a fellow from Capitola, CA, named Virgil Thrasher, a big boxing buff with a second sideline as a blues harmonica player.
At their peak, Thrasher's newsletters had 6000 subscribers, 10 percent overseas. Circulation-wise, this was a big comedown for Fiske, but he was too professional to approach his assignments half-heartedly. Although he held a grudge against his former employer, his bitterness surfaced only once.
When the Chronicle made no mention of the passing of World War II era lightweight champion Ike Williams, Fiske carped that the sports department was run by clowns more attuned to women's volleyball than to matters of significance.
"Professional Boxing Update" and "Flash" were modest endeavors, but the contributors were first-rate, most especially during the mid-1990s. Jack Fiske was then in good form, as was acerbic Las Vegas oddsmaker Herb Lambeck, a peerless boxing pricemaker. In those days, no one was better at dissecting a forthcoming fight than lead writer Graham Houston, himself a Future Hall of Famer. Houston, who was the North American correspondent for several British publications, stayed on with Thrasher's newsletters until the very end.
For some subscribers, these publications functioned mostly as tip sheets. When the opinions of Houston and Lambeck dovetailed, one could wager with a high degree of confidence.
Within four years of joining PBU/Flash, Jack Fiske's health began to fail and he was unable to meet his deadlines. To ease Fiske's slide to infirmity, Thrasher took to reprinting some of his old Chronicle columns.
When Virgil Thrasher launched his newsletters in 1985, he stole readers from established magazines by delivering information in a timelier fashion. Ironically, he became a victim of the same force. A new generation of fight fans, weaned on the internet, demanded updates quicker than the mailman could bring.
It would have been nice if Thrasher had continued on for a few more weeks, thereby affording readers a tribute to Jack Fiske on the occasion of his passing. But at least Fiske wasn't entirely forgotten.
In 2003, at age 85, Fiske was ushered into the International Boxing Hall of Fame. As is the custom when an inductee passes away, the flag atop the Canastota shrine was lowered to half-staff when news arrived of his passing.
Check out more boxing news on video at the Boxing Channel 
To comment on this story in the Fight Forum CLICK HERE
Mbilli Stays Unbeaten: Outpoints Gongora in a Bruising Tiff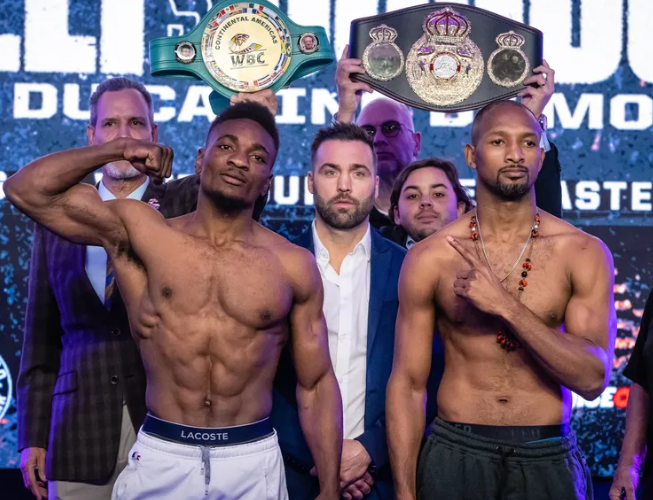 Camille Estephan's "Eye of the Tiger" promotions returned to the Montreal Casino tonight with an 8-bout card capped by an intriguing match between super middleweights Christian Mbilli and Carlos Gongora, both former Olympians.
The Cameroon-born Mbilli (pictured on the left) represented France in the 2016 Rio Games. He was undefeated (23-0, 16 KOs) coming in and ranked #2 by the WBA. The Massachusetts-based Gongora, a two-time Olympian for his native Ecuador, brought a 23-1 (16) record, his lone defeat coming on the road in Manchester, England, to currently undefeated Lerrone Richards.
When the smoke cleared, Mbilli won a unanimous decision, but the scores (99-91, 98-92, and 97-93) were misleading as this was an entertaining fight and the granite-chinned Gondora, a southpaw, was always a threat to turn the tide with his signature punch, a left uppercut. In fact, he may have landed the best punch of the fight when he hurt Mbilli in the opening minute of the eighth round. But the muscular Mbilli shook off the cobwebs and stormed back, dominating the final minute of the eighth and then finishing strong, nearly forcing a stoppage with a non-stop assault in the final frame.
Mbilli would love to fight the winner of Saturday's tiff between David Benavidez and Caleb Plant, but that's not likely to happen. A more likely scenario finds Mbilli opposing fellow unbeaten Vladimir Shishkin, the Detroit-based Russian.
Co-Feature
Simon Kean, a six-foot-five, 250-pound heavyweight from Three Rivers, Quebec, advanced to 23-1 (22 KOs) with a seventh-round stoppage of 40-year-old warhorse Eric Molina (29-9).
Both were tentative during most of the match. The end came rather suddenly when Kean knocked Molina down with an overhand right after landing a good left hook. The punch did not appear to land flush, but Molina was swaying as he made it to his feet and the referee called it off.
It was not a particularly impressive performance by Kean. Molina, a special education teacher in the Rio Grande Valley community of Edinburg, Texas, hinted before the bout that this would be his final fight. That would be a sensible idea. He has been stopped six times in his last 10 outings and nine times overall.
Also
In a 10-round bout contested at 140 pounds, Calgary veteran Steve Claggett improved to 34-7-2 (24) with a TKO over Mexican import Rafael Guzman Lugo (26-3-2) whose corner pulled him out after seven frames. This was a good action fight fought at close quarters, albeit Claggett was clearly in control when the bout was halted.
To comment on this story in the Fight Forum CLICK HERE
A Conversation About Boxing with Author and Journalist Steve Marantz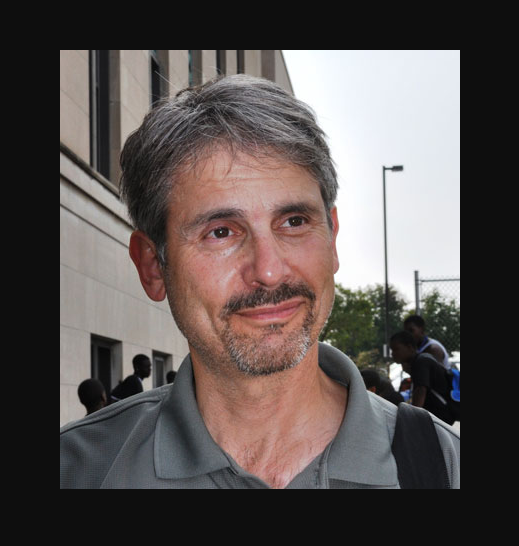 If you ask former sportswriter Steve Marantz when was boxing's Golden Age, he's quick with a response.
His answer just so happens to coincide with the period when he was on the beat as a boxing columnist for the Boston Globe (1979-1987).
"You could argue that boxing has had a few Golden Ages, but yes, that was an exciting and memorable era," said Marantz, who sat ringside for many legendary matches. "The round-robin bouts amongst [Ray] Leonard, [Marvin] Hagler, [Thomas] Hearns and [Roberto] Duran, certainly was a major element."
Those four legends are important but other weight division kings also played an integral role in boxing's global popularity.
"Let's not forget [Aaron] Pryor, [Alexis] Arguello, [Julio Cesar] Chavez, [Salvador] Sanchez, [Hector] Camacho, [Wilfredo] Gomez, Michael Spinks, [Dwight Muhammad] Qawi, [Donald] Curry, [Mike] Tyson and [Evander] Holyfield," Marantz offered. "The key was competitive balance in most of the divisions."
Marantz began his journalism career in 1973 at the Kansas City Star after graduating from the University of Missouri. After leaving the Globe, he worked for the Boston Herald (1999-2004) and ESPN (2004-2016). Nowadays, in addition to freelance writing for publications such as the Jewish Journal of Greater Boston, he produces the podcast "Championship Stories."
Marantz recalled one particular moment that stood out while covering boxing and it happened at Aaron Pryor's training camp.
"I have a vivid memory of his workout before he fought Arguello in Miami, November 1982. He had a hot funk song on the speakers, "You Dropped A Bomb On Me," and as it played, loudly, he shadow-boxed to its beat and lyrics," he recalled. "A rope was stretched across the gym, four feet off the floor, and Pryor moved along the rope, ducking under and back, gloves flashing. He was hypnotized by the music, in a trance. Hypnotized me, too. A moment that made boxing so cool to cover."
That classic matchup at the famed Orange Bowl was halted in the 14th round with Pryor winning by technical knockout.
Anyone at Caesars Palace on April 15, 1985, knows what happened over roughly eight minutes of hot action when Hagler and Hearns tangled. It was nonstop punches from both participants.
"Hagler and Hearns fought as if possessed," recalled Marantz of that showdown. "The stark final image [for me] was that of Hearns, now helpless, semiconscious, looking very like a black Christ taken from the cross, in the arms of a solemn aide.
"Hagler's pent-up bitterness found release in a violent attack, even as each crack of Hearns' gloves reinforced a lifetime of slights. In the end, Hearns was martyred to absolve Hagler of victimization. The first round is legendary, among the most vicious and splendid ever fought on the big fight stage. Action accelerated so quickly that spectators were left breathless. Punches windmilled into a blur, though the actual count was 82 punches for Hagler and 83 for Hearns, about three times that of a typical round."
While that fight has blended into boxing folklore, a 1976 Olympic gold medal winner from Palmer Park, Maryland, was the epitome of true greatness for Steve Marantz.
"The way Sugar Ray Leonard maneuvered [Roberto] Duran to 'No Mas' in their rematch was brilliant. His grit and toughness beat Hearns, one of the great fights of the 1980s. And he beat Hagler with brains and psychology. Not to overlook his win over [Wilfred] Benitez in 1979. He was gorgeous to watch, stylish and rhythmic. His combinations were a blur. And he strategized like a chess master. Smooth and cooperative in interviews, always aware of the marketing and promotional necessities. Leonard was the gold standard."
Marantz re-visited the Hagler-Leonard fight and the drama that surrounded it in "Sorcery at Caesars: Sugar Ray's Marvelous Fight," first released in 2008 and now available as an eBook.
Boxing's been called the cruelest and the most unforgiving sport, but it's also filled with high drama.
"It's a test of athleticism, intelligence, grit and character. At its best, it's dramatic and unpredictable, exciting," Marantz said of the fight game. "A rich history of iconic personalities and events. Joe Louis and Max Schmeling, for example. A window into history bigger than just sport, a window into popular culture and politics."
Marantz fondly recalls some of the characters he met while covering the sweet science: "Promoters Don King and Bob Arum, both conniving quotable snakes. Trainer Ray Arcel, in his 80s, a pillar of honesty and integrity. Emanuel Steward and Prentiss Byrd, running the Kronk Gym as a beacon of light and hope in Detroit's blighted inner city. In Brockton, Massachusetts, two Italian-American brothers, Goody and Pat Petronelli, formed a sacred trust with an African- American boxer, Marvin Hagler."
Marantz went on: "On my first newspaper job with the Kansas City Times/Star, I met a kindly trainer, Peyton Sher, who welcomed me into his gym and taught me the basics," he said. "Never will forget Daeshik Seo, the Korean therapist for Larry Holmes who two weeks before the Holmes-[Gerry] Cooney fight in June 1982, tipped me to a story that a member of Holmes' entourage pulled a pistol on Cooney's entourage at Caesars Palace. Caesars top brass had to call Holmes on the carpet to get his people under control. Holmes was incensed at the story. In his media session after he won, he said I wrote it because I was [expletive] … and that I worked in a racist city, Boston."
Marantz has never been put off by the seedy elements of the sport. "I don't feel polarized by it.," he says. "Nobody is forced to box. Nobody is forced to watch it. The world has bigger problems than boxing."
Marantz has fond memories of the people he met and the friendships he made while covering boxing. Does he miss not being rinigside? "Not really," he says. "My time came and went. Journalism and life took me in other directions. I do have some nostalgia for that era, and for the people who were part of it."
Having been around the sweet science for a spell, Marantz offered sage advice to anyone inclined to mix it up: "Be disciplined, work hard, find a good trainer, learn the subtleties, read the tea leaves and don't be pig-headed."
Actually, all of those traits are always handy, even if one doesn't step into the ring.
You can read more about Steve Marantz at his website: www.stevemarantz.com
To comment on this story in the Fight Forum CLICK HERE
Mercito Gesta Victorious Over Jojo Diaz at the Long Beach Pyramid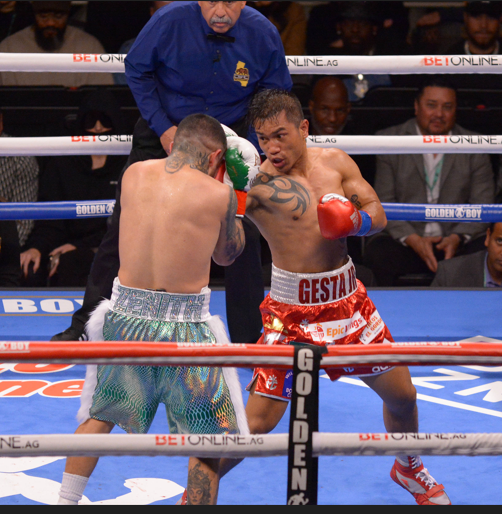 LONG BEACH, CA.-Those in the know knew Mercito Gesta and Jojo Diaz would be a fight to watch and they delivered.
Gesta emerged the winner in a super lightweight clash between southpaws that saw the judges favor his busier style over Diaz's body attack and bigger shots and win by split decision on Saturday.
Despite losing the main event because the star was overweight, Gesta (34-3-3, 17 KOs) used an outside method of tactic to edge past former world champion Diaz (32-4-1, 15 KOs) in front of more than 5,000 fans at the Pyramid.
The speedy Gesta opened up the fight with combination punching up and down against the peek-a-boo style of Diaz. For the first two rounds the San Diego fighter overwhelmed Diaz though none of the blows were impactful.
In the third round Diaz finally began unloading his own combinations and displaying the fast hands that helped him win world titles in two divisions. Gesta seemed stunned by the blows, but his chin held up. The counter right hook was Diaz's best weapon and snapped Gesta's head back several times.
Gesta regained control in the fifth round after absorbing big blows from Diaz. He seemed to get angry that he was hurt and opened up with even more blows to send Diaz backpedaling.
Diaz targeted his attack to Gesta's body and that seemed to slow down Gesta. But only for a round.
From the seventh until the 10th each fighter tried to impose their style with Gesta opening up with fast flurries and Diaz using right hooks to connect with solid shots. They continued their method of attack until the final bell. All that mattered was what the judges preferred.
After 10 rounds one judge saw Diaz the winner 97-93 but two others saw Gesta the winner 99-91, 98-92. It was a close and interesting fight.
"I was expecting nothing. I was the victor in this fight and we gave a good fight," said Gesta. "It's not an easy fight and Jojo gave his best."
Diaz was surprised by the outcome but accepted the verdict.
Everything was going good. I thought I was landing good body shots," said Diaz. "I was pretty comfortable."
Other Bouts
Mexico's Oscar Duarte (25-1-1, 20 KOs) knocked out Chicago's Alex Martin (18-5, 6 KOs) with a counter right hand after dropping him earlier in the fourth round. The super lightweight fight was stopped at 1:14 of the round.
A battle between undefeated super welterweights saw Florida's Eric Tudor (8-0, 6 KOs) emerge the winner by unanimous decision after eight rounds versus Oakland's Damoni Cato-Cain.
The taller Tudor showed polished skill and was not bothered by a large cut on his forehead caused by an accidental clash of heads. He used his jab and lead rights to defuse the attacks of the quick-fisted southpaw Cato-Cain. The judges scored the fight 80-72 and 78-74 twice for Tudor.
San Diego's Jorge Chavez (5-0, 4 KOs) needed less than one round to figure out Nicaragua's Bryan Perez (12-17-1, 11 KOs) and send him into dreamland with a three-punch combination. No need to count as referee Ray Corona waved the fight over. Perez shot a vicious right followed by another right and then a see-you-later left hook at 3.00 of the first round of the super featherweight match.
Photo credit: Al Applerose