Stan Hoffman and Mitchell Rose: Anecdotes from the Pen of a Veteran Boxing Writer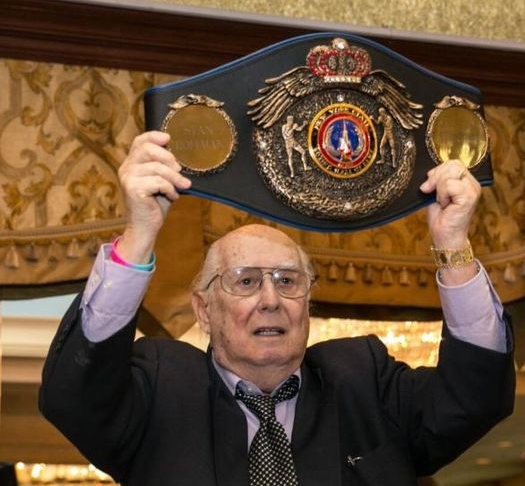 Anecdotes.
Everybody who has spent any appreciable amount of time in and around boxing has 'em, personal memories of notable and not-so-notable figures in the sport that are interesting, but not generally included in the obit/tributes of and to those individuals in the immediate aftermath of their taking the eternal 10-count that awaits us all.
Not so very long ago, I regretfully declined an offer by TSS editor Arne K. Lang to do such a story on Pennsylvania promoter Mike Acri, with whom I had some dealings, because I have authored so many farewell pieces for this site and had, quite frankly, tired of writing about death. But life inevitably goes on and then ends for everyone, and as we are now in the second year of the global pandemic that seemingly has accelerated the exit process, I have been asked again by Arne to provide a couple of personal anecdotes about manager Stan Hoffman, who was 89 when he passed away on Feb. 8, and former heavyweight Mitchell "The Cigarette Man" Rose, just 51 when he breathed his last on Feb. 12.
Hoffman, a native of Brooklyn – the New York borough that has birthed so many fight fixtures, and even more anecdotes – spent nearly 50 years as a manager and adviser, during which time he worked with 38 future, then-current or past world champions, James Toney, Iran Barkley, Hasim Rahman, Michael Bentt and Hasim Rahman among the most notable.
But the Stan story that has always stuck with me involves one of his fighters, former WBO middleweight champion Doug DeWitt, who was to defend that title against Canadian knockout artist Matthew Hilton on Jan. 15, 1990, the primary lead-in to a card topped by the ballyhooed "Geezers at Caesars" heavyweight matchup of George Foreman and Gerry Cooney in Atlantic City's Convention Center (now Boardwalk Hall).
On Jan. 11, I was in town to do an advance on DeWitt-Hilton and was in the gym after DeWitt, a native of Youngstown, Ohio, who had relocated to Yonkers, N.Y., finished his workout. "The Cobra's" most obvious physical characteristic was a nose so flattened into his face that I observed it was "crumpled in, like an aluminum can that someone had stepped on."
Um, what about that misshapen proboscis?
"So many people say, `Oh, Doug, you used to be so good-looking,'" said DeWitt, then 27, who had traded punches with nearly every tough guy in the 160-pound weight class in a blue-collar career that had risen to a new level when he won the vacant WBO title on a 12-round split decision over Robbie Sims, Marvin Hagler's half-brother, on April 18, 1989, also in Atlantic City. "That kind of talk (snide remarks about his nose) bothers me sometimes. I mean, I'm human. I care about how I look. Not that I'm ugly now, but my nose definitely hinders my appearance.
"Coming out of high school my nose was straight. I was handsome. I walk around with this nose now, and it bothers me. The day I retire, I'm getting it fixed."
While DeWitt didn't much care for the condition of his nose then, given his intention to have it eventually restored, at least one fighter considered it a badge of distinction and courage.
"You know, it's funny," Hoffman told me. "This junior welterweight, Ricky Meyers, and I were at one of Dougie's workouts this week and (Meyers) said, `Stan, I'm a fighter and I really want to look and feel like a fighter. Do you think someone could remove the cartilage from my nose so I can look just like Doug?'
"I guess that just goes to show you that beauty is in the eyes of the beholder."
DeWitt, in his one and only successful title defense, was ahead on all three official scorecards when he registered what many believed to be at least a minor upset as Hilton, both his eyes nearly swollen shut, did not come out for the 12th round. The Cobra was dethroned in his next outing, on an eighth-round stoppage by England's Nigel Benn, on April 29, 1990. He would fight three more times, going 1-1-1, his final bout a sixth-round stoppage loss to, ironically, James Toney, my other most memorable anecdotal link to Hoffman, on Dec. 5, 1992.
To this day, I still haven't found out if Doug DeWitt followed up on his vow to himself to get his nose fixed, as was the case with Leon Spinks, the former heavyweight champion who was 67 when he died on Feb. 5. The older of boxing's two champion Spinks brothers (the other being Michael) was best known for his title-annexing upset of Muhammad Ali and, just a bit less so, for his gap-toothed smile. "Neon Leon," tired of all the jokes made about the yawning, empty space in his top row of teeth, did later undergo dental surgery that provided him with a full set of chompers.
Toney had had some ups and downs, in and out of the ring, when, sometime in the early 1990s, I went to Las Vegas to cover a fight involving, I think, Mike Tyson, although I can't recall the specific bout. In any case, a select few writers, including me, were invited to a private workout by Toney, who was not on the card we had come to see, but during which "Lights Out" would presumably demonstrate how he was new and improved.
The gym was insufferably hot, so high was the heat turned up, but the volume of the gangsta rap to which Toney went through his drills was even higher, jet-aircraft-taking-off, eardrum-bursting high. The one thing I do remember is that the lyrics were frequently punctuated with screamed variations of the f-word, so much so that the constant barrage seemed excessive even to this Marine Corps veteran. I thought it interesting that James' mother, who owned and operated a bakery in Ann Arbor, Mich., sat off to the side during her son's training session, reading a book or something, seemingly oblivious to the profane clatter.
When the workout was over, Stan invited the writers to meet with Toney in the relative privacy of a side office – other fighters were continuing to train in the gym, to music, still very loud, of their preference. Some questions were asked by us and answered by Toney, who at one point made a reference to an "effing" something or other. He actually said "effing," not the actual word.
When I inquired about that, Stan interjected, "James is trying to clean up his vocabulary," to which I said, "Yeah, but what about the tape that was playing during his workout with his mom sitting there?"
Now, about Mitchell Rose, another Brooklyn native whose youthful success as a New York Golden Gloves boxer didn't translate to his pro career, which was hindered by a disinclination to train with any appreciable degree of dedication or enthusiasm. Rose (pictured on the left) retired with a 2-11-1 record with two knockout wins and five losses inside the distance.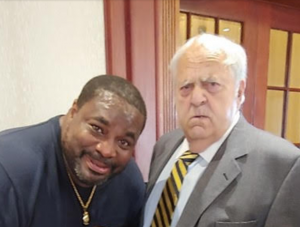 Seldom, however, has any fighter with such a nondescript record milked more notoriety out of a single victory. Largely because he had demonstrated little or none of his Golden Gloves promise, Rose was penciled in to provide the low-risk opposition to Top Rank's novelty act heavyweight Eric "Butterbean" Esch, the erstwhile "King of the Four-Rounders," on Dec. 15, 1995, for a show headlined by WBO lightweight champ Oscar De La Hoya's second-round stoppage of Jesse James Leija at Madison Square Garden. Butterbean came in at 15-0 with 10 KOs, Rose at 1-7-1 with one KO and four defeats in abbreviated fashion.
But in a low-rent version of how Buster Douglas ascended to a career peak by knocking out Mike Tyson, in no small part because he had dedicated that fight to the memory of his recently deceased mother, Lula Mae, Rose – with an uncommonly long five weeks (for him) to train – showed a flash or two of his old GG form in stopping Butterbean 48 seconds into the second round, which was definitely not the result Top Rank founder Bob Arum wanted. The fight almost certainly was legit, but no pairing needs to be fixed for an outcome to be semi-preordained. Major favorites matched soft can and do lose occasionally.
Interestingly, I saw a very forlorn Butterbean at Pennsylvania Station the next day as I prepared to take a train back to Philadelphia and The Bean to wherever it was that he was headed. Maybe because he had become so accustomed to winning easily and quickly, he felt he had let a lot of people down, even if he had entered the ring the night before, he said, a bit under the weather.
Butterbean, however, would rebound nicely and went on to continue his unlikely advance to stardom of sorts as a bald and blubbery blaster. In his only non-four-rounder, he lost on points to former heavyweight champion Larry Holmes, a matchup that legitimized his credentials as much or more than all the whackings of the steady stream of palookas he had become accustomed to. For historical perspective, it hardly seemed to matter that the "Easton Assassin" was 52 years old and, at 254 pounds, had love handles nearly as ample as Butterbean's lapping over his waistband.
"Here I am, feeling sorry for myself, when this man comes over and asks if I would say hello to his kid, who was in a wheelchair," Butter said of the early-morning New York hours after he had tasted his first pro defeat. "I go over and meet the kid, who is really in a bad way. But he seemed so happy to see me.
"Right then, I decided I had no problems. So what if I lost a fight? My feeling was that I'd just go out and win the next one."
As for Rose, he wrote two self-published books, one of which was titled The Man That Beat Butterbean, which played fast and loose with the truth. It might be accurate that Rose describes his takedown of Eric Esch's alter ego as "the highlight of my life, my version of the Thrilla in Manila." Many of his other assertions, however, would appear to be pure flights of fantasy.
Rose would later claim he had refused a $5,000 bribe to go into the tank against Butterbean, and that he was subsequently blacklisted for the audacity of winning a fight he was supposed to lose. I'm not sure either statement comes close to passing any credible sniff test. He did say his purse for the Butterbean fight was $1,500, which might be accurate, but he also said the corpulent crusher received $750,000. For an undercard four-rounder! That figure is so patently false as to be laughable.
Stan Hoffman and Mitchell Rose – Leon Spinks, too – have crossed over onto the other side of the great divide that separates heaven and earth. Maybe only absolute truth matters over there, but maybe celestial anecdotes are just as much cause for fun and lively discussion as they are here, in the land of the living.
A New Orleans native, Bernard Fernandez retired in 2012 after a 43-year career as a newspaper sports writer, the last 28 years with the Philadelphia Daily News. A former five-term president of the Boxing Writers Association of America, Fernandez won the BWAA's Nat Fleischer Award for Excellence in Boxing Journalism in 1998 and the Barney Nagler Award for Long and Meritorious Service in 2015. In December of 2019, Fernandez was accorded the highest honor for a boxing writer when he was named to the International Boxing Hall of Fame with the Class of 2020. Last year, Fernandez's anthology, "Championship Rounds," was released by RKMA Publishing.
Check out more boxing news on video at the Boxing Channel 
To comment on this story in the Fight Forum CLICK HERE
Mercito Gesta Victorious Over Jojo Diaz at the Long Beach Pyramid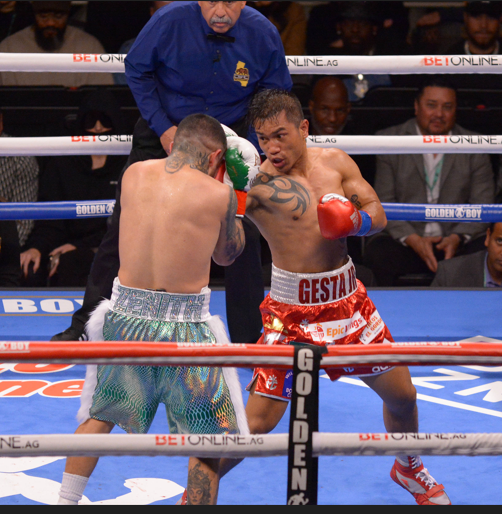 LONG BEACH, CA.-Those in the know knew Mercito Gesta and Jojo Diaz would be a fight to watch and they delivered.
Gesta emerged the winner in a super lightweight clash between southpaws that saw the judges favor his busier style over Diaz's body attack and bigger shots and win by split decision on Saturday.
Despite losing the main event because the star was overweight, Gesta (34-3-3, 17 KOs) used an outside method of tactic to edge past former world champion Diaz (32-4-1, 15 KOs) in front of more than 5,000 fans at the Pyramid.
The speedy Gesta opened up the fight with combination punching up and down against the peek-a-boo style of Diaz. For the first two rounds the San Diego fighter overwhelmed Diaz though none of the blows were impactful.
In the third round Diaz finally began unloading his own combinations and displaying the fast hands that helped him win world titles in two divisions. Gesta seemed stunned by the blows, but his chin held up. The counter right hook was Diaz's best weapon and snapped Gesta's head back several times.
Gesta regained control in the fifth round after absorbing big blows from Diaz. He seemed to get angry that he was hurt and opened up with even more blows to send Diaz backpedaling.
Diaz targeted his attack to Gesta's body and that seemed to slow down Gesta. But only for a round.
From the seventh until the 10th each fighter tried to impose their style with Gesta opening up with fast flurries and Diaz using right hooks to connect with solid shots. They continued their method of attack until the final bell. All that mattered was what the judges preferred.
After 10 rounds one judge saw Diaz the winner 97-93 but two others saw Gesta the winner 99-91, 98-92. It was a close and interesting fight.
"I was expecting nothing. I was the victor in this fight and we gave a good fight," said Gesta. "It's not an easy fight and Jojo gave his best."
Diaz was surprised by the outcome but accepted the verdict.
Everything was going good. I thought I was landing good body shots," said Diaz. "I was pretty comfortable."
Other Bouts
Mexico's Oscar Duarte (25-1-1, 20 KOs) knocked out Chicago's Alex Martin (18-5, 6 KOs) with a counter right hand after dropping him earlier in the fourth round. The super lightweight fight was stopped at 1:14 of the round.
A battle between undefeated super welterweights saw Florida's Eric Tudor (8-0, 6 KOs) emerge the winner by unanimous decision after eight rounds versus Oakland's Damoni Cato-Cain.
The taller Tudor showed polished skill and was not bothered by a large cut on his forehead caused by an accidental clash of heads. He used his jab and lead rights to defuse the attacks of the quick-fisted southpaw Cato-Cain. The judges scored the fight 80-72 and 78-74 twice for Tudor.
San Diego's Jorge Chavez (5-0, 4 KOs) needed less than one round to figure out Nicaragua's Bryan Perez (12-17-1, 11 KOs) and send him into dreamland with a three-punch combination. No need to count as referee Ray Corona waved the fight over. Perez shot a vicious right followed by another right and then a see-you-later left hook at 3.00 of the first round of the super featherweight match.
Photo credit: Al Applerose
Jojo Diaz's Slump Continues; Mercito Gesta Prevails on a Split Decision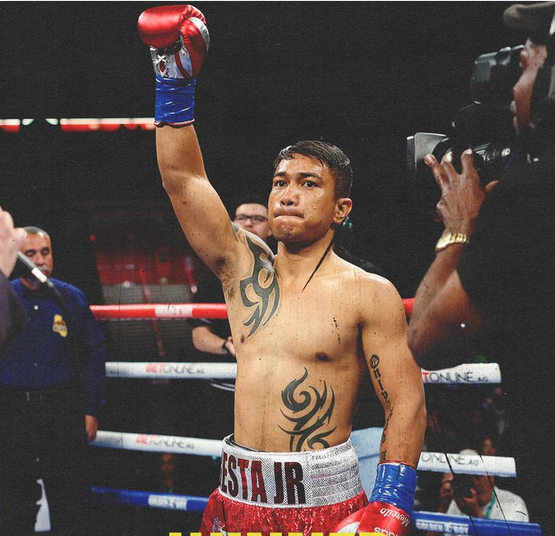 At age 30, Jojo Diaz's career is on the skids. The 2012 U.S. Olympian, a former world title holder at 126 and 130 pounds and an interim title holder at 135, Diaz suffered his third straight loss tonight, upset by Mercito Gesta who won a split decision at the Walter Pyramid in Long Beach, CA.. The scoring was strange with Gesta winning nine of the 10 rounds on one of the cards and only three rounds on another. The tie-breaker, as it were, was a 98-92 tally for Gesta and even that didn't capture the flavor of what was a closely-contested fight.
Originally listed as a 12-rounder, the match was reduced to 10 and that, it turned out, did Diaz no favors. However, it's hard to feel sorry for the former Olympian as he came in overweight once again, having lost his 130-pound title on the scales in February of 2021.
Diaz also has issues outside the ropes. Best elucidated by prominent boxing writer Jake Donovan, they include a cluster of legal problems stemming from an arrest for drunk driving on Feb. 27 in the LA suburb of Claremont.
With the defeat, Diaz's ledger declined to 32-4-1. His prior losses came at the hands of Gary Russell Jr, Devin Haney, and William Zepeda, boxers who are collectively 83-2. Mercito Gesta, a 35-year-old San Diego-based Filipino, improved to 34-3-3.
Co-Feature
Chihuahua, Mexico super lightweight Oscar Duarte has now won nine straight inside the distance after stopping 33-year-old Chicago southpaw Alex Martin in the eighth frame. Duarte, the busier fighter, had Martin on the deck twice in round eight before the fight was waived off.
Duarte improved to 25-1-1 (20). Martin, who reportedly won six national titles as an amateur and was once looked upon as a promising prospect, declined to 18-5.
Other Bouts of Note
New Golden Boy signee Eric Tudor, a 21-year-old super welterweight from Fort Lauderdale, overcame a bad laceration over his right eye, the result of an accidental clash of heads in round four, to stay unbeaten, advancing to 8-0 (6) with a hard-fought unanimous 8-round decision over Oakland's Damoni Cato-Cain. The judges had it 80-72 and 78-74 twice. It was the first pro loss for Cato-Cain (7-1-1) who had his first five fights in Tijuana.
In the DAZN opener, lanky Hawaian lightweight Dalis Kaleiopu went the distance for the first time in his young career, improving to 4-0 (3) with a unanimous decision over 36-year-old Colombian trial horse Jonathan Perez (40-35). The scores were 60-52 across the board. There were no knockdowns, but Perez, who gave up almost six inches in height, had a point deducted for a rabbit punch and another point for deducted for holding.
To comment on this story in the Fight Forum CLICK HERE
'Big Baby' Wins the Battle of Behemoths; TKOs 'Big Daddy' in 6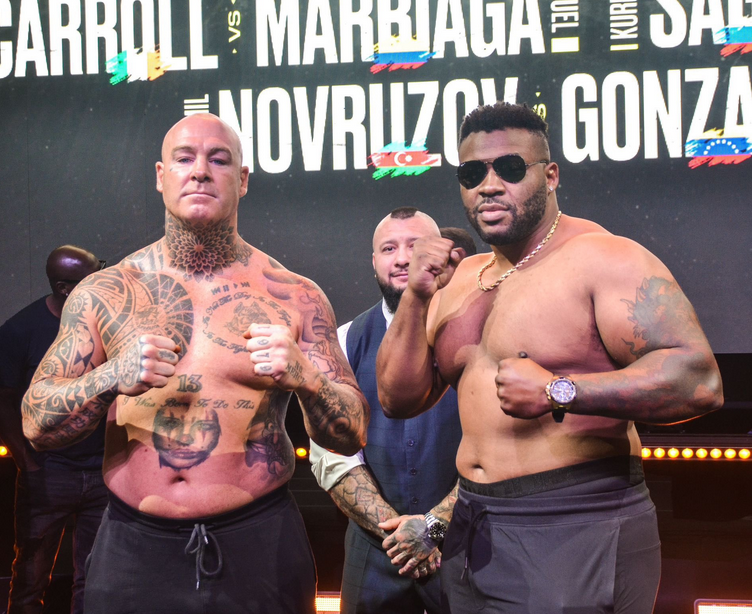 Lucas "Big Daddy" Browne weighed in at a career-high 277 pounds for today's battle in Dubai with Jarrell "Big Baby" Miller, but he was the lighter man by 56 pounds. It figured that one or both would gas out if the bout lasted more than a few stanzas.
It was a war of attrition with both men looking exhausted at times, and when the end came it was Miller, at age 34 the younger man by nine years, who had his hand raised.
Browne was the busier man, but Miller, whose physique invites comparison with a rhinoceros, hardly blinked as he was tattooed with an assortment of punches. He hurt 'Bid Daddy' in round four, but the Aussie held his own in the next frame, perhaps even forging ahead on the cards, but only postponing the inevitable.
In round six, a succession of right hands knocked Browne on the seat of his pants. He beat the count, but another barrage from Miller impelled the referee to intervene. The official time was 2:33. It was the 21st straight win for Miller (26-0-1, 22 KOs). Browne declined to 31-4 and, for his own sake, ought not fight again. All four of his losses have come inside the distance, some brutally.
The consensus of those that caught the livestream was that Floyd Mayweather Jr's commentary was an annoying distraction that marred what was otherwise an entertaining show.
As for what's next for "Big Baby" Miller, that's hard to decipher as he has burned his bridges with the sport's most powerful promoters. One possibility is Mahmoud Charr who, like Miller, has a big gap in his boxing timeline. Now 38 years old, Charr – who has a tenuous claim on a WBA world title (don't we all?) —  has reportedly taken up residence in Dubai.
Other Bouts of Note
In a 10-round cruiserweight affair, Suslan Asbarov, a 30-year-old Russian, advanced to 4-0 (1) with a hard-fought majority decision over Brandon Glanton. The judges had it 98-92, 97-93, and a more reasonable 95-95.
Asbarov was 12-9 in documented amateur fights and 1-0 in a sanctioned bare-knuckle fight, all in Moscow, entering this match. He bears watching, however, as Glanton (18-2) would be a tough out for almost anyone in his weight class. In his previous fight, at Plant City, Florida, Glanton lost a controversial decision to David Light, an undefeated Australian who challenges WBO world title-holder Lawrence Okolie at Manchester, England next week.
A 10-round super featherweight match between former world title challengers Jono Carroll and Miguel Marriaga preceded the semi-windup. Carroll, a 30-year-old Dublin southpaw, overcame a cut over his left eye suffered in the second round to win a wide unanimous decision in a fairly entertaining fight.
It was the sixth straight win for Carroll (24-2-1, 7 KOs) who elevated his game after serving as a sparring partner for Devin Haney. Marriaga, a 36-year-old Colombian, lost for the fourth time in his last five outings, declining to 30-7.
To comment on this story in the Fight Forum CLICK HERE