Stan Hoffman and Mitchell Rose: Anecdotes from the Pen of a Veteran Boxing Writer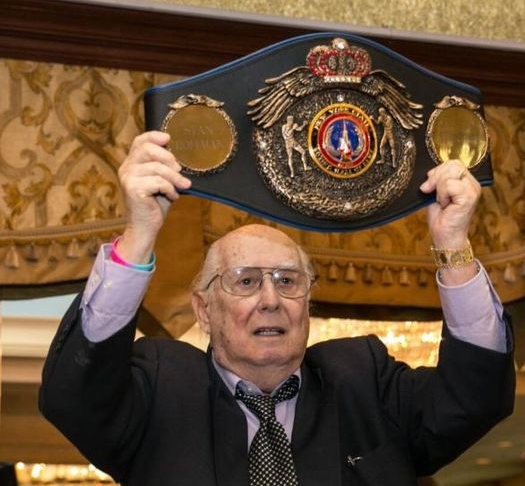 Anecdotes.
Everybody who has spent any appreciable amount of time in and around boxing has 'em, personal memories of notable and not-so-notable figures in the sport that are interesting, but not generally included in the obit/tributes of and to those individuals in the immediate aftermath of their taking the eternal 10-count that awaits us all.
Not so very long ago, I regretfully declined an offer by TSS editor Arne K. Lang to do such a story on Pennsylvania promoter Mike Acri, with whom I had some dealings, because I have authored so many farewell pieces for this site and had, quite frankly, tired of writing about death. But life inevitably goes on and then ends for everyone, and as we are now in the second year of the global pandemic that seemingly has accelerated the exit process, I have been asked again by Arne to provide a couple of personal anecdotes about manager Stan Hoffman, who was 89 when he passed away on Feb. 8, and former heavyweight Mitchell "The Cigarette Man" Rose, just 51 when he breathed his last on Feb. 12.
Hoffman, a native of Brooklyn – the New York borough that has birthed so many fight fixtures, and even more anecdotes – spent nearly 50 years as a manager and adviser, during which time he worked with 38 future, then-current or past world champions, James Toney, Iran Barkley, Hasim Rahman, Michael Bentt and Hasim Rahman among the most notable.
But the Stan story that has always stuck with me involves one of his fighters, former WBO middleweight champion Doug DeWitt, who was to defend that title against Canadian knockout artist Matthew Hilton on Jan. 15, 1990, the primary lead-in to a card topped by the ballyhooed "Geezers at Caesars" heavyweight matchup of George Foreman and Gerry Cooney in Atlantic City's Convention Center (now Boardwalk Hall).
On Jan. 11, I was in town to do an advance on DeWitt-Hilton and was in the gym after DeWitt, a native of Youngstown, Ohio, who had relocated to Yonkers, N.Y., finished his workout. "The Cobra's" most obvious physical characteristic was a nose so flattened into his face that I observed it was "crumpled in, like an aluminum can that someone had stepped on."
Um, what about that misshapen proboscis?
"So many people say, `Oh, Doug, you used to be so good-looking,'" said DeWitt, then 27, who had traded punches with nearly every tough guy in the 160-pound weight class in a blue-collar career that had risen to a new level when he won the vacant WBO title on a 12-round split decision over Robbie Sims, Marvin Hagler's half-brother, on April 18, 1989, also in Atlantic City. "That kind of talk (snide remarks about his nose) bothers me sometimes. I mean, I'm human. I care about how I look. Not that I'm ugly now, but my nose definitely hinders my appearance.
"Coming out of high school my nose was straight. I was handsome. I walk around with this nose now, and it bothers me. The day I retire, I'm getting it fixed."
While DeWitt didn't much care for the condition of his nose then, given his intention to have it eventually restored, at least one fighter considered it a badge of distinction and courage.
"You know, it's funny," Hoffman told me. "This junior welterweight, Ricky Meyers, and I were at one of Dougie's workouts this week and (Meyers) said, `Stan, I'm a fighter and I really want to look and feel like a fighter. Do you think someone could remove the cartilage from my nose so I can look just like Doug?'
"I guess that just goes to show you that beauty is in the eyes of the beholder."
DeWitt, in his one and only successful title defense, was ahead on all three official scorecards when he registered what many believed to be at least a minor upset as Hilton, both his eyes nearly swollen shut, did not come out for the 12th round. The Cobra was dethroned in his next outing, on an eighth-round stoppage by England's Nigel Benn, on April 29, 1990. He would fight three more times, going 1-1-1, his final bout a sixth-round stoppage loss to, ironically, James Toney, my other most memorable anecdotal link to Hoffman, on Dec. 5, 1992.
To this day, I still haven't found out if Doug DeWitt followed up on his vow to himself to get his nose fixed, as was the case with Leon Spinks, the former heavyweight champion who was 67 when he died on Feb. 5. The older of boxing's two champion Spinks brothers (the other being Michael) was best known for his title-annexing upset of Muhammad Ali and, just a bit less so, for his gap-toothed smile. "Neon Leon," tired of all the jokes made about the yawning, empty space in his top row of teeth, did later undergo dental surgery that provided him with a full set of chompers.
Toney had had some ups and downs, in and out of the ring, when, sometime in the early 1990s, I went to Las Vegas to cover a fight involving, I think, Mike Tyson, although I can't recall the specific bout. In any case, a select few writers, including me, were invited to a private workout by Toney, who was not on the card we had come to see, but during which "Lights Out" would presumably demonstrate how he was new and improved.
The gym was insufferably hot, so high was the heat turned up, but the volume of the gangsta rap to which Toney went through his drills was even higher, jet-aircraft-taking-off, eardrum-bursting high. The one thing I do remember is that the lyrics were frequently punctuated with screamed variations of the f-word, so much so that the constant barrage seemed excessive even to this Marine Corps veteran. I thought it interesting that James' mother, who owned and operated a bakery in Ann Arbor, Mich., sat off to the side during her son's training session, reading a book or something, seemingly oblivious to the profane clatter.
When the workout was over, Stan invited the writers to meet with Toney in the relative privacy of a side office – other fighters were continuing to train in the gym, to music, still very loud, of their preference. Some questions were asked by us and answered by Toney, who at one point made a reference to an "effing" something or other. He actually said "effing," not the actual word.
When I inquired about that, Stan interjected, "James is trying to clean up his vocabulary," to which I said, "Yeah, but what about the tape that was playing during his workout with his mom sitting there?"
Now, about Mitchell Rose, another Brooklyn native whose youthful success as a New York Golden Gloves boxer didn't translate to his pro career, which was hindered by a disinclination to train with any appreciable degree of dedication or enthusiasm. Rose (pictured on the left) retired with a 2-11-1 record with two knockout wins and five losses inside the distance.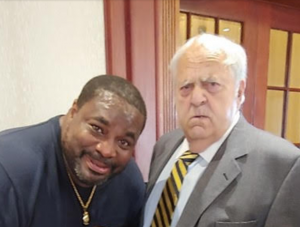 Seldom, however, has any fighter with such a nondescript record milked more notoriety out of a single victory. Largely because he had demonstrated little or none of his Golden Gloves promise, Rose was penciled in to provide the low-risk opposition to Top Rank's novelty act heavyweight Eric "Butterbean" Esch, the erstwhile "King of the Four-Rounders," on Dec. 15, 1995, for a show headlined by WBO lightweight champ Oscar De La Hoya's second-round stoppage of Jesse James Leija at Madison Square Garden. Butterbean came in at 15-0 with 10 KOs, Rose at 1-7-1 with one KO and four defeats in abbreviated fashion.
But in a low-rent version of how Buster Douglas ascended to a career peak by knocking out Mike Tyson, in no small part because he had dedicated that fight to the memory of his recently deceased mother, Lula Mae, Rose – with an uncommonly long five weeks (for him) to train – showed a flash or two of his old GG form in stopping Butterbean 48 seconds into the second round, which was definitely not the result Top Rank founder Bob Arum wanted. The fight almost certainly was legit, but no pairing needs to be fixed for an outcome to be semi-preordained. Major favorites matched soft can and do lose occasionally.
Interestingly, I saw a very forlorn Butterbean at Pennsylvania Station the next day as I prepared to take a train back to Philadelphia and The Bean to wherever it was that he was headed. Maybe because he had become so accustomed to winning easily and quickly, he felt he had let a lot of people down, even if he had entered the ring the night before, he said, a bit under the weather.
Butterbean, however, would rebound nicely and went on to continue his unlikely advance to stardom of sorts as a bald and blubbery blaster. In his only non-four-rounder, he lost on points to former heavyweight champion Larry Holmes, a matchup that legitimized his credentials as much or more than all the whackings of the steady stream of palookas he had become accustomed to. For historical perspective, it hardly seemed to matter that the "Easton Assassin" was 52 years old and, at 254 pounds, had love handles nearly as ample as Butterbean's lapping over his waistband.
"Here I am, feeling sorry for myself, when this man comes over and asks if I would say hello to his kid, who was in a wheelchair," Butter said of the early-morning New York hours after he had tasted his first pro defeat. "I go over and meet the kid, who is really in a bad way. But he seemed so happy to see me.
"Right then, I decided I had no problems. So what if I lost a fight? My feeling was that I'd just go out and win the next one."
As for Rose, he wrote two self-published books, one of which was titled The Man That Beat Butterbean, which played fast and loose with the truth. It might be accurate that Rose describes his takedown of Eric Esch's alter ego as "the highlight of my life, my version of the Thrilla in Manila." Many of his other assertions, however, would appear to be pure flights of fantasy.
Rose would later claim he had refused a $5,000 bribe to go into the tank against Butterbean, and that he was subsequently blacklisted for the audacity of winning a fight he was supposed to lose. I'm not sure either statement comes close to passing any credible sniff test. He did say his purse for the Butterbean fight was $1,500, which might be accurate, but he also said the corpulent crusher received $750,000. For an undercard four-rounder! That figure is so patently false as to be laughable.
Stan Hoffman and Mitchell Rose – Leon Spinks, too – have crossed over onto the other side of the great divide that separates heaven and earth. Maybe only absolute truth matters over there, but maybe celestial anecdotes are just as much cause for fun and lively discussion as they are here, in the land of the living.
A New Orleans native, Bernard Fernandez retired in 2012 after a 43-year career as a newspaper sports writer, the last 28 years with the Philadelphia Daily News. A former five-term president of the Boxing Writers Association of America, Fernandez won the BWAA's Nat Fleischer Award for Excellence in Boxing Journalism in 1998 and the Barney Nagler Award for Long and Meritorious Service in 2015. In December of 2019, Fernandez was accorded the highest honor for a boxing writer when he was named to the International Boxing Hall of Fame with the Class of 2020. Last year, Fernandez's anthology, "Championship Rounds," was released by RKMA Publishing.
Check out more boxing news on video at the Boxing Channel 
To comment on this story in the Fight Forum CLICK HERE
From the Desert, Jack Dempsey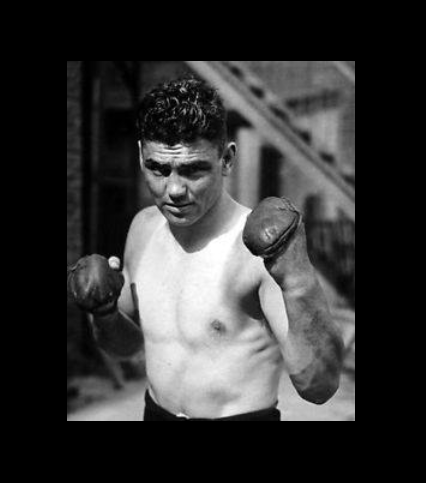 Jack Dempsey, who has been matched by Jack Goodfriend to fight at the Hippodrome Monday, May 31 is expected to arrive from Reno within a day or two.  The match will be a ten round contest and preceded by a couple of good preliminaries. (The Goldfield News, May 22nd, 1915.)
In May of 1915 Jack Dempsey found himself trapped in Nevada and between purses. Fifty miles from his payday with no rail to ride, he walked out of the desert and into Goldfield, stuck the bewildered promoter for an advance and hired a sparring partner, knocked the sparring partner out and hired another.
Walking in ninety-five-degree weather can be dangerous for even an experienced athlete, but it seemed to agree with Jack. He had marched into Goldfield to meet a light-heavyweight named Johnny Sudenberg, a game but limited battler who had for the first time strung a decent run of wins together, all of them fought in the desert Dempsey travailed on foot. Dempsey had scored a series of knockout wins in Salt Lake City, enough that his name was known and interest in his proposed match with the local man stoked.
"Jack Dempsey, the husky Pueblo middleweight, who will meet Johnny Sudenberg at the Hippodrome next Monday night in a ten round bout arrived in camp this morning," reported regional press. "Several local men have seen Dempsey in action…and all [are] united in the prediction that Johnny had better be 'right' when he crawls through the ropes."
It speaks of boxing's burgeoning's status in the United States that there were two gymnasiums in Goldfield capable of staging training. Dempsey worked out at the Unity Club, little more than a middleweight, perhaps not least because of his fifty-mile travail through the desert earlier that week. He boxed a local footnote named Dick Trounce and he may also have boxed some rounds with the world class bantamweight Roy Moore.
Sudenberg, stung by assertions that it was Dempsey, not he, who was the puncher in the fight, bristled and demanded of himself a knockout while training down the street in the Northern Gymnasium.
There is a divergence now between Dempsey's recollection of the fight and the newspaper reporting of the day. Before the fight, although he may have shared a ring with Jack Dempsey, not known for his tender attentions of even much smaller sparring partners, Roy Moore advised his sparring partner to steer clear. "Don't slug with Sudenberg.  He's awful strong. Stay away from him."
Dempsey claims to have dismissed this advice, telling Roger Kahn, author of A Flame of Pure Fire, that the match was a brutal slugfest from the first. Local press though reported on a fight that was marked by cautious sparring early, and that after "feeling each other out" for two rounds that Dempsey dominated, it was Sudenberg who changed the pattern and "owing to the greater height and reach" Dempsey possessed, brought the fight to the inside. A fine battle resulted and one that saw Dempsey descend into total chaos for the first time, a feeling that would become as familiar to him as slipping on a pair of old shoes.
"I just kept swinging. Sometimes I think I saw a face in front of me, sometimes I didn't. I kept swinging."
Dempsey claimed he could remember nothing after the fifth.
A rematch was not immediately slated, but the failure of a potential Sudenberg opponent to deliver on a sidebet let Dempsey back in just days later. Dempsey moved a bit further north with the purses, his second battle with Sudenberg staged in Tonopah. Still years from the three-ringed circus his career would become, there was interest surrounding the young scrapper who trained for the fight in the town's casino. Tonopah was a young but bustling setting, festooned with banks and lawyers and saloons as money poured in from Nevada's second largest silver strike. By 1920 they had pulled $121m out of the ground and Dempsey was there to pull out his own piece.
"A great many were dissatisfied with the decision last Monday," wrote the Tonopah Daily upon the fight's announcement. "Dempsey gave Sudenberg the best fight he has had in this part of the country."
Sudenberg, who seems to have been a prickly character, held the power in his relationship with Dempsey and so clearly backed himself to win a rematch. A fascinating aspect of the fight is their respective sizes. Dempsey was referred to as a middleweight in the earliest dispatches surrounding the fight, but in the ring made an impression upon ringsiders as the bigger man. Taller, rangier, it is possible he was already the heavier of the two or it may be that his trek through the surrounding desert left an early impression of litheness which slipped away as Dempsey, holding cash, boxed and ate his way to a size advantage during the build-up. The Goldfield News described him upon entering the ring for the rematch as looking "more like an overgrown schoolboy than a fighter" as he stepped on the canvas before noting wryly that he "proved otherwise."
The fight quite literally drew from miles around, with "Goldfield well represented at ringside" and "eight to ten auto loads" appearing from nearby mines. Dempsey grabbed their attention early, a man you will recognise, coming out of his corner like a rocket and deploying what the Tonopah Daily Bonanza named "Dempsey's mass attack," presumably an early incarnation of the terrible beating he would inflict upon Jess Willard in Toledo with the world's title at stake. Indeed, Sudenberg does appear to have visited the canvas in that first round, but Dempsey, over-eager, under-seasoned, missed with key punches following up his advantage and the canny Sudenberg survived a round of murderous intent.
Papers also report the use of straight punches by Dempsey, that he preferred range and looked to that superior range to dominate. Early Dempsey contests fascinate me in that they repeatedly throw up this story, of a fighter who at just 6'1 was able to dominate most of the desert's pugs with height and reach. Here he plays the role that would later be played by Willard, Carl Morris and Fred Fulton, longer men trying to control the range while Dempsey tormented them with slips and punches.  Here it was Sudenberg who in the third and fourth seemed to do something of a job, getting inside and hitting to the belly while the two accused each other of low blows.
Dempsey is a victim of some criticism over his own use of low blows, alleged or otherwise, in huge fights with Tommy Gibbons and Jack Sharkey. It should be remembered always that he learned his trade in spots like Tonopah and Goldfield where local referees were not sympathetic to pleas for justice to be dispensed. Dempsey fought like a fistic savage because he was raised as one.
After just four rounds in Tonopah, he was tired, feeling the effects of a difficult month and a fast fight. "Dempsey takes punishment well and ducks cleverly," noted The Bonanza, while The News saw Dempsey holding on a good deal more in the second half of the fight.
By round eight, Sudenberg began to show the effects of Dempsey's right hand which he worked "like a sledgehammer" while Sudenberg "lands heavily on Dempsey's digestive apparatus." At the final bell the two worked one another mercilessly in search of the decision, but they were greeted by a draw.
Under a more modern ruleset I suspect that Dempsey would have received the nod. He crushed Sudenberg in the early part of the fight and more than matched him late, but with the referee acting as a single judge, draws in fights where a winner was not inarguably apparent were common.  Fighters expected it and pressmen expected it, which is perhaps why some of those in attendance saw the result as eminently reasonable. Dempsey clearly landed the better shots, but Sudenberg was rewarded for his gameness in "carrying the fight" a tenet of the era.
Dempsey had impressed though. "In Dempsey, who gives the promise of developing into a heavyweight," stated The News, "there is room for a world of improvement, and with the experience he will gain during the next few years he should make a formidable opponent for any scrapper."
Portentous words.
When Dempsey left Tonopah – history does not record whether he walked out – he was mere days from his twentieth birthday, an overgrown schoolboy appearing on the good end of draws against older, more experienced men, already determined to become heavyweight champion, already of the belief he would become one. History tells of a third fight between he and Sudenberg the following February, a more mature Dempsey thrashing a cowed Sudenberg in two rounds.
I spoke to Dempsey scholar and author of the outstanding In The Ring series, Adam Pollack. "Didn't happen," was his verdict.  "I am certain it didn't take place."
It is nice to have this one cleared up. Dempsey did not need to defeat Sudenberg to leave him behind. Dempsey, like any heavyweight champion has his obsessed fans – among them the men who developed a single thin thread concerning a third Sudenberg match and turned it into a truth that was reported in A Flame of Pure Fire and elsewhere – and obsessed haters, but there is no denying what he did. Irresistible and eternal, people will generate and propagate myths about Jack Dempsey for as long as there is fighting.
This story is about his beginnings – see the single-minded determination that saw him walk fifty miles through a desert? See the legendary fast start in the second fight? The mid-round sag that would lead Jack Johnson to label him a three-round fighter? His bending of the rules? Then again, what of his seeming determination to box against a smaller opponent? This was something he abandoned in time to avoid disaster against geniuses like Tommy Gibbons although it would not be enough to save his weary legs from Gene Tunney's escape.
Dempsey's matches with Sudenberg were his emergence from the desert in more ways than one.  They were where his pursuit in earnest of the world's heavyweight title began. These were his first major steps outside of Salt Lake City where his ambitions were as penned as Sudenberg's were in the desert; the defining series of an emergent Jack Dempsey.
Check out more boxing news on video at the Boxing Channel
To comment on this story in the Fight Forum CLICK HERE
Jerry Forrest: When Heart Counts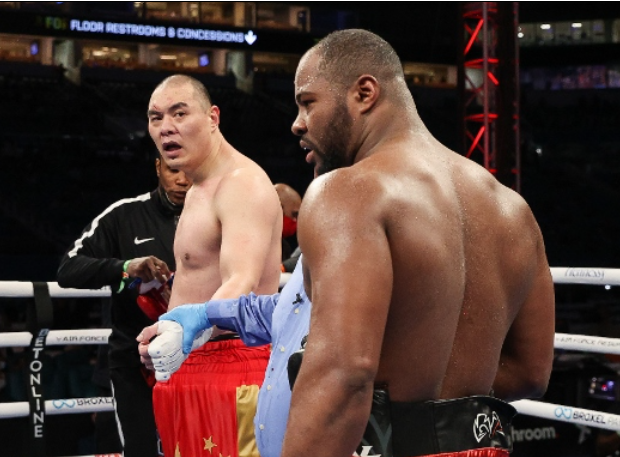 While many Canelo fights end up in some fan's memory bank, that probably won't be the case given what occurred this past Saturday night in Miami. However, the show was salvaged by the entertaining heavyweight draw between China's Zhilei "Big Bang" Zhang (22-0-1) and Jerry "Slugger" Forrest (26-4-1) on the undercard. This one had the fans up and roaring but for different reasons.
The 6'6" Zhang (with excellent amateur credentials) floored the American once in each of the first three rounds and the crowd sensed a stunning KO was on the way. But lo and behold, it didn't come.
Then things began to change, subtle at first, as a determined Forrest survived the onslaught and began to fight back working well inside and landing shots both upstairs and to the body.
A Shift in Momentum
The momentum clearly changed in the fifth as Zhang used his body to lean on "Slugger" to tire him out, but in the process he didn't mix and thereby lost rounds. Soon this strategy (albeit illegal) backfired and served to tire "Big Bang" more than Forrest and making matters worse for Zhang, he was deducted a point in the ninth by referee Frank Gentile for holding. (Given that he had been holding since the fifth round, the deduction was spot-on and could well have come earlier.)
Going into the last round, the fight seemed to be up for grabs and the fresher Forrest obliged as he landed crunching shots that had the fickle fans (are there any others?) now in is corner. He was actually chasing the gassed Chinese monster at the end and had the fight gone another minute, "Slugger" likely would have lived up to his moniker.
"For Jerry Forrest, this is a momentous result after a terrible start, and keeps him in the mix as a high-level gatekeeper, someone who will take on basically anyone and give it the effort. He's a danger to prospects and mid-tier veterans alike," wrote prominent boxing writer Scott Christ.
The scores were 95-93 Forrest and 93-93 twice for a majority draw. Zhang was lucky to keep his undefeated record intact.
Jerry Forrest showed a tremendous amount of heart. Hopefully, when folks look back at this card, Canelo's blowout of Avni Yildirim won't completely overshadow this entertaining heavyweight match.
(Note: Zhang was taken to a hospital for observation when his handlers noticed some concerning symptoms in the locker room after the fight. According to a published statement from Terry Lane of Lane Brothers Management, Zhang was found to be "suffering from anemia, high enzyme levels, and low-level renal failure, which may have been caused by severe dehydration. The good news is that all of his neurological signs are clear…Credit and respect to a game Jerry Forrest who battled back for a ten-round draw…Zhilei will be back.")
Photo credit: Ed Mulholland / Matchroom
Ted Sares can be reached at tedsares@roadrunner.com
Check out more boxing news on video at the Boxing Channel
To comment on this story in the Fight Forum CLICK HERE
The Canelo-Yildirim Travesty was Another Smudge on 'Mandatory' Title Defenses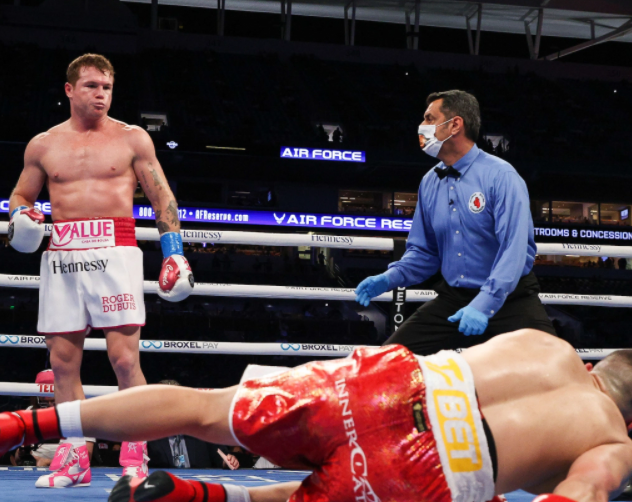 Canelo Alvarez's rout of grossly overmatched Avni Yildirim has once again cast a harsh light on the "mandatory challenger" gambit employed by the sport's world sanctioning bodies. Canelo successfully defended his WBC 168-pound belt this past Saturday in Miami when Yildirim's corner pulled him out after only three rounds.
During the nine minutes of actual fighting, Yildirim was credited with landing only 11 punches, none of which appeared to have been launched with bad intentions. A person posting on a rival web site likened Yildirim's woeful performance to that of Nate Robinson's showing against Jake Paul. Another snarky poster said that faint-hearted Adrien Broner, by comparison, had the heart of a lion. True, the 29-year-old Turk was sent in against a beast, but one yet has a right to expect more from a contest packaged as a world title fight.
Yildirim was coming off a loss. In his previous fight, he lost a split decision to Anthony Dirrell in a bout that was stopped in the 10th round by the ringside physician because of a bad cut over Dirrell's left eye that resulted from an accidental head butt. He hadn't won a fight in three-and-a-half years, not since out-pointing 46-year-old Lolenga Mock who predictably faded late in the 12-round fight, enabling Yildirim to win a narrow decision. Earlier in his career, he was stopped in the third round by Chris Eubank Jr in a fight that was one-sided from the get-go.
So, how exactly did Avni Yildirim build himself into position to become the mandatory opponent for the sport's top pound-for-pound fighter? Did he "earn" this opportunity and the rich payday that came with it by submitting the winning bid in an auction? Is that a rhetorical question?
In an ESPN Q & A, the award-winning writer Mark Kriegel said that Canelo-Yildirim was payback for certain favors that were granted to Canelo by the WBC, citing the organization's new "Franchise Champion" category and to their decision to countenance Canelo's fight with Callum Smith for their vacant 168-pound title. But this doesn't answer the question as to how Yildirim ascended to the role of a mandatory challenger; it merely informs us why Canelo agreed to take the fight.
This was the second great mismatch in 10 weeks involving a mandatory challenger. On Dec. 18, Gennadiy Golovkin opposed Poland's Kamil Szeremeta in the first defense of the IBF middleweight title that he won with a hard-earned decision over Sergiy Derevyanchenko. The feather-fisted Szeremeta was undefeated (21-0, 5 KOs) but hadn't defeated an opponent with a recognizable name.
This was a stroll in the park for GGG. Szeremeta was a glutton for punishment – he lasted into the seventh round — but at no point in the fight did he pose a threat to the 38-year-old Kazakh. Golovkin knocked him down four times before the plug was pulled.
In theory, the "mandatory challenger" ruling forestalls the very abuses with which it has become identified. It prevents a champion from fighting a series of hapless opponents while a more worthy challenger is left out in the cold. One could say that it stands as an example of the law of unforeseen consequences, save that it would be naïve to think that the heads of the sanctioning bodies didn't foresee this versatility and venally embrace it.
Historians will likely lump Avni Yildirim with such fighters of the past as Patrick Charpentier and Morrade Hakker who were accorded mandatory contender status by the WBC so that they could be fodder for a title-holder in a stay-busy fight. Charpentier was rucked into retirement by Oscar De La Hoya who dismissed the overmatched Frenchman in three one-sided rounds at El Paso in 1998. Hakker was thrown in against Bernard Hopkins at Philadelphia in 2003. He brought his bicycle with him, so to speak, and thus lasted into the eighth.
In common with Yildirim and a slew of other mandatory challengers (Vaughn Bean comes quickly to mind), Charpentier and Hakker had misleading records. Steve Kim, in an article for this publication, said that Hakker's record was more inflated than the Goodyear blimp.
A mandatory title defense isn't always a rip-off. One wonders where Tyson Fury would be career-wise today if the WBO hadn't established the Gypsy King as the mandatory challenger to Wladimir Klitschko, setting the wheels in motion for a changing of the guard. That worked out well for the good of the sport as Fury, after some disconcerting speed bumps, would prove to be a breath of fresh air.
But a mandatory title defense between evenly-matched opponents remains a rarity and there's no end in sight to the charade.
Photo credit: Ed Mulholland / Matchroom
Check out more boxing news on video at the Boxing Channel
To comment on this story in the Fight Forum CLICK HERE