From the Desert, Jack Dempsey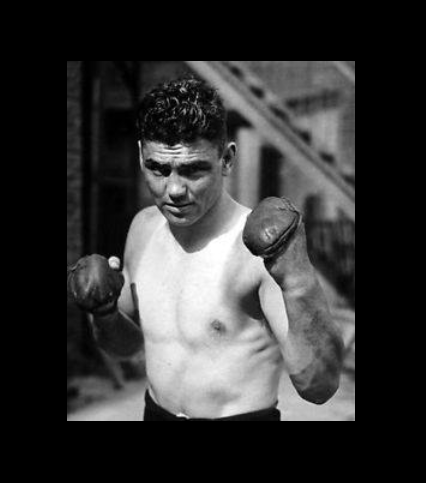 Jack Dempsey, who has been matched by Jack Goodfriend to fight at the Hippodrome Monday, May 31 is expected to arrive from Reno within a day or two.  The match will be a ten round contest and preceded by a couple of good preliminaries. (The Goldfield News, May 22nd, 1915.)
In May of 1915 Jack Dempsey found himself trapped in Nevada and between purses. Fifty miles from his payday with no rail to ride, he walked out of the desert and into Goldfield, stuck the bewildered promoter for an advance and hired a sparring partner, knocked the sparring partner out and hired another.
Walking in ninety-five-degree weather can be dangerous for even an experienced athlete, but it seemed to agree with Jack. He had marched into Goldfield to meet a light-heavyweight named Johnny Sudenberg, a game but limited battler who had for the first time strung a decent run of wins together, all of them fought in the desert Dempsey travailed on foot. Dempsey had scored a series of knockout wins in Salt Lake City, enough that his name was known and interest in his proposed match with the local man stoked.
"Jack Dempsey, the husky Pueblo middleweight, who will meet Johnny Sudenberg at the Hippodrome next Monday night in a ten round bout arrived in camp this morning," reported regional press. "Several local men have seen Dempsey in action…and all [are] united in the prediction that Johnny had better be 'right' when he crawls through the ropes."
It speaks of boxing's burgeoning's status in the United States that there were two gymnasiums in Goldfield capable of staging training. Dempsey worked out at the Unity Club, little more than a middleweight, perhaps not least because of his fifty-mile travail through the desert earlier that week. He boxed a local footnote named Dick Trounce and he may also have boxed some rounds with the world class bantamweight Roy Moore.
Sudenberg, stung by assertions that it was Dempsey, not he, who was the puncher in the fight, bristled and demanded of himself a knockout while training down the street in the Northern Gymnasium.
There is a divergence now between Dempsey's recollection of the fight and the newspaper reporting of the day. Before the fight, although he may have shared a ring with Jack Dempsey, not known for his tender attentions of even much smaller sparring partners, Roy Moore advised his sparring partner to steer clear. "Don't slug with Sudenberg.  He's awful strong. Stay away from him."
Dempsey claims to have dismissed this advice, telling Roger Kahn, author of A Flame of Pure Fire, that the match was a brutal slugfest from the first. Local press though reported on a fight that was marked by cautious sparring early, and that after "feeling each other out" for two rounds that Dempsey dominated, it was Sudenberg who changed the pattern and "owing to the greater height and reach" Dempsey possessed, brought the fight to the inside. A fine battle resulted and one that saw Dempsey descend into total chaos for the first time, a feeling that would become as familiar to him as slipping on a pair of old shoes.
"I just kept swinging. Sometimes I think I saw a face in front of me, sometimes I didn't. I kept swinging."
Dempsey claimed he could remember nothing after the fifth.
A rematch was not immediately slated, but the failure of a potential Sudenberg opponent to deliver on a sidebet let Dempsey back in just days later. Dempsey moved a bit further north with the purses, his second battle with Sudenberg staged in Tonopah. Still years from the three-ringed circus his career would become, there was interest surrounding the young scrapper who trained for the fight in the town's casino. Tonopah was a young but bustling setting, festooned with banks and lawyers and saloons as money poured in from Nevada's second largest silver strike. By 1920 they had pulled $121m out of the ground and Dempsey was there to pull out his own piece.
"A great many were dissatisfied with the decision last Monday," wrote the Tonopah Daily upon the fight's announcement. "Dempsey gave Sudenberg the best fight he has had in this part of the country."
Sudenberg, who seems to have been a prickly character, held the power in his relationship with Dempsey and so clearly backed himself to win a rematch. A fascinating aspect of the fight is their respective sizes. Dempsey was referred to as a middleweight in the earliest dispatches surrounding the fight, but in the ring made an impression upon ringsiders as the bigger man. Taller, rangier, it is possible he was already the heavier of the two or it may be that his trek through the surrounding desert left an early impression of litheness which slipped away as Dempsey, holding cash, boxed and ate his way to a size advantage during the build-up. The Goldfield News described him upon entering the ring for the rematch as looking "more like an overgrown schoolboy than a fighter" as he stepped on the canvas before noting wryly that he "proved otherwise."
The fight quite literally drew from miles around, with "Goldfield well represented at ringside" and "eight to ten auto loads" appearing from nearby mines. Dempsey grabbed their attention early, a man you will recognise, coming out of his corner like a rocket and deploying what the Tonopah Daily Bonanza named "Dempsey's mass attack," presumably an early incarnation of the terrible beating he would inflict upon Jess Willard in Toledo with the world's title at stake. Indeed, Sudenberg does appear to have visited the canvas in that first round, but Dempsey, over-eager, under-seasoned, missed with key punches following up his advantage and the canny Sudenberg survived a round of murderous intent.
Papers also report the use of straight punches by Dempsey, that he preferred range and looked to that superior range to dominate. Early Dempsey contests fascinate me in that they repeatedly throw up this story, of a fighter who at just 6'1 was able to dominate most of the desert's pugs with height and reach. Here he plays the role that would later be played by Willard, Carl Morris and Fred Fulton, longer men trying to control the range while Dempsey tormented them with slips and punches.  Here it was Sudenberg who in the third and fourth seemed to do something of a job, getting inside and hitting to the belly while the two accused each other of low blows.
Dempsey is a victim of some criticism over his own use of low blows, alleged or otherwise, in huge fights with Tommy Gibbons and Jack Sharkey. It should be remembered always that he learned his trade in spots like Tonopah and Goldfield where local referees were not sympathetic to pleas for justice to be dispensed. Dempsey fought like a fistic savage because he was raised as one.
After just four rounds in Tonopah, he was tired, feeling the effects of a difficult month and a fast fight. "Dempsey takes punishment well and ducks cleverly," noted The Bonanza, while The News saw Dempsey holding on a good deal more in the second half of the fight.
By round eight, Sudenberg began to show the effects of Dempsey's right hand which he worked "like a sledgehammer" while Sudenberg "lands heavily on Dempsey's digestive apparatus." At the final bell the two worked one another mercilessly in search of the decision, but they were greeted by a draw.
Under a more modern ruleset I suspect that Dempsey would have received the nod. He crushed Sudenberg in the early part of the fight and more than matched him late, but with the referee acting as a single judge, draws in fights where a winner was not inarguably apparent were common.  Fighters expected it and pressmen expected it, which is perhaps why some of those in attendance saw the result as eminently reasonable. Dempsey clearly landed the better shots, but Sudenberg was rewarded for his gameness in "carrying the fight" a tenet of the era.
Dempsey had impressed though. "In Dempsey, who gives the promise of developing into a heavyweight," stated The News, "there is room for a world of improvement, and with the experience he will gain during the next few years he should make a formidable opponent for any scrapper."
Portentous words.
When Dempsey left Tonopah – history does not record whether he walked out – he was mere days from his twentieth birthday, an overgrown schoolboy appearing on the good end of draws against older, more experienced men, already determined to become heavyweight champion, already of the belief he would become one. History tells of a third fight between he and Sudenberg the following February, a more mature Dempsey thrashing a cowed Sudenberg in two rounds.
I spoke to Dempsey scholar and author of the outstanding In The Ring series, Adam Pollack. "Didn't happen," was his verdict.  "I am certain it didn't take place."
It is nice to have this one cleared up. Dempsey did not need to defeat Sudenberg to leave him behind. Dempsey, like any heavyweight champion has his obsessed fans – among them the men who developed a single thin thread concerning a third Sudenberg match and turned it into a truth that was reported in A Flame of Pure Fire and elsewhere – and obsessed haters, but there is no denying what he did. Irresistible and eternal, people will generate and propagate myths about Jack Dempsey for as long as there is fighting.
This story is about his beginnings – see the single-minded determination that saw him walk fifty miles through a desert? See the legendary fast start in the second fight? The mid-round sag that would lead Jack Johnson to label him a three-round fighter? His bending of the rules? Then again, what of his seeming determination to box against a smaller opponent? This was something he abandoned in time to avoid disaster against geniuses like Tommy Gibbons although it would not be enough to save his weary legs from Gene Tunney's escape.
Dempsey's matches with Sudenberg were his emergence from the desert in more ways than one.  They were where his pursuit in earnest of the world's heavyweight title began. These were his first major steps outside of Salt Lake City where his ambitions were as penned as Sudenberg's were in the desert; the defining series of an emergent Jack Dempsey.
Check out more boxing news on video at the Boxing Channel
To comment on this story in the Fight Forum CLICK HERE
Fast Results from Las Vegas: Shakur Wins a Snoozer; Pedraza Stops Rodriguez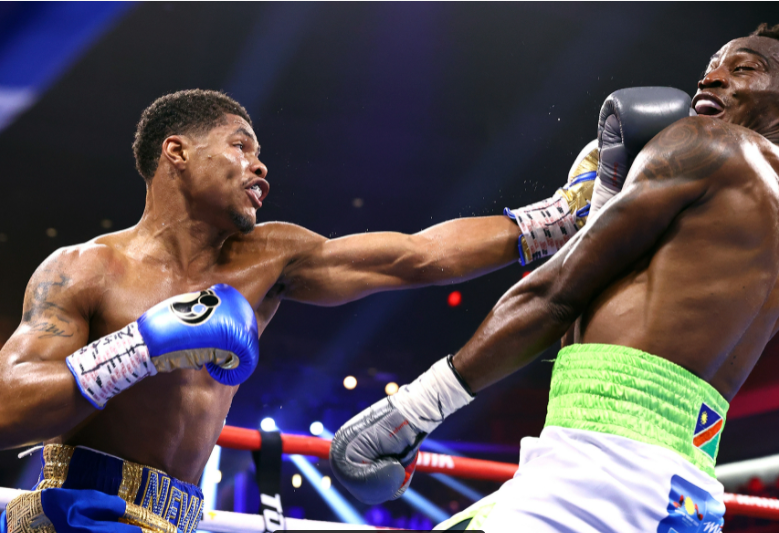 Shakur Stevenson, the 23-year-old Newark native and 2016 Olympic silver medalist, had the distinction of headlining the first of Top Rank's two dozen MGM "Bubble" shows, an event that marked the return of boxing to Las Vegas after a 101-day absence. Tonight, he headlined the first true post-pandemic boxing show in Nevada, the first show that allowed full capacity.
Stevenson was matched against Jeremiah Nakathila at the Virgin Hotels (an awkward plural). A 31-year-old policeman, Nakathila hailed from the same town in Namibia that produced Julius Indongo, fodder for Terence Crawford in 2017.
Indongo lasted into the third round vs Crawford; Nakathila went the distance vs Shakur and lost every round on all three scorecards.
In common with virtually all of Stevenson's former opponents, Nakathila found Shakur almost impossible to hit. But Stevenson respected Nakathila's big right hand and kept the fight at a distance, pot-shotting the Namibian rather than throwing combinations. He knocked Nakathila down in the final seconds of the fourth round with a right hook that landed high on the head, but Nakathila wasn't badly hurt.
Stevenson (16-0, 8 KOs) pitched a shutout but yet lost luster in a monotonous fight. This was the U.S. debut for Nakathila (21-2) who had won 10 straight, all inside the distance, since traveling to Ekaterinburg, Russia, and losing a majority decision in a 12-round fight with a local man.
Shakur is expected to fight WBO 130-pound champion Jamel Herring next but also has his eye on Oscar Valdez. A match against Herring wouldn't get the juices flowing, but Valdez may bring out the best in him.
Co-Feature
Junior welterweight Julian Rodriguez stepped up in class and suffered his first pro defeat at the hands of Puerto Rican veteran Jose "Sniper" Pedraza. Rodriguez's corner stopped the fight after nine rounds owing to severe swelling over both of Rodriguez's eyes.
Pedraza switched from southpaw to orthodox effectively while repeatedly peppering his opponent with an effective jab. New Jersey's Rodriguez entered the contest 21-0. Pedraza, a 2008 Olympian and former 130-pound world title-holder, improved to 29-3 with his 14th knockout.
Other Bouts
In a mild upset, Dallas junior lightweight Manuel Rey Rojas (21-5, 6 KOs) won a unanimous 8-round decision over Toledo's Tyler McCreary (16-2-1). McCreary, who had a strong amateur background, was making his first appearance since being widely outpointed by Carl Frampton in November of 2019. The judges had it 79-73 and 80-72 twice.
Welterweight John Bauza, in his first outing since joining David McWater's stable, had a laugher vs. Houston's Christon Edwards who left his corner without his mouthpiece and likely would have been easy meat without this oversight. Bauza knocked him down three times before the bout was halted at the 0:40 mark of round two. From North Bergen, New Jersey via Puerto Rico, Bauza (15-0, 6 KOs) was purportedly 178-8 as an amateur. Edwards (12-3) entered the contest riding a 6-fight winning streak.
Welterweight Xander Zayas, an 18-year-old rising star from Sunrise, Florida, via San Juan, improved to 9-0 (7) with a third-round stoppage of Larry Fryers (11-4). As a pro, Zayas has answered the bell for only 21 rounds. It was the third straight loss for Fryers, originally from Clones, Ireland, who was making his first start with new trainer Wayne McCullough.
In his final fight before the Tokyo Summer Olympics, middleweight Troy Isley (2-0, 2 KOs) scored a fourth-round stoppage of Philadelphia's LaQuan Evans (4-2). Evans was losing but didn't appear hurt when referee Russell Mora waived it off with 34 seconds to go in the fourth and final round.
Photo credit: Miket Williams / Top Rank via Getty Images
Check out more boxing news on video at the Boxing Channel
To comment on this story in the Fight Forum CLICK HERE
Marco Antonio Barrera and More at the First SoCal Club Show in More Than a Year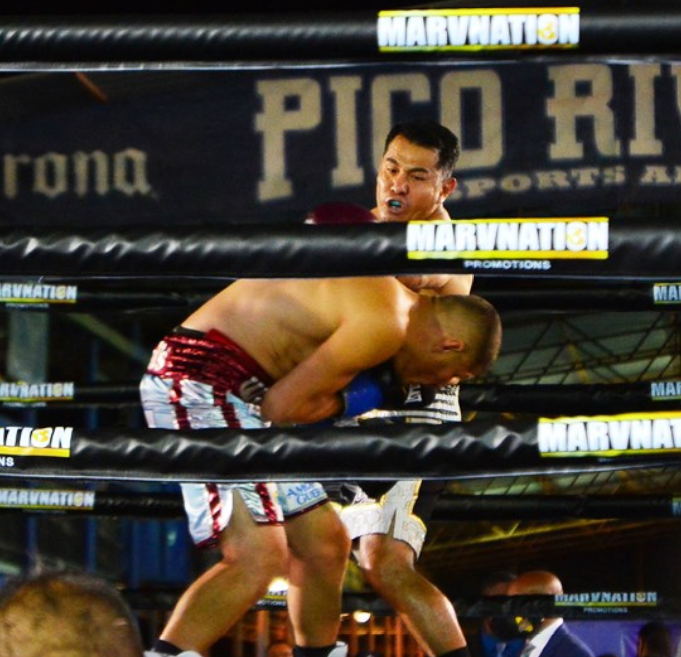 RINGSIDE REPORT by special correspondent Tarrah Zael — MarvNation Promotions hosted "Return of the Legends" on Friday, June 11, at the Pico Rivera Sports Arena in Whittier, CA. Along with a pro card, there was an exhibition featuring the legendary Mexican warrior Marco Antonio Barrera.
It was the first club show in more than a year in Southern California. Local celebrities eager to watch live boxing were everywhere.
In what seems to be a trend of former boxers entering the ring after their retirement, the "Baby-faced Assassin" Marco Antonio Barrera (67-7, 44 KOs) boxed with retired brawler Jesus Soto Karass (29-13-4, 18 KOs) in a six-round bout with two-minute rounds. It was Barrera's first fight in a decade. He last fought in 2011 when he TKOed Jose Arias in the second round. This win came not too long after a bloody defeat from the heavy puncher Amir Khan, leaving Barrera fans worried that he may have lost his fire.
Soto Karass's last fight saw him win a majority decision over undefeated Neeco Macias in a 10-round super welterweight contest in 2018. The win would be his first in five years and last of his professional career. But he was competitive in virtually all of his defeats.
Barrera and Soto Karass battled with big 16-ounce gloves in an exhibition with no judges. The 47-year-old, former three-division world champion Barrera landed multiple hooks upon the former title challenger 38-year-old Soto Karass. The living legend had fun and the two hugged at the finish of what looked like a sparring session.
The exhibition was the main event. When it was over, boxing legends Antonio Margarito and Erik Morales entered the ring for pictures and conversation. Marco Antonio Barrera and Morales had a well-known trilogy and hope to continue their rivalry next month with an exhibition in Dallas.
Pro Bouts
In the co-main event, upcoming Pico Rivera boxing star Angel "El Moreno" Rodriguez (9-0, 6 KO) returned to the ring after a long pause from the 2020 pandemic in a six-round lightweight bout against southpaw Bergman Aguilar (15-8-1, 5 KOs).
In the early rounds, Rodriguez unloaded a flurry of body shots upon Aguilar, a Costa Rica native, causing him to take a knee. There wasn't much coming back from Aguilar and when Rodriguez connected with a power shot in the second round, Aguilar took a knee again and stayed down for a count of "7."
In the third round, Rodriguez invited his opponent to come into his range and Aguilar took the bait. Once there, Rodriguez unloaded hard power shots upon the body of Aguilar and down to his knee he went once again. Referee Ray Corona counted to seven and allowed the Costa Rican to continue as he did not look badly hurt. But when it happened yet again, Corona did not fall for his antics and called the fight off. It ended at the 1:40 mark of round three, a KO win for Rodriguez who retained his undefeated record.
Undercard
Two heavy hitting super welterweights fought to a bloody majority draw in the fight before the co-main event. Diego Padilla (1-2-1) of South-Central Los Angeles and Oleg Zumenko (3-1-1) representing the country of Ukraine laid into each other all four rounds.
In the first round, Padilla going forward delivered wide punches and uppercuts while Zumenko chose to study his opponent. But after being dropped by an uppercut, studying by the Ukraine fighter was over. A hard right cross by Zumenko slowed down the Los Angeles fighter and we saw an almost even amount of power shots from both brawlers that continued until the end of the fight. Padilla switched his stance multiple times to offset his opponent but that did not stop the Ukrainian from moving into his line of fire. Judge Ron Stevens scored the bout 40-36, but Max DeLuca and Damian Walton both had it 38-38.
Long Beach native Tyrell "Dirty Left" Washington (3-0, 3 KO) knocked down Nebraska's Ginno Montoya (0-4) with a three-punch combination in the opening round of a scheduled four-round welterweight bout and referee Raul Caiz Jr. halted it at only 1:19 of the first.
Houston featherweight Adrian Leyva (2-2) won a four-round decision over Pablo "Bam Bam" Meglar (4-1-1, 3 KO) of South-Central Los Angeles. Although Meglar landed some good combinations and showed a lot of heart, the Texan was the sharper, more technical fighter. One judge scored the bout 39-37 and the others had it 40-36 for Leyva.
Other Fights
 Michael Land (1-2-1) of Houston, Texas and South-Central Los Angeles' Oliver Galicia (3-0-1, 3 KO) fought to a draw in a four-round super featherweight fight. All three judges had it 37-37.
The opening fight of the show, a scheduled 4-round lightweight clash between Mexico native Braulio Avila (3-9, 1 KO) and Honduras resident Cris Reyes (10-0, 9 KO), ended after two rounds. Reyes stayed calm, cool and calculated against the wild-swinging Avila and sent him to the canvas for an 8-count in the second round with a left hook to the chin. Avila didn't come out for the third.
Celebrity Watch
Besides Erik Morales and Antonio Margarito, others in attendance included Tattoo, Big Boy, LA County Sheriff Alex Villanueva, Tom Loeffler, Roberto Diaz, and DJ Ray.
Photo credit: Al Applerose
Check out more boxing news on video at the Boxing Channel
To comment on this story in the Fight Forum CLICK HERE
Boxing Odds and Ends: Fury-Wilder III Particulars, Kirkland Laing and More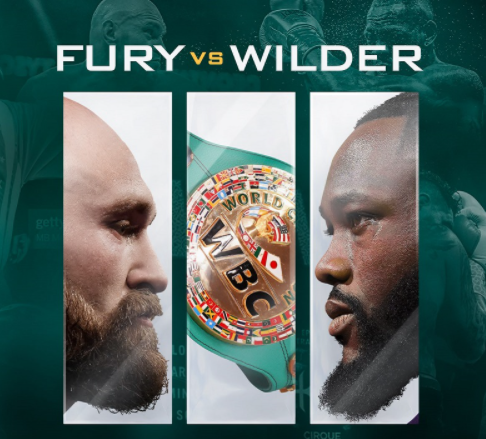 The third fight between Tyson Fury and Deontay Wilder will be staged at the T-Mobile Arena in Las Vegas on July 24. The pre-fight hoopla kicks off on Tuesday at a press conference in Los Angeles.
The date was no secret. Co-promoter Bob Arum had circled it even before an arbitrator ruled that a unification fight between Fury and Anthony Joshua could not jump the queue. It was Team Fury's Plan B. But speculation about the venue had centered around two other properties in Las Vegas: Allegiant Stadium and the MGM Grand Garden Arena.
It will be the eighth boxing card in the five-year history of the T-Mobile. The benchmark, attendance-wise, was set on Sept. 16, 2017, when Canelo Alvarez opposed Gennady Golovkin in the first of their two encounters. The event attracted an announced crowd of 22,358 (17,318 paid).
Top Rank promoter Bob Arum notes that the T-Mobile is superior to the MGM Grand in that the operators of rival casinos are more willing to purchase tickets for their best customers. The T-Mobile sits on MGM property behind New York-New York and is half-owned by the MGM (the other half is owned by the Anschutz Entertainment Group which owns arenas around the world including LA's Staples Center and the O2 Arena in London) but yet is considered neutral territory in that it isn't attached to a casino. Casino operators have always been skittish about sending their best customers to an event at a rival property for fear they will be wooed away.
There are no plans to hold press conferences in other cities before the final press conference in Las Vegas. London is out because of Covid restrictions and Arum believes that a conference in New York would be superfluous as that would be redundant.
Arum orchestrated the most dappled (and most frenetic) press tour in boxing. Marvin Hagler and Thomas Hearns, traveling in separate Gulfstream jets, covered 21 cities in 12 days to hype their April 15, 1985 clash at Caesars Palace.
"There was no internet in those days," says Arum. He did not need to elaborate. Press conferences nowadays are live-streamed and people around the world can tune in. Reporters for traditional newspapers, whose ranks have been thinned, are no longer an indispensable conduit for selling a fight.
Kirkland Laing
The late Harry Mullan, who served 19 years as the editor of British Boxing News, had a grand opinion of Kirkland Laing. "He is the most technically gifted boxer I've ever seen, a genius in an odd sort of way," wrote Mullan of Laing who defeated Roberto Duran and was a three-time British welterweight champion, but would be best remembered for squandering his talent. Born in Jamaica and raised in Nottingham, Laing died on Wednesday, June 9, at age 66.
Laing, who often wore dreadlocks, was quite a character. Lore has it that he once adamantly denied using weed to an interviewer while forgetting that he had a joint tucked behind his ear. He purportedly fought most of his fights while stoned.
Laing brought a 23-3-1 record into his date with Duran on Sept. 4, 1982 at Detroit's Cobo Hall. The first two losses were incurred in domestic title fights with Colin Jones who stopped him in the ninth round on both occasions.
Laing won a split decision but there was no controversy. The consensus among ringside scribes was that Laing won seven of the 10 rounds. He was too quick for the Panamanian tough guy. The Ring magazine named it the Upset of the Year.
This was Duran's third loss in his last five fights. Reporters, by and large, wrote him off as finished. Needless to say, that appraisal was premature as Pipino Cuevas, Davey Moore, and Iran Barkley would attest.
A year would elapse before Kirkland Laing entered the ring again. For a long stretch during this lacuna, his whereabouts were unknown. His manager Mickey Duff could not find him.
Laing returned on Sept. 10, 1983 in Atlantic City. In the opposite corner was Fred Hutchings, a fighter from Stockton, California with a 22-1 record. Hutchings blasted him out in the 10th round. The last punch landed with such force, said the correspondent for a New Jersey paper, that Laing "fell over backward, his head crashing to the canvas with a loud thud." Referee Frank Cappuccino started his count but waived the fight off when he reached "6."
Laing went on to recapture the British welterweight title, but he never fought in the U.S. again. He left the sport with a record of 43-12-1. He scored 24 knockouts and was stopped eight times.
Within months after his final fight in 1994, Laing and his partner Paula Chen who was carrying his child, were reportedly living on the dole. In December of 2001, he was arrested during a massive sweep of East London crack dens. In 2013, he almost died after he fell or was pushed from a fourth-floor balcony. He was then living in a flat in a council estate (i.e., government subsidized housing) in the London borough of Hackney. At the time of his death, he was said to be residing in a nursing home in Yorkshire.
Kirkland Laing was always eccentric, but some of his aberrant behavior may have been a residue of his bout with Fred Hutchings. He was taken to the hospital with a concussion and remained there for four days. His cause of death has not been disclosed.
Sky
Ever the opportunist, Bob Arum was quick to reach out to the honchos at Sky Sport which was left in the lurch when Matchroom's Eddie Hearn jumped ship, giving DAZN an exclusive. Great Britain's premier sports channel, Sky needed a new content provider.
Josh Taylor, the fighting pride of Scotland, recently took Sky to task for failing to pick up his recent fight with Jose Ramirez. That was an egregious oversight on the part of Sky – the network missed out on a whizbang fight that produced a result that will live long in British boxing lore – and Arum allows that Sky executives may have been somewhat embarrassed, making them more receptive to his proposal.
The Sky/Top Rank partnership begins immediately with Saturday's card in Las Vegas headlined by the match between Shakur Stevenson and Namibia's obscure Jeremiah Nakathila.
Check out more boxing news on video at the Boxing Channel
To comment on this story in the Fight Forum CLICK HERE