From the Desert, Jack Dempsey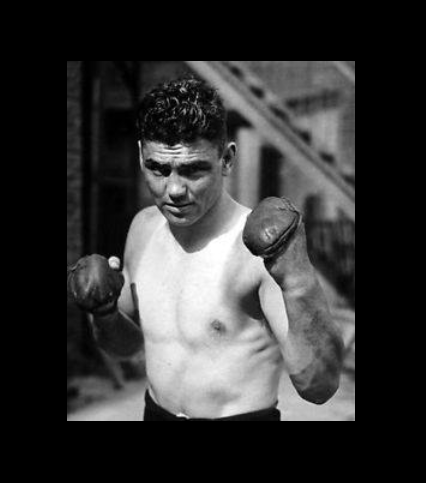 Jack Dempsey, who has been matched by Jack Goodfriend to fight at the Hippodrome Monday, May 31 is expected to arrive from Reno within a day or two.  The match will be a ten round contest and preceded by a couple of good preliminaries. (The Goldfield News, May 22nd, 1915.)
In May of 1915 Jack Dempsey found himself trapped in Nevada and between purses. Fifty miles from his payday with no rail to ride, he walked out of the desert and into Goldfield, stuck the bewildered promoter for an advance and hired a sparring partner, knocked the sparring partner out and hired another.
Walking in ninety-five-degree weather can be dangerous for even an experienced athlete, but it seemed to agree with Jack. He had marched into Goldfield to meet a light-heavyweight named Johnny Sudenberg, a game but limited battler who had for the first time strung a decent run of wins together, all of them fought in the desert Dempsey travailed on foot. Dempsey had scored a series of knockout wins in Salt Lake City, enough that his name was known and interest in his proposed match with the local man stoked.
"Jack Dempsey, the husky Pueblo middleweight, who will meet Johnny Sudenberg at the Hippodrome next Monday night in a ten round bout arrived in camp this morning," reported regional press. "Several local men have seen Dempsey in action…and all [are] united in the prediction that Johnny had better be 'right' when he crawls through the ropes."
It speaks of boxing's burgeoning's status in the United States that there were two gymnasiums in Goldfield capable of staging training. Dempsey worked out at the Unity Club, little more than a middleweight, perhaps not least because of his fifty-mile travail through the desert earlier that week. He boxed a local footnote named Dick Trounce and he may also have boxed some rounds with the world class bantamweight Roy Moore.
Sudenberg, stung by assertions that it was Dempsey, not he, who was the puncher in the fight, bristled and demanded of himself a knockout while training down the street in the Northern Gymnasium.
There is a divergence now between Dempsey's recollection of the fight and the newspaper reporting of the day. Before the fight, although he may have shared a ring with Jack Dempsey, not known for his tender attentions of even much smaller sparring partners, Roy Moore advised his sparring partner to steer clear. "Don't slug with Sudenberg.  He's awful strong. Stay away from him."
Dempsey claims to have dismissed this advice, telling Roger Kahn, author of A Flame of Pure Fire, that the match was a brutal slugfest from the first. Local press though reported on a fight that was marked by cautious sparring early, and that after "feeling each other out" for two rounds that Dempsey dominated, it was Sudenberg who changed the pattern and "owing to the greater height and reach" Dempsey possessed, brought the fight to the inside. A fine battle resulted and one that saw Dempsey descend into total chaos for the first time, a feeling that would become as familiar to him as slipping on a pair of old shoes.
"I just kept swinging. Sometimes I think I saw a face in front of me, sometimes I didn't. I kept swinging."
Dempsey claimed he could remember nothing after the fifth.
A rematch was not immediately slated, but the failure of a potential Sudenberg opponent to deliver on a sidebet let Dempsey back in just days later. Dempsey moved a bit further north with the purses, his second battle with Sudenberg staged in Tonopah. Still years from the three-ringed circus his career would become, there was interest surrounding the young scrapper who trained for the fight in the town's casino. Tonopah was a young but bustling setting, festooned with banks and lawyers and saloons as money poured in from Nevada's second largest silver strike. By 1920 they had pulled $121m out of the ground and Dempsey was there to pull out his own piece.
"A great many were dissatisfied with the decision last Monday," wrote the Tonopah Daily upon the fight's announcement. "Dempsey gave Sudenberg the best fight he has had in this part of the country."
Sudenberg, who seems to have been a prickly character, held the power in his relationship with Dempsey and so clearly backed himself to win a rematch. A fascinating aspect of the fight is their respective sizes. Dempsey was referred to as a middleweight in the earliest dispatches surrounding the fight, but in the ring made an impression upon ringsiders as the bigger man. Taller, rangier, it is possible he was already the heavier of the two or it may be that his trek through the surrounding desert left an early impression of litheness which slipped away as Dempsey, holding cash, boxed and ate his way to a size advantage during the build-up. The Goldfield News described him upon entering the ring for the rematch as looking "more like an overgrown schoolboy than a fighter" as he stepped on the canvas before noting wryly that he "proved otherwise."
The fight quite literally drew from miles around, with "Goldfield well represented at ringside" and "eight to ten auto loads" appearing from nearby mines. Dempsey grabbed their attention early, a man you will recognise, coming out of his corner like a rocket and deploying what the Tonopah Daily Bonanza named "Dempsey's mass attack," presumably an early incarnation of the terrible beating he would inflict upon Jess Willard in Toledo with the world's title at stake. Indeed, Sudenberg does appear to have visited the canvas in that first round, but Dempsey, over-eager, under-seasoned, missed with key punches following up his advantage and the canny Sudenberg survived a round of murderous intent.
Papers also report the use of straight punches by Dempsey, that he preferred range and looked to that superior range to dominate. Early Dempsey contests fascinate me in that they repeatedly throw up this story, of a fighter who at just 6'1 was able to dominate most of the desert's pugs with height and reach. Here he plays the role that would later be played by Willard, Carl Morris and Fred Fulton, longer men trying to control the range while Dempsey tormented them with slips and punches.  Here it was Sudenberg who in the third and fourth seemed to do something of a job, getting inside and hitting to the belly while the two accused each other of low blows.
Dempsey is a victim of some criticism over his own use of low blows, alleged or otherwise, in huge fights with Tommy Gibbons and Jack Sharkey. It should be remembered always that he learned his trade in spots like Tonopah and Goldfield where local referees were not sympathetic to pleas for justice to be dispensed. Dempsey fought like a fistic savage because he was raised as one.
After just four rounds in Tonopah, he was tired, feeling the effects of a difficult month and a fast fight. "Dempsey takes punishment well and ducks cleverly," noted The Bonanza, while The News saw Dempsey holding on a good deal more in the second half of the fight.
By round eight, Sudenberg began to show the effects of Dempsey's right hand which he worked "like a sledgehammer" while Sudenberg "lands heavily on Dempsey's digestive apparatus." At the final bell the two worked one another mercilessly in search of the decision, but they were greeted by a draw.
Under a more modern ruleset I suspect that Dempsey would have received the nod. He crushed Sudenberg in the early part of the fight and more than matched him late, but with the referee acting as a single judge, draws in fights where a winner was not inarguably apparent were common.  Fighters expected it and pressmen expected it, which is perhaps why some of those in attendance saw the result as eminently reasonable. Dempsey clearly landed the better shots, but Sudenberg was rewarded for his gameness in "carrying the fight" a tenet of the era.
Dempsey had impressed though. "In Dempsey, who gives the promise of developing into a heavyweight," stated The News, "there is room for a world of improvement, and with the experience he will gain during the next few years he should make a formidable opponent for any scrapper."
Portentous words.
When Dempsey left Tonopah – history does not record whether he walked out – he was mere days from his twentieth birthday, an overgrown schoolboy appearing on the good end of draws against older, more experienced men, already determined to become heavyweight champion, already of the belief he would become one. History tells of a third fight between he and Sudenberg the following February, a more mature Dempsey thrashing a cowed Sudenberg in two rounds.
I spoke to Dempsey scholar and author of the outstanding In The Ring series, Adam Pollack. "Didn't happen," was his verdict.  "I am certain it didn't take place."
It is nice to have this one cleared up. Dempsey did not need to defeat Sudenberg to leave him behind. Dempsey, like any heavyweight champion has his obsessed fans – among them the men who developed a single thin thread concerning a third Sudenberg match and turned it into a truth that was reported in A Flame of Pure Fire and elsewhere – and obsessed haters, but there is no denying what he did. Irresistible and eternal, people will generate and propagate myths about Jack Dempsey for as long as there is fighting.
This story is about his beginnings – see the single-minded determination that saw him walk fifty miles through a desert? See the legendary fast start in the second fight? The mid-round sag that would lead Jack Johnson to label him a three-round fighter? His bending of the rules? Then again, what of his seeming determination to box against a smaller opponent? This was something he abandoned in time to avoid disaster against geniuses like Tommy Gibbons although it would not be enough to save his weary legs from Gene Tunney's escape.
Dempsey's matches with Sudenberg were his emergence from the desert in more ways than one.  They were where his pursuit in earnest of the world's heavyweight title began. These were his first major steps outside of Salt Lake City where his ambitions were as penned as Sudenberg's were in the desert; the defining series of an emergent Jack Dempsey.
Check out more boxing news on video at the Boxing Channel
To comment on this story in the Fight Forum CLICK HERE
Mercito Gesta Victorious Over Jojo Diaz at the Long Beach Pyramid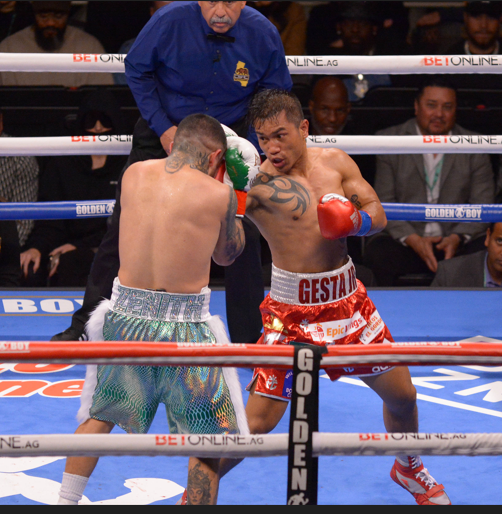 LONG BEACH, CA.-Those in the know knew Mercito Gesta and Jojo Diaz would be a fight to watch and they delivered.
Gesta emerged the winner in a super lightweight clash between southpaws that saw the judges favor his busier style over Diaz's body attack and bigger shots and win by split decision on Saturday.
Despite losing the main event because the star was overweight, Gesta (34-3-3, 17 KOs) used an outside method of tactic to edge past former world champion Diaz (32-4-1, 15 KOs) in front of more than 5,000 fans at the Pyramid.
The speedy Gesta opened up the fight with combination punching up and down against the peek-a-boo style of Diaz. For the first two rounds the San Diego fighter overwhelmed Diaz though none of the blows were impactful.
In the third round Diaz finally began unloading his own combinations and displaying the fast hands that helped him win world titles in two divisions. Gesta seemed stunned by the blows, but his chin held up. The counter right hook was Diaz's best weapon and snapped Gesta's head back several times.
Gesta regained control in the fifth round after absorbing big blows from Diaz. He seemed to get angry that he was hurt and opened up with even more blows to send Diaz backpedaling.
Diaz targeted his attack to Gesta's body and that seemed to slow down Gesta. But only for a round.
From the seventh until the 10th each fighter tried to impose their style with Gesta opening up with fast flurries and Diaz using right hooks to connect with solid shots. They continued their method of attack until the final bell. All that mattered was what the judges preferred.
After 10 rounds one judge saw Diaz the winner 97-93 but two others saw Gesta the winner 99-91, 98-92. It was a close and interesting fight.
"I was expecting nothing. I was the victor in this fight and we gave a good fight," said Gesta. "It's not an easy fight and Jojo gave his best."
Diaz was surprised by the outcome but accepted the verdict.
Everything was going good. I thought I was landing good body shots," said Diaz. "I was pretty comfortable."
Other Bouts
Mexico's Oscar Duarte (25-1-1, 20 KOs) knocked out Chicago's Alex Martin (18-5, 6 KOs) with a counter right hand after dropping him earlier in the fourth round. The super lightweight fight was stopped at 1:14 of the round.
A battle between undefeated super welterweights saw Florida's Eric Tudor (8-0, 6 KOs) emerge the winner by unanimous decision after eight rounds versus Oakland's Damoni Cato-Cain.
The taller Tudor showed polished skill and was not bothered by a large cut on his forehead caused by an accidental clash of heads. He used his jab and lead rights to defuse the attacks of the quick-fisted southpaw Cato-Cain. The judges scored the fight 80-72 and 78-74 twice for Tudor.
San Diego's Jorge Chavez (5-0, 4 KOs) needed less than one round to figure out Nicaragua's Bryan Perez (12-17-1, 11 KOs) and send him into dreamland with a three-punch combination. No need to count as referee Ray Corona waved the fight over. Perez shot a vicious right followed by another right and then a see-you-later left hook at 3.00 of the first round of the super featherweight match.
Photo credit: Al Applerose
Jojo Diaz's Slump Continues; Mercito Gesta Prevails on a Split Decision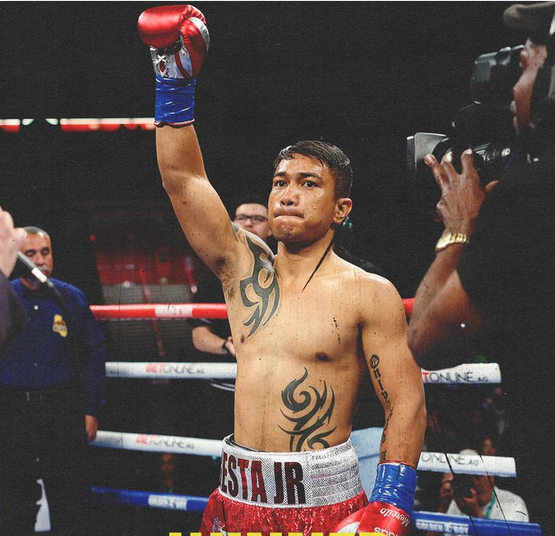 At age 30, Jojo Diaz's career is on the skids. The 2012 U.S. Olympian, a former world title holder at 126 and 130 pounds and an interim title holder at 135, Diaz suffered his third straight loss tonight, upset by Mercito Gesta who won a split decision at the Walter Pyramid in Long Beach, CA.. The scoring was strange with Gesta winning nine of the 10 rounds on one of the cards and only three rounds on another. The tie-breaker, as it were, was a 98-92 tally for Gesta and even that didn't capture the flavor of what was a closely-contested fight.
Originally listed as a 12-rounder, the match was reduced to 10 and that, it turned out, did Diaz no favors. However, it's hard to feel sorry for the former Olympian as he came in overweight once again, having lost his 130-pound title on the scales in February of 2021.
Diaz also has issues outside the ropes. Best elucidated by prominent boxing writer Jake Donovan, they include a cluster of legal problems stemming from an arrest for drunk driving on Feb. 27 in the LA suburb of Claremont.
With the defeat, Diaz's ledger declined to 32-4-1. His prior losses came at the hands of Gary Russell Jr, Devin Haney, and William Zepeda, boxers who are collectively 83-2. Mercito Gesta, a 35-year-old San Diego-based Filipino, improved to 34-3-3.
Co-Feature
Chihuahua, Mexico super lightweight Oscar Duarte has now won nine straight inside the distance after stopping 33-year-old Chicago southpaw Alex Martin in the eighth frame. Duarte, the busier fighter, had Martin on the deck twice in round eight before the fight was waived off.
Duarte improved to 25-1-1 (20). Martin, who reportedly won six national titles as an amateur and was once looked upon as a promising prospect, declined to 18-5.
Other Bouts of Note
New Golden Boy signee Eric Tudor, a 21-year-old super welterweight from Fort Lauderdale, overcame a bad laceration over his right eye, the result of an accidental clash of heads in round four, to stay unbeaten, advancing to 8-0 (6) with a hard-fought unanimous 8-round decision over Oakland's Damoni Cato-Cain. The judges had it 80-72 and 78-74 twice. It was the first pro loss for Cato-Cain (7-1-1) who had his first five fights in Tijuana.
In the DAZN opener, lanky Hawaian lightweight Dalis Kaleiopu went the distance for the first time in his young career, improving to 4-0 (3) with a unanimous decision over 36-year-old Colombian trial horse Jonathan Perez (40-35). The scores were 60-52 across the board. There were no knockdowns, but Perez, who gave up almost six inches in height, had a point deducted for a rabbit punch and another point for deducted for holding.
To comment on this story in the Fight Forum CLICK HERE
'Big Baby' Wins the Battle of Behemoths; TKOs 'Big Daddy' in 6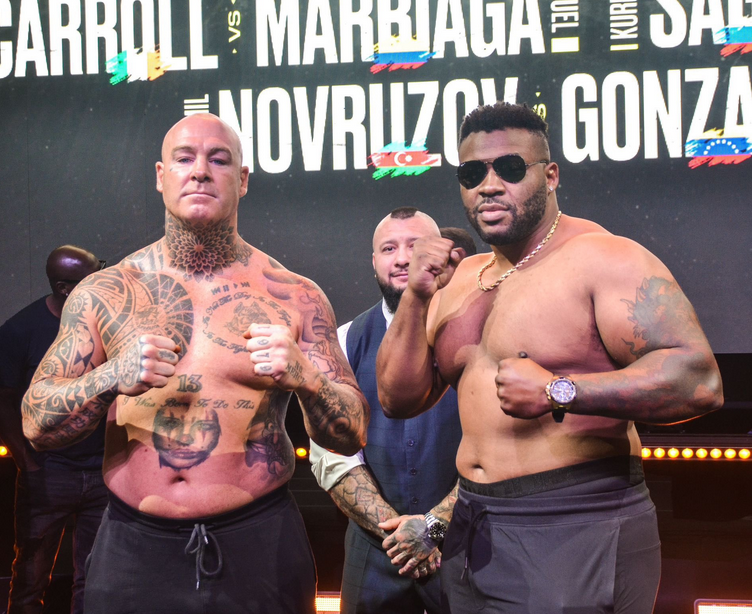 Lucas "Big Daddy" Browne weighed in at a career-high 277 pounds for today's battle in Dubai with Jarrell "Big Baby" Miller, but he was the lighter man by 56 pounds. It figured that one or both would gas out if the bout lasted more than a few stanzas.
It was a war of attrition with both men looking exhausted at times, and when the end came it was Miller, at age 34 the younger man by nine years, who had his hand raised.
Browne was the busier man, but Miller, whose physique invites comparison with a rhinoceros, hardly blinked as he was tattooed with an assortment of punches. He hurt 'Bid Daddy' in round four, but the Aussie held his own in the next frame, perhaps even forging ahead on the cards, but only postponing the inevitable.
In round six, a succession of right hands knocked Browne on the seat of his pants. He beat the count, but another barrage from Miller impelled the referee to intervene. The official time was 2:33. It was the 21st straight win for Miller (26-0-1, 22 KOs). Browne declined to 31-4 and, for his own sake, ought not fight again. All four of his losses have come inside the distance, some brutally.
The consensus of those that caught the livestream was that Floyd Mayweather Jr's commentary was an annoying distraction that marred what was otherwise an entertaining show.
As for what's next for "Big Baby" Miller, that's hard to decipher as he has burned his bridges with the sport's most powerful promoters. One possibility is Mahmoud Charr who, like Miller, has a big gap in his boxing timeline. Now 38 years old, Charr – who has a tenuous claim on a WBA world title (don't we all?) —  has reportedly taken up residence in Dubai.
Other Bouts of Note
In a 10-round cruiserweight affair, Suslan Asbarov, a 30-year-old Russian, advanced to 4-0 (1) with a hard-fought majority decision over Brandon Glanton. The judges had it 98-92, 97-93, and a more reasonable 95-95.
Asbarov was 12-9 in documented amateur fights and 1-0 in a sanctioned bare-knuckle fight, all in Moscow, entering this match. He bears watching, however, as Glanton (18-2) would be a tough out for almost anyone in his weight class. In his previous fight, at Plant City, Florida, Glanton lost a controversial decision to David Light, an undefeated Australian who challenges WBO world title-holder Lawrence Okolie at Manchester, England next week.
A 10-round super featherweight match between former world title challengers Jono Carroll and Miguel Marriaga preceded the semi-windup. Carroll, a 30-year-old Dublin southpaw, overcame a cut over his left eye suffered in the second round to win a wide unanimous decision in a fairly entertaining fight.
It was the sixth straight win for Carroll (24-2-1, 7 KOs) who elevated his game after serving as a sparring partner for Devin Haney. Marriaga, a 36-year-old Colombian, lost for the fourth time in his last five outings, declining to 30-7.
To comment on this story in the Fight Forum CLICK HERE