Devin Haney and the Second Coming of the Four Kings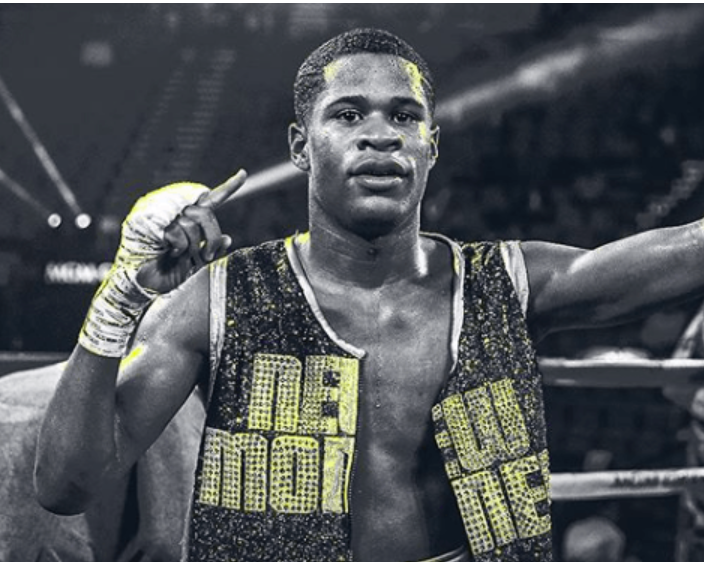 Matchroom Boxing honcho Eddie Hearn has confirmed that Devin Haney will meet Jorge Linares on May 15 at a venue to be determined (undoubtedly somewhere where Covid restrictions have been relaxed).
At stake will be Haney's piece of the WBC's fractured 135-pound world title, but more relevantly it will move the 22-year-old phenom a step closer to a potential mega-fight with one of the other young guns in the division – Teofimo Lopez, Ryan Garcia, or Gervonta Davis.
Yes, that's putting the cart before the horse. First Haney (25-0, 15 KOs) must get by Linares which on paper is no "gimme." Linares (47-5, 29 KOs) is a former three-division world title-holder and it wasn't long ago that the Venezuelan globetrotter gave Vasiliy Lomachenko some anxious moments before succumbing in the 10th round. But Linares is now 35 years old and many years have elapsed since he was drawing comparisons to Nicaraguan boxing legend Alexis Arguello.
Haney, Lopez, Garcia, and Davis are collectively 76-0 and each is at roughly the same stage of his career. Gervonta Davis is the old man of the bunch. He's 26. Haney is the baby, having turned 22 this past November. But Devin is also the most experienced, having turned pro in Mexico at age 17.
During the 1980s, Marvin Hagler, Sugar Ray Leonard, Thomas Hearns, and Roberto Duran enlivened the sport, fighting each other in what amounted to a round-robin, nine fights in all fought across four weight divisions. Looking back 20-odd years later, the late Boston Herald (and TSS) columnist George Kimball dubbed them the Four Kings, a name that would stick.
It seems inevitable that Haney, Lopez, Garcia, and Davis will cross paths with each other before their careers are finished. More than one writer has dubbed the quartet the new Four Kings.
Watching Haney spar and work the bags at Bones Adams gym, his athleticism is immediately apparent. His body language is that of a professional football or basketball player. "I played running back and defensive back when I was a kid and I was very good at it," says Haney, "but by the time I was eight years old, I knew what I wanted to be, a world champion boxer." And so, Haney, with the encouragement of his father and coach, Bill Haney, put all of his eggs in one basket. Devin wasn't yet in middle school when the Haneys pulled up stakes in Oakland and made Las Vegas their primary residence. There is no better place to nurture an aspiring world champion.
As an amateur, Haney won a slew of national tournaments beginning at age 13 when he weighed 106 pounds. Among his coaches was Floyd Mayweather Sr, who pronounced Devin his best prospect since "Little Floyd." Nevada has a rule that a boxer must be 18 years old to turn pro, but the state athletic commission under its current head Bob Bennett softened the rule, allowing exceptions when there are "special circumstances." Haney passed muster and made his first stateside appearance seven months before he turned 18 in a 4-round bout on the undercard of Pacquaio-Bradley II at the MGM Grand in Las Vegas.
Haney and his fellow "kings" have traded barbs on social media. Devin has sparred with Teofimo and Gervonta and he and Ryan Garcia have a history. They fought six times as amateurs (only four have found their way into BoxRec) and the series ended at 3-3.
Some of the trash talk has gotten ugly. Trash talk in boxing has a harder edge to it than trash talk in other sports. Boxing promoters like it that way. When pressed, however, Haney concedes that he respects the other fighters in his "kingdom." Nor does he bear any ill will toward Tim Bradley although Bradley ruffled his feathers when he said that Haney didn't earn his belt but had it handed to him by the WBC which elevated him from the interim title-holder to the regular title-holder when the organization designated Vasiliy Lomachenko its "franchise champion."
Bradley also said that Devin had yet to fight a world-class opponent. That was rather harsh as although Devin's most recent opponent Yuriorkis Gamboa was well past his prime, he was certainly no slouch. Fighting in Gamboa's backyard in Hollywood, Florida, Haney pitched a near-shutout, winning all 12 rounds on two of the cards despite fighting much of the bout with a fractured thumb on his right hand.
Bill Haney recently announced that he was stepping aside as his son's lead trainer so that he could focus more time on business matters and on raising his two younger children, an 11-year-old-son and a 6-year-old daughter. However, going forward Devin expects his dad to continue to be the main man in his corner on fight nights.
Other trainers have always had input into molding Haney into the fighting machine that he has become. There were several coaches there on Tuesday as we watched him go through his paces. Among those observing closely and proffering advice as Haney floated around the ring, hitting the pads with Kevin Henry and then Mickey Bey, was the sprightly octogenarian Thell Torrence, a disciple of the late Eddie Futch. In his California days, Torrence was the chief trainer of Ken Norton, among others.
A common lament among boxing coaches – a lament heard in every generation — is that kids nowadays are hard to teach because they think they already know everything. What struck this reporter watching Haney's workout was how open he was to instruction. He soaked it all in, seemingly aware that at age 22 he hadn't come close to reaching his peak. When he reaches it, he will likely be one or two weight classes up from where he is now, and that will likely be true also of the other young guns currently residing in his pod.
They say that too many cooks can spoil the broth, but when it comes to boxing the Haneys would disagree. Asked who he patterned himself after, Devin said "no one, I'm unique," and he didn't say it in an arrogant way but as way of saying that he's been introduced to so many styles of boxing that he is something of a chameleon, able to summon up whatever style works best depending on the situation.
In our conversation, Haney gave a "shout out" to Oscar Valdez whose recent upset of Miguel Berchelt had the boxing world buzzing. Haney hopes to make the same impression when he fights Linares. It's unlikely the fight will assume the same tack – Valdez took some punishment before re-establishing control – but it's a safe guess that the buzz surrounding Devin Haney will get a lot louder.
Check out more boxing news on video at the Boxing Channel
To comment on this story in the Fight Forum CLICK HERE
Top 12 New England Boxing Ratings as of July 2021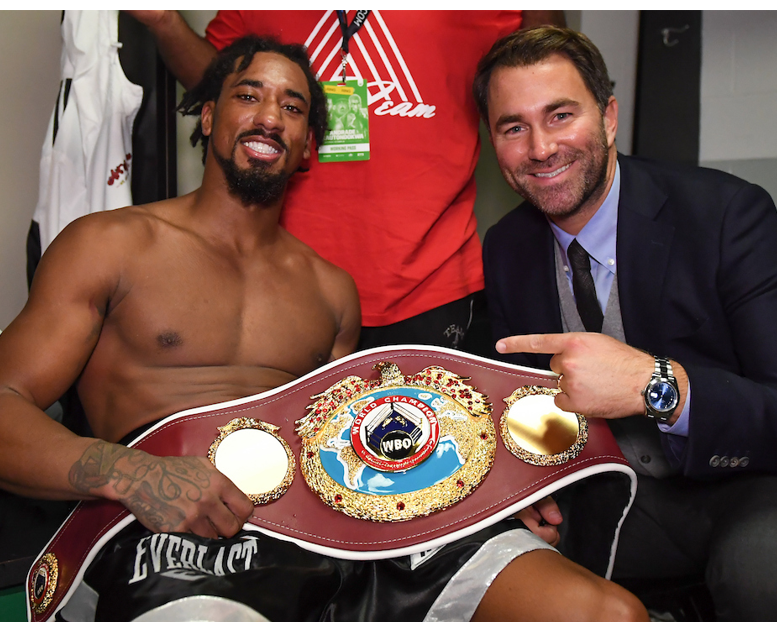 For the sake of these regionalized rankings, the New England region officially consists of Maine, Vermont, Massachusetts, Rhode Island and Connecticut. And I know I don't have to remind TSS readers that the glory days of Willie Pep and world title fights at the old Boston Garden are over.
It's now 2021.
New England boxing boasts only one current world champion to crow about and no top contenders to get too excited about. The championship run of New Haven's Chad Dawson and the championship aspirations of Worcester's Edwin Rodriquez are presently a thing of the past.
What we have here now are mostly youngish prospects and a few potential contenders with a mix of would-be Micky Ward types scattered throughout. What follows are the twelve best and most accomplished New England boxers in all weight classes from the above mentioned states.
Top 12 New England Ratings:
1. Demetrius "Boo Boo" Andrade, Providence, Rhode Island: The current WBO middleweight champion was recently made to look like a fool after crashing a Canelo Alvarez post-fight presser to declare his fandom and be accused of fighting "no body man" by a smirking Alvarez.
The 33-year-old Andrade is 30-0 (18) and desperate for a payday! Since winning the vacant WBO 160- pound strap in 2018 at the Boston Garden with a boring decision over Walter Kautondokwa, Andrade has beaten four B-level boxers, stopping only one of them with some help from the referee. Eddie Hearn is a good promoter but even he can't make us like Boo-Boo.
2. Rashidi Ellis, Lynn Massachusetts: The speedy younger brother of Akeem, "Speedy" Rashidi is 23-0 (14) at welterweight and is rated #23 at 147 by BoxRec. Ellis, 28, went pro in Boston in 2013 and fought there three more times before taking his act on the road, fighting frequently in Puerto Rico and the Dominican Republic. Ellis has not fought since a 12-round unanimous decision over undefeated Alexis Rocha in 2020. The win earned Speedy Rashidi a minor title.
Promoted by Oscar De La Hoya's Golden Boy, Ellis' win over Rocha came as a surprise as Rocha was an undefeated GBP prospect beaten by Ellis in his own California backyard.
3. Mark DeLuca, Whitman, Massachusetts: At 33, the "Bazooka" is the most battle-hardened fighter on this list at 27-2 with 15 knockouts. DeLuca avenged the first loss of his career, decisioning Walter Wright at the Boston Garden in 2018. In 2020, he travelled to Sheffield, U.K. for a Matchroom match-up with Kell Brook. DeLuca was knocked out in 7 one-sided rounds.
Despite the setback, DeLuca stayed active in 2020 with two wins late in the year. DeLuca went to Tijuana last February to pick up a win and he's scheduled to face Charles Conwell in Cleveland next month. Conwell, 15-0 with 11 knockouts, fatally defeated Patrick Day in 2019.
4. Ronald Ellis, Lynn, Massachusetts: AKA Akeem, this 31-year-old super middleweight has been a professional since 2011. In that ten year period, Ellis battled his way up to big fight opportunities, winning some, losing some—and drawing in others. Ellis dropped a Showtime televised decision to DeAndre Ware in 2019 before rebounding that same year to decision Immanuwel Aleem in Brooklyn, NY. Ellis will fight anywhere and he always comes to win.
In 2020, Ellis got a win over veteran Matt Korobov when the Russian broke his ankle and was unable to continue in the bout at Mohegan Sun Casino in CT. Ellis was then stopped last March in 11 rounds by David Benavidez at the same venue. Ellis is now 18-2-2 with 12 knockouts.
The Ellis brothers' younger sister Rashida is boxing in the 2020 Tokyo Olympics for Team USA at 60 kg. With a 45-16 record in 61 bouts, the 26-year-old is determined to win a Gold medal.
5. "Marvelous" Mykquan Williams, Hartford, Connecticut: This 23-year-old welterweight is signed to DiBella Entertainment and is managed by Jackie Kallen. At 16-0-1 with 7 knockouts, Williams broke his pandemic-induced inactivity last January at Mohegan Sun in Connecticut with a 10-round unanimous decision over undefeated (15-0) Yeis Gabriel Solano on Showtime.
In his final bout of 2019, before missing all of 2020, Williams was held to an 8-round draw in Brooklyn by a southpaw spoiler named Tre'Sean Wiggins. A recent automobile accident resulted in a broken wrist, thus "Marvelous" Mykquan will be sidelined for the foreseeable future.
6. Toka Kahn Clary, Providence, Rhode Island: Once a highly touted local prospect, the professional reality of Toka Khan, 29, is clear. At 28-3, this southpaw featherweight has been knocked out by a nobody and beaten by decision twice when he stepped up to world level.
In 2020, Khan was beaten by Shakur Stevenson in Las Vegas, losing every round on all cards. In 2018, he was outclassed at the Boston Garden by British world title challenger Kid Galahad.
7. Kendrick Ball Jr., Worcester, Massachusetts: The now 28-year-old super middleweight mostly flew under the radar while fighting for Jimmy Burchfield's Classic Entertainment and Sports (CES) on Mr. B's Twin River, Rhode Island undercards. After a win here, a draw there, and a loss there later, the tall Ball (6' 2") won twice in 2020 (and in 2019) before decisioning veteran Bryan Vera last April in Derry, New Hampshire on a Granite Chin promoted show.
Ball, 16-1-2 (11) is scheduled to main event the CES card scheduled for August 7 in Springfield, Massachusetts at the recently reopened MGM casino venue in the western part of the state.
8. Greg Vendetti, Stoneham, Massachusetts: The Murphys Boxing promoted "Villain" Vendetti (now 31) is a come-forward fighter who earned his chops on the local scene before stepping up and into the international fray with mixed results. A 2018 win over Yoshihiro Kamegai in California was followed by a devastating second-round knockout loss to Michel Soro in France.
Vendetti regrouped with a pair of local decision wins in 2019 before going back to California for a 2020 shot at Erislandy Lara's two junior middleweight titles. Vendetti, now 22-4-1 (12), dropped a wide 12-round unanimous decision to the very defensively oriented Cuban freedom fighter.
9. Cassius Chaney, New London, Connecticut: This 34-year-old super-sized heavyweight got a late start in boxing in 2015 after relocating from Baltimore to Connecticut and switching sports. At six foot six, Chaney played basketball in college. In boxing, Chaney is undefeated at 20-0 with 14 KOs and he is Greg Page huge! His afro is even bigger. According to his bio on the Main Events website, Chaney boasts an 85-inch reach and was named after Cassius Clay. With a degree in sports management, he's a stinker and a thinker! Still, despite being named after the GOAT, this Cassius is still in 8-rounders and hasn't fought anyone expected to challenge him.
Chaney won four times in 2019, twice in 2020 and he is scheduled to fight on the Rivera Promotions show (New England's Future VII) on August 14 at the Worcester Palladium.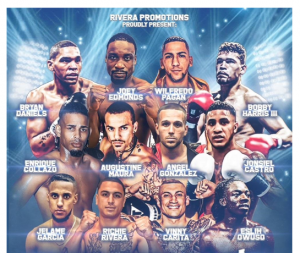 10. Richard "Popeye" Rivera, Hartford, Connecticut: The most charismatic fighter on this list, Rivera is a free-swinging cruiserweight who gladly plays the part of Popeye The Sailor Man, bringing a pipe to the ring and singing the trademarked "Toot Toot" jingle. After blasting out "Vermont Bully" Kevin Cobbs in 2018, Rivera has been extremely active, winning four more times that year, seven more times in 2019 and twice in 2020. Rivera won another stay-busy fight last February in Orlando, Florida, a first-round knockout of some Mexican punching bag.
At 19-0 with 14 knockouts, Rivera is back in action on next month's (August 14) RPE promoted show in Worcester, Massachusetts at the Palladium where he made his pro debut back in 2017.
11. Jamaine Ortiz, Worcester, Massachusetts: This Jimmy Burchfield promoted lightweight is 14-0-1 (8). Last April, he showed great promise on a Top Rank promoted show in Florida, drawing in 8 with undefeated (14-0-2) TR prospect Joseph Adorno. Many ringsiders felt that Ortiz, 25, deserved to get the win and that Adorno was fortunate to keep his unbeaten record.
12. Irvin Gonzalez, Worcester, Massachusetts: Now 14-3 with 11 knockouts, the losses are starting to pile up for this once highly regarded featherweight prospect. Before losing his "0" by knockout in 2019 to journeyman Elijah Pierce at Foxwoods Casino, there was talk of Gonzalez being signed by Evander Holyfield's upstart promotional company. Three months later, Gonzalez lost again at Foxwoods, this time a wide 10-round decision loss to Toka Khan.
Gonzalez also lost his most recent fight, an 8-round split decision loss to Texas tough-guy Edward Vazquez in Los Angeles on a Jimmy Burchfield promoted show in November of 2020.
Irvin is still only 25, he can build back better.
KO's Honorable Mentions: Chris Traietti (cruiserweight, Quincy, MA), Ryan Kielczweski (lightweight, Quincy, MA) and Brandon "The Cannon" Berry (welterweight, West Forks, Maine).
The 35-year-old Traietti is more promoter than active fighter these days but he still laces up the gloves on his own Granite Chin Promotions shows and he sports a 30-4 (24) record. He was beaten by Lowell's Joey McCreedy, Worcester's Edwin Rodriguez and by Mike Lee in Chicago.
Known as the "Polish Prince" in the ring, Kielczweski turned pro in 2008 and racked up a 22-0 record before his first decision loss in 2015 to Danny Aquino. Momentum killing decision losses to Miquel Flores, Frank De Alba, Tommy Coyle, and Gabriel Flores have stalled his career at 35.
All of which brings us to Maine's Brandon Berry. A short little welterweight with no reach and little in the way of technique, Berry gets by on pure heart. The 33-year-old is now 22-5-2 (15) and has both fought and promoted himself to 9 straight victories since a pair of losses in 2018.
Berry now fights for the memory of best friend Joel Bishop, a fellow boxer who died on Berry's wedding night in 2017. Berry has overcome personal tragedy, humiliating losses in the ring and a shoulder injury requiring surgery to carve out a respectable professional boxing career.
*** As noted above there are a few New England shows scheduled that local live fans should know about. Next Saturday night on July 31, Vertex Promotions has a club show scheduled in Dedham, MA featuring several novice local pros in action. Then on August 7 in Springfield, MA, CES is putting on a show at the MGM Springfield with Kendrick Ball Jr. in the main event.
Promoter Jose Antonio Rivera (the former WBA junior middleweight champion) is then back at the Palladium in Worcester, MA on August 14 with "New England's Future VII" featuring the return of the popular "Popeye" Rivera. And on August 28 in Derry, NH, Chris Traietti's Granite Chin promotions returns for what Chris calls an "invitational elite class boxing tournament."
Boxing Writer Jeffrey Freeman grew up in the City of Champions, Brockton, Massachusetts from 1973 to 1987, during the Marvelous career of Marvin Hagler. JFree then lived in Lowell, Mass during the best years of Irish Micky Ward's illustrious career. A former member of the Boxing Writers Association of America and a Bernie Award Winner in the Category of Feature Story Under 1500 Words. Freeman covers boxing for The Sweet Science in New England.
Check out more boxing news on video at the Boxing Channel
To comment on this story in the Fight Forum CLICK HERE
Boxing Odds and Ends: The WBA's 50-Year-Old Cruiserweight Contender and More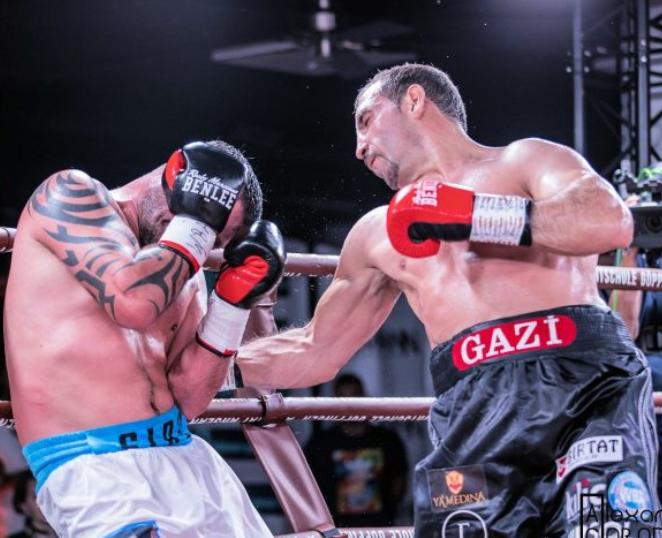 Boxing Odds and Ends: The WBA's 50-Year-Old Cruiserweight Contender and More
Boxing's seniors tour continues on Sept. 11 when Oscar De La Hoya returns to the ring after an absence of almost 13 years to fight former MMA star Vitor Belfort. The bout is scheduled for eight two-minute rounds and will count against De La Hoya's professional boxing record which currently stands at 39-6 (30). More details will be revealed tomorrow at a Los Angeles press conference.
De La Hoya turned 48 in February. If he is looking for inspiration, he need look no further back than this past Saturday where cruiserweight Firat Arslan continued his ascent toward yet another world title shot with a fourth-round stoppage of Argentina's Ruben Eduardo Acosta. Arslan is older than Oscar, he's 50!
The match took place in Goeppingen, Germany, before a small gathering in Firat Arslan's gym. It was sanctioned by the WBA for an "international" belt. A southpaw of Turkish descent, Arslan (pictured on the right) entered the contest ranked #5 by the repugnant organization and will presumably move up a notch.
Arslan is in his 24th year as a pro. His signature win was a 12-round decision over Virgil Hill in 2007. Hill was then 43 years old. Coincidentally, the man that Arslan just defeated was also 43.
The victory over Hill, a future Hall of Famer, earned Arslan a world cruiserweight title. He lost it to Guillermo Jones after one successful defense and would come up short in three other stabs at a world cruiserweight title, losing to Marco Huck twice and to Yoan Pablo Hernandez.
One doesn't know if Ruben Eduardo Acosta turned up in Germany intent on rendering an honest effort. He went down three times from body shots and was counted out on his last trip to the mat. But the Argentine sported a decent record (38-17-5) and had gone seven years without being stopped, a pocket of 17 fights.
There's an obvious difference between Arslan and De La Hoya. Arslan was out of the ring for 21 months after losing his title to Jones, but has otherwise maintained a steady schedule. His weight has never ballooned between fights and he has the physique of a man twenty years younger. De La Hoya has led a sedentary life since leaving the ring and is effectively starting over. He figures to weigh about 170 for Vitor Belfort which would be 25 pounds more than he carried for his last fight against Manny Pacquiao.
—
De La Hoya vs. Belfort is being promoted by Triller and will air on FITE. Triller and FITE are also collaborating on the Aug. 3 event at the Hulu Theater in Madison Square Garden. The headline attraction of what will supposedly be a 10-fight card finds heavyweight contender Michael "The Bounty" Hunter taking on former amateur rival Mike "White Delight" Wilson.
Those attending the event who are over the age of 15 must provide proof of full vaccination or a negative test result within the previous 72 hours. Despite this potential deal-breaker, tickets purportedly disappeared fast, portending a complete sell-out.
Of course, there's more to the event than boxing. Local rap groups DIPSET and THE LOX will battle it out in a competition ballyhooed as iconic in the promotional literature.
—-
A more compelling fight takes place in North London on Sept. 25 when IBF/WBO/WBA heavyweight champion Anthony Joshua defends his belts against former unified cruiserweight champion Oleksandr Usyk. It will be the first boxing event at Tottenham Hotspur Stadium which opened in April of 2019. Built for the Tottenham Hotspurs, a Premier League soccer club, the stadium was also conceptualized with an eye toward housing an NFL team.
The soccer pitch is retractable. Underneath is an artificial turf for American football. Having the football field at a lower level than the soccer pitch will allow spectators in the first row to see over the heads of football players and coaches standing on the sideline. In soccer, the front row can be closer to the playing field because soccer players sit on chairs when they are not in the game. Moreover, the stadium has a separate entrance dedicated to NFL events and the press sections for American football and for soccer are configured differently.
Pro football fans in the U.S. tuning in on television will be get a bird's eye view of the new stadium on Oct. 10 and again Oct. 17 when the NFL plays games in London, renewing a tradition that was interrupted last year by Covid-19. The NFL recently signed a 10-year deal with the landlord of Tottenham Hotspur Stadium.
For the record, the Oct. 10 game features the Falcons against the Jets. On Oct. 17, it's the Jaguars against the Dolphins. Both games will start at 9:30 am ET, 6:30 am PT. Football fans on the West Coast are advised to set their alarm clocks.
Check out more boxing news on video at the Boxing Channel
To comment on this story in the Fight Forum CLICK HERE
Fast Results from London: Massive Heavyweight Joe Joyce Keeps on Rolling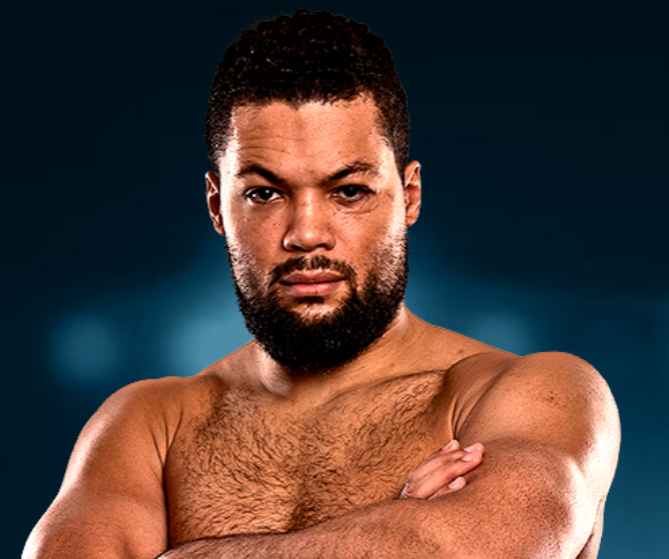 Ponderous but formidable Joe Joyce moved one step closer to a title fight tonight at the Wembley Arena with a sixth-round stoppage of Carlos Takam. Carrying 264 pounds on a six-foot-six frame, the 2014 Olympic silver medalist was simply too big for his 40-year-old French-Cameroonian adversary.
In his previous bout, Joyce methodically dismantled favored Daniel Dubois with a steady dose of his thudding right jab. Dubois quit in the 10th round with a busted eye socket. Tonight's fight followed a somewhat similar pattern.
Takam landed some good shots in the first two rounds as Joyce was slow to find his rhythm, but Joyce stuck to his game plan which was to wear him down and Takam's punches gradually lost steam in the face of Joyce's constant pressure.
Early in round six, Joyce rocked Takam with a big right hand and didn't let him off the hook. Takam protested when the referee indicated that he had seen enough and the stoppage did strike many as premature, but the handwriting was on the wall for the veteran who declined to 39-6-1. The official time was 0:49.
Joyce is of Scotch-Irish and Nigerian descent. College educated with a degree in fine arts, he acknowledges that he has no great passion for the sport of boxing and is in it for the financial rewards, not the glory. At age 35, he isn't going to get any better, but he appears to have a rock-solid chin and his nickname, Juggernaut, is quite fitting.
Joyce entered the bout ranked #2 by the WBO, a notch below Oleksandr Usyk who challenges title-holder Anthony Joshua on Sept. 25.
Other Bouts of Note
Ekow Essuman, a 32-year-old Nottingham man, born in Botswana, unseated British and Commonwealth welterweight champion Chris Jenkins, winning on an eighth-round stoppage. A hard right hook followed by a flurry of punches forced the referee to waive it off. The official time was 0:53.
Essuman, who was favored in the 3/1 range, improved to 15-0 with his sixth win inside the distance. A Welshman, Jenkins (22-4-3) was making the fourth defense of his domestic title.
London super welterweight Hamzah Sheeraz, who has been training at the Ten Goose Gym in Van Nuys, California, improved to 13-0 (9 KOs) with a fifth-round stoppage of Spain's Ezequiel Gurria (15-2). Gurria was down twice in the fifth round before the bout was halted at the 2:23 mark.
Check out more boxing news on video at the Boxing Channel
To comment on this story in the Fight Forum CLICK HERE