Carbajal vs 'Chiquita' Gonzalez was Magical. Can Estrada vs Roman Gonzalez Measure Up?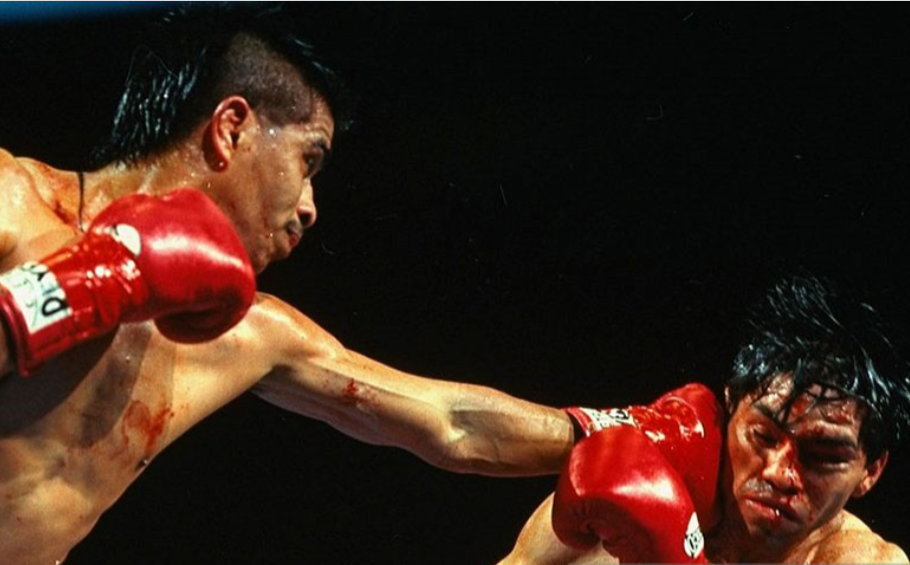 On this day twenty-eight years ago, mighty-mites Michael Carbajal and Humberto "Chiquita" Gonzalez engaged in a fight for the ages at the Las Vegas Hilton. It was the opening chapter of a trilogy. Oddly, tonight's eagerly-anticipated rematch between mighty-mites Juan Francisco Estrada and Roman "Chocolatito" Gonzalez is bubbling forth on the same day in the same month. This struck us as the perfect time to re-visit Bernard Fernandez's look-back at that stupendous battle in 1993. His story ran in these pages on March 12, 2018 under the title, "25 Years Ago, Carbajal-Gonzalez I Made Ounce-for-Ounce Magic." Here it is, a TSS CLASSIC…
Pound-for-pound? How about ounce-for-ounce? On March 13, 1993, two exceptionally talented and courageous light flyweights, Michael "Little Hands of Stone" Carbajal and Humberto "Chiquita" Gonzalez – with a combined weight of 214½ pounds, or a quarter-pound less than WBC heavyweight champion Deontay Wilder came in at for his most recent defense against Luis Ortiz – demonstrated that a really big fight need not require the participation of even moderately large men.
In adding Gonzalez's WBC 108-pound title to the IBF strap he already possessed, Carbajal roared back from knockdowns in the second (not exactly flash, but close) and fifth (he was legitimately buzzed) rounds to drop the even tinier (5-foot-1 to the winner's 5-6) Mexican standout with a textbook-perfect left hook in the seventh round in the Showtime-televised bout at the Las Vegas Hilton. Chiquita, who was leading by four points on all three official scorecards at the time, collapsed onto his right shoulder before rolling over onto his back, where he was counted out by referee Mills Lane. The elapsed time was 2 minutes, 59 seconds.
"I knew that if I knocked him down he wouldn't get back up," a jubilant Carbajal told Showtime commentator Al Bernstein minutes after he had struck the decisive blow. "The way he went down, I knew he wasn't going to get up."
Carbajal's confidence, if indeed he was as sure of the eventual outcome as he professed, was not universally shared. Although Gonzalez suffered a nasty cut above his left eye in the third round, a gash that would continue to worsen with each succeeding round, the switch-hitting whirlwind – ostensibly an orthodox fighter, he switched to and from a southpaw stance early and often – succeeded at taking the fight right to Carbajal, where he frequently got the better of the furious inside exchanges. Had Gonzalez not been stopped at some point because of the severity of the cut, he might have put himself beyond reach of a Carbajal victory on points had he just continued to do what he had been doing from the opening bell.
"One of the main differences here is simple: Carbajal is not hurting Gonzalez with his big power punches," Bernstein noted as the seventh round began. "Gonzalez is hurting him." But Chiquita, who had been advised by his trainer, Justo Sanchez, before the fateful seventh stanza that Carbajal was "very tired" and primed to be taken out, soon was reintroduced to an immutable truth of boxing: some fighters, like wild animals, are most dangerous when their back is against the wall. Michael Carbajal, like Matthew Saad Muhammad, Arturo Gatti and any number of others who consistently found a way to escape the danger zone as often as they found themselves in it, proved that night that he was a card-carrying member of the club.
It wasn't very long after hostilities commenced that the seemingly reasonable fight plan laid out by Carbajal's older brother and trainer, Danny – lots of movement and extensive use of the jab – was scrapped, the result of Gonzalez's incessant pressure, effective and borderline illegal body attack (he twice was warned by Lane for low blows) and, truth be told, Michael's own determination to stand and trade.
"They don't want Carbajal on the inside all the time with Gonzalez … I don't care how many times they tell Carbajal to jab in this fight, I don't know that he's going to do it," Bernstein opined. "I think he wants to slug it out with Gonzalez, and I think he's going to do it no matter what."
Not that punch statistics are the most accurate gauge of any fight's ebb and flow, but CompuBox statistics substantiated what everyone in the arena and in the Showtime viewing audience already knew. This opening act of a soon-to-be-legendary trilogy was an instant classic, one for the record books and memory banks, with Gonzalez landing 206 of 456 for an exceptionally high 45 percent accuracy rate while Carbajal connecting on 167 of 326, an even higher 51 percent. Had Apollo Creed and Rocky Balboa gone at it with comparable physical dimensions, this would have been the result.
Not surprisingly, The Ring named Carbajal-Gonzalez as its 1993 Fight of the Year. The epic clash might have won the magazine's triple crown, had it also garnered nods as Knockout of the Year and the sensational fifth as Round of the Year. Those designations, respectively, instead went to Gerald McClellan's fifth-round stoppage of Julian Jackson and the second round of the Terry Norris-Troy Waters fight. But the repercussions of Carbajal-Gonzalez I would be felt for years to come, on several levels.
Perhaps most notably and most fittingly, Carbajal (who posted a 49-4 career record that included 33 knockouts) and Gonzalez (42-3, 31 KOs), who won the succeeding segments of their rivalry on split and majority decisions, each were inducted into the International Boxing Hall of Fame on June 5, 2006. Theirs was a three-act passion play that was a replication in miniature of Johansson-Patterson, Ali-Frazier, Bowe-Holyfield and Gatti-Ward, and it offered conclusive proof that jockey-sized fighters could cut it at the box office in the United States, a vast, mostly unexplored frontier that previously had not been welcoming to them. Carbajal-Gonzalez II became the first fight in which men their size earned seven-figure purses, and the fact it happened on American soil (on Feb. 19, 1994, in Inglewood, Calif.) made the achievement all the more significant.
But the milestones they achieved, separately and in tandem, owed in no small part to another little guy, former WBA bantamweight champ Richie Sandoval, being insistent that his boss, Top Rank founder and CEO Bob Arum, take a flier on Carbajal, the Phoenix, Ariz., resident who was a silver medalist for the U.S. at the 1988 Seoul Olympics.
Despite his status as an Olympic medalist (Carbajal should have come home with a gold, failing to do so only because of a scandalously unfair decision that went to Bulgaria's Ivalio Hristov in the final), no major U.S. promoter viewed Carbajal as a potential valuable addition to his stable. The old adage that good things come in small packages might refer to rings, but not the kind that are roped off and occupied by two fighters and a referee.
"When Richie Sandoval brought Michael to my office, I thought he was out of his mind," Arum said in May 2006 prior to Carbajal's induction into the IBHOF. "I had seen Michael in the Olympics, but he was, like, 106 pounds. What the hell were we going to do with someone that little? But there was something about Michael that intrigued Richie, and he pleaded for me to take Michael on.
"The more I listened to Richie make his case, the more I came around. Finally, I said, `I don't know if we can make this work, but what the heck, I'm going to give it a try.'"
It was a leap not only of faith, but of hope and charity. American fight fans have always been infatuated with heavyweights, and their enthusiasm for any division south of lightweight has tended to drop off precipitously. Carbajal could fight all right, but, physically, he was what he was. There was no way he could eat, stretch or contort himself into something bigger, if not necessarily better.
"The first fight we put him into was a four-rounder, in Atlantic City, against this kid, Will Grigsby, who went on to win a world championship and probably was the second-best 108-pounder in the United States," Arum recalled. "Some matchmaking, huh? But we didn't know what to do with a 108-pound fighter. We had never handled anyone that small before.
"But gradually we worked our way into it. I remember one night in Phoenix when (heavyweight) Tommy Morrison was on the card with Carbajal. This casino executive, who shall remain forever nameless, came to the fight to check out Morrison. He was sitting right near me and he said, when they introduced the Carbajal fight, `You ought to be ashamed of yourself, promoting midgets.' I'll never forget that."
Arum was right; it was difficult finding quality opponents for American fighters Carbajal's size. But, as Arum noted 13 years ago, "Where there's a will, there's a way. There are a lot of great Thai fighters, Filipino fighters, Japanese fighters and Mexican fighters at 108 pounds. We found them. And, of course, Chiquita came later."
Perhaps, because of the Michael Carbajal experiment that paid major dividends, Top Rank has continued to plumb the lower weight classes, from which it imported such precious gems of more recent vintage as Manny Pacquiao and Vasiliy Lomachenko. Many credible pound-for-pound lists nowadays include super flyweight titlists Srisaket Sor Rungvisai (WBC) and Naoya Inoue (WBO), with Thailand's Sor Rungvisai establishing himself with U.S. audiences on the basis of his two victories over Roman "Chocolatito" Gonzalez and another over Juan Francisco Estrada.
Given the trend that he helped create, you'd think that Carbajal, now 50, would be basking in the glow of his status as a Hall of Fame pioneer. But not every mostly happy story has a feel-good ending, and the "Little Hands of Stone" story serves as a cautionary tale of what can happen when a fighter places too much trust in the wrong person.
Most of the $7 million Carbajal earned during his professional career is gone, siphoned by the very man he so often credited with facilitating his success. Older brother Danny Carbajal was released from an Arizona prison in August 2011 after serving 3½ years for stealing hundreds of thousands of dollars in retirement and property accounts from his estranged (and then murdered) wife, Sally. Although there was insufficient evidence to convict him of the 2005 murders of Sally and her then-boyfriend Gerry Best, Danny's greed led him not only to rip off Michael for millions, but to order the eviction of their mother from a house whose deed was in Danny's name.
"He fooled me more than anybody," Michael said of the love and trust he once unwaveringly gave to a brother who proved undeserving of such devotion.
But nothing and no one can take away Michael Carbajal's legacy, or the doors he helped open for little fighters with big talent, or the night when he went to hell and back with Chiquita Gonzalez and had the satisfaction of having his hand raised.
Check out more boxing news on video at the Boxing Channel
To comment on this story in the Fight Forum CLICK HERE
Gerald Sinclair Watches Over the Mayweather Boxing Club, a Las Vegas Landmark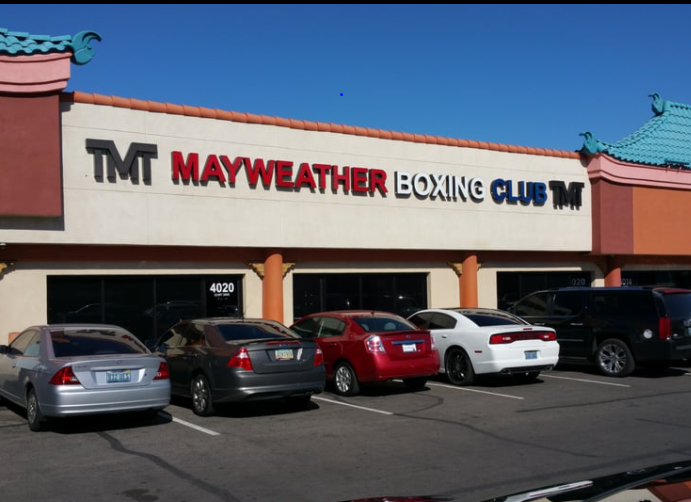 It isn't a stretch to say that the Mayweather Boxing Club is a Las Vegas landmark. Regardless of one's feelings toward Floyd — and he certainly has his detractors – the man transcended his sport like no other boxer of recent vintage. According to Forbes, which publishes an annual list of the world's highest-paid athletes, Floyd Mayweather Jr is one of only three athletes to surpass one billion dollars in career earnings, putting him on the same lofty pedestal as Michael Jordan and Tiger Woods – this despite the fact that Floyd competed in what has been characterized as a dying sport while attracting comparatively little money in commercial endorsements.
The word landmark conveys the thought of an edifice that is architecturally impressive. The Mayweather Boxing Club certainly isn't that. It sits in a one-story complex of small businesses that take up a full block in an older section of Chinatown which in Las Vegas isn't a residential neighborhood but an ever-sprawling stretch of Spring Mountain Road that runs west of the Strip for roughly a mile, a string of Asian-owned businesses, predominantly restaurants and massage parlors. The Mayweather gym sits in the back of the complex facing away from the street.
It's easy to miss it if one is heading there for the first time (it's helpful to have a car equipped with a GPS locator) but yet tourists often find their way there and that is another defining feature of a landmark.
When entering the gym, it's likely the first person that one will see is Gerald Sinclair. He co-manages the gym along with his brother John and Cornelius Boza-Edwards, the former world super featherweight champion who engaged in some of the most exciting fights of the 1980s.
The Mayweather Boxing Club opened in 2007. Sinclair, 56, was there from the beginning when the facility was roughly half its current size. He grew up in Hudson, New York, a city named for the river that borders the town on the east. Before moving to Las Vegas, he worked as a fork lift driver in a warehouse.
Sinclair was induced to come to Las Vegas by his sister. She is Floyd Mayweather's mother. Floyd is Gerald's nephew. It's all about family at the Mayweather Gym. Floyd's father of the same name and his uncle Jeff are fixtures there, as was their brother, the late Roger Mayweather, the best of the three fighting Mayweather brothers.
This reporter has never been in a boxing gym that didn't have colorful posters of old fights tacked to the wall. The Mayweather gym is no exception but all of the oversized posters, all 15 of them, are of Mayweather's fights. (Needless to say, he won them all.) His face appears on other insignia, including a large banner above a row of folding chairs. There are two regulation-size boxing rings, 11 punching bags of various descriptions clustered in a nook and some of the standard exercise equipment, all indicative of the fact that this is a place to work up a sweat, but the Mayweather Boxing Club is also a little museum of sorts, a paean to the splurgy proprietor who once sported the nickname "Pretty Boy."
Some boxing gyms – Abel Sanchez's compound in Big Bear comes quickly to mind – are off-limits to outsiders. The Mayweather Boxing Club is welcoming (which isn't to say that a busload of fans would be welcome; it wouldn't).
"When we opened the place," says Gerald Sinclair, "Floyd came to us and said if fans want to come in and look around, go ahead and let them."
While we were there the other day, an older man with a Spanish accent appeared in the doorway and sheepishly inquired if he and the people in his party could come inside and give it a quick look-see. "Be my guest," said Sinclair, whereupon the visitor left and returned with his wife and another couple that he had left waiting in the car.
Sinclair says if the man hadn't happened to mention that there were other people in his party, that he would have likely brought it up. "We have had guys who came by and left their wife and kids outside in the car and I told them to please invite them in. I know this place is a slice of history. We don't exclude anyone."
A tourist giving the gym a gander invariably takes a few selfies and then comes the million-dollar question: "Is he here?" A selfie with Floyd would be a prized souvenir.
No, he's never there, or almost never there. On the rare occasions when he does pop in during normal business hours, he arrives unannounced, usually with a bodyguard. Floyd Mayweather Jr, who is known to hop in one of his private jets and fly halfway around the world on a whim, lives in a different universe than the denizens of the gym that bears his family name.
Although also rare, a visitor has a better shot of bumping into a celebrity. Eddie Murphy, Christine Aguilera, Maria Carey and P Daddy have walked in the door, as have many prominent athletes including Mike Tyson.
When Tyson appears, it's old home week for Gerald Sinclair and his brother. During his amateur days and in his early days as a pro, Iron Mike resided in Catskill, living with his trainer Cus D'Amato in the large Victorian home that D'Amato shared with the sister of a sister-in-law. Catskill and Hudson are separated by only 12 miles. Sinclair remembers young Tyson turning up at some of his softball games. Mike made a big hit with the folks running the snack bar, covering the tab of kids hovering around him at the refreshment stand.
A number of boxers from overseas have worked out at the gym while visiting Las Vegas. For some novice boxers, a trip to the Mayweather Boxing Club is a rite of passage. (A stranger in town for a convention or trade show can also use the facility if it isn't too crowded. There is a day rate for these situations, and the visitor must sign a waiver absolving the club of any liability should he get hurt.)
The Mayweather Boxing Club is now back at full steam after being closed to the general public for several months because of Covid-19. For a time, it was effectively the private gym of Gervonta "Tank" Davis and his team. Everyone who was there while Tank was preparing for his Oct. 31, 2020 date with Leo Santa Cruz, was required to get tested twice a week. There were no hiccups.
"As a boss, Floyd has been very generous to me," says Sinclair. Thanks to Floyd, he got to see a part of the world that he never would have gotten to see. Floyd invited him along when he flew to Tokyo for his exhibition with Tenshin Nasukawa. Prior to this, Sinclair's lone trip outside the United States was a trip to Tijuana.
Sinclair has picked up a new skill since leaving New York. He's frequently the go-to guy when a boxer at the gym needs his hands wrapped. It's not as simple as it looks, there's an art to it, and Gerald learned at the feet of the master, Rafael Garcia Sr, who encouraged his interest. Garcia passed away in November of 2017 at age 88, leaving a hole in the hearts of the extended Mayweather family that burned wider when his fellow traveler Roger Mayweather joined him in the afterlife.
The United States has housed several iconic boxing gyms over the years. A short list would include Stillman's Gym in mid-Manhattan, the Main Street Gym in downtown Los Angeles, the 5th Street Gym in Miami Beach, and the Kronk Gym in Detroit. The Mayweather Boxing Club is destined to eventually join that hallowed roster.
Check out more boxing news on video at the Boxing Channel
To comment on this story in the Fight Forum CLICK HERE
Avila Perspective, Chap.131: 'Boo Boo' Andrade, Carlos Gongora and More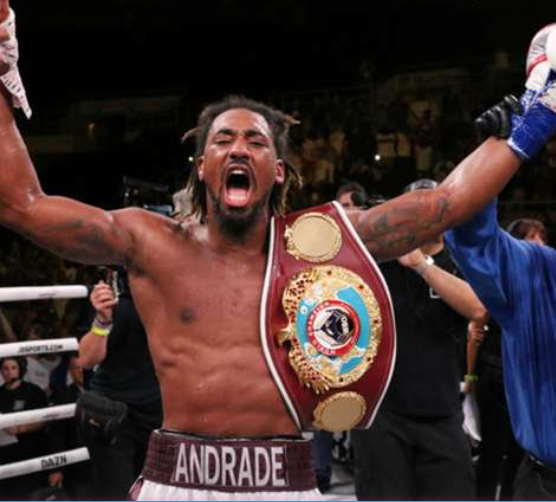 Avila Perspective, Chap.131: 'Boo Boo' Andrade, Carlos Gongora and More
Do not confuse skill with athleticism.
Fans and many journalists often erroneously label a fighter with lightning speed, power, and a good jab as a skilled fighter when they are really, simply physically gifted athletes.
A truly skilled fighter can fight nose to nose with another and you can't touch him, but he can clobber you. That is skill. They don't need to run around the boxing ring at full flight mode. They can fight you straight-up.
One fighter Demetrius Andrade seems to finally be proving his skill-level after years of relying on mere athletic prowess.
Andrade (29-0, 18 KOs) defends the WBO middleweight title against Great Britain's Liam Williams (23-2-1, 18 KOs) on Saturday April 17, at the Seminole Hard Rock Hotel and Casino in Hollywood, Florida. DAZN will stream the Matchroom Boxing card.
The undefeated southpaw from Providence, Rhode Island makes his fourth defense of the title he won in 2018. He formerly held the WBO super welterweight title too.
"You're going to see the same you always see from me – a solid game plan, dominance, landing big shots, an all-around great performance and giving people what they have been missing, the sweet science," said Andrade whose nickname is "Boo Boo."
Because of his past reliance on athleticism, many possible foes simply avoided confrontations with Andrade in the prize ring. Who wants to step into a boxing ring and watch another fighter touch you with a jab and zip around the boxing ring? Fans don't want to see it either. They want to see a fight, not a dance.
In his last defense Andrade was seen exhibiting inside fighting skills when he dispatched Luke Keeler by technical knockout in the ninth round in Miami. It was a display of straight-up fighting not often seen when the Rhode Island boxer performs.
Is this the new Andrade at age 33?
Williams, who hails from Wales, is nicknamed "the Machine" but lost twice to Liam Smith in two very close bouts. Those are his only defeats.
"I'm super confident and I don't think there's any way that he beats me. I think I can knock him out," said Williams.
Andrade laughs at Williams' comments.
"They call him 'The Machine', but when I am done with him, he'll be 'The Rust Bucket," claims Andrade.
Williams feels its time to expose Andrade.
"I don't think he has the same intensity as me,' said Williams. "I wear my heart on my sleeve. I can punch harder than him. I have a better engine than him. I'm going to bring it all on the night and I don't think he has the answers."
Andrade expects the same results.
"Liam is not going to stop my train," said Andrade. "I expect him to bring the fight because this is his opportunity, but at the end of the day he'll be able to say, 'I lost to Demetrius Andrade'."
Gongora
IBO super middleweight titlist Carlos Gongora (19-0, 14 KOs) makes his first defense of his fringe world title against American Christopher Pearson (17-2, 12 KOs) in a battle between southpaws in the semi-main event at Seminole Hard Rock.
Ecuador's Gongora was a last-minute replacement and upset Kazakhstan's heavily favored Ali Akhmedov by knockout in the last round of their title fight last December. He also became his country's first world title-holder.
Pearson enters the boxing ring after a similar feat. He was a late replacement when he met the favored Yamaguchi Falcao two years ago at the Hard Rock Hotel in Las Vegas. He out-fought the Brazilian with a gutsy performance that convinced Golden Boy Promotions to sign him.
Gongora and Pearson both have much to prove.
Sunday
Thompson Boxing Promotions returns with one of its star prospects Ruben Torres (14-0, 10 KOs) who faces Diego Contreras (11-3, 5 KOs) in a super lightweight main event at Omega Products International in Corona, California. The fight card will be streamed on www.ThompsonBoxing.com and on its Facebook and YouTube.com pages.
Fights to Watch
Fri. 6 p.m. ESPN+ Miguel Vazquez (42-10) vs Isai Hernandez (10-1-1).
Sat. 11 a.m. ESPN+ Danny Dignum (13-0) vs Andrey Sirotkin (19-1).
Sat. 12 p.m. DAZN Demetrius Andrade (29-0) vs Liam Williams (23-2-1).
Sat. 5 p.m. FOX Tony Harrison (28-3) vs Bryant Perrella (17-3).
Sat. 6 p.m. TrillerFightClub.com (ppv) Regis Prograis (25-1) vs Ivan Redkach (23-5-1).
Sun. 2 p.m. ThompsonBoxing.com (free) Ruben Torres (14-0) vs Diego Contreras (11-3).
Check out more boxing news on video at the Boxing Channel
To comment on this story in the Fight Forum CLICK HERE
Tank Davis and the Charlo Twins Featured on the Loaded Showtime/PBC Schedule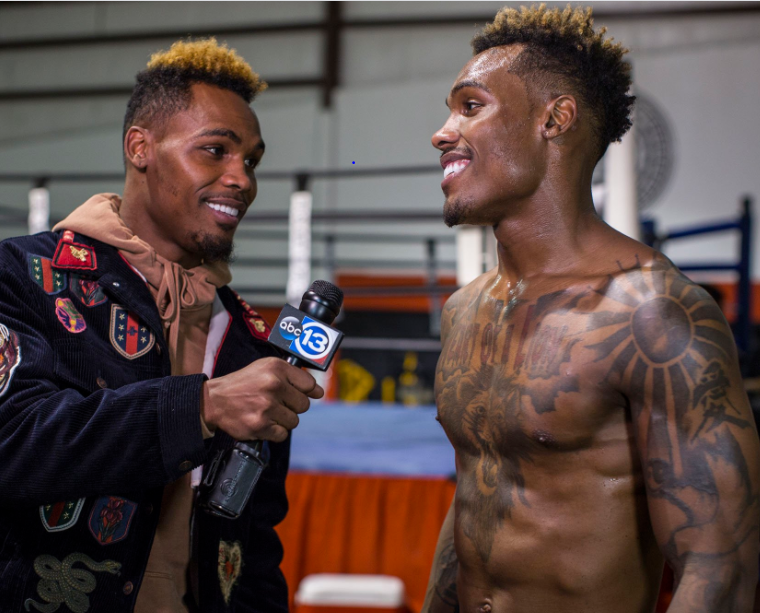 Tank Davis and the Charlo Twins Featured on the Loaded Showtime/PBC Schedule
PRESS RELEASE — SHOWTIME Sports and Premier Boxing Champions today unveiled a loaded five-month boxing schedule of nine high-stakes world championship events beginning Saturday, May 15, live on SHOWTIME. The schedule delivers two events per month through August. Thirteen matchups have been announced thus far with no less than seven world title fights, and 12 fighters defending undefeated records. The lineup features many of boxing's best young fighters taking on career-defining challenges in their primes. All fights on the schedule will take place before a live audience, keeping with applicable local COVID-19 safety protocols.
The sizzling summer run features the dynamic Charlo twins as undefeated electrifying champion Jermall Charlo defends his WBC middleweight world title against Juan Macias Montiel in a special Juneteenth homecoming in Houston on Saturday, June 19, live on SHOWTIME.
The following Saturday, June 26, unbeaten Mayweather Promotions star Gervonta "Tank" Davis moves up two weight classes for a chance to become a three-division world champion when he takes on fellow undefeated champion Mario Barrios for his super lightweight world title in what will be Davis' second pay-per-view showdown.
The next month, WBC, WBA and IBF 154-pound charismatic world champion Jermell Charlo looks to make boxing history when he takes on WBO junior middleweight world champion Brian Castaño in a mega-fight to crown the first four-belt 154-pound world champion.
The SHOWTIME boxing schedule features eight editions of SHOWTIME CHAMPIONSHIP BOXING and one premier SHOWTIME PPV event, all presented by Premier Boxing Champions:
MAY 15 – SHOWTIME CHAMPIONSHIP BOXING

Luis Nery vs. Brandon Figueroa, WBC Super Bantamweight World Title Fight
Danny Roman vs. Ricardo Espinoza Franco, Super Bantamweight Fight
Xavier Martinez vs. Abraham Montoya, WBA Super Featherweight Fight
MAY 29 – SHOWTIME CHAMPIONSHIP BOXING

Nordine Oubaali vs. Nonito Donaire, WBC Bantamweight World Title Fight
Subriel Matias vs. Batyrzhan Jukembayev, IBF Super Lightweight Title Eliminator

JUNE 19 – SHOWTIME CHAMPIONSHIP BOXING 

Jermall Charlo vs. Juan Macias Montiel, WBC Middleweight World Title Fight

JUNE 26 – SHOWTIME PPV

Gervonta Davis vs. Mario Barrios, WBA Super Lightweight World Title Fight
Erickson Lubin vs. Jeison Rosario, WBC Junior Middleweight Title Eliminator
JULY 3 – SHOWTIME CHAMPIONSHIP BOXING
Chris Colbert vs. Yuriorkis Gamboa, WBA Super Featherweight Interim Title Fight

JULY 17 – SHOWTIME CHAMPIONSHIP BOXING 

Jermell Charlo vs. Brian Castaño, Undisputed IBF, WBA, WBC & WBO Junior Middleweight World Title Unification Fight

AUGUST 14 – SHOWTIME CHAMPIONSHIP BOXING
                  Guillermo Rigondeaux vs. John Riel Casimero, WBO Bantamweight World Title Fight
         AUGUST 28 – SHOWTIME CHAMPIONSHIP BOXING
David Benavidez vs. Jose Uzcategui, WBC Super Middleweight Title Eliminator

SEPTEMBER 11 – SHOWTIME CHAMPIONSHIP BOXING
Stephen Fulton, Jr. vs. winner of Nery-Figueroa, Super Bantamweight World Title Unification Fight
"High-impact, meaningful fights amongst many of the biggest names and brightest stars in combat sports. That is what SHOWTIME promises and that is what we are delivering," said Stephen Espinoza, President, SHOWTIME Sports. "With an opportunity to crown an undisputed world champion at 154 pounds, a highly anticipated super bantamweight title unification, a stacked pay-per-view showdown and more than a dozen fights between 118-168 pounds, SHOWTIME is presenting boxing's best young fighters, all daring to be great by putting their world titles and undefeated records on the line.
Editor's Note: This press release has been edited for brevity.
Check out more boxing news on video at the Boxing Channel
To comment on this story in the Fight Forum CLICK HERE