Is There a "Peck's Bad Boy" in Boxing Today?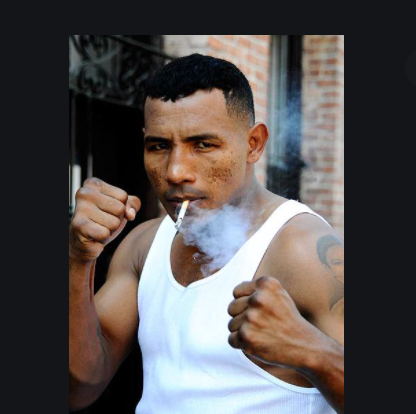 Henry "Hennery" Peck, popularly known as Peck's Bad Boy, is a fictional character created by George Wilbur Peck (1840–1916). "Peck's Bad Boy" has been defined as one whose bad behavior is a source of embarrassment or annoyance, but to many it refers to a mischievous prankster. The answer probably is somewhere in the middle with the label referring to anyone whose mischievous or bad behavior leads to annoyance or embarrassment.
In boxing, no one seemed to better epitomize the expression than Muhammad Ali. When Howard Cosell asked Ali why he was being truculent during an interview. Ali fired back, "I don't know what truculent means, but if it's good, I'm that."
It was high camp and anyone who took Ali or his perceived arrogance seriously missed the tongue-in-cheek quality of what was going on. To this writer, he was 98 percent mischievous and maybe 2 percent annoying.
"…"Floyd Patterson was dull, quiet, and sad … and Sonny Liston was twice as bad… The fight game was dying… promoters were crying…" — Cassius Clay
I said I was 'The Greatest,' I never said I was the smartest! — Muhammad Ali
Ricardo Mayorga
Later, an especially nasty Nicaraguan provocateur came along by the name of Ricardo "The Matador" Mayorga, but the nastiness was more pre-fight hype than anything else and after his fights, he could be seen hugging his opponents. Often he was seen smoking a cigarette and drinking a beer before leaving the ring and that in itself was pretty unique. He soon established an infamous reputation and used this to sell tickets. Mayorga won world titles at welterweight and junior middleweight, playing the villain to Shane Mosley, Felix Trinidad, Oscar De La Hoya, Fernando Vargas, and Miguel Cotto, among others.
Despite being savaged by Trinidad, Ricardo showed that he was not lacking in heart. Against De La Hoya, he said, "I hate bitches and I'm going to make you my little bitch…" He was again savaged.
He caused a stir when he slapped Shane Mosley's girlfriend on the butt at a press conference, triggering turmoil. In the fight, Mosley avenged her butt by sending The Matador to Bullfighter Heaven with a beautiful left hook launched after a slight head fake to the right.
He told Cory Spinks, "I want to sew a pair of nuts on you so you can stand and fight in front of me next time like a man."
As writer Jimmy Tobin put it: "Sure, he [Mayorga] was upset at the Spinks decision, but Mayorga understood public expectations of him and had to push the envelope to ensure expectations were met. However enraged he might appear, the vitriol felt fabricated, rehearsed, a gimmick. That gimmick would soon be all Mayorga had left."
And that really says it all about the Matador. Manufactured and well-timed outrage and faux insults. No serious fan ever really bought into it. Mischievous? Hype? Absolutely.
Mayorga was good at running his mouth but he was no Peck's Bad Boy.
Today we wish him well as he struggles with substance abuse issues.
Tyson Fury
"I haven't seen a fighter with that much charisma since Muhammad Ali"– Bob Arum
There is at least two Tyson Furys. The first one possessed a classic Irish wit and was rarely lost for words, constantly seeking attention including impromptu singing. However, keen observers sensed he was putting everybody on half the time, and it was all a joke with him.
Heavyweight boxing hadn't had this type in a long time—not since Ali. Heck, the Gypsy King was a showman. Many thought his temperament might be a big problem and that he should be more self-deprecating, but he couldn't care less what others thought about him. All the rhetoric and loud mouthing was likely a load of blarney and he knew it better than anyone. While he surely could have taken himself more seriously and embraced humility, that simply wasn't what the early Fury was all about.
Fury was more like a Peck's Bad Boy than anyone since Ali. But much of what he said along the way was embarrassing and vicious. He denounced homosexuals and Jews, among others. This was hardly viewed as amusing, but perhaps it was a byproduct of fighting a number of different demons including severe weight gain, substance abuse, and mental health issues.
After reaching the heights, he stumbled badly off the stage. However, he made a remarkable comeback and this time around he was clean and sober and showed a great desire to help his fellow man.
"I said some things which may have hurt some people, which as a Christian man is not something I would ever want to do," Fury said in a May 2016 interview for the BBC. "Though it is not an excuse, sometimes the heightened media scrutiny has caused me to act out in public and then my words can get taken out of context. I mean no harm or disrespect to anyone and I know more is expected of me as an ambassador of British boxing and I promise in future to hold myself up to the highest possible standard."
The 6'9" giant is currently an ambassador for the Frank Bruno Foundation, a mental health charity.
Interestingly, the title to Fury's autobiography is "Behind the Mask" and that suggests that the current Fury is the real Fury.
He has been called the UK's answer to Ricardo Mayorga. Maybe in terms of early nastiness, but the current Tyson Fury (Batman suit and all) is more Ali than Mayorga.
Adrien Broner
"I came into town, and I got his belt and his girl." – Adrien Broner referring to Paulie Malignaggi
A few might argue that Adrien Broner is the quintessential Peck's Bad Boy, but frankly, "The Problem" has never really appeared amusing or mischievous. Yes, he has some substance in the ring, but Broner has in large part been seen as a hyped gimmick projecting ignorance, a man that can't back up his foul mouth. He has now become a curiosity as fans speculate as to who will finally knock him out and shut him up.
Aside from a stupid hair combing routine before his fights, nothing Adrien does seems to conjure up even a shred of amusement. Au contraire, his boorish antics outside the ring, such as throwing cash down a toilet and performing a sexual act with a sweaty dancer at a strip club, not to mention his frequent brushes with the law and court appearances, suggest the possibility of a self-destructive bent
The "Problem" will not be solved; it's a story that likely will not have a happy ending.
Today
Fury fits the bill but he has become more temperate and balanced. Still, he remains a promotor's dream. Enjoy him while you can.
Can you think of any others in today's scene? Yesterday's?
To comment on this story in the Fight Forum CLICK HERE
Mercito Gesta Victorious Over Jojo Diaz at the Long Beach Pyramid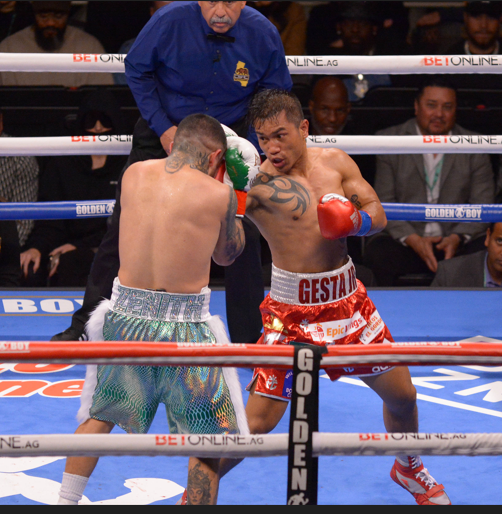 LONG BEACH, CA.-Those in the know knew Mercito Gesta and Jojo Diaz would be a fight to watch and they delivered.
Gesta emerged the winner in a super lightweight clash between southpaws that saw the judges favor his busier style over Diaz's body attack and bigger shots and win by split decision on Saturday.
Despite losing the main event because the star was overweight, Gesta (34-3-3, 17 KOs) used an outside method of tactic to edge past former world champion Diaz (32-4-1, 15 KOs) in front of more than 5,000 fans at the Pyramid.
The speedy Gesta opened up the fight with combination punching up and down against the peek-a-boo style of Diaz. For the first two rounds the San Diego fighter overwhelmed Diaz though none of the blows were impactful.
In the third round Diaz finally began unloading his own combinations and displaying the fast hands that helped him win world titles in two divisions. Gesta seemed stunned by the blows, but his chin held up. The counter right hook was Diaz's best weapon and snapped Gesta's head back several times.
Gesta regained control in the fifth round after absorbing big blows from Diaz. He seemed to get angry that he was hurt and opened up with even more blows to send Diaz backpedaling.
Diaz targeted his attack to Gesta's body and that seemed to slow down Gesta. But only for a round.
From the seventh until the 10th each fighter tried to impose their style with Gesta opening up with fast flurries and Diaz using right hooks to connect with solid shots. They continued their method of attack until the final bell. All that mattered was what the judges preferred.
After 10 rounds one judge saw Diaz the winner 97-93 but two others saw Gesta the winner 99-91, 98-92. It was a close and interesting fight.
"I was expecting nothing. I was the victor in this fight and we gave a good fight," said Gesta. "It's not an easy fight and Jojo gave his best."
Diaz was surprised by the outcome but accepted the verdict.
Everything was going good. I thought I was landing good body shots," said Diaz. "I was pretty comfortable."
Other Bouts
Mexico's Oscar Duarte (25-1-1, 20 KOs) knocked out Chicago's Alex Martin (18-5, 6 KOs) with a counter right hand after dropping him earlier in the fourth round. The super lightweight fight was stopped at 1:14 of the round.
A battle between undefeated super welterweights saw Florida's Eric Tudor (8-0, 6 KOs) emerge the winner by unanimous decision after eight rounds versus Oakland's Damoni Cato-Cain.
The taller Tudor showed polished skill and was not bothered by a large cut on his forehead caused by an accidental clash of heads. He used his jab and lead rights to defuse the attacks of the quick-fisted southpaw Cato-Cain. The judges scored the fight 80-72 and 78-74 twice for Tudor.
San Diego's Jorge Chavez (5-0, 4 KOs) needed less than one round to figure out Nicaragua's Bryan Perez (12-17-1, 11 KOs) and send him into dreamland with a three-punch combination. No need to count as referee Ray Corona waved the fight over. Perez shot a vicious right followed by another right and then a see-you-later left hook at 3.00 of the first round of the super featherweight match.
Photo credit: Al Applerose
Jojo Diaz's Slump Continues; Mercito Gesta Prevails on a Split Decision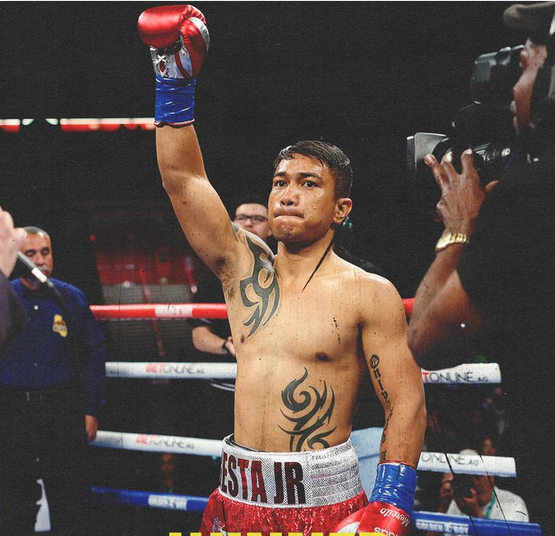 At age 30, Jojo Diaz's career is on the skids. The 2012 U.S. Olympian, a former world title holder at 126 and 130 pounds and an interim title holder at 135, Diaz suffered his third straight loss tonight, upset by Mercito Gesta who won a split decision at the Walter Pyramid in Long Beach, CA.. The scoring was strange with Gesta winning nine of the 10 rounds on one of the cards and only three rounds on another. The tie-breaker, as it were, was a 98-92 tally for Gesta and even that didn't capture the flavor of what was a closely-contested fight.
Originally listed as a 12-rounder, the match was reduced to 10 and that, it turned out, did Diaz no favors. However, it's hard to feel sorry for the former Olympian as he came in overweight once again, having lost his 130-pound title on the scales in February of 2021.
Diaz also has issues outside the ropes. Best elucidated by prominent boxing writer Jake Donovan, they include a cluster of legal problems stemming from an arrest for drunk driving on Feb. 27 in the LA suburb of Claremont.
With the defeat, Diaz's ledger declined to 32-4-1. His prior losses came at the hands of Gary Russell Jr, Devin Haney, and William Zepeda, boxers who are collectively 83-2. Mercito Gesta, a 35-year-old San Diego-based Filipino, improved to 34-3-3.
Co-Feature
Chihuahua, Mexico super lightweight Oscar Duarte has now won nine straight inside the distance after stopping 33-year-old Chicago southpaw Alex Martin in the eighth frame. Duarte, the busier fighter, had Martin on the deck twice in round eight before the fight was waived off.
Duarte improved to 25-1-1 (20). Martin, who reportedly won six national titles as an amateur and was once looked upon as a promising prospect, declined to 18-5.
Other Bouts of Note
New Golden Boy signee Eric Tudor, a 21-year-old super welterweight from Fort Lauderdale, overcame a bad laceration over his right eye, the result of an accidental clash of heads in round four, to stay unbeaten, advancing to 8-0 (6) with a hard-fought unanimous 8-round decision over Oakland's Damoni Cato-Cain. The judges had it 80-72 and 78-74 twice. It was the first pro loss for Cato-Cain (7-1-1) who had his first five fights in Tijuana.
In the DAZN opener, lanky Hawaian lightweight Dalis Kaleiopu went the distance for the first time in his young career, improving to 4-0 (3) with a unanimous decision over 36-year-old Colombian trial horse Jonathan Perez (40-35). The scores were 60-52 across the board. There were no knockdowns, but Perez, who gave up almost six inches in height, had a point deducted for a rabbit punch and another point for deducted for holding.
To comment on this story in the Fight Forum CLICK HERE
'Big Baby' Wins the Battle of Behemoths; TKOs 'Big Daddy' in 6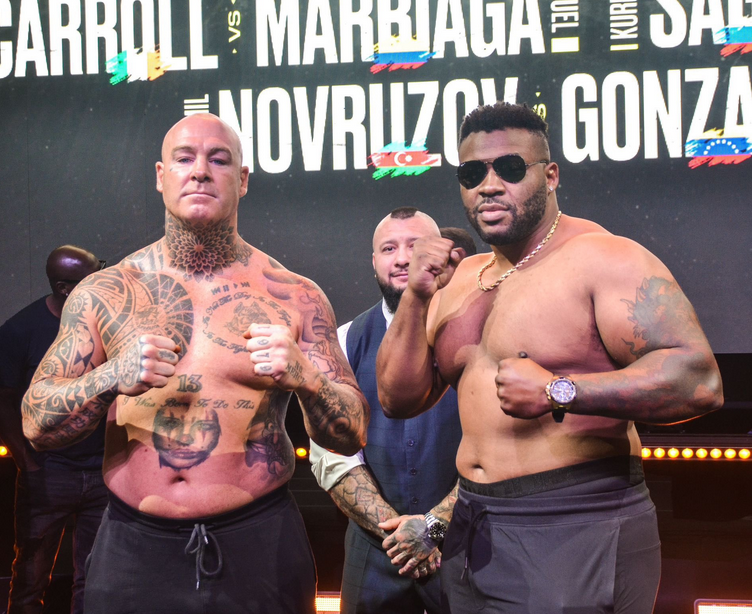 Lucas "Big Daddy" Browne weighed in at a career-high 277 pounds for today's battle in Dubai with Jarrell "Big Baby" Miller, but he was the lighter man by 56 pounds. It figured that one or both would gas out if the bout lasted more than a few stanzas.
It was a war of attrition with both men looking exhausted at times, and when the end came it was Miller, at age 34 the younger man by nine years, who had his hand raised.
Browne was the busier man, but Miller, whose physique invites comparison with a rhinoceros, hardly blinked as he was tattooed with an assortment of punches. He hurt 'Bid Daddy' in round four, but the Aussie held his own in the next frame, perhaps even forging ahead on the cards, but only postponing the inevitable.
In round six, a succession of right hands knocked Browne on the seat of his pants. He beat the count, but another barrage from Miller impelled the referee to intervene. The official time was 2:33. It was the 21st straight win for Miller (26-0-1, 22 KOs). Browne declined to 31-4 and, for his own sake, ought not fight again. All four of his losses have come inside the distance, some brutally.
The consensus of those that caught the livestream was that Floyd Mayweather Jr's commentary was an annoying distraction that marred what was otherwise an entertaining show.
As for what's next for "Big Baby" Miller, that's hard to decipher as he has burned his bridges with the sport's most powerful promoters. One possibility is Mahmoud Charr who, like Miller, has a big gap in his boxing timeline. Now 38 years old, Charr – who has a tenuous claim on a WBA world title (don't we all?) —  has reportedly taken up residence in Dubai.
Other Bouts of Note
In a 10-round cruiserweight affair, Suslan Asbarov, a 30-year-old Russian, advanced to 4-0 (1) with a hard-fought majority decision over Brandon Glanton. The judges had it 98-92, 97-93, and a more reasonable 95-95.
Asbarov was 12-9 in documented amateur fights and 1-0 in a sanctioned bare-knuckle fight, all in Moscow, entering this match. He bears watching, however, as Glanton (18-2) would be a tough out for almost anyone in his weight class. In his previous fight, at Plant City, Florida, Glanton lost a controversial decision to David Light, an undefeated Australian who challenges WBO world title-holder Lawrence Okolie at Manchester, England next week.
A 10-round super featherweight match between former world title challengers Jono Carroll and Miguel Marriaga preceded the semi-windup. Carroll, a 30-year-old Dublin southpaw, overcame a cut over his left eye suffered in the second round to win a wide unanimous decision in a fairly entertaining fight.
It was the sixth straight win for Carroll (24-2-1, 7 KOs) who elevated his game after serving as a sparring partner for Devin Haney. Marriaga, a 36-year-old Colombian, lost for the fourth time in his last five outings, declining to 30-7.
To comment on this story in the Fight Forum CLICK HERE