Fast Results from London: Edwards Out-Foxes Mthalane; Conlan W12 Baluta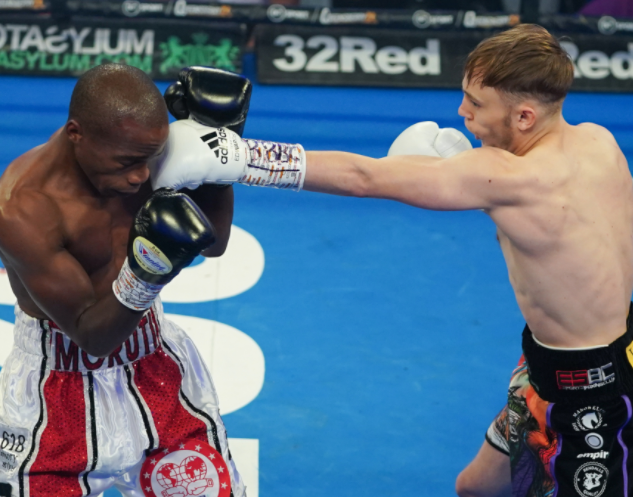 Sunny Edwards, whose style harks to some of the great cuties in boxing history, turned in the best performance of his career today at venerable York Hall, snatching the IBF world flyweight title from Moruti Mthalane, who rode into the match on 16-fight winning streak, having last lost in 2008 at the hands of Nonito Donaire. In some quarters, Mthalene, a 38-year-old South African, was considered boxing's most underrated champion, but he had no antidote for Edwards, an undefeated (16-0) 25-year-old Londoner who displayed exceptional footwork and lateral movement to keep Mthalene from successfully applying pressure and cutting off the ring.
Mthalene, who fell to 39-3, was making the fourth defense of the title he won from Muhammad Waseem in Kuala Lumpur. Among his victories during his winning streak was a fifth-round stoppage of current WBO bantamweight champion John Riel Casimero.
With only four of his 16 victories coming by stoppage, Edwards, the younger brother of former two-time world title-holder Charlie Edwards, won't win any awards for his punching power, but he exhibited a high ring IQ while becoming promoter Frank Warren's second active world champion, joining Tyson Fury.
The judges had it 120-108, 118-111, and 115-113. Mthalene reportedly had to quarantine for 10 days in Tunisia on his flight from Johannesburg to London, but went to post the favorite although Edwards was well-fancied.
Co-Feature
Michael Conlan moved up a weight class to super bantamweight for his first 12-rounder and emerged with a majority decision over Ionut Baluta, a Madrid-based Romanian who entered the contest riding a 6-fight winning streak. The scores were 117-112, 115-114, and 114-114.
Many of the rounds were close. In the eighth, it appeared that Conlan's body shots were taking their toll on Baluta, but the Romanian got a second wind and performed well in the 10th and the 11th. Conlan, who improved to 15-0, had the better of the milling in the final round and was a deserving winner in his second straight appearance at York Hall where he scored a 10th round stoppage of Sofiane Takoucht in his last start.
A noted spoiler whose last two victories came against a former title-holder (TJ Doheny) and a former Olympian (David Oliver Joyce), Baluta declined to 14-3.
Also
In a match between unbeaten junior middleweights, Troy Williamson (16-0-1) scored a sixth-round stoppage of Kieran Smith (16-1). This was a fairly even fight through five frames with no indication that the bout was headed to a violent conclusion. But in the sixth, Williamson nailed Smith with a wicked right hand that snapped his head back. Only the ropes kept Smith from falling, but his goose was cooked and after a flurry of punches, he pitched face-first to the canvas, unconscious.
Williamson's final punch landed behind Smith's left ear as the referee was moving in to waive it off. The official time was 1:28 of round six. The match was framed as an eliminator for the British title held by Ted Cheeseman.
To comment on this story in the Fight Forum CLICK HERE
Boxing and the Splendor of Cuban Sports: An Interview with Author Tim Wendel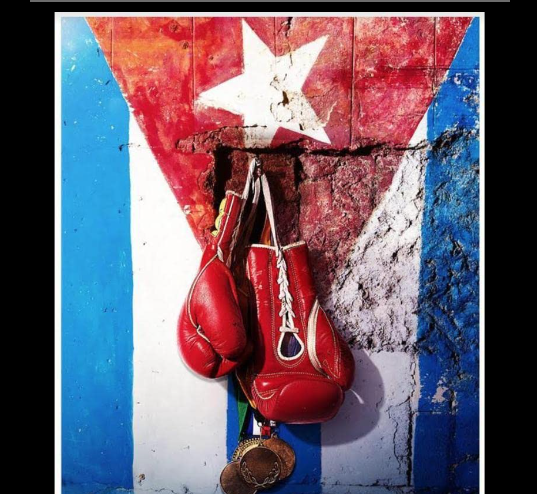 Boxing and the Splendor of Cuban Sports: An Interview with Author Tim Wendel
Cuba is an island nation of roughly 11.4 million inhabitants and while sugar and cigars are major exports, superb athletes aren't very far behind.
Known as a longtime baseball hotbed, the island has produced countless individuals who played and shined in the major leagues. Not to be overlooked is that Cuba has also given the world some of the best boxers ever to slip on a pair of gloves.
A partial list of standouts includes Teofilo Stevenson, Felix Savon, Kid Gavilan, Jose Napoles, Kid Chocolate, Sugar Ramos, Benny Paret, Joel Casamayor, Erislandy Lara, Guillermo Rigondeaux, Yuriorkis Gamboa and Yordenis Ugas.
That's a mouthful and then some.
Tim Wendel, a Baltimore, Maryland-based writer in residence at Johns Hopkins University and one of the founders of USA Today Baseball Weekly, has visited Cuba four times. Though baseball is Wendel's specialty, he's also familiar with the gloved warriors.
Why has Cuba, despite its small population been so successful in producing so many outstanding athletes?
"Sports provided a way for Cuba to compete and even excel on the international stage. Baseball and such Olympic sports as boxing and track and field were emphasized by the Castro government. It helped that Fidel Castro, the island's longtime dictator, loved sports, starred at basketball, ping-pong and baseball as a schoolboy," explained Wendel, who has published 14 books including several works of fiction.
"I had fun teasing out the "what-if" aspect of the latter in my first novel, "Castro's Curveball." Winning gold medals and doing well in such international competitions as the World Baseball Classic was a way for Cuba to stand out. In addition, Cuba often had the domestic situation to develop stellar athletes. An understanding of a particular sport was regularly handed down from parent to child, as well as team allegiances. For example, if older members of a family were fans of the Habana Lions, once one of the fabled winter ball teams, the children would likely be Lions fans, too."
And there have been plenty of incentives for athletes to excel on the world stage.
"More importantly, performing well against the rest of the world was a way for an athlete to help his or her family," said Wendel, who earned a bachelor's degree in journalism and a minor in English from Syracuse University and a master's degree in fiction writing from Johns Hopkins University. "For decades, the best apartments and automobiles, what little the island nation had, or the government could provide, went to the best athletes."
Stevenson, a three-time Olympic gold medalist who recently passed away, never fought professionally.
"It's unfortunate that Stevenson never boxed against the best. I believe that's why many baseball players have opted to defect," Wendel said. "They want to test themselves against the best. Stevenson would have done well against Muhammad Ali, Joe Frazier and the other elite boxers from the 1970s and 1980s. Unfortunately, politics derailed what could have been some epic bouts."
Recently the Cuban government has allowed its boxers to leave but in turn they would have to hand over a significant portion of their purse. What's Wendel's opinion on this matter?
"The new policy is better than nothing. They started to take a similar approach with baseball about 10 years ago and it allowed some of the top athletes in that sport to have more control over their affairs, make some money, and see more of the world," he said. "But having a significant portion of their earnings going back to the government sends the wrong message. If the Cuban government believes this will stop or delay their top athletes from defecting, they are misjudging the situation. The more the Cuban athletes hear about how professional sports works in the rest of the world, especially the U.S., the more they want to be a part of it."
Wendel said there's something about athletic excellence that any fan, Cuban or otherwise, can appreciate.
"The Cuban people, like sports fans anywhere, enjoy watching excellence and that's been the island's legacy for many decades," he pointed out. "The success of Stevenson eventually led to fellow Cuban champion Felix Savon. Both of them are three-time Olympic champions."
Many Cuban stars are more than mere athletes, they're actors on a stage, a really big and grand stage. "A flair for the game, whether it's in boxing or baseball or other sports, has been misunderstood over the years. Cubans, similar to athletes from other Latin American nations, love to exhibit a joy for the game," said Wendel. "In this country, that's sometimes mistaken for showing the other team up. But as more Latinos have played starring roles, especially in the U.S. major leagues, I believe fans and even opposing players better understand where the Latino stars are coming from. Why do they do what they do?"
Wendel focused on something with which he's very familiar: "A decade ago, I was an advisor on a permanent exhibit at the Baseball Hall of Fame in Cooperstown," he said. "We advocated for a screen showing a highlight loop of amazing plays by Latino stars (Roberto Alomar snaring a line drive, Omar Vizquel bare-handing a ball to save a no-hitter, etc.). That became the most popular part of our "Viva Baseball" exhibit."
Castro was the boss of the island from 1959 until his passing in 2008. During his four trips to Cuba, did Wendel ever have a chance to speak with El Presidente?
"I never spoke with Castro, which may have been just as well. He's a major character in the two novels I set in Havana ("Castro's Curveball" and, most recently, "Escape From Castro's Cuba," the latter of which recently won an Indie Book Award). I was six rows behind Fidel at the 1999 exhibition game between Team Cuba and the Baltimore Orioles. That said, it could have been an awkward conversation."
Wendel did however speak with a Cuban sports legend.
"Besides such Cuban ballplayers as Victor Mesa Sr. and Omar Linares, one of the most intriguing conversations I ever had about Cuba and sports was with Alberto Juantorena, who won the 400- and 800-meter races at the 1976 Olympics," he said. "When he finished competing, he became one of Cuba's top sports officials. We met at a reception in Havana for Olympic medalists. I wasn't invited and got in through a back exit. "What are you doing here?" Juantorena asked me. I shrugged and then we had an enjoyable conversation about Cuba and sports."
For decades, getting to Cuba was a difficult proposition for an American. But if you did make it there, it could be a splendid experience.
"Travel to the island got more difficult with Donald Trump as president," Wendel offered. "In fact, the last trip I made to Havana was in early 2017 before he was sworn in. When everyday people can talk with everyday people, I believe we're often better off than when politicians are left to dictate everything."
"One of my best times in Cuba was walking through the old part of town, near the harbor and having a pack of kids and someone's grandmother show me around," he said. "In fact, the older lady insisted that the Cubans never trusted the Russians. When I asked why, she replied, "We're better dancers."
Wendel added: "On my four trips to Cuba, I bring along new baseballs. I'll hand them out to the kids playing the game in alleys and backstreets," he said. "They look at me with big eyes, like I just handed them the Hope Diamond."
Have sports, including boxing, helped bridge the gap between the United States and Cuba?
"Yes, but we certainly have a long way to go. That said, I'm reminded of my first trip to the island, back in 1992. I was covering some exhibition games between Team Cuba and Team USA. This was a few weeks before the Barcelona Summer Olympics," Wendel said. "First, I was so impressed with the Cuban's caliber of play. That's still one of the best infields, offensively and defensively, I've ever seen and I covered the major leagues, on and off, for 20 years."
"Still, what I remember best about those games in Holguin, on the eastern end of the island, was this old man coming up to me in the stands. He asked me about the Minnesota Twins, who had won the 1991 World Series, one of the best Fall Classics ever, and I told him it would be difficult for them to repeat. The Twins didn't have the largest payroll in the game."
Wendel continued: "Undoubtedly, they would lose several stars and they did," he said. "I was into my sports-talk radio answer when he interrupted me. "I know all that," he said. "OK, I replied. What do you want to know? "What do they look like," he said. "That's when it
hit me what a star-crossed land Cuba is. Here's this guy who knew as much about the Twins' roster and payroll as me, but he didn't know what they looked like."
And because the island can be isolated from the outside world, it makes it difficult for those there to get any information.
"That's how separated the island is from the rest of the world, especially the sports world," Wendel said. "So, I went around the diamond, with major help from several of the other American sportswriters. We put Kent Hrbek at first base, Jack Morris on the mound and finished with Kirby Puckett in centerfield – a guy who's difficult enough to describe in English. As I was searching for the right words, I was turning to my fellow scribes, looking out at the field. I didn't focus on the old Cuban gentleman until I was finished. Then I turned back to him and said, "There you go. There's your 1991 World Series champions."
Wendel then described the man's reaction. "The old man had tears in his eyes," he said. "He slapped me on the shoulder and said, "Thank you. Now, I know." With that, he disappeared into the crowd and since then I've never been able to get Cuba, its sports stars and its people, out of my head."
Sports aren't perfect and neither is boxing or baseball, but sometimes they are able to bridge gaps.
To comment on this story in the Fight Forum CLICK HERE
Weekend Boxing Wrap-Up: Budler, Spencer, Rodriguez, Azim and More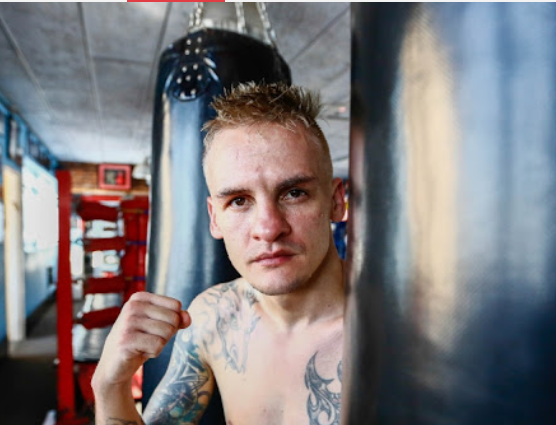 Weekend Boxing Wrap-Up: Budler, Spencer, Rodriguez, Azim and More
South African light flyweight Hekkie Budler, who has had a very interesting career, set himself up for another world title shot on Saturday in Mexicali, Mexico, with an upset of Mexicali's Elwin Soto, the former WBO 108-pound world title-holder. Soto, 25, was the younger man by nine years, but he couldn't hold off Budler who scored the bout's lone knockdown in the final round to eak out a narrow decision (114-113 across the board) in a bout that without the knockdown would have been ruled a draw.
Budler (34-4, 10 KOs) has been a 12-round fighter since early in his career. He's appeared in 23 fights sanctioned for one title or another. His signature win was an upset of heavily favored Ryoichi Tagouchi in Tokyo. Ironically, that fight was also scored 114-113 across the board.
Elwin Soto, who was 19-2 heading in, was a consensus 6/1 favorite over the South African invader. The locale loomed large in shaping the odds but Budler's relative inactivity was no less salient. He had missed all of 2019 and 2020 and would be making his first start in 30 months.
Budler vs. Soto was framed as a WBC eliminator. That makes Budler the mandatory opponent for Japan's newly-crowned Kenshiro Teraji. If he chooses to go in a different direction, an intriguing fight awaits with Jonathan Gonzalez who stripped Soto of his title by split decision in Fresno last year and successfully defended his belt on Friday with a unanimous decision over Filipino challenger Mark Anthony Birraga. And don't rule out a rematch with Soto who was off-balance when Budler scored the decisive knockdown, leaving Soto more surprised than hurt.
—
An even bigger upset was forged on Thursday in Montreal where Dante Jardon upended Artem Oganesyan. Jardon had Oganesyan on the deck in the opening round and went on to win a clear-cut, 10-round decision.
A super welterweight who was 13-0 (11) heading in, Oganesyan, a 22-year-old Montreal-based Russian, is managed by Camille Estephan who also manages Artur Bieterbiev. Estephan had been touting him as a smaller version of Beterbiev.
Mexico City's Jardon, who improved to 35-8, has proven to be quite the spoiler. In August of last year, he went to Sheffield, England, and scored a ninth-round stoppage of Sheffield's previously undefeated Anthony Tomlinson. Jardon is a former world title challenger but back then he weighed only 130 pounds.
The Oganesyan-Jardan match was on the undercard of a show headlined by a 10-round match between Canadian-Armenian super middleweight Erik Bazinyan and Argentina's Marcelo Esteban Coceres. Bazinyan improved to 28-0 (21) with a wide 10-round decision over Coceras (30-4-1) who was the first fighter to extend Edgar Berlanga the distance in a 10-round fight.
Middleweight Steven Butler and junior welterweight Yves Ulysse were victorious in other undercard bouts as was super welterweight Mary Spencer who stepped in up class and stole the show with a smashing first-round knockout of Uruguay's Chris Namus. Spencer had Namus, a former IBF world title-holder, on the canvas three times before the bout was halted at the 1:56 mark of the opening round.
At age 37, Spencer has little time to waste if she wants to make her mark in this sport, but she's very good. A three-time world amateur champion, she lost a four-round split decision to Claressa Shields on Shields' turf in Michigan in 2017. An Indigenous Canadian on her father's side, Spencer is 6-0 (4) as a pro and has yet to lose a round.
—
Also on Thursday, Jarrell "Big Baby" Miller returned to the ring on a small show in Buenos Aires after an enforced absence of more than three years and won a unanimous decision over hard-trying but overmatched Ariel Esteban Bracamonte.
If there were a Hall of Shame for fighters who have failed tests for banned substances, Big Baby would have the largest plaque in the joint. Against Bracamante, who brought an 11-7 record and been stopped five times, he weighed in at 341 ¾ pounds, 25 pounds heavier than his career high, but actually looked in better shape than his flabby Argentine opponent.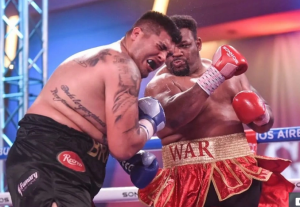 It was a workmanlike performance in the words of ringside scribe Diego Morilla. Big Baby lost a point for a low blow in round four, but prevailed on scores of 97-92 across the board, advancing his ledger to 24-0-1 (20).
Kazakhstan's heavyweight hopeful Ivan Dychko, a two-time Olympic bronze medalist, was also on the card and, akin to Big Baby Miller, went 10 rounds against a local man with a flabby physique who proudly stayed the course, exceeding expectations.
Dychko had won all 11 of his previous pro fights by knockout. He topped Kevin Espindola (7-4) by scores of 100-90 and 99-91 twice.
—-
In Coventry, England, on Saturday, local fan favorite Sam Eggington (32-7, 18 KOs) stayed relevant in the 154-pound class with a hard-fought, 12-round unanimous decision over Poland's spunky Przemyslaw Zysk (18-2). All the talk, however, was of 20-year-old phenom Adam Aziz who blasted out Belgium's Anthony Loffet in 66 seconds on the undercard.
Azim, whose older brother Hassan Azim followed him into the pro ranks, is trained by Shane McGuigan whose stable also includes WBO world cruiserweight champion Lawrence Okolie and WBA secondary heavyweight champion Daniel Dubois. McGuigan has called Azim an unbelievable talent and predicted that he will go on to transcend the sport, an opinion echoed by Amir Khan who parlayed an Olympic medal at age 17 to become a big star in the U.K.
That's high praise and Azim (5-0, 4 KOs) didn't disappoint on Saturday. He had Loffet on the deck in the first 25 seconds and was so dominant that Loffet's corner tossed in the towel before the first round was half over.
—
Adam Aziz and Mary Spencer turned in show-stopping performances on their respective cards, but the prize for the best performance in a high-profile fight goes to boxing's youngest reigning world champion Jesse "Bam" Rodriguez who delighted his hometown fans with an eighth-round TKO of Srisaket Sor Rungvisai on a Matchroom show in San Antonio.
Rodriguez turned heads in February when he out-pointed veteran Carlos Cuadras for the vacant WBC super flyweight title. Rodriguez, who took the fight on six days' notice and was moving up a weight class, impressed the cognoscenti and his footwork and his utilization of angles, inviting comparisons to Vasyl Lomachenko.
Against Sor Rungvisai, Rodriguez (16-0, 11 KOs) had the fight well in hand before dropping Sor Rungvisai in the seventh round with an overhand left. In the following frame, he pinned the Thai veteran against the ropes and strafed him with a fusillade of punches, forcing the stoppage.
Jesse "Bam" Rodriguez would be a shoo-in for Breakthrough Fighter of the Year if the year ended today. When the next quarterly pound-for-pound surveys are released, his name will inevitably appear in the "also receiving votes" category. The polish he displays at the tender age of 22 is another feather in the cap of his trainer Robert Garcia who will be Anthony Joshua's main man in the corner when Joshua opposes Oleksandr Usyk on Aug. 10.
To comment on this story in the Fight Forum CLICK HERE
Jesse "Bam" Rodriguez Dazzles on DAZN; Akhmadaliev and McCaskill Win Too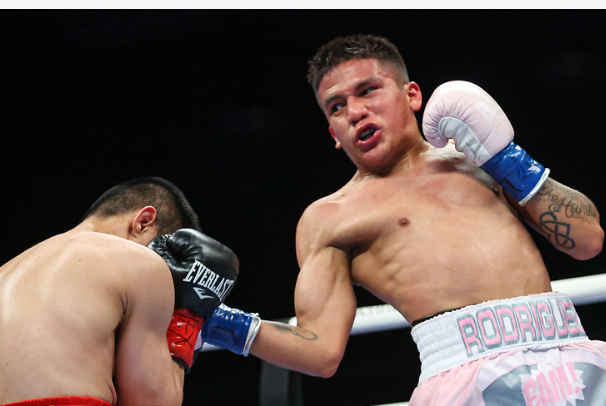 Jesse "Bam" Rodriguez overpowered the dangerous Thai champion Srisaket Sor Rungvisai by stoppage and retained the WBC super flyweight title in spectacular fashion on Saturday.
"Feels like a dream," said Rodriguez.
Fighting in his hometown of San Antonio, Texas, the 22-year-old Rodriguez (16-0, 11 KOs) befuddled and battered the powerful Sor Rungvisai (50-6-1, 43 KOs) at the Tech Port Arena. Most expected a decision win against the always dangerous Thai warrior.
When Rodriguez was asked to face the two-time conqueror of Roman "Chocolatito" Gonzalez and victor of Juan Francisco Estrada, many felt he was being shoved into the situation too early.
He was more than ready.
The memories of young champions put into the fire too early always loomed in the back of many experts' assessment of the outcome.
"Bam" Rodriguez put those concerns to rest.
Behind his clever footwork and use of angles and jabs the muscular younger brother of IBF super flyweight champion Joshua Franco controlled the ring. Sor Rungvisai, 35, was unable to connect solidly for three rounds.
Though Rodriguez won the first three rounds clearly, the Thai fighter was eager to exchange with the intent of landing one of his big blows. When Sor Rungvisai could not pound the head, he targeted the body.
When the Thai fighter resumed targeting the body, he was met with stiff jabs and a strong Bam uppercut. From that point on the Texan who trains in Riverside, California seemed in even more control.
"His power wasn't the same after the third round. That's when I took advantage," said Rodriguez.
During an exchange of blows Rodriguez connected with a counter left and down went Sor Rungvisai. He easily got back up but seemed surprised by the outcome. He never seemed the same after the knockdown.
"I threw my left shot and he went down," said Rodriguez.
Rodriguez opened the eighth round with a veteran's confidence and unleashed a five-punch combination that seemed to surprise and stun Sor Rungvisai. The crowd sensed a big moment and Rodriguez did too. The young champion unleashed another combination that stunned the Thai fighter and Rodriguez opened a torrential flood of blows until the referee stopped the fight with 1:50 of the eighth round.
Rodriguez had stopped Sor Rungvisai on his feet.
"We came out here tonight to put on a show," said Rodriguez.
Super Bantamweight Title
WBA and IBF super bantamweight titlist Murodjon Akhmadaliev (11-0, 8 KOs) could have defeated veteran Ronny Rios (33-4) by a decision but was convinced to go for the knockout and did in the 12th and final round.
It was Akhmadaliev's third defense of the two world titles.
The Uzbekistan fighter used his southpaw jab to score heavily and battered the body to keep Rios from gaining too much confidence. Akhmadaliev was winning most rounds but his corner convinced him to go for the knockout and he did. A body shot followed by several blows put Rios down. He got up but a flurry of blows forced the referee to end the fight.
Undisputed welterweight champion
Once again Jessica McCaskill (12-2, 5 KOs) surprised the experts and ran Mexico's Alma Ibarra (10-2, 5 KOs) out of the ring with a bludgeoning attack to retain the undisputed welterweight world championship.
With most predicting a stiff test, McCaskill immediately erased all doubt with a withering offensive burst that stunned the much taller Ibarra with the first punch she absorbed. From the first round on the taller Mexican fighter was unable to connect with more than a few punches and instead relied on holding to survive.
I thought it was going to be a crazy firefight Mexican vs Mexican," said McCaskill who is half Mexican and half Black. "I just knew my training was spectacular. I just had too much power, too many angles."
McCaskill said she will be dropping down to super lightweight.
"I think I'm going to go down to 140. 147 doesn't interest me," McCaskill said.
Also
Raymond Ford (12-0-1, 6 KOs) cruised to victory over Richard Medina (13-1) in a battle between undefeated featherweights. Ford was as comfortable as an old sofa behind his southpaw jab in all 10 rounds and simply stuck it into Medina's face with little danger of return fire.
Photo credit: Matchroom
To comment on this story in the Fight Forum CLICK HERE