Boxing Odds and Ends: 'Stitch' Duran at the Top Rank Gym and More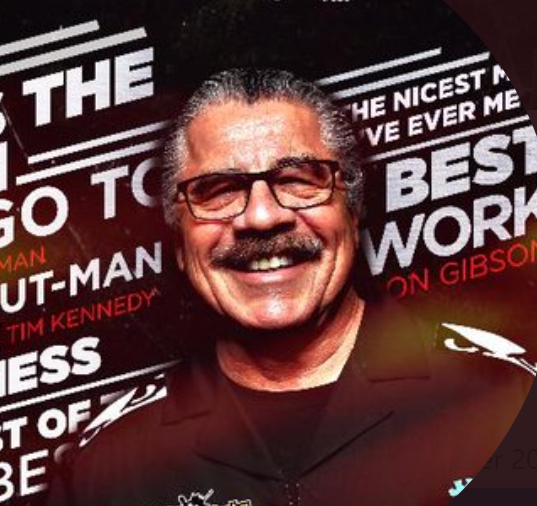 Jacob "Stitch" Duran is the most famous cutman in the world. But this past November, when he was working the first of the four Triller shows — the show in Los Angeles anchored by the Mike Tyson vs. Roy Jones Jr exhibition – Duran realized for the first time that his renown wasn't confined to the insular world of combat sports.
"Snoop Dogg came up to me and said, 'man you're a legend, may I take a picture with you?' I was shocked. I had no idea that anyone knew me in that world. It was a memorable moment."
Duran, who turned 70 this month and looks years younger, has had many memorable moments. The night that he plied his trade in London's Wembley Stadium before 90,000 screaming fans is forever embedded in his memory. But that adventure was bittersweet. He worked the corner of Wladimir Klitschko, with whom he had a 12-year relationship, and that see-saw fight between Klitschko and Anthony Joshua ended with Klitschko on the receiving end of a barrage of punches, forcing the referee to step in and call off the contest in the 11th round.
Duran grew up in Planada, CA, an overwhelmingly Hispanic community where a third of the population lives below the poverty line. Planada is in the agriculturally fertile San Joaquin Valley. Most of the working adults are employed by the farms or in a food-related industry. Duran's memoir, "From the Fields to the Garden" (as in Madison Square), written with Zac Robinson, was released in 2011 and spawned a sequel.
If there is ever a third book, one chapter will likely be titled "Life in the Bubble." Duran and Mike Bazzel, and eventually Floyd Mayweather's associate Bob Ware, were tabbed to be the house cutmen for all of Top Rank's so-called Bubble Fights, 22 in all, a series that ran from June 23, 2020 to Feb. 20 of this year from the sterile MGM Grand Conference Center in Las Vegas.
The cutmen and other essential employees were quarantined on the 12th floor of the hotel, departing only for breakfast, lunch and dinner, and for the weigh-in. Bazzel, who has a home in the San Francisco Bay Area, never left the hotel. Duran, who lived 20 minutes away, was able to go home between assignments but the better part of his week was still spent in his 12th-floor "crib."
It was boxing's version of the "Shawshank Redemption," says Stitch, referencing the 1994 prison movie starring Tim Robbins and Morgan Freeman. "We were literally in solitary confinement." But he is thankful that Top Rank COO Brad Jacobs called him and offered him the gig. Duran was one of the few people in boxing who was able to stay busy when things slowed to a crawl.
Duran, an Air Force veteran, came to Las Vegas in 1995. During his early years in the city, he prowled the boxing and MMA gyms, looking for work. Nowadays, he doesn't have to look for work, it seeks him out, but Duran is still an insatiable gym rat of sorts.
Earlier this week he was at the Top Rank Gym which was bustling with activity. Tyson Fury was there being put through his paces by trainer SugarHill Steward, as was Scotland's Josh Taylor, who has a big fight upcoming with Jose Ramirez. The winner will be the undisputed 140-pound champion owning all four meaningful belts.
Duran and the Gypsy King are well-acquainted. When Fury hooked up with Steward, the nephew of the late Emanuel Steward, Stitch Duran came along in what was something of a package deal. Their first fight together was Fury's rematch with Deontay Wilder. Staged at the MGM Grand Garden on Feb. 22, 2020, it was a tour-de-force for the Gypsy King.
"Working with Fury was a seamless transition because I was so familiar with the Kronk way of doing things," says Duran. The legendary Emanuel Steward handled Wladimir for 17 fights. When Steward died of colon cancer in 2012, the torch was passed to Emanuel's longtime assistant Johnathan Banks.
One can number Stitch among those who thought that Emanuel Steward had no peer as a boxing coach: "Emanuel's work with Wladimir in his first fight with Samuel Peter was the best corner work I ever saw. Emanuel's instructions got him back in the fight."
Klitschko looked like a cooked goose after Peter knocked him down twice in the fifth round, but the big Ukrainian went on to win a clear-cut unanimous decision.
There was a camera crew at the Top Rank Gym gathering up the final pieces for a Stitch Duran documentary that commenced filming in Santa Fe, New Mexico. It should prove interesting.
Nat Fleischer Award
The Boxing Writers Association of America has named Joe Maxse the 48th recipient of the Nat Fleischer Award. The award, which recognizes Excellence in Boxing Journalism, is voted on by previous honorees.
A Cleveland native, Maxse, 69, covered boxing for the Cleveland Plain Dealer from 1987 to 2013. Cleveland was an important fight town during most of those years. Don King built his empire there before relocating to New York City and eventually Deerfield Beach, Florida.
The Fleischer Award has been presented every year since 1973. The first recipient was Barney Nagler who went on to helm the BWAA from 1984 to 1989. Nagler was then the sports columnist for the Daily Racing Form. He had begun his journalism career with the Bronx Home News and was the author of two boxing books, most notably "James Norris and the Decline of Boxing," a book that still appears on many lists of the best boxing books of all time.
Former recipients include two members of the TSS family: Bernard Fernandez (1998) and Thomas Hauser (2004). Last year's winner was Graham Houston, the longtime North American correspondent and sometimes editor for several British boxing publications including the venerable Boxing News.
Maxse will be honored along with other award winners (a two-year supply) at the 95th BWAA awards dinner, the date and site of which have yet to be determined. Hopefully, when Maxse takes the podium, he won't conclude his speech without tossing in an impression of the late Harry Carey. Maxse's spot-on impersonation of the iconic baseball announcer endeared him to his peers.
Check out more boxing news on video at the Boxing Channel
To comment on this story in the Fight Forum CLICK HERE
Dan Parker Bashed the Bad Guys in Boxing and Earned a Ticket to the Hall of Fame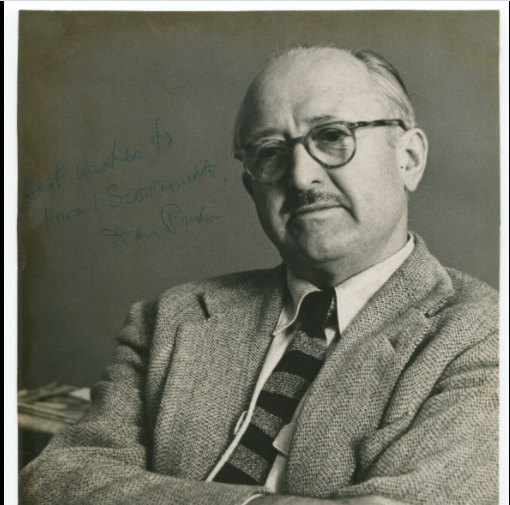 Twenty-five years ago this month, sportswriter Dan Parker was formally ushered into the International Boxing Hall of Fame in the non-participant category. Parker wasn't there to enjoy the moment. He had been dead going on 30 years.
Dan Parker, who began his career in journalism as a court reporter in his native Waterbury, Connecticut, hired on with the New York Daily Mirror in 1924, was named sports editor two years later, and remained with the paper until it folded during a prolonged newspaper strike in 1963, a total of 39 years.
Parker has been underappreciated by historians of the sports page because he worked for a paper that didn't make the cut when advances in microphotography allowed copies of old newspapers to be stored on microfilm. During this reporter's days as a college student — and here I date myself – the only out-of-town papers archived in the school library were the New York Times, Los Angeles Times, and the Washington Post, and to cull something out of them for a term paper one had to commit to spending long hours manually scrolling through reels of microfilm on a clunky machine. The tabloids – and the Daily Mirror was a tabloid – were considered too lowbrow for serious research, and even today in the digital age, stuff by Dan Parker is hard to find if one doesn't have the luxury of hunkering down for an extended stay in the periodicals section of the Library of Congress. His online omnibus consists entirely of scattered stories that were picked up by other newspapers and a few magazine pieces.
But among boxing writers, Dan Parker was a giant. He did more than anyone to cleanse the sport of the hoodlum element. The IBHOF electorate has come up with some curious choices in the non-participant category over the years, but in the case of Dan Parker they certainly got it right.
Parker was a big man, carrying about 240 pounds on his six-foot-four frame, but a man's size is irrelevant when staring into the barrel of a gun and Parker was fearless when facing off with the goons that infested the fight racket. His best year, one might say, was 1955 when a story he authored for Bluebook magazine flowered into an award-winning, six-part series in the Mirror titled "They're Murdering Boxing." The series spawned an investigation that ultimately resulted in the imprisonment of Frankie Carbo, boxing's so-called underworld czar, a man with a long rap sheet, and several of Carbo's collaborators, most notably Philadelphia numbers baron Frank "Blinky" Palermo.
Parker's friends urged him to lay off the hoodlums before something bad happened to him, but he ignored their counsel. "Everybody in boxing lived in fear of this enforcer (Frankie Carbo) but not Dan Parker. Nobody ever put enough heat on Parker to slow down his typewriter," reminisced Hartford Courant sports editor Bill Lee.
Parker's reputation as a reformer was well-established before he zeroed in on the machinations of Carbo and others of his ilk. In 1944, when a vacancy came up on the New York State Athletic Commission, Governor Thomas Dewey, who had made his reputation as a racket-busting District Attorney, offered the post to Parker.
It was easy money, but he declined. "What would I use for a punching bag if I were on the boxing commission myself?," he said.
During a portion of Parker's tenure with the paper, there were eight other New York dailies competing for readers. The Mirror was the paper of choice for well-informed boxing fans thanks in large part to Murray Lewin who came to be recognized as the city's best fight prognosticator within the ranks of the newspaper writers. Lewin, the boxing beat writer, did the grunt work, attending all the little shows and writing up the summaries. Parker, as he freely admitted, was more interested in writing about sporting characters than about the games they played. And like his good buddy Damon Runyon, who wrote for the New York American (later the Journal-American), Parker was inevitably drawn to boxing and horseracing because that was where the most colorful characters were found.
Parker found time to write one book, a primer for novice horseplayers published in 1947 when horseracing was on the cusp of the boom that would lead it to becoming America's top spectator sport (a distinction, needless to say, that wouldn't last).
The book had a chapter on touts, one of Parker's favorite subjects for his newspaper column. They were all charlatans, he wrote, an opinion that did not endear him to the bean-counters as they were forever cluttering up his sports section with ads from racetrack tipsters. Parker wasn't afraid to make enemies on his own paper.
Believe it or not, but there were still folks back then who believed that professional wrestling was on the up-and-up. Parker educated them when he wrote a column that gave out all the winners on a show that hadn't yet started.
The programs for the wrestling shows, which included the bout sheet, were published well in advance and then hidden away until they were needed. Parker procured a copy and from it was able to glean which wrestlers had won their preceding match.
"Dan was a shy, gentle, and kindly man with a quick sense of humor," wrote New York Times sports editor Arthur Daley. But within his profession, he wasn't everyone's cup of tea. The legendary Herald Tribune sports editor Stanley Woodward once likened him to Fearless Fosdick, a character in the L'il Abner comic strip who was a parody of Dick Tracy. Parker had a long-running feud with New York Daily News sportswriter Jimmy Powers which may have had something to do with Powers becoming a well-known radio commentator. In the eyes of the old guard, a true journalist didn't do "electronic media."
When Damon Runyon died from cancer of the larynx in 1946, several of his close friends, notably Parker and the famous gossip columnist Walter Winchell, a Daily Mirror colleague, got together and resolved to create a charity in Runyon's memory. What resulted was a foundation that has raised millions for cancer research. Parker worked tirelessly on its behalf.
Daniel Francis "Dan" Parker died on May 20, 1967, at age 73. He was quite a guy.
Check out more boxing news on video at the Boxing Channel
To comment on this story in the Fight Forum CLICK HERE
What Next for Gabriel Rosado?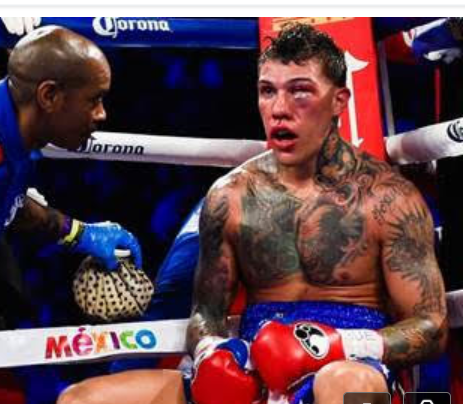 What Next for Gabriel Rosado?
Bektemir Melikuziev, Freddie Roach, Edgar Berlanga, and Jaime Munguia are names that, one way or another, figured into Gabe Rosado's stunning KO last Saturday night in El Paso. It overshadowed the impressive showing by Noaya "Monster" Inoue later that night in Las Vegas.
Rosado (26-13-1) is a well-documented bleeder and just might start spurting during the walk-in, but he is never, ever in a dull fight. The tougher-than-tough Philadelphian won Top Gore honors for his blood and guts TKO loss to Canadian middleweight star David Lemieux in 2014. The year before, he bled aplenty in his game but losing effort against Gennady Golovkin.
This time against Melikuziev, the unbeaten Uzbek, the fight ended in round three when the 35-year-old underdog beat the Eastern Euro fighter to the punch during an exchange of rights with Gabe's landing first and sending the former amateur star into dreamland. The force of the blow was amplified by the younger and faster man coming forward with caution to the wind. And this time, there was no bloodletting.
The knockout should be a contender for KO of the Year. In fact, it was reminiscent of Juan Manuel Marquez's explosive knockout of Manny Pacquiao in their final match.
Once again, Rosado (who is now trained by Freddie Roach) has revived his career and can count on at least one last decent payday. While many think Jaime Munguia would be a solid next fight, the thinking here is that Rosado could get carved up by the undefeated Tijuana veteran who has won 30 of his 37 fights by KO. Munguia is just too good.
The Catch 22
Rosado is an all-action fighter but scar tissue and his propensity to bleed is his worst enemy. It has cost him in the past. For such an offensive-minded fighter as Gabe, he is trapped in a terrible catch-22. If he can get the lead early and the bleeding is stemmed within reasonable limits, he can be a force, but not against the likes of Munguia.
If not Munguia, then who?  Here is one suggestion: How about "The Chosen One," Edgar Berlanga (17-0) whose first round KO streak recently came to an end. Brooklyn vs. Philadelphia would be a nice added touch –not to mention the Puerto Rican factor. Could Rosado expose Berlanga as someone without enough experience, aka rounds? Would Gabe show that Berlanga is more Tyson Brunson that Edwin Valero?
Let's make it happen!
Ted Sares enjoys researching and writing about boxing. He also competes as a powerlifter in the Master-class. He can be reached at  tedsares@roadrunner.com
Check out more boxing news on video at the Boxing Channel
To comment on this story in the Fight Forum CLICK HERE
Fast Results from Las Vegas: Inoue Demolishes Dasmarinas; Mayer UD Farias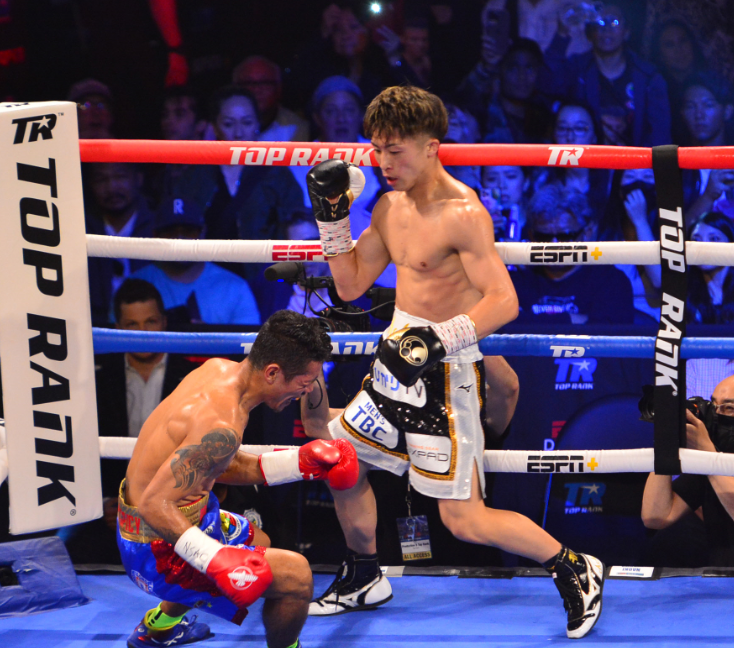 Fast Results from Las Vegas: Inoue Demolishes Dasmarinas; Mayer UD  Farias
LAS VEGAS — Top Rank was at the Virgin Hotels in Las Vegas on Saturday, June 19, for the second of their three June shows. In the headliner, WBA/IBF world bantamweight champion Naoya "Monster" Inoue lived up to his nickname with a vicious third round stoppage of Filipino import Michael Dasmarinas.
Inoue (21-0, 18 KOs) had his opponent fighting off his back foot from the opening bell. He knocked down Dasmarinas in the second with a left hook to the liver and twice more in the third round before referee Russell Mora waived it off. The official time was 2:45.
Dasmarinas brought a 30-2-1 record and hadn't lost since 2014. But he was no match for the "Monster" who looks younger than his 28 years. Those body shots landed with a thud that could be heard in the far reaches of the arena. This kid is really good.
Mikaela Mayer continues to improve as she showed tonight in the first defense of her WBO world super featherweight title. Mayer 15-0 (5) turned away Argentina's Erica Farias (26-5) with a 10-round unanimous decision in a fight that was frankly rather monotonous.
Mayer won by scores of 97-93 and 98-92 twice. Farias, who landed the best punch of the fight, didn't have the taller Mayer's physical equipment but yet landed the best punch of the fight. Her only setbacks have come on the road against elite opponents—Cecilia Braekhus, Delfine Person, Jessica McCaskill (twice) and now Mikaela Mayer.
The opener on the ESPN portion of the show was a lusty 10-round welterweight affair between Ghana native Isaac Dogboe and Glendale, California's Adam Lopez. Dogboe, whose only losses came at the hands of Emanuel Navarette in world title fights, improved to 22-2 by dint of a majority decision that could have easily gone the other way. Dave Moretti had it a draw but was overruled (97-93 and 96-94).
Lopez, one of two fighting sons of the late Hector Lopez, an Olympic silver medalist, did his best work late, particularly in the eighth round. With the loss, his record declines to 15-3.
Other Bouts
Monterrey, Mexico super lightweight Lindolfo Delgado, a 2016 Olympian, was extended the distance for the first time in his career but won a wide 8-round decision over Guadalajara's Salvador Briceno
Delgado won by scores of 80-72 and 79-73 twice while advancing his record to 12-0. Delgado's best round was the eighth, but Briceno (17-7) weathered the storm. Briceno is 5-6 in his last 11, but has been matched tough. The six fighters to beat him, including Delgado, were a combined 78-3 at the time that he fought them.
Vista, California lightweight Eric Puente has yet to score a KO but he is undefeated in six starts after winning a unanimous decision over Mexico's Antonio Meza (7-6). Puente, who is trained by Robert Garcia, knocked Meza down early into the fight with a sweeping left and was the aggressor throughout. The judges had it 57-56 and 58-55 twice.
Puerto Rican super lightweight Omar Rosario improved to 4-0 (2) with a fourth-round stoppage of Reno, Nevada's Wilfred "JJ" Moreno (3-1) The official time was 0:47.
Photo credit: Al Applerose
To comment on this story in the Fight Forum CLICK HERE