Should a Boxer be Forced to Retire When He Reaches a Certain Age?: A New TSS Survey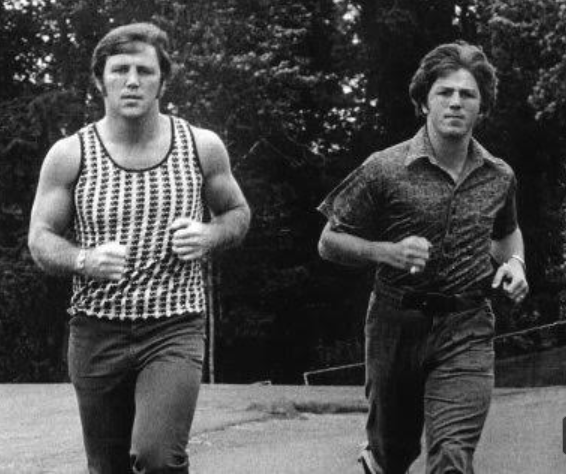 Tris Dixon's new book, "Damage: The Untold Story of Brain Trauma in Boxing," has stirred up considerable conversation among boxing people. In this vein, the survey question this time was whether a professional boxer should be forced to retire when he or she reaches a certain age? Here is what over 40 respondents said. They are listed in alphabetical order.
Jeff Bumpus — former fighter; writer: No. It's the only thing that some people have. It's a way of making a living in a dishonest game. Take that away from a person who can do nothing else and you create a problem where none existed before. He probably will be dead before brain injuries do their work.
Steve Canton — writer, author and head of Florida Boxing Hall of Fame: I don't believe a boxer should be forced to retire at a certain age because each fighter is different and ages differently. The rigors of the sport affect each fighter differently. Rather than a certain age, perhaps medical testing should be the deciding factor.
Michael Culbert — former boxer: Every fighter is different. If a fighter can pass the proper physical exams, he or she should be allowed to box. Especially important are CAT scans and MRI's on the brain for older boxers.
Jill Diamond — WBC International Secretary and Global Chair, WBC Cares:  Physiology differs. A person can be young and sustain enough punches to cause TBI years down the road, or be the kind of fighter that rarely gets hit, has fewer fights, or has a stronger neck and skull, etc. Until there are accurate tests to determine long term damage, I would rather see consistent, uniform and thorough testing rather than age.
Matt Farrago — former boxer and founder of Ring 10: Forced to retire? Absolutely not unless he or she is showing clear signs of serious or permanent damage. No two people are the same. Each fighter handles punches and damage differently. Plus, this is their livelihood. This is how they make a living or hope to. Who gets to make that call and how can the fighter be compensated for by a forced early retirement? A UNION has to formed.
Rick Farris — writer, former fighter, and head of West Coast Boxing Hall of Fame: I have strong feelings about "over age" boxers being licensed to fight. Those for it cite a few examples such as George Foreman to support their theory. Those against bring more credible evidence to support the risks involved. Trying to pick a specific age for mandatory retirement is difficult because all boxers age differently. I'm not going to get involved in this because it will not change one thing.
Bernard Fernandez – journalist, author, 2020 IBHOF inductee: Setting an arbitrary retirement age for boxers is not the answer to eliminating or even significantly reducing the possibility of traumatic brain injuries. Meldrick Taylor's cognitive decline was beginning to be evident at 26; Bernard Hopkins still was mentally sharp after his final bout, when he was nearly 52. Not all fighters, or their brains, fit easy categorization. State commissions and physicians can only go so far in making assessments of any individual's fitness for continuing in a hard profession.
Michael Finn — former fighter and president of RING 4: A boxer's right to participate in the sport should be terminated when mental or physical defects are noticed in the person in question. The decision should be rendered by an independent medical staff.
Jeffrey Freeman (aka KO Digest), TSS writer: Of course not. Stop the sanctimonious wailing. Boxing is the hurt business. Under a proposal such as this it's hard to see how George Foreman would ever get his triumphant last laugh at 45. Unless the age limit is 65, no.
Clarence George – writer, boxing historian: Wear and tear trumps age. Medical exams should be more regular and rigorous, and the doctor's determination should be universally accepted by boxing commissions. It's not unreasonable for the boxer to request a second opinion. If there's medical agreement, however, that should be the end of the matter. If there isn't, a third doctor's opinion should be sought, in which case it would come down to a split decision one way or the other.
Dr. Margaret Goodman: — neurologist, author, former ringside physician, chairperson of VADA, 2021 IBHOF inductee:  "Age is just a number" and cannot be the sole factor. The timing of a fighter's retirement should be multifactorial. "Ring age" is much more important—number of rounds a fighter has endured–including in the amateurs, stoppage losses and most importantly a yearly evaluation. Too few commissions are willing to deny a fighter a license and so they rely upon passing tests. It's frustrating, often expensive and time consuming when determining if a fighter's license should be denied, but to me, the most important role a commission has is determining fitness to box.  More often than not a commission doesn't need costly testing to make that determination, but legal challenges often weigh in their determination. If we look at CTE autopsies–some of those individuals only had exposure when they were teens or college age….and may have had subconcussive blows–which may be of more significance than concussion itself. I agree that boxing is a young person's sport, but that doesn't mean we don't include it—it means we have to look at the entire picture.
Randy Gordon — former New York Athletic Commission chairman, host of "At the Fights" on Sirius Radio, historian, writer: Part of me says there should be a mandatory retirement while another part says everyone is as different as a fingerprint. If the retirement age in boxing was, say  38, that would eliminate such men as Mayweather, Foreman,  Holyfield, Luis "King Kong" Ortiz, etc from competing. Some fighters are damaged goods in their early 30's, while others (like Mayweather and Pacquiao) are still going strong in their early 40's. With some fighters, obvious physical deterioration is noticeable in their 20's. There should not be a mandatory retirement age, but rather, a commission or medical review board to handle each case individually
Allan Green — multiple world title challenger: No, as long as his or her health is intact they should be allowed to compete.
Lee Groves — historian, writer, author, CompuBox wizard and podcast panelist:  I don't agree with a mandatory blanket age. We all are built differently and we all have different capabilities. Some fighters burn out by their mid-20s while others, like Foreman, Hopkins, Pacquiao, Mayweather, GGG and many more, can still compete well at a high level at an advanced age. What if Eder Jofre retired for good after his second fight with Harada? We then wouldn't have seen one of the most remarkable comebacks in history — 25 fights, 25 wins and a second world title in a higher weight class at the age of 37. Medical and ring results and not an arbitrarily determined age should determine when a fighter should retire.
Henry Hascup — president of the New Jersey Boxing Hall of Fame, RING 8 official, and noted historian: No! Fighters grow old at different times. Fighters like George Foreman, Bernard Hopkins and Archie Moore were still competing at a high level well into their 40's. While others like Terry McGovern, Tami Mauriello and Artie Levine were done by their mid-20's! Styles play a big part as well; boxers usually last longer than sluggers.
Bruce Kielty — professional boxing booking agent:  Federal laws would prevail if an arbitrary age was chosen. The Chief Ringside Inspector should be qualified enough to determine if a boxer is unable to safely compete and his/her license be revoked. The boxer could then challenge the matter in a court of law, if desired.
*********
I am an old man. I just happen to be an old man that can fight. — Bernard Hopkins
*********
Dr. Stuart Kirschenbaum – former head of the Michigan Boxing Commission: Age is not the problem…it is how many miles are on the car. Boxers start too young as amateurs when the brain and skull is not fully developed. Professionals can be placed on medical suspensions but be allowed in unregulated gyms to spar. In baseball a manager counts pitches not to ruin an arm, but in boxing it's not the number of fights but the number of rounds in the gym and bouts that accumulatively cook in the crock pot for a serving of brain trauma.
Jim Lampley – linchpin of the legendary HBO Boxing announcing team, 2015 IBHOF inductee: Age is the wrong criterion for evaluation of a fighter's pathology because just as styles make fights, styles identify careers. A gifted 37-year-old defender/counterpuncher is one thing, a gifted 37-year-old puncher/warrior is something entirely different. I am not sure what criterion I would suggest for this other than age, but I know for sure that age isn't it.
Arne Lang — TSS editor-in-chief, author, historian: If I ran a state boxing commission, I would convene a panel and charge them with developing a formula for establishing a line in the sand — a boundary beyond which no boxer would be licensed in my jurisdiction. Yes, I know that's just passing the buck, but so be it. And by the way, Evander Holyfield doesn't need to be taking any more punches to the head, not even punches from oversized gloves in a glorified sparring session, and shame on anyone that would abet it.
Ron Lipton — former police official, veteran pro referee, former fighter, boxing writer and historian, inducted into both the NJ and NY State Boxing Halls of Fame: The sole determining factor is the physical and medical determination by the respective Boxing Commission's medical staff once they have been  provided with the results of an MRI, cat scan, thorough blood workup, physical tests and exams involving reflexes, eye sight, hearing, cardio vascular fitness and the history of the individual applying for the boxing license. When approaching 50 years of age, prudent judgment is required. Some boxers are too old at 35, others can still fight at 50.
Paul Magno — boxing writer, author: No mandatory retirement age. All fighters are different and travel different career paths. Forcing retirement would've robbed us of Bernard Hopkins' post-40 run as well as the late career exploits of Pacquiao, Mayweather, Marquez, etc. There should be, however, an oversight committee of experts and fight-knowledgeable physicians deciding, on a case by case basis, whether fighters should still be competing. But that opens up the question of how we could do something like that and enforce the committee's decisions. As long as boxing continues to be a regulatory mess, fighters will continue to box under varying degrees of risk.
Don Majewski — historian and official of RING 8: I suppose a question of an individual's right comes into play here. Different people age in different ways. On the whole humans are growing larger and living longer as to boxing; Wilfredo Benitez was finished at 25 and is near catatonic today at age 63 while Archie Moore did not win his world title until he was 36 – and held it for nine years and lived, relatively healthy, to 82 years of age. On the whole — as we are talking about a commercial enterprise (professional boxing) where the person (the boxer) is the commodity — I do not believe that any boxer who has not made it by age 40 should continue to fight. I would say that 90% of the professional boxers I've known past the age of 65 have had brain damage
Adeyinka Makinde – U.K. barrister, author, and contributor to the Cambridge Companion to Boxing: Boxers should not be forced to retire at a particular age. But boxing commissions should strictly enforce retirement based on comprehensive physical surveys with particular emphasis on the condition of a boxer's brain and eyes. There would need to be a determined level of national and international co-operation over this. The quality of the fighter's life after what is a limited time span of a career should be paramount notwithstanding the romantic tales of the likes of Joe Frazier and Gypsy Joe Harris, both of whom apparently fought half-blinded.
Robert Mladinich — former NYC police official, boxer, writer, author, actor, commentator, and God only knows what else: In the early 1980s, heavyweight Dave Zyglewicz sued the NYS Athletic Commission to be allowed to make a comeback at 38. Today he would be considered a spring chicken. To protect fighters from themselves, there could be individual medical evaluations after a certain age or amount of fights with strict criteria. One size does not fit all in life or in sports so putting an age limit on boxers would be well-intentioned but unfair.
************
                     Retirement should be multifactorial — Dr. Margaret Goodman
                                                  ************
Gordon Marino – philosophy professor emeritus, Wall Street Journal boxing writer, trainer: Seems like a good idea to me despite the exceptions. My wife is a neuroscientist and work some with the professional fighters brain health study. The fact is as we age our brains shrink and there's more room for them to be slammed against our skull or at least that's how I understand part of the problem. Still, so many people who fight on into middle age are just doing it because they're broke and they're getting hurt.
David Martinez — writer and historian: I have always contended that NOBODY beats father time. I would be in favor of a specific age limit for professional boxers to retire, that has nothing to do with the amount of fights in one's career. These days we are subject to retired boxers in participation with something called an "exhibition" … as said in a circus "ladies and gentlemen – let the show begin" and I can't wait – what's next – dancing elephants?
Layla McCarter – active boxer, world champion in multiple weight divisions: Definitely not. Age is not the factor unless they have slowed considerably and are taking damage. Everyone is different.
Diego Morilla — The Ring en Español/RingTV.co: The issue of  forcing retirement due to age or neurological damage is touchy and goes straight to the heart of boxing as a viable human activity. But the debate, to me, can be summarized in a simple question: are the proponents of this forceful ban or retirement willing to do the same for every human activity that implies irreparable physical or neurological damage? Are they rallying people in coal mines, chemical plants, virus-infested intensive care units or risky demolition or construction sites to leave those life-threatening, low-paying jobs because of the danger they face each day? As long as a person is free to earn a living legally and honestly, he or she is free to put his body at risk. And no other human activity exposes the hypocrisy of those who pretend to know how to judge other people's exposure to harm better than boxing. Hence the occasional (and always futile) calls for its demise.
Joe Pasquale – elite boxing judge: As in any sport it is about condition, not age. Too many stoppages, injuries and concussions would make it a licensing issue for the Boxing Commission. Otherwise, retirement would be a personal choice.
Russell Peltz – legendary Philadelphia boxing promoter, 2004 IBHOF inductee: Not at all. Look at Hopkins. If they can pass all required post-40 medicals, why not let them fight?
Cliff Rold — writer, editor: No. Mandatory retirement age has never made sense. Fighters age differently.
Fred Romano — historian, author: I am not in favor of mandatory retirement. What we need are state commissions which are not unduly influenced by political or financial factors and that are supported by a sound medical review of potential participants.
Dana Rosenblatt — former middleweight champion of the world, motivational speaker, commentator: All fighters have physical differences that make them more or less susceptible to brain injury. Arbitrary age restrictions will not hurt a fighter's chance of living a quality life after boxing. However, tell George Foreman that he can't fight anymore at the moment he knocked out Michael Moorer and you not only rob him but also the world of true greatness and inspiration.
Ted Sares: TSS writer and historian:  For me, Dr. Bennet Omalu made the CTE breakthrough in football and Dr. Ann McKee connected football to boxing with her study of Paul Pender. Faced with massive legal action, football started to take responsibility. Boxing, however, continues to largely ignore the issues. One way (and there are others) to break through this denial is to establish a zero-tolerance age limit. Make it 40 or 42 or 45, but just do it.
Iceman John Scully — former fighter, elite trainer: Every fighter is completely different. Literally completely different biological forms. You have to go on an individual basis. If forced retirement was in effect, Bernard Hopkins would never have added to his legacy as he did and would never have been a world champion at a seriously advanced age for a boxer and Willie Pep wouldn't have 229 professional victories. Fighters are all completely different physically and biologically and must be treated and dealt with accordingly.
Peter Silkov – British boxing writer, artist, founder of The Boxing Glove: Boxers should not be retired due to biological age but on a performance and health related system. We all know the fighters who have carried on fighting when they are already slurring or showing stark decline in the ring. Often it has nothing to do with biological age, more the mileage travelled inside the ring. Benitez should have been retired at 24 while Archie Moore and Bernard Hopkins were winning world titles in their late 30s and 40s. We have to stop fighters like Danny Williams. It's all too obvious who needs to be retired for their own safety.
Mike Silver — author, writer and eminent boxing historian: Glad you are bringing attention to this important book. Focusing on age misses the point and diverts attention away from the main problem. There are some fighters who should be retired at 19 or 20. There are too many other factors to consider. No one should be allowed near a ring until they've read this book.
Alan Swyer — associated with the West Coast Boxing Hall of Fame, movie producer (Boxeo, etc): Though age is certainly a factor, in a period when boxers have far fewer fights than before, imposing retirement at a certain age seems like a half-hearted solution. Think about the great Sugar Ray Robinson, who had thirteen fights in 1965 alone — and fought until he was 44 had no brain trauma. In contrast, Ferdie Pacheco told me that in Ali's case the issue was not age, but the early signs of Parkinson's. What we need is better coaching plus far better medical attention.
Bruce Trampler – Top Rank matchmaker, screenwriter, blogger, 2010 IBHOF inductee: It was considered remarkable that Jersey Joe Walcott was heavyweight champ at 38. Athletes age better today (Brady, Foreman, Hopkins,  Pujols, etc.) so there should be no age limit in boxing. However, fighters should be analyzed on an individual basis, from amateurs who have been getting hit in the head since age 10 to the sport's senior citizens. I once asked a neurologist when brain damage showed during an exam, and his reply was "When it's too late." Kelcie Banks, a U.S. Olympian in 1988 at age 23, seemed damaged goods neurologically just four years later. He was a beautiful kid and was sadly allowed to fight on, struggling against very low-level opposition. Many top boxers now fight safely and competitively well into their late 30s and even beyond. We would never automatically say anyone over 75 should not drive, and boxers of any age should be examined separately before being licensed. I saw Jerry Quarry and Terry Norris pass physicals well past their "sell by" date, yet they were rejected for a license, as Kelcie Banks finally was, too. Amen.
Harold Weston Jr. — popular middleweight contender of the 1970s and member of NY State Boxing Hall of Fame: I have discussed this with many doctors and I have been in the ring with great boxers who are not doing well today. Some have passed. Boxing and football are sports in which anything can happen. If you engage with the best, you will get hit "hard."
Gary "Digital" Williams — voice of Boxing on the Beltway: I'm not sure if it should be a certain age more than a certain condition. There is a boxer I know in his 40's who is still competing well. But if the condition is bad, that boxer shouldn't be competing.
Tim Witherspoon — former two-time heavyweight champion of the world: Yes, boxers should be forced to retire if they get too old. It's just too much for the brain to handle. I also think there should be some test-taking to see if a boxer has brain damage. Safety should be the number one priority and also a boxing Union.
Peter Wood — former fighter, writer and author: No, he or she should not be forced to retire. Boxing should remain what it is—an outlaw sport for rugged individuals and risky iconoclasts. Good question.
Observations: Only four respondents (including yours truly) went for an age restriction. The overwhelming consensus can be summed up in three words: "everyone is different." Clarence George's response is especially well-stated and covers the bases nicely.
In summary and based on this survey, the issue is not age. It's the punishment a fighter has taken and the damage it has done.
What do you think?
Pictured: The Quarry brothers, Jerry and Mike.
Ted Sares enjoys researching and writing about boxing. He also competes as a powerlifter in the 80-85-class. He can be reached at tedsares@roadrunner.com
To comment on this story in the Fight Forum CLICK HERE
Avila Perspective, Chap. 153: The Alvarez-Plant Rumpus, Adelaida and More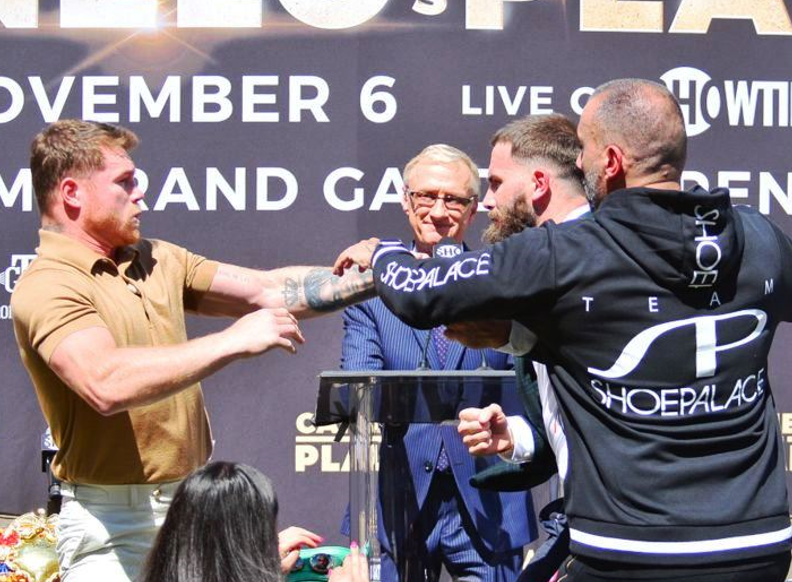 As rare as boxing press conferences occur at the Beverly Hilton Hotel, another odd chapter was added as Saul "Canelo" Alvarez and Caleb Plant traded blows on stage during introductions.
Must be some sort of negative electrical charges emanating on the plush hotel grounds.
It was at the same Beverly Hilton 20 years ago that Mike Tyson went ballistic during a press conference for Andrew Golota in 2000. It was also the place where Roy Jones Jr. kept the media waiting for more than three hours before appearing. Expect the unexpected at the corner of Wilshire and Santa Monica.
When it was announced that Canelo and Plant were kicking off their upcoming fight at the Beverly Hilton, I thought to myself: what kind of shenanigans could possibly happen?
Nah. It's just a weird vibe. But something did.
Alvarez usually refrains from any pseudo masquerades of bravado and machismo. He saves that for the actual fight when he destructs his foes blow by blow.
Plant, on the other hand, has a habit of trading the usual urban insults with whoever he's signed to face in the prize ring. This is his cup of tea. He did the same with Jose Uzcategui, Mike Lee and Caleb Truax.
Since the age of 14, Canelo has amassed 59 pro bouts. I'm sure he's heard all of the jive and taunts anyone could ever think of saying. Yet, somehow, whatever Plant said triggered a shove from Alvarez and the two exploded with a flurry of punches or blows before each camp's supporters jumped in between them to stop the two world champions.
Even Ryan Garcia and his brother Sean Garcia bolted toward the stage to assist their mentor Alvarez.
When asked why he shoved Plant, the Mexican redhead calmly replied that the tall super middleweight from Nashville, Tenn. mentioned his mother.
Then, "I do what I do," said Alvarez.
Plant was somewhat surprised by the Alvarez reaction and able to talk to the media despite suffering a small cut over his eye caused by a blow that ripped his sunglasses off his face. It also took some skin off of the face and drew blood. But he was calm.
"I didn't know what was going to happen," said Plant sitting with a small cadre of reporters. "I'm not more motivated than I already was."
Alvarez said this fight has added a personal dimension to it. That's never happened before said the four-division world champion.
"He can say whatever he wants to me. But he said m-f-r and he crossed the line," said Alvarez.
Alvarez and Plant meet on Nov. 6 at the MGM Grand for the undisputed super middleweight world championship. They are both going to do what they do.
MarvNation at So Cal
Women shall lead them to the front.
Two of the top women fighters in the Los Angeles area will be leading a boxing card on Saturday Sept. 25, at the Pico Rivera Sports Arena in Pico Rivera, Calif. It will be shown live on the MarvNation site on Youtube.com and also on Supreme Boxing's YouTube.com site. Doors open at 5p.m.
Adelaida "La Cobra" Ruiz (9-0-1) and her swinging style will be facing Mexico's Nancy Franco for the WBC Silver super flyweight title in the main event set for 10 rounds.
Also, Maricela "La Diva" Cornejo (13-5) faces Miranda Barber (2-2) in a six-round middleweight fight.
Both Cornejo and Ruiz are top contenders in their respective weight classes and are both in competitive fights when they enter the ring on Saturday.
The boxing lineup also features many young prospects from Brooklyn to Mexico ready to test their skills.
Big Man vs Little Man
Multi-belt heavyweight champion Anthony Joshua (24-1, 22 KOs) defends against former undisputed cruiserweight world champion Oleksandr Usyk (18-0, 13 KOs) on Saturday, Sept. 25. It will be streamed live by DAZN.
Usually when a cruiserweight ventures to the division of the big men it doesn't turn out very well. But Usyk has a little more to offer than a big punch. Aside from being a southpaw, the Ukrainian has the ability to adapt and create while on the move.
Joshua can also create. He was forced to change when Andy Ruiz took away the title via knockout two years ago and avenged the defeat by going on his toes. Will he again be forced to adapt despite a three-inch height advantage?
Fights to Watch
Thurs. FITE.TV 7 p.m. Donte Stubbs (6-2) vs Kevin Ottey (6-2-1); Lorraine Villalobos (4-3) vs Alexis Martinez (0-2).
Fri. Showtime 7 p.m. Jarico O'Quinn (14-0-1) vs Saul Sanchez (16-1).
Sat. DAZN 11 a.m. Anthony Joshua (24-1) vs Oleksandr Usyk (18-0); Lawrence Okolie (16-0) vs Dilan Prasovic (15-0); Callum Smith 27-1) vs Lenin Castillo (21-3-1).
Sat. MarvNation/YouTube.com 5 p.m. Adelaida Ruiz (9-0-1) vs Nancy Franco (19-14-2); Maricela Cornejo (13-5) vs Miranda Barber (2-2), Tenochtitlan Nava (8-2) vs Ivan Varela (5-3).
Photo credit: Al Applerose
Check out more boxing news on video at the Boxing Channel
To comment on this story in the Fight Forum CLICK HERE
A Cornucopia of Heavyweights: Joshua-Usyk in the Vanguard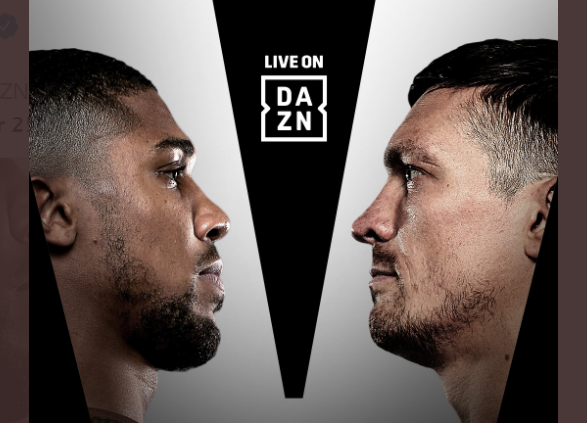 The eyes of the boxing world will be focused on North London this Saturday where WBA/IBF/WBO heavyweight champion Anthony "AJ" Joshua risks his belts against Oleksandr Usyk. The venue is new Tottenham Hotspur Stadium which seats 62,303 and there won't be an empty seat in the joint.
Both were gold medalists at the 2012 Olympic Games in London by virtue of out-pointing Italian veterans in their final match. Joshua (24-1, 22 KOs as a pro) won a razor-thin decision over Roberto Cammarelle. Usyk (18-0, 13 KOs) won a narrow decision over Clemente Russo, avenging a loss to Russo in the 2008 Games in Beijing.
AJ last fought on Dec. 12 of last year. He knocked out Kubrat Pulev in the ninth round before a pandemic-restricted crowd of 1,000 at Wembley Arena. Prior to that, he avenged his lone defeat with a wide 12-round decision over poorly-conditioned Andy Ruiz in Diriyah, Saudi Arabia.
Usyk's last fight was also a closed-door affair at Wembley. In October of last year, he out-pointed Dereck Chisora. It was Usyk's second fight as a heavyweight. Chisora out-weighed him by 38 pounds.
Usyk won a clear unanimous decision, but never seriously hurt his bigger opponent. "Physically he's not that strong," said Chisora after the fight. "I ate one of his best shots and it didn't bother me…He's a good mover, that's it."
All things being equal, goes an old saying, bigger beats smaller. AJ has slimmed down since his last outing but will still enjoy a substantial weight advantage. Moreover, although Usyk is a southpaw, it's worth noting that Joshua's most spectacular showing came against a lefty, namely Charles Martin who he whacked out in the second round.
At last glance, Anthony Joshua was a consensus minus-270 favorite. We have no interest in laying it.
Oleksandr Usyk is more than a good mover. In the footwork department, he's a bigger version of stablemate Vasiliy Lomachenko. His signature win was a near-shutout over Russian knockout-artist Murat Gassiev at Moscow in a match that on paper was a 50-50 proposition. Usyk's showing against the previously undefeated Gassiev was "a performance of jaw dropping brilliance" in the words of Matt McGrain.
Anthony Joshua, three years younger at age 31, will have the home-field advantage. But for whatever it's worth, the Ukrainian is undefeated on British soil: 8-0 as an amateur, 2-0 as a pro, and 1-0 in the semi-pro World Series of Boxing. Way back in 2013, Usyk flummoxed Joe Joyce in a 5-round contest at London's venerable York Hall.
Joshua vs. Usyk will air on Sky Sports PPV in the UK and will be live-streamed on DAZN to more than 170 countries around the world. First bell figures to go about 2:15 pm for viewers in the Pacific Time Zone
—
A strong undercard will augment the trilogy fight between Tyson Fury and Deontay Wilder at the T-Mobile Arena in Las Vegas on Oct. 9. Two heavyweight fights are especially intriguing.
Adam Kownacki (20-1, 15 KOs) meets Robert Helenius (30-3, 19 KOs) in a rematch. Neither has had an intervening fight since they locked horns at Barclays Center in Brooklyn in March of last year.
Kownacki, born in Poland but a resident of Brooklyn since the age of seven, was the house fighter at Barclays. This was his tenth appearance there and he had developed a strong local following.
After three rounds, Kownacki was well-positioned to keep his undefeated record intact. He was ahead on the scorecards and there was the presumption that Helenius, who was getting long in the tooth, would run out of gas as had happened in his previous fight in the U.S. when he was stopped in the eighth round by former Kownacki victim Gerald Washington. But in Round 4, Helenius, a Finn, lived up to his nickname "Nordic Nightmare."
A right-left combination put Kownacki on the canvas. The referee incorrectly ruled it a slip although he was clearly buzzed. When he got to his feet, Helenius dropped him again. Kownacki was up in a jiff but looked as if it would take only a stiff wind to knock him off his pins once again. The referee wisely waived it off.
Kownacki, who makes up for his doughboy-like physique and defensive limitations with a high workrate, has been training in Florida and expects to come in significantly lighter than he did for Helenius where he tipped the scales at 265 pounds. The six-foot-seven Helenius, now 37 years old, has been impersonating Tyson Fury at Deontay Wilder's camp in Alabama and figures to be in good shape.
The pricemakers think Adam Kownacki will avenge his lone defeat. At last look, he was a 14/5 favorite.
—
The 10-round "special attraction between Frank Sanchez and Efe Ajagba is that all-too-rare crossroads fight matching undefeated boxers at the same stage of their development. Sanchez, the 29-year-old Miami-based Cuban defector, is 18-0 with 13 KOs; Ajagba, the 27-year-old Houston-based Nigerian is 15-0 (12). And physically, they are about the same. At six-foot-six, Ajagba is two inches taller and will likely carry a few more pounds.
Ajagba entered the pro ranks with considerably more fanfare. His first pro trainer, Ronnie Shields, a man not given to hyperbole, compared him to the young George Foreman and proclaimed him a surefire world champion. (Ajagba is now with Kay Koroma who also trains hot heavyweight prospect Jared Anderson.)
Frank Sanchez was the more polished product coming out of the amateur ranks; he's considered a better boxer than Ajagba and is also capable of taking a man out with one punch. However, when this reporter saw the odds (the Cuban is currently favored by odds as high as 9/4), he did a double-take. Is this the right favorite? Or was the pricemaker swayed by the report that Sanchez was 214-6 as an amateur (BoxRec shows 43-12)?
Here's the caveat: I have seen and read a lot more about Ajagba than about Frank Sanchez. It would be arrogant of me to think that I know more than the fellow that formulated the opening odds.
What's tempting is to put a flyer on both underdogs, separate bets on Helenius and Ajagba. A split seems reasonable and that would translate into a small profit.
—
The latest heavyweight match to be announced pairs Otto Wallin against Dillian Whyte at the O2 Arena in London on Oct. 30. This too is a very intriguing fight.
A 30-year-old Swede who trains in New York under Joey Gamache, Otto Wallin is best known for giving Tyson Fury a tough tussle when they met two years ago at the T-Mobile Arena in Las Vegas. Wallin lost a unanimous decision but certainly had his moments and left the Gypsy King with quite a souvenir: a cut over his right eye that required 47 stitches. Wallin has fought twice since that event, stopping Travis Kauffman in the fifth frame and winning a unanimous decision over Dominic Breazeale, advancing his record to 22-1 (14).
Dillian Whyte (28-2, 19 KOs) needs no introduction. The Londoner by way of Jamaica has been a perennial top contender who presumably has pocketed a lot of dough these last few years in "step-aside" money.
Whyte opened a 5/2 favorite. We will have more to say about this fight as it draws closer to post time.
Check out more boxing news on video at the Boxing Channel
To comment on this story in the Fight Forum CLICK HERE
Tal Singh Aspires to Become the First Sikh to Win a World Boxing Title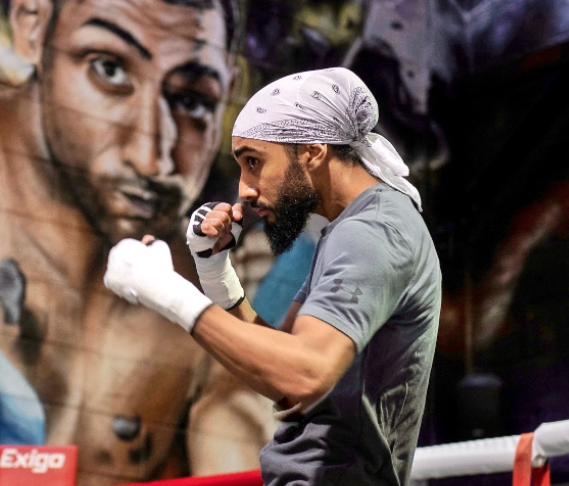 As boxing is a global sport, it should come as no surprise that if a man were to wander into a Las Vegas boxing gym he might find an Englishman there working up a sweat. But on a recent visit to Bones Adams gym, this reporter encountered an unusual specimen of English manhood. Tal Singh is a Sikh which makes him a one-of-a-kind in the British colony of professional boxers.
Singh had only 14 amateur fights, but in 2018, competing at 105 pounds, he became the first member of the Sikh community to win a British national amateur title. Now he aspires to be the first Sikh to win a professional title.
Singh was born and raised in Liverpool. His father is from the Punjab region of India. His mother is English by birth, but her ancestry is also Punjabi.
His dad had a succession of blue-collar jobs as Tal was growing up in the British port city. His mother was a schoolteacher and was his teacher in primary school. That undoubtedly helped him fit in with his classmates. According to a recent census, only 0.1 percent of the population of Liverpool is Sikh. Singh remembers that as a young boy, some thought that he was a girl because of his long hair which a Sikh tucks in a bun and folds under his turban.
Tal Singh was dispatched to Bones Adams' gym by his manager, Amir Khan. Bones and Amir Khan are well-acquainted. Khan put the finishing touches on his May 2016 bout with Canelo Alvarez here and Bones spent five weeks with Khan in England and Saudi Arabia leading into Khan's most recent fight against Billy Dib in Jeddah.
When the pandemic hit, notes Singh, 26, all the public gyms were closed. Singh reached out to Amir Khan about training in Khan's gym in Bolton, a former mill town in Greater Manchester. Khan is a devout Muslim but his ancestral roots are in that portion of Pakistan heavily populated by Sikhs and he is conversant in the Punjabi language.
Khan was amenable to letting Singh use his gym and was so impressed with his potential that he volunteered to manage him. "When that happened, I was over the moon," says Tal.
Amir Khan entered the pro ranks with great fanfare after winning a silver medal at age 17 in the 2004 Athens Olympics and went on to win two pieces of the 140-pound world title.  At age 34, his best days are behind him, but he remains a big star in Great Britain. Appearances on multiple reality shows have kept him in the public eye. His supposedly tempestuous relationship with his attractive Brooklyn-born wife Faryal Makhdoom was great fodder for the gossip columnists.
Khan has a full-time publicist and the well-spoken Singh, who appeared on the first season of Khan's newest reality show, "Meet the Khans," has been caught up in some of the hoopla. Several days after his arrival in Las Vegas, a Sky Sports camera crew turned up at Bones Adams gym.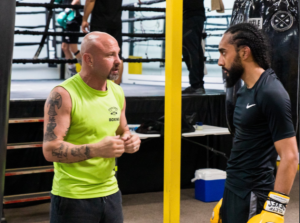 Tal Singh would have attracted news coverage without the Amir Khan connection; sports journalists are drawn to athletes with unusual backgrounds. But it's unlikely that he would have become a newsmaker in advance of his first professional fight.
He gets no favors by virtue of being the protégé of a famous sports personality. In Las Vegas, he leads a spartan life. He lives alone and has no car. He usually arrives at the gym before the official opening hour. It's a lonely existence leavened by the fact that he's met new friends. Super middleweight Shane Mosley Jr and Sean Brewer, a bantamweight from Austin, Texas, are other early birds at the gym, a place where there's camaraderie not unlike one would find in a military unit. Soon he will get to catch up with Malik Scott, one of his best buddies. Singh bonded with Scott during their days at David Haye's gym in London when Scott was brought in to serve as Haye's sparring partner for Haye's rematch with Tony Bellew. Scott now trains Deontay Wilder.
When Singh arrived in Las Vegas in late August, he got a rude welcome from the weatherman. "When I stepped outside the airport," he says, "it was like walking into a furnace. I literally had to go back inside and re-group."
It is cooler now in Las Vegas, and will be cooler still in Colorado Springs where Singh is headed next week for a visit with his manager Amir Khan who just recently turned up there to commence training for a match with countryman Kell Brook. The date and venue are up in the air (likely sometime around Dec. 1).
Khan vs. Brook is something of a poor man's Mayweather-Pacquiao, which is to say that it has marinated too long. But both, and especially Khan, have a high profile in the U.K. and the long-talked-about match is expected to be a British blockbuster. Tal Singh will make his pro debut on the undercard.
After a short stay in Colorado Springs, it's back to Las Vegas for Singh. For how long? "This will be my home base until I fulfill my dream of winning a world title," he says.
There's a saying on Tal's twitter platform that serves as his mantra: "If you want to look good in front of thousands, you have to out work thousands in front of nobody." No one knows how far Tal Singh will go in his adopted sport, but if sacrifice and discipline count for anything, then it wouldn't be smart to bet against him.
Check out more boxing news on video at the Boxing Channel
To comment on this story in the Fight Forum CLICK HERE