Every Joe Gans Lightweight Title Fight – Part 8: Willie Fitzgerald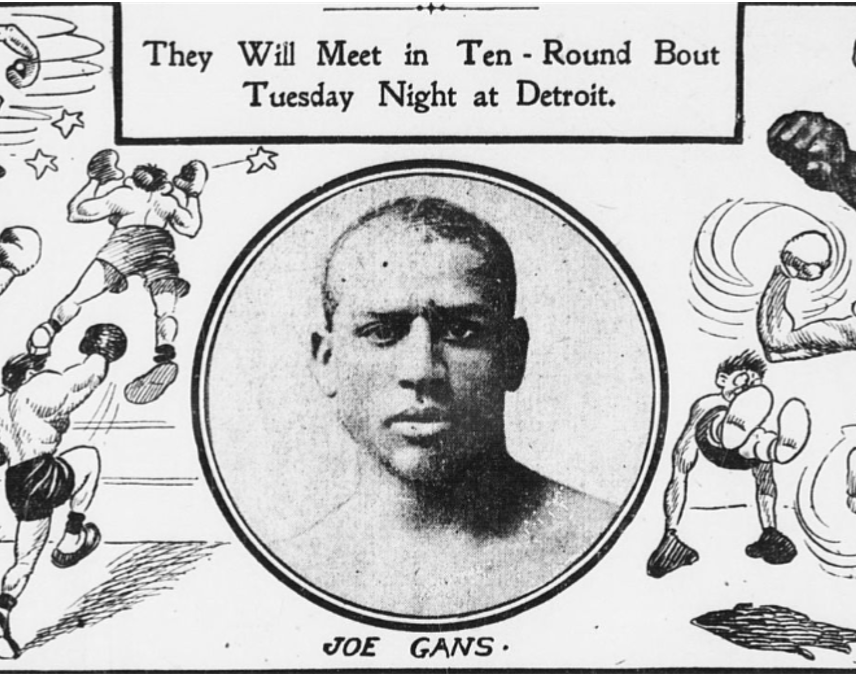 Gans is a wonderful fighter, but his showing in his fights during the last five months indicates that he has gone back to some extent.  – The New York Evening World, January 9th, 1904.
A fighter's prime is a thing of tentative certainty. Whether or not a fighter remains "prime" is a debate that rages on internet messaging boards, twitter and among gamblers in perpetuity – whether a fighter remains within the range of his very best as a boxer is among the most important factors in determining both the future and the past in all matters fistic.
This is because it is not just a matter of predicting the fight or remaining a gambler in the black, but a matter of proper historical contextualisation. Instinctively, we understand that this matters, this is why you never hear people shouting about the ease with which Larry Holmes defeated Muhammad Ali, or with which Rocky Marciano defeated Joe Louis.
Each fighter is different, and each fighter's prime is different, which is why deciphering it can be so difficult, but if we take a modern great like Manny Pacquiao, we probably see his very best years as being from 2006 when he legitimately got his weaker hand working, to his desperately close fight with Juan Manuel Marquez in 2008 when his calves started to bother him. Boxing is complex.  It took eleven years for Pacquiao to reach his technical summit and when he did, he had but twenty-seven short months in which to enjoy it before his body began to betray him.
Every fighter is different, because every fighter relies upon technical acumen, physical capability and experience to a different degree. Bernard Hopkins at his best knows angles, distance and timing as well as any fighter of the last fifty years, and so his prime landed late, as he took advantage of experience to season his expertise. Roy Jones, on the other hand, peaked earlier and dipped off more dramatically because the fountain of his greatness was speed. Pacquiao required a glorious blend. What of Joe Gans?
Gans is not unusual in that he became his best self the day he picked up his title. In the past seven instalments, I hope I have managed to trace Gans from incomplete contender to dominant world-champion, a man whose experience bought him generalship to match his physical gifts and technical acumen. For Gans, make no mistake, was as much Bernard Hopkins as Roy Jones and in this, more like Manny Pacquiao in arc than either. The difference: Gans fought more often and over longer distances than any of them. In the first year of his prime, Pacquiao managed twenty-nine rounds, a lot for an elite fighter this century; Gans, despite winning mostly by knockout, fought a hundred in his. The wear and tear on even a genius like Gans was significant.
It is little wonder then that in the winter of 1903, talk began to turn to Joe Gans having "gone back."  He had by this time been in his prime nearly as many months as Manny Pacquiao would remain in his more than a hundred years later.
So, when he emerged from the breakneck barnburning tour which followed his longest break since he became champion, having suffered indifferent results and even a defeat, questions manifested for the first time since he ended Frank Erne's championship reign. His next title opponent, in early January 1904, was to be Willie Fitzgerald, an Irishman who had relocated to New York City in pursuit of the riches the new pugilism enjoyed.
Fitzgerald was real. His career had brought him victories over Mike Sullivan, Charley Seiger and Gus Gardner; in April of 1903, he had been matched with the uncomfortably titled "white" lightweight champion and perpetual drawer of the colour-line, Jimmy Britt.
Fitzgerald seemed for a moment on the verge of a genuine upset when he dropped Britt in the final minute of the very first round. Appearing both bigger and stronger, Fitzgerald cut a figure standing over his more prestigious foe; in truth though, Britt was for the most part unharmed. Fitzgerald put a minor hurting on the world's number one lightweight contender in the twentieth and final round, but in between, Britt was the man in control. He consistently targeted Fitzgerald's gut and torso with what amounted to lightweight's finest body attack. Fitzgerald dropped an uncontroversial points loss but Britt was impressed.
"He is a better man than Frank Erne," he claimed. "He can take a punch and go the pace at a greater speed."
Now things complicate themselves a little so I'm going to restate the timeline:
In April of 1903, Jimmy Britt defeated Fitzgerald over twenty rounds. Just before this, Gans had fought a title-fight with Steve Crosby, winning in eleven. The rest of 1903 was relatively quiet for Gans and included that three-month layoff before boxing that barnburning tour that included his most indifferent work post his title win. In January of 1904 he was to be matched with Fitzgerald.
However, before his three-month break but after he defeated Crosby, before he dropped points losses to welterweights Jack Blackburn and Sam Langford, Gans met Fitzgerald for a first time.
This is an intriguing move on the part of Joe Gans. As we discussed in Part 6, Britt's anointing himself the "white lightweight champion" was problematic for Gans. It offered the public a choice in champions, and it was very possible that the public might conclude that Britt was to be preferred.  Further muddying the waters was Britt's outright refusal to meet the true champion on the grounds of his race. So just four weeks after the Britt fight, Gans met Fitzgerald on a clear mission to do what the white champion had been unable to do: stop him inside the distance.
On May 29th, 1903 on Britt's turf in San Francisco, Gans did just that, taking Fitzgerald out in ten rounds having failed to make weight for what was billed in some quarters as a title fight. No titles were going to change hands with the champion weighing in at just under 140lbs though, and the first real sign of indiscipline on the part of the champion manifested. Not in the ring though. He took the unsporting advantage and turned it into perhaps the most beautiful knockout of his career.
The San Francisco Call described "A jolty left which travelled but a few inches…Gans landed [the short left] then a right to the jaw with the precision and power of a steam hammer, turning Fitzgerald completely around."
Fitzgerald then "sank slowly to his knees and then lay prone on the matt" while ten was intoned over his still form.
The press were besides themselves in praise for this performance. Gans was a "wonder" who fought "aggressively throughout" although "all styles of going seemed to suit him."
Gans had the result he wanted, and it was straight up reported that Fitzgerald had been less impressive against Gans than he had been against Britt. Britt was piqued. Surrounded by pressmen he repeatedly stated that he felt Gans would not be able to land upon him as he had Fitzgerald and, eventually, yes, he would meet the champion but only if Gans would agree to make 133lbs.
Gans then, had succeeded in baiting Britt into a commitment, for all that it called for Gans to make a weight he did not favour. Furthermore, he had proven himself ahead of Britt insofar as the wider lightweight field went; referee Eddie Graney named Gans "in a class of his own." This opinion was echoed behind this fight.
It is worth noting down Joe's own opinion on the fight, summarised here from several different accounts:
"There was never a time in the fight I thought I would lose…He can hit hard with either glove and I was there to prevent his glove landing on my jaw…He did not hurt me at any stage of the battle…I did not find him hard to hit."
This then, was the problem Gans had when it came to his first defence of 1904: he had already proven himself the direct superior to his challenger. Not three years before – months before. It underlined the problem a fighter of Joe's class was faced with, how to find challenges on a landscape he had scorched free of all resistance. It was little wonder, perhaps, that his interest had begun to wane.
The fight was made at 135lbs at the Light Guard Armory, Detroit, on January 12th, 1904. To the satisfaction of nobody, the fight was to be staged over ten rounds which was all that the law then permitted in these parts.
Gans stalked into Detroit on the 4th; he seemed in no mood, maintaining silence while eager Detroit pressmen peppered him with questions. "He says little," reported The Detroit Free Press, "leaving his manager to do the talking…in street attire Gans does not look like a lightweight. On close inspection, however, one can note his strong build." The following day, Gans was in training, sparring a local middleweight at the Media Baths. Fitzgerald, meanwhile, set up at Cameron Cottage, accompanied by the famed Italian Iron Man Joe Grim who appeared to be coaching him as well as feeding him copious servings of spaghetti which he insisted reduced his chances of being knocked out. Harry Tuthill, who trained Young Corbett, arrived a few days later to finish up his training.
It snowed that week, the temperature dropping as far as fourteen degrees below zero; Gans took to the road, putting in five miles every day, not excessive but enough to keep him well in sight of 135lbs. For his part, and despite the preponderance of pasta in his diet, Fitzgerald curtailed his training on the seventh, finding himself below the required weight and a little sore from apparent over-training. Gans trained publicly that same day, impressing onlookers with the quickness of his work. There seemed indecision as to whether his "eastern critics" were off the mark in suggesting his decline was at hand, but it is equally clear that many of the Detroit newspapermen were seeing the champion in the flesh for the first time.
Both training camps proceeded efficiently and both men impressed the locals so the line was unmoved by fight night with Joe Gans a 2-1 favourite. This sent Al Herford charging about town offering to bet five-hundred dollars that Gans would win and five hundred dollars that he would do so within the ten scheduled rounds. It is strange to hear of a fighter's organisation barrelling around during fight week looking for takers but not only was this normal but it was also freely reported by a cheerful press, whose offices were sometimes even the site of large-stake exchanges. Whether or not Herford found a home for his money is unrecorded, but it is known that if he made his bet on Gans inside the distance, he lost that money.
Gans, who hit his mark at the 6pm weigh in with ease, took control of the fight early in a way that must have seemed familiar to both he and Fitzgerald. His specific method was a short left jab to the face, a punch that must have looked dangerous to Fitzgerald given what happened to him in San Francisco, followed by a right hand to the body. It sounds simple, like something an experienced pugilist like Fitzgerald should have been able to solve, but these two punches worked as counters to almost any shot Fitzgerald could muster. "Confidently the aggressor," reported The Free Press, "he followed the Brooklyn boy about the ring, the latter showing that he feared Gans in every exchange and frequently covering up and allowing the champion to punch at him at will."
These words will now be familiar to readers of this series, another Gans opponent, another man passive with fear, another easy evening for the great champion. Surely this suggests to all that Gans remained in his prime? It certainly is possible. After flashing Fitzgerald to the canvas in the first with a left hook, Gans spent most of the first half of the fight in complete control. The fight was slow, but in every exchange Gans had the last word, sometimes doubling up with rights to the body.  Fitzgerald was criticised for underusing his right hand in the early going, but it is a fact that Gans countered this punch mercilessly, dropping him off a right hand in the fourth.
At the bell to end the fifth though, the two were "swinging wild at the gong" according to The Philadelphia Inquirer, which had Fitzgerald frantically giving way after sucking up a Gans right-uppercut but continuing to fight even as he broke ground. Fitzgerald was dropped again in the eighth, either by a left-hand to the jaw or bundled over underneath that punch in something more akin to a slip; after eight he had yet to win a round on most ringside cards, but in the ninth, something changed.
The round started as any other, Fitzgerald landing meaningless, light punches, Gans landing hurtful ones, staggering his man with one chopping right, but instead of moving back, Fitzgerald closed and landed either three or four hard left hands to the body and a left hand to the jaw. Gans, caught out by an unexpected charge, shipped these punches and immediately began showing signs of distress.  The bell spared him further punishment.
According to the Detroit Free Press, Gans returned to his corner "vomiting." This was reported elsewhere, The Washington Times claiming "Gans went to his corner vomiting and to a certain extent in distress." This then was the greatest crisis Joe's ring career had suffered since Erne opened the finishing cut upon him in his very first title fight; he toed the line for the tenth with gritted teeth.
Champions are champions and despite the heavy punches he absorbed in the ninth, Gans contested the tenth. My sense though is that Fitzgerald took it away from him at the bell, The Free Press reporting a "straight left to Gans's face and right to head and left to body and crosses right to jaw" to punctuate the round.
The Chicago Tribune was unimpressed with Gans, noting that "the champion is backing up" and was "in distress at the final gong, and had the contest been fifteen rounds instead of ten, he would have left the ring a beaten man."
This is debatable, obviously, and based on the punishment Gans had dished out and the closeness of the tenth my suspicion is that he would have re-emerged as the general, but it is not possible to find this type of criticism of Gans in a title fight before the Fitzgerald rematch.
This was inconvenient for the champion. His greatest challenges, and the fights that would come to define him, still lay ahead, including the fight he most wanted. Joe's next title defence would be against Jimmy Britt.
Check out more boxing news on video at the Boxing Channel
To comment on this story in the Fight Forum CLICK HERE
Emanuel Navarrete Retains WBO Featherweight Title in a San Diego Firefight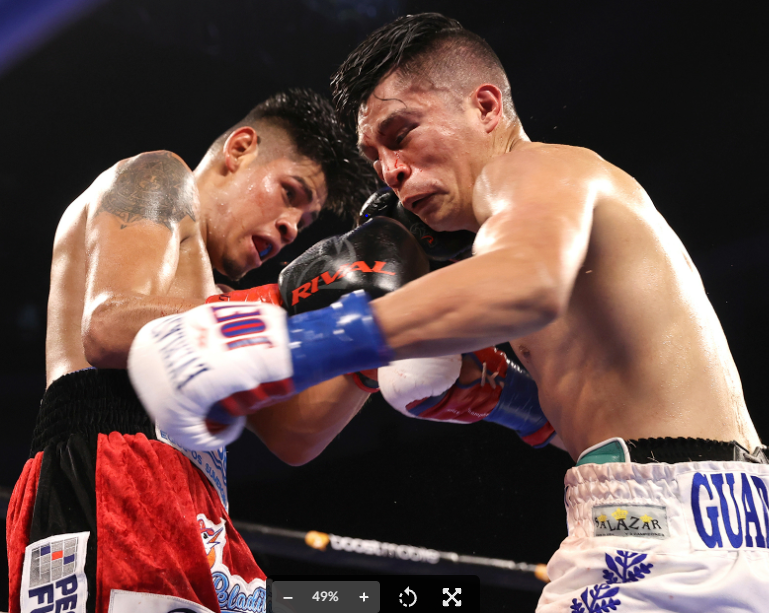 SAN DIEGO-WBO featherweight titlist Emanuel Navarrete won by unanimous decision over Joet Gonzalez in a slugfest that had fans cheering nonstop on Friday night. Fans were mesmerized by the savagery.
More than 2,000 fans saw Mexico City's Navarrete (35-1, 29 KOs) and Southern California's Gonzalez (24-2, 14 KOs) bounce brutal shots off each other for 12 successive rounds at Pechanga Sports Arena.
Both Navarrete and Gonzalez were about equal in height with the champion maybe a slight taller, but not by much. As soon as the first bell rang the two featherweights opened up in furious fashion.
Gonzalez was making his second attempt to grab a world title. His first attempt fell short a year ago. He was eager to atone for the defeat by clobbering Navarrete. Body shots were the weapon of choice.
The Mexican fighter Navarrete was accustomed to battling shorter fighters, this time the two were equal in size and in fury. Blows were flying in bunches and by the third round Gonzalez suffered a cut on his right cheek.
At several points Navarrete would connect with a solid blow and eagerly seek to finish the fight. Each time it happened Gonzalez would fight back even more furiously and beat back the champions attacks.
Gonzalez also connected with big shots and moved in for the kill only find Navarrete take a stand and fire back. Neither was able to truly gain a significant edge. After 12 rounds of nonstop action the decision was given to the judges. One scored it 118-110, two others saw it 116-112 all for Navarrete.
Fans were pleased by the decision and even more pleased by the breath-taking action they had witnessed.
Welterweights
Local fighter Giovani Santillan (28-0, 15 KOs) remained undefeated by unanimous decision after 10 rounds versus Tijuana's Angel Ruiz (17-2, 12 KOs). The two southpaws were evenly matched.
San Diego's Santillan was able to outwork Ruiz in almost every round. Though Ruiz has heavy hands he was not able to hurt Santillan even with uppercuts. It was clear very early in the fight that Santillan was the more technical and busier of the two. No knockdowns were scored.
After 10 rounds two judges scored it 100-90 for Santillan and a third saw it 99-91.
Other Results
Lindolfo Delgado (14-0, 12 KOs) battered and knocked down fellow Mexican Juan Garcia Mendez (21-5-2) in the last round of an 8-round super lightweight bout, but could not score the knockout win.
Delgado, a Mexican Olympian, was the quicker and stronger fighter yet discovered Garcia Mendez has a solid chin. All three judges scored it 80-71 for Delgado.
Puerto Rico's Henry Lebron (14-0, 9 KOs) defeated Manuel Rey Rojas (21-6) by decision after eight rounds in a lightweight match.
Javier Martinez (5-0, 2 KOs) soundly defeated Darryl Jones (4-3-1) by decision after six rounds in a middleweight clash. Jones was tough.
Las Vegas bantamweight Floyd Diaz (3-0) knocked down Tucson's Jose Ramirez (1-1) in the first round but was unable to end the fight early. Diaz won by decision.
Heavyweight Antonio Mireles (1-0) knocked out Demonte Randle (2-2) at 2:07 of the first round.
Photo credit: Mikey Williams / Top Rank for Getty Images
Check out more boxing news on video at the Boxing Channel
To comment on this story in the Fight Forum CLICK HERE
Russell Peltz's "Thirty Dollars and a Cut Eye": Book Review by Thomas Hauser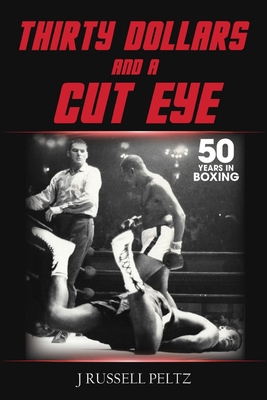 Russell Peltz's "Thirty Dollars and a Cut Eye": Book Review by Thomas Hauser
Russell Peltz has been promoting fights for fifty years and is as much a part of the fabric of Philadelphia boxing as Philly gym wars and Philly fighters. He was inducted into the International Boxing Hall of Fame in 2004 and deservedly so. Now Peltz has written a memoir entitled Thirty Dollars and a Cut Eye that chronicles his many years in the sweet science.
Peltz started in boxing before it was, in his words, "bastardized by the alphabet groups" and at a time when "world titles still meant something."
"I fell in love with boxing when I was twelve," he writes, "saw my first live fight at fourteen, decided to make it my life, and never looked back." He promoted his first fight card in 1969 at age 22.
Peltz came of age in boxing at a time when promoters – particularly small promoters – survived or died based on the live gate. Peltz Boxing Promotions had long runs at the Blue Horizon in Philadelphia and both Harrah's Marina and the Sands  in Atlantic City. His journey through the sweet science included a seven-year stint as director of boxing for The Spectrum in Philadelphia. At the turn of the century, he was a matchmaker for ESPN.
Along the way, Peltz's office in Philadelphia was fire-bombed. He was robbed at gunpoint while selling tickets in his office for a fight card at the Blue Horizon and threatened in creative ways more times than one might imagine. He once had a fight fall out when one of the fighters was arrested on the day of the weigh-in. No wonder he quotes promoter Marty Kramer, who declared, "The only thing I wish on my worst enemy is that he becomes a small-club boxing promoter."
Now Peltz has put pen to paper – or finger to keyboard. "The internet is often a misinformation highway," he writes. "I want to set the record straight as to what actually went on in boxing in the Philadelphia area since the late-1960s. I'm tired of reading tweets or Facebook posts or Instagram accounts from people who were not around and have no idea what went on but write like they do."
Thirty Dollars and a Cut Eye is filled with characters (inside and outside the ring) who give boxing its texture. As Peltz acknowledges, his own judgment was sometimes faulty. Russell once turned down the opportunity to promote Marvin Hagler on a long-term basis. There are countless anecdotes about shady referees, bad judging, and other injustices. Middleweight Bennie Briscoe figures prominently in the story, as do other Philadelphia fighters like Willie "The Worm" Monroe, Bobby "Boogaloo" Watts, Eugene "Cyclone" Hart, Stanley "Kitten" Hayward, and Matthew Franklin (later Matthew Saad Muhammad). Perhaps the best fight Peltz ever promoted  was the 1977 classic when Franklin knocked out Marvin Johnson in the twelfth round.
There's humor. After Larry Holmes pitched a shutout against Randall "Tex" Cobb in 1982, Cobb proclaimed, "Larry never beat me. He just won the first fifteen rounds."
And there are poignant notes. Writing about Tanzanian-born Rogers Mtagwa (who boxed out of Philadelphia), Peltz recalls, "He couldn't pass an eye exam because he didn't understand the alphabet."
Remembering the Blue Horizon, Peltz fondly recounts, ""The Blue Horizon was a fight fan's nirvana. The ring was 15-feet-9-inches squared inside the ropes. No fighter came to the Blue Horizon to pad his record. Fans wanted good fights, not slaughters of second-raters."
That ethos was personified by future bantamweight champion Jeff Chandler who, after knocking out an obviously inept opponent, told Peltz, "Don't ever embarrass me like that again in front of my fans."
Thereafter, whenever a manager asked Peltz to put his fighter in soft to "get me six wins in a row," Russell thought of Chandler. "I enjoyed promoting fights more than promoting fighters," he writes. "If I was interested in promoting fighters, I would have been a manager."
That brings us to Peltz the writer.
The first thing to be said here is that this is a book for boxing junkies, not the casual fan. Peltz is detail-oriented. But do readers really need to know what tickets prices were for the April 6, 1976, fight between Bennie Briscoe and Eugene Hart? The book tends to get bogged down in details. And after a while, the fights and fighters blur together in the telling.
It brings to mind the relationship between Gene Tunney and George Bernard Shaw. The noted playwright and heavyweight great developed a genuine friendship. But Shaw's fondness for Tunney stopped short of uncritical admiration. In 1932, the former champion authored his autobiography (A Man Must Fight) and proudly presented a copy to his intellectual mentor. Shaw read the book and responded with a letter that read in part, "Just as one prayer meeting is very like another, one fight is very like another. At a certain point, I wanted to skip to Dempsey."
Reading Thirty Dollars and a Cut Eye, at a certain point I wanted to skip to Hagler.
There's also one jarring note. Peltz recounts how, when Mike Jones fought Randall Bailey for the vacant IBF welterweight title in Las Vegas in 2012, Peltz bet five hundred dollars against Jones (his own fighter) at the MGM Sports Book and collected two thousand dollars when Bailey (trailing badly on the judges' scorecards) knocked Jones out in the eleventh round.
"It was a tradition from my days with Bennie Briscoe," Russell explains. "I'd bet against my fighter, hoping to lose the bet and win the fight."
I think Russell Peltz is honest. I mean that sincerely. And I think he was rooting for Mike Jones to beat Randall Bailey. But I don't think that promoters should bet on fights involving their own fighters. And it's worse if they bet against their own fighters. Regardless of the motivation, it looks bad. Or phrased differently: Suppose Don King had bet on Buster Douglas to beat Mike Tyson in Tokyo?
Philadelphia was once a great fight town. in 1926, the first fight between Jack Dempsey and Gene Tunney drew 120,000 fans to Sesquicentennial Stadium. Twenty-six years later, Rocky Marciano knocked out Jersey Joe Walcott at same site (renamed Municipal Stadium) to claim the heavyweight throne.
Peltz takes pride in saying, "I was part of Philadelphia's last golden age of boxing."
An important part.
Thomas Hauser's email address is thomashauserwriter@gmail.com. His most recent book – Broken Dreams: Another Year Inside Boxing – was published by the University of Arkansas Press this autumn. In 2004, the Boxing Writers Association of America honored Hauser with the Nat Fleischer Award for career excellence in boxing journalism. In 2019, he was selected for boxing's highest honor – induction into the International Boxing Hall of Fame.
Check out more boxing news on video at the Boxing Channel
To comment on this story in the Fight Forum CLICK HERE
Avila Perspective, Chap. 156: A World Title Fight in San Diego and More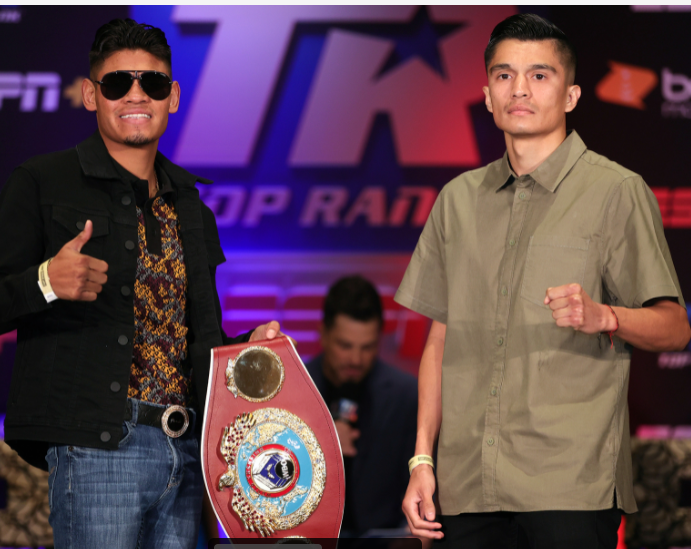 World championship prizefighting returns to San Diego.
Though the port city serves as a base for US Marines, US Navy and other fighting organizations, boxing has rarely held events in its city limits. But it's no stranger.
WBO featherweight titlist Emanuel Navarrete (34-1, 29 KOs) defends against L.A. native Joet Gonzalez (24-1, 14 KOs) on Friday night at the Pechanga Arena in San Diego, Calif. ESPN+ will stream the Top Rank card.
One reason boxing events are rare in San Diego lies in the simple reason it's located a mere 20 miles from Tijuana, Mexico. It is cheaper to stage boxing shows across the border and common to see up to five shows taking place simultaneously.
A world champion like Navarrete wants to be compensated in world championship style and that means fighting on American soil.
Navarrete, 26, hails from Mexico City and has beaten back-to-back featherweight contenders from the USA in Christopher Diaz and Ruben Villa. Before that, he upset Isaac Dogboe to win the super bantamweight world title before making weight forced him to move up a division. He's a fighting machine.
"I think this is going to be a tough fight. He is a tough opponent," said Navarrete.
Gonzalez, 28, was raised in a fighting family and has previously fought for a world title but was unsuccessful against Shakur Stevenson. The Los Angeles native had an extensive amateur career and as a professional he's steadily adapted to the professional style. This is his shot at the world title.
"Navarrete has a style that's very unique, very hard to figure out, and that's why he's a champion," said Gonzalez. "I'm planning on leaving Friday night with that belt."
In a semi-main event local fighter Giovani Santillan (27-0, 15 KOs) meets Angel Ruiz (17-1, 12 KOs) in a clash between southpaw welterweights set for 10 rounds. Both fought numerous times on Thompson Boxing Promotion cards in Southern California.
Santillan has fought as the main event on many occasions and provided upsets in nationally televised events.
"It's very special for me to be fighting here in San Diego. I grew up close by here. To all my family and friends that are coming, expect the best version of me. I'm coming with everything," said Santillan.
Ruiz also has fought on nationally televised events and upset a fighter or two. Southpaw versus southpaw can be puzzling. It usually comes down to who has the better right hook.
"He's a great fighter. I'm a great fighter, too," said Ruiz.
Doors open at 5 p.m.
Mikey Garcia Returns
It's been almost two years since Mikey Garcia (40-1, 30 KOs) last fought. He returns on Saturday, Oct. 16, to face Sandor Martin (38-2, 13 KOs) a slick fighting southpaw from Barcelona, Spain. Their super lightweight bout takes place in Fresno, Calif. at the Chukchansi Park. DAZN will show the fight.
Garcia has been one of the boxing masters and has captured world titles in four weight divisions. Very few can match his wisdom inside a prize ring. The last time he fought was on February 2020 when he defeated Jessie Vargas in a welterweight clash.
Now Garcia is back down to super lightweight. He had hoped to entice Manny Pacquiao for a big money fight, but the Filipino superstar chose another.
Martin has never fought on American soil and has only ventured out of Spain twice. He's a big question mark when it comes to ability. Can he match skills with Garcia who has won world titles as a featherweight, super featherweight, lightweight and super lightweight?
We shall see.
The co-main event features WBO light flyweight titlist Elwin Soto (19-1, 13 KOs) of Mexico defending against Puerto Rico's Jonathan Gonzalez (24-3-1, 14 KOs). As most of you know, anytime Mexico fights Puerto Rico anything can happen.
Heavyweight Examination
Tyson Fury's victory over Deontay Wilder proved to be the best of the trilogy that began three years ago in Los Angeles. Anytime you see multiple knockdowns it exemplifies the fight game to its core. It's a battle of wills and the best man wins.
Only once before had two larger heavyweights exchanged blows when seven-footer Nicolai Valuev and Jameel McCline battled in 2008. But that heavyweight match was held at Switzerland and only seen in Europe. And there was another fight between NBA size power forwards in Los Angeles that was equally exciting when Lennox Lewis and Vitali Klitschko clashed in the Staples Center on June 2003. It turned out to be Lewis's farewell fight and a classic.
Wilder and Fury put on another classic.
The 1990s seemed to be the last decade where heavyweight rumbles regularly took place. You had Riddick Bowe and Evander Holyfield torching each other with massive blows and skill to match. There was Lennox Lewis, of course, and his gentleman killer ways. And, of course, there was still Mike Tyson whose best decade was the 1980s, yet was the heavyweight with the biggest following.
In this age of social media driven world of entertainment, Fury and Wilder did participate in a lot of seemingly useless drivel. But once inside the ropes, they delivered like FedEx truck drivers on the clock.
Those old enough to remember recall the three battles between Muhammad Ali and Joe Frazier. Nothing tops their three clashes, especially the "Thrilla in Manilla" in 1975. If you get a chance, take a look at that savagery. Though no knockdowns were scored, it was that mesh of skill and intensity for nearly 15 rounds that mesmerized sports fans and made both fighters legends for all time.
This past Saturday, Fury and Wilder reminded sports fans that heavyweight splendor still exists. And that no other sport comes down to the basic man-versus-man in a boxing ring. The biggest and baddest slugged it out and the winner was Fury.
Boxing is the ultimate sport.
Fights to Watch
Thurs. UFC Fight Pass 7 p.m. Lester Martinez (8-0) vs Raiko Santana (8-2).
Fri. UFC Fight Pass 7 p.m. Santiago Dominguez (24-0) vs Jesus Antonio Rubio (13-4-1).
Fri. ESPN+ 6 p.m. Emanuel Navarrete (34-1) vs Joet Gonzalez (24-1); Giovani Santillan (27-0) vs Angel Ruiz (17-1).
Fri. Telemundo 11:59 p.m. Axel Aragon (14-4-1) vs Armando Torres (26-19).
Sat. DAZN 11 a.m. Hughie Fury (25-3) vs Christian Hammer (26-7); Savannah Marshall (10-0) vs Lolita Muzeya (16-0).
Sat. DAZN 2 p.m. Mikey Garcia (40-1) vs Sandor Martin (38-2).
Sat. FITE.TV 3 p.m. Cletus Seldin vs William Silva
Photo credit: Mikey Williams / Top Rank via Getty Images
Check out more boxing news on video at the Boxing Channel
To comment on this story in the Fight Forum CLICK HERE