Checking In With Christian Giudice, Author of Four Biographies of Latin Ring Greats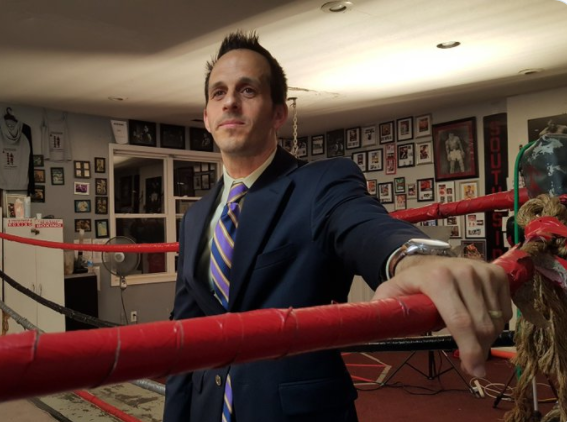 Taking on the task of documenting the lives of Roberto Duran, Alexis Arguello, Wilfredo Gomez and Hector Camacho in book form was daunting, but Christian Giudice, like those four world champions, rose to the challenge.
The books in question are "Hands Of Stone: The Life And Legend Of Roberto Duran," "Beloved Warrior: The Rise And Fall Of Alexis Arguello," "A Fire Burns Within: The Miraculous Journey Of Wilfredo 'Bazooka' Gomez," and his most recent work, "Macho Time: The Meteoric Rise And Tragic Fall Of Hector Camacho," released last year by Hamilcar.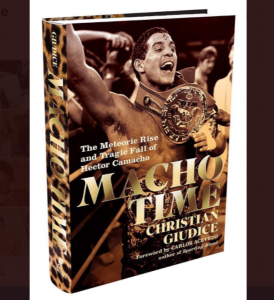 All had storied ring careers and all are enshrined in the International Boxing Hall of Fame.
"I loved the way I felt and how I was treated in each of those countries. I gained lifelong friendships in Panama, Nicaragua, and Puerto Rico," Giudice said of his time doing research on those four legends. "Although it has been a while since I have traveled, I really enjoyed my time meeting new people each day in and outside the boxing spectrum. There is something different about Hispanic boxers that has attracted me to write about them over the years."
Giudice tried to pinpoint why he is drawn to Latino boxers. "I don't know if I can explain it. To me, each fighter I wrote about had to overcome a fierce struggle and then immediately face the pressure of placing a country on his back," he said. "Thus, each fighter has encountered magnificent highs and excruciating lows and must find ways to handle the positives and negatives publicly. I see that conflict emerge and when I write about that fighter, I have to be able to convey how the fighter is able to handle fame and what comes with it."
Giudice added: "Ever since I traveled to Panama to write a book on Roberto Duran, I knew I wanted to always write about Latin fighters," he explained. "It was my way of giving back to the people of Panama who treated me like family. It also gave me an opportunity to travel. I wanted to cover Latin fighters who were not only fabulous boxers and heroes in their countries, but also lived lives that transcend the ring."
Each boxer was unique and their stories needed to be chronicled. "I don't think too many fighters experienced the same rise and fall of a Duran or the turbulent lifestyle of a Hector Camacho or the political upheaval of Alexis Arguello," said Giudice, who grew up in Haddonfield, New Jersey and teaches English at Harper Middle College High in Charlotte, North Carolina. "Voted the greatest Puerto Rican fighter ever, Wilfredo Gomez lived an amazing life as an icon in Puerto Rico. Ironically, the pressure on Gomez as a Puerto Rican icon intensified once his career ended. Each one of those fighters had a story that needed to be told. I am very fortunate to have had the opportunity to do so."
Duran, who rose from slum to arguably the finest lightweight ever, was sometimes painted by some in the media as being something of a bully.
Giudice's encounters with Duran, who from 1968 until 2001 posted a ring record of 103-16 with 70 knockouts, often proved enlightening.
"I learned a lot about his family life, since I traveled back to his family's hometown in Guarare, Panama. I learned a lot about the in-depth details of family stories that helped shape who Duran really was," he said. "Stories like how he was caught stealing fruit out of the trees off the estate of landowner [later manager] Carlos Eleta and how he used to tell jokes to his grandmother as a young boy. I listened to these stories, which were told through the lens of family members. He wasn't the brash, intimidating guy that everyone made him out to be. He certainly didn't embrace those labels, and, as I was writing the book, those childhood stories humanized him."
Where does Giudice, who has an English degree from Villanova and a master's degree in journalism from Temple, place Duran among lightweights?
"I rank Duran as the best lightweight of all time. I don't consider it close. At his finest, he was unbeatable," he said. "And his best weight was 135 pounds. People often come up with other great lightweights from different eras, but Duran was so skilled and, well, perfect at that weight class, it is difficult to imagine another fighter at the same level."
In his prime, Duran was a force of nature. "With the exception of his victories over Esteban De Jesus, I still consider his first fight with Sugar Ray Leonard [at 147 pounds] his best performance. He brutalized Ken Buchanan for his first title, but the way he prepared for Leonard was unlike any other fight," Giudice said. "He wanted it so bad. Truth is, Duran shocked Leonard before the bout and then went in the fight and fought with the same intensity. Everything he promised, he backed up. Because there was no pretense, Duran became the fan favorite as soon as he arrived in Montreal for the fight. What a performance. I believe he looked at it more than a fight, and then backed up everything he said he would do."
That bout took place on June 20, 1980 at the Olympic Stadium and ended up a unanimous decision victory in favor of Duran.
Five months later at the New Orleans Superdome, Leonard earned redemption when late in the eighth round, Duran shockingly walked away and turned his back on Leonard and said something to Octavio Meyran, the referee.
Giudice addressed what happened. "When I traveled to Panama to write the book on Duran, I had the opportunity to meet his longtime manager and friend, Carlos Eleta. I was hesitant to speak about 'No Mas' fearing that it would be difficult for Duran and his family and friends to talk about it, but Eleta was very clear about one thing: In his mind, he needed to make the rematch immediately, rather than wait," he said. "Financially it made sense, but physically many people felt that Duran needed time to rededicate himself back to the ring. Duran did not want to make that rematch so quickly, but Eleta said that at the rate Duran was going with his partying that he would never fight Leonard again."
Of course, the fight was made and Duran became annoyed with Leonard, who moved, jabbed and landed numerous punches, and in the seventh round began taunting him, which frustrated him.
"He [Eleta] was also clear that Duran never said, 'No Mas,' but instead said, 'I will not fight with this clown anymore.' As the years went by, people concocted so many different stories, but most of them had little merit," Giudice said.
In Nicaragua, Arguello, who capped his 27-year career with a mark of 77-8 and 62 kayos, was a near-mythic figure.
"The Nicaraguan people had never witnessed anything like Alexis. As he once said, he lived a life that no one else could have lived. He was kind, affectionate, devoted, and, most importantly, loyal," Giudice said. "During a career that was plagued by politics, corruption, and the reality of having everything taken from him and being exiled from Managua, Arguello's career was never just about wins and losses."
Giudice continued: "His people recognized the injustices that he faced and loved him for the fact that he was fiercely devoted to Nicaragua until the end," he said. "It was easy to see how beloved Alexis was, not only in Nicaragua, but here in the United States. He was genuine, and always treated others with respect and kindness. He was an original."
Arguello committed suicide on July 1, 2009 at age 57, and is still regarded as a hero.
Camacho had a commanding aura in and out of the squared circle and his life also ended tragically. On November 24, 2012 at age 50, he was murdered.
"Hector had a presence that everyone felt. What was unique about Hector was that even when the spotlight was not on him, he felt an urgency to ensure that by the end of the event, everyone would be looking at him," said Giudice of Camacho, who boxed from 1980 through 2010 and crafted a record of 79-6-3 with 38 knockouts. "Hector was a natural entertainer and understood that, in his mind, he had to test boundaries and create controversy even when it didn't exist. Away from the spotlight, those who loved him, describe a much different, more humble person, but not when it came to boxing."
With a mark of 44-3-1 and 42 kayos over 15 years, Gomez was simply sublime.
"Gomez was so good at 122 pounds, but I just think he started to fade too soon and his body of work doesn't compare with Duran and Arguello because of longevity and other factors," Giudice said.
There is something all four men have in common that made them worthy of having their stories told.
"When you look at these four fighters, all of them had to struggle to survive growing up and then use their boxing skills to get their families out of poverty," Giudice noted. "That forced them to make sacrifices, grow up a lot quicker, take financial responsibility for their families, and then live with an added discipline."
And they each had to perform at the highest level in the ring. "The pressure to live up to the expectations of being a champion must have been so difficult," Giudice reasoned. "Thus, in their lives, for so many years, there was little room for error. Then once they reached that level of superstardom, they were not able to truly embrace it because they had to prepare for their next bout. Also, every mistake is magnified publicly, so the emotional ups and downs made it even harder. Nothing was ever 'normal' for them."
Even for the best, being a boxer is a tough way to make a living and it's often lonely once the ring lights dim.
"All fighters struggle with finding an outlet to replace the high that the sport provided them," Giudice said. "Hector and Alexis were no different. The only difference was that Hector had succumbed to drugs and other vices his whole life; whereas, Alexis struggled with his mental health throughout his life and then was cornered in an untenable position by powerful people in Managua who manipulated him at the end of it."
The end for many is more often than not extremely sad. "Only a handful of fighters have a backup plan once their careers end," Giudice said. "Even those fighters cannot fill that empty space. It is not an empty space, but a huge gaping hole. For adoring fans, Hector and Alexis had given them so many thrills and wonderful moments that even the prospect of meeting them or a photo gave them a level of fulfillment or happiness."
Giudice went on: "But for the fighters like Alexis and Hector, the high of being in the ring is something that stays with them forever. No standing ovation in retirement can bring those memories back, so they need to find other pursuits," he said. "Alexis was aware of this; Hector was well aware of this, too, but, back then, there was not the support available to combat those pressures."
Note: Christian Giudice's books can be ordered from Amazon or direct from the publisher and are found at better booksellers everywhere.
To comment on this story in the Fight Forum CLICK HERE
Mercito Gesta Victorious Over Jojo Diaz at the Long Beach Pyramid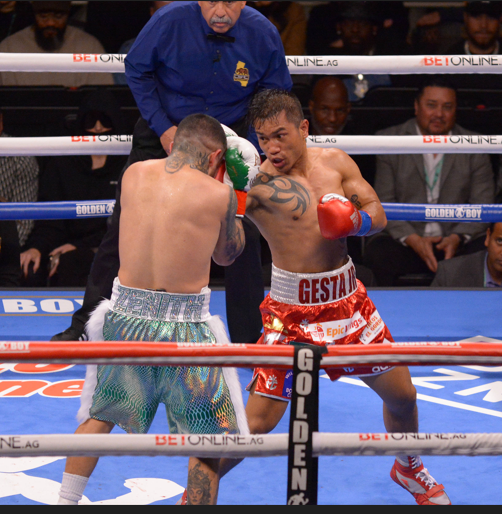 LONG BEACH, CA.-Those in the know knew Mercito Gesta and Jojo Diaz would be a fight to watch and they delivered.
Gesta emerged the winner in a super lightweight clash between southpaws that saw the judges favor his busier style over Diaz's body attack and bigger shots and win by split decision on Saturday.
Despite losing the main event because the star was overweight, Gesta (34-3-3, 17 KOs) used an outside method of tactic to edge past former world champion Diaz (32-4-1, 15 KOs) in front of more than 5,000 fans at the Pyramid.
The speedy Gesta opened up the fight with combination punching up and down against the peek-a-boo style of Diaz. For the first two rounds the San Diego fighter overwhelmed Diaz though none of the blows were impactful.
In the third round Diaz finally began unloading his own combinations and displaying the fast hands that helped him win world titles in two divisions. Gesta seemed stunned by the blows, but his chin held up. The counter right hook was Diaz's best weapon and snapped Gesta's head back several times.
Gesta regained control in the fifth round after absorbing big blows from Diaz. He seemed to get angry that he was hurt and opened up with even more blows to send Diaz backpedaling.
Diaz targeted his attack to Gesta's body and that seemed to slow down Gesta. But only for a round.
From the seventh until the 10th each fighter tried to impose their style with Gesta opening up with fast flurries and Diaz using right hooks to connect with solid shots. They continued their method of attack until the final bell. All that mattered was what the judges preferred.
After 10 rounds one judge saw Diaz the winner 97-93 but two others saw Gesta the winner 99-91, 98-92. It was a close and interesting fight.
"I was expecting nothing. I was the victor in this fight and we gave a good fight," said Gesta. "It's not an easy fight and Jojo gave his best."
Diaz was surprised by the outcome but accepted the verdict.
Everything was going good. I thought I was landing good body shots," said Diaz. "I was pretty comfortable."
Other Bouts
Mexico's Oscar Duarte (25-1-1, 20 KOs) knocked out Chicago's Alex Martin (18-5, 6 KOs) with a counter right hand after dropping him earlier in the fourth round. The super lightweight fight was stopped at 1:14 of the round.
A battle between undefeated super welterweights saw Florida's Eric Tudor (8-0, 6 KOs) emerge the winner by unanimous decision after eight rounds versus Oakland's Damoni Cato-Cain.
The taller Tudor showed polished skill and was not bothered by a large cut on his forehead caused by an accidental clash of heads. He used his jab and lead rights to defuse the attacks of the quick-fisted southpaw Cato-Cain. The judges scored the fight 80-72 and 78-74 twice for Tudor.
San Diego's Jorge Chavez (5-0, 4 KOs) needed less than one round to figure out Nicaragua's Bryan Perez (12-17-1, 11 KOs) and send him into dreamland with a three-punch combination. No need to count as referee Ray Corona waved the fight over. Perez shot a vicious right followed by another right and then a see-you-later left hook at 3.00 of the first round of the super featherweight match.
Photo credit: Al Applerose
Jojo Diaz's Slump Continues; Mercito Gesta Prevails on a Split Decision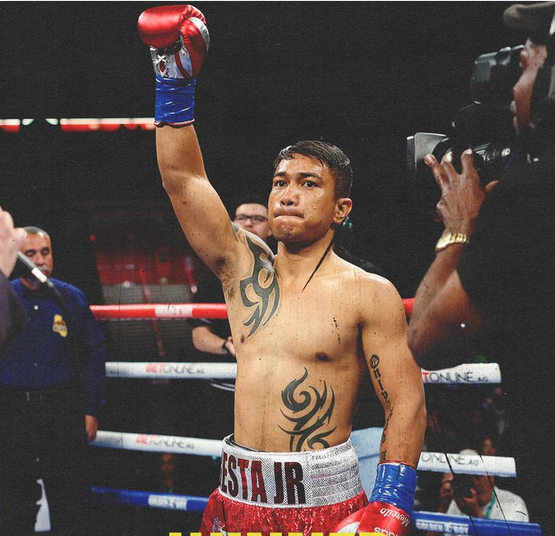 At age 30, Jojo Diaz's career is on the skids. The 2012 U.S. Olympian, a former world title holder at 126 and 130 pounds and an interim title holder at 135, Diaz suffered his third straight loss tonight, upset by Mercito Gesta who won a split decision at the Walter Pyramid in Long Beach, CA.. The scoring was strange with Gesta winning nine of the 10 rounds on one of the cards and only three rounds on another. The tie-breaker, as it were, was a 98-92 tally for Gesta and even that didn't capture the flavor of what was a closely-contested fight.
Originally listed as a 12-rounder, the match was reduced to 10 and that, it turned out, did Diaz no favors. However, it's hard to feel sorry for the former Olympian as he came in overweight once again, having lost his 130-pound title on the scales in February of 2021.
Diaz also has issues outside the ropes. Best elucidated by prominent boxing writer Jake Donovan, they include a cluster of legal problems stemming from an arrest for drunk driving on Feb. 27 in the LA suburb of Claremont.
With the defeat, Diaz's ledger declined to 32-4-1. His prior losses came at the hands of Gary Russell Jr, Devin Haney, and William Zepeda, boxers who are collectively 83-2. Mercito Gesta, a 35-year-old San Diego-based Filipino, improved to 34-3-3.
Co-Feature
Chihuahua, Mexico super lightweight Oscar Duarte has now won nine straight inside the distance after stopping 33-year-old Chicago southpaw Alex Martin in the eighth frame. Duarte, the busier fighter, had Martin on the deck twice in round eight before the fight was waived off.
Duarte improved to 25-1-1 (20). Martin, who reportedly won six national titles as an amateur and was once looked upon as a promising prospect, declined to 18-5.
Other Bouts of Note
New Golden Boy signee Eric Tudor, a 21-year-old super welterweight from Fort Lauderdale, overcame a bad laceration over his right eye, the result of an accidental clash of heads in round four, to stay unbeaten, advancing to 8-0 (6) with a hard-fought unanimous 8-round decision over Oakland's Damoni Cato-Cain. The judges had it 80-72 and 78-74 twice. It was the first pro loss for Cato-Cain (7-1-1) who had his first five fights in Tijuana.
In the DAZN opener, lanky Hawaian lightweight Dalis Kaleiopu went the distance for the first time in his young career, improving to 4-0 (3) with a unanimous decision over 36-year-old Colombian trial horse Jonathan Perez (40-35). The scores were 60-52 across the board. There were no knockdowns, but Perez, who gave up almost six inches in height, had a point deducted for a rabbit punch and another point for deducted for holding.
To comment on this story in the Fight Forum CLICK HERE
'Big Baby' Wins the Battle of Behemoths; TKOs 'Big Daddy' in 6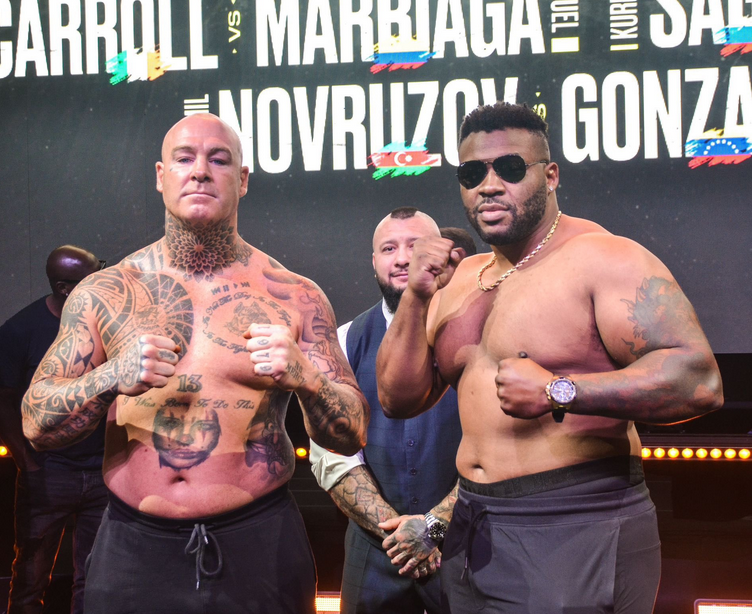 Lucas "Big Daddy" Browne weighed in at a career-high 277 pounds for today's battle in Dubai with Jarrell "Big Baby" Miller, but he was the lighter man by 56 pounds. It figured that one or both would gas out if the bout lasted more than a few stanzas.
It was a war of attrition with both men looking exhausted at times, and when the end came it was Miller, at age 34 the younger man by nine years, who had his hand raised.
Browne was the busier man, but Miller, whose physique invites comparison with a rhinoceros, hardly blinked as he was tattooed with an assortment of punches. He hurt 'Bid Daddy' in round four, but the Aussie held his own in the next frame, perhaps even forging ahead on the cards, but only postponing the inevitable.
In round six, a succession of right hands knocked Browne on the seat of his pants. He beat the count, but another barrage from Miller impelled the referee to intervene. The official time was 2:33. It was the 21st straight win for Miller (26-0-1, 22 KOs). Browne declined to 31-4 and, for his own sake, ought not fight again. All four of his losses have come inside the distance, some brutally.
The consensus of those that caught the livestream was that Floyd Mayweather Jr's commentary was an annoying distraction that marred what was otherwise an entertaining show.
As for what's next for "Big Baby" Miller, that's hard to decipher as he has burned his bridges with the sport's most powerful promoters. One possibility is Mahmoud Charr who, like Miller, has a big gap in his boxing timeline. Now 38 years old, Charr – who has a tenuous claim on a WBA world title (don't we all?) —  has reportedly taken up residence in Dubai.
Other Bouts of Note
In a 10-round cruiserweight affair, Suslan Asbarov, a 30-year-old Russian, advanced to 4-0 (1) with a hard-fought majority decision over Brandon Glanton. The judges had it 98-92, 97-93, and a more reasonable 95-95.
Asbarov was 12-9 in documented amateur fights and 1-0 in a sanctioned bare-knuckle fight, all in Moscow, entering this match. He bears watching, however, as Glanton (18-2) would be a tough out for almost anyone in his weight class. In his previous fight, at Plant City, Florida, Glanton lost a controversial decision to David Light, an undefeated Australian who challenges WBO world title-holder Lawrence Okolie at Manchester, England next week.
A 10-round super featherweight match between former world title challengers Jono Carroll and Miguel Marriaga preceded the semi-windup. Carroll, a 30-year-old Dublin southpaw, overcame a cut over his left eye suffered in the second round to win a wide unanimous decision in a fairly entertaining fight.
It was the sixth straight win for Carroll (24-2-1, 7 KOs) who elevated his game after serving as a sparring partner for Devin Haney. Marriaga, a 36-year-old Colombian, lost for the fourth time in his last five outings, declining to 30-7.
To comment on this story in the Fight Forum CLICK HERE