Triller, Holyfield, and Trump: Did Evander Get Hustled? (Part 2)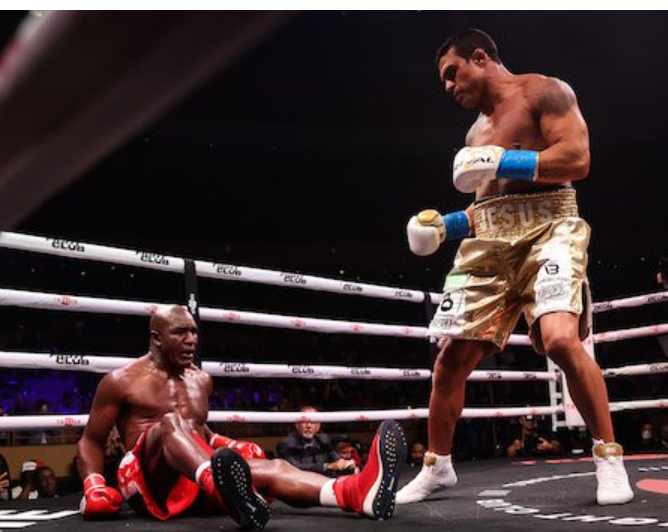 Triller, Holyfield, and Trump: Did Evander Get Hustled? Part Two of a Two-Part Story
The last thing a fighter loses isn't his legs, speed, or power. It's his ego.
Evander Holyfield was a great fighter. His victories over Mike Tyson, Riddick Bowe, Buster Douglas, George Foreman, Larry Holmes, and Dwight Muhammad Qwai are the stuff of legend. But Holyfield is 58 years old. Prior to fighting Vitor Belfort on September 11, he hadn't fought in more than ten years. He had nothing left as a fighter except his ego.
Evander needed money. After the exhibition between Mike Tyson and Roy Jones engendered a reported 1.6 million pay-per-view buys, he thought he knew where to find it. Tyson was a goose that could lay a golden egg. But where fighting Holyfield again was concerned, Iron Mike could have been forgiven for thinking, "Been there, done that. It didn't work out well the first two times, so why do it again?"
On March 22, 2021, Kris Lawrence (Holyfield's manager) issued a media release stating that Tyson's representatives had turned down a $25 million guarantee to fight Evander at Hard Rock Stadium in Miami on May 29. "We thought this was a done deal," Lawrence said. "But it fell apart when Tyson's people declined all offers. We were negotiating in good faith all along and it appears we just ended up wasting our time."
Then Triller came calling.
On April 16, 2021 (one day before Jake Paul vs. Ben Askren), Holyfield and Kevin McBride attended a press conference in Atlanta where it was announced that they would face each other on the undercard of Teofimo Lopez vs. George Kambosos (then scheduled for June 5 at LoanDepot Park in Miami).
McBride – best known as "the conqueror of Mike Tyson" – had last fought in 2011 when he was knocked out by Mariusz Wach at Mohegan Sun in Connecticut. He'd lost six of his final seven fights and was just shy of 48 years old.
After losing to Wach, McBride was placed on an indefinite medical suspension by the Mohegan Tribe Department of Athletic Regulation with the notation "needs neuro and MRI." There had been no administrative change in his status since then.
Multiple sources say that Holyfield-McBride was to have been an exhibition with neither man using best efforts to hurt the other. Informed sources say that Evander was to receive slightly more than $7,000,000 and McBride $500,000.
Soon after Holyfield-McBride was announced, Triller moved Lopez-Kambosos to June 19. But when the new date was set, Holyfield-McBride had been taken off the card. On May 13, Triller announced that Holyfield-McBride would be rescheduled for an unspecified date in August. At the end of May, as mandated by contract, Triller sent Holyfield a substantial check as an advance. But the fight wasn't rescheduled.
On September 1, Holyfield filed a demand for arbitration against Triller, alleging breach of contract and demanding the unpaid portion (approximately $5,000,000) of what was to have been his purse for the exhibition against McBride. Then Oscar De La Hoya contracted COVID and Triller concluded that it could salvage its September 11 card and settle its dispute with Holyfield at the same time by making Holyfield-Belfort. McBride was paid $250,000 in step-aside money, and Holyfield-Belfort was on.
Or was it?
On August 11, 2021, Triller had announced a pay-per-view undercard for De LaHoya vs. Belfort consisting of Anderson Silva vs. Tito Ortiz, Andy Vences vs. Jono Carroll, and David Haye vs. Joe Fournier. Then California State Athletic Commission executive director Andy Foster refused to sanction Haye-Fournier as an official fight, which seemed like the right move. Fournier is a London-born entrepreneur (inaccurately described as a "billionaire") who'd compiled a 9-0 ring record but whose five previous fights had been against opponents with a composite ring record of 2 wins, 40 losses, and 37 KOs by. Also, Fournier and Haye were friends. At that point, there was talk of a split-site event with Haye-Fournier moving to Miami or, alternatively, being clearly labeled an "exhibition."
Holyfield-Belfort was more troubling to Foster. As a person ages, his or her brain begins to shrink. This means that the veins connecting the brain to its coverings are at increased risk of a brain bleed when the head is struck.
Holyfield is 58 years old and had been hit in the head thousands of times by men who hit much harder than Belfort. But no matter how limited in power Vitor's punches might be – and no matter what the pre-fight understanding between the fighters might have been – any blows to the head that landed on Evander had the potential to cause serious damage.
The California State Athletic Commission refused to approve Holyfield-Belfort.
"I was not agreeable with the match based on a variety of regulatory factors," Foster later said. "There were issues as to whether it was going to be an exhibition or a fight, and we did not have adequate time for Evander to go through an appropriate licensing process."
The Florida Athletic Commission allowed what California wouldn't.
"They tried California," Association of Boxing Commissions president Mike Mazzulli told this writer. "Andy turned it down, and I commend him for that. I reached out to the Florida commission on several occasions and did not get a call back. I hope they understand the consequences of something like this. It was dangerous and a disgrace to boxing. It was a fiasco and I think it was horrible."
But was Holyfield-Belfort to be an exhibition or a fight? Evander and Vitor signed separate contracts. It's unclear what Vitor's contract said. However, multiple sources say that Holyfield's contract made it clear that the fighters would not use best efforts to win the fight.
"I knew from the beginning that it wasn't supposed to be a legitimate boxing match," Mike Mazzulli says. "You can quote me on that. I'm one hundred percent sure the contract was written as an exhibition."
"There were meticulous negotiations as to how things would be conducted," another person familiar with the situation says. "Evander went into the fight thinking that it was an exhibition with each man making an effort to put on a good show for the fans. That was the contractual understanding he had for Kevin McBride and that's what he had here. Evander's mindset was 'we'll go out, put on a show, and get a good payday.' I don't know what Belfort signed. I only know what Evander signed. Evander had no intention of hurting the other guy."
Multiple sources also say that the contract Holyfield signed contained a confidentiality clause and prohibited him from publicly calling the event an exhibition.
Meanwhile, Triller was promoting the event as a fight. And a compliant Florida Athletic Commission went along with that notion. On September 8 (three days before the event), FAC executive director Patrick Cunningham issued a statement that read, "The Florida Athletic Commission has approved the Evander Holyfield vs. Vitor Belfort bout as a fully regulated professional boxing match. It will be conducted under the Unified Rules of Boxing and scored by three judges on the 10-point must system. All boxers on this card have successfully met all requirements to be licensed by the Florida Athletic Commission."
Similarly, Triller's promotional material for Holyfield-Belfort was marketing the event as a "fight," not an exhibition. And Triller arranged for it to be entered on BoxRec.com (the official registry for the Association of Boxing Commissions) as an official fight. Then Mike Mazzulli stepped in.
"We were not going to allow it to be placed on BoxRec," Mazzulli says. "We contacted them, explained the situation, and BoxRec removed it from its listing of official fights."
At the final pre-fight press conference on September 9, both Holyfield and Belfort presented their encounter as a real fight. When asked specifically if it would be an exhibition, Evander responded, "All I know is it's a fight and they got the rules. If I can get him in one second, I'll get him in one second. I do what I have to do."
During fight week for Tyson-Jones, Donald Trump Jr (who has seven million Twitter followers) had sent out five tweets supporting the event and sharing links to promotional videos and pay-per-view ordering information. For Holyfield-Belfort, Triller went one giant step further, offering viewers what it called a "Donald Trump alternative commentary" stream with live onsite "unfiltered boxing commentary" at no extra charge on top of the $49.99 pay-per-view buy.
At the September 9 press conference, Donald Trump Jr talked for thirteen minutes, noting his father's "total recall" of fights from decades ago and voicing the view that it was "really cool" that he and his father would be commentating on the fights. He also opined, "Americans are learning the hard way that they've been lied to and manipulated by the media. You're seeing the results of that every day. I wake up every day, I go to sleep, thinking that we've hit rock bottom and then you see another thing. It goes on and on."
Later in the proceedings, Donald Trump Sr came on an audio feed and answered pre-screened questions for seven minutes, ending with the thought that, if he had to fight somebody or box somebody, "I think probably my easiest fight would be Joe Biden. I think he would go down very very quickly."
Thereafter, Jerry Izenberg (the dean of American sportswriters who, unlike either Trump, actually served in the Armed Forces), noted that Joe Biden, Barack Obama, and George W. Bush would all commemorate the twentieth anniversary of 9/11 by visiting attack sites and closed his column with a thought regarding Holyfield-Belfort: "The bad news: It will cost you $50 to see this farce. The good news: You can save every penny of it by simply not watching."
When fight night came, Ray Flores and Shawn Porter carried the regular (sans Trump) blow-by-blow commentary. Mario Lopez was the emcee. Ashley Haas served as a roving interviewer. References to a "sold-out arena" were somewhat disingenuous. The Seminole Hard Rock Hotel and Casino theater has three levels. Two of them were curtained off.
Todd Grisham and a series of rotating mixed martial artists were on the alternative commentary desk with Donald Trump Sr and Donald Trump Jr. Trump Sr's comments often centered on himself. Trump Jr's comments often centered on himself or his father.
Trump Sr began his commentary by attacking "some very bad decisions" made by Joe Biden with regard to Afghanistan. Later, in a tribute to America, scantily-clad women carried American flags around the ring prior to the singing of the National Anthem after which the crowd chanted "We want Trump" and "Knock out Biden."
Trump Sr also expressed delight at being in Florida: "We had a tremendous result in Florida. We love Florida. And they ran the election clean. That's very important . . . You have a lovely crowd here. You've got so many [pro-Trump] signs. I love the signs . . . If you do a lot of talking, you have to back it up. I do a lot of talking and I won."
After one fight, Trump Sr cautioned, "Let's see what happens with the scoring. It's like elections. It could be rigged."
Trump Jr once again praised his father's recall of fights. But that recall failed Trump Sr when he started talking about George Foreman vs. Michael Moorer and couldn't remember Moorer's name. Then, in going off on a tangent to show off his great knowledge of boxing, Trump Sr and Grisham confused Gennady Golovkin with Sergey Kovalev. Trump Sr also voiced the view on several occasions that changing championship fights from fifteen to twelve rounds "really hurt boxing."
The first "fight" of the evening matched David Haye against Joe Fournier in an encounter that had all the credibility of a WWE confrontation but wasn't choreographed nearly as well. Haye fought like a boxing instructor who was sparring with a pupil of limited ability and had promised ahead of time that he wouldn't hurt him. Fournier boxed with the confidence of a man who had an understanding with his opponent that all would be well. This lasted for eight long two-minute rounds after which the judges rendered an 80-71, 79-72, 79-72 verdict in Haye's favor.
Next up, Jono Carroll won a 97-93, 97-93, 95-95 majority decision over Andy Vences in a tedious affair that saw thirty seconds of action spread over ten rounds. After that, in a match-up of previously-retired, 46-year-old MMA fighters, Anderson Silva knocked out Tito Ortiz in 81 seconds.
Then it was time for Holyfield-Belfort. The contest was scheduled for eight two-minute rounds. Holyfield had weighed in at 225 pounds, Belfort at 206.
Watching Evander in the ring was sad. His balance was poor. His reflexes were shot. He pawed with his jab and seemed to have no defense against punches. Fifty-five seconds into the contest, Belfort landed a straight left to the body that knocked Holyfield off balance and pushed him back into the ropes. Then he attacked. Evander covered up and, seeming to understand at this point that he was in a real fight, threw a wild left hook that looked like it was designed to hurt. But it missed by a wide margin and his momentum caused him to plummet into the bottom ring strand and then to the canvas.
Holyfield rose. Belfort attacked again and, at the 1:22 mark, dropped Evander with a left uppercut to the jaw. Evander beat the count but was in trouble. Showing no mercy, Belfort threw eighteen unanswered punches. One minute 49 seconds into the round, referee Sammy Burgos stopped the fight.
When it was over, Holyfield complained to Todd Grisham about the stoppage and said he'd still like to fight Mike Tyson. Belfort said he'd like to fight Jake Paul next and called him "a little bitch." Ryan Kavanaugh and Triller executive chairman Bobby Sarnevesht then told Grisham that Triller would put up a $30 million winner-take-all purse for Belfort vs. Jake Paul on Thanksgiving. That bout is unlikely to come to pass since Paul has an exclusive multi-fight contract with Showtime.
Several days after Holyfield-Belfort, a source with knowledge of what transpired told this writer, "Evander was fighting Belfort like David Haye fought Fournier. Then Belfort started unloading on him, and Evander realized it was for real and threw a left hook to put him in his place. But he missed, fell into the ropes, and went down.
"I was with Evander in his suite after the fight," the same source continued. "One of the first things he said was, 'I couldn't believe how hard the guy was throwing. When I realized he was trying to hurt me, I threw back. But before I could change my mindset and put things together, I got knocked down. I got up and was covering up the way you're supposed to and the referee stopped the fight."
So . . . Where does all of this leave boxing?
First, Holyfield got a lot of money and that's good. I hope it's invested wisely so he can live off the income and be financially secure for the rest of his life.
Second, to quote Mark Kriegel, "Boxing can't survive, much less grow, if it keeps pushing out its past at the expense of its present and its future."
And as Matt Christie wrote, "I don't care how many new eyes they bring to the sport; creating this new precedent, which essentially says it's okay for boxers who long ago realized they shouldn't be boxing anymore to come back and take more punches is not just irresponsible. It's deadly."
Holyfield-Belfort seems to have performed poorly in the marketplace. A well-placed source says that FITE (which had exclusive streaming rights) chalked up approximately 50,000 buys. Add on cable and, most likely, the total number of buys will be in the neighborhood of 125,000.
That's bad news for Triller. Counting fighter purses, music acts, Donald Trump Sr and Jr and other talent costs, production, publicity, travel, and the like, the promotion is estimated to have cost between $15 million and $20 million to mount. And unlike some past events that Triller might have classified as loss leaders, this one brought far more bad publicity than good. And no! Not all publicity is good publicity. Triller got dragged over the coals on this one.
Sports have always been about entertainment, and sports are monetized as entertainment. Boxing, at the moment, isn't very entertaining. It isn't giving the public the fights that the public wants. To fill this void, a wave of trash boxing is flooding the market.
But trash boxing won't save the sweet science. Sports don't thrive on sideshow events. The NBA slam-dunk contest and three-point competition enliven All-Star Weekend, but the league is built around regular-season games and the play-offs. Football fans might be intrigued by the idea of a punt-pass-kick competition between Peyton Manning and Brett Favre, but that competition would never outdraw an NFL playoff game. Boxing can't be healthy if sideshows are the main event.
Keep in mind though; the proliferation of trash boxing is a symptom of boxing's problems, not the cause. Trash boxing in and of itself isn't bad for boxing. In recent years, boxing has been bad for boxing.
Photo credit: Amanda Westcott / Triller Fight Club
This is Part Two of a two-part series. Part One can be found HERE.
 Thomas Hauser's email address is thomashauserwriter@gmail.com. His next book – Broken Dreams: Another Year Inside Boxing – will be published this autumn by the University of Arkansas Press. In 2004, the Boxing Writers Association of America honored Hauser with the Nat Fleischer Award for career excellence in boxing journalism. In 2019, he was selected for boxing's highest honor – induction into the International Boxing Hall of Fame.
Check out more boxing news on video at the Boxing Channel
To comment on this story in the Fight Forum CLICK HERE
Tyson Fury Returns on Saturday with a Familiar Foe in the Opposite Corner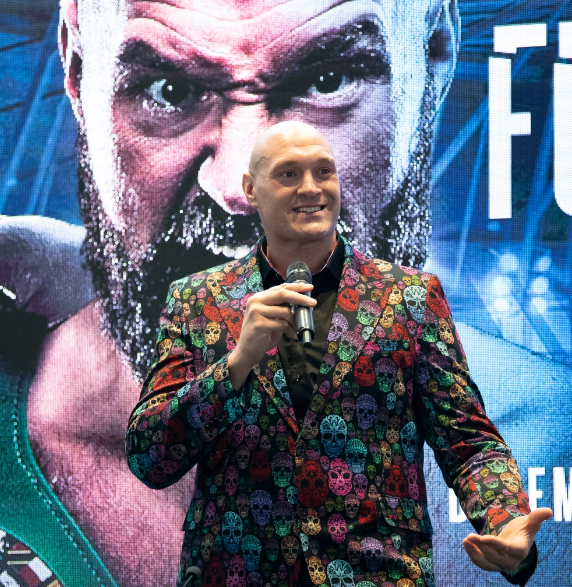 "Tyson Fury made a name for himself last night, one that already has a ready-made ring about it and will be destined to become familiar in boxing." Alan Hubbard, a ringside correspondent for The (London) Examiner wrote those words after Fury wrested the British and Commonwealth heavyweight titles from Derek Chisora with a comprehensive 12-round decision on July 23, 2011.
Those words were prescient. Tyson Fury did go on to become a familiar name in the sport. Indeed, one could argue that at this moment in history no active boxer is more famous.
More than 11 full years have elapsed since Fury toppled Chisora. In the ensuing years, the Gypsy King outpointed Wladimir Klitschko in Germany to win the world heavyweight title, battled personal demons that sidelined him for two-and-half years, returned to the ring with a flourish, ultimately regaining the world heavyweight title, or at least a version of it, in the second chapter of his memorable trilogy with Deontay Wilder, and rising so high in the opinion of boxing enthusiasts that he would be favored over any other boxer on the planet.
Oh, and lest we forget, since defeating Chisora in 2011, Fury whipped Chisora again, stopping him after 10 one-sided frames in 2014. Fury's eight-inch height advantage enabled him to control the distance vs. "Dell Boy" who was never knocked down but who absorbed a great deal of punishment before his chief second said "no mas."
A third meeting between Fury (32-0-1, 23 KOs) and the soon-to-be-39-year-old Chisora (33-12) would seem to be superfluous. Del Boy, coming off a narrow win over Kubrat Pulev, has lost three of his last four. But on Saturday, Dec. 3, they will go at it again. The venue is London's Tottenham Hotspur Stadium, capacity 62,850, and by all indications, despite a chill in the air (the temperature is expected to hover around 40 degrees), there won't be too many empty seats.
For promoter Frank Warren, Fury vs Chisora is Plan B – he was hoping to match Fury against Anthony Joshua – but he believes that Fury has become so popular that he can make a tidy profit no matter who is in the opposite corner. The Gypsy King, once referenced as the enfant terrible of British boxing, has toned down his rhetoric (one might say that he proactively distanced himself from Kanye West) and become almost cuddly, a source of inspiration for many Brits, the first member of the black sheep Traveler community about whom this could ever be said.
Fury, needless to say, is a heavy favorite. The odds are in the 25/1 range. The co-feature is likewise looked upon as a mismatch. Daniel Dubois, who shares the diluted WBA heavyweight title with Oleksandr Usyk, is a consensus 16/1 favorite over Kevin Lerena (28-1, 19 KOs) who rides in on a 17-fight winning streak. The six-foot-one Lerena carried a career-high 234 pounds for his last assignment against ancient Mariusz Wach, but the South African southpaw has fought most of his career as a cruiserweight.
The undercard includes featherweight Isaac Lowe, Tyson Fury's bosom buddy, and Hosea Burton, Fury's cousin, both of whom appear to be matched soft in scheduled six-rounders, plus 18-year-old phenom Royston Barney Smith in a 4-rounder against a transplanted Nicaraguan.
This is a pay-per-view event in the UK, but U.S. fight fans who subscribe to ESPN+ can see it for free. The ring walks for the main event are expected to go about 4 pm ET.
To comment on this story in the Fight Forum CLICK HERE
What Path will Yokasta Valle Choose Next?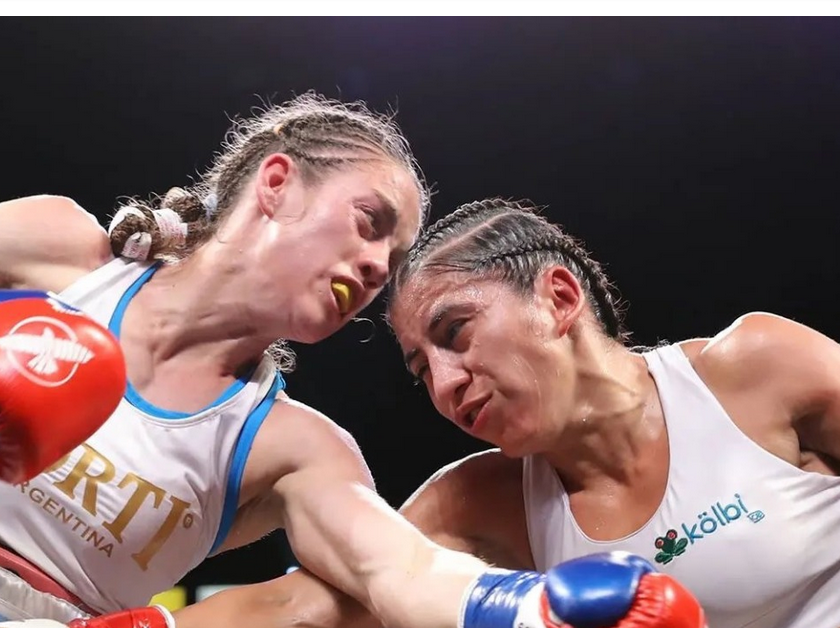 After the recent controversial ruling that made her a world champion in three different divisions, the fans of the Costa Rican Yokasta Valle are wondering: What path will the successful boxer choose next?
On Saturday, November 26th, in a fight of continuous exchanges with the then undefeated Argentine Evelyn Bermúdez (17-1-1, 6 KOs), "Yoka" Valle (27-2, 9 KOs) came out with her arm raised at the Dignity Health Sports Park in Carson, California, where she won the IBF and WBO belts, which Bermúdez was defending for the seventh and second time, respectively.
Although the Costa Rican fighter (pictured on the right) went on the attack for practically the entire 10 rounds, the exchanges were even, give and take, with good moments for both fighters, which made it difficult to evaluate each round. Hence the discomfort of many fans, especially in the Bermúdez camp, with the card of judge Adalaide Byrd (99-91), which apparently had Bermúdez prevailing in only one round. Neither did Judge Daniel Sandoval's card (97-93) represent what transpired in the ring, while Zachary Young's score of 95-95 was more accurate, distributing five rounds for each combatant.
In the case of Byrd, she also received innumerable criticism in the first fight between Saúl "Canelo" Álvarez and Gennady "GGG" Golovkin, which was held in September 2017 at the T-Mobile Arena in Las Vegas and which ended with a favorable scorecard for each boxer and another of 114-114.
At that time, Byrd had judged more than 400 fights over a 20-year span, and her discordant scorecard of 118-110 reflected Canelo winning 10 rounds and GGG only two (the fourth and the seventh). Dave Moretti leaned towards Golovkin (115-113), while Don Trella (114-114) saw it even.
CHAMPION IN THREE CATEGORIES
Born in Matagalpa, Nicaragua on August 28, 1992 and living in Costa Rica since her childhood, Valle made her boxing debut at the age of 22 in the light flyweight category. In that first experience at the pro level, she defeated Mexican María Guadalupe Gómez by unanimous decision in four rounds, on July 26, 2014, in Alajuela, Costa Rica.
Two years later, in her twelfth fight, she conquered the IBF title at 102 pounds by split decision against Ana Victoria Polo in San José, Costa Rica. In December 2017, Valle suffered her first professional failure against the local Naoko Fujioka, who won by unanimous decision at Korakuén Hall in Tokyo where they fought for the vacant WBO light flyweight belt.
Six months later, on June 16, 2018, Valle lost again by unanimous decision against German Christina Rupprecht (11-0-1, 3 KOs) in Munich, a duel that was for the WBO strawweight interim belt. Rupprecht maintains that belt and is again in Valle's sights.
Following those two setbacks, "Yoka" Valle compiled 14 victories, including the one she obtained in Marbella against Spaniard Joana Pastrana in August 2019, which she won by split decision securing the IBF 105-pound belt.
More recently, on September 8th in Costa Rica, Valle became a two-division champion at 105 pounds, by unanimously prevailing (the three judges scored the fight 100-90) over Vietnamese Thi Thu Nhi Nguyen, who ceded the WBO title. And then with her success against Bermúdez last weekend, Valle made history in Costa Rican boxing by adding her third crown in three different divisions (102, 105 and 108 pounds).
WHERE WILL YOKASTA VALLE GO NEXT?
Valle, who now owns two light flyweight titles (IBF and WBO) could next go in search of unification with Mexican Jéssica Nery (WBA super champion) or with Canadian Kim Clavel, who holds the WBC title. (Clavel and Nery collide on Thursday in Laval, Quebec.)
However, a more viable option would be to return to 105 pounds and seek a fight with American Seniesa Estrada (23-0, 9 KOs), who maintains the WBA belt, or with Rupprecht, who remains unbeaten. That seemed to be Valle's immediate objective, as she affirmed it in the ring after defeating Nguyen. In an indirect reference to Seniesa Estrada and Tina Rupprecht, Valle said "I want the belts. I've been saying it from the beginning, I want the WBC and WBA next, whoever has 'em."
At Friday's weigh-in for her fight with Bermúdez, Valle stated "I want to fight the best. I want to be undisputed. When Tina (Rupprecht) and Seniesa (Estrada) were not available, my team and I made the decision to move up in weight and challenge Evelyn for her world title belts. I have to fight. [MarvNation CEO] Marvin Rodriguez presented this fight to me. This is the type of fight I want. It is champion versus champion. I want to give the fans these types of fights."
EDITOR'S NOTE: Kim Clavel caught the flu and pulled out on Wednesday just prior to the weigh-in. Her match with Jessica Nery was rescheduled for Jan. 13.
Photo credit: Tom Hogan / Hogan Photos
Article submitted by Jorge Juan Alvarez in Spanish
Please note any adjustments made for clarification purposes and any errors in translation were unintentional.
To comment on this story in the Fight Forum CLICK HERE
Regis Prograis Knocks Out José Zepeda and Clears the Way for José Ramírez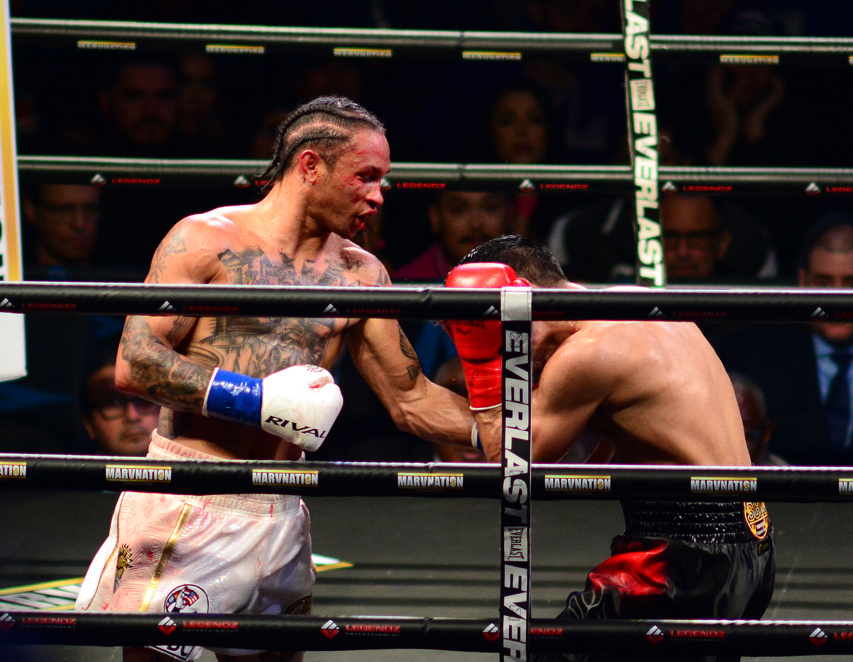 American Regis Prograis had to wait three years and a month for the opportunity to hold a world crown once again. On Saturday, November 26, at the Dignity Health Sports Park, in Carson, California, Prograis faced José Zepeda for the vacant WBC junior welterweight belt. Prograis was victorious by applying chloroform to Zepeda in the eleventh round.
Previously, on October 26, 2019, Prograis (28-1, 24 KOs) had lost the WBA junior welterweight belt by majority decision to Scotsman Josh Taylor at the 02 Arena in England.
Since then, the thirty-three-year-old Prograis who is based in Houston, Texas has obtained four wins (including vs Zepeda), all before the limit, as proof of the devilish power of his powerful fists, especially the left one.
Prior to the duel with Zepeda (35-2, 27 KOs), most experts favored Prograis, who after winning the intense battle, recognized that it was the most demanding fight of his career. "That dude is tough, tough, tough. He came to fight, he probably gave me one of my hardest fights, I'm not even gonna lie," said Prograis. "This dude is tough, bro. I've got so much respect for you. You prepared me to get this belt and hold this belt. I congratulate you. All the best to you, bro. Don't stop, I feel like you can still be a world champion."
Almost from the very beginning of the fight, Prograis showed greater speed with his hands and legs, and a general sense of technical superiority over Zepeda, who in the second round opened up a wound above his left eye with a legal blow.
From then on, Prograis's strong impacts gradually undermined Zepeda's resistance. Zepeda arrived totally exhausted in the eleventh round, where he received a straight left to the face, putting him in poor condition. A run with both fists from Prograis knocked him down and referee Ray Corona called the match with 59 seconds remaining in the round. This is the first setback that Zepeda has suffered by knockout in professional boxing.
On several occasions, Prograis has stated that he wants revenge against the undefeated Taylor (19-0, 13 KOs), but now, by order of the WBC, he must face American José Carlos Ramírez (27-1, 17 KOs).
Ramírez, 30 years old, is currently ranked second by the WBC. In February of 2019, in his second defense of his 140-pound belt, he defeated Zepeda by majority decision.
Twenty-five months later, Ramírez succumbed by unanimous decision to Taylor at the Virgin Hotels in Las Vegas, enabling the Scotsman to become the undisputed king of the category by winning the four most prestigious belts (WBA, WBC, WBO, IBF).
Recently, Ramírez expressed an interest in dueling with the main 140-pound contenders, including a second fight with Zepeda; although he did not rule out clashing with Prograis or Taylor. "Every fighter has the same amount of risk," said Ramirez. "We're a little under-promoted compared to other weight classes but I think that the best fights are at 140. You see guys fighting twice or three times, doing a trilogy. Honestly, I would love to face Regis, because I've never faced him. I would love to make the rematch with Zepeda, because he's such a good fighter. Obviously I want Josh Taylor, man. I want Josh Taylor bad."
Photo credit: Al Applerose
Article submitted by Jorge Juan Alvarez in Spanish.
Please note any adjustments made were for clarification purposes and any errors in translation were unintentional.
To comment on this story in the Fight Forum CLICK HERE