Triller, Holyfield, and Trump: Did Evander Get Hustled? (Part 2)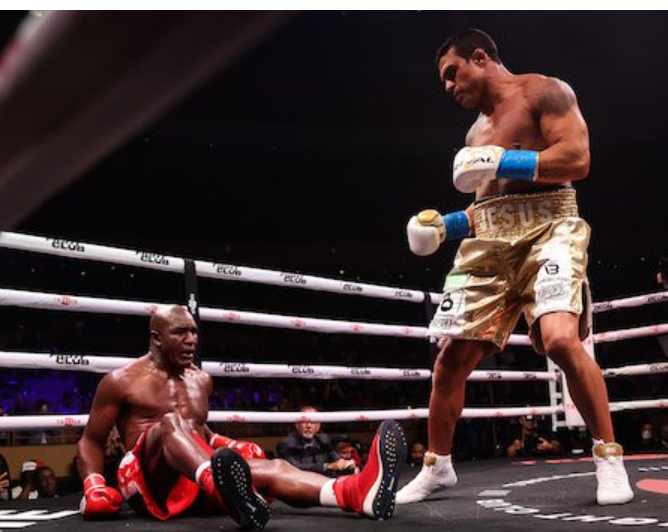 Triller, Holyfield, and Trump: Did Evander Get Hustled? Part Two of a Two-Part Story
The last thing a fighter loses isn't his legs, speed, or power. It's his ego.
Evander Holyfield was a great fighter. His victories over Mike Tyson, Riddick Bowe, Buster Douglas, George Foreman, Larry Holmes, and Dwight Muhammad Qwai are the stuff of legend. But Holyfield is 58 years old. Prior to fighting Vitor Belfort on September 11, he hadn't fought in more than ten years. He had nothing left as a fighter except his ego.
Evander needed money. After the exhibition between Mike Tyson and Roy Jones engendered a reported 1.6 million pay-per-view buys, he thought he knew where to find it. Tyson was a goose that could lay a golden egg. But where fighting Holyfield again was concerned, Iron Mike could have been forgiven for thinking, "Been there, done that. It didn't work out well the first two times, so why do it again?"
On March 22, 2021, Kris Lawrence (Holyfield's manager) issued a media release stating that Tyson's representatives had turned down a $25 million guarantee to fight Evander at Hard Rock Stadium in Miami on May 29. "We thought this was a done deal," Lawrence said. "But it fell apart when Tyson's people declined all offers. We were negotiating in good faith all along and it appears we just ended up wasting our time."
Then Triller came calling.
On April 16, 2021 (one day before Jake Paul vs. Ben Askren), Holyfield and Kevin McBride attended a press conference in Atlanta where it was announced that they would face each other on the undercard of Teofimo Lopez vs. George Kambosos (then scheduled for June 5 at LoanDepot Park in Miami).
McBride – best known as "the conqueror of Mike Tyson" – had last fought in 2011 when he was knocked out by Mariusz Wach at Mohegan Sun in Connecticut. He'd lost six of his final seven fights and was just shy of 48 years old.
After losing to Wach, McBride was placed on an indefinite medical suspension by the Mohegan Tribe Department of Athletic Regulation with the notation "needs neuro and MRI." There had been no administrative change in his status since then.
Multiple sources say that Holyfield-McBride was to have been an exhibition with neither man using best efforts to hurt the other. Informed sources say that Evander was to receive slightly more than $7,000,000 and McBride $500,000.
Soon after Holyfield-McBride was announced, Triller moved Lopez-Kambosos to June 19. But when the new date was set, Holyfield-McBride had been taken off the card. On May 13, Triller announced that Holyfield-McBride would be rescheduled for an unspecified date in August. At the end of May, as mandated by contract, Triller sent Holyfield a substantial check as an advance. But the fight wasn't rescheduled.
On September 1, Holyfield filed a demand for arbitration against Triller, alleging breach of contract and demanding the unpaid portion (approximately $5,000,000) of what was to have been his purse for the exhibition against McBride. Then Oscar De La Hoya contracted COVID and Triller concluded that it could salvage its September 11 card and settle its dispute with Holyfield at the same time by making Holyfield-Belfort. McBride was paid $250,000 in step-aside money, and Holyfield-Belfort was on.
Or was it?
On August 11, 2021, Triller had announced a pay-per-view undercard for De LaHoya vs. Belfort consisting of Anderson Silva vs. Tito Ortiz, Andy Vences vs. Jono Carroll, and David Haye vs. Joe Fournier. Then California State Athletic Commission executive director Andy Foster refused to sanction Haye-Fournier as an official fight, which seemed like the right move. Fournier is a London-born entrepreneur (inaccurately described as a "billionaire") who'd compiled a 9-0 ring record but whose five previous fights had been against opponents with a composite ring record of 2 wins, 40 losses, and 37 KOs by. Also, Fournier and Haye were friends. At that point, there was talk of a split-site event with Haye-Fournier moving to Miami or, alternatively, being clearly labeled an "exhibition."
Holyfield-Belfort was more troubling to Foster. As a person ages, his or her brain begins to shrink. This means that the veins connecting the brain to its coverings are at increased risk of a brain bleed when the head is struck.
Holyfield is 58 years old and had been hit in the head thousands of times by men who hit much harder than Belfort. But no matter how limited in power Vitor's punches might be – and no matter what the pre-fight understanding between the fighters might have been – any blows to the head that landed on Evander had the potential to cause serious damage.
The California State Athletic Commission refused to approve Holyfield-Belfort.
"I was not agreeable with the match based on a variety of regulatory factors," Foster later said. "There were issues as to whether it was going to be an exhibition or a fight, and we did not have adequate time for Evander to go through an appropriate licensing process."
The Florida Athletic Commission allowed what California wouldn't.
"They tried California," Association of Boxing Commissions president Mike Mazzulli told this writer. "Andy turned it down, and I commend him for that. I reached out to the Florida commission on several occasions and did not get a call back. I hope they understand the consequences of something like this. It was dangerous and a disgrace to boxing. It was a fiasco and I think it was horrible."
But was Holyfield-Belfort to be an exhibition or a fight? Evander and Vitor signed separate contracts. It's unclear what Vitor's contract said. However, multiple sources say that Holyfield's contract made it clear that the fighters would not use best efforts to win the fight.
"I knew from the beginning that it wasn't supposed to be a legitimate boxing match," Mike Mazzulli says. "You can quote me on that. I'm one hundred percent sure the contract was written as an exhibition."
"There were meticulous negotiations as to how things would be conducted," another person familiar with the situation says. "Evander went into the fight thinking that it was an exhibition with each man making an effort to put on a good show for the fans. That was the contractual understanding he had for Kevin McBride and that's what he had here. Evander's mindset was 'we'll go out, put on a show, and get a good payday.' I don't know what Belfort signed. I only know what Evander signed. Evander had no intention of hurting the other guy."
Multiple sources also say that the contract Holyfield signed contained a confidentiality clause and prohibited him from publicly calling the event an exhibition.
Meanwhile, Triller was promoting the event as a fight. And a compliant Florida Athletic Commission went along with that notion. On September 8 (three days before the event), FAC executive director Patrick Cunningham issued a statement that read, "The Florida Athletic Commission has approved the Evander Holyfield vs. Vitor Belfort bout as a fully regulated professional boxing match. It will be conducted under the Unified Rules of Boxing and scored by three judges on the 10-point must system. All boxers on this card have successfully met all requirements to be licensed by the Florida Athletic Commission."
Similarly, Triller's promotional material for Holyfield-Belfort was marketing the event as a "fight," not an exhibition. And Triller arranged for it to be entered on BoxRec.com (the official registry for the Association of Boxing Commissions) as an official fight. Then Mike Mazzulli stepped in.
"We were not going to allow it to be placed on BoxRec," Mazzulli says. "We contacted them, explained the situation, and BoxRec removed it from its listing of official fights."
At the final pre-fight press conference on September 9, both Holyfield and Belfort presented their encounter as a real fight. When asked specifically if it would be an exhibition, Evander responded, "All I know is it's a fight and they got the rules. If I can get him in one second, I'll get him in one second. I do what I have to do."
During fight week for Tyson-Jones, Donald Trump Jr (who has seven million Twitter followers) had sent out five tweets supporting the event and sharing links to promotional videos and pay-per-view ordering information. For Holyfield-Belfort, Triller went one giant step further, offering viewers what it called a "Donald Trump alternative commentary" stream with live onsite "unfiltered boxing commentary" at no extra charge on top of the $49.99 pay-per-view buy.
At the September 9 press conference, Donald Trump Jr talked for thirteen minutes, noting his father's "total recall" of fights from decades ago and voicing the view that it was "really cool" that he and his father would be commentating on the fights. He also opined, "Americans are learning the hard way that they've been lied to and manipulated by the media. You're seeing the results of that every day. I wake up every day, I go to sleep, thinking that we've hit rock bottom and then you see another thing. It goes on and on."
Later in the proceedings, Donald Trump Sr came on an audio feed and answered pre-screened questions for seven minutes, ending with the thought that, if he had to fight somebody or box somebody, "I think probably my easiest fight would be Joe Biden. I think he would go down very very quickly."
Thereafter, Jerry Izenberg (the dean of American sportswriters who, unlike either Trump, actually served in the Armed Forces), noted that Joe Biden, Barack Obama, and George W. Bush would all commemorate the twentieth anniversary of 9/11 by visiting attack sites and closed his column with a thought regarding Holyfield-Belfort: "The bad news: It will cost you $50 to see this farce. The good news: You can save every penny of it by simply not watching."
When fight night came, Ray Flores and Shawn Porter carried the regular (sans Trump) blow-by-blow commentary. Mario Lopez was the emcee. Ashley Haas served as a roving interviewer. References to a "sold-out arena" were somewhat disingenuous. The Seminole Hard Rock Hotel and Casino theater has three levels. Two of them were curtained off.
Todd Grisham and a series of rotating mixed martial artists were on the alternative commentary desk with Donald Trump Sr and Donald Trump Jr. Trump Sr's comments often centered on himself. Trump Jr's comments often centered on himself or his father.
Trump Sr began his commentary by attacking "some very bad decisions" made by Joe Biden with regard to Afghanistan. Later, in a tribute to America, scantily-clad women carried American flags around the ring prior to the singing of the National Anthem after which the crowd chanted "We want Trump" and "Knock out Biden."
Trump Sr also expressed delight at being in Florida: "We had a tremendous result in Florida. We love Florida. And they ran the election clean. That's very important . . . You have a lovely crowd here. You've got so many [pro-Trump] signs. I love the signs . . . If you do a lot of talking, you have to back it up. I do a lot of talking and I won."
After one fight, Trump Sr cautioned, "Let's see what happens with the scoring. It's like elections. It could be rigged."
Trump Jr once again praised his father's recall of fights. But that recall failed Trump Sr when he started talking about George Foreman vs. Michael Moorer and couldn't remember Moorer's name. Then, in going off on a tangent to show off his great knowledge of boxing, Trump Sr and Grisham confused Gennady Golovkin with Sergey Kovalev. Trump Sr also voiced the view on several occasions that changing championship fights from fifteen to twelve rounds "really hurt boxing."
The first "fight" of the evening matched David Haye against Joe Fournier in an encounter that had all the credibility of a WWE confrontation but wasn't choreographed nearly as well. Haye fought like a boxing instructor who was sparring with a pupil of limited ability and had promised ahead of time that he wouldn't hurt him. Fournier boxed with the confidence of a man who had an understanding with his opponent that all would be well. This lasted for eight long two-minute rounds after which the judges rendered an 80-71, 79-72, 79-72 verdict in Haye's favor.
Next up, Jono Carroll won a 97-93, 97-93, 95-95 majority decision over Andy Vences in a tedious affair that saw thirty seconds of action spread over ten rounds. After that, in a match-up of previously-retired, 46-year-old MMA fighters, Anderson Silva knocked out Tito Ortiz in 81 seconds.
Then it was time for Holyfield-Belfort. The contest was scheduled for eight two-minute rounds. Holyfield had weighed in at 225 pounds, Belfort at 206.
Watching Evander in the ring was sad. His balance was poor. His reflexes were shot. He pawed with his jab and seemed to have no defense against punches. Fifty-five seconds into the contest, Belfort landed a straight left to the body that knocked Holyfield off balance and pushed him back into the ropes. Then he attacked. Evander covered up and, seeming to understand at this point that he was in a real fight, threw a wild left hook that looked like it was designed to hurt. But it missed by a wide margin and his momentum caused him to plummet into the bottom ring strand and then to the canvas.
Holyfield rose. Belfort attacked again and, at the 1:22 mark, dropped Evander with a left uppercut to the jaw. Evander beat the count but was in trouble. Showing no mercy, Belfort threw eighteen unanswered punches. One minute 49 seconds into the round, referee Sammy Burgos stopped the fight.
When it was over, Holyfield complained to Todd Grisham about the stoppage and said he'd still like to fight Mike Tyson. Belfort said he'd like to fight Jake Paul next and called him "a little bitch." Ryan Kavanaugh and Triller executive chairman Bobby Sarnevesht then told Grisham that Triller would put up a $30 million winner-take-all purse for Belfort vs. Jake Paul on Thanksgiving. That bout is unlikely to come to pass since Paul has an exclusive multi-fight contract with Showtime.
Several days after Holyfield-Belfort, a source with knowledge of what transpired told this writer, "Evander was fighting Belfort like David Haye fought Fournier. Then Belfort started unloading on him, and Evander realized it was for real and threw a left hook to put him in his place. But he missed, fell into the ropes, and went down.
"I was with Evander in his suite after the fight," the same source continued. "One of the first things he said was, 'I couldn't believe how hard the guy was throwing. When I realized he was trying to hurt me, I threw back. But before I could change my mindset and put things together, I got knocked down. I got up and was covering up the way you're supposed to and the referee stopped the fight."
So . . . Where does all of this leave boxing?
First, Holyfield got a lot of money and that's good. I hope it's invested wisely so he can live off the income and be financially secure for the rest of his life.
Second, to quote Mark Kriegel, "Boxing can't survive, much less grow, if it keeps pushing out its past at the expense of its present and its future."
And as Matt Christie wrote, "I don't care how many new eyes they bring to the sport; creating this new precedent, which essentially says it's okay for boxers who long ago realized they shouldn't be boxing anymore to come back and take more punches is not just irresponsible. It's deadly."
Holyfield-Belfort seems to have performed poorly in the marketplace. A well-placed source says that FITE (which had exclusive streaming rights) chalked up approximately 50,000 buys. Add on cable and, most likely, the total number of buys will be in the neighborhood of 125,000.
That's bad news for Triller. Counting fighter purses, music acts, Donald Trump Sr and Jr and other talent costs, production, publicity, travel, and the like, the promotion is estimated to have cost between $15 million and $20 million to mount. And unlike some past events that Triller might have classified as loss leaders, this one brought far more bad publicity than good. And no! Not all publicity is good publicity. Triller got dragged over the coals on this one.
Sports have always been about entertainment, and sports are monetized as entertainment. Boxing, at the moment, isn't very entertaining. It isn't giving the public the fights that the public wants. To fill this void, a wave of trash boxing is flooding the market.
But trash boxing won't save the sweet science. Sports don't thrive on sideshow events. The NBA slam-dunk contest and three-point competition enliven All-Star Weekend, but the league is built around regular-season games and the play-offs. Football fans might be intrigued by the idea of a punt-pass-kick competition between Peyton Manning and Brett Favre, but that competition would never outdraw an NFL playoff game. Boxing can't be healthy if sideshows are the main event.
Keep in mind though; the proliferation of trash boxing is a symptom of boxing's problems, not the cause. Trash boxing in and of itself isn't bad for boxing. In recent years, boxing has been bad for boxing.
Photo credit: Amanda Westcott / Triller Fight Club
This is Part Two of a two-part series. Part One can be found HERE.
 Thomas Hauser's email address is thomashauserwriter@gmail.com. His next book – Broken Dreams: Another Year Inside Boxing – will be published this autumn by the University of Arkansas Press. In 2004, the Boxing Writers Association of America honored Hauser with the Nat Fleischer Award for career excellence in boxing journalism. In 2019, he was selected for boxing's highest honor – induction into the International Boxing Hall of Fame.
Check out more boxing news on video at the Boxing Channel
To comment on this story in the Fight Forum CLICK HERE
Remembering 'Rocky Estafire,' One Tough Syrian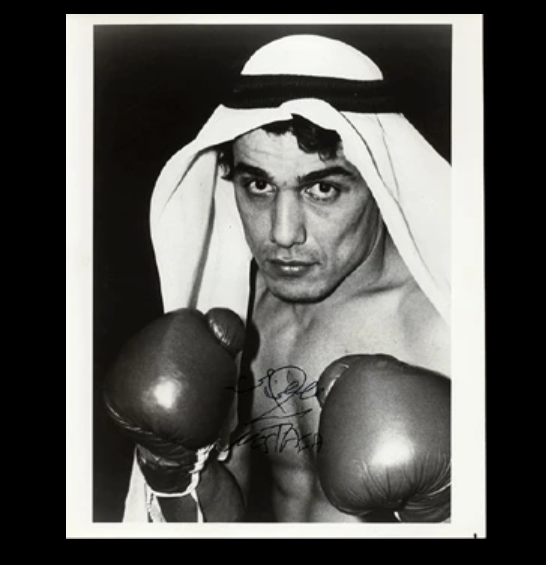 On Sept. 9, 1978, a Bayonne, New Jersey brawler who was billed as Rocky Estafire when he was first starting out, stopped slick Bobby "Boogaloo" Watts in Jersey City giving notice that he was becoming a force to be reckoned with in the middleweight division. Watts was no slouch having split a pair with Marvelous Marvin Hagler.
"Strictly LaMotta style," said Paddy Flood of his fighter who would come to be known by his real name, Mustafa Hamsho.
In 1980, he beat undefeated Wilford Scypion and followed that up with close wins over Curtis Parker and Alan Minter in 1981 leading to his first of two title clashes with Hagler. This bloody encounter, won by Hagler on an 11th-round TKO, left both fighters needing stiches.
"Throughout Hagler's nonstop, 11th-round barrage, Hamsho kept coming on. He didn't win a round, but he did take the battle of the stitches, 55-5," wrote Pat Putnam in Sports Illustrated. "I don't know what his corner was waiting for…The meat from his eyes was hanging down. But I can't let that bother me. I just have to think, better him than me," said Hagler.
More from Putnam: "When Hagler had left the hospital, the doctors were still working over Hamsho, who, until his trainer, Al Braverman, jumped into the ring to stop the fight, looked as though he would run out of blood before he ran out of heart. He was badly cut under both brows: Each wound was at least two inches long and half an inch wide. There was another slice under his left eye. He didn't win a round from any of the three officials."
Al Braverman, who co-managed Hamsho with the aforementioned Flood, once described the Syrian's style as follows: "…."He's got no style. He just wades in, throwing punches from any angle."  He also possessed great stamina, a granite chin and incredible courage, along with head and shoulder butts, elbows, low blows, shoves, holding, chops behind the head, and whatever he could get away with.
The Matinee Idol
Bobby Czyz was 20-0 when he met Hamsho at the Convention Center in Atlantic City on Nov. 20, 1982. The undefeated New Jersey lad with the somewhat strange moniker of "Matinee Idol" and the high IQ had solid wins over Danny Long, Teddy Mann, Oscar Albarado, Elisha Obed, and Robbie Sims. Against Hamsho he was stepping up in class but he was a solid opponent for the Syrian who was 34-2-2 coming in.
If Bobby won, he would position himself for a shot at Marvelous Marvin, but Hamsho mauled and mugged the future world light heavyweight champion over ten rounds and won a convincing UD. (The rest of the Bobby Czyz story is told in "The Boxer Who Became a Bagger," a remarkable and poignant article by sports columnist Steve Politi that first appeared in the Newark Star-Ledger.)
Wilfred Benitez
HIs UD victory over Wilfred Benitez (45-2-1) in 1883 was pure Hamsho featuring elbows, butts, and low blows. The third round was difficult to watch as the compact Syrian rendered a brutal beating on "El Radar," using accurate nonstop shots coming from all directions. Between slips and knockdowns, Wilfred hit the deck four times.
Clearly, Benitez had faded, but Hamsho hastened the process and helped point the legendary Puerto Rican in a downward direction. Wilfred looked sluggish and poorly conditioned; he was not the same Benitez who knocked out Maurice Hope in spectacular fashion or out-boxed Roberto Duran for 15 rounds. Something was wrong.
But even in top shape, Benitez would have struggled against Hamsho with his mauling, brawling, non-stop pressure. Hamsho could make anyone look bad.  (Wilfred Benitez would lose several more outings after the Hamsho beatdown. Matthew Hilton finished the job with a terrifying KO in 1986. Wilfred's story is a terribly sad one as he now requires constant care.)
Hamsho would lose another fight with Hagler—this time quickly and badly– and then go 6-2 before retiring in 1989 with a record of 44-5-2.
Those who were fortunate enough to see him fight remember a fan-pleasing, all-action combination of Vito Antuofermo, Michael Katsidis, Antonio Margarito, and Gene Fullmer.
Amir Khan and Prince Naseem Hamed are two very high profile, proud Muslim fighters. Mustafa Hamsho's name can be added.
Ted Sares can be reached at tedsares@roadrunner.com
Check out more boxing news on video at the Boxing Channel
To comment on this story in the Fight Forum CLICK HERE
Miguel Madueno Scores His 12th Straight Knockout at Ontario, Calif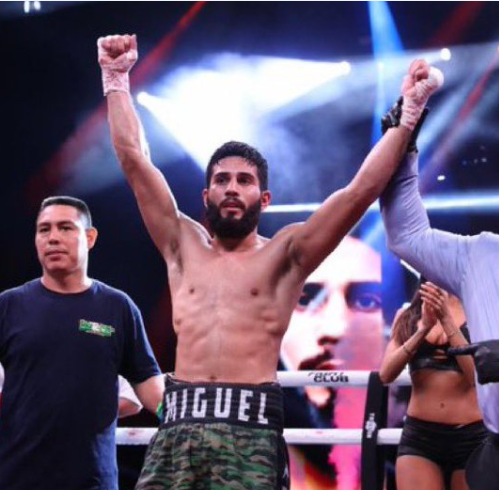 Ontario, CA — A return of fans to the Inland Empire saw Mexico's Miguel Madueno extend his consecutive knockout streak to a dozen at the Doubletree Hotel in Ontario, California on Friday.
It was the first fan-filled event for a Thompson Boxing card in the "I.E." in almost two years.
Lightweight contender Madueno (26-0, 24 KOs) of Culiacan powered his way to his 12th consecutive knockout and this came at the expense of fellow Mexican Jose Luis Rodriguez (25-15-1, 13 KOs) with a focused attack to the body.
Rodriguez was clever and tough and would not allow Madueno to overwhelm him during the first four rounds. But in the fifth he was not as lucky as a four-punch barrage to the body sent him to one knee. He beat the count but was overwhelmed by Madueno who forced referee Raul Caiz to end the fight at 2:46 of the fifth round.
"In reality I thought I would end it early," said Madueno about seeking an early knockout. "But he could take it."
In the co-main event Japan's Katsuma Akitsugi (7-0) outhustled Northern California's Eros Correa (10-1) after eight rounds in a bantamweight scrap to win by majority decision.
Akitsugi, a southpaw, and Correa both showed quick hands and good chins. But the Japanese fighter was always on attack and Correa resorted to holding from the second round on. He was never warned by the referee for excessive holding. It could have helped him get back in the fight.
Every time Akitsugi entered the danger zone Correa would grab ahold like an MMA fighter instead of fighting on the inside. While Correa held Akitsugi punched and that proved the difference as two judges scored it 78-74 for Akitsugi, while a third saw it 76-76.
"I could not box my style at all," said Akitsugi, 23. "I'm glad I brought the win home."
Other Bouts
San Bernardino's Esteban Munoz (5-1, 3 KOs) knocked out Tijuana's Manuel Martinez (6-5-4) with a body shot in the first round. He could not beat the count. Munoz had stunned Martinez earlier with a counter right. Then he found an opening to the body and delivered a right to the gut and down went Martinez. He was counted out at 1:50 of the first round.
Coachella's Lazaro Vargas (4-0) out-worked Ulises Rosales (0-5) over four rounds of a super bantamweight match to win by unanimous decision 40-36 on all three cards.
Check out more boxing news on video at the Boxing Channel
To comment on this story in the Fight Forum CLICK HERE
Oscar Rivas is Boxing's First Bridgerweight Champ; Tops Spunky Ryan Rozicki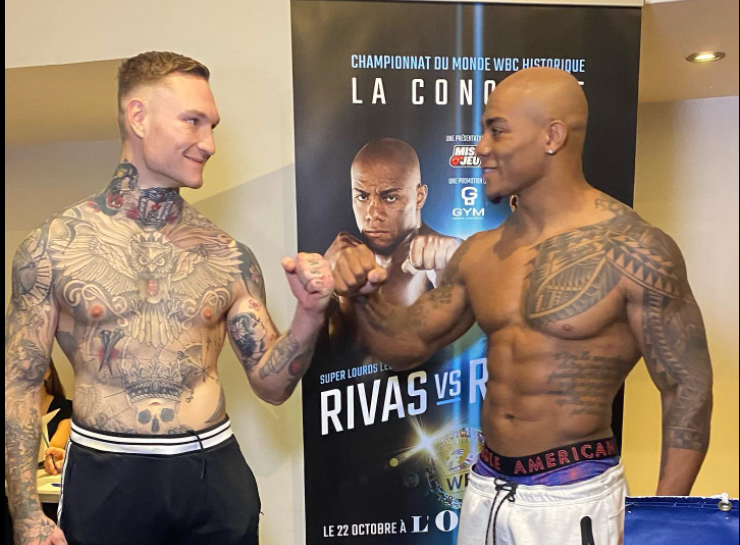 Back in January, the World Boxing Council announced that they were creating a new weight division. Tailored to boxers weighing between 200 and 224 pounds, they named it Bridgerweight. Tonight, at the Olympia Theatre in Montreal, the first WBC bridgerweight champion was crowned. Montreal-based Oscar Rivas, a 2008 Olympian representing his native Columbia, turned the trick with a unanimous 12-round decision over fellow Canadian Ryan Rozicki, advancing his record to 28-1 (19).
Rozicki, who is from Nova Scotia, out-performed expectations. Although he had knocked out all 13 of his opponents since turning pro in 2016, he hadn't defeated anyone of note and hadn't fought beyond six rounds. He drew the assignment when Rivas's original opponent Bryant Jennings was scratched because of his refusal to accept Canada's COVID protocols for unvaccinated foreigners. (A match between Rivas and Jennings would have been a rematch of their Jan. 18, 2019 contest in Verona, New York, a rather ho-hum match that had a dramatic ending when Rivas turned up the heat in the 12th round.)
Rivas, 34, was making his second start since suffering his lone defeat, a setback on points in a 12-round contest with Dillian Whyte in London. The heavier man by 19 pounds, he dominated the first two frames, rocking Rozicki in the opening stanza, but the Nova Scotian clawed his way back into the fight. Rivas had a strong penultimate round and although he had a point deducted for holding in the final stanza, it did not factor into the outcome. The judges had it 116-111 and 115-112.
What's next for Oscar Rivas? Logically a bout with Evgeny Romanov. A 36-year-old Russian with a 16-0 (11-0 mark), Romanov was ranked #2 behind Rivas in the WBC's latest set of bridgerweight rankings. Romanov's claim to fame is that he TKOed Deontay Wilder is in amateur days, but that was way back in 2008.
Another possibility, and one likely to attract more buzz, would be a bout with Alen Babic. A 30-year-old Brit by way of Croatia, the colorful, free-swinging Babic (8-0, 8 KOs) has a date later this month in London with Texas trial horse Eric Molina.
The best guess, however, is that Rivas will discard the belt and go back to competing as a heavyweight. The bridgerweight title, we suspect, like many of the lesser titles, will be perpetually vacant, which likely wouldn't trouble the WBC at all as they will gather up a sanctioning fee from a bridgerweight title fight whether there is an incumbent or not.
There were two 8-rounders offering chief support, but both were cancelled when the opponents failed to pass muster. Left in the lurch were "A side" Canadians Sebastien Bouchard, a welterweight, and Steve Rolls, a middleweight.
Check out more boxing news on video at the Boxing Channel
To comment on this story in the Fight Forum CLICK HERE