Triller, Holyfield, and Trump: Did Evander Get Hustled? (Part 2)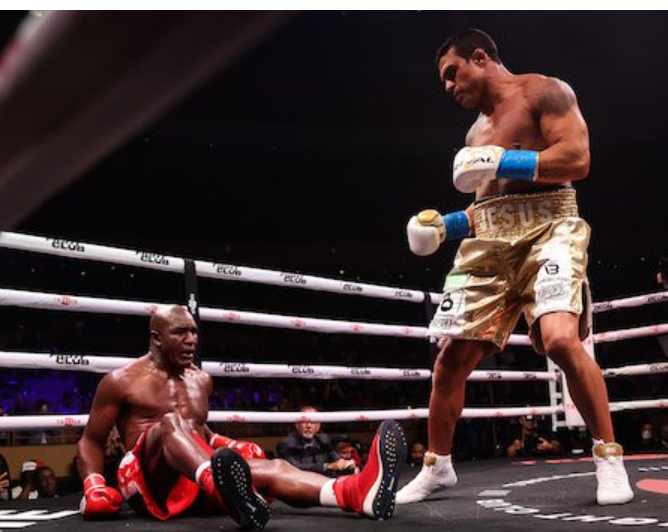 Triller, Holyfield, and Trump: Did Evander Get Hustled? Part Two of a Two-Part Story
The last thing a fighter loses isn't his legs, speed, or power. It's his ego.
Evander Holyfield was a great fighter. His victories over Mike Tyson, Riddick Bowe, Buster Douglas, George Foreman, Larry Holmes, and Dwight Muhammad Qwai are the stuff of legend. But Holyfield is 58 years old. Prior to fighting Vitor Belfort on September 11, he hadn't fought in more than ten years. He had nothing left as a fighter except his ego.
Evander needed money. After the exhibition between Mike Tyson and Roy Jones engendered a reported 1.6 million pay-per-view buys, he thought he knew where to find it. Tyson was a goose that could lay a golden egg. But where fighting Holyfield again was concerned, Iron Mike could have been forgiven for thinking, "Been there, done that. It didn't work out well the first two times, so why do it again?"
On March 22, 2021, Kris Lawrence (Holyfield's manager) issued a media release stating that Tyson's representatives had turned down a $25 million guarantee to fight Evander at Hard Rock Stadium in Miami on May 29. "We thought this was a done deal," Lawrence said. "But it fell apart when Tyson's people declined all offers. We were negotiating in good faith all along and it appears we just ended up wasting our time."
Then Triller came calling.
On April 16, 2021 (one day before Jake Paul vs. Ben Askren), Holyfield and Kevin McBride attended a press conference in Atlanta where it was announced that they would face each other on the undercard of Teofimo Lopez vs. George Kambosos (then scheduled for June 5 at LoanDepot Park in Miami).
McBride – best known as "the conqueror of Mike Tyson" – had last fought in 2011 when he was knocked out by Mariusz Wach at Mohegan Sun in Connecticut. He'd lost six of his final seven fights and was just shy of 48 years old.
After losing to Wach, McBride was placed on an indefinite medical suspension by the Mohegan Tribe Department of Athletic Regulation with the notation "needs neuro and MRI." There had been no administrative change in his status since then.
Multiple sources say that Holyfield-McBride was to have been an exhibition with neither man using best efforts to hurt the other. Informed sources say that Evander was to receive slightly more than $7,000,000 and McBride $500,000.
Soon after Holyfield-McBride was announced, Triller moved Lopez-Kambosos to June 19. But when the new date was set, Holyfield-McBride had been taken off the card. On May 13, Triller announced that Holyfield-McBride would be rescheduled for an unspecified date in August. At the end of May, as mandated by contract, Triller sent Holyfield a substantial check as an advance. But the fight wasn't rescheduled.
On September 1, Holyfield filed a demand for arbitration against Triller, alleging breach of contract and demanding the unpaid portion (approximately $5,000,000) of what was to have been his purse for the exhibition against McBride. Then Oscar De La Hoya contracted COVID and Triller concluded that it could salvage its September 11 card and settle its dispute with Holyfield at the same time by making Holyfield-Belfort. McBride was paid $250,000 in step-aside money, and Holyfield-Belfort was on.
Or was it?
On August 11, 2021, Triller had announced a pay-per-view undercard for De LaHoya vs. Belfort consisting of Anderson Silva vs. Tito Ortiz, Andy Vences vs. Jono Carroll, and David Haye vs. Joe Fournier. Then California State Athletic Commission executive director Andy Foster refused to sanction Haye-Fournier as an official fight, which seemed like the right move. Fournier is a London-born entrepreneur (inaccurately described as a "billionaire") who'd compiled a 9-0 ring record but whose five previous fights had been against opponents with a composite ring record of 2 wins, 40 losses, and 37 KOs by. Also, Fournier and Haye were friends. At that point, there was talk of a split-site event with Haye-Fournier moving to Miami or, alternatively, being clearly labeled an "exhibition."
Holyfield-Belfort was more troubling to Foster. As a person ages, his or her brain begins to shrink. This means that the veins connecting the brain to its coverings are at increased risk of a brain bleed when the head is struck.
Holyfield is 58 years old and had been hit in the head thousands of times by men who hit much harder than Belfort. But no matter how limited in power Vitor's punches might be – and no matter what the pre-fight understanding between the fighters might have been – any blows to the head that landed on Evander had the potential to cause serious damage.
The California State Athletic Commission refused to approve Holyfield-Belfort.
"I was not agreeable with the match based on a variety of regulatory factors," Foster later said. "There were issues as to whether it was going to be an exhibition or a fight, and we did not have adequate time for Evander to go through an appropriate licensing process."
The Florida Athletic Commission allowed what California wouldn't.
"They tried California," Association of Boxing Commissions president Mike Mazzulli told this writer. "Andy turned it down, and I commend him for that. I reached out to the Florida commission on several occasions and did not get a call back. I hope they understand the consequences of something like this. It was dangerous and a disgrace to boxing. It was a fiasco and I think it was horrible."
But was Holyfield-Belfort to be an exhibition or a fight? Evander and Vitor signed separate contracts. It's unclear what Vitor's contract said. However, multiple sources say that Holyfield's contract made it clear that the fighters would not use best efforts to win the fight.
"I knew from the beginning that it wasn't supposed to be a legitimate boxing match," Mike Mazzulli says. "You can quote me on that. I'm one hundred percent sure the contract was written as an exhibition."
"There were meticulous negotiations as to how things would be conducted," another person familiar with the situation says. "Evander went into the fight thinking that it was an exhibition with each man making an effort to put on a good show for the fans. That was the contractual understanding he had for Kevin McBride and that's what he had here. Evander's mindset was 'we'll go out, put on a show, and get a good payday.' I don't know what Belfort signed. I only know what Evander signed. Evander had no intention of hurting the other guy."
Multiple sources also say that the contract Holyfield signed contained a confidentiality clause and prohibited him from publicly calling the event an exhibition.
Meanwhile, Triller was promoting the event as a fight. And a compliant Florida Athletic Commission went along with that notion. On September 8 (three days before the event), FAC executive director Patrick Cunningham issued a statement that read, "The Florida Athletic Commission has approved the Evander Holyfield vs. Vitor Belfort bout as a fully regulated professional boxing match. It will be conducted under the Unified Rules of Boxing and scored by three judges on the 10-point must system. All boxers on this card have successfully met all requirements to be licensed by the Florida Athletic Commission."
Similarly, Triller's promotional material for Holyfield-Belfort was marketing the event as a "fight," not an exhibition. And Triller arranged for it to be entered on BoxRec.com (the official registry for the Association of Boxing Commissions) as an official fight. Then Mike Mazzulli stepped in.
"We were not going to allow it to be placed on BoxRec," Mazzulli says. "We contacted them, explained the situation, and BoxRec removed it from its listing of official fights."
At the final pre-fight press conference on September 9, both Holyfield and Belfort presented their encounter as a real fight. When asked specifically if it would be an exhibition, Evander responded, "All I know is it's a fight and they got the rules. If I can get him in one second, I'll get him in one second. I do what I have to do."
During fight week for Tyson-Jones, Donald Trump Jr (who has seven million Twitter followers) had sent out five tweets supporting the event and sharing links to promotional videos and pay-per-view ordering information. For Holyfield-Belfort, Triller went one giant step further, offering viewers what it called a "Donald Trump alternative commentary" stream with live onsite "unfiltered boxing commentary" at no extra charge on top of the $49.99 pay-per-view buy.
At the September 9 press conference, Donald Trump Jr talked for thirteen minutes, noting his father's "total recall" of fights from decades ago and voicing the view that it was "really cool" that he and his father would be commentating on the fights. He also opined, "Americans are learning the hard way that they've been lied to and manipulated by the media. You're seeing the results of that every day. I wake up every day, I go to sleep, thinking that we've hit rock bottom and then you see another thing. It goes on and on."
Later in the proceedings, Donald Trump Sr came on an audio feed and answered pre-screened questions for seven minutes, ending with the thought that, if he had to fight somebody or box somebody, "I think probably my easiest fight would be Joe Biden. I think he would go down very very quickly."
Thereafter, Jerry Izenberg (the dean of American sportswriters who, unlike either Trump, actually served in the Armed Forces), noted that Joe Biden, Barack Obama, and George W. Bush would all commemorate the twentieth anniversary of 9/11 by visiting attack sites and closed his column with a thought regarding Holyfield-Belfort: "The bad news: It will cost you $50 to see this farce. The good news: You can save every penny of it by simply not watching."
When fight night came, Ray Flores and Shawn Porter carried the regular (sans Trump) blow-by-blow commentary. Mario Lopez was the emcee. Ashley Haas served as a roving interviewer. References to a "sold-out arena" were somewhat disingenuous. The Seminole Hard Rock Hotel and Casino theater has three levels. Two of them were curtained off.
Todd Grisham and a series of rotating mixed martial artists were on the alternative commentary desk with Donald Trump Sr and Donald Trump Jr. Trump Sr's comments often centered on himself. Trump Jr's comments often centered on himself or his father.
Trump Sr began his commentary by attacking "some very bad decisions" made by Joe Biden with regard to Afghanistan. Later, in a tribute to America, scantily-clad women carried American flags around the ring prior to the singing of the National Anthem after which the crowd chanted "We want Trump" and "Knock out Biden."
Trump Sr also expressed delight at being in Florida: "We had a tremendous result in Florida. We love Florida. And they ran the election clean. That's very important . . . You have a lovely crowd here. You've got so many [pro-Trump] signs. I love the signs . . . If you do a lot of talking, you have to back it up. I do a lot of talking and I won."
After one fight, Trump Sr cautioned, "Let's see what happens with the scoring. It's like elections. It could be rigged."
Trump Jr once again praised his father's recall of fights. But that recall failed Trump Sr when he started talking about George Foreman vs. Michael Moorer and couldn't remember Moorer's name. Then, in going off on a tangent to show off his great knowledge of boxing, Trump Sr and Grisham confused Gennady Golovkin with Sergey Kovalev. Trump Sr also voiced the view on several occasions that changing championship fights from fifteen to twelve rounds "really hurt boxing."
The first "fight" of the evening matched David Haye against Joe Fournier in an encounter that had all the credibility of a WWE confrontation but wasn't choreographed nearly as well. Haye fought like a boxing instructor who was sparring with a pupil of limited ability and had promised ahead of time that he wouldn't hurt him. Fournier boxed with the confidence of a man who had an understanding with his opponent that all would be well. This lasted for eight long two-minute rounds after which the judges rendered an 80-71, 79-72, 79-72 verdict in Haye's favor.
Next up, Jono Carroll won a 97-93, 97-93, 95-95 majority decision over Andy Vences in a tedious affair that saw thirty seconds of action spread over ten rounds. After that, in a match-up of previously-retired, 46-year-old MMA fighters, Anderson Silva knocked out Tito Ortiz in 81 seconds.
Then it was time for Holyfield-Belfort. The contest was scheduled for eight two-minute rounds. Holyfield had weighed in at 225 pounds, Belfort at 206.
Watching Evander in the ring was sad. His balance was poor. His reflexes were shot. He pawed with his jab and seemed to have no defense against punches. Fifty-five seconds into the contest, Belfort landed a straight left to the body that knocked Holyfield off balance and pushed him back into the ropes. Then he attacked. Evander covered up and, seeming to understand at this point that he was in a real fight, threw a wild left hook that looked like it was designed to hurt. But it missed by a wide margin and his momentum caused him to plummet into the bottom ring strand and then to the canvas.
Holyfield rose. Belfort attacked again and, at the 1:22 mark, dropped Evander with a left uppercut to the jaw. Evander beat the count but was in trouble. Showing no mercy, Belfort threw eighteen unanswered punches. One minute 49 seconds into the round, referee Sammy Burgos stopped the fight.
When it was over, Holyfield complained to Todd Grisham about the stoppage and said he'd still like to fight Mike Tyson. Belfort said he'd like to fight Jake Paul next and called him "a little bitch." Ryan Kavanaugh and Triller executive chairman Bobby Sarnevesht then told Grisham that Triller would put up a $30 million winner-take-all purse for Belfort vs. Jake Paul on Thanksgiving. That bout is unlikely to come to pass since Paul has an exclusive multi-fight contract with Showtime.
Several days after Holyfield-Belfort, a source with knowledge of what transpired told this writer, "Evander was fighting Belfort like David Haye fought Fournier. Then Belfort started unloading on him, and Evander realized it was for real and threw a left hook to put him in his place. But he missed, fell into the ropes, and went down.
"I was with Evander in his suite after the fight," the same source continued. "One of the first things he said was, 'I couldn't believe how hard the guy was throwing. When I realized he was trying to hurt me, I threw back. But before I could change my mindset and put things together, I got knocked down. I got up and was covering up the way you're supposed to and the referee stopped the fight."
So . . . Where does all of this leave boxing?
First, Holyfield got a lot of money and that's good. I hope it's invested wisely so he can live off the income and be financially secure for the rest of his life.
Second, to quote Mark Kriegel, "Boxing can't survive, much less grow, if it keeps pushing out its past at the expense of its present and its future."
And as Matt Christie wrote, "I don't care how many new eyes they bring to the sport; creating this new precedent, which essentially says it's okay for boxers who long ago realized they shouldn't be boxing anymore to come back and take more punches is not just irresponsible. It's deadly."
Holyfield-Belfort seems to have performed poorly in the marketplace. A well-placed source says that FITE (which had exclusive streaming rights) chalked up approximately 50,000 buys. Add on cable and, most likely, the total number of buys will be in the neighborhood of 125,000.
That's bad news for Triller. Counting fighter purses, music acts, Donald Trump Sr and Jr and other talent costs, production, publicity, travel, and the like, the promotion is estimated to have cost between $15 million and $20 million to mount. And unlike some past events that Triller might have classified as loss leaders, this one brought far more bad publicity than good. And no! Not all publicity is good publicity. Triller got dragged over the coals on this one.
Sports have always been about entertainment, and sports are monetized as entertainment. Boxing, at the moment, isn't very entertaining. It isn't giving the public the fights that the public wants. To fill this void, a wave of trash boxing is flooding the market.
But trash boxing won't save the sweet science. Sports don't thrive on sideshow events. The NBA slam-dunk contest and three-point competition enliven All-Star Weekend, but the league is built around regular-season games and the play-offs. Football fans might be intrigued by the idea of a punt-pass-kick competition between Peyton Manning and Brett Favre, but that competition would never outdraw an NFL playoff game. Boxing can't be healthy if sideshows are the main event.
Keep in mind though; the proliferation of trash boxing is a symptom of boxing's problems, not the cause. Trash boxing in and of itself isn't bad for boxing. In recent years, boxing has been bad for boxing.
Photo credit: Amanda Westcott / Triller Fight Club
This is Part Two of a two-part series. Part One can be found HERE.
 Thomas Hauser's email address is thomashauserwriter@gmail.com. His next book – Broken Dreams: Another Year Inside Boxing – will be published this autumn by the University of Arkansas Press. In 2004, the Boxing Writers Association of America honored Hauser with the Nat Fleischer Award for career excellence in boxing journalism. In 2019, he was selected for boxing's highest honor – induction into the International Boxing Hall of Fame.
Check out more boxing news on video at the Boxing Channel
To comment on this story in the Fight Forum CLICK HERE
Mercito Gesta Victorious Over Jojo Diaz at the Long Beach Pyramid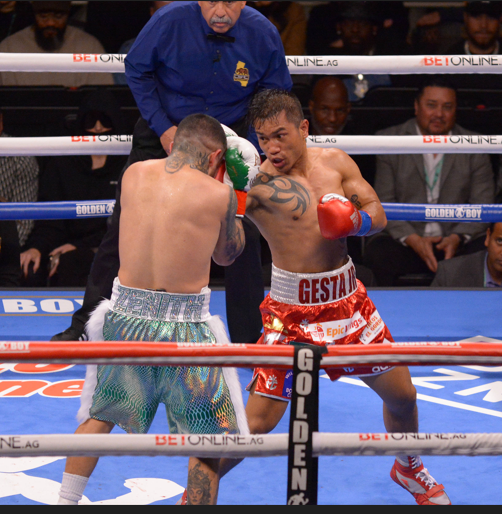 LONG BEACH, CA.-Those in the know knew Mercito Gesta and Jojo Diaz would be a fight to watch and they delivered.
Gesta emerged the winner in a super lightweight clash between southpaws that saw the judges favor his busier style over Diaz's body attack and bigger shots and win by split decision on Saturday.
Despite losing the main event because the star was overweight, Gesta (34-3-3, 17 KOs) used an outside method of tactic to edge past former world champion Diaz (32-4-1, 15 KOs) in front of more than 5,000 fans at the Pyramid.
The speedy Gesta opened up the fight with combination punching up and down against the peek-a-boo style of Diaz. For the first two rounds the San Diego fighter overwhelmed Diaz though none of the blows were impactful.
In the third round Diaz finally began unloading his own combinations and displaying the fast hands that helped him win world titles in two divisions. Gesta seemed stunned by the blows, but his chin held up. The counter right hook was Diaz's best weapon and snapped Gesta's head back several times.
Gesta regained control in the fifth round after absorbing big blows from Diaz. He seemed to get angry that he was hurt and opened up with even more blows to send Diaz backpedaling.
Diaz targeted his attack to Gesta's body and that seemed to slow down Gesta. But only for a round.
From the seventh until the 10th each fighter tried to impose their style with Gesta opening up with fast flurries and Diaz using right hooks to connect with solid shots. They continued their method of attack until the final bell. All that mattered was what the judges preferred.
After 10 rounds one judge saw Diaz the winner 97-93 but two others saw Gesta the winner 99-91, 98-92. It was a close and interesting fight.
"I was expecting nothing. I was the victor in this fight and we gave a good fight," said Gesta. "It's not an easy fight and Jojo gave his best."
Diaz was surprised by the outcome but accepted the verdict.
Everything was going good. I thought I was landing good body shots," said Diaz. "I was pretty comfortable."
Other Bouts
Mexico's Oscar Duarte (25-1-1, 20 KOs) knocked out Chicago's Alex Martin (18-5, 6 KOs) with a counter right hand after dropping him earlier in the fourth round. The super lightweight fight was stopped at 1:14 of the round.
A battle between undefeated super welterweights saw Florida's Eric Tudor (8-0, 6 KOs) emerge the winner by unanimous decision after eight rounds versus Oakland's Damoni Cato-Cain.
The taller Tudor showed polished skill and was not bothered by a large cut on his forehead caused by an accidental clash of heads. He used his jab and lead rights to defuse the attacks of the quick-fisted southpaw Cato-Cain. The judges scored the fight 80-72 and 78-74 twice for Tudor.
San Diego's Jorge Chavez (5-0, 4 KOs) needed less than one round to figure out Nicaragua's Bryan Perez (12-17-1, 11 KOs) and send him into dreamland with a three-punch combination. No need to count as referee Ray Corona waved the fight over. Perez shot a vicious right followed by another right and then a see-you-later left hook at 3.00 of the first round of the super featherweight match.
Photo credit: Al Applerose
Jojo Diaz's Slump Continues; Mercito Gesta Prevails on a Split Decision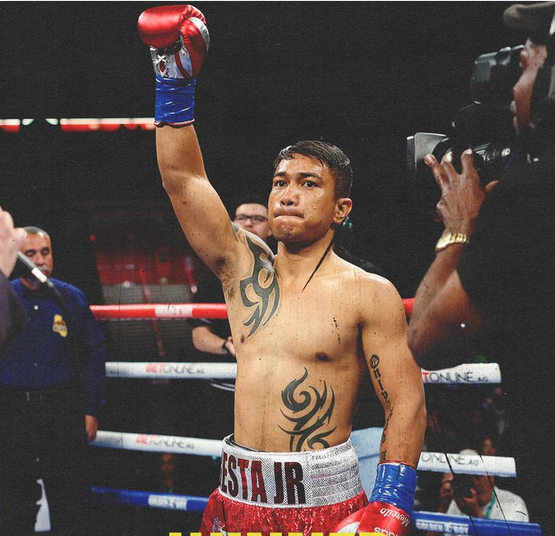 At age 30, Jojo Diaz's career is on the skids. The 2012 U.S. Olympian, a former world title holder at 126 and 130 pounds and an interim title holder at 135, Diaz suffered his third straight loss tonight, upset by Mercito Gesta who won a split decision at the Walter Pyramid in Long Beach, CA.. The scoring was strange with Gesta winning nine of the 10 rounds on one of the cards and only three rounds on another. The tie-breaker, as it were, was a 98-92 tally for Gesta and even that didn't capture the flavor of what was a closely-contested fight.
Originally listed as a 12-rounder, the match was reduced to 10 and that, it turned out, did Diaz no favors. However, it's hard to feel sorry for the former Olympian as he came in overweight once again, having lost his 130-pound title on the scales in February of 2021.
Diaz also has issues outside the ropes. Best elucidated by prominent boxing writer Jake Donovan, they include a cluster of legal problems stemming from an arrest for drunk driving on Feb. 27 in the LA suburb of Claremont.
With the defeat, Diaz's ledger declined to 32-4-1. His prior losses came at the hands of Gary Russell Jr, Devin Haney, and William Zepeda, boxers who are collectively 83-2. Mercito Gesta, a 35-year-old San Diego-based Filipino, improved to 34-3-3.
Co-Feature
Chihuahua, Mexico super lightweight Oscar Duarte has now won nine straight inside the distance after stopping 33-year-old Chicago southpaw Alex Martin in the eighth frame. Duarte, the busier fighter, had Martin on the deck twice in round eight before the fight was waived off.
Duarte improved to 25-1-1 (20). Martin, who reportedly won six national titles as an amateur and was once looked upon as a promising prospect, declined to 18-5.
Other Bouts of Note
New Golden Boy signee Eric Tudor, a 21-year-old super welterweight from Fort Lauderdale, overcame a bad laceration over his right eye, the result of an accidental clash of heads in round four, to stay unbeaten, advancing to 8-0 (6) with a hard-fought unanimous 8-round decision over Oakland's Damoni Cato-Cain. The judges had it 80-72 and 78-74 twice. It was the first pro loss for Cato-Cain (7-1-1) who had his first five fights in Tijuana.
In the DAZN opener, lanky Hawaian lightweight Dalis Kaleiopu went the distance for the first time in his young career, improving to 4-0 (3) with a unanimous decision over 36-year-old Colombian trial horse Jonathan Perez (40-35). The scores were 60-52 across the board. There were no knockdowns, but Perez, who gave up almost six inches in height, had a point deducted for a rabbit punch and another point for deducted for holding.
To comment on this story in the Fight Forum CLICK HERE
'Big Baby' Wins the Battle of Behemoths; TKOs 'Big Daddy' in 6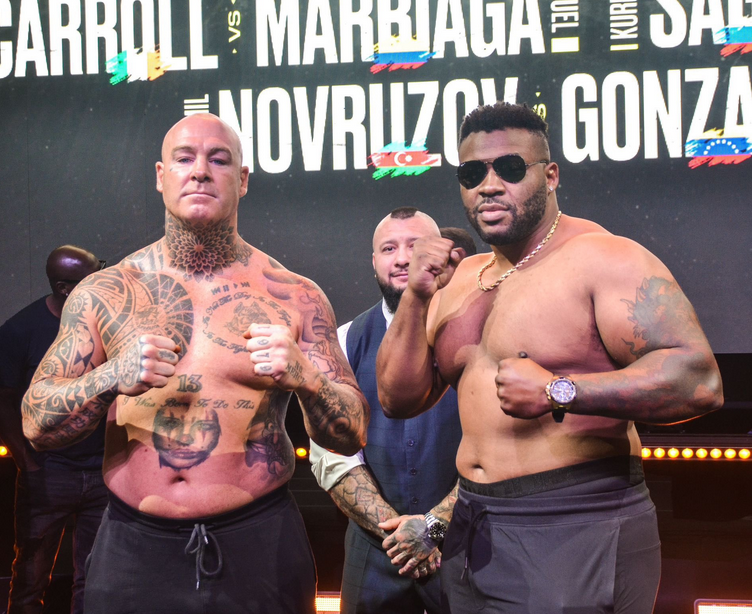 Lucas "Big Daddy" Browne weighed in at a career-high 277 pounds for today's battle in Dubai with Jarrell "Big Baby" Miller, but he was the lighter man by 56 pounds. It figured that one or both would gas out if the bout lasted more than a few stanzas.
It was a war of attrition with both men looking exhausted at times, and when the end came it was Miller, at age 34 the younger man by nine years, who had his hand raised.
Browne was the busier man, but Miller, whose physique invites comparison with a rhinoceros, hardly blinked as he was tattooed with an assortment of punches. He hurt 'Bid Daddy' in round four, but the Aussie held his own in the next frame, perhaps even forging ahead on the cards, but only postponing the inevitable.
In round six, a succession of right hands knocked Browne on the seat of his pants. He beat the count, but another barrage from Miller impelled the referee to intervene. The official time was 2:33. It was the 21st straight win for Miller (26-0-1, 22 KOs). Browne declined to 31-4 and, for his own sake, ought not fight again. All four of his losses have come inside the distance, some brutally.
The consensus of those that caught the livestream was that Floyd Mayweather Jr's commentary was an annoying distraction that marred what was otherwise an entertaining show.
As for what's next for "Big Baby" Miller, that's hard to decipher as he has burned his bridges with the sport's most powerful promoters. One possibility is Mahmoud Charr who, like Miller, has a big gap in his boxing timeline. Now 38 years old, Charr – who has a tenuous claim on a WBA world title (don't we all?) —  has reportedly taken up residence in Dubai.
Other Bouts of Note
In a 10-round cruiserweight affair, Suslan Asbarov, a 30-year-old Russian, advanced to 4-0 (1) with a hard-fought majority decision over Brandon Glanton. The judges had it 98-92, 97-93, and a more reasonable 95-95.
Asbarov was 12-9 in documented amateur fights and 1-0 in a sanctioned bare-knuckle fight, all in Moscow, entering this match. He bears watching, however, as Glanton (18-2) would be a tough out for almost anyone in his weight class. In his previous fight, at Plant City, Florida, Glanton lost a controversial decision to David Light, an undefeated Australian who challenges WBO world title-holder Lawrence Okolie at Manchester, England next week.
A 10-round super featherweight match between former world title challengers Jono Carroll and Miguel Marriaga preceded the semi-windup. Carroll, a 30-year-old Dublin southpaw, overcame a cut over his left eye suffered in the second round to win a wide unanimous decision in a fairly entertaining fight.
It was the sixth straight win for Carroll (24-2-1, 7 KOs) who elevated his game after serving as a sparring partner for Devin Haney. Marriaga, a 36-year-old Colombian, lost for the fourth time in his last five outings, declining to 30-7.
To comment on this story in the Fight Forum CLICK HERE