Reconfiguring the Championship Rounds: What if There'd Been 3 More or 3 Less?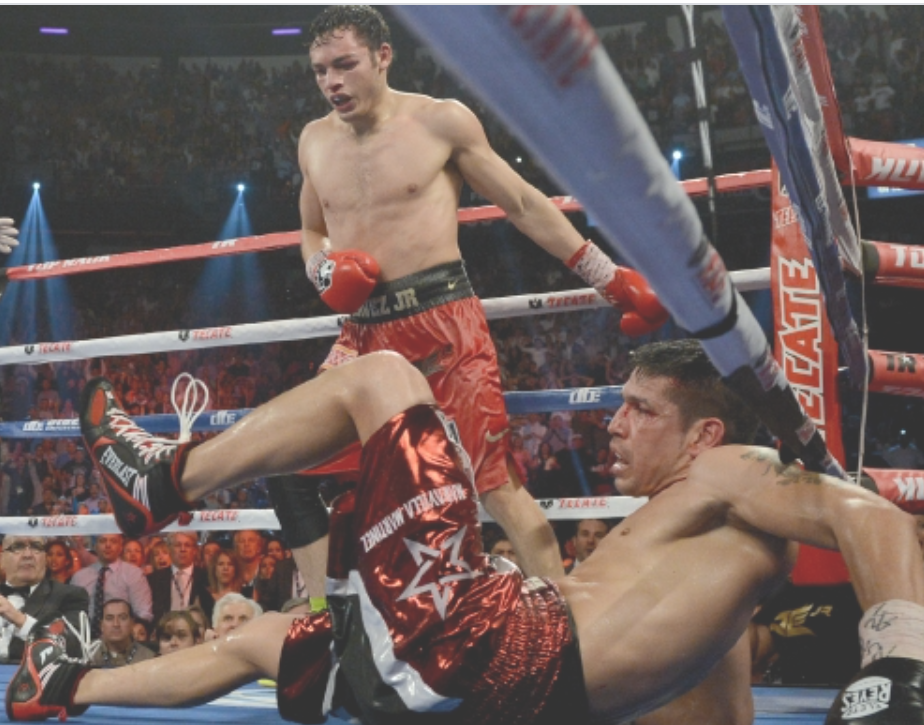 The true championship distance is 15 rounds insisted Ray "Boom Boom" Mancini when pressed about it. "I have a problem with guys who only had to go 12 and got into the Boxing Hall of Fame before guys who went 15. I lost against Alexis Arguello and Livingstone Bramble," he said, "(but) I was winning after 12. So if it's only 12 rounds, I'm undefeated! What would they say now if I beat those legends?"
Good question Good Son.
They'd say that Arguello folded you to a knee with a perfectly timed right cross at the very end of the 12th round and that had it been correctly ruled a knockdown, you'd have lost a 12-round decision to the defending WBC champion. They'd also say that Bramble got you in the rematch.
Still, the former lightweight champion from Youngstown, Ohio makes a fan friendly point that goes to the hypothetical heart of the '12 versus 15 rounds' debate. How would boxing history be viewed differently if certain 15-round fights had been scheduled for 12 rounds and vice-versa?
Let's look at 10 such fights and ask, what if?
Joe Louis KO 13 Billy Conn, 1941: Famously, the undersized underdog title challenger was ahead on two judges' scorecards after 12 rounds and even on the third. If title bouts in the 40's were 12-round affairs, the "Pittsburg Kid" might have danced off with Joe's heavyweight championship of the world but no, he found out that you can run—but you cannot hide. Louis knocked Conn out in the 13th round and then again in the 8th round of their 1946 rematch.
Would three more rounds have made any difference for Anthony Joshua against Oleksander Usyk last Saturday in Tottenham, U.K.? Far behind on two of three scorecards after 12, the real question is would AJ have had the stamina to go 15 and/or would Usyk have stopped him?
Rocky Marciano KO 13 Jersey Joe Walcott, 1952: Arguably the most important of all "come from behind" knockouts, the determined challenger from Brockton, Mass was down on all three judges' scorecards after 12 rounds were complete in Philadelphia but unfortunately for Walcott, this was still the era of 15-round world title fights. What if Marciano-Walcott was only scheduled for 12 rounds? Rocky either loses a unanimous decision and never becomes world heavyweight champion or he adjusts to the shorter distance and gets Walcott out of there sooner like he did in the rematch, blowing Walcott away in just 2 minutes and 25 seconds.
Mike Weaver KO 15 John Tate, 1980: As WBA heavyweight champion, John Tate knew nothing of 12- round title fights. He beat Gerrie Coetzee via 15-round decision to claim the vacant title and his first defense against Mike Weaver was scheduled for 15. Knowing he was behind on the cards and that he stood no chance of winning the title by decision, "Hercules" Weaver flattened Tate in the 15th and final round for a memorable come from behind KO. What if this particular bout was scheduled for 12 rounds? Tate would have probably retained his title by decision and possibly gone on to defend against Muhammad Ali. It might've been Tate who put the final touches on Ali and retired him for good. Instead it was Trevor Berbick who did the job.
Sugar Ray Leonard vs. Thomas Hearns I & II, 1981—1989: When these welterweight champions first faced off in 1981, 15-round world title fights were still very much the norm in boxing. Ahead on points after 12 rounds, Hearns gave up the lead (and the superfight) by collapsing in the "true" championship rounds. Score it a TKO 14 for Sugar Ray Leonard. In the sequel eight years later, 12-round title fights were the new normal. Sugar Ray sure needed those three rounds back! If he'd had them, he might have chased a badly tiring Hearns out of the ring again for another "championship rounds" stoppage, instead he was saved by a Vegas draw while Hearns was arguably saved by the bell to end their rematch's 12th and final round. The what if's abound! In an alternate boxing universe, Hearns beat Leonard by decision in 1981 then gets knocked out in the 14th round of their 1989 rematch. What would they say now Ray?
Ray Mancini KO 14 Deuk Koo Kim, 1982: Widely credited with being the catalyst for the abolition of 15 round fights in boxing, Mancini-Kim was a "ring death" played out on national television. What if this WBA lightweight title fight was instead a 12-rounder? Mancini would still have kept his championship but perhaps Kim would still be alive. The worst of the abuse Kim absorbed from "Boom Boom" came in the 13th and 14th rounds of their "kill or be killed" war.
What if nobody had to die that day?
Marvin Hagler UD 15 Roberto Duran, 1983: After 12 close rounds in Vegas, the late great "Marvelous One" was down by enough points on the judges' scorecards that had it gone to their totals after 12 rather than 15, Duran would have been declared new world middleweight champion, a feat he pulled off six years later in 1989 when he decisioned Iran Barkley over 12 to win the WBC middleweight title. Hagler got busy in the championship rounds to hold off the attempted coup and earn a 'much closer than it should've been' 15-round unanimous decision.
What if they'd robbed Hagler in a 12-rounder against Duran? My guess is that Hagler would've retired in 1984 and left Sugar Ray to wonder what might have happened if they'd ever fought.
Sugar Ray Leonard SD 12 Marvin Hagler, 1987: Of the many concessions made by Hagler to make the Superfight with Sugar Ray happen was an agreement to go 12 not 15 rounds. Both were experienced 15- round fighters but as the active, defending champion, it was Hagler who was more "tuned-in" for 15 rounders than his comebacking challenger. Could a tiring Leonard have gone three more rounds? He won the 10th and 11th but then gave away the 12th. Could Hagler have rallied in the "championship rounds" as he did against Duran four years prior? The thought of three more rounds excites me in a way the prospect of the fight itself once did.
But unfortunately, it'll never happen.
Julio Cesar Chavez TKO 12 Meldrick Taylor, 1990: There was so much at stake when these two undefeated junior welterweight champions clashed that it should have been scheduled for 15. This was the best fighting the best. We all know what happened. Chavez was being given a boxing lesson by a brave Philly fighter but it hardly mattered because the beating he was laying on Taylor could no longer be ignored, even by the HBO crew who tried their gosh darndest. With 2 seconds left in a 12-round fight in which Taylor was way ahead (!) on two of three scorecards, referee Richard Steele cut through the 'what if's' by stopping the fight with a badly busted up Taylor out on his feet after getting up from a dramatic knockdown in the bout's final ten seconds.
What if Steele had let Meldrick go on knowing there were three more rounds scheduled and this was an elite unification match? Could Taylor hold on to his "lead" and finish the fight? I doubt it.
Sergio Martinez UD 12 Julio Cesar Chavez Jr., 2012: For ten rounds, the defending world middleweight champion was toying with the son of a legend. It was fun to watch. Then as if animated by performance enhancing DNA, Chavez Jr. almost duplicated the famous feat of his father. Hurting Martinez in the 11th and dropping him hard in the 12th, Chavez Jr. attacked like a manchild possessed. Martinez got up, punched back, and the final bell rang. What if there were three more rounds to go? Would Martinez have still survived the bigger man? We'll never know. For Chavez the father and Chavez the son, the mas importante championship round was the 12th.
What's the hook that connects Martinez-Chavez Jr. to Marciano-Walcott? It's the late WBC President José Sulaimán. The familial godfather of Chavez Jr., Sulaimán came to Brockton in 2012 in the wake of the Martinez-Chavez fight to christen the new Rocky Marciano statue and to comment on the WBC middleweight title bout, telling me he believed it was well scored.
Now let me shock you.
After being mugged at Madison Square Garden in 2014 by Miguel Cotto, "Maravilla" Martinez retired to the land of misfit toys. You know that part. But did you also know that he fought twice last year and once last weekend against Brian Rose, winning all three? He looks good for 46!
What if Golovkin-Martinez finally happens?
And what does Boxing Hall of Famer "Good Son" Ray Mancini really think about the change from his era's 15-rounders to today's 12-round title fights? Was it all because he "killed" Kim?
"That was a TV decision not a medical decision. They wanted 12-round fights so they had an opening and a closing if the fight went the distance so it wouldn't go over into the local newscast. Once people understand that, then they'll understand why it's 12 rounds now. I've talked to neurologists and brain surgeons. I've found out there is no proof that more damage is done in the last three rounds as opposed to the first 12. There have been fatalities in 12 round fights too."
Will 10-round title fights be next?
Chavez Jr / Martinez photo credit: Naoki Fukuda
Boxing Writer Jeffrey Freeman grew up in the City of Champions, Brockton, Massachusetts from 1973 to 1987, during the Marvelous career of Marvin Hagler. JFree then lived in Lowell, Mass during the best years of Irish Micky Ward's illustrious career. A former member of the Boxing Writers Association of America and a Bernie Award Winner in the Category of Feature Story Under 1500 Words. Freeman covers boxing for The Sweet Science in New England.
Check out more boxing news on video at the Boxing Channel
To comment on this story in the Fight Forum CLICK HERE
Remembering 'Rocky Estafire,' One Tough Syrian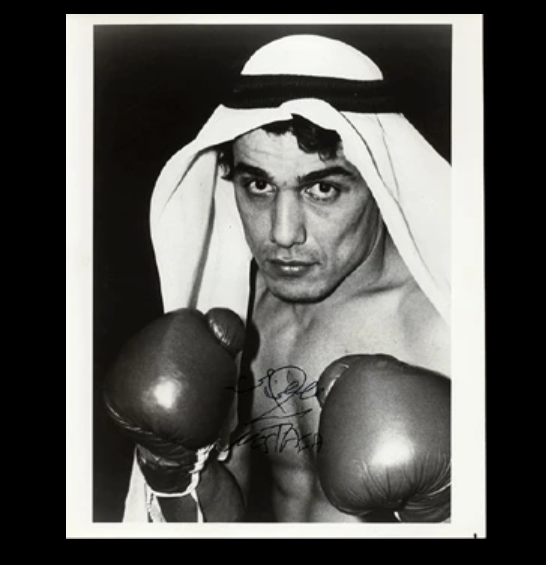 On Sept. 9, 1978, a Bayonne, New Jersey brawler who was billed as Rocky Estafire when he was first starting out, stopped slick Bobby "Boogaloo" Watts in Jersey City giving notice that he was becoming a force to be reckoned with in the middleweight division. Watts was no slouch having split a pair with Marvelous Marvin Hagler.
"Strictly LaMotta style," said Paddy Flood of his fighter who would come to be known by his real name, Mustafa Hamsho.
In 1980, he beat undefeated Wilford Scypion and followed that up with close wins over Curtis Parker and Alan Minter in 1981 leading to his first of two title clashes with Hagler. This bloody encounter, won by Hagler on an 11th-round TKO, left both fighters needing stiches.
"Throughout Hagler's nonstop, 11th-round barrage, Hamsho kept coming on. He didn't win a round, but he did take the battle of the stitches, 55-5," wrote Pat Putnam in Sports Illustrated. "I don't know what his corner was waiting for…The meat from his eyes was hanging down. But I can't let that bother me. I just have to think, better him than me," said Hagler.
More from Putnam: "When Hagler had left the hospital, the doctors were still working over Hamsho, who, until his trainer, Al Braverman, jumped into the ring to stop the fight, looked as though he would run out of blood before he ran out of heart. He was badly cut under both brows: Each wound was at least two inches long and half an inch wide. There was another slice under his left eye. He didn't win a round from any of the three officials."
Al Braverman, who co-managed Hamsho with the aforementioned Flood, once described the Syrian's style as follows: "…."He's got no style. He just wades in, throwing punches from any angle."  He also possessed great stamina, a granite chin and incredible courage, along with head and shoulder butts, elbows, low blows, shoves, holding, chops behind the head, and whatever he could get away with.
The Matinee Idol
Bobby Czyz was 20-0 when he met Hamsho at the Convention Center in Atlantic City on Nov. 20, 1982. The undefeated New Jersey lad with the somewhat strange moniker of "Matinee Idol" and the high IQ had solid wins over Danny Long, Teddy Mann, Oscar Albarado, Elisha Obed, and Robbie Sims. Against Hamsho he was stepping up in class but he was a solid opponent for the Syrian who was 34-2-2 coming in.
If Bobby won, he would position himself for a shot at Marvelous Marvin, but Hamsho mauled and mugged the future world light heavyweight champion over ten rounds and won a convincing UD. (The rest of the Bobby Czyz story is told in "The Boxer Who Became a Bagger," a remarkable and poignant article by sports columnist Steve Politi that first appeared in the Newark Star-Ledger.)
Wilfred Benitez
HIs UD victory over Wilfred Benitez (45-2-1) in 1883 was pure Hamsho featuring elbows, butts, and low blows. The third round was difficult to watch as the compact Syrian rendered a brutal beating on "El Radar," using accurate nonstop shots coming from all directions. Between slips and knockdowns, Wilfred hit the deck four times.
Clearly, Benitez had faded, but Hamsho hastened the process and helped point the legendary Puerto Rican in a downward direction. Wilfred looked sluggish and poorly conditioned; he was not the same Benitez who knocked out Maurice Hope in spectacular fashion or out-boxed Roberto Duran for 15 rounds. Something was wrong.
But even in top shape, Benitez would have struggled against Hamsho with his mauling, brawling, non-stop pressure. Hamsho could make anyone look bad.  (Wilfred Benitez would lose several more outings after the Hamsho beatdown. Matthew Hilton finished the job with a terrifying KO in 1986. Wilfred's story is a terribly sad one as he now requires constant care.)
Hamsho would lose another fight with Hagler—this time quickly and badly– and then go 6-2 before retiring in 1989 with a record of 44-5-2.
Those who were fortunate enough to see him fight remember a fan-pleasing, all-action combination of Vito Antuofermo, Michael Katsidis, Antonio Margarito, and Gene Fullmer.
Amir Khan and Prince Naseem Hamed are two very high profile, proud Muslim fighters. Mustafa Hamsho's name can be added.
Ted Sares can be reached at tedsares@roadrunner.com
Check out more boxing news on video at the Boxing Channel
To comment on this story in the Fight Forum CLICK HERE
Miguel Madueno Scores His 12th Straight Knockout at Ontario, Calif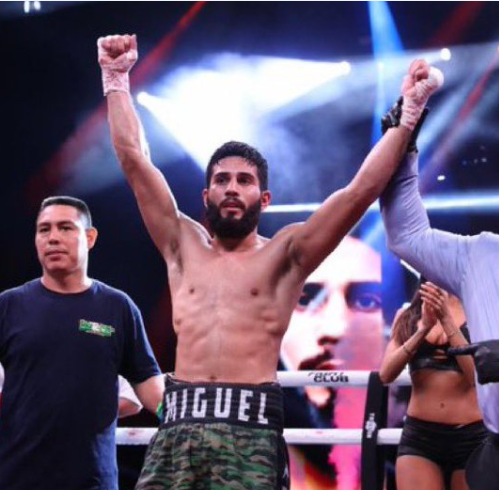 Ontario, CA — A return of fans to the Inland Empire saw Mexico's Miguel Madueno extend his consecutive knockout streak to a dozen at the Doubletree Hotel in Ontario, California on Friday.
It was the first fan-filled event for a Thompson Boxing card in the "I.E." in almost two years.
Lightweight contender Madueno (26-0, 24 KOs) of Culiacan powered his way to his 12th consecutive knockout and this came at the expense of fellow Mexican Jose Luis Rodriguez (25-15-1, 13 KOs) with a focused attack to the body.
Rodriguez was clever and tough and would not allow Madueno to overwhelm him during the first four rounds. But in the fifth he was not as lucky as a four-punch barrage to the body sent him to one knee. He beat the count but was overwhelmed by Madueno who forced referee Raul Caiz to end the fight at 2:46 of the fifth round.
"In reality I thought I would end it early," said Madueno about seeking an early knockout. "But he could take it."
In the co-main event Japan's Katsuma Akitsugi (7-0) outhustled Northern California's Eros Correa (10-1) after eight rounds in a bantamweight scrap to win by majority decision.
Akitsugi, a southpaw, and Correa both showed quick hands and good chins. But the Japanese fighter was always on attack and Correa resorted to holding from the second round on. He was never warned by the referee for excessive holding. It could have helped him get back in the fight.
Every time Akitsugi entered the danger zone Correa would grab ahold like an MMA fighter instead of fighting on the inside. While Correa held Akitsugi punched and that proved the difference as two judges scored it 78-74 for Akitsugi, while a third saw it 76-76.
"I could not box my style at all," said Akitsugi, 23. "I'm glad I brought the win home."
Other Bouts
San Bernardino's Esteban Munoz (5-1, 3 KOs) knocked out Tijuana's Manuel Martinez (6-5-4) with a body shot in the first round. He could not beat the count. Munoz had stunned Martinez earlier with a counter right. Then he found an opening to the body and delivered a right to the gut and down went Martinez. He was counted out at 1:50 of the first round.
Coachella's Lazaro Vargas (4-0) out-worked Ulises Rosales (0-5) over four rounds of a super bantamweight match to win by unanimous decision 40-36 on all three cards.
Check out more boxing news on video at the Boxing Channel
To comment on this story in the Fight Forum CLICK HERE
Oscar Rivas is Boxing's First Bridgerweight Champ; Tops Spunky Ryan Rozicki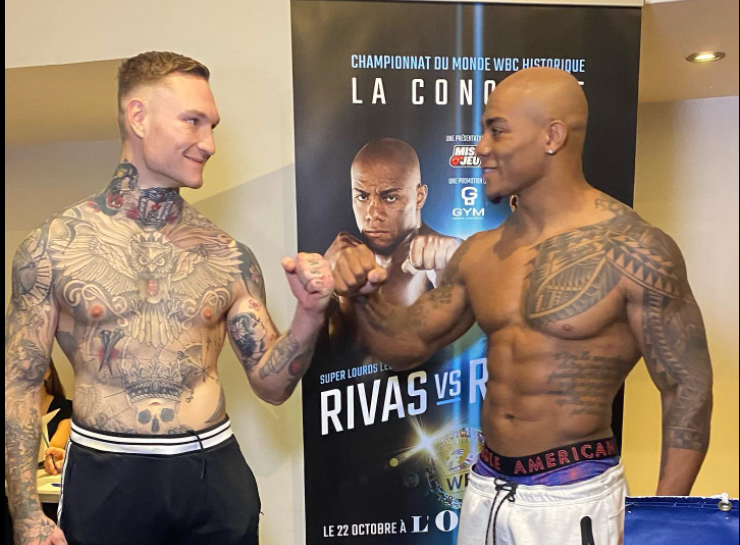 Back in January, the World Boxing Council announced that they were creating a new weight division. Tailored to boxers weighing between 200 and 224 pounds, they named it Bridgerweight. Tonight, at the Olympia Theatre in Montreal, the first WBC bridgerweight champion was crowned. Montreal-based Oscar Rivas, a 2008 Olympian representing his native Columbia, turned the trick with a unanimous 12-round decision over fellow Canadian Ryan Rozicki, advancing his record to 28-1 (19).
Rozicki, who is from Nova Scotia, out-performed expectations. Although he had knocked out all 13 of his opponents since turning pro in 2016, he hadn't defeated anyone of note and hadn't fought beyond six rounds. He drew the assignment when Rivas's original opponent Bryant Jennings was scratched because of his refusal to accept Canada's COVID protocols for unvaccinated foreigners. (A match between Rivas and Jennings would have been a rematch of their Jan. 18, 2019 contest in Verona, New York, a rather ho-hum match that had a dramatic ending when Rivas turned up the heat in the 12th round.)
Rivas, 34, was making his second start since suffering his lone defeat, a setback on points in a 12-round contest with Dillian Whyte in London. The heavier man by 19 pounds, he dominated the first two frames, rocking Rozicki in the opening stanza, but the Nova Scotian clawed his way back into the fight. Rivas had a strong penultimate round and although he had a point deducted for holding in the final stanza, it did not factor into the outcome. The judges had it 116-111 and 115-112.
What's next for Oscar Rivas? Logically a bout with Evgeny Romanov. A 36-year-old Russian with a 16-0 (11-0 mark), Romanov was ranked #2 behind Rivas in the WBC's latest set of bridgerweight rankings. Romanov's claim to fame is that he TKOed Deontay Wilder is in amateur days, but that was way back in 2008.
Another possibility, and one likely to attract more buzz, would be a bout with Alen Babic. A 30-year-old Brit by way of Croatia, the colorful, free-swinging Babic (8-0, 8 KOs) has a date later this month in London with Texas trial horse Eric Molina.
The best guess, however, is that Rivas will discard the belt and go back to competing as a heavyweight. The bridgerweight title, we suspect, like many of the lesser titles, will be perpetually vacant, which likely wouldn't trouble the WBC at all as they will gather up a sanctioning fee from a bridgerweight title fight whether there is an incumbent or not.
There were two 8-rounders offering chief support, but both were cancelled when the opponents failed to pass muster. Left in the lurch were "A side" Canadians Sebastien Bouchard, a welterweight, and Steve Rolls, a middleweight.
Check out more boxing news on video at the Boxing Channel
To comment on this story in the Fight Forum CLICK HERE