The Brutal Efficiency of Canelo Alvarez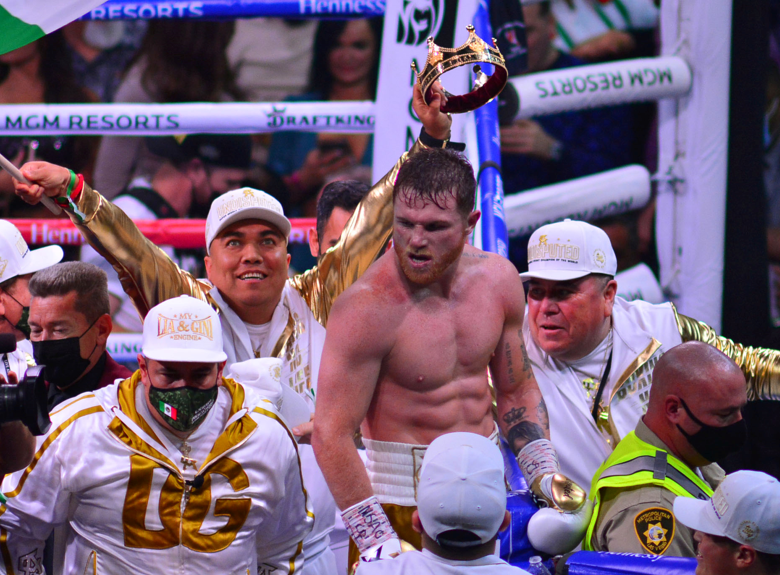 On Saturday night, November 6, Saul "Canelo" Alvarez scored an eleventh-round knockout over Caleb Plant at the MGM Grand Garden Arena in Las Vegas to secure the fourth and final belt in his quest to become the "undisputed" super-middleweight champion of the world.
Alvarez is widely regarded as the #1 pound-for-pound fighter in the world and boxing's brightest star. Three months ago, SportsPro (a London-based company) released a study that listed him as the fourth "most marketable athlete in the world" (behind Simone Biles, Naomi Asaka, and Ashlyn Harris). The next-highest-ranked boxer was Anthony Joshua at #75. The study was keyed to social media metrics. Canelo has close to 18 million followers on Facebook, Twitter, Instagram, and TikTok and, according to SportPro, has generated more than 578 million impressions on these platforms.
In reality, the list is an indication of potential rather than true marketing power. For example, in 2020, SportPro named Ryan Garcia as the twelfth "most marketable athlete in the world." LeBron James is now designated as #24. Most people would rather have LeBron's marketing income than Garcia's.
Canelo, now 31, turned pro at age 15 and has improved steadily throughout his career. He entered the ring to face Plant with a 56-1-2 (38 KOs) record, the sole loss coming against Floyd Mayweather eight years ago.
"I didn't have the experience, the maturity," Canelo said earlier this year about that fight. "I wasn't the boxer I am today. Very different. That moment hurt a lot. But at that moment, I got to thinking, I'm not going to let this kill my dreams. Someday, I'm going to be the best boxer in the world. And now I am."
One might add that, at age 15, Canelo was held to a draw by a fighter named Jorge Juarez (who finished his career with an 8-27-3 record). Only an idiot would suggest that this "blemish" on Canelo's record diminishes his accomplishments as a fighter. The same is true of the loss to Mayweather.
Plant, age 29, came into the Canelo fight with a 21-0 (12 KOs) record and the IBF 168-pound belt around his waist. He has a compelling backstory focused on a hardscrabble upbringing in Ashland, Tennessee, and tells it with great drama.
Canelo wanted Plant's belt. He'd won his first 168-pound title (WBA) against Rocky Fielding in 2018 and added the WBC and WBO straps against Callum Smith (2020) and Billy Joe Saunders (2021). Becoming a unified champion appealed to him.
When Canelo-Plant was first announced, it was undetermined which network would host the pay-per-view telecast. Canelo had fought his most recent six fights on DAZN with Golden Boy and Matchroom as his promoters. This would be a Premier Boxing Champions card, which meant that Fox or Showtime would handle the pay-per-view and DAZN would be out in the cold.
Most boxing observers expected that Fox would get the nod (as it had with previous Premier Boxing Champions offerings like Fury-Wilder II and III, Pacquiao-Thurman, Pacquiao-Ugas, and Errol Spence's forays against Mikey Garcia, Danny Garcia, and Shawn Porter). But Showtime sent a "don't-take-us-for-granted" message to PBC impresario Al Haymon when it went into the Jake Paul business earlier this year, and Canelo-Plant wound up on Showtime Pay-Per-View.
Asked how he felt about changing promoters and networks, Canelo answered, "I just want to fight with everybody and have relationships with all the promoters and do the best fights out there. If I need to fight [on] Showtime with PBC, I'm good. If I need to fight [on] DAZN with Eddie Hearn, I'm good. I'm good with everyone, having a relationship with everybody."
That made sense. But there was one misstep that Canelo's team seemed to make in the negotiations for Canelo-Plant. And they'd made it before.
Plant's purse for fighting Canelo was reported to be $10 million. That number was negotiated in significant measure as a consequence of the purses believed to have been paid to Canelo's most recent five opponents – Danny Jacobs ($12 million), Sergey Kovalev ($12 million), Callum Smith ($6 million), Avni Yildirim ($2.5 million), and Billy Joe Saunders ($8 million).
This is an area where Floyd Mayweather got it right. There came a time when Mayweather told the world that the belts were largely irrelevant. People were paying to see Floyd Mayweather. If a fighter wanted to fight Floyd, he stood in line and accepted a purse (generally between $1 million and $3 million) that left the lion's share and more for Floyd.
Canelo's most recent fight (against Saunders) drew 66,065 paying fans to AT&T Stadium in Texas. There were also 989 complimentary tickets that night for a total attendance of 67,054. Plant's most recent fight was against Caleb Truax at the Shrine Exposition Center in Los Angeles. Prior to that, he'd fought Vincent Feigenbutz at the Bridgestone Arena in Nashville. One might also note that Canelo's two fights against Gennady Golovkin in Las Vegas generated a combined live gate in excess of $51 million.
It has been widely reported that PBC guaranteed Canelo "nearly $40 million" to fight Plant (which was in line with previous guarantees to Canelo for his fights on DAZN). There's a school of thought that Canelo should be concerned with what he makes, not his opponents' purses. Still, $10 million for Plant seemed excessive. Had Caleb beaten Canelo, he might have become a $10 million fighter. He wasn't before they fought and he isn't now.
The promotion moved into high gear at the September 21 kick-off press conference in Los Angeles. Plant was introduced first and stood on stage facing the audience. Canelo came out next, stood beside Plant, and made a point of not standing in Caleb's space. Both men were wearing sun glasses. As pre-arranged, they then turned to face each other. Canelo took his glasses off. Plant moved into Canelo's space, put his hands behind his back, and started jawing. Canelo responded. Plant said something Canelo didn't like. Canelo gave Plant a two handed shove to the chest, pushing him back. Plant came forward, slapped at Canelo with his left hand, and missed. Canelo countered with a quick jab that jammed Plant's sunglasses into Caleb's cheek beneath his right eye and drew blood followed by a slapping right hand.
What caused the blow-up?
Plant later said that it happened "because he's a bitch."
Canelo said Plant suggested that Canelo had sexual intercourse with his own mother and noted, "He can say whatever he wants to me but not to my mom. And he swing first. I just push him, but he swing first. Then I do what I do."
Meanwhile, when it was Plant's turn to speak, he took the microphone and accused Canelo of being a "cheater."
In February 2018, urine samples taken from Canelo by the Voluntary Anti-Doping Association (VADA) had tested positive for clenbuterol, a banned substance. Canelo denied wrongdoing, and the amount of the drug in his system was consistent with the inadvertent ingestion of tainted beef. But a boxer is responsible for what goes into his body. Canelo agreed to a six-month suspension by the Nevada State Athletic Commission and paid $50,000 out of his own pocket for year-round VADA testing. There was no admission of wrongdoing on his part. But there was an acknowledgment that clenbuterol had been present in his system. Since then, Canelo has been tested more thoroughly by VADA than any boxer ever, always without complaint and never with an adverse test result.
"Did he get suspended for six months?" Plant asked rhetorically at the kick-off press conference. "Did he test positive? It's not a 'well, he said he is' and 'he said he ain't.' It's not up for discussion. It's not what I say. It's what the commission said. It's what the banned substance list said. I don't want this to be in our sport. There's no room for that in our sport. And you know, he got suspended for six months. So it is what it is. He's a cheater."
When it was Canelo's turn to speak, he looked directly at Plant and said in English, "I just want to say something. You are not on my level. And you will see November 6. You don't want to find out. I promise you. Thank you, everybody. I see you November 6. You know what I do."
PBC wisely skipped the ritual, post-press-conference staredown. But thereafter, it sent out promotional material referencing the press conference itself as "epic" (presumably because of the altercation). "Epic" is a word that, in boxing circles, was once reserved for actual fights like Ali-Frazier III in Manila.
Plant was more measured than PBC in characterizing the physical confrontation between the two fighters. "It's boxing," he said. "How many times has that happened before us? How many times is that gonna happen after us? People make such a big deal out of that because it's a headline and a way for you guys to promote whatever videos you all are making or whatever for the fight. But it's just like, he pushed me; I got one on him; he got one on me; and that was it. I've been in worse scuffles than that. So, what's the big deal, really?"
Title unification was the marketing message during fight week.
"Only five male fighters in the history of boxing have accomplished becoming undisputed champion," Canelo said. "I want to be the sixth."
Canelo's big wins had come against Miguel Cotto, Gennady Golovkin, Danny Jacobs, Sergey Kovalev, and Billy Joe Saunders. Plant's big wins had been against Jose Uzcategui, Mike Lee, Vincent Feigenbutz, and Caleb Truax. With that as background, Canelo opened as a 7-to-1 betting favorite and the odds moved slightly higher during fight week.
Plant voiced optimism throughout the proceedings:
*         "I know that people don't believe me when I tell them I'm winning on November 6. All those people who tell me that I can't do something, you live believable lives and you do believable things. I promised myself that I was going to run this all the way to the top with no problem crashing and burning along the way. I set out to live an unbelievable life and accomplish unbelievable things. The people who doubt me are the reason that I'm here."
*         "I can't focus on what other people say about me. If I listened to the doubters, I wouldn't even be here. People are going to say what they're going to say. But I get the final say, and I can't wait to prove everything in the ring."
*         "The moment isn't going to be too big for me. The closer we get, the smaller the moment feels."
Meanwhile, Canelo predicted that Plant wouldn't last eight rounds and said, "I respect his skills. He's a good boxer. He boxes well. He's got a good fast jab, good combinations. He's tall, and it's going to be rough in the early rounds. It's not an easy fight. But I have the skills and I have the experience of being with fighters of all kinds of styles in the ring. I'm very confident that I can do it. Not confident in a bad way; just confident in what I know and what I can do. As the fight progresses, I am going to be able to get him out of there."
Still, this wasn't a computer game. Nothing in boxing is preordained. A fighter has to prove himself anew every time he enters the ring. And Canelo knew that.
Now a confession. I didn't watch the fight live. I'm a big Canelo Alvarez fan. But I don't like boxing's pay-per-view model. And with Anthony Dirrell vs. Marcos Hernandez (who now has two wins in his last seven fights) as the chief supporting bout, I decided I'd track Canelo-Plant through online reports and watch it on YouTube afterward rather than spend $79.99 to see it in real time.
At 11:30 PM eastern time, I went online to Boxing Scene to see where things stood. Dirrell had knocked out Hernandez shortly after 11:00 PM. Most likely, it would be a while before Canelo-Plant started. I checked back at 11:50. There was still no indication that the fight had begun. I turned to ESPN.com and read that the ringwalks were underway.
Back to Boxing Scene. Keith Idec scored round one for Plant and gave rounds two, three, and four to Canelo. ESPN was lagging behind on its scorecard but offered several sentences of commentary for each round that it scored.
At the end of eight rounds, Boxing Scene and ESPN each had Canelo ahead 78-74 . . . Then, at 12:39 AM, Boxing Scene reported, "Canelo drops Plant with hard punches in eleventh and then finished him off with another series of big shots to knock Plant down and out with the fight being waved off by the referee."
Several minutes later, I saw the knockout on YouTube. On Sunday, I watched the entire fight on one of several YouTube postings.
Coming into the bout, Plant had seemed to think that his skills were sufficient that he could will himself to victory. But that was a false hope.
Canelo has a will of iron too. And he's a professional. He always comes into fights in shape. He's a superb boxer, seamlessly blending defense with offense. He has a great chin. And now he has "man strength."
Canelo has carried his power with him – and then some – while moving up in weight. He carries his power late in fights. And trainer Eddy Reynoso brings out the best in him
 For most of Canelo-Plant, Canelo was stalking with Caleb in retreat. Plant tried to survive and score points when he could. But he was overmatched. Plan A wasn't working for Caleb, and there was no Plan B. Canelo was quicker. Canelo hit harder. Canelo's arsenal was more varied. Canelo took his time. He was disciplined and patient. As the fight wore on, his body work took a toll. Ultimately, he beat Plant into submission.
The end came in round eleven. A left hook followed by a brutal right uppercut (the most damaging blow in the sequence) and another left hook as Plant was sagging occasioned the first knockdown of Caleb's career. He stopped his fall by thrusting both gloves against the canvas and rose up.
"Do you want to fight?" referee Russell Mora asked.
"Yeah," Plant answered.
Caleb said it like he meant it. But he had nothing left. Canelo chased him around the ring, pinned him against the ropes, and knocked him down again with three crushing right hands – two up top and the third to the body as Plant was falling.
It was over.
After the fight, the fighters exchanged words of respect in the ring. Then Plant was taken to University Medical Center for observation. As of this writing, he has not commented publicly on his defeat.
As for what comes next, Canelo says that, after four fights in eleven months, his body needs rest. Most likely, he'll return to the ring on May 7, 2022 (Cinco de Mayo weekend).
Meanwhile, boxing fans have heard a lot in recent years about how Mexican fans have been slow to embrace Canelo in comparison with Julio Cesar Chavez. Sometimes one needs distance to judge the full measure of greatness. Looking back over the past decade, it's clear that Canelo has established himself as a great fighter. The Mexican people should be proud of him.
Indeed, Canelo might be the greatest fighter to ever come out of Mexico. But when asked to compare himself with other Mexican ring greats, he says simply, "I'm doing my history. Other fighters do their history. I don't want to compare myself to other fighters. I do things for myself, my history. The goal is to be an all-time great."
He has already reached that goal. The question now is, "How much better will he get?"
Thomas Hauser's email address is thomashauserwriter@gmail.com. His most recent book – Broken Dreams: Another Year Inside Boxing – was published by the University of Arkansas Press. In 2004, the Boxing Writers Association of America honored Hauser with the Nat Fleischer Award for career excellence in boxing journalism. In 2019, he was selected for boxing's highest honor – induction into the International Boxing Hall of Fame.
Photo credit: Al Applerose
Check out more boxing news on video at the Boxing Channel
To comment on this story in the Fight Forum CLICK HERE
Tyson Fury Returns on Saturday with a Familiar Foe in the Opposite Corner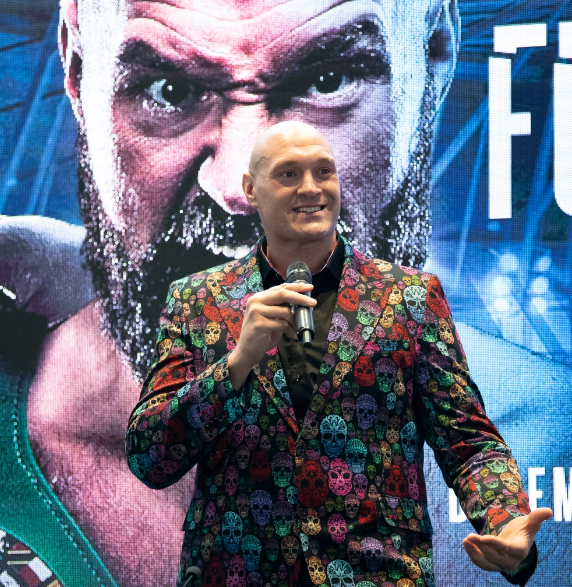 "Tyson Fury made a name for himself last night, one that already has a ready-made ring about it and will be destined to become familiar in boxing." Alan Hubbard, a ringside correspondent for The (London) Examiner wrote those words after Fury wrested the British and Commonwealth heavyweight titles from Derek Chisora with a comprehensive 12-round decision on July 23, 2011.
Those words were prescient. Tyson Fury did go on to become a familiar name in the sport. Indeed, one could argue that at this moment in history no active boxer is more famous.
More than 11 full years have elapsed since Fury toppled Chisora. In the ensuing years, the Gypsy King outpointed Wladimir Klitschko in Germany to win the world heavyweight title, battled personal demons that sidelined him for two-and-half years, returned to the ring with a flourish, ultimately regaining the world heavyweight title, or at least a version of it, in the second chapter of his memorable trilogy with Deontay Wilder, and rising so high in the opinion of boxing enthusiasts that he would be favored over any other boxer on the planet.
Oh, and lest we forget, since defeating Chisora in 2011, Fury whipped Chisora again, stopping him after 10 one-sided frames in 2014. Fury's eight-inch height advantage enabled him to control the distance vs. "Dell Boy" who was never knocked down but who absorbed a great deal of punishment before his chief second said "no mas."
A third meeting between Fury (32-0-1, 23 KOs) and the soon-to-be-39-year-old Chisora (33-12) would seem to be superfluous. Del Boy, coming off a narrow win over Kubrat Pulev, has lost three of his last four. But on Saturday, Dec. 3, they will go at it again. The venue is London's Tottenham Hotspur Stadium, capacity 62,850, and by all indications, despite a chill in the air (the temperature is expected to hover around 40 degrees), there won't be too many empty seats.
For promoter Frank Warren, Fury vs Chisora is Plan B – he was hoping to match Fury against Anthony Joshua – but he believes that Fury has become so popular that he can make a tidy profit no matter who is in the opposite corner. The Gypsy King, once referenced as the enfant terrible of British boxing, has toned down his rhetoric (one might say that he proactively distanced himself from Kanye West) and become almost cuddly, a source of inspiration for many Brits, the first member of the black sheep Traveler community about whom this could ever be said.
Fury, needless to say, is a heavy favorite. The odds are in the 25/1 range. The co-feature is likewise looked upon as a mismatch. Daniel Dubois, who shares the diluted WBA heavyweight title with Oleksandr Usyk, is a consensus 16/1 favorite over Kevin Lerena (28-1, 19 KOs) who rides in on a 17-fight winning streak. The six-foot-one Lerena carried a career-high 234 pounds for his last assignment against ancient Mariusz Wach, but the South African southpaw has fought most of his career as a cruiserweight.
The undercard includes featherweight Isaac Lowe, Tyson Fury's bosom buddy, and Hosea Burton, Fury's cousin, both of whom appear to be matched soft in scheduled six-rounders, plus 18-year-old phenom Royston Barney Smith in a 4-rounder against a transplanted Nicaraguan.
This is a pay-per-view event in the UK, but U.S. fight fans who subscribe to ESPN+ can see it for free. The ring walks for the main event are expected to go about 4 pm ET.
To comment on this story in the Fight Forum CLICK HERE
What Path will Yokasta Valle Choose Next?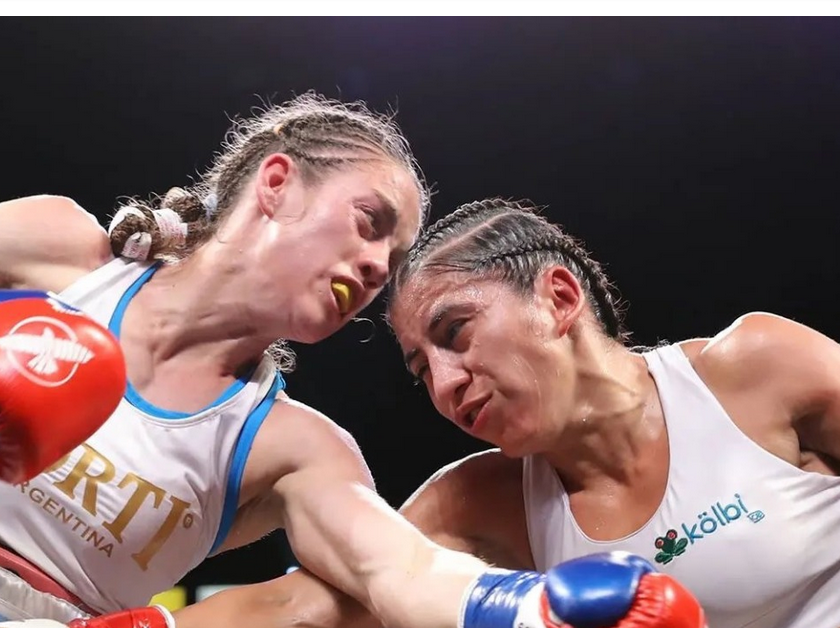 After the recent controversial ruling that made her a world champion in three different divisions, the fans of the Costa Rican Yokasta Valle are wondering: What path will the successful boxer choose next?
On Saturday, November 26th, in a fight of continuous exchanges with the then undefeated Argentine Evelyn Bermúdez (17-1-1, 6 KOs), "Yoka" Valle (27-2, 9 KOs) came out with her arm raised at the Dignity Health Sports Park in Carson, California, where she won the IBF and WBO belts, which Bermúdez was defending for the seventh and second time, respectively.
Although the Costa Rican fighter (pictured on the right) went on the attack for practically the entire 10 rounds, the exchanges were even, give and take, with good moments for both fighters, which made it difficult to evaluate each round. Hence the discomfort of many fans, especially in the Bermúdez camp, with the card of judge Adalaide Byrd (99-91), which apparently had Bermúdez prevailing in only one round. Neither did Judge Daniel Sandoval's card (97-93) represent what transpired in the ring, while Zachary Young's score of 95-95 was more accurate, distributing five rounds for each combatant.
In the case of Byrd, she also received innumerable criticism in the first fight between Saúl "Canelo" Álvarez and Gennady "GGG" Golovkin, which was held in September 2017 at the T-Mobile Arena in Las Vegas and which ended with a favorable scorecard for each boxer and another of 114-114.
At that time, Byrd had judged more than 400 fights over a 20-year span, and her discordant scorecard of 118-110 reflected Canelo winning 10 rounds and GGG only two (the fourth and the seventh). Dave Moretti leaned towards Golovkin (115-113), while Don Trella (114-114) saw it even.
CHAMPION IN THREE CATEGORIES
Born in Matagalpa, Nicaragua on August 28, 1992 and living in Costa Rica since her childhood, Valle made her boxing debut at the age of 22 in the light flyweight category. In that first experience at the pro level, she defeated Mexican María Guadalupe Gómez by unanimous decision in four rounds, on July 26, 2014, in Alajuela, Costa Rica.
Two years later, in her twelfth fight, she conquered the IBF title at 102 pounds by split decision against Ana Victoria Polo in San José, Costa Rica. In December 2017, Valle suffered her first professional failure against the local Naoko Fujioka, who won by unanimous decision at Korakuén Hall in Tokyo where they fought for the vacant WBO light flyweight belt.
Six months later, on June 16, 2018, Valle lost again by unanimous decision against German Christina Rupprecht (11-0-1, 3 KOs) in Munich, a duel that was for the WBO strawweight interim belt. Rupprecht maintains that belt and is again in Valle's sights.
Following those two setbacks, "Yoka" Valle compiled 14 victories, including the one she obtained in Marbella against Spaniard Joana Pastrana in August 2019, which she won by split decision securing the IBF 105-pound belt.
More recently, on September 8th in Costa Rica, Valle became a two-division champion at 105 pounds, by unanimously prevailing (the three judges scored the fight 100-90) over Vietnamese Thi Thu Nhi Nguyen, who ceded the WBO title. And then with her success against Bermúdez last weekend, Valle made history in Costa Rican boxing by adding her third crown in three different divisions (102, 105 and 108 pounds).
WHERE WILL YOKASTA VALLE GO NEXT?
Valle, who now owns two light flyweight titles (IBF and WBO) could next go in search of unification with Mexican Jéssica Nery (WBA super champion) or with Canadian Kim Clavel, who holds the WBC title. (Clavel and Nery collide on Thursday in Laval, Quebec.)
However, a more viable option would be to return to 105 pounds and seek a fight with American Seniesa Estrada (23-0, 9 KOs), who maintains the WBA belt, or with Rupprecht, who remains unbeaten. That seemed to be Valle's immediate objective, as she affirmed it in the ring after defeating Nguyen. In an indirect reference to Seniesa Estrada and Tina Rupprecht, Valle said "I want the belts. I've been saying it from the beginning, I want the WBC and WBA next, whoever has 'em."
At Friday's weigh-in for her fight with Bermúdez, Valle stated "I want to fight the best. I want to be undisputed. When Tina (Rupprecht) and Seniesa (Estrada) were not available, my team and I made the decision to move up in weight and challenge Evelyn for her world title belts. I have to fight. [MarvNation CEO] Marvin Rodriguez presented this fight to me. This is the type of fight I want. It is champion versus champion. I want to give the fans these types of fights."
EDITOR'S NOTE: Kim Clavel caught the flu and pulled out on Wednesday just prior to the weigh-in. Her match with Jessica Nery was rescheduled for Jan. 13.
Photo credit: Tom Hogan / Hogan Photos
Article submitted by Jorge Juan Alvarez in Spanish
Please note any adjustments made for clarification purposes and any errors in translation were unintentional.
To comment on this story in the Fight Forum CLICK HERE
Regis Prograis Knocks Out José Zepeda and Clears the Way for José Ramírez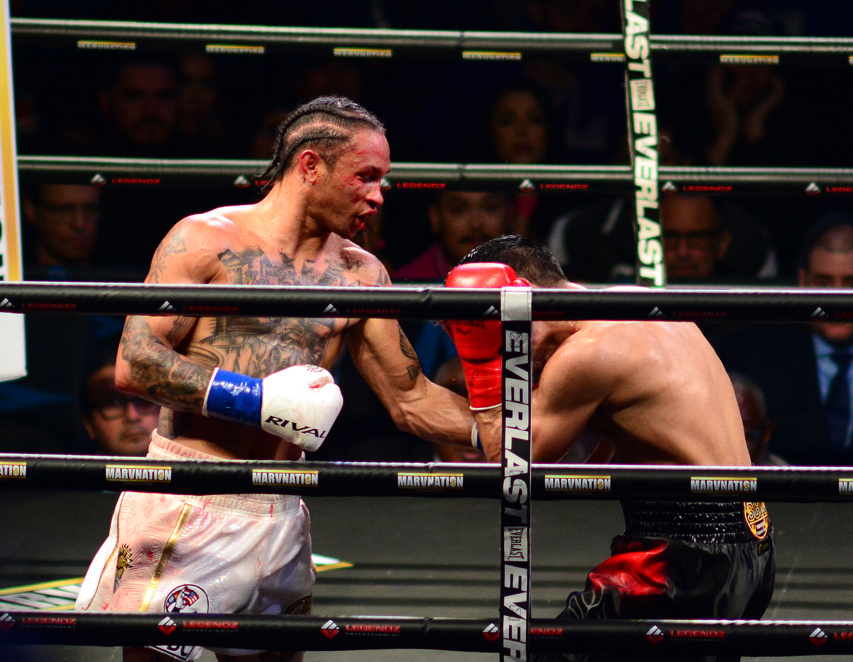 American Regis Prograis had to wait three years and a month for the opportunity to hold a world crown once again. On Saturday, November 26, at the Dignity Health Sports Park, in Carson, California, Prograis faced José Zepeda for the vacant WBC junior welterweight belt. Prograis was victorious by applying chloroform to Zepeda in the eleventh round.
Previously, on October 26, 2019, Prograis (28-1, 24 KOs) had lost the WBA junior welterweight belt by majority decision to Scotsman Josh Taylor at the 02 Arena in England.
Since then, the thirty-three-year-old Prograis who is based in Houston, Texas has obtained four wins (including vs Zepeda), all before the limit, as proof of the devilish power of his powerful fists, especially the left one.
Prior to the duel with Zepeda (35-2, 27 KOs), most experts favored Prograis, who after winning the intense battle, recognized that it was the most demanding fight of his career. "That dude is tough, tough, tough. He came to fight, he probably gave me one of my hardest fights, I'm not even gonna lie," said Prograis. "This dude is tough, bro. I've got so much respect for you. You prepared me to get this belt and hold this belt. I congratulate you. All the best to you, bro. Don't stop, I feel like you can still be a world champion."
Almost from the very beginning of the fight, Prograis showed greater speed with his hands and legs, and a general sense of technical superiority over Zepeda, who in the second round opened up a wound above his left eye with a legal blow.
From then on, Prograis's strong impacts gradually undermined Zepeda's resistance. Zepeda arrived totally exhausted in the eleventh round, where he received a straight left to the face, putting him in poor condition. A run with both fists from Prograis knocked him down and referee Ray Corona called the match with 59 seconds remaining in the round. This is the first setback that Zepeda has suffered by knockout in professional boxing.
On several occasions, Prograis has stated that he wants revenge against the undefeated Taylor (19-0, 13 KOs), but now, by order of the WBC, he must face American José Carlos Ramírez (27-1, 17 KOs).
Ramírez, 30 years old, is currently ranked second by the WBC. In February of 2019, in his second defense of his 140-pound belt, he defeated Zepeda by majority decision.
Twenty-five months later, Ramírez succumbed by unanimous decision to Taylor at the Virgin Hotels in Las Vegas, enabling the Scotsman to become the undisputed king of the category by winning the four most prestigious belts (WBA, WBC, WBO, IBF).
Recently, Ramírez expressed an interest in dueling with the main 140-pound contenders, including a second fight with Zepeda; although he did not rule out clashing with Prograis or Taylor. "Every fighter has the same amount of risk," said Ramirez. "We're a little under-promoted compared to other weight classes but I think that the best fights are at 140. You see guys fighting twice or three times, doing a trilogy. Honestly, I would love to face Regis, because I've never faced him. I would love to make the rematch with Zepeda, because he's such a good fighter. Obviously I want Josh Taylor, man. I want Josh Taylor bad."
Photo credit: Al Applerose
Article submitted by Jorge Juan Alvarez in Spanish.
Please note any adjustments made were for clarification purposes and any errors in translation were unintentional.
To comment on this story in the Fight Forum CLICK HERE