Glimpses into the Past (Part Three of a Three-Part Story)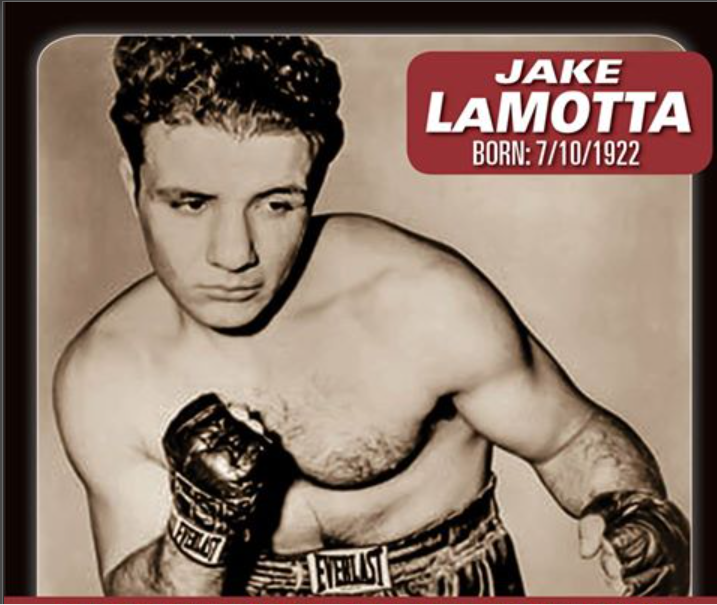 Glimpses into the Past (Part Three of a Three-Part Story)
Tracking all the way back to the 1940's, I have witnessed literally thousands of fights during my almost 85 years of life and consider myself something of an aficionado. Some memories have been grand; others I wish I could erase. Most have been indelible. I have seen or heard some truly remarkable things. A representative sample of them continues here in the final part of this 3-part series.
Playing Possum
Jake LaMotta had lost once to Laurent Dauthuille and when they fought again in 1950 for the world middleweight championship, the Frenchman was leading by a wide margin going into the fifteenth and final round. I was listening to this one on the radio at a very young age, and was rooting for Jake. As Dauthuille was pounding away and seemingly had Jake hanging on, LaMotta suddenly turned the tables. He was playing possum and waiting for just the right moment to launch his attack. It worked as he KO'd Laurent with just 13 seconds to go. I went nuts. There is a video available and it's well worth the hunt.
Ebb and Flow
The ebb and flow classic between Archie "Old Mongoose" Moore and Canada's Yvon Durelle in 1958 is a must-see for all hard-core boxing fans. The rugged French Canadian decked the Mongoose three times in the first round and appeared to be on his way to a certain stoppage victory. But Moore somehow managed to weather the storm and survive the round. Then, incredibly, he began to work his way back.
Moore was knocked down again in the fifth round but still would not fold. Durelle was not only visibly discouraged but was also tiring. He had made a fatal mistake, letting the Mongoose off the hook, and now it was Archie who took control and began to put some hurt on the rugged challenger. Durelle finally went down in the seventh and tenth rounds, and then Moore settled matters in the eleventh round of a fight that had to be seen to be believed. This classic gave new meaning to the words courage and comeback. It was one of the most brutal, thrilling slugfests of all time, maybe — just maybe — the greatest fight in history. Thankfully, I remember it.
Of course, I also remember Castillo vs Corrales (May 2015).
Charles Mohr
Under the most successful coach in the history of American collegiate boxing, the legendary and beloved John Walsh, University of Wisconsin boxers won eight NCAA team championships and 38 individual titles from 1933 to 1960. If you were into college boxing, Wisconsin was the place to be.
It all came to a tragic end on April 9, 1960, the date 22-year-old Wisconsin senior Charles Mohr, probably the finest collegiate boxer in the U.S., went into the ring against Stu Bartell who represented another collegiate boxing powerhouse in San Jose State.
Mohr was the 1959 intercollegiate middleweight champion, with a 23-5 slate over a four-year period. He was heavily favored to retain his title. Minutes later, he was in a deep coma from an intracranial hemorrhage following a moderate blow to the head and died eight days later without regaining consciousness. The improbability of this happening was shocking. Then, twenty-two days after Charlie Mohr's death, the University of Wisconsin abolished the sport. The NCAA soon followed Wisconsin's lead. It was the last NCAA boxing tournament ever held. Things happened so fast, the entire episode seemed unreal and took years to settle in.
The Knockout from Hell
Wilfred Benitez, the Puerto Rican prodigy, met Maurice Hope on May 23, 1981 in Las Vegas. At stake was the WBC junior middleweight title. Benitez was 41-1-1, Hope 32-2-1.
Benitez was stylish with incredible defensive skills, but he also had deceptive punching power. Hope also had sneaky punching power. In fact, he had previously stopped future world middleweight champion Vito Antuofermo, (who would later go the full 15 rounds in a fight with Marvelous Marvin Hagler). Hope was born in Antigua but lived in England most of his life and represented Great Britain at the 1972 Olympics in Munich.
As for the fight, Benitez was well ahead on all three scorecards when out of nowhere he landed a thunderous overhand right in the twelfth round that separated Hope from his senses and rendered him totally unconscious. He was out before he landed. No jab or lead-in combination was involved; just the overhand shot. The KO was of the highlights variety and was seen on televised sports shows throughout the world. Hope required hospitalization, but fortunately recuperated. He would only fight one more time.
Rage
On August 1, 1982, San Antonio boxer Tony 'El Torito' Ayala, Jr savaged talented middleweight Robbie Epps until the referee called the fight in front of 12,000 howling pro-Ayala fans at San Antonio's Freeman Coliseum. Epps was no slouch having won his first 22 pro bouts and having beaten Darryl Penn and the very capable Dwight Davison (28-0 coming in).
Ayala, 5'7", stayed low against his 6'2″ opponent using him as a big bag and throwing combos and straight shots with nothing coming back for the 21st win of his career. Even after the overly hesitant referee stopped the slaughter, Ayala kept going after Epps as there was no love lost between the two. This reflected  a fatal flaw in his character that would emerge too many times. Indeed, his streak of violence continued outside the ring, with repeated accounts of assault against women and attendant imprisonment. Yet, despite his horrible shortcomings, his fights were memorable for their unbridled rage and the Epps fight was the best of the best for me.
"He could have been one of the greatest."— Osmar Alaniz, boxing coach and friend of the Ayala family
Riddick Bowe vs Elijah Tillery I
 A manager should always have his fighter's back and when Riddick Bowe (26-0) fought Elijah Tillery (23-4)in 1991 at the Convention Center in Washington, DC, Bowe's manager Rock Newman did just that. After a first round in which "Big Daddy" pummeled Tillery, a nasty second fight broke out at the end of the round. Bowe flung a left jab  at Tillery and was answered by three kicks. After the bigger Bowe pinned "Phoenix Steel" against the ropes, Newman appeared out of nowhere and grabbed poor Tillery in a stranglehold and pulled him down into the abyss. The entire episode was high camp and had me on the floor laughing. Many years later, Riddick's explanation was shocking because it was slurred and unintelligible. It was not funny—not one bit.
When the HBO Commentators Were Shut Down
In 1997, The HBO team mercilessly criticized Micky Ward's effort against his touted opponent Alfonso Sanchez (16-0) even comparing it to visual torture. Someone suggested –with tongue in cheek –that the referee should stop the fight. But Ward fans knew what the announcers obviously didn't; to wit, that no matter what kind of off-day Micky was having, he could end a fight at any time with his laser-like body shot to the kidneys—and that's just what he did at 1.53 of Round Seven. After hurting Sanchez with one left hand shot and realizing that he was vulnerable, he launched another sizzling left and that was that. I was up and screaming because I was a Ward fan and that went all the way back to his Golden Gloves days in boxing-crazy Lowell, MA.
Oh No!
"As a boxing writer for the Miami Herald and later for Sports Illustrated, Pat Putnam used his talent and reportorial skills to weave compelling tales about fighting men. It was Putnam who scooped the world in 1964 with the revelation that Cassius Clay was going to change his name to Muhammad Ali. He was a prolific journalist." — Bernard Fernandez (May 2, 2008).
I loved Pat's writing but I also greatly admired the "fact" he was an ex-Marine, a combat veteran, and a POW of the Korean war (a brutal conflict that I personally have studied intensely). Putnam claimed he was a prisoner of war for 17 months and told people that his wartime experience left him with only one lung and a lifetime of back problems. He also said that he received several decorations. This information was included in Steve Springer's widely syndicated obituary in the Los Angeles Times:
Then, three years after his death in 2005, it was discovered that his military claims were false. Die-hard Putnam fans went into shock and then into denial. Many would not accept the truth. Some boxing site managers would not even permit discussion of it on their boxing platforms. All I could say was "Oh No."
Unassailable—I think not
"Murat was on the verge of disqualification. I wanted to give him every opportunity to finish the fight and I felt that he was abusing the opportunity I was giving him." — Steve Smoger
"New Jersey boxing was out of control Saturday night in Atlantic City. Referee Steve Smoger, who physically manhandled Bernard Hopkins' opponent Karo Murat all night, at one point stuck his palm in Murat's face and shoved him backward with a sneer, clearly intent on inflicting harm. Smoger should have been yanked halfway through the twelve rounds and sent home with a sedative." — Ivan G. Goldman, 10-28-13, Boxing Insider."
Aging Bernard Hopkins defended his IBF light-heavyweight title against tough challenger Karo Murat on October 26, 2013 . Steve Smoger was the referee. Hopkins won by unanimous decision in a hard-fought, entertaining and even dirty battle. But what stuck in my memory bank was the way Smoger pushed, no, the way he shoved Murat away at the end of the fight for no apparent reason and then, punctuating the strange scene, turned around and gave Hopkins a great big hug, a wider smile, and reportedly even a kiss. That lack of neutrality was sickening to watch.
"Hopkins-Murat will not be played at Steve Smoger's Hall of Fame induction ceremony" — Adam Abramowitz
Five Memorable Quotes
Hey! All the padding is out of the damn gloves…It's all out…Commissioner…Commissioner! No padding! There's no damn padding!" — Billy Collins Sr.
"I don't know anybody outside of the Gatti camp who seriously maintains that Gatti made weight for that fight [against Joey Gamache] They jumped him on and off the scale very quickly. It seemed pretty clear to me that someone at the commission had been told in advance that there might be a problem and the response was, 'Don't worry about it.' " — Thomas Hauser
'I'm all about fighting the best fighters." — Danny Garcia after slaughtering 33-1 underdog Rod Salka,
"Mental health has got to be the biggest battle I've ever fought, more so than any opponent." — Tyson Fury
"The greatest glory in living lies not in never falling, but in rising every time we fall." –Nelson Mandela
Ted Sares welcomes questions or comments and can be reached at tedsares@roadrunner.com
To comment on this story in the Fight Forum CLICK HERE
Mercito Gesta Victorious Over Jojo Diaz at the Long Beach Pyramid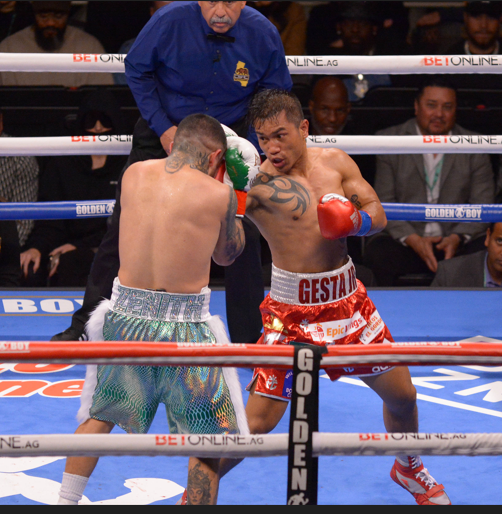 LONG BEACH, CA.-Those in the know knew Mercito Gesta and Jojo Diaz would be a fight to watch and they delivered.
Gesta emerged the winner in a super lightweight clash between southpaws that saw the judges favor his busier style over Diaz's body attack and bigger shots and win by split decision on Saturday.
Despite losing the main event because the star was overweight, Gesta (34-3-3, 17 KOs) used an outside method of tactic to edge past former world champion Diaz (32-4-1, 15 KOs) in front of more than 5,000 fans at the Pyramid.
The speedy Gesta opened up the fight with combination punching up and down against the peek-a-boo style of Diaz. For the first two rounds the San Diego fighter overwhelmed Diaz though none of the blows were impactful.
In the third round Diaz finally began unloading his own combinations and displaying the fast hands that helped him win world titles in two divisions. Gesta seemed stunned by the blows, but his chin held up. The counter right hook was Diaz's best weapon and snapped Gesta's head back several times.
Gesta regained control in the fifth round after absorbing big blows from Diaz. He seemed to get angry that he was hurt and opened up with even more blows to send Diaz backpedaling.
Diaz targeted his attack to Gesta's body and that seemed to slow down Gesta. But only for a round.
From the seventh until the 10th each fighter tried to impose their style with Gesta opening up with fast flurries and Diaz using right hooks to connect with solid shots. They continued their method of attack until the final bell. All that mattered was what the judges preferred.
After 10 rounds one judge saw Diaz the winner 97-93 but two others saw Gesta the winner 99-91, 98-92. It was a close and interesting fight.
"I was expecting nothing. I was the victor in this fight and we gave a good fight," said Gesta. "It's not an easy fight and Jojo gave his best."
Diaz was surprised by the outcome but accepted the verdict.
Everything was going good. I thought I was landing good body shots," said Diaz. "I was pretty comfortable."
Other Bouts
Mexico's Oscar Duarte (25-1-1, 20 KOs) knocked out Chicago's Alex Martin (18-5, 6 KOs) with a counter right hand after dropping him earlier in the fourth round. The super lightweight fight was stopped at 1:14 of the round.
A battle between undefeated super welterweights saw Florida's Eric Tudor (8-0, 6 KOs) emerge the winner by unanimous decision after eight rounds versus Oakland's Damoni Cato-Cain.
The taller Tudor showed polished skill and was not bothered by a large cut on his forehead caused by an accidental clash of heads. He used his jab and lead rights to defuse the attacks of the quick-fisted southpaw Cato-Cain. The judges scored the fight 80-72 and 78-74 twice for Tudor.
San Diego's Jorge Chavez (5-0, 4 KOs) needed less than one round to figure out Nicaragua's Bryan Perez (12-17-1, 11 KOs) and send him into dreamland with a three-punch combination. No need to count as referee Ray Corona waved the fight over. Perez shot a vicious right followed by another right and then a see-you-later left hook at 3.00 of the first round of the super featherweight match.
Photo credit: Al Applerose
Jojo Diaz's Slump Continues; Mercito Gesta Prevails on a Split Decision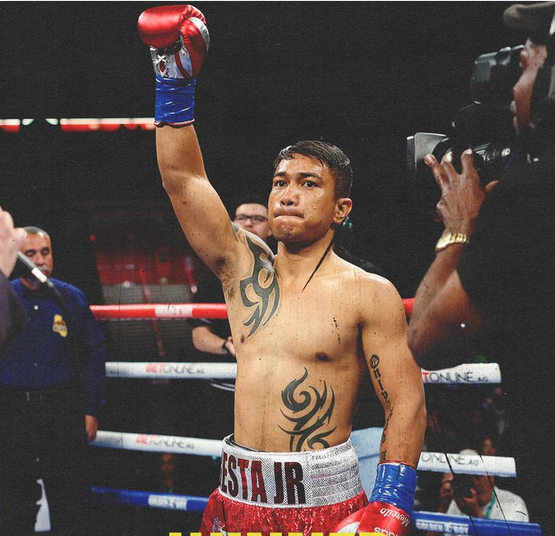 At age 30, Jojo Diaz's career is on the skids. The 2012 U.S. Olympian, a former world title holder at 126 and 130 pounds and an interim title holder at 135, Diaz suffered his third straight loss tonight, upset by Mercito Gesta who won a split decision at the Walter Pyramid in Long Beach, CA.. The scoring was strange with Gesta winning nine of the 10 rounds on one of the cards and only three rounds on another. The tie-breaker, as it were, was a 98-92 tally for Gesta and even that didn't capture the flavor of what was a closely-contested fight.
Originally listed as a 12-rounder, the match was reduced to 10 and that, it turned out, did Diaz no favors. However, it's hard to feel sorry for the former Olympian as he came in overweight once again, having lost his 130-pound title on the scales in February of 2021.
Diaz also has issues outside the ropes. Best elucidated by prominent boxing writer Jake Donovan, they include a cluster of legal problems stemming from an arrest for drunk driving on Feb. 27 in the LA suburb of Claremont.
With the defeat, Diaz's ledger declined to 32-4-1. His prior losses came at the hands of Gary Russell Jr, Devin Haney, and William Zepeda, boxers who are collectively 83-2. Mercito Gesta, a 35-year-old San Diego-based Filipino, improved to 34-3-3.
Co-Feature
Chihuahua, Mexico super lightweight Oscar Duarte has now won nine straight inside the distance after stopping 33-year-old Chicago southpaw Alex Martin in the eighth frame. Duarte, the busier fighter, had Martin on the deck twice in round eight before the fight was waived off.
Duarte improved to 25-1-1 (20). Martin, who reportedly won six national titles as an amateur and was once looked upon as a promising prospect, declined to 18-5.
Other Bouts of Note
New Golden Boy signee Eric Tudor, a 21-year-old super welterweight from Fort Lauderdale, overcame a bad laceration over his right eye, the result of an accidental clash of heads in round four, to stay unbeaten, advancing to 8-0 (6) with a hard-fought unanimous 8-round decision over Oakland's Damoni Cato-Cain. The judges had it 80-72 and 78-74 twice. It was the first pro loss for Cato-Cain (7-1-1) who had his first five fights in Tijuana.
In the DAZN opener, lanky Hawaian lightweight Dalis Kaleiopu went the distance for the first time in his young career, improving to 4-0 (3) with a unanimous decision over 36-year-old Colombian trial horse Jonathan Perez (40-35). The scores were 60-52 across the board. There were no knockdowns, but Perez, who gave up almost six inches in height, had a point deducted for a rabbit punch and another point for deducted for holding.
To comment on this story in the Fight Forum CLICK HERE
'Big Baby' Wins the Battle of Behemoths; TKOs 'Big Daddy' in 6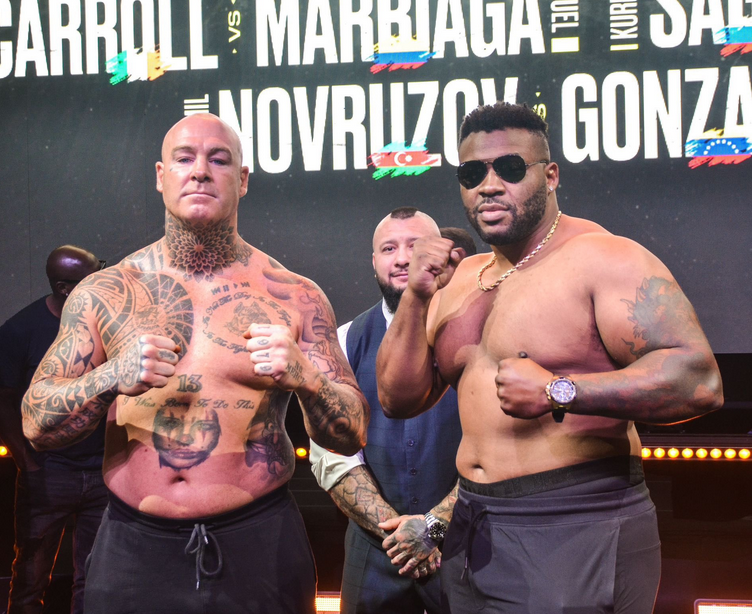 Lucas "Big Daddy" Browne weighed in at a career-high 277 pounds for today's battle in Dubai with Jarrell "Big Baby" Miller, but he was the lighter man by 56 pounds. It figured that one or both would gas out if the bout lasted more than a few stanzas.
It was a war of attrition with both men looking exhausted at times, and when the end came it was Miller, at age 34 the younger man by nine years, who had his hand raised.
Browne was the busier man, but Miller, whose physique invites comparison with a rhinoceros, hardly blinked as he was tattooed with an assortment of punches. He hurt 'Bid Daddy' in round four, but the Aussie held his own in the next frame, perhaps even forging ahead on the cards, but only postponing the inevitable.
In round six, a succession of right hands knocked Browne on the seat of his pants. He beat the count, but another barrage from Miller impelled the referee to intervene. The official time was 2:33. It was the 21st straight win for Miller (26-0-1, 22 KOs). Browne declined to 31-4 and, for his own sake, ought not fight again. All four of his losses have come inside the distance, some brutally.
The consensus of those that caught the livestream was that Floyd Mayweather Jr's commentary was an annoying distraction that marred what was otherwise an entertaining show.
As for what's next for "Big Baby" Miller, that's hard to decipher as he has burned his bridges with the sport's most powerful promoters. One possibility is Mahmoud Charr who, like Miller, has a big gap in his boxing timeline. Now 38 years old, Charr – who has a tenuous claim on a WBA world title (don't we all?) —  has reportedly taken up residence in Dubai.
Other Bouts of Note
In a 10-round cruiserweight affair, Suslan Asbarov, a 30-year-old Russian, advanced to 4-0 (1) with a hard-fought majority decision over Brandon Glanton. The judges had it 98-92, 97-93, and a more reasonable 95-95.
Asbarov was 12-9 in documented amateur fights and 1-0 in a sanctioned bare-knuckle fight, all in Moscow, entering this match. He bears watching, however, as Glanton (18-2) would be a tough out for almost anyone in his weight class. In his previous fight, at Plant City, Florida, Glanton lost a controversial decision to David Light, an undefeated Australian who challenges WBO world title-holder Lawrence Okolie at Manchester, England next week.
A 10-round super featherweight match between former world title challengers Jono Carroll and Miguel Marriaga preceded the semi-windup. Carroll, a 30-year-old Dublin southpaw, overcame a cut over his left eye suffered in the second round to win a wide unanimous decision in a fairly entertaining fight.
It was the sixth straight win for Carroll (24-2-1, 7 KOs) who elevated his game after serving as a sparring partner for Devin Haney. Marriaga, a 36-year-old Colombian, lost for the fourth time in his last five outings, declining to 30-7.
To comment on this story in the Fight Forum CLICK HERE