The Hauser Report: Dmitry Bivol, Canelo Alvarez, and DAZN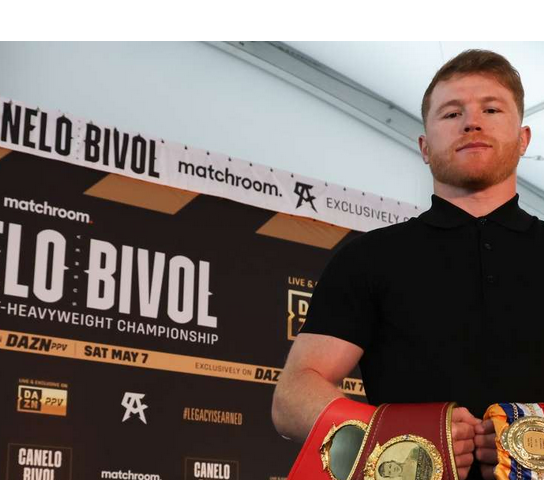 On May 7, Rich Strike, an 80-to-1 longshot, turned thoroughbred horse racing upside down by winning the Kentucky Derby. That night, Dmitry Bivol scored an upset of even greater consequence when he outboxed Canelo Alvarez at T-Mobile Arena in Las Vegas to earn a unanimous decision over boxing's reigning pound-for-pound king.
Alvarez (now 57-2-2, 39 KOs) is 31 years old. In recent years, he has been boxing's premier fighter, a magnet for high-rollers, and a massive pay-per-view draw. As Paul Magno recently wrote, "He has become the best in the world in a very old school way – by developing his game in the gym and adding respectable names to his resume."
At the start of this year, Canelo was also a promotional and network free agent. He'd fought six consecutive fights on DAZN with Golden Boy or Matchroom as his promoter and then jumped ship to fight Caleb Plant on Showtime-PPV under the Premier Boxing Champions banner. His victory over Plant was followed by spirited bidding for his services. PBC hoped to match Canelo against Jermall Charlo. Matchroom Boxing CEO Eddie Hearn was pushing Bivol as the opponent.
In late-January, Eddy Reynoso (Canelo's trainer) opined, "I think a Charlo fight is more media-friendly. Charlo is a fighter that sells more, a fighter that more people follow. And because of that, it's a more attractive fight."
And also a less dangerous fight.
But DAZN was anxious to get back in the Canelo business. And Len Blavatnik (the Ukrainian-born, multi-billionaire whose exceedingly deep pockets finance DAZN) took an interest in Canelo. The two had lunch together in Miami last year the day after Canelo beat Avni Yildirim.
Also, on February 11, Charlo was arrested on a charge of felony assault (later dismissed) in Texas. That added an element of uncertainty to any Canelo-Charlo venture.
On February 26, it was announced that Canelo had signed a two-fight deal with Matchroom and DAZN. The first fight would be in Las Vegas for Bivol's WBA 175-pound belt in conjunction with Cinco de Mayo weekend. The second was provisionally scheduled for September 17 in conjunction with Mexican Independence Day weekend against Gennady Golovkin at a site to be determined. Canelo's minimum purse for fighting Bivol was reported as $40 million with a $60 million payday should he fight Golovkin in September. The contract was said to include an option in Matchroom's favor for a third fight against an unspecified opponent and an option for a rematch in Canelo's favor should he (ha ha; no way it will happen) lose to Bivol.
Bivol (now 20-0, 11 KOs) is five months younger than Canelo. He won the WBA 175-pound title in 2017 by knocking out the undistinguished Trent Broadhurst and had defended his belt seven times against largely pedestrian opposition. His previous six opponents had gone the distance against him.
After Canelo's choice of opponent was announced, there was some sniping that, in fourteen fights dating back to 2015, he'd faced only one Black opponent (Danny Jacobs). Charlo and Spence would have run counter to that trend.
Canelo-Bivol was Canelo's fifteenth fight in Las Vegas, where he has taken part in three of the five highest-grossing gates in state history. Alvarez was a 9-to-2 betting favorite. Those odds seemed long. Sergey Kovalev's reach and jab had given Canelo trouble when they fought in 2019. Bivol has a better jab than Kovalev and his footwork is far superior to Sergey's. Most likely, Dmitry would have been favored over all of Canelo's previous opponents with the possible exception of Golovkin.
"He has good power," Bivol said of Canelo. "He has good skills. First of all, he's a good fighter. But he's a man and he had a loss and draw. If you believe in your skills, if you're a good boxer, you could make him one more loss. I have enough to win this fight."
"I chose Bivol because he's a great fighter," Canelo said in response. "He's a fighter who fights at distance, good distance. He moves; he's fast for the division; he's strong. He's, for me, the best fighter at 175. I saw him many times. He knows what to do in the ring. He's a champion for a long time. I know what kind of fighter he is but I don't care. I'm in my prime and I have a lot of skills. I want to make history in my career and I'm gonna continue doing it with this guy."
*
I didn't watch Canelo-Bivol live on Saturday night. That might sound odd for a writer who would be writing about the fight. But it was a matter of principle.
I admire Canelo Alvarez as a fighter and a person. I've been in his dressing room in the hours before and after five of his biggest fights and hope to be there again in the future. But Bivol (who was born in Kyrgyzstan) is a Russian citizen and has lived in Russia since age eleven. I agree with Vitali and Wladimir Klitschko who voiced the view that, given Russia's brutal aggression in Ukraine, Bivol shouldn't have been chosen to fight Canelo. That, to me, would have been an appropriate extension of the economic sanctions currently in place against Russia.
DAZN and Matchroom took a contrary view. So did the world sanctioning organizations. On March 28, the WBA announced that it would sanction Canelo-Bivol for its 175-pound title (and the lucrative sanctioning fee that accompanied its sanction).
Two days later, after a trip to the Middle East that saw him wholeheartedly endorse Daniel Kinahan's involvement in boxing, WBC president Mauricio Sulaiman declared, "I'm glad that this fight is taking place and when they are in that ring, they can show that boxing is far above politics. It is a sensitive issue because of what is happening, but we have also said that the boxers are not to blame for anything. I am happy that this fight is taking place. It has nothing to do with the conflict."
But sports are not "above politics." For the past century, sports have been very much a part of politics. Adolph Hitler weaponized the 1936 Olympics as a propaganda weapon for Nazi Germany. Sports boycotts were an important tool in the struggle to overcome apartheid in South Africa. The Saudi Arabian government is currently engaged in "sports washing" at the highest level. As things now stand, Russian players will not be allowed to compete at Wimbledon this year because of the invasion of Ukraine.
Cinco de Mayo weekend celebrates Mexico's victory over the French Empire (another invading force) at the Battle of Pueblo in 1862. The choice of Bivol as Canelo's opponent on May 7 was ill-matched to that remembrance. I decided long ago that, as a personal protest, I wouldn't buy the fight on pay-per-view. After it was over, I watched it on YouTube.
Each fighter had weighed in on Friday within a shade of 175 pounds. Bivol likely weighed significantly more on fight night. At six-feet tall, Dmitry enjoyed a four-inch advantage in height over Canelo with a commensurate edge in reach.
The Mexican and United States national anthems were sung in the ring prior to the fight but not the Russian anthem.
Before the fight, Bivol had said, "This is my chance to show all people my skills. And if I want to show my skills, I have to take the risks. This is a fight against the best fighter in the world, and you use everything. You have to risk every time when you see it. Not sometimes, every time."
That said; Bivol fought a cautious fight. There were few if any highlight-reel moments. Dmitry used deft footwork to maximize his advantage in size and reach and, with his jab, dictate the distance between the fighters for most of the night. Canelo was rarely able to land cleanly. When he did, Dmitry took the punches well. And because Canelo was unable to launch a sustained body attack, he was unable to wear Bivol down and come on strong in the late rounds as he often does.
Jack Blackburn (Joe Louis's trainer) was once asked to explain the key to boxing and answered, "If you get hit, hit the other fellow before he can hit you again."
Against Bivol, Canelo couldn't do that. According to CompuBox, he landed only 84 punches over twelve rounds and was out-landed in every stanza. The fight was reminiscent of his 2013 outing against Floyd Mayweather except, with Bivol, size was a more important factor than experience. Canelo could only do his best. And his best on Saturday night wasn't good enough against a highly-skilled, bigger, equally determined opponent.
The judges (Tim Cheatham, Dave Moretti, and Steve Weisfeld) scored the fight identically. Each one gave rounds one through four and round nine to Canelo for a 115-113 tally in Bivol's favor. Many observers felt that the judges were kind to Canelo with regard to rounds one through four.
As for what comes next; prior to Canelo-Bivol, the road map for Canelo seemed clear. There were plans for him to fight Gennady Golovkin on September 17. And Canelo had expressed the desire to unify the four major 175-pound belts as he'd done with the titles at 168 pounds. "I like the idea to be undisputed in two weight classes," he said. "For me, it's a really good thing for my legacy." There was even talk of Canelo moving up further on the scales to fight Oleksandr Usyk at contract weight of 201 pounds. "I like it," Canelo said. "Why not?"
The best move for Canelo now might be to say, "I'm at my best at 168-pounds; that's where I want to stay," and fight Golovkin in September. But that fight is currently on hold and, as a consequence of Canelo-Bivol, will be somewhat devalued if it happens. Alternatively, Canelo has a contractual right to an immediate rematch against Bivol and could exercise that right.
After Canelo-Bivol, Eddie Hearn declared, "The big rematch with Dmitry Bivol in September is now in play." When asked if he wanted the rematch, Canelo responded, "Of course I do. It doesn't end like this."
That might not be a wise move for Canelo.
Meanwhile, apart from its merits as a fight, Canelo-Bivol was significant because of what it told boxing fans about DAZN.
On May 10, 2018, Eddie Hearn and Perform Group CEO Simon Denyer announced a joint venture at a press conference in New York. Speaking about what was touted as a one-billion-dollar, eight-year joint licensing agreement to provide content for DAZN, Hearn proclaimed, "We're here to change the game and elevate boxing to a new level for fight fans in America. We have the dates, the money, and the platform. We were dangerous without this. But with this money and this platform, omigod! We have by far the biggest rights budget in the sport of boxing and we're going to be ultra-competitive. We're going to put on the greatest shows with the greatest talent. This is a brand new era for boxing in the U.S. We're here and we mean business. We have money never seen before in the sport of boxing. If I fail here, I'm a disgrace."
DAZN tried to position Matchroom as the UFC of boxing and Hearn as Dana White. It didn't work. The network that assured boxing fans that "pay-per-view is dead" doesn't looking so healthy itself these days.
It's not enough to be a streaming network. A streaming network has to stream content that the public wants.
Last year, Hearn told IFL TV, "Our sport, our brand, needs to thrive. But you only do that by making the big fights and making the fights that people want to see. We cannot afford sh** fights where fighters get a fortune but don't deliver for the broadcasters because they will kill the sport. I want to show how great boxing is. But we only do that by showing great fights."
Unfortunately, DAZN has given the public very few great fights. Nor (with the exception of raising Katie Taylor's profile in the United States) has it made any stars. If anything, it has taken already-made stars and made them smaller.
DAZN doesn't release subscription numbers. But SportBusiness.com has reported that the network lost $1.4 billion in 2019 and $1.3 billion dollars in 2020. DAZN's boxing operation might be the biggest money-loser in the history of boxing.
Part of the problem has been that, when DAZN signed its multi-year deal with Matchroom, it made the same mistake that too many other networks make. It gave away its biggest bargaining chip – dates.
HBO Boxing was as good as it was during the glory years, in part, because Time Warner Sports president Seth Abraham resisted the temptation to align the network with one promoter. One of the key factors in the subsequent decline of HBO Sports was the decision by Abraham's successor to heavily align the network with Al Haymon.
DAZN would have been better served by launching as an open shop and forcing promoters to compete for its dollars. It might have taken a few years for the contracts that some promoters had with other networks to run out. But DAZN said it was in boxing for the long haul.
Now, four years after its launch, where is DAZN? Keith Idec answered that question when he referenced DAZN's schedule for early-2022 as "heavy on fights in England and short on meaningful fights in its underserved U.S. market."
Indeed, DAZN appears to have largely abandoned its plans to conquer America. Last year, DAZN Group chairman Kevin Mayer was interviewed by Alex Sherman on CNBC and asked, "Is there any avenue that you can foresee that would allow DAZN to be a bigger factor in the United States?"
"It's conceivable," Mayer answered, "in the future, theoretically, that DAZN could make inroads here. I just think that, for the time being and for the medium term, we really need to focus on Europe and Asia."
In addition to its reliance on Matchroom, DAZN has also done business with Golden Boy Promotions. It was Golden Boy that originally brought Canelo (as well as Ryan Garcia, Vergil Ortiz, and Jaime Munguia) to DAZN. But Matchroom will be DAZN's primary content provider for the foreseeable future. In June 2021, DAZN and Matchroom announced a five-year deal that calls for at least sixteen Matchroom fight cards in the United Kingdom to be available exclusively to DAZN subscribers in the UK and Ireland each year. These fights and other Matchroom offerings will also be shown on DAZN in the United States and other designated markets around the world.
More significantly, perhaps, DAZN has abandoned its previous pledge that boxing fans will see the best fights on DAZN for one low monthly subscription price.
As noted above, DAZN streamed six of Canelo Alvarez's previous outings as part of its subscription package. Canelo-Bivol was a pay-per-view event that cost current DAZN subscribers $59.99 and was sold to others for $79.99. Oleksandr Usyk's upcoming title defense against Anthony Joshua is also expected to be on DAZN-PPV.
Pay-per-view is dead?
"I'm not personally shirking away from comments we made about pay-per-view four years ago," DAZN executive vice president Joe Markowski said recently. "I'm not gonna try and pretend that was just a marketing campaign or I was just poking the bear. We're humble enough and honest enough to admit that we maybe, in hindsight, got that wrong. I'd be insincere if I said, 'You know, we were only joking about that.' We believed it at the time."
But there are questions as to whether DAZN's hybrid subscription-pay-per-view model will be any more successful than its previous business plan. Canelo's most recent fight (against Caleb Plant) generated an estimated 800,000 pay-per-view buys, showing that his economic appeal remains strong. But Canelo-Plant had the enormous CBS-Showtime platform to sell pay-per-view buys. DAZN only has DAZN.
Canelo Alvarez was DAZN's standard bearer and the best hope to lead DAZN out of the wilderness. Let's face it. The outcome of Canelo-Bivol was not good for DAZN. Anthony Joshua (even though he wasn't locked into a long-term contract with the network) was a standard bearer of sorts for DAZN in the United States. Then Joshua suffered a shocking loss to Andy Ruiz. But Joshua-Ruiz was an exciting fight that boxing fans wanted to see again. Raise your hands. How many people reading this column want to pay $79.99 to watch Canelo-Bivol II?
Thus, the following colloquy that's making the rounds:
Genie: I will grant you one wish.
Aladdin: I want to live forever.
Genie: I can't grant wishes like that.
Aladdin: Okay; I want to live until DAZN turns a profit.
Thomas Hauser's email address is thomashauserwriter@gmail.com. His most recent book – Broken Dreams: Another Year Inside Boxing – was published by the University of Arkansas Press. In 2004, the Boxing Writers Association of America honored Hauser with the Nat Fleischer Award for career excellence in boxing journalism. In 2019, he was selected for boxing's highest honor – induction into the International Boxing Hall of Fame.
To comment on this story in the Fight Forum CLICK HERE
Alycia Baumgardner vs Elhem Mekhaled: Female Splendor at MSG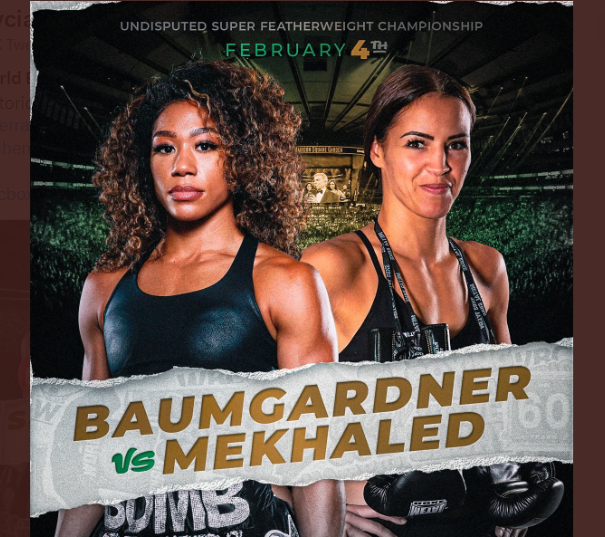 Alycia Baumgardner vs Elhem Mekhaled: Female Splendor at MSG
Two bouts between women, which will turn the winners into undisputed champions in the featherweight and super featherweight divisions, will create an electrifying atmosphere this Saturday, February 4th at Madison Square Garden.
In the duel between the two southpaws, Puerto Rican Amanda Serrano (43-2-1, 30 KOs), based in Brooklyn), will defend her 126-pound WBC, IBF and WBO titles, while Mexican Erika Cruz (15-1, 3 KOs) will defend her WBA title.
Also, of great interest will be the fight between American Baumgardner (13-1, 7 KOs), 130-pound WBC, IBF and WBO champion and her opponent, French challenger Elhem Mekhaled (15-1, 3 KOs), who will try to snatch Baumgardner's titles and get the vacant WBA title, which belonged to the undefeated Korean Choi Hyun-Mi (20-1, 5 KOs).
Choi, who was born in Pyongyang, North Korea but left the country with her family at the age of 14 and settled in Seoul, South Korea, was declared "Champion in Recess", as she suffers from a medical condition that prevents her from fighting. Once she fully recovers, she will have the possibility of facing, as a mandatory challenger, the winner between Baumgardner and Mekhaled.
For Baumgardner, who was born 28 years ago in Ohio, but now lives and trains in Michigan, the fight in New York will once again allow her to showcase her skills in the United States after three consecutive fights in the United Kingdom.
In her most recent bout, Baumgardner defeated her compatriot Mikaela Mayer (17-1, 5 KOs) in a difficult brawl, from whom she snatched the IBF and WBO belts, while retaining the WBC belt. The bout was October 15th of last year at the O2 Arena in London. Two of the officials, Steve Gray and John Latham, scored the fight 96-95 in favor of Baumgardner, but Terry O'Connor saw it 97-93 for Mayer.
Four days later, Choi unanimously defeated Canada's Vanessa Bradford (6-4-2, 0 KOs) in Seoul, earning the Asian her ninth successful defense of the WBA super featherweight crown, which she has held since May 2014, when she anesthetized the now retired Thai, Siriwan Thongmanit.
The following month, in November, the WBA ordered Choi to defend her belt in a mandatory duel against Baumgardner, making the winner the undisputed queen of 130 pounds.
ELHEM MEKHALED FILLS THE VACANCY OF SOUTH KOREAN CHOI
To fill the vacancy of the South Korean Choi, the IBF Committee awarded the position to Mekhaled who ranks third in the women's 130-pound rankings.
Former interim WBC titleholder, Mekhaled, 31 years old and born in Paris, has recently lost by unanimous decision to Belgian Delfine Persoon (47-3, 19 KOs) at the Etihad Arena in Abu Dhabi where they disputed the vacant WBC silver belt.
The duel against Baumgardner not only allows Mekhaled to debut in the United States, but also provides her the opportunity to become the undisputed champion at 130 pounds.
Mekhaled emphasized that the February 4th event has great significance for women fighters and that this is a sign that the discipline is growing, with more and more fight cards in which women exhibit the leading role.
The French boxer said that after winning the interim title in 2015, she waited a long time for the opportunity to fight for the regular belt, but unfortunately it never materialized.
Mekhaled explained that after a long period of focusing on her personal life and not really training, she accepted the duel with Delfine Persoon with only two weeks of preparation, which led to the setback against the Belgian boxer.
"Since my WBC interim 2019 title, I've been waiting for this moment," said Mekhaled. "Maybe fate has played well; instead of one belt, they're all on the line. I am super excited to fight on February 4th at the legendary MSG in New York. God knows how determined I am! It's my time to shine. Thank you to my advisor Sarah Fina."
Article submitted by Jorge Juan Álvarez in Spanish.
Please note any adjustments made were for clarification purposes and any errors in translation were unintentional.
To comment on this story in the Fight Forum CLICK HERE
How good is Jake Paul? Shane Mosley's Answer May Surprise You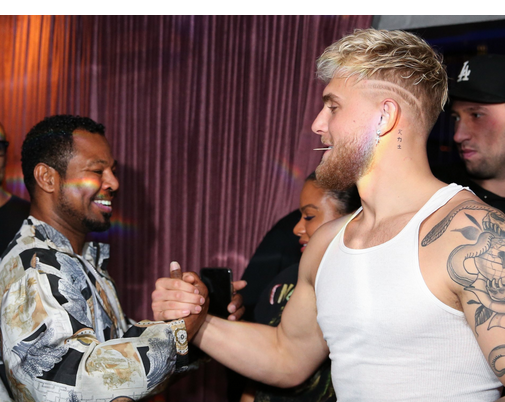 Few celebrities in the world today are as polarizing as Jake Paul. The 26-year-old Cleveland native who fights Tommy Fury in an 8-round match on Feb. 26 in Riyadh, Saudi Arabia, has fervent fans and equally fervent detractors. To long-time aficionados of boxing, especially those born before the arrival of the internet, Jake Paul and his ilk are widely looked upon as a scourge.
Paul first entered the squared circle on Aug. 25, 2018, at the Manchester Arena in England. He fought fellow YouTube star Deji Olatunji in the co-feature to a match between their respective older brothers, Logan Paul and the "influencer" known as KSI. The combatants promoted the event on their social media platforms
These were exhibitions fought with headgear. Jake Paul stopped Olatunji whose corner pulled him out after five rounds. However, the results wouldn't appear on boxrec, the sport's official record-keeper.
No serious boxing fan paid this curious event any heed, but the folks that profit from the sport without taking any punches stood up and took notice. The on-site gate reportedly exceeded $3 million. The event reportedly generated 1.3 million pay-per-view buys worldwide (youtube charged $10 a pop) with nearly as many beholders catching a free ride on a pirate stream. A new era was born, or at least a new sub-set of a heretofore calcified sport.
Jake Paul had his first professional fight on Jan. 30, 2020, in Miami. In the opposite corner was a British social media personality of Saudi Arabian lineage who took the name AnEsonGib. Paul stopped him in the opening round.
Paul fought once more that year, knocking out former NBA star Nate Robinson, and three times in 2021, opposing Ben Askren and then Tyron Woodley twice. Askren and Woodley were former MMA champions who had fabled careers as U.S. collegiate wrestlers, but both were newcomers to boxing.
According to Forbes, Jake Paul made $31 million from boxing in 2021. And therein lies the rub. While thousands of would-be future champions, many with deep amateur backgrounds, toiled away in boxing gyms honing their craft while hoping to attract the eye of an important promoter, a guy like Jake Paul came along and jumped the queue. It just ain't fair.
In preparation for his pro debut against AnEson Gib, Paul spent time in Big Bear, California, training at the compound of Shane Mosley. A first ballot Hall of Famer (class of 2020), Mr. Mosley needs no introduction to readers of this web site. And when he says that Jake Paul is legit, one is inclined to give him the benefit of the doubt.
"I taught him the fundamentals," says Mosley, "but Jake was a good listener and a hard worker. He's a good athlete and he has a boxer's mentality. We took him down the street to Abel Sanchez's gym and had him spar with real professional fighters. He would spar with anybody and when he got caught with a hard punch he wouldn't back down. He loves the sport and he relished the competition."
Mosley stops short of saying that Jake Paul could hold his own with Canelo Alvarez – Paul preposterously called out Canelo after out-pointing 47-year-old MMA legend Anderson Silva in his most recent fight – but with so many titles up for grabs in this balkanized sport, it wouldn't   surprise Mosely if the self-styled "Problem Child" latched hold of one before this phase of his life was over.
A three-time national amateur champion and a world champion at 135, 147, and 154 pounds as a pro, Shane Mosley put Pomona, California on the boxing map. He represented that city in LA county throughout his illustrious career. His son of the same name was born there.
Mosley fought twice in his hometown as he was coming up the ladder and will be back there again on Feb. 18 when Shane Mosley Jr appears on the undercard of a Golden Boy Promotions card at Pomona's historic Fox Theater. It's not official yet so we won't divulge the name of Shane's opponent, but the main event will pit Luis Nery against Azat Hovhannisyan in a WBC Super Bantamweight Eliminator, a match that shapes up as an entertaining skirmish as both have fan-friendly styles.
Shane Mosley Jr, who turned 31 in December, will never replicate his father's fistic accomplishments; his dad set the bar too high. But the younger Mosley is a solid pro who is on a pretty nice roll, having won five of his last six since losing a 10-round decision to Brandon Adams in the finals of season 5 of The Contender series. In his last outing, he out-slicked rugged Gabriel Rosado to win a regional super middleweight title.
The elder Mosely has been working with his son at Bones Adams gym in Las Vegas and will be in junior's corner on Feb. 18. It will be a double-homecoming for Pomona's favorite sons.
To comment on this story in the Fight Forum CLICK HERE
Arne K. Lang's third boxing book, titled "George Dixon, Terry McGovern and the Culture of Boxing in America, 1890-1910," has rolled off the press. Published by McFarland, the book can be ordered directly from the publisher or via Amazon.
Amanda Serrano Seeks Undisputed Status at 126 with Katie Taylor on the Horizon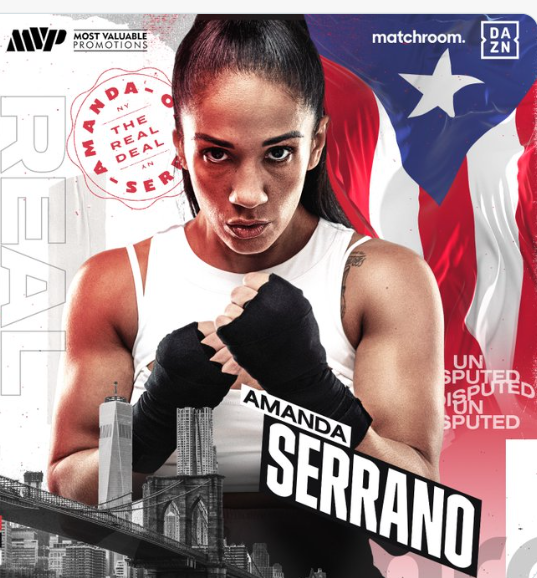 After becoming the boxing icon of Puerto Rico last year, Amanda Serrano will try to make history again when she faces the Mexican southpaw Erika Cruz on February 4th at the Hulu theater in Madison Square Garden.
Promoter Eddie Hearn stated, "Puerto Rico vs Mexico fights always deliver fireworks, and we can expect nothing less when Amanda and Erika meet. Their clash of styles will make for a brilliant spectacle as Amanda and her army of fans return to the scene of her history-making fight of the year with Katie, and we can expect a similar atmosphere to one of the greatest nights the sport has ever seen."
Champion in several sanctioning bodies, Serrano (43-2-1, 30 KOs) will put her WBC, IBF and WBO featherweight belts on the line, while Cruz (15-1, 3 KOs) will be defending the WBA belt. If she succeeds, the thirty-four-year-old Serrano, a native of Puerto Rico who has lived in Brooklyn, New York since childhood, will become the first boxer from Puerto Rico to hold the four most recognized belts in boxing.
"This is a pivotal moment, not just for me and my own career but for my home island of Puerto Rico," said Serrano. "Earning the opportunity to be an undisputed lineal champion is something most fighters only dream about but becoming the first boxer from Puerto Rico to be an undisputed champion would make it even more special. I look forward to entering the ring in my hometown of NYC back at Madison Square Garden, taking on a Mexican champion in Erika Cruz and making Puerto Rican history. I encourage all my fans to turn up and tune in!"
The Puerto Rican boxer, who has won 30 of her 46 fights within the distance, said that if Cruz has a tactical plan in place that consists of exchanging punches, the bout will not go the 10 scheduled rounds.
Last September, Serrano unanimously defeated then-undefeated Dane Sarah Mahfoud (11-1, 3 KOs, in Manchester, England. Previously, in April, Serrano lost a split decision to Ireland's Katie Taylor (22-0, 6 KOs) who successfully defended her four lightweight belts. Two judges scored the fight (97-93) for Taylor and the other (96-94) in favor of Serrano.
Taylor and Serrano became the first female boxers to headline a boxing match at Madison Square Garden. The two ladies also made history by each receiving a check for more than a million dollars which had an increase from pay-per-view earnings.
Referring to a possible rematch against Taylor, Serrano commented that if she beats Cruz, as expected, and if/when she meets Taylor for the second time (possibly in May in Ireland), it would be an epic duel between two undisputed champions: Serrano at 126 pounds and Taylor at 135.
Even though Serrano longs for a rematch with Taylor, she realizes that her immediate challenge is Cruz and has assured us that she is in excellent shape physically, technically, and mentally. She has increased the amount of sparring in camp, focusing on aggressiveness and explosiveness. She's also added a sports massage therapist to her team which has helped with recovery.
In regard to a second confrontation between Serrano and Taylor, promoter Eddie Hearn stated, "For Serrano to become undisputed at 126 and then fight Katie again for the undisputed at 135 at Croke Park in Dublin, it would make that rematch even bigger if you can imagine that."
Cruz, 32 years old and born in Mexico City, has put together a win streak of 14 following her loss to compatriot Alondra González on June 25, 2016, in Puebla, Mexico. Cruz conquered the WBA world belt on April 22, 2022, when she defeated Canadian Jelena Mrdjenovich who was unable to continue in the seventh round due to a cut caused by an accidental headbutt.
Five months later, on September 3, Cruz faced Mrdjenovich for a second time and again came out with her arm raised, this time winning by unanimous decision in Hermosillo, Mexico, where she retained the WBA title for the second time.
Cruz is looking forward to the matchup with Serrano. "I am grateful that this opportunity was finally given to me after many years of work," said Cruz. "I have always gone against everything, but God is on my side, and he has given me the strength to achieve my goals. It's time to make history and give Mexico its first unified champion at 126 lbs."
Article submitted by Jorge Juan Álvarez in Spanish.
Please note any adjustments made were for clarification purposes and any errors in translation were unintentional.
To comment on this story in the Fight Forum CLICK HERE