Larry Holmes Challenged Me to a Fight (I Declined)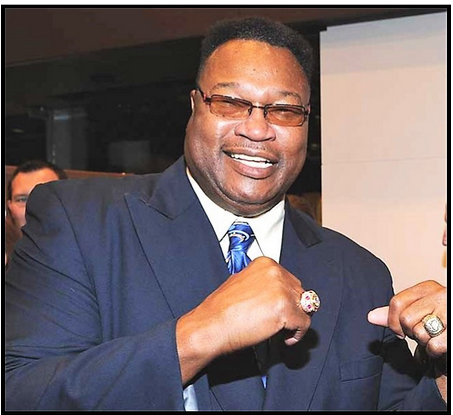 Larry Holmes Challenged Me to a Fight (I Declined)
"Mama always said, life was like a box of chocolates. You never know what you're gonna get," said the Tom Hanks character Forrest Gump in the movie of the same name. I always think of that famous line when I pop into a local boxing gym and chance upon an interesting person I had never formally met and never expected to find there. It actually happens quite frequently. For a boxing writer, it's one of the nice little perks about living in Las Vegas.
The Bones Adams gym is the closest gym to my house. I could walk there, if need be, but prefer to detour there on one of my daily bicycle rides. The gym sits deep behind an iron gate that is almost always locked, but for those that are privy to the entrance code it is the most welcoming gym in the city.
I popped in yesterday afternoon and who should I find there but none other than Larry Holmes. He was there at the behest of Don King and King's chief lieutenant Stacey McKinley to size up Trevor Bryan who defends his WBA secondary heavyweight title against Daniel Dubois on June 11.
"No cheering in the press box" is the admonition that is writ large in the canon of sports journalism. In other words, don't get emotionally attached to the athletes that you cover. But that's easier said than done and my favorite boxer of all time is Larry Holmes.
Larry Holmes turned pro in 1973 at age twenty-three and captured the world heavyweight title five years later with a razor-thin decision over Ken Norton. He needed a big 15th round to pull that fight out of the fire and the expectation was that his reign would be brief, but he fooled us; he just kept winning and winning. Holmes' final record, 69-6, included a 21-6 mark in bouts sanctioned as world title fights. The first two of those six setbacks, coming at the hands of Michael Spinks after Larry had advanced his record to 49-0, were controversial.
Larry Holmes wasn't flashy in the ring; he was methodical. To say he was my favorite boxer misses the point. He was my favorite ring personality; the person that I most admired among those that happened to box and do it well.
When I first started covering boxing, I was very conscious of the fact that I wasn't in the same league as the reporters from the major metropolitan dailies. I was deemed worthy of a press badge only because the PR people at the hotels took care of the local guys and I was a local guy with a small footprint in radio and in one of the weekly rags.
The fighters at the top of the food chain had their own PR people who culled the herd, so to speak, giving a small cadre of "A list" writers access to their clients in settings more intimate than a formal press conference. The fighters themselves came to know which members of the media were most useful to them and acted accordingly.
And that is why I became a big fan of Larry Holmes. He didn't compartmentalize; he treated everyone the same. He wanted to vent after his first fight with Spinks and invited everyone crowding around him up to his suite in the Riviera Hotel. In that cramped space we were all "A list" guys.
As is common with folks in other lines of work, boxers tend to change when the money starts rolling in and they become increasingly more well-known. In the vernacular of old friends left behind, they start to put on airs.
Larry Holmes never changed. He could have purchased a mansion in Beverly Hills and hobnobbed with the Hollywood elite, but after each fight he returned to Easton, an old industrial town in Pennsylvania's Lehigh Valley where the workforce is still primarily blue-collar. Throughout his long career there was never a whiff of scandal.
Larry Holmes didn't have his clothes customized by a tailor on Rodeo Drive. The duds he wore yesterday – well-worn blue jeans, a short-sleeved shirt, a ball cap – were of the sort a man would wear on a tractor. There were two fancy rings on his fingers but otherwise no bling.
Inside Bones Adams' gym, Holmes moved at a slow gait; almost, but not quite, shuffling. Every boxing gym has a full-length mirror where preening boxers shadow-box, and there was a precious moment when Holmes stood before it, peppering an invisible opponent with his inerrant jab, his signature punch.
It had been many years since I last talked with Larry Holmes. It was a call-in interview arranged by the producer of our radio talk show. Larry was in a happy mood that night. The Easton Police Department had just leased one of the buildings that he owned. "I believe I'm the only black guy in the country that owns a police station," he said.
Holmes was in a convivial mood again yesterday and I'm happy to report that although his gait was slow, his mind was clear. There was nothing in the words that came out of his mouth that betrayed a hint of incipient dementia. He could re-visit old fights with vivid recall, a marvel considering that he answered the bell for 579 rounds during the course of those 75 pro fights while trading blows with some of the biggest punchers of his era.
"I must be older than you," he said after we made eye contact. I corrected him: "No, I'm older than you."
"Well," he said, "one of us has to be right and I know how we can settle it." He gestured toward the door, a mischievous look in his eye.
One of the quotes ascribed to Larry Holmes was a line about Don King: "I knew he was ripping me off, but I also knew I wouldn't have made more money with any other promoter." Holmes says he never said it; a reporter was taking liberties. "Sure, Don and I had our differences, but I have my differences with her too," he said, playfully nudging his wife Diane, the pleasant woman seated on his left scrolling through her iPad. "If I could have made more money with someone else, why didn't they come and see me?"
Holmes was pleased when I reminded him that his 1982 bout with Gerry Cooney – we're approaching the fortieth anniversary – still holds the record for the largest attendance at a boxing event in Nevada. A crowd of 30,000-plus (29,214 paid) that included an international press contingent of eight hundred, squeezed into the makeshift outdoor arena at Caesars Palace to witness the conflagration.
"What I remember is that everyone there was rooting for Cooney," he said, which wasn't that far from the truth. When I told him that I wasn't one of those cheering for Cooney because I had bet against the lantern-jawed Irishman, he said, "Where's my cut?" while extending his open palm.
The fight, which lasted into the thirteenth round, ended when Cooney's trainer Victor Valle bounded into the ring to save his man from taking any more punishment. The bout was tight on the scorecards through the completed rounds notwithstanding the fact that Cooney had three points deducted from his score for low blows. After the bout, Holmes said, "Gerry was in my pants so often tonight that I thought he wanted to marry me."
The fight was fought against a sinister shadow. In their pre-fight screeds, some pundits contorted the match into the reincarnation of the 1910 bout between Jack Johnson and James J. Jeffries that stoked the flames of racial discord, America's first Fight of the Century. The Cooney camp took pains to downplay the racial subplot which only made it louder.
It's common knowledge that Larry Holmes and Gerry Cooney have become fast friends. "I see Gerry a lot," he says, noting that they will be getting together again early next month at a public appearance in Miami. "Gerry had nothing to do with all that rubbish. He's a nice guy. But," he continued impishly, "if he gets out of line, I may have to whip his ass (he paused for dramatic effect)…again!"
As for Trevor Bryan, Holmes, who has five grandchildren and five great-grandchildren, avers that he likes what he sees. "He needs to get more extension on his jab," he says, "but he's almost there."
When Trevor Bryan had finished his workout, Stacey McKinley, his face dripping with sweat, joined our conversation and the talk turned to old fights, old fighters, and old trainers which is what old salts talk about when the subject turns to boxing. McKinley, born in the same year as Larry Holmes, has a bone to pick with Gervonta "Tank" Davis who fights this Saturday in Brooklyn. Davis, who represents Baltimore, has apparently never heard of the immortal Joe Gans, the greatest Baltimore fighter of them all. Young boxers today, laments McKinley, are ignorant of their forefathers. It is a lamentation that has redounded through the generations.
And so, I happened to duck into Bones Adams' gym on a Wednesday afternoon and found myself shooting the breeze with none other than Larry Holmes. It was as if we were sitting in a barbershop, two guys from the neighborhood chatting about this and that as we awaited our turn in the chair.
Yes, Holmes is still my all-time favorite fighter, but please keep that under your hat. There is to be no cheering in the press box.
To comment on this story in the Fight Forum, CLICK HERE
Arne K. Lang's latest book, titled "George Dixon, Terry McGovern and the Culture of Boxing in America, 1890-1910," will shortly roll off the press. The book, published by McFarland, can be pre-ordered directly from the publisher (https://mcfarlandbooks.com/product/clashof-the-little-giants) or via Amazon.
Mercito Gesta Victorious Over Jojo Diaz at the Long Beach Pyramid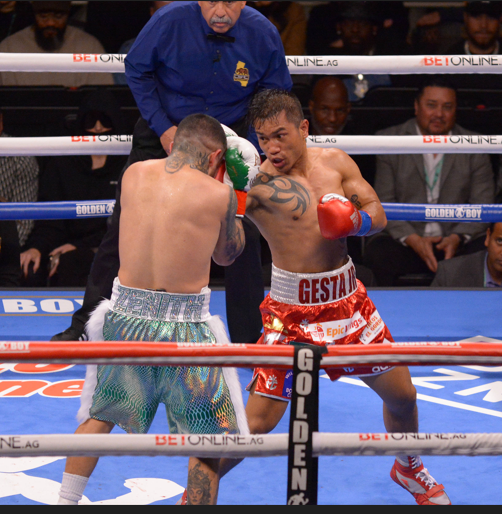 LONG BEACH, CA.-Those in the know knew Mercito Gesta and Jojo Diaz would be a fight to watch and they delivered.
Gesta emerged the winner in a super lightweight clash between southpaws that saw the judges favor his busier style over Diaz's body attack and bigger shots and win by split decision on Saturday.
Despite losing the main event because the star was overweight, Gesta (34-3-3, 17 KOs) used an outside method of tactic to edge past former world champion Diaz (32-4-1, 15 KOs) in front of more than 5,000 fans at the Pyramid.
The speedy Gesta opened up the fight with combination punching up and down against the peek-a-boo style of Diaz. For the first two rounds the San Diego fighter overwhelmed Diaz though none of the blows were impactful.
In the third round Diaz finally began unloading his own combinations and displaying the fast hands that helped him win world titles in two divisions. Gesta seemed stunned by the blows, but his chin held up. The counter right hook was Diaz's best weapon and snapped Gesta's head back several times.
Gesta regained control in the fifth round after absorbing big blows from Diaz. He seemed to get angry that he was hurt and opened up with even more blows to send Diaz backpedaling.
Diaz targeted his attack to Gesta's body and that seemed to slow down Gesta. But only for a round.
From the seventh until the 10th each fighter tried to impose their style with Gesta opening up with fast flurries and Diaz using right hooks to connect with solid shots. They continued their method of attack until the final bell. All that mattered was what the judges preferred.
After 10 rounds one judge saw Diaz the winner 97-93 but two others saw Gesta the winner 99-91, 98-92. It was a close and interesting fight.
"I was expecting nothing. I was the victor in this fight and we gave a good fight," said Gesta. "It's not an easy fight and Jojo gave his best."
Diaz was surprised by the outcome but accepted the verdict.
Everything was going good. I thought I was landing good body shots," said Diaz. "I was pretty comfortable."
Other Bouts
Mexico's Oscar Duarte (25-1-1, 20 KOs) knocked out Chicago's Alex Martin (18-5, 6 KOs) with a counter right hand after dropping him earlier in the fourth round. The super lightweight fight was stopped at 1:14 of the round.
A battle between undefeated super welterweights saw Florida's Eric Tudor (8-0, 6 KOs) emerge the winner by unanimous decision after eight rounds versus Oakland's Damoni Cato-Cain.
The taller Tudor showed polished skill and was not bothered by a large cut on his forehead caused by an accidental clash of heads. He used his jab and lead rights to defuse the attacks of the quick-fisted southpaw Cato-Cain. The judges scored the fight 80-72 and 78-74 twice for Tudor.
San Diego's Jorge Chavez (5-0, 4 KOs) needed less than one round to figure out Nicaragua's Bryan Perez (12-17-1, 11 KOs) and send him into dreamland with a three-punch combination. No need to count as referee Ray Corona waved the fight over. Perez shot a vicious right followed by another right and then a see-you-later left hook at 3.00 of the first round of the super featherweight match.
Photo credit: Al Applerose
Jojo Diaz's Slump Continues; Mercito Gesta Prevails on a Split Decision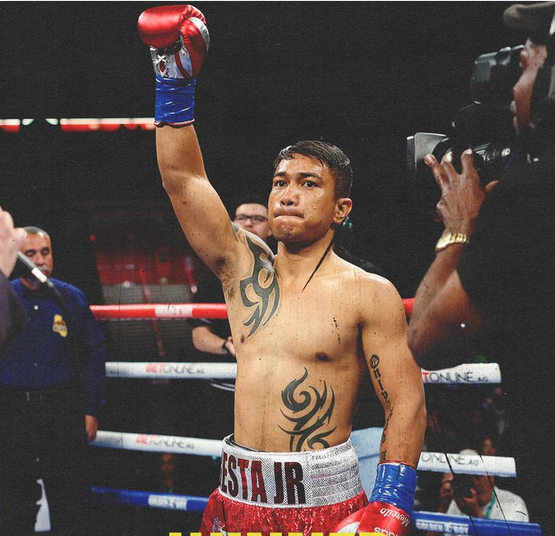 At age 30, Jojo Diaz's career is on the skids. The 2012 U.S. Olympian, a former world title holder at 126 and 130 pounds and an interim title holder at 135, Diaz suffered his third straight loss tonight, upset by Mercito Gesta who won a split decision at the Walter Pyramid in Long Beach, CA.. The scoring was strange with Gesta winning nine of the 10 rounds on one of the cards and only three rounds on another. The tie-breaker, as it were, was a 98-92 tally for Gesta and even that didn't capture the flavor of what was a closely-contested fight.
Originally listed as a 12-rounder, the match was reduced to 10 and that, it turned out, did Diaz no favors. However, it's hard to feel sorry for the former Olympian as he came in overweight once again, having lost his 130-pound title on the scales in February of 2021.
Diaz also has issues outside the ropes. Best elucidated by prominent boxing writer Jake Donovan, they include a cluster of legal problems stemming from an arrest for drunk driving on Feb. 27 in the LA suburb of Claremont.
With the defeat, Diaz's ledger declined to 32-4-1. His prior losses came at the hands of Gary Russell Jr, Devin Haney, and William Zepeda, boxers who are collectively 83-2. Mercito Gesta, a 35-year-old San Diego-based Filipino, improved to 34-3-3.
Co-Feature
Chihuahua, Mexico super lightweight Oscar Duarte has now won nine straight inside the distance after stopping 33-year-old Chicago southpaw Alex Martin in the eighth frame. Duarte, the busier fighter, had Martin on the deck twice in round eight before the fight was waived off.
Duarte improved to 25-1-1 (20). Martin, who reportedly won six national titles as an amateur and was once looked upon as a promising prospect, declined to 18-5.
Other Bouts of Note
New Golden Boy signee Eric Tudor, a 21-year-old super welterweight from Fort Lauderdale, overcame a bad laceration over his right eye, the result of an accidental clash of heads in round four, to stay unbeaten, advancing to 8-0 (6) with a hard-fought unanimous 8-round decision over Oakland's Damoni Cato-Cain. The judges had it 80-72 and 78-74 twice. It was the first pro loss for Cato-Cain (7-1-1) who had his first five fights in Tijuana.
In the DAZN opener, lanky Hawaian lightweight Dalis Kaleiopu went the distance for the first time in his young career, improving to 4-0 (3) with a unanimous decision over 36-year-old Colombian trial horse Jonathan Perez (40-35). The scores were 60-52 across the board. There were no knockdowns, but Perez, who gave up almost six inches in height, had a point deducted for a rabbit punch and another point for deducted for holding.
To comment on this story in the Fight Forum CLICK HERE
'Big Baby' Wins the Battle of Behemoths; TKOs 'Big Daddy' in 6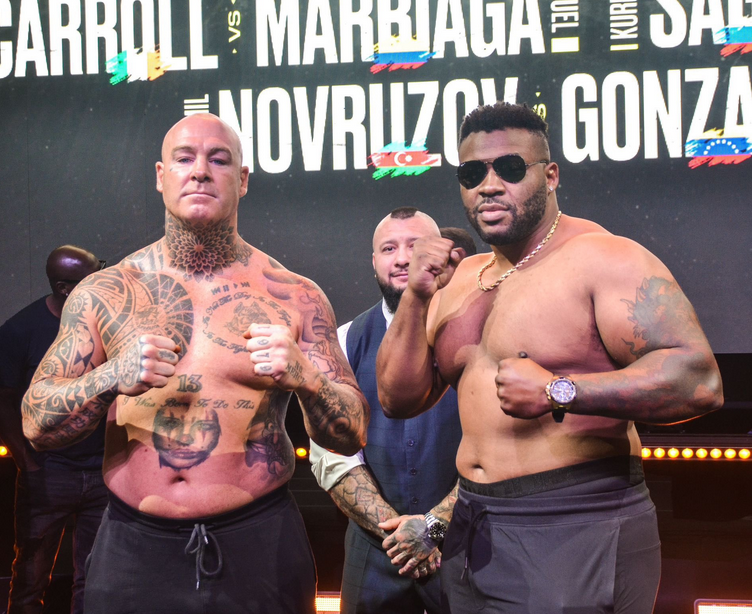 Lucas "Big Daddy" Browne weighed in at a career-high 277 pounds for today's battle in Dubai with Jarrell "Big Baby" Miller, but he was the lighter man by 56 pounds. It figured that one or both would gas out if the bout lasted more than a few stanzas.
It was a war of attrition with both men looking exhausted at times, and when the end came it was Miller, at age 34 the younger man by nine years, who had his hand raised.
Browne was the busier man, but Miller, whose physique invites comparison with a rhinoceros, hardly blinked as he was tattooed with an assortment of punches. He hurt 'Bid Daddy' in round four, but the Aussie held his own in the next frame, perhaps even forging ahead on the cards, but only postponing the inevitable.
In round six, a succession of right hands knocked Browne on the seat of his pants. He beat the count, but another barrage from Miller impelled the referee to intervene. The official time was 2:33. It was the 21st straight win for Miller (26-0-1, 22 KOs). Browne declined to 31-4 and, for his own sake, ought not fight again. All four of his losses have come inside the distance, some brutally.
The consensus of those that caught the livestream was that Floyd Mayweather Jr's commentary was an annoying distraction that marred what was otherwise an entertaining show.
As for what's next for "Big Baby" Miller, that's hard to decipher as he has burned his bridges with the sport's most powerful promoters. One possibility is Mahmoud Charr who, like Miller, has a big gap in his boxing timeline. Now 38 years old, Charr – who has a tenuous claim on a WBA world title (don't we all?) —  has reportedly taken up residence in Dubai.
Other Bouts of Note
In a 10-round cruiserweight affair, Suslan Asbarov, a 30-year-old Russian, advanced to 4-0 (1) with a hard-fought majority decision over Brandon Glanton. The judges had it 98-92, 97-93, and a more reasonable 95-95.
Asbarov was 12-9 in documented amateur fights and 1-0 in a sanctioned bare-knuckle fight, all in Moscow, entering this match. He bears watching, however, as Glanton (18-2) would be a tough out for almost anyone in his weight class. In his previous fight, at Plant City, Florida, Glanton lost a controversial decision to David Light, an undefeated Australian who challenges WBO world title-holder Lawrence Okolie at Manchester, England next week.
A 10-round super featherweight match between former world title challengers Jono Carroll and Miguel Marriaga preceded the semi-windup. Carroll, a 30-year-old Dublin southpaw, overcame a cut over his left eye suffered in the second round to win a wide unanimous decision in a fairly entertaining fight.
It was the sixth straight win for Carroll (24-2-1, 7 KOs) who elevated his game after serving as a sparring partner for Devin Haney. Marriaga, a 36-year-old Colombian, lost for the fourth time in his last five outings, declining to 30-7.
To comment on this story in the Fight Forum CLICK HERE