Boxing and the Splendor of Cuban Sports: An Interview with Author Tim Wendel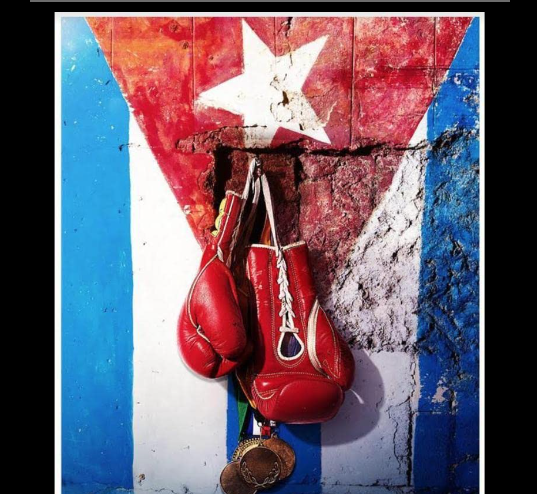 Boxing and the Splendor of Cuban Sports: An Interview with Author Tim Wendel
Cuba is an island nation of roughly 11.4 million inhabitants and while sugar and cigars are major exports, superb athletes aren't very far behind.
Known as a longtime baseball hotbed, the island has produced countless individuals who played and shined in the major leagues. Not to be overlooked is that Cuba has also given the world some of the best boxers ever to slip on a pair of gloves.
A partial list of standouts includes Teofilo Stevenson, Felix Savon, Kid Gavilan, Jose Napoles, Kid Chocolate, Sugar Ramos, Benny Paret, Joel Casamayor, Erislandy Lara, Guillermo Rigondeaux, Yuriorkis Gamboa and Yordenis Ugas.
That's a mouthful and then some.
Tim Wendel, a Baltimore, Maryland-based writer in residence at Johns Hopkins University and one of the founders of USA Today Baseball Weekly, has visited Cuba four times. Though baseball is Wendel's specialty, he's also familiar with the gloved warriors.
Why has Cuba, despite its small population been so successful in producing so many outstanding athletes?
"Sports provided a way for Cuba to compete and even excel on the international stage. Baseball and such Olympic sports as boxing and track and field were emphasized by the Castro government. It helped that Fidel Castro, the island's longtime dictator, loved sports, starred at basketball, ping-pong and baseball as a schoolboy," explained Wendel, who has published 14 books including several works of fiction.
"I had fun teasing out the "what-if" aspect of the latter in my first novel, "Castro's Curveball." Winning gold medals and doing well in such international competitions as the World Baseball Classic was a way for Cuba to stand out. In addition, Cuba often had the domestic situation to develop stellar athletes. An understanding of a particular sport was regularly handed down from parent to child, as well as team allegiances. For example, if older members of a family were fans of the Habana Lions, once one of the fabled winter ball teams, the children would likely be Lions fans, too."
And there have been plenty of incentives for athletes to excel on the world stage.
"More importantly, performing well against the rest of the world was a way for an athlete to help his or her family," said Wendel, who earned a bachelor's degree in journalism and a minor in English from Syracuse University and a master's degree in fiction writing from Johns Hopkins University. "For decades, the best apartments and automobiles, what little the island nation had, or the government could provide, went to the best athletes."
Stevenson, a three-time Olympic gold medalist who recently passed away, never fought professionally.
"It's unfortunate that Stevenson never boxed against the best. I believe that's why many baseball players have opted to defect," Wendel said. "They want to test themselves against the best. Stevenson would have done well against Muhammad Ali, Joe Frazier and the other elite boxers from the 1970s and 1980s. Unfortunately, politics derailed what could have been some epic bouts."
Recently the Cuban government has allowed its boxers to leave but in turn they would have to hand over a significant portion of their purse. What's Wendel's opinion on this matter?
"The new policy is better than nothing. They started to take a similar approach with baseball about 10 years ago and it allowed some of the top athletes in that sport to have more control over their affairs, make some money, and see more of the world," he said. "But having a significant portion of their earnings going back to the government sends the wrong message. If the Cuban government believes this will stop or delay their top athletes from defecting, they are misjudging the situation. The more the Cuban athletes hear about how professional sports works in the rest of the world, especially the U.S., the more they want to be a part of it."
Wendel said there's something about athletic excellence that any fan, Cuban or otherwise, can appreciate.
"The Cuban people, like sports fans anywhere, enjoy watching excellence and that's been the island's legacy for many decades," he pointed out. "The success of Stevenson eventually led to fellow Cuban champion Felix Savon. Both of them are three-time Olympic champions."
Many Cuban stars are more than mere athletes, they're actors on a stage, a really big and grand stage. "A flair for the game, whether it's in boxing or baseball or other sports, has been misunderstood over the years. Cubans, similar to athletes from other Latin American nations, love to exhibit a joy for the game," said Wendel. "In this country, that's sometimes mistaken for showing the other team up. But as more Latinos have played starring roles, especially in the U.S. major leagues, I believe fans and even opposing players better understand where the Latino stars are coming from. Why do they do what they do?"
Wendel focused on something with which he's very familiar: "A decade ago, I was an advisor on a permanent exhibit at the Baseball Hall of Fame in Cooperstown," he said. "We advocated for a screen showing a highlight loop of amazing plays by Latino stars (Roberto Alomar snaring a line drive, Omar Vizquel bare-handing a ball to save a no-hitter, etc.). That became the most popular part of our "Viva Baseball" exhibit."
Castro was the boss of the island from 1959 until his passing in 2008. During his four trips to Cuba, did Wendel ever have a chance to speak with El Presidente?
"I never spoke with Castro, which may have been just as well. He's a major character in the two novels I set in Havana ("Castro's Curveball" and, most recently, "Escape From Castro's Cuba," the latter of which recently won an Indie Book Award). I was six rows behind Fidel at the 1999 exhibition game between Team Cuba and the Baltimore Orioles. That said, it could have been an awkward conversation."
Wendel did however speak with a Cuban sports legend.
"Besides such Cuban ballplayers as Victor Mesa Sr. and Omar Linares, one of the most intriguing conversations I ever had about Cuba and sports was with Alberto Juantorena, who won the 400- and 800-meter races at the 1976 Olympics," he said. "When he finished competing, he became one of Cuba's top sports officials. We met at a reception in Havana for Olympic medalists. I wasn't invited and got in through a back exit. "What are you doing here?" Juantorena asked me. I shrugged and then we had an enjoyable conversation about Cuba and sports."
For decades, getting to Cuba was a difficult proposition for an American. But if you did make it there, it could be a splendid experience.
"Travel to the island got more difficult with Donald Trump as president," Wendel offered. "In fact, the last trip I made to Havana was in early 2017 before he was sworn in. When everyday people can talk with everyday people, I believe we're often better off than when politicians are left to dictate everything."
"One of my best times in Cuba was walking through the old part of town, near the harbor and having a pack of kids and someone's grandmother show me around," he said. "In fact, the older lady insisted that the Cubans never trusted the Russians. When I asked why, she replied, "We're better dancers."
Wendel added: "On my four trips to Cuba, I bring along new baseballs. I'll hand them out to the kids playing the game in alleys and backstreets," he said. "They look at me with big eyes, like I just handed them the Hope Diamond."
Have sports, including boxing, helped bridge the gap between the United States and Cuba?
"Yes, but we certainly have a long way to go. That said, I'm reminded of my first trip to the island, back in 1992. I was covering some exhibition games between Team Cuba and Team USA. This was a few weeks before the Barcelona Summer Olympics," Wendel said. "First, I was so impressed with the Cuban's caliber of play. That's still one of the best infields, offensively and defensively, I've ever seen and I covered the major leagues, on and off, for 20 years."
"Still, what I remember best about those games in Holguin, on the eastern end of the island, was this old man coming up to me in the stands. He asked me about the Minnesota Twins, who had won the 1991 World Series, one of the best Fall Classics ever, and I told him it would be difficult for them to repeat. The Twins didn't have the largest payroll in the game."
Wendel continued: "Undoubtedly, they would lose several stars and they did," he said. "I was into my sports-talk radio answer when he interrupted me. "I know all that," he said. "OK, I replied. What do you want to know? "What do they look like," he said. "That's when it
hit me what a star-crossed land Cuba is. Here's this guy who knew as much about the Twins' roster and payroll as me, but he didn't know what they looked like."
And because the island can be isolated from the outside world, it makes it difficult for those there to get any information.
"That's how separated the island is from the rest of the world, especially the sports world," Wendel said. "So, I went around the diamond, with major help from several of the other American sportswriters. We put Kent Hrbek at first base, Jack Morris on the mound and finished with Kirby Puckett in centerfield – a guy who's difficult enough to describe in English. As I was searching for the right words, I was turning to my fellow scribes, looking out at the field. I didn't focus on the old Cuban gentleman until I was finished. Then I turned back to him and said, "There you go. There's your 1991 World Series champions."
Wendel then described the man's reaction. "The old man had tears in his eyes," he said. "He slapped me on the shoulder and said, "Thank you. Now, I know." With that, he disappeared into the crowd and since then I've never been able to get Cuba, its sports stars and its people, out of my head."
Sports aren't perfect and neither is boxing or baseball, but sometimes they are able to bridge gaps.
To comment on this story in the Fight Forum CLICK HERE
Ryan "KingRy" Garcia Returns With a Bang; KOs Oscar Duarte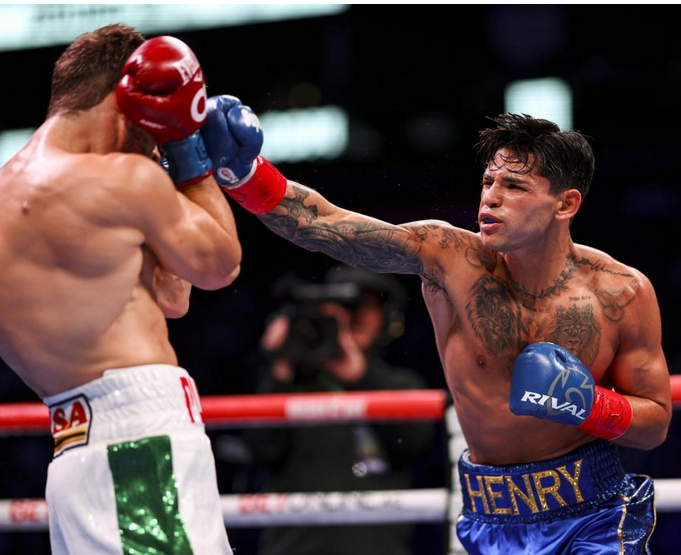 It was a different Ryan "KingRy" Garcia the world saw in defeating Mexico's rugged Oscar Duarte, but it was that same deadly left hook counter that got the job done by knockout on Saturday.
Only the quick survive.
Garcia (24-1, 20 KOs) used a variety of stances before luring knockout artist Duarte (26-1-1, 21 KOs) into his favorite punch before a sold-out crowd at Toyota Arena in Houston, Texas. That punch should be patented in gold.
It was somewhat advertised as knockout artist versus matinee idol, but those who know the sport knew that Garcia was a real puncher. But could he rebound from his loss earlier this year?
The answer was yes.
Garcia used a variety of styles beginning with a jab at a prescribed distance via his new trainer Derrick James. It allowed both Garcia and Duarte to gain footing and knock the cobwebs out of their reflexes. Garcia's jab scored most of the early points during the first three rounds. He also snapped off some left hooks and rights.
"He was a strong fighter, took a strong punch," said Garcia. "I hit him with some hard punches and he kept coming."
Duarte, an ultra-pale Mexican from Durango, was cautious, knowing full well how many Garcia foes had underestimated the power behind his blows.
Slowly the muscular Mexican fighter began closing in with body shots and soon both fighters were locked in an inside battle. Garcia used a tucked-in shoulder style while Duarte pounded the body, back of the head and in the back causing the referee to warn for the illegal punches twice.
Still, Duarte had finally managed to punch Garcia with multiple shots for several rounds.
Around the sixth round Garcia was advised by his new trainer to begin jabbing and moving. It forced Duarte out of his rhythm as he was unable to punch without planting his feet. Suddenly, the momentum had reversed again and Duarte looked less dangerous.
"I had to slow his momentum down. That softened him up," said Garcia about using that change in style to change Duarte's pressure attack. "Shout out to Derrick James."
Boos began cascading from the crowd but Garcia was on a roll and had definitely regained the advantage. A quick five-punch combination rocked Duarte though not all landed. The danger made the Mexican pause.
In the eighth round Duarte knew he had to take back the momentum and charged even harder. In one lickety-split second a near invisible counter left hook connected on Duarte's temple and he stumbled like a drunken soldier on liberty in Honolulu. Garcia quickly followed up with rights and uppercuts as Duarte had a look of terror as his legs failed to maintain stability. Down he went for the count.
Duarte was counted out by referee James Green at 2:51 of the eighth round as Garcia watched from the other side of the ring.
"I started opening up my legs a little bit to open up the shot," explained Garcia. "When I hurt somebody that hard, I just keep cracking them. I hurt him with a counter left hook."
The weapon of champions.
Garcia's victory returns him back to the forefront as one of boxing's biggest gate attractions. A list of potential foes is his to dissect and choose.
"I'm just ready to continue to my ascent to be a champion at 140," Garcia said.
It was a tranquil end after such a tumultuous last three days.
Other Bouts
Floyd Schofield (16-0, 12 KOs) blitzed Mexico's Ricardo "Not Finito" Lopez (17-8-3) with a four knockdown blowout that left fans mesmerized and pleased with the fighter from Austin, Texas.
Schofield immediately shot out quick jabs and then a lightning four-punch combination that delivered Lopez to the canvas wondering what had happened. He got up. Then Scholfield moved in with a jab and crisp left hook and down went Lopez like a dunked basketball bouncing.
At this point it seemed the fight might stop. But it proceeded and Schofield unleashed another quick combo that sent Lopez down though he did try to punch back. It was getting monotonous. Lopez got up and then was met with another rapid fire five- or six-punch combination. Lopez was down for the fourth time and the referee stopped the devastation.
"I appreciate him risking his life," said Schofield of his victim.
In a middleweight clash Shane Mosley Jr. (21-4, 12 KOs) out-worked Joshua Conley (17-6-1, 11 KOs) for five rounds before stopping the San Bernardino fighter at 1:51 of the sixth round. It was Mosley's second consecutive knockout and fourth straight win.
Mosley continues to improve in every fight and again moves up the middleweight rankings.
Super middleweight prospect Darius Fulghum (9-0, 9 KOs) of Houston remained undefeated and kept his knockout string intact with a second round pounding and stoppage over Pachino Hill (8-5-1) in 56 seconds of that round.
Photo credit: Golden Boy Promotions
To comment on this story in the Fight Forum CLICK HERE
Jordan Gill TKOs Michael Conlan Who May Have Reached the End of the Road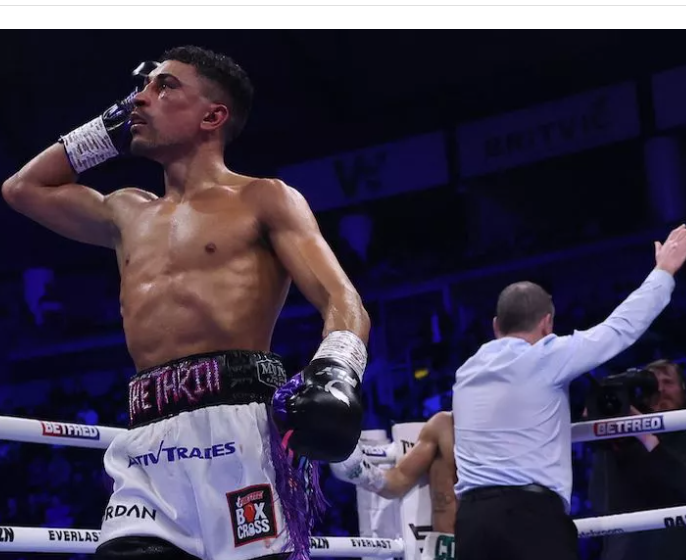 Fighting on his home turf, two-time Olympian Michael Conlan was an 8/1 favorite over Jordan Gill tonight in Belfast, Northern Ireland. Had he won, Matchroom promoter Eddie Hearn was eyeing a rematch for Conlan with Leigh Wood. Their March 2022 rumble in Nottingham was a popular pick for the Fight of the Year. But the 29-year-old Gill, a Cambridgeshire man, rendered that discussion moot with a seventh-round stoppage. It was Conlan's third loss inside the distance in the last 18 months and he would be wise to call it a day. His punch resistance is plainly not what it once was.
It was with considerable fanfare that Conlan cast his lot with Top Rank coming out of the amateur ranks. Tonight was his first assignment for Matchroom and his first fight at 130 pounds after coming up short in two world featherweight title fights. And he almost didn't make it past the second round. Gill had him on the canvas in the opening minute of round two compliments of a left hook and stunned him late in the round with a right hand that left him on unsteady legs.
He survived the round and for a fleeting moment in the sixth frame it appeared that he had reversed Gill's momentum. But Gill took charge again in the next stanza, trapping Conlan in the corner and unloading a fusillade of punches that forced referee Howard Foster to waive it off, much to the great dismay of the crowd. The official time was 1:09 of round seven.
Released by Top Rank, Conlan trained for this fight in Miami, Florida, under Pedro Diaz, best known for rejuvenating the career of Miguel Cotto. But the switch in trainer and in promoter made no difference as Conlan, who won his first amateur title at age 11, was damaged goods before he entered the ring. It was a career-defining victory for Jordan Gill (28-2-1, 9 KOs) who was not known as a big puncher and was returning to the ring after being stopped by Kiko Martinez 13 months ago in his previous start.
Semi-wind-up
In the "Battle of Belfast," undefeated welterweight Lewis Crocker seized control in the opening round and went on to win a lopsided decision over intra-city rival Tyrone McKenna (23-4-1). Two of the judges gave Crocker every round and the other had it 98-92, but yet this was entertaining fight in spurts. McKenna had more fans in the building, but Crocker, seven years younger at age 26, went to post a 7/2 favorite and youth was served.
Other Bouts of Note
Belfast super welterweight Caoimhin Agyarko, who overcame a near-fatal mugging at age 20, advanced to 14-0 (7) with a 10-round split decision over Troy Williamson (20-2-1). The judges had it 98-92 and 97-93 for Agyarko with a dissenter submitting a curious 96-94 score for the 31-year-old Williamson who wasn't able to exploit his advantages in height and reach.
Sean McComb, a 31-year-old Belfast southpaw, scored what was arguably the best win of his career with a 10-round beat-down of longtime sparring partner Sam Maxwell. Two of the judges gave McComb every round and the other had it 99-88. McComb, who has an interesting nickname, "The Public Nuisance, successfully defended his WBO European super welterweight strap while elevating his record to 18-1 (6). The fading, 35-year-old Maxwell, a former BBBofC British title-holder, lost for third time in his last four starts after winning his first 16 pro fights.
Photo credit: Mark Robinson / Matchroom
To comment on this story in the Fight Forum CLICK HERE
Avila Perspective, Chap. 262: Ryan Garcia Reloads and More Fight News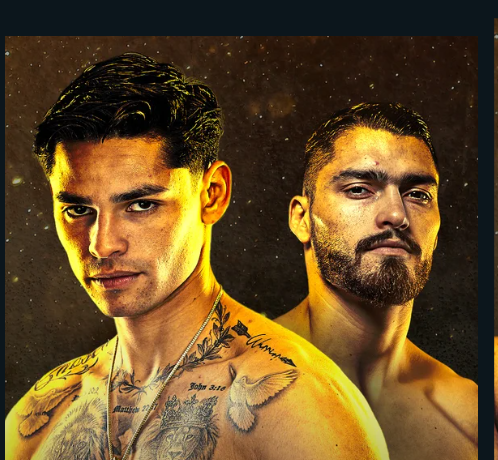 Avila Perspective, Chap. 262: Ryan Garcia Reloads and More Fight News
Nobody is perfect.
That's a mantra that everyone including boxers, promoters and managers should realize. No person is perfect. Everyone makes mistakes.
Ryan "King Ry" Garcia (23-1, 19 KOs) returns to the prize ring to face thunderous punching Oscar Duarte (26-1-1, 21 KOs) on Saturday, Dec. 2, at the Toyota Center in Houston, Texas. DAZN will stream the stacked Golden Boy Promotions card.
A press conference started slowly like a long-lit fuse slowly burning to the stick of dynamite. And when the fire reached the stick, it exploded with everyone in the vicinity burned.
Garcia unleashed pent-up frustration with verbal attacks on his promoters and burned the perimeter with fire. Poor Duarte sat there knowing something happened, but probably needed translation from his people to discover Garcia burned the room.
No survivors.
If that's just a sample of what's coming on Saturday night, well buckle-up and don't miss a second of Garcia and Duarte's confrontation.
Duarte has 11 consecutive knockouts and an 80 percent knockout rate. Garcia recently lost to Gervonta "Tank" Davis by stoppage and is looking to raze the earth. He has an 82 percent knockout rate.
Somebody is going to sleep in front of millions of fans.
"Oscar is a tough opponent. I know he's going to come to fight. But I'm right here to make an example for the 140-division," said Garcia with a death knell stare during the face-off. "This is how I'm coming. This is the Ryan Garcia you are going to get."
Duarte knows he's in the limelight. There's no better place to be. Or is there?
"This is a dream for me. I come very prepared. This Saturday you will see my best version," said Duarte. "I'm going to win."
Maybe he picked the wrong time.
Garcia looked as if he were General Sherman on his way to scorch the earth on his way to Atlanta. No survivors.
It doesn't look good for anyone.
"I'm laser focused" said Garcia with a stare that looked like Superman shooting lasers from his eyes.
The loss to Davis last spring was only on his ledger. In his pocketbook the lean, snap-quick fighter from Victorville, California gained $30+ million. That's what happens when you fight the best and the world wants to see it. Both he and Tank Davis broke the bank and the counting machine for pay-per-views.
But winning still remains important and few know better than promoter Oscar De La Hoya.
"You never know where the mindset is in a fighter after he loses. You have to give it up to Ryan. When you pick a guy who is dangerous and speedy and who has a shot, kudos to Ryan," said De La Hoya on social media in a statement that probably lit the Garcia's fuse that roasted the room.
"When fighters lose they have their emotional rollercoasters. But once you win and you get 30 million bucks everything is friggin good," De La Hoya added.
Others on the card are Shane Mosley Jr., Floyd Schofield, Darius Fulghum and Ryan's younger brother Sean Garcia.
It's loaded. Beware of fire.
SoCal
Amado Vargas, son of the great Fernando Vargas, makes his return.
Vargas (9-0, 4 KOs), a lightweight, meets Ezequiel Flores (4-1) in the main event on Saturday Dec. 2, at C. Robert Lee Center in Hawaiian Gardens, Calif. on the MarvNation Boxing Promotions card
All three of the Vargas brothers have been burning up to boxing ring and all are signed by promoters. Amado and Fernando Vargas Jr. signed with MarvNation and have attracted many fans.
This is the last boxing card of the year for MarvNation. Doors open at 5 p.m. For more information call (562) 713-9026 or (562) 639-3980.
Florida
Don King Productions has its last card of the year and ends it with five title fights including undefeated Antonio Perez (8-0, 5 KOs) versus Haskell Rhodes (29-5-1, 14 KOs) in a welterweight clash at Casino Miami Jai Ali in Miami, Florida.
Perez, 21, is only 5-6 in height and Rhodes is even shorter, but has experience against top competition such as Floyd Schofield and Sergey Lipinets.
Also on the card are Ian Green, Vaughn Alexander, Tre'Sean Wiggins, Chris Howard, Alex Castro, Harry Cruz and more.
The Don King Production card will be streamed at this link: https://itube247.com/
To comment on this story in the Fight Forum CLICK HERE