When Boxing Was Big on the Fourth of July: A TSS Classic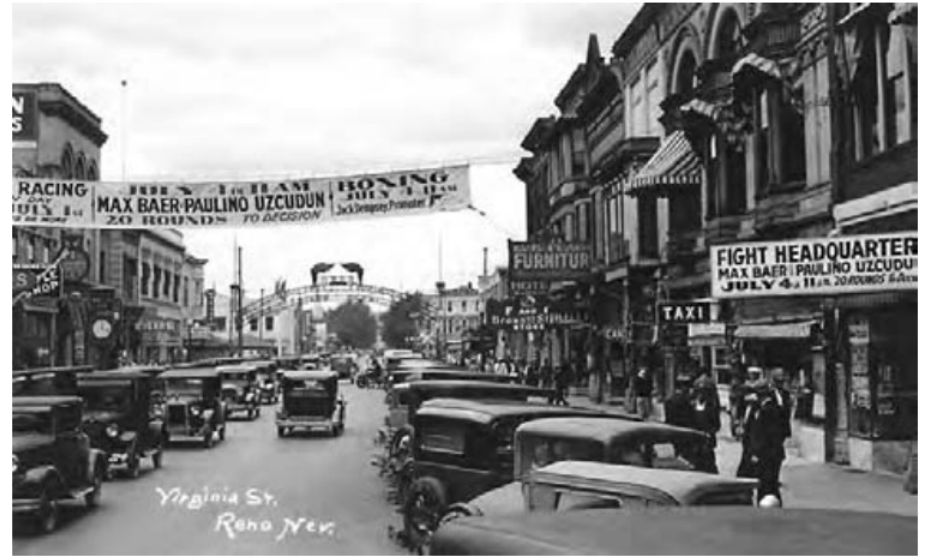 We're going way back, but there was a time when the Fourth of July was a big day for boxing in the U.S. The high-water mark, according to BoxRec, was set in 1922 when there were 67 shows spread across 27 states. In that year, the holiday fell on a Tuesday.
Two of the most historically significant fights were staged on the Fourth of July. In 1910, in a fight that "marinated" for almost five years, Jack Johnson successfully defended his world heavyweight title at the expense of former champion James J. Jeffries. Measured by the amount of newsprint expended on this story as it developed, Johnson vs. Jeffries was the biggest single-day sporting event in the history of man. In 1919, Jack Dempsey dethroned Johnson's conqueror Jess Willard, the first big bang in the Golden Era of Sports. And although it didn't move the needle, how appropriate in hindsight that Joe Louis began his pro career on the Fourth of July.
During the early years of the 20th century, promoters often hitched their events to other events – county fairs, carnivals, race meets, national conventions of fraternal organizations, and so forth. One might call these festival fights. The 1931 show in Reno featuring Max Baer and Paulino Uzcudun was an example. It was, in many ways, the quintessential Fourth of July boxing show, a window into western Americana.
In 1931, Reno (the "Biggest Little City in the World") was home to about 20,000 people. Twice that number swarmed into Reno on that year's Fourth of July. "Special trains by the score, automobiles by the hundreds and airplanes by the dozen poured into the famous divorce metropolis from the Pacific Coast. From the sandy wastes of Nevada came prospectors on burros, cowboys on horseback and ranchers in buckboard wagons," said the correspondent for the United Press.
The race meet was in progress and there were sundry other activities arranged to make the day special, but the big shebang was the prizefight.
The spearheads of the promotion, Bill Graham and James McKay, owned the Bank Club, Reno's biggest casino. Business was booming now that Nevada had legalized gambling, not that it made much difference in Reno where gambling was wide-open before the new law took effect.
Graham and McKay had made their fortunes running gambling saloons in Nevada mining towns and could afford to commit big dollars to the promotion. They brought in the great ring announcer Dan Tobey from Los Angeles (520 miles away) to serve as the master of ceremonies — Tobey was the Michael Buffer of his day — but their big coup was getting Jack Dempsey involved. Dempsey was retired, having last fought in 1927, but the Manassa Mauler was still a towering personality and his involvement ensured good national newspaper coverage. For advertising purposes, he was named the actual promoter, the makeshift wooden stadium erected in the infield of the thoroughbred track was named for him, and he would serve as the bout's referee.
At this stage of their respective careers, Max Baer and Paulino Uzcudun were borderline journeymen. Baer's best days were ahead of him, but he had lost three of his last five. Uzcudun had lost four of his last seven beginning with a 15-round setback to Max Schmeling at Yankee Stadium. But Baer was still recognized as a man with a pulverizing punch and the pairing was smart from a geographical perspective. Baer had cultivated a strong following in northern California, Reno's primary tourist market. Uzcudun, who had his early fights in Paris, hailed from the Basque region of Spain.
The Reno area was home to many people of Basque descent, and Uzcudun, nicknamed the Basque Woodchopper, had a ready-made fan base. It was 11 pm on June 4 when Uzcudun arrived in Reno on the Southern Pacific to set up his training quarters, but despite the late hour, thousands were reportedly at the rail terminal waiting to greet him.
Baer arrived a few days later. It was customary in those days for the headliners in a big show outside a major metropolis to arrive in the host city several weeks before the event. They held public workouts and were squired around town to press the flesh to goose the gate.
With the city about to be inundated by a great throng, the Chamber of Commerce undertook a campaign to discourage price-gouging. The District Attorney cautioned homeowners renting beds to visitors to exercise caution when accepting checks, "particularly checks drawn on banks in other cities." Those that came by rail and could afford a berth in a Pullman car brought their own hotel rooms. The Pullmans were diverted to a side track where they sat until the excursionists were ready to leave.
There was never a dull moment in Reno, a place where gambling houses operated around the clock. Reporters had plenty to write about besides the big fight. The cantankerous mayor, E.E. Roberts, was quite a character. To boost tourism, he "advocated placing a barrel of corn whiskey on every corner of the city with a dipper attached and a sign directing all favorably inclined to drink as much as they pleased." Prohibition was still in effect and this didn't sit well with federal prohibition agents. On June 30, the day prior to the start of the racing meet and four days before the big fight, agents from the San Francisco office descended on the city, raiding 19 saloons and arresting 37 people for violating the Volstead Act. By most accounts, this barely dented the city's saloon industry.
The Fight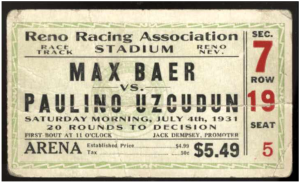 Although no title was at stake, the bout — billed as the "Battle of the Sagebrush" — was scheduled for 20 rounds. It was a messy affair fought on a sweltering day where the temperature at ringside climbed into the mid-90s. "On occasion they butted like goats," said a ringside reporter.
The match, which lasted the full distance, struck some reporters as vicious and others as rather tame – there were no knockdowns — but on two matters everyone agreed: it was a closely contested contest and both Baer and Uzcudun exhibited great stamina. By and large, Baer landed the cleaner punches but Uzcudun, who had a famously awkward style, a peek-a-boo defense grafted to a low crouch, stubbornly pressed the action and was commended for his tenacity.
At the end of the 19th round, referee Dempsey, the sole arbiter, leaned over to a group of reporters and told them that he would award the fight to the man that had the best of it in the final round. That proved to be the Basque Woodchopper, who had attracted most of the bets in the betting shed built adjacent to the arena.
The attendance was listed at 18,000, but it would be reported that only 9,260 paid. Looking back 10 years later, an attendee recalled that "gatecrashers by the hundreds swarmed over the racetrack fences and infiltrated from all angles. There just weren't enough cops, ushers, and guards to handle them."
The promoters reportedly lost money, but the visitors must have been good spenders because Dempsey was back in Reno with another Fourth of July prizefight the following year. The 1932 promotion, pitting Max Baer against King Levinsky in the main event, was a big disappointment, playing out in a half-empty stadium, but at least those in attendance could say that they got to see a future heavyweight champion in action. Not quite two years later, Baer massacred Primo Carnera at an outdoor arena in Queens, igniting a short- lived title reign. (Rising heavyweight contender Joe Louis would subsequently defeat all three of the Reno headliners, knocking out Levinsky, Baer, and Uzcudun, in that order, in consecutive bouts.)
Reno's second "Battle of the Sagebrush" was a would-be extravaganza that fell flat, the fate of most holiday festival fights, a development that the late, great sportswriter John Lardner attributed to "chuckleheaded boosterism."
That's a story for another day. In the meantime, here's wishing everyone a Happy Fourth of July.
EDITOR'S NOTE: This is a reprint of a story that ran on these pages on July 2, 2018.
To comment on this story in the Fight Forum CLICK HERE
Arne K. Lang's latest book, titled "George Dixon, Terry McGovern and the Culture of Boxing in America, 1890-1910," will shortly roll off the press. The book, published by McFarland, can be pre-ordered directly from the publisher (https://mcfarlandbooks.com/product/clashof-the-little-giants) or via Amazon.
Mercito Gesta Victorious Over Jojo Diaz at the Long Beach Pyramid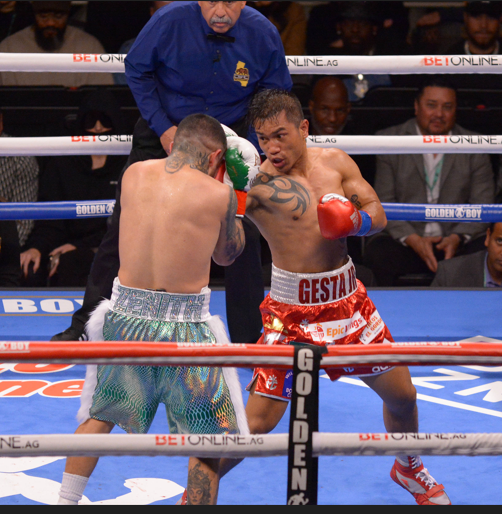 LONG BEACH, CA.-Those in the know knew Mercito Gesta and Jojo Diaz would be a fight to watch and they delivered.
Gesta emerged the winner in a super lightweight clash between southpaws that saw the judges favor his busier style over Diaz's body attack and bigger shots and win by split decision on Saturday.
Despite losing the main event because the star was overweight, Gesta (34-3-3, 17 KOs) used an outside method of tactic to edge past former world champion Diaz (32-4-1, 15 KOs) in front of more than 5,000 fans at the Pyramid.
The speedy Gesta opened up the fight with combination punching up and down against the peek-a-boo style of Diaz. For the first two rounds the San Diego fighter overwhelmed Diaz though none of the blows were impactful.
In the third round Diaz finally began unloading his own combinations and displaying the fast hands that helped him win world titles in two divisions. Gesta seemed stunned by the blows, but his chin held up. The counter right hook was Diaz's best weapon and snapped Gesta's head back several times.
Gesta regained control in the fifth round after absorbing big blows from Diaz. He seemed to get angry that he was hurt and opened up with even more blows to send Diaz backpedaling.
Diaz targeted his attack to Gesta's body and that seemed to slow down Gesta. But only for a round.
From the seventh until the 10th each fighter tried to impose their style with Gesta opening up with fast flurries and Diaz using right hooks to connect with solid shots. They continued their method of attack until the final bell. All that mattered was what the judges preferred.
After 10 rounds one judge saw Diaz the winner 97-93 but two others saw Gesta the winner 99-91, 98-92. It was a close and interesting fight.
"I was expecting nothing. I was the victor in this fight and we gave a good fight," said Gesta. "It's not an easy fight and Jojo gave his best."
Diaz was surprised by the outcome but accepted the verdict.
Everything was going good. I thought I was landing good body shots," said Diaz. "I was pretty comfortable."
Other Bouts
Mexico's Oscar Duarte (25-1-1, 20 KOs) knocked out Chicago's Alex Martin (18-5, 6 KOs) with a counter right hand after dropping him earlier in the fourth round. The super lightweight fight was stopped at 1:14 of the round.
A battle between undefeated super welterweights saw Florida's Eric Tudor (8-0, 6 KOs) emerge the winner by unanimous decision after eight rounds versus Oakland's Damoni Cato-Cain.
The taller Tudor showed polished skill and was not bothered by a large cut on his forehead caused by an accidental clash of heads. He used his jab and lead rights to defuse the attacks of the quick-fisted southpaw Cato-Cain. The judges scored the fight 80-72 and 78-74 twice for Tudor.
San Diego's Jorge Chavez (5-0, 4 KOs) needed less than one round to figure out Nicaragua's Bryan Perez (12-17-1, 11 KOs) and send him into dreamland with a three-punch combination. No need to count as referee Ray Corona waved the fight over. Perez shot a vicious right followed by another right and then a see-you-later left hook at 3.00 of the first round of the super featherweight match.
Photo credit: Al Applerose
Jojo Diaz's Slump Continues; Mercito Gesta Prevails on a Split Decision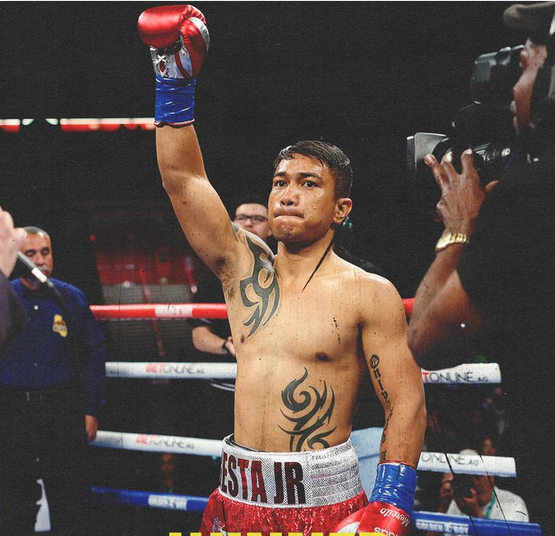 At age 30, Jojo Diaz's career is on the skids. The 2012 U.S. Olympian, a former world title holder at 126 and 130 pounds and an interim title holder at 135, Diaz suffered his third straight loss tonight, upset by Mercito Gesta who won a split decision at the Walter Pyramid in Long Beach, CA.. The scoring was strange with Gesta winning nine of the 10 rounds on one of the cards and only three rounds on another. The tie-breaker, as it were, was a 98-92 tally for Gesta and even that didn't capture the flavor of what was a closely-contested fight.
Originally listed as a 12-rounder, the match was reduced to 10 and that, it turned out, did Diaz no favors. However, it's hard to feel sorry for the former Olympian as he came in overweight once again, having lost his 130-pound title on the scales in February of 2021.
Diaz also has issues outside the ropes. Best elucidated by prominent boxing writer Jake Donovan, they include a cluster of legal problems stemming from an arrest for drunk driving on Feb. 27 in the LA suburb of Claremont.
With the defeat, Diaz's ledger declined to 32-4-1. His prior losses came at the hands of Gary Russell Jr, Devin Haney, and William Zepeda, boxers who are collectively 83-2. Mercito Gesta, a 35-year-old San Diego-based Filipino, improved to 34-3-3.
Co-Feature
Chihuahua, Mexico super lightweight Oscar Duarte has now won nine straight inside the distance after stopping 33-year-old Chicago southpaw Alex Martin in the eighth frame. Duarte, the busier fighter, had Martin on the deck twice in round eight before the fight was waived off.
Duarte improved to 25-1-1 (20). Martin, who reportedly won six national titles as an amateur and was once looked upon as a promising prospect, declined to 18-5.
Other Bouts of Note
New Golden Boy signee Eric Tudor, a 21-year-old super welterweight from Fort Lauderdale, overcame a bad laceration over his right eye, the result of an accidental clash of heads in round four, to stay unbeaten, advancing to 8-0 (6) with a hard-fought unanimous 8-round decision over Oakland's Damoni Cato-Cain. The judges had it 80-72 and 78-74 twice. It was the first pro loss for Cato-Cain (7-1-1) who had his first five fights in Tijuana.
In the DAZN opener, lanky Hawaian lightweight Dalis Kaleiopu went the distance for the first time in his young career, improving to 4-0 (3) with a unanimous decision over 36-year-old Colombian trial horse Jonathan Perez (40-35). The scores were 60-52 across the board. There were no knockdowns, but Perez, who gave up almost six inches in height, had a point deducted for a rabbit punch and another point for deducted for holding.
To comment on this story in the Fight Forum CLICK HERE
'Big Baby' Wins the Battle of Behemoths; TKOs 'Big Daddy' in 6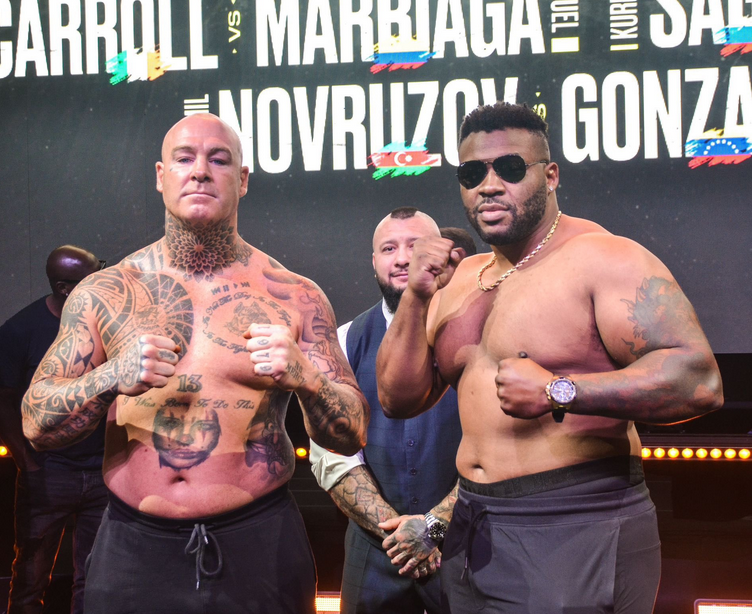 Lucas "Big Daddy" Browne weighed in at a career-high 277 pounds for today's battle in Dubai with Jarrell "Big Baby" Miller, but he was the lighter man by 56 pounds. It figured that one or both would gas out if the bout lasted more than a few stanzas.
It was a war of attrition with both men looking exhausted at times, and when the end came it was Miller, at age 34 the younger man by nine years, who had his hand raised.
Browne was the busier man, but Miller, whose physique invites comparison with a rhinoceros, hardly blinked as he was tattooed with an assortment of punches. He hurt 'Bid Daddy' in round four, but the Aussie held his own in the next frame, perhaps even forging ahead on the cards, but only postponing the inevitable.
In round six, a succession of right hands knocked Browne on the seat of his pants. He beat the count, but another barrage from Miller impelled the referee to intervene. The official time was 2:33. It was the 21st straight win for Miller (26-0-1, 22 KOs). Browne declined to 31-4 and, for his own sake, ought not fight again. All four of his losses have come inside the distance, some brutally.
The consensus of those that caught the livestream was that Floyd Mayweather Jr's commentary was an annoying distraction that marred what was otherwise an entertaining show.
As for what's next for "Big Baby" Miller, that's hard to decipher as he has burned his bridges with the sport's most powerful promoters. One possibility is Mahmoud Charr who, like Miller, has a big gap in his boxing timeline. Now 38 years old, Charr – who has a tenuous claim on a WBA world title (don't we all?) —  has reportedly taken up residence in Dubai.
Other Bouts of Note
In a 10-round cruiserweight affair, Suslan Asbarov, a 30-year-old Russian, advanced to 4-0 (1) with a hard-fought majority decision over Brandon Glanton. The judges had it 98-92, 97-93, and a more reasonable 95-95.
Asbarov was 12-9 in documented amateur fights and 1-0 in a sanctioned bare-knuckle fight, all in Moscow, entering this match. He bears watching, however, as Glanton (18-2) would be a tough out for almost anyone in his weight class. In his previous fight, at Plant City, Florida, Glanton lost a controversial decision to David Light, an undefeated Australian who challenges WBO world title-holder Lawrence Okolie at Manchester, England next week.
A 10-round super featherweight match between former world title challengers Jono Carroll and Miguel Marriaga preceded the semi-windup. Carroll, a 30-year-old Dublin southpaw, overcame a cut over his left eye suffered in the second round to win a wide unanimous decision in a fairly entertaining fight.
It was the sixth straight win for Carroll (24-2-1, 7 KOs) who elevated his game after serving as a sparring partner for Devin Haney. Marriaga, a 36-year-old Colombian, lost for the fourth time in his last five outings, declining to 30-7.
To comment on this story in the Fight Forum CLICK HERE