Canelo is Still Mostly the Canelo That We Remember, but GGG is Another Story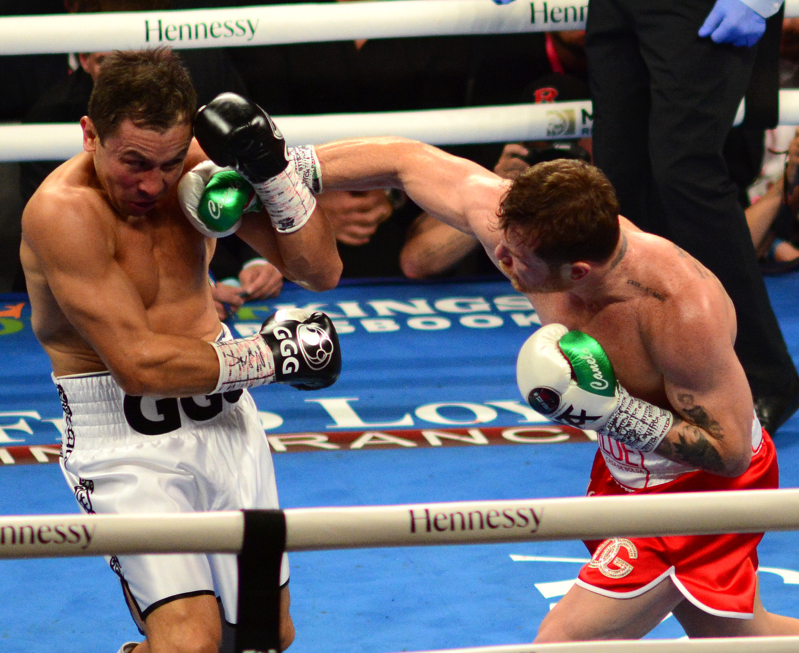 Canelo is Still Mostly the Canelo That We Remember, but GGG is Another Story
A fat and seemingly overly optimistic George Foreman, upon launching a boxing comeback after 10 years away from the ring and at the preposterously advanced age of 40, uttered the words that have since become the mantra of all formerly great fighters who are resolute in their conviction that the best of themselves is not necessarily restricted to memories of what used to be.
"The age of 40 is not a death sentence," Big George proclaimed to much skepticism from the media, and damn if he didn't speak that pugilistic unlikelihood to truth when, at 45, he knocked out the much-younger and favored Michael Moorer in the 10th round on Nov. 5, 1994, to ascend to the heavyweight championship of the world for a second time.
But Father Time is the unseen opponent all fighters who have extended their fighting lives to their 40th birthday and beyond eventually discover is less conquerable than flesh-and-blood opponents. And so it would appear to be the case for future Hall of Famer Gennadiy "GGG" Golovkin, whose unanimous-decision loss to Canelo Alvarez in their third matchup Saturday night in Las Vegas' T-Mobile Arena might have conveyed more about what the future holds for him than it did for the victor.
"I have a lot left. I have a great plan, a lot of appointments. Remember, I'm still champion at 160," insisted Golovkin (42-2-1, 37 KOs) after the longtime middleweight champion from Kazakhstan, in his super middleweight debut and possibly final ring appearance in that division, failed to annex Alvarez's WBA, WBC, IBF, and WBO 168-pound titles in a fight that did not appear to be nearly as close as the scorecards indicated. Give Golovkin credit for a too-little, too-late rally in the later rounds, but the 115-113 tallies for Alvarez (from judges Steve Weisfeld and David Sutherland) and 116-112 (Dave Moretti) seemed more than a tad generous.
Punch statistics furnished by CompuBox are another numerical means of ascertaining who did what, and although Canelo only out-landed GGG by 130 to 120, he connected with 85 power punches to just 46 for Golovkin, whose reputation had been made through a succession of brutal knockouts, 23 straight in one elongated stretch, 18 of which came in world championship fights. No one would have, or should have, yelped in surprise had the tallies read by ring announcer David Diamonte been 117-111 (as I had it) or even 118-110 for Canelo, whose bid to move closer to his status as the sport's pound-for-pound best, which he relinquished as the result of the transfer of his WBA (super) light heavyweight belt on a clear points loss to Dmitry Bivol on May 7 of this year, might have received only a moderate boost. That the Mexican superstar won so convincingly is especially noteworthy in light of the revelation that he had fought with a tear in the cartilage of his left wrist, which might require surgery.
"I can't hold a glass," Alvarez, still arguably in his prime at 32, said of his achy hand. "It's really bad. But I'm a warrior."
Trilogies have a special place in boxing history, with good reason. Ali-Frazier, Gatti-Ward, Bowe-Holyfield, Fury-Wilder, Barrera-Morales and similar three-act passion plays have been so compelling that each installment is memorialized as part of a more historically relevant whole. But Canelo-GGG III concluded not with an exclamation point, but with a simple period. It was a lesser version of the two preceding segments, the first being a disputed split draw on Sept. 16, 2017 (many ringside reporters thought Golovkin deserved to win what had been a very competitive bout) and a similarly engrossing do-over on Sept. 15, 2018, in which Alvarez came away with a majority-decision win.
The second fight was delayed after Alvarez twice tested positive for the banned substance clenbuterol, which he claimed was the result of ingesting contaminated Mexican beef, resulting in a six-month suspension handed down by the Nevada State Athletic Commission. Golovkin disputed that ascertainment, unequivocally stating his opinion that Canelo was a cheater. That led to both men developing harsh feelings toward the other, with Alvarez going so far as to say he "hated" GGG and would make him wait, possibly forever, for the third meeting he so obviously wanted. Thus was Saturday's archrivalry-concluding showdown left to simmer on the back burner for four years, which now would seem to have had a more deleterious effect on GGG.
But that does not detract from what Golovkin brought to the table when he was blasting his way through the middleweight division as few champions have, matching Bernard Hopkins' record of 20 successful defenses along the way. If historians want to place Sugar Ray Robinson, Carlos Monzon, Marvelous Marvin Hagler and Hopkins higher based on quality of opposition, fine, but there can be no argument that the manner in which GGG starched his lengthening list of victims was highly impressive.
Longtime HBO blow-by-blow announcer Jim Lampley several years ago paid Golovkin a massive compliment when he called him the "most consistently hard puncher" he had seen over an extended period, more so than even the vaunted likes of Foreman, Mike Tyson, Wladimir Klitschko, Thomas Hearns and Julian Jackson.
"I think it's more interesting when somebody has consistent punching power over the course of a long career in a weight class the way Gennadiy did," Lamps commented. "The fact he weighed in hundreds of times as an amateur and a profession at the same weight, 160 pounds, makes the retention of his punching power exciting, not to mention some of the cartoon-style knockouts he produced."
If he truly intends to remain active as a fighter, even if only a facsimile of his battering-ram best, it is entirely possible that Golovkin can remain a factor in his preferred comfort zone of middleweight for a couple of more years. Jermall Charlo, Demetrius Andrade, Jaime Munguia, Chris Eubank Jr. and Carlos Adames are all in that division, and there is always the possibility that junior middles Jermell Charlo, Brian Castano, Sebastian Fundora and Tim Tszyu could move up. If fans of GGG close their eyes and imagine a best-case scenario for him moving forward, it might be for him to replicate what Hopkins did after the second of his back-to-back losses to Jermain Taylor (the first of which was at age 40), which was to move to another weight class (light heavyweight), win a world there twice and fight on for another 12 years. If it happened once, hey, maybe it could happen again.
The options for Alvarez are even more expansive. He has been a world champion at 154, 160, 168 and 175 pounds and is not averse to going wherever the biggest, highest-paying and most-legacy-enhancing fights are. He has professed to want another shot at Bivol (20-0, 11 KOs), should he get past his Nov. 5 clash with Gilberto "Zurdo" Ramirez (44-0, 30 KOs), which some would say is inadvisable the way their first meeting went, or he can remain at super middle and throw hands with the formidable David Benavidez (26-0, 23 KOs), arguably an even more attractive pairing. Unlike Golovkin, however, Canelo can't afford any more hints of slippage; he has been to the top of the P4P mountain and wants to enjoy that vista again, and for a long time.
Photo credit: Al Applerose
Bernard Fernandez, named to the International Boxing Hall of Fame in the Observer category with the Class of 2020, was the recipient of numerous awards for writing excellence during his 28-year career as a sports writer for the Philadelphia Daily News. Fernandez's first book, "Championship Rounds," a compendium of previously published material, was released in May of last year. The sequel, "Championship Rounds, Round 2," with a foreword by Jim Lampley, is currently out. The anthology can be ordered through Amazon.com and other book-selling websites and outlets.
To comment on this story in the Fight Forum CLICK HERE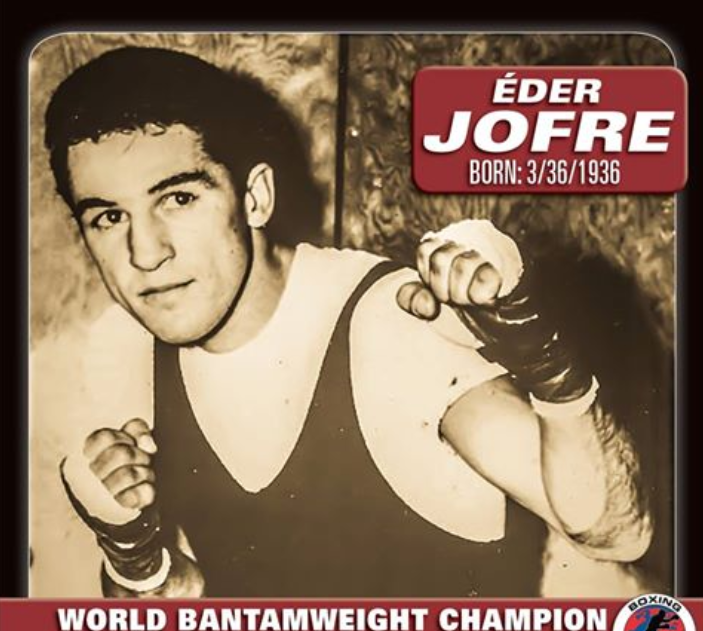 "I just thrill at that boy's performance. He is a marvel of boxing perfection. There is nothing he cannot do." – Barney Ross.
Between 1957 when he turned professional and 1965 when Fighting Harada caught up with him, Eder Jofre was 46-0-3. He reached heights that so few fighters have reached that you could probably name them without straining. He passed away this morning in Sau Paulo, Brazil, from pneumonia aged eighty-six. He had been hospitalised since March.
To say that his was a life well lived is an understatement.
Jofre was born in Sau Paulo in 1936, a decade that reflected this one in that it was a time of great political upheaval in his beloved Brazil, the thirties seeing the end of the Brazilian Republic, a communist uprising, a fascist uprising, and iterations of new constitutions peeled off like playing cards. It seemed to be sport, not politics that drove Jofre's people though and his father had tried a fair hand at amateur boxing, later joining his brother to become a coach. The stars aligned and a fistic immortal rose from Brazil's political ruins.
"At a young age," wrote Chris Smith, author of the definitive Jofre biography Brazil's First Boxing Champion, "[his father] put the gloves on Eder and started teaching him techniques and punching patterns…it wasn't long before little Eder was jumping rope with the professionals."
By the time he was seven years old, he was training like an amateur boxer and soberly asking his father's permission to thrash school bullies. By the age of sixteen he was fighting as an amateur and in 1956 he was a part of the Brazilian Olympic team that travelled to Melbourne, Australia where he was eliminated before the medals by Chilean Claudio Barrientos – who would be stopped in eight rounds by Jofre when they met up again in the professional ranks.
Those professional ranks beckoned him a few months after his Olympic failure, the same time at which he decided to become a vegetarian, something he remained committed to until his death.  Early results were good. While Jofre was troubled by a tiny handful of South American draws, a local phenomenon that called for a wider separation of the fighters that was generally called for in the rest of the world, "O Galo De Ouro" as he would soon come to be known had set upon the road that would culminate in one of the finest runs in bantamweight and boxing history.
Another foible of the South American boxing landscape of the 1950s and 1960s was that in the unlikely event that you were able to free yourself from the massed banditry of the local toughs, you would often have to meet with ranked opposition before you were even allowed to contest for regional titles. Imagine the horror this notion would inflict upon the rather spoiled fighters of today, fighters who often achieve world championships without having to meet with the best.
For his part, Jofre ran up against the Filipino Leo Espinosa in June of 1959. Espinosa, a former flyweight, had extended the immortal Pascual Perez the full fifteen in 1956, even picking up a few rounds, before conquering a man who would soon be a fine champion in his own right, Pone Kingpetch, in 1957. He had a pedigree in excess of Jofre who had boxed just twenty-five contests.  Jofre admitted to his father before this fight that he was afraid, and his father suggested they cancel.
"No.  That's the way it is.  Afraid or not, I am fighting."
Such was his life.
It was not just Jofre's career which was in its infancy but also the boxing in Brazil – Espinosa seems to have been only the second world-class fighter to visit the country and so as Eder went, so did boxing in Brazil. Jofre did not let his countrymen down. In the fifth he dropped the visiting Filipino with a gorgeous left hook – there is a famous photograph of Jofre bouncing, looking away from his fallen foe, his feet not touching the ground, frozen with both feet an inch above the canvas, floating. Espinosa got his disorganised legs under him and although he remained cool as Jofre's battle-fever and inexperience showed, there was little likelihood of his winning after suffering such a blow. Jofre had graduated in a ten-round decision.
This set him loose on the trail of the South American Bantamweight title, a far more worthy, storied championship than it is today and held by the world-ranked Argentine Ernesto Miranda. For those who are not aware, Argentina-Brazil is as great a sporting rivalry as exists and his series with Miranda was the key rivalry of the first half of Jofre's career. The two had met twice in 1957, registering a pair of draws before their respective careers diverged, and now they were to settle matters for the title. Their third fight, in February of 1960, was a strange affair in which Eder fought aggressively but was made to miss by Miranda, who never looked like winning but who boxed carefully enough to undermine Jofre's offence.
This lack of aggression makes Miranda's behaviour prior to their fourth encounter a few months later even stranger. Miranda behaved like a man fueled by hate, even stooping so low as to send insulting letters to Jofre's wife and family. One must be wary of projecting on to great historical figures in unpicking their motives but here it seems to me is a key moment for Jofre. His bad intentions seem to me to have been unlocked by Miranda, not just in the fourth and final fight of their rivalry but for all time. Not even world-class opposition would be safe after this night.
It was not that Jofre was more aggressive than in their third fight, but rather he seems to have been more controlled. He missed less, countered more and made a backfoot fight impossible for Miranda.  They waged war with not a moment's doubt as to the outcome. It was Jofre in three. After destroying his rival in the ring, Jofre the man found it within himself to forgive Miranda for some obscene pre-fight behaviour and even take him into his confidences.
It was inevitable now that Jofre would receive a shot at the title although for the privilege, Jofre had to travel to Los Angeles where he dominated and stopped the overmatched Eloy Sanchez in November of 1960. A brief and disturbing brush with the Italian Mafia aside, the championship fight went off without a hitch. Jofre cheerly named the bantamweight title a wedding gift for his wife-to-be.
In 1961 Jofre was matched with the world-class Italian Piero Rollo. Rollo had been beaten before, but never stopped by punches – so brutally did Jofre handle him that he was unable to answer the bell for the tenth. It was a sensational display of total dominance.
"I am never in a hurry," Jofre explained, that control again.
"He is the best bantam in the world," offered a barely recognisable Rollo.
I submit that Jofre was by this point already technically complete. When he met Johnny Caldwell the following year – Caldwell, too, made the awful mistake of making his contest with Jofre personal – he was as beautifully balanced as it is possible for a fighter to be, almost never out of punching position, delivering on boxing's manual on shot after shot while also riffing on the classics. His uppercut, especially, was a thing of genuine beauty; Jofre could make space for that punch almost anywhere and throw it from unusual ranges and angles, making of it then a feint that certainly tied Caldwell in knots. An unbeaten Northern Irishman, it is hard to exaggerate just how tough this man was, but Jofre beat him so badly as to see him rescued by his distressed manager in the tenth.
The title picture, which had become confused by the retirement of Jose Becerra, was now clear – it was Jofre. Indisputably the world's number one bantamweight, he would remain so for the first half of the 1960s, dismissing Herman Marquez, Kat Aoki, and, against the man most likely to rule if Jofre had never been born, he repeated his 1960 knockout of Jose Medel, this time in just six rounds. In 1964 he turned in his last great winning performance against Bernardo Caraballo, one of the most underrated bantamweights of all and the most underrated bantamweight of the era. Caraballo, out of Colombia, passed away himself earlier this year, and just as Jofre led the charge for boxing in Brazil, so did Caraballo in his country.
In the 1960s, in their primes, they duke it out ring-centre for control, both stylists, both big for the weight, both hungry for personal and national glory. This, I suspect, is not a fight any 118lb man could win against Jofre and soon enough Caraballo is moving away square, disorganised, harassed.  He succumbed in seven.
Jofre spans the eras. When he won his titles he was boxing for the old incarnations, the NYSAC, the NBA, by the time he lost them, he was defending the WBC and WBA championships, certainty ebbed even as his greatness flowed. The wonderful Fighting Harada was the man who came for him, by then tight at the weight and giving up a clear style advantage to his Japanese foe, Jofre was still able to make the rematch razor-thin after dropping a clear decision in the first fight. More glory awaited at featherweight in something of a second career, but Jofre's best was behind him. He finally hung them up in 1976 during Muhammad Ali's second reign; when he turned professional, Rocky Marciano had just retired.
This is a very short version of a very great ring-career. What is not posited here is his personal life. Eder's was rich. He was happily married to Cidinha for more than fifty years; he had a close relationship with his children, who travelled with him, not least in his twilight years when Jofre revisited the site of his title-winning fight with Eloy Sanchez. He lived a life any one of us could be proud of after boxing, working in politics and Brazilian civil service, continuing to make friends right up until the very end.
I spoke to author Chris Smith about his enduring memory of Jofre, with whom he worked closely on their recently published book.
"A year ago, I had the pleasure of hosting him and his two kids and I asked him a few times "how are you feeling champ?" And he'd always respond "very, very happy."  He told me he was the happiest person in the world."
Beat that.
To comment on this story in the Fight Forum CLICK HERE
Atlantic City Boxing Hall of Fame Returns plus Local Philly Fight News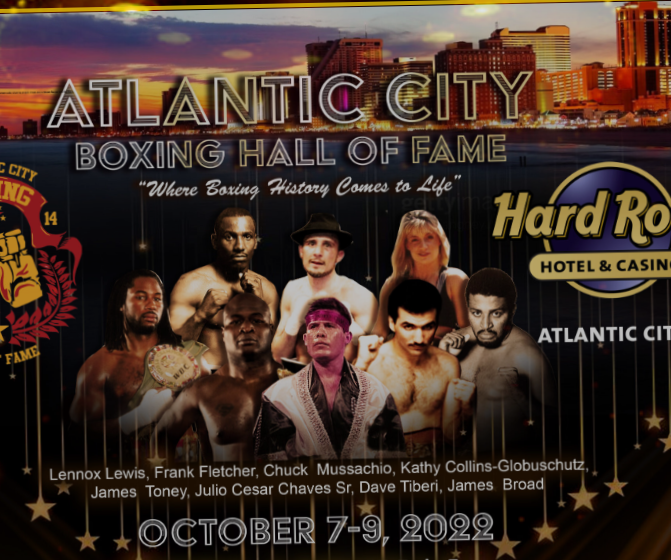 Still coming out of a global pandemic which suspended the 2020 ceremony and forced a limited version of the celebratory weekend last year, 2022 marks not only a return to normalcy for the Atlantic City Boxing Hall of Fame (ACBHOF), but it gives a chance for fans to get the full interactive experience. This year, for the first time, all of the weekend's festivities including the Induction Ceremony on Sunday, Oct. 9, will take place at one location, the Hard Rock Hotel and Casino.
"This year we are really excited about the new things we have to offer fans, while we continue to deliver the type of access we've become known for," states ACBHOF founder Ray McCline. "We want fans to understand that this weekend [second weekend of October] is going to be our home from now on. Working with Hard Rock has been special, and they've helped us with a lot of the logistics to really blend what they do [music entertainment] with the sports world and our event." After listening to McCline passionately speaking about his goal to bring the sports legends and legendary fights back to life for the proud resort city that has a special role in boxing history, a sense of relief can be heard from McCline regarding the past obstacles the ACBHOF has dealt with.
"So far each of the past weekends have had their hiccups, those things happen when you're hosting such a large event with so many moving pieces. This partnership allows for fans to come to one main site and stay immersed in all things boxing and music for the whole weekend," says McCline. From the opening V.I.P. party on Friday night to the memorabilia show that will feature interactive displays with some of the sport's legends teaching boxing basics, McCline wants the Hall of Fame Weekend to be known as the weekend when both fans and legendary boxers mingle in an up-close and personal way.
This year's class includes Lennox Lewis, James Toney, Frank Fletcher, Kathy Duva (promoter), Kevin Rooney Sr. (trainer), and Pat Lynch (manager). Except for the V.I.P. party that starts the weekend and the Induction Ceremony that closes out the weekend, every other event is free and open to the public, notes McCline.
Some tickets remain for the kick-off party and ceremony. Fans interested in attending can visit ACBHOF for all the details.
____
Marshall Kauffman's Kings Promotions is presenting a show tonight (Saturday, Oct. 1) at Philadelphia's 2300 Arena featuring bantamweight standout Christian Carto (19-1, 13 KOs) taking on his toughest test since his return. He battles Argentina's Hector Sosa (14-1, 8 KOs) the former South American super bantamweight champion. Carto is always in fan-friendly fights and with a victory over Sosa can reemerge as a potential world championship challenger soon.
Light heavyweight Atif Oberlton (6-0, 5 KOs) returns to action in the co-feature. Oberlton was an accomplished amateur and many local boxing observers are dubbing the Philadelphian a future world champion.
Next weekend, on Friday night October 7th, several staples in Philadelphia boxing return to the Xcite Event Center at Parx Casino in Bensalem. Joe Hand Promotions and Joey "Tank" Dawejko (22-10-4, 13 KOs) are teaming up with Hall of Fame promoter Russell Peltz for a night of action featuring some of the best local talent.
Dawejko, a long-time fringe heavyweight contender from the Tacony section of the city fought off any talk of retirement on Sept. 1 when he scored a fourth-round stoppage over Mike Marshall (6-3-1, 4 KOs). Dawejko was back in the ring for the first time in seven months after deciding to make one final push towards heavyweight glory.
Dawejko takes on veteran Terrell Jamal Woods (28-53-9, 20 KOs) of Forrest City, AR, in a scheduled eight-round bout. Prior to his victory over Marshall, Dawejko contemplated hanging up his gloves in favor of the roofing business that he established this year. However, after a lengthy conversation with promoter Russell Peltz, the two agreed to team up again for one last run in the sport. At just 32 years old, Dawejko has had a fruitful career and not just from a financial standpoint. He has competed all over the world and has never turned down an opportunity at a big fight, or to join top contenders and champions in their training camps.
Many of Dawejko's major career opportunities were taken at the last minute. This last push by him is about finally reaching for the one thing missing from his professional career, a gold belt that he can display that signifies that he was at one point one of the best heavyweights on the planet. Against Marshall he displayed fast hands and pin-point accuracy and his fight against Woods on Oct. 7 should be no different in terms of action and his progression.
To comment on this story in the Fight Forum CLICK HERE
Avila Perspective, Chap. 205: Zurdo Ramirez and More SoCal Fight Talk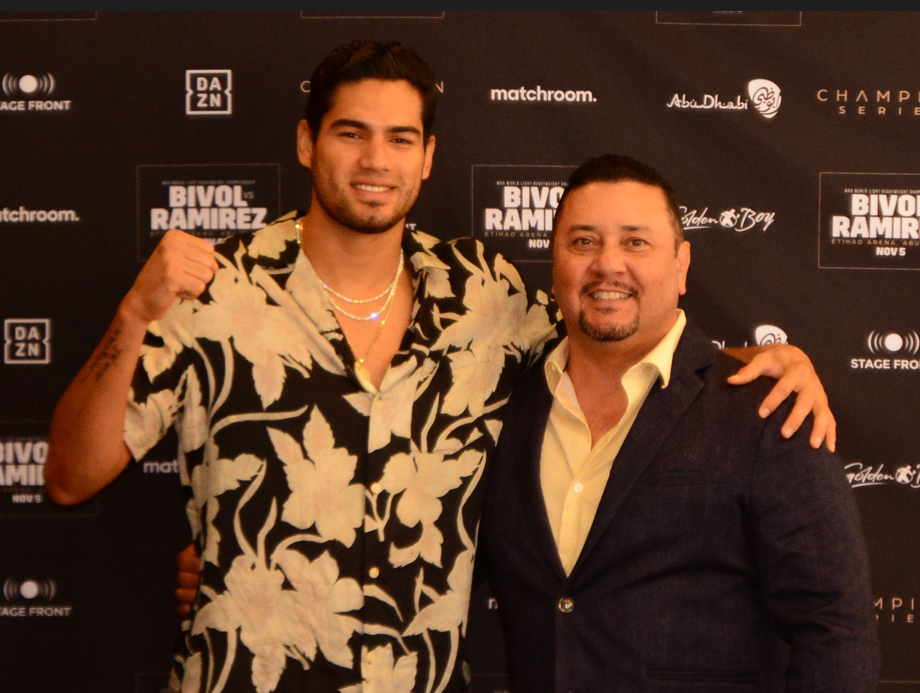 Southern California gyms are heating up even more than usual with major prize fights on the horizon in October.
Gilberto "Zurdo" Ramirez greeted media in downtown Los Angeles recently to chat about his upcoming light heavyweight world championship challenge against WBA titlist Dmitry Bivol in Dubai.
Usually, downtown L.A. is busy with walking and driving traffic, but things are not completely back to normal says the security officer at the Golden Boy Promotions headquarters. The pandemic is still in effect to a small degree.
Mexico's Ramirez (44-0, 30 KOs) signed to meet Russia's Bivol (20-0,11 KOs) on Nov. 5, at Abu Dhabi, United Arab Emirates. It's a battle of undefeated light heavyweights and round two of Mexico versus Russia.
It was a mere five months ago that Bivol hung a loss over Mexico's number one fighter Saul "Canelo" Alvarez. Now he meets Ramirez who is several inches taller than Canelo.
Ramirez (pictured with Golden Boy Promotions president Eric Gomez) trains in Los Angeles and signed with Golden Boy primarily for one reason: he wanted a crack at stardom and to fight a world champion with clout. Enter Bivol who slapped Alvarez around for 12 rounds. Neither fighter was ever in danger of going down. Bivol won by unanimous decision.
Many say Bivol was too big for Alvarez, but I think Canelo simply has slipped a little in terms of preparing properly. I call it the "silk pajama syndrome."
It's hard to get up at 5 a.m. and train when you sleep in silk pajamas. Ever since Alvarez began hanging out with the yacht club guys and playing golf on a regular basis, he's lost that hunger. If you're a prizefighter, hunger is everything.
Canelo admits he plays golf almost every day including during his training periods. He's also been seen attending Del Mar Racetrack to watch the ponies. Upper crust kind of stuff.
Ramirez, on the other hand, though he doesn't appear like the usual Mexican roughneck, has a certain schoolboy kind of look. No one would ever guess he comes from a rough Sinaloa upbringing.
Even his manner of talk has a gentle charm.
'I feel happy and excited to fight for the title with Dmitry Bivol," said Ramirez inside the Golden Boy headquarters. "I'm ready to show in this fight what I can really do. I'm ready for whatever he brings to the ring."
Both Bivol and Ramirez have sparred before.
"We didn't do a lot of sparring," said Ramirez, adding that it was enough to surmise what to expect when they meet in November.
Another who sparred Ramirez is former two-time super middleweight titlist David Benavidez. Both sparred recently and when asked who was better, Ramirez leaned toward Benavidez.
Interesting.
Zurdo and Benavidez also want a crack at Canelo the Golden Fleece of boxing. But the red head from Guadalajara has balked.
Though Benavidez and Ramirez are very good and capable of giving Canelo a struggle, neither has made a mark on sales. It's one thing to be undefeated; it's an entirely different thing to attract fans on television or sell tickets.
If Ramirez beats Bivol he is on the right path. If Benavidez, a very strong fighter, can attract a big name to enter the prize ring with him, then he too can entice Canelo to a showdown.
Jojo and Zepeda in San Diego
Another who appeared in Golden Boy headquarters were lightweight contenders Jojo Diaz and William Zepeda set to clash at the end of October in San Diego.
Diaz, a former American Olympian and two division world champion, last fought in December 2021 against Devin Haney before Haney became undisputed lightweight world champion. Diaz did far better than George Kambosos did against Haney.
The former featherweight and super featherweight world titlist showed moving up in weight was not a problem. And though he lost to Haney, he competed at a high level and landed solidly far more often than the Aussie did.
"When I looked at the tape I saw I could have done more," said Diaz (32-2-1, 15 KOs) about his loss to Haney.
Now, the South El Monte fighter has a Mexican fighter streaking toward the top in Zepeda.
Mexico City's Zepeda (26-0, 23 KOs) burst on the American scene two years ago during the height of the pandemic and soundly defeated two ranked American fighters in Roberto Ramirez and Hector Tanajara. Add two more knockout wins since then and the hard-hitting southpaw has blazed a path to the top.
Now its lefty versus lefty at the Pechanga Arena in San Diego on Saturday Oct. 29. Tickets are now on sale.
"I'm facing a very talented young fighter," said Zepeda, 26. "It can be a good victory to beat a former world champion."
Diaz, 29, expects and desires only hard fights.
"This fight represents everything. I'm coming off a defeat to Devin Haney," said Diaz. "I've got a big set of balls and love to fight the best."
It's a Golden Boy Promotions card and will also feature the return of welterweight contender Alexis Rocha.
Commerce Casino
Six undefeated prospects are set to perform on Saturday Oct. 1, at Commerce Casino in the City of Commerce, California. The boxing card is staged by Elite Promotions and Red Boxing and partnering with nonprofit Breast Cancer Angles from Los Alamitos, Calif. to support their cause.
Situated near East Los Angeles, the casino has recently become a popular location for local club shows. Doors open at 5:30 p.m.
Expected to perform on the fight card are Brandon Mendoza, Cristopher Rios, and William King. For more information contact: redboxinginternational@gmail.com.
Premier Boxing Champions
Super welterweight contenders Sebastian Fundora (19-0-1, 13 KOs) and Mexico's Carlos Ocampo (34-1, 22 KOs) meet on Saturday, Oct. 8, at Dignity Sports Park Complex in Carson, Calif. Showtime will televise the interim WBC super welterweight title fight.
Known as the "Towering Inferno" because of his 6'5" height, Fundora lives and trains in Southern California and defeated world title challenger Erikson Lubin by technical knockout last April in Las Vegas. He's trained by Ben Lira.
Tickets are on sale for the card that also features Dominican fighter Carlos Adames who upset Sergiy Derevyanchenko last December by majority decision. Adames meets Mexico's Juan Macias Montiel who battled Jermall Charlo 12 rounds and lost by decision for the WBC middleweight title.
SoCal note
Riverside's veteran trainer Willy Silva contacted us to mention his nephew Sebastian Estrada (4-0, 4 KOs) faces undefeated Fidel Samano Lopez (5-0, 4 KOs) in a battle of undefeated super lightweights on Saturday in San Luis Rio, Mexico. It's the main event.
Silva has trained many former top contenders such as Mauricio Herrera, Carlos Bojorquez, and Jose Reynoso the nephew of Saul "Canelo" Alvarez's first trainer Jose "Chepo" Reynoso.
Photo credit: Al Applerose
To comment on this story in the Fight Forum CLICK HERE