Lightweight Contender Jamaine Ortiz: Keeping Worcester Mass on the Boxing Map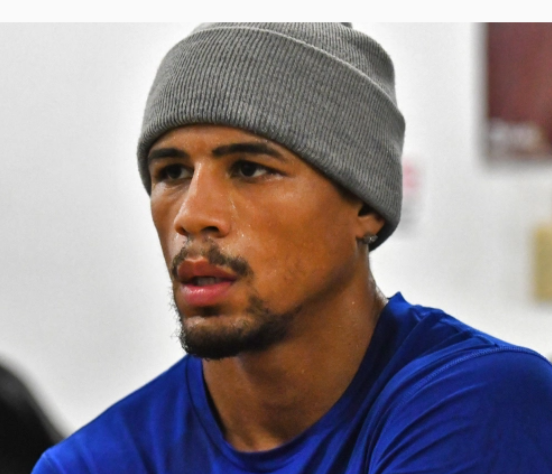 Lightweight Contender Jamaine Ortiz: Keeping Worcester Mass on the Boxing Map
The city of Worcester in the state of Massachusetts is already on the boxing map. It was put there in the 1930's when lefty Lou Brouillard moved to the city from Canada and fought all over New England including an astounding 25 times at Worcester's famous downtown Mechanics Hall.
The southpaw Brouillard won world titles at welterweight and middleweight and he fought 140 bouts from 1928 to 1940. Brouillard faced many of the biggest names of his era and he was finally inducted into the International Boxing Hall of Fame in 2006. It would be another ten years until the Worcester-born Jamaine Ortiz (now 16-1-1 with 8 KOs) would make his pro debut in 2016.
Ortiz has a long way to go until he reaches the level of accomplishment achieved by Brouillard but the 26-year-old lightweight is on his way. Last month in New York City at Madison Square Garden, Ortiz lost a very competitive 12-round unanimous decision to future Hall of Famer Vasyl Lomachenko. Their ESPN+ main event was close going into the 11th and 12th rounds.
It was almost the 'Upset of the Year' and it's an outside contender for 'Fight of the Year' honors. There's just something dramatic about a written-off opponent rising to the occasion and beyond.
One of the ringside judges had the fight scored 115-113 for Lomachenko, this tally accurately reflecting the in-ring reality. It was also written all over the bruised faces of both competitors.
Ortiz was a 10-1 underdog and considered by most to be a mere tune-up for Loma. Promoted by Jimmy Burchfield's CES, Ortiz has been getting work on Bob Arum's Top Rank shows and last May he upset former world champion Jamel Herring by unanimous decision in Las Vegas.
Before sharing the ring with Lomachenko for real, Ortiz had previously sparred with the Ukrainian sensation (in preparation for Loma's 2021 fight against Richard Commey) and his familiarity with Lomachenko's style was evident. Ortiz used his size, his youth and his fast jab to keep Lomachenko off his game until late in the fight when Loma's elite experience took over.
"Jamaine Ortiz is a top fighter who understands boxing," said Lomachenko after the tough win. Lomachenko's manager Egis Klimas also praised Ortiz and told him he will be a world champion someday.
For Ortiz, losing his undefeated record to a legend was invaluable and it will surely make him a much better fighter. The city of Worcester now looks forward to seeing just how far Ortiz can go.
If Ortiz does end up in the ring with undisputed lightweight champion Devin Haney, the boxing media will tell you it's a mismatch. I'm here to tell you that Ortiz can beat Haney. In the amateurs, he schooled Edgar Berlanga. Against the likes of George Kambosos, I'd also favor Ortiz.
Top Rank commentator, Hall of Famer Andre Ward has been impressed with Ortiz for a while now. During his thrilling 2021 draw against Joseph Adorno, Ward said Ortiz "outworked" his opponent and deserved to win. Ward also liked what he saw of Ortiz against Lomachenko.
Technically speaking, we all did. There were times when Ortiz was outright outboxing Loma.
WORCESTER WAVE
Known as "El Gallo" (The Rooster) Jose Antonio Rivera began his boxing career in 1992 and retired from legitimate competition in 2011. During this period of time (which is known as the "Worcester Wave") Rivera won WBA world titles at welterweight and junior middleweight.
Promoted by Don King, Rivera fought two of his four WBA title bouts at home in Worcester at the DCU Center, most notably in 2005 when he lost his WBA welterweight title by split decision to Luis Collazo.
Now a promoter in the city he helped keep on the boxing map, the 49-year-old Rivera has recently competed on his own Worcester Palladium club show undercards; once in 2018 and again in 2019. During his underwhelming but outstanding career, Rivera fought 17 of his 50 fights in Worcester where he remains a source of inspiration (and income) for local up-and-comers.
Also during the wave, popular heavyweight Bobby Harris and middleweight Sean "Irish Express" Fitzgerald were active on the scene. Harris was a beloved figure in Worcester while Fitzgerald fought the elder Peter Manfredo three times, drawing twice and beating Manfredo in 1992. Fitzgerald also faced Dana Rosenblatt and Roberto Duran, losing by knockout to both.
While the "Worcester Wave" was winding down another Worcester native was getting set to make his mark on the city—and on the world stage. In 2008, Edwin Rodriquez began power punching for pay and by 2011, "La Bomba" was blowing up on Showtime for national audiences.
Two years later in California, Rodriguez took his shot on HBO against then super-middleweight world champion Andre Ward. Rodriquez lost a wide unanimous decision but there can be no doubt that Rodriguez did his part to keep his city on the boxing map. Rodriquez retired from the sport in 2019 with a 31-2 record and he's now a gun-toting Massachusetts State Police Officer.
"Worcester can be and is becoming one of the most active boxing areas in the country," says Rivera's co-promoter and former Worcester fighter Chuck Shearns. "There are no less than four boxing gyms here in Worcester within five miles of each other and lots of professional and amateur boxers throughout our city. Many of them have developed into world class talents."
Every year, sweaty Worcester gyms churn out a new batch of young Golden Glove amateurs with big dreams of going pro and winning the world title for their city. The vast majority never make it out of the unpaid ranks and even fewer make it to the level of Rivera or Rodriguez.
A few years ago, the city put some of its hopes onto the shoulders of featherweight prospect Irvin Gonzalez. Gonzalez started his career going 12-0 before an upset loss to Elijah Pierce, a decision loss to Toka Kahn, and another surprising defeat to Edward Vazquez in Los Angeles. Unfortunately, Gonzalez has fallen right off the map and has not yet had a fight in 2022.
Another solid pro out of Worcester, Mass is light-heavyweight Kendrick Ball Jr. Ball is 19-1-2 with 12 knockouts and when he's not in the ring working on his craft, he's in the corner of Jamaine Ortiz working as his cutman. To be more effective in this capacity, Ball needs to invest in (or borrow) an enswell device.
To be honest, if Ortiz is to develop into a world champion, he will need to upgrade his entire corner. Ortiz needs a more seasoned trainer than Rockyson Gonzales and a better cutman than "Pepper" Ball. Hopefully his association with Bob Arum and Top Rank can help Ortiz improve his team.
ALL OVER THE MAP
For most boxing fans outside of New England, Worcester is known for its Worcester Centrum entertainment venue. Many boxing shows were hosted at the Centrum (Marvelous Marvin Hagler defended the world middleweight title there in 1983 against Tony Sibson) and that is where Sugar Ray Leonard was famously put onto his backside by Kevin Howard in 1984.
Today, the city's brightest hope in boxing is Ortiz. Boxrec rates Ortiz at #10 in their competitive lightweight rankings. The Transnational Boxing Ratings Board (TBRB) rates Ortiz at #9 in their respected ratings. And the WBC presently rates Ortiz at #8 at 135 lbs. Before his breakout performance against Lomachenko (a somewhat controversial decision) the then-undefeated "Technician" Ortiz promised anyone who could hear him that "The Matrix" would bring out the still unseen best in him. That absolutely happened. The soft- spoken Ortiz promised a "dog fight" and to the great surprise of nearly everybody, he delivered.
Jamel Herring posted his thoughts about #LomaOrtiz on Twitter: "It's crazy, people thought after my fight with Ortiz that he would be just an opponent for Lomachenko but I think he's proven that he has a great skill set."
Former lightweight champ Terence Crawford was also very impressed. "The fight was close enough to be a draw," tweeted Bud after the UD. "117-111, that's crazy."
Jamaine "The Technician" Ortiz is mapping out his future and keeping Worcester on the boxing map! And while he didn't quite "shock the world" against Lomachenko, he sure put it on notice.
***
Boxing Writer Jeffrey Freeman grew up in the City of Champions, Brockton, Massachusetts from 1973 to 1987, during the Marvelous career of Marvin Hagler. JFree then lived in Lowell, Mass during the best years of Irish Micky Ward's illustrious career. A former member of the Boxing Writers Association of America and a Bernie Award Winner in the Category of Feature Story Under 1500 Words, Freeman Covers Boxing for the Sweet Science in New England.
To comment on this story in the Fight Forum CLICK HERE
Ebanie Bridges Poised to Defend Her Title and Boost Her Brand in SanFran This Weekend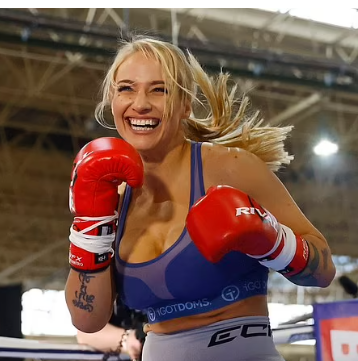 Ebanie Bridges opposes late sub Miyo Yoshida on the undercard of Saturday's Matchroom card in San Francisco featuring the WBC lightweight title fight between Regis Prograis and Devin Haney. It's doubtful that Bridges vs. Yoshida will steal the show (Prograis vs Haney is a compelling match-up), but it's a stone-cold lock that Bridges vs. Yoshida will steal the weigh-in. It goes at 1 pm Friday at the Chase Center and is open to the public.
This is all Bridges' doing. She can fight more than a little, as Damon Runyon would have phrased it, but is best known for turning up at weigh-ins in lingerie so sexy that Matchroom honcho Eddie Hearn averts his eyes to keep from blushing. Others can't keep their eyes off the 37-year-old, well-endowed Australian and on Friday the paparazzi will crash the scene to capture images that will be all over the internet within hours.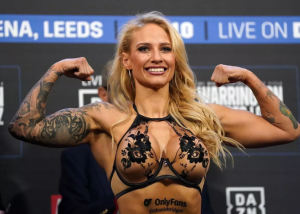 This doesn't sit well with a lot of people. Former opponent Shannon Courtenay, who saddled Bridges (9-1, 4 KOs) with her only defeat, chastised her for selling their fight for the wrong reasons and disrespecting the sport. Her most recent opponent, Shannon O'Connell, called her a skank and other terms of derision unfit for a family newspaper.
Bridges stopped her in the eighth round in what is her most gratifying win to date. "She made it personal," says Ebanie. "It felt good to make her eat her words."
Bridges, who set a withering pace, was making the first defense of the IBF bantamweight title she won with a comprehensive 10-round decision over Argentina's long-reigning Maria Cecilia Roman. Shannon O'Connell, a fellow Aussie, entered that bout on an 8-fight winning streak that included hard-earned decisions over Australian standouts Taylah Robertson and Cherneka Johnson.
So, although Bridges vs O'Connell was contested in Leeds, England, it was something of the culmination of an Australian round-robin tournament, and it would be Ebanie Bridges that emerged as the Queen Bee.
Bridges has a platform on Only Fans. Known for its "adult" content, the web site is also a place where B-list celebrities go to monetize their fan base by promising a closer look into their personal lives. For attractive female celebs, that usually means displaying more skin that can be found in generic publicity photos, but well short of hard-core. Current Only Fans performers include recording artist Cardi B, actress Denise Richards, the former spouse of Charlie Sheen, actress Drea de Matteo, best known for portraying Adriana on "The Sopranos," former "Baywatch" sex symbol Carmen Electra, boxer Mikaela Mayer, and former Miss USA Shanna Moakler who shares a daughter with Oscar de la Hoya.
Women that profit from cheesecake, to use an old word for racy photos, aren't known for having the brightest bulbs between their ears but Bridges, despite embracing her nickname, the Blonde Bomber, doesn't fit the stereotype. She's no bimbo.
Ms. Bridges has two college degrees, an undergraduate degree in math and a master's in secondary education. In her spare time, she finds solace in playing the piano and in drawing, a skill that she inherited from her father, a painter and commercial artist.
In her drawings, she is partial to British soccer coaches and athletes, in particular boxers. Some of her photos are embedded in her smart phone. These, I can attest, are very good. There was no mistaking her drawing of Sugar Ray Robinson. It ranked right up there with Stanley Weston whose illustrations adorned the covers of 57 issues of The Ring magazine.
Bridges is her own best publicist. It's an attribute she shares with UFC superstar Conor McGregor.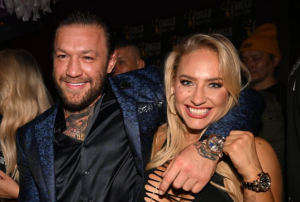 It comes as no surprise to learn that they are well-acquainted. Bridges and McGregor sat together at the first fight between Katie Taylor and Chantelle Cameron. She is a spokesperson for the latest product that McGregor is pushing, Forged Irish Stout, a brand of beer that debuted at the Black Forge Inn, the Dublin pub that McGregor owns.
"I love Conor," she says, "he's lovely," a rather odd adjective to apply to a man who once attacked a bus with a metal barricade at a UFC media event in Brooklyn, injuring three people.
"He's great for my brand," says Bridges of McGregor, "and I'm great for his brand."
Like it or not, this is the new world order. This reporter is old enough to remember when colleges and universities had football teams. Now they have football franchises, which isn't quite the same. A franchise requires a well-oiled marketing department to enhance the value of the brand.
Bridges got her first crack at a world title (the WBA version held by Shannon Courtenay) after only five pro fights against opponents who were collectively 12-25-5. Her opponent on Saturday, Miyo Yoshida, sports a 16-4 record and is coming off a loss.
This is fodder for critics of female boxing but, make no mistake, Bridges would be a tough out for any female bantamweight in the world and she has paid her dues. She had 30 amateur fights after previously training in karate, kickboxing, and Muay Thai. (In fairness to Matchroom's matchmaker, he salvaged Saturday's date for her, securing Yoshida after three previous opponents fell out.)
Looking ahead to 2024, Bridges envisions fighting England's Nina Hughes, the WBA belt-holder, and then Denmark's Dina Thorslund who owns the other two meaningful pieces of the bantamweight title. A match with Thorslund (currently 20-0, 8 KOs) with all four belts on the line would be a blockbuster and, by then, should it transpire, the Blonde Bombshell would undoubtedly be one of the most well-known boxers in the world.
To comment on this story in the Fight Forum CLICK HERE
A Paean to the Great Sportswriter Jimmy Cannon Who Passed Away 50 Years Ago This Week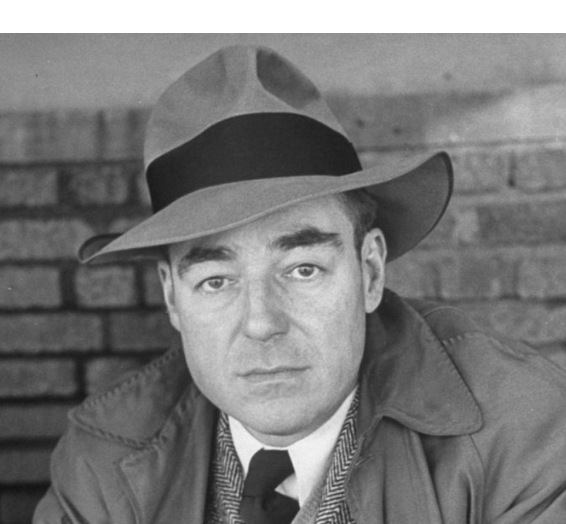 "Of all his assignments," said the renowned sportswriter Dave Anderson, "[Jimmy] Cannon appeared to enjoy boxing the most."
Cannon would have sheepishly concurred. He dated his infatuation with boxing to 1919 when he stood outside a saloon listening to a man with a megaphone relay bulletins from the Dempsey-Willard fight in faraway Toledo. His father followed boxing as did all the Irishmen in his neighborhood. For him, an interest in the sport of boxing, he once wrote, was like a family heirloom. But it became a love-hate relationship. It was Jimmy Cannon, after all, who coined the phrase "boxing is the red light district of sports."
This week marks the 50th anniversary of Jimmy Cannon's death. He passed away at age 63 on Dec. 5, 1973, in his room at the residential hotel in mid-Manhattan where he made his home. In the realm of American sportswriters, there has never been a voice quite like him. He was "the hardest-boiled of the hard-drinking, hard-boiled school of sports writing," wrote Darrell Simmons of the Atlanta Journal. One finds a glint of this in his summary of Sonny Liston's first-round demolition of Albert Westphal in 1961: "Sonny Liston hit Albert Westphal like he was a cop."
In his best columns, Jimmy Cannon was less a sportswriter than an urban poet. Here's what he wrote about Archie Moore in 1955 after Moore trounced Bobo Olson to set up a match with Rocky Marciano: "Someone should write a song about Archie Moore who in the Polo Grounds knocked out Bobo Olson in three rounds…It should be a song that comes out of the backrooms of sloughed saloons on night-drowned streets in morning-worried parts of bad towns. The guy who writes this one must be a piano player who can be dignified when he picks a quarter out of the marsh of a sawdust floor."
Prior to fighting in Madison Square Garden the previous year – his first appearance in that iconic boxing arena – Moore had roamed the globe in search of fights in a career that began in the Great Depression. Cannon was partial to boxers like Archie Moore, great ring artisans who toiled in obscurity, fighting for small purses –"moving-around money" in Cannon's words —  until the establishment could no longer ignore them.
Jimmy Cannon was born in Lower Manhattan. He left high school after one year to become a copy boy for the New York Daily News. In 1936, at age 26, the News sent him to cover the biggest news story of the day, the Lindbergh Baby kidnapping trial. While there he met Damon Runyon who would become a lifelong friend. At Runyon's suggestion, he applied for a job as a sportswriter at the New York American, a Hearst paper, and was hired.
During World War II, he was a war correspondent in Europe embedded in Gen. George S. Patton's Third Army. When he returned from the war, he joined the New York Post and then, in 1959, the Journal-American which made him America's highest-paid sportswriter at a purported salary of $1000 a week. His articles were syndicated and appeared in dozens of papers.
Cannon was very close to Joe Louis. He was the only reporter that Louis allowed in his hotel room on the morning of the Brown Bomber's rematch with Max Schmeling. Louis, he wrote, "was a credit to his race, the human race." It was his most-frequently-quoted line.
In an early story, Cannon named Sam Langford the best pound-for-pound fighter of all time. Later he joined with his colleagues on Press Row in naming Sugar Ray Robinson the greatest of the greats. As for the fellow who anointed himself "The Greatest," Muhammad Ali, Cannon profoundly disliked him. He persisted in calling him Cassius Clay long after Ali had adopted his Muslim name.
It troubled Cannon that Ali was afforded an opportunity to fight for the title after only 19 pro fights. Ali's poetry, he thought, was infantile. He abhorred Ali's political views. And, truth be told, he didn't like Ali because certain segments of society adored him. Cannon didn't like non-conformists – hippies and anti-war protesters and such. When queried about his boyhood in Greenwich Village, he was quick to note that he lived there "when it was a decent neighborhood, before it became freaky."
Cannon's animus toward Ali spilled over into his opinion of Ali's foil, the bombastic sportscaster Howard Cosell. "If Howard Cosell were a sport," he wrote," it would be roller derby."
Cannon frequently filled his column with a series of one-liners published under the heading "Nobody Asked Me, But…" His wonderfully acerbic put-down of Cosell appeared in one of these columns. But one can't read these columns today without cringing at some of his ruminations. He once wrote, "Any man is in trouble if he falls in love with a woman he can't knock down with one punch." If a newspaperman wrote those words today, he would be out of a job so fast it would make his head spin.
Similarly, his famous line about Joe Louis being a credit to the human race no longer resonates in the way that it once did. There is in its benevolence an air of racial prejudice.
Jimmy Cannon was a lifelong bachelor but in his younger days before he quit drinking cold turkey in 1948, he was quite the ladies man, often seen promenading showgirls around town. Like his pal Damon Runyon, he was a night owl. As the years passed, however, he became somewhat reclusive. The world passed him by when rock n' roll came in, pushing aside the Tin Pan Alley crooners and torch singers that had kept him company at his favorite late-night haunts.
Cannon's end days were tough. He suffered a stroke in 1971 as he was packing to go to the Kentucky Derby and spent most of his waking hours in his last two-plus years in a wheelchair. Fortunately, he could afford to hire a full-time attendant. In 2002, he was posthumously elected to the International Boxing Hall of Fame in the Observer category.
Jimmy Cannon once said that he resented it when someone told him that his stuff was too good to be in a newspaper. It was demeaning to newspapers and he never wanted to be anything but a newspaperman. He didn't always bring his "A" game and some of his stuff wouldn't hold up well, but the man could write like blazes and the sportswriting profession lost a giant when he drew his last breath.
To comment on this story in the Fight Forum CLICK HERE
—
Arne K. Lang is a recognized authority on the history of prizefighting and the history of American sports gambling. His latest book, titled Clash of the Little Giants: George Dixon, Terry McGovern, and the Culture of Boxing in America, 1890-1910, was released by McFarland in September, 2022.
Ryan "KingRy" Garcia Returns With a Bang; KOs Oscar Duarte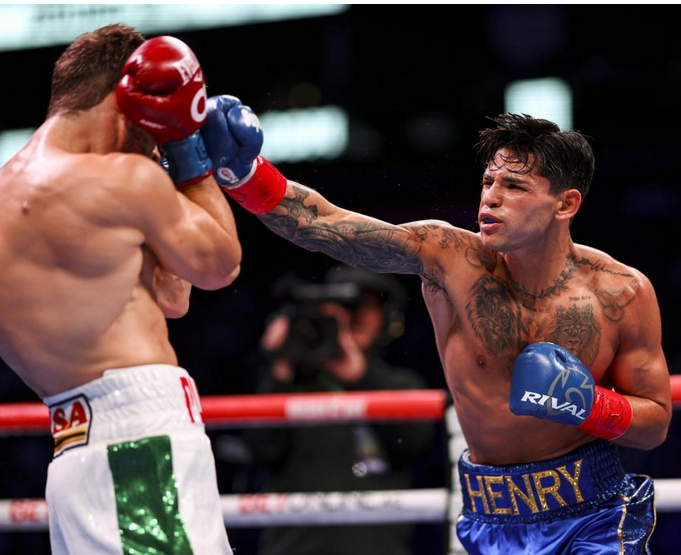 It was a different Ryan "KingRy" Garcia the world saw in defeating Mexico's rugged Oscar Duarte, but it was that same deadly left hook counter that got the job done by knockout on Saturday.
Only the quick survive.
Garcia (24-1, 20 KOs) used a variety of stances before luring knockout artist Duarte (26-1-1, 21 KOs) into his favorite punch before a sold-out crowd at Toyota Arena in Houston, Texas. That punch should be patented in gold.
It was somewhat advertised as knockout artist versus matinee idol, but those who know the sport knew that Garcia was a real puncher. But could he rebound from his loss earlier this year?
The answer was yes.
Garcia used a variety of styles beginning with a jab at a prescribed distance via his new trainer Derrick James. It allowed both Garcia and Duarte to gain footing and knock the cobwebs out of their reflexes. Garcia's jab scored most of the early points during the first three rounds. He also snapped off some left hooks and rights.
"He was a strong fighter, took a strong punch," said Garcia. "I hit him with some hard punches and he kept coming."
Duarte, an ultra-pale Mexican from Durango, was cautious, knowing full well how many Garcia foes had underestimated the power behind his blows.
Slowly the muscular Mexican fighter began closing in with body shots and soon both fighters were locked in an inside battle. Garcia used a tucked-in shoulder style while Duarte pounded the body, back of the head and in the back causing the referee to warn for the illegal punches twice.
Still, Duarte had finally managed to punch Garcia with multiple shots for several rounds.
Around the sixth round Garcia was advised by his new trainer to begin jabbing and moving. It forced Duarte out of his rhythm as he was unable to punch without planting his feet. Suddenly, the momentum had reversed again and Duarte looked less dangerous.
"I had to slow his momentum down. That softened him up," said Garcia about using that change in style to change Duarte's pressure attack. "Shout out to Derrick James."
Boos began cascading from the crowd but Garcia was on a roll and had definitely regained the advantage. A quick five-punch combination rocked Duarte though not all landed. The danger made the Mexican pause.
In the eighth round Duarte knew he had to take back the momentum and charged even harder. In one lickety-split second a near invisible counter left hook connected on Duarte's temple and he stumbled like a drunken soldier on liberty in Honolulu. Garcia quickly followed up with rights and uppercuts as Duarte had a look of terror as his legs failed to maintain stability. Down he went for the count.
Duarte was counted out by referee James Green at 2:51 of the eighth round as Garcia watched from the other side of the ring.
"I started opening up my legs a little bit to open up the shot," explained Garcia. "When I hurt somebody that hard, I just keep cracking them. I hurt him with a counter left hook."
The weapon of champions.
Garcia's victory returns him back to the forefront as one of boxing's biggest gate attractions. A list of potential foes is his to dissect and choose.
"I'm just ready to continue to my ascent to be a champion at 140," Garcia said.
It was a tranquil end after such a tumultuous last three days.
Other Bouts
Floyd Schofield (16-0, 12 KOs) blitzed Mexico's Ricardo "Not Finito" Lopez (17-8-3) with a four knockdown blowout that left fans mesmerized and pleased with the fighter from Austin, Texas.
Schofield immediately shot out quick jabs and then a lightning four-punch combination that delivered Lopez to the canvas wondering what had happened. He got up. Then Scholfield moved in with a jab and crisp left hook and down went Lopez like a dunked basketball bouncing.
At this point it seemed the fight might stop. But it proceeded and Schofield unleashed another quick combo that sent Lopez down though he did try to punch back. It was getting monotonous. Lopez got up and then was met with another rapid fire five- or six-punch combination. Lopez was down for the fourth time and the referee stopped the devastation.
"I appreciate him risking his life," said Schofield of his victim.
In a middleweight clash Shane Mosley Jr. (21-4, 12 KOs) out-worked Joshua Conley (17-6-1, 11 KOs) for five rounds before stopping the San Bernardino fighter at 1:51 of the sixth round. It was Mosley's second consecutive knockout and fourth straight win.
Mosley continues to improve in every fight and again moves up the middleweight rankings.
Super middleweight prospect Darius Fulghum (9-0, 9 KOs) of Houston remained undefeated and kept his knockout string intact with a second round pounding and stoppage over Pachino Hill (8-5-1) in 56 seconds of that round.
Photo credit: Golden Boy Promotions
To comment on this story in the Fight Forum CLICK HERE