The WBC Wasn't the First Entity to Overturn the Result of the Fenech-Nelson Fight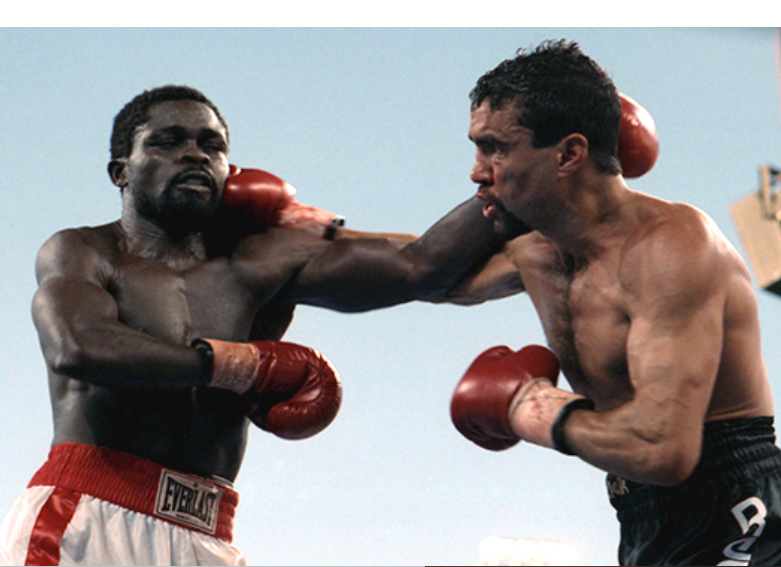 The June 28, 1991 fight card in the outdoor arena at the Mirage in Las Vegas was a star-studded event. There were dozens of celebrities in attendance including such notables as filmmakers Steven Spielberg and Spike Lee, actors Clint Eastwood and Bruce Willis, comedian Robin Williams, rapper M.C. Hammer, celebrity chef Wolfgang Puck, Michael Jordan, and Rev. Jesse Jackson.
There were also a good smattering of Australians. They came not to see the main event, the rematch between Mike Tyson and Razor Ruddock, but in hopes of seeing their countryman Jeff Fenech become the youngest fighter to win a world title in four weight classes. Fenech, 27, had won world titles at 118, 122, and 127 pounds. His opponent Azumah Nelson, 32, the pride of Ghana, was the reigning WBC super featherweight (130-pound) champion.
This reporter was there too.
Fenech vs. Nelson was an entertaining scrap. Fenech started slowly and things looked dismal for him when he suffered a cut over his left eye in round three. But he was the aggressor throughout, repeatedly cornering Nelson and then leaning into him, flailing away with body punches that landed with a conspicuous thud. Azumah rallied in the 11th, but the Aussie dominated the final round wherein he landed the best punch of the fight, staggering Nelson with a hard right to the jaw.
This thin summary was pieced together from old newspaper reports. Looking back 31 years, I have no memory of what transpired inside the ropes. There's just too much clutter between my ears. But I distinctly remember my reaction when the decision was announced as a draw. "Bull****," I exclaimed to no one in particular, a bleat drowned out by a concordant chorus of boos.
Las Vegas judge Jerry Roth scored the fight 115-113 for Fenech. His Las Vegas counterpart Dave Moretti had it 114-114, but Puerto Rican judge Miguel Donate saw a different fight. He had it 116-112 for Azumah Nelson, thereby enabling Nelson, co-managed by Carl King, stepson of promoter Don King, to retain his title. (For what it's worth, Dr. Ferdie Pacheco, working for Showtime, had it 117-111 for Fenech, awarding him nine rounds.)
In Australia, the decision was greeted with a spasm of outrage. People screaming for justice lit up the switchboard at the headquarters of Sky Channel which had beamed the fight to more than two thousand outlets across the country. RIPPED OFF AGAIN, LES DARCY, PHAR LAP AND NOW JEFF FENECH blared the headline over Roy Masters' story in the Sydney Morning Herald. (The legendary Darcy was blackballed by American boxing promoters after leaving Australia to avoid conscription in World War I. He died in 1917 at age 21 in Memphis, Tennessee, from blood poisoning attributed to a botched tooth extraction. Phar Lap, although bred in New Zealand, competed extensively in Australia and came to be recognized as that country's greatest thoroughbred race horse. Shipped to America, he died in 1932 in his stall in Atherton, California, under mysterious circumstances three weeks after setting a track record in the rich Agua Caliente Handicap at Tijuana.)
The Fenech-Nelson fight of 1991 was in the news again last week. At its annual convention held this year in Acapulco, Mexico, with Jeff Fenech in attendance, the World Boxing Council retroactively overturned the result and awarded Fenech his fourth title. According to WBC president Mauricio Sulaiman, a special panel was convened to review the tape of the fight and the panelists were universally in accord that Fenech had been wronged.
This news transported me back to the day that I learned to my mortification that my first boxing book was smudged by more than a few errors. The revelation came in an otherwise generous review of my book by a good friend, Hall of Fame boxing writer Graham Houston.
The book — "Prizefighting: An American History" (released in hardback by McFarland in 2008 and re-released in paperback in 2020) – included two chapters on Mike Tyson, one of which included a passing reference to the Fenech-Nelson fight, an encounter, I wrote, that "produced catcalls when the decision was awarded to Nelson."
But, of course, the decision was not awarded to Nelson; it was a draw. I was right there when it happened and I still got it wrong.
There are no small errors in a book of non-fiction. Every error degrades the credibility of the author. I wish that I could go back and change it. And there's little consolation in the fact that the WBC vindicated me last week, in a fashion, by ordaining Jeff Fenech the winner. It was a dumb ruling that potentially opens a Pandora's Box. (Will the Mexico City-based WBC now overturn the bad decision that enabled Jaime Munguia to keep his title when he fought Dennis Hogan in 2019? Fat chance.)
History would show that Jeff Fenech and Azumah Nelson would fight twice more. Eight months after their Las Vegas episode they locked horns again, this time before 30,000-plus at a stadium in Melbourne and to the great dismay of the Aussies, their hero left his fight in the gym. Fenech was knocked down in each of the first two frames and there wasn't a whimper of protest when U.S. referee Arthur Mercante stepped in and waived the fight off in the eighth round.
Fighting on his home turf, Fenech was considered such a shoo-in that Fenech-Nelson II was named The Ring magazine Upset of the Year, a distinction that was quite an anomaly; a very rare instance of a monster upset forged by the title-holder rather than the challenger.
Sixteen years later, long after both fighters had retired and after both had been ushered into the International Boxing Hall of Fame, they shed the cobwebs and went at it again. Fenech prevailed, winning a 10-round decision.
The revisionists at the WBC may disagree, but by winning the quasi-rubber match, Fenech knotted the series at 1-1-1.
Arne K. Lang's latest book, titled "George Dixon, Terry McGovern and the Culture of Boxing in America, 1890-1910," has rolled off the press. Published by McFarland, the book can be ordered directly from the publisher (https://mcfarlandbooks.com/product/c…-little-giants) or via Amazon.
To comment on this story in the Fight Forum CLICK HERE
Australia's Liam Paro Aims to Steal the Show on the Haney-Prograis Card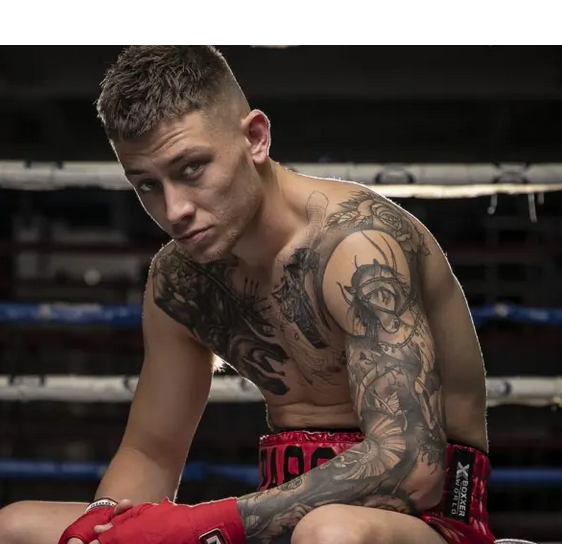 These are heady days for the sport of professional boxing in Australia. Cruiserweight Jai Opetaia is the best fighter in his weight class. Tim Tszyu is a major star in the Land Down Under and his younger brother Nikita is lapping at his heels. Then there's undefeated super lightweight Liam Paro, 27, whose profile will grow immensely if he can get past Cleveland's Montana Love when they meet on Dec. 9 in San Francisco at the home of the Golden State Warriors. It's a 12-rounder that will serve as the chief supporting bout to the showdown between Devin Haney and Regis Prograis.
Forget the fact that Matchroom honcho Eddie Hearn has seen fit to dress up this fight with some frivolous title; this is a good match-up. An undefeated southpaw, Liam Paro (23-0, 14 KOs) is coming off the best win of his career. Montana Love (18-1-1, 9 KOs) would likely be undefeated too if not for a bizarre disqualification in his most recent bout. He too is a southpaw.
Paro turned heads in is his last outing when he scored a brutal, one-punch, opening-round knockout of countryman Brock Jarvis. Paro was favored, bur Jarvis, a disciple of Jeff Fenech, Australia' most famous living boxer, was accorded the better chance of ending the bout with one punch.
Paro vs. Jarvis, staged in October of last year in South Brisbane, marked Matchroom's first foray into Australia. Paro has had two fights fall out in the interim. The British Boxing Board of Control pulled Paro out of a March 11, 2003 match in Liverpool, England with Robbie Davies Jr. when a routine but mandatory scan showed evidence of a facial fracture. Three months later, Paro was forced to withdraw from a title fight with WBA 140-pound belt-holder Regis Prograis because both of his Achilles tendons were inflamed, compromising his mobility.
The facial fracture, insists Paro, was a false positive; the test was defective. As for the Achilles issue, that's cleared up. "It's in my rear-view mirror," he says.
Paro was raised in the city of Mackay which is near the Coral Sea coast of Queensland. His ancestors migrated here from Italy to work in the sugarcane fields. Unlike so many other dads, his father Errol, a welder in the steel industry, has no boxing background and isn't directly involved in preparing his son for a fight. Errol is with his son in Las Vegas at the moment (Errol's first visit to Sin City) and will be there with several other family members to cheer on Liam when he resumes his career in San Francisco on Dec. 9.
When healthy, Liam Paro can usually be found training at the Top Rank Gym in Las Vegas. The boxing infrastructure of the Southern Nevada city draws prizefighters from around the world. He has sparred extensively with Jamel Herring and has boxed with the likes of Shakur Stevenson and Devin Haney. Practicing his craft with fighters of that caliber may give him an edge when he touches gloves with Montana Love.
Montana Love
Montana Love came to the fore in August of 2021 when he stepped up in class and upset Russian tough guy Ivan Baranchyk on a Jake Paul promotion in Cleveland. Baranchyk's handlers stopped the one-sided affair after seven rounds. Five weeks later, Love signed with Matchroom.
What followed was a third-round blast-out of 29-1 Carlos Diaz followed by a hard-earned 12-round decision over Gabriel Gollaz Valenzuela and then a match with Australia's Steve Spark which marked Love's debut as a top-of-the-marquee attraction in his hometown.
The fight between Love and Spark was even on two scorecards after five rounds. In the sixth, shortly after a clash of heads left Love with a bad cut over his left eye, Love pushed Spark out of the ring and was immediately disqualified by referee David Fields. It was a controversial call; a "terrible call" in the words of Eddie Hearn. For the record, after flipping over the top strand of rope, Spark landed on his feet and was fit to continue.
A 28-year-old father of three, Love has always had the vibe of a hungry fighter, a residue of the adversity he has had to overcome. His father died when he was three years old and his mother was only 38 when she passed away from colon cancer. In 2015, as his career was just getting started, he was remanded to prison on theft- and drug-related charges and served 16 months.
It's rather ironic that Love will be facing an Australian opponent on American soil in back-to-back fights. Needless to say, he hopes that the second installment will go better than the first.
To comment on this story in the Fight Forum CLICK HERE
The Murder of Samuel Teah Calls to Mind Other Boxers Who Were Homicide Victims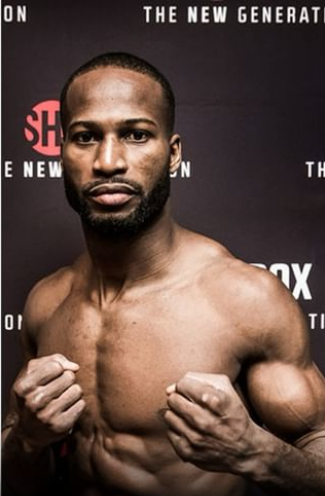 There will be a boxing show this Friday at Philadelphia's 2300 Arena, a low-budget card featuring the return of former IBF 130-pound world title-holder Tevin Farmer. During the event, there will assuredly be a somber moment when those in attendance stand and silently pay homage to Samuel Teah as the timekeeper tolls the traditional 10-bell farewell. Teah passed away last week on Black Friday, Nov. 24, another victim of America's epidemic of gun violence. He was 36 years old.
Teah was shot in the mid-afternoon during an altercation that spilled onto the sidewalk of a street in Wilmington, Delaware, and died at a Wilmington hospital. As of this writing, there's been no arrest, but the shooting was apparently not random. A bus driver for the Southeastern Pennsylvania Transit Authority, Teah was purportedly in Wilmington (roughly 35 miles from his home in Philadelphia) to visit the mother of his child.
Samuel Teah fought as recently as this past May when he suffered a shocking defeat at the hands of journeyman Andrew Rodgers at a show in Pennsylvania's Newton Township, reducing his record to 19-5-1. Two months earlier he had spoiled the undefeated record of Enriko Gogokhia, an Egis Klimas fighter (think Oleksandr Usyk and Vasily Lomachenko) on a card in Ontario, California. This embellished his reputation as a spoiler. Earlier in his career, he had spoiled the undefeated record of O'Shaquie Foster, winning an 8-round unanimous decision over the man that currently reigns as the WBC world super featherweight champion.
What made Teah's death more tragic, if that were possible, were all the tragedies that he had overcome. He was born in Liberia when that country was embroiled in a civil war. The family escaped to a refugee camp in Ghana and eventually reached the United States, settling first in New York and then Philadelphia. On the day after Christmas in 2008, when Teah was 21 and working at a Home Depot, he lost six members of his family in a fire that swept his mother's West Philadelphia duplex after a kerosene heater exploded.
For some, Teah's violent death may call to mind the murder of another Philadelphia boxer, Tyrone Everett.
That's an awkward comparison.
Tyrone Everett was a world-class fighter. Six months before he was shot dead by his girlfriend in May of 1977, Everett, then 34-0, lost a 15-round split decision to Puerto Rico's Alfredo Escalera in a failed bid to win Escalera's WBC junior lightweight title, a decision so rancid that it stands among the worst decisions of all time. Moreover, the circumstances of Everett's murder were sordid. His girlfriend, no stranger to the police, fatally shot him after finding him with a transvestite and there was heroin in the apartment they shared. (Editor's note: For more on this incident, check out the new book by TSS contributor Sean Nam: "Murder on Federal Street: Tyrone Everett, the Black Mafia, Fixed Fights, and the Last Golden Age of Philadelphia Boxing" available on Amazon).
Samuel Teah was no Tyrone Everett. A man of deep faith, Sam's positive attitude, despite all his tribulations, was infectious. "Everyone liked Teah," said prominent Philadelphia sports journalist Joe Santoliquito who, upon hearing of Teah's death, tweeted, "he will always have a special place in my heart."
While the circumstances are different in every case, Teah joins a long list of boxers who met a violent death. If we limit the list to fighters who were still active at the time of their passing, here are four that jump immediately to mind.
Stanley Ketchel
The fabled Michigan Assassin, Ketchel met his maker on Oct. 15, 1910, at a ranch in Conway, Missouri. In the immortal words of John Lardner, "Stanley Ketchel was twenty-four years old when he was fatally shot in the back by the common-law husband of the lady who was cooking his breakfast."
Battling Siki
Famed for knocking out Georges Carpentier when the "Orchid Man" held the world light heavyweight title, Siki was only 28 years old when he was gunned down in the Hell's Kitchen neighborhood of Manhattan on Dec. 15, 1925, but by then the Senegal-born Frenchman had already degenerated into a trial horse. Siki's body was found in the middle of the street with two bullets in his back fired at close range by an assailant, never identified, who was thought to be avenging a beating he suffered at one of the speakeasies that Siki was known to frequent.
Oscar Bonavena
At age 33, Oscar Bonavena was still an active boxer when he was gunned down on May 22, 1976, on the outskirts of Reno, Nevada, at the front gate of the infamous Mustang Ranch, a legal brothel. Bonavena had come up short in his biggest fights, losing a 15-round decision to Joe Frazier and losing by TKO in the 15th round to Muhammad Ali, but the rugged Argentine was still a major player in the heavyweight division.
The shooter was a bodyguard for the brothel's owner Joe Conforte, and rumor has that Conforte was the de facto triggerman, having Bonavena assassinated because the boxer was having an affair with Conforte's 59-year-old wife Sally who was also Bonavena's manager of record at this point in the boxer's career. The story about it spawned "Love Shack," a 2010 movie that despite a seemingly can't-miss storyline and a formidable cast (Joe Pesci played Joe and Helen Mirren played Sally) proved to be a box-office dud.
Vernon Forrest
While all homicides are tragic, some are more distressing than others and the death of Vernon Forrest on July 25, 2009, was particularly gut-wrenching. Forrest was shot twice in the back by would-be robbers with whom he exchanged gunfire on July 25, 2009 at a gas station in Atlanta.
Forget the fact that Forrest was a two-division title-holder who had regained the WBC world super welterweight title in his most recent fight with a lopsided decision over Sergio Mora. Few in the sport were as widely admired. His philanthropic work included establishing group homes in Atlanta for the mentally disabled. His death came just two weeks after the death of Arturo Gatti who left the sport following a loss by TKO to Alfonso Gomez in July of 2007 and died under suspicious circumstances at age 37 at a hotel in Brazil.
We here at The Sweet Science send our condolences to Samuel Teah's family and loved ones. May he rest in peace.
Benavidez Dismantles Andrade: Will Canelo Be Next?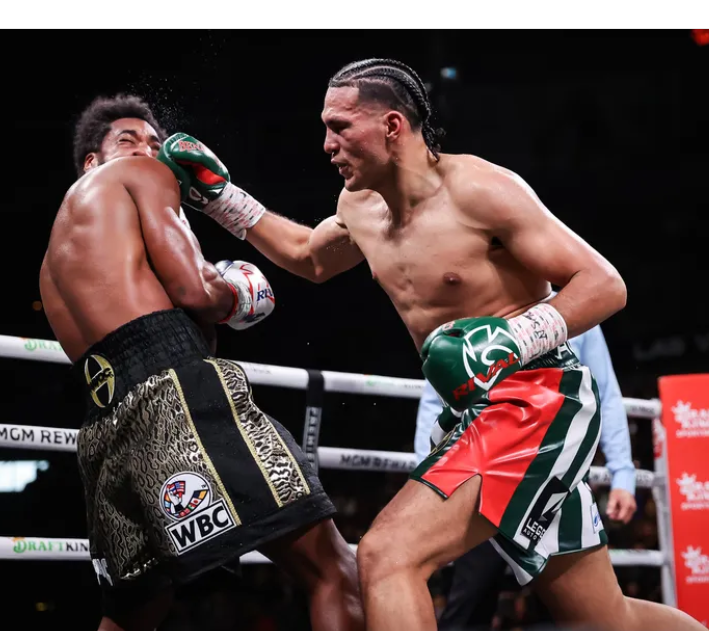 SHOWTIME aired its final pay-per-view event tonight with a show that aired from Mandalay Bay in Las Vegas. The four-fight PPV card included world title fights in the 140 and 130-pound divisions, plus an interim title fight at 168 and the return of former two-division title-holder Jarmall Charlo. The interim title fight was a battle of unbeatens between David Benavidez and Demetrius "Boo Boo" Andrade and that was the featured attraction.
Benavidez, 26, is big for the weight class and lived up to his new nickname, "El Monstro." He had too much firepower for the 35-year-old Andrade, a 2008 Beijing Olympian who began his pro career at 154 and had won world titles in two lower weight classes. His big moment came in the waning seconds of round four when he knocked Andrade to his knees with a sweeping right hand. The fight turned brutally one-sided at that point although one of the judges had Benavidez ahead by only one point when the sixth round ended. But there would be no seventh round. Andrade's corner wisely stopped the fight.
A consensus 7/2 favorite in man-to-man betting, Benavidez (28-0, 24 KOs) began his pro career in Mexico at age 16. In his post-fight interview, he called out Canelo Alvarez while brashly predicting that he would be a legend before he left the sport (and you'll get no argument from this corner). It was the first pro loss for Andrade (32-1).
Co-Feature
Jermall Charlo returned to the ring after a 29-month absence and scored a lopsided 10-round decision over Jose Benavidez Jr. The judges had it 100-90, 99-91, and 98-92.
This bout was slated for the catch-weight of 163 pounds. Charlo came in overweight (166.4) but the match went ahead. Benavides Jr, a world title challenger during his days as a welterweight, had his moments, but was outclassed by Charlo who advanced his record to 33-0 (22). Benavidez falls to 28-3-1.
Matias-Ergashev
In what shaped up as the most action-packed fight of the night, 31-year-old Puerto Rican Subriel Matias retained his IBF 140-pound title, battering Shohjahon Ergashev into submission in a match that was halted by Ergashev's corner two seconds into the sixth round. The heavy-handed Ergashev, who was undefeated heading in, dominated the first round-and-a-half, but Matias (20-1, 20 KOs) gradually wore him down.
Matias, who avenged his lone defeat to Petros Ananyan with a dominant showing in the rematch, had become something of a forgotten man in the talent-rich 140-pound weight class, but tonight he showed that he belongs among the elite in the division. It was the first pro loss for Egrashev (23-1, 20 KOs), a southpaw from Uzbekistan who fights out of Detroit and had SugarHill Steward (formally Javan "Sugar" Hill) in his corner.
Garcia-Roach
In the pay-per-view opener, Lamont Roach (24-1-1, 9 KOs) wrested the WBA 130-pound title from Hector Garcia (16-2) with a well-earned split decision. The judges had it 116-111 and 144-113 for Roach with the dissenter favoring Garcia 114-113.
A 32-year-old Dominican southpaw, Garcia was making the first defense of the title he won from Roger Gutierrez, a belt he was allowed to keep after moving up to lightweight to challenge Gervonta Davis, a bout he lost on a ninth-round stoppage. Roach, an underdog in the betting making his first start in 16 months, had come up short in a previous world title fight, losing a decision to Jamel Herring in 2019.
Roach was trailing on two of the scorecards through 10 rounds in what had been a ho-hum fight. But he cranked up the juice in the homestretch, rocking Garcia in the 11th and flooring him with a right hook in the final stanza. Take away that knockdown (an illegal punch as it landed behind Roach's head), and Garcia would have retained his belt with a draw.
Non-PPV
In his first start at 140 pounds, Puerto Rico's Michel Rivera rebounded from his first pro loss (a wide decision at the hands of Frank Martin) with a unanimous 10-round decision over Sergey Lipinets. The judges had it 96-94 and 97-93 twice. Rivera, who improved to 25-1 (14) patterns his style and his persona after Muhammad Ali with whom he bears a strong facial resemblance.
It was the first fight in 16 months for the 34-year-old Lipinets (17-3-1), from SoCal via Kazakhstan. He rarely took a backward step but it wasn't effective aggression.
In the opener on Showtime's YouTube channel. 21-year-old super welterweight Vito Mielnicki Jr, now trained by Ronnie Shields, scored the best win of his career, advancing to 16-1 (11 KOs). The pride of Vineland, NJ, Mielnicki had Alexis Salazar on the canvas three times before the match was halted at the 2:27 mark of the opening stanza. Guadalajara's Salazar (25-6) had been stopped only once previously.
Photo credit: Amanda Westcott / SHOWTIME
To comment on this story in the Fight Forum CLICK HERE