British Boxing 2022 Year in Review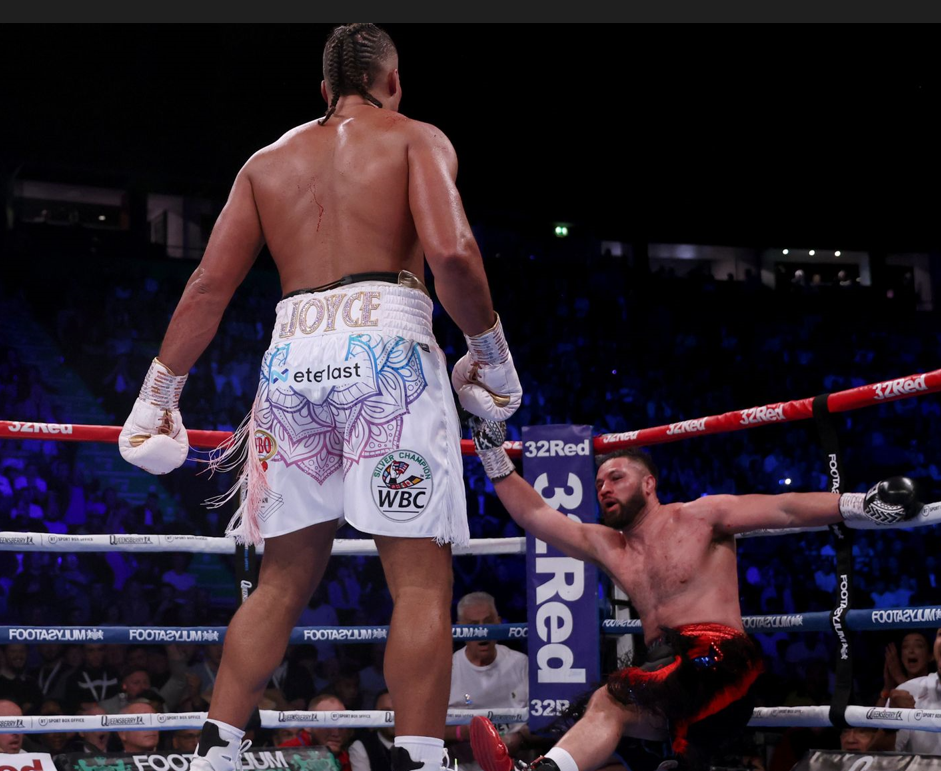 For British boxing, it was a good year.
Here I select four categories: the British Fighter of the Year, fairly self-explanatory; the British Fight of the Year, that is the best fight contested by two men from the United Kingdom; the British Breakthrough Fighter of the Year, that is, the British fighter who breaks into the divisional top-ten for their division, often unexpectedly; and finally the British Prospect of the Year, that is the fighter who has boxed fewer than ten professional contests at the end of 2022 who I think will be worth watching in 2023.
Remembering the last time British boxing didn't have a great year is becoming more and more difficult.
British Fighter of the Year: Joe Joyce
Tyson Fury, Sunny Edwards, Leigh Wood, and John Ryder might all be seriously considered for the British fighter of 2022 but in the end, Joe Joyce was the name I returned to. His April destruction of Christian Hammer had an almost routine feel to it, a step down after his 2021 ruination of Carlos Takam and Daniel Dubois – but in September, Joyce turned in a performance of genuine pre-eminence, bettering Anthony Joshua by becoming the first man to stop the New Zealander Joseph Parker. It took eleven rounds, but despite Parker's excellent chin and competent boxing, there was an air of inevitability about this stoppage early and that is what "The Juggernaut" really had to prove: that he could bring the same ceaseless pressure against quality opposition that he could against fellow prospects and slipped contenders. The answer was a resounding "yes."
See Parker attempt to bomb his apparently slower opponent early in the first. Joyce's frame is immutable, he holds steady, his massive arms are set in place as Parker punches on and around them. Joyce can ride punches, not the same as defensive soundness in a sport that is scored by judges, but something more fundamental, an ability to avoid the worst attentions of an opponent he wants to punch at him – if Joyce can make opponents routinely exchange, he would expect to win.
And, of course, when someone get through, that chin, a mandible unshaken by the 250lb Parker landing a flush straight-right at the end of round three that Joyce didn't really seem to notice. Joyce is huge at 6'6 and 270lbs, has an elite engine, astonishing for his weight and range, hits with power, has serviceable footwork that leaves him routinely in a position to punch, which makes his pressure style so allowable at the highest level. Tyson Fury greeted both Oleksandr Usyk and Joe Joyce at ringside after his most recent victory and it was Joyce who caught the eye of Fury's father, John, who predicted that Fury would lose "at 98%, he'd need to be 100% for that fight" while Usyk would be too small. I agree. Suddenly, Joyce seems the most dangerous man in the heavyweight division.
A final thought: it's completely unproven at this point and will never be settled completely but it is possible that in Joyce and Deontay Wilder the heavyweight division has the greatest chin and punch in all of history. How tragic it would be if the two never met – but don't be surprised if they do not.  Wilder is no coward, but Joyce is rapidly becoming the problem the division does not need.
British Fight of the Year: Leigh Wood vs Michael Conlan
Usually, identifying the British Fight of the Year is a glorious charge down this year's memory lane but for 2022, this was not a requirement. The British Fight of the Year is also the fight of the year anywhere, Leigh Wood's astonishing twelfth round knockout of Michael Conlan is a lock.
Conlan, out of Belfast, was a storied amateur, and were it not for Katie Taylor, he would have likely been the definitive Irish amateur of the modern era. He turned pro with much fanfare after expressing doubts about the amateur code in which he had become a world champion, and sure enough was fast-tracked to a minor alphabet strap in just fifteen fights.
Wood meanwhile, was in a strange twilight zone between never-would and sort-of-has, returning from a loss of his European featherweight title to surprise in picking up his own minor strap against Can Xu in the summer of 2021. Xu was a prohibitive favourite but was out-boxed for stretches and behind after twelve rounds when Wood stopped him – Conlan, then, was warned.
He posted a warning of his own on the bell of the first round, dropping his man with a winging left-hand creating absolute bedlam at the Nottingham Arena, but Wood seemed clear-eyed despite the close attentions of referee Steve Gray. Wood needed that clarity because the beating he absorbed in the second was substantial. He was battered, moved, and his legs seemed about to leave him. He survived and he chose a range just outside Conlan's jab and he held it, moving competently, controlling his opponent's offence, but all while losing rounds. He swallowed slingshot lefts from Conlan all night and somehow boxed his way back into the contest. His watch word was professionalism – Wood was a better professional. He never went away – he stayed in the fight and kept the fight in Conlan's face. It is worth noting, also, that even in the second round when Conlan thrashed him, Wood insisted on continuing to target the body.
Wood won the tenth; in the eleventh he was hurt to the body by sickening punches but continued to try to position his left foot inside Conlan's southpaw right and with forty-five seconds remaining the Northern Irishman took his dominance as a signal to make war. This was a mistake. Seconds from the bell, Conan found himself on the ground looking up, immediately insisting he had slipped, but only after having been driven back by that never-erring two-handed attack of Wood.
The roof nearly lifted at the beginning of the twelfth. Let it drown out the "boxing is dead" doomsayers. Wood went one better in the final round, knocking Conlan unconscious and out of the ring.
"I can't really remember [the knockdown]," Conlan said after the fight. "I've got to watch it back. Hopefully it was a good fight for tv."
It was the best fight fought in Britain since the first Chris Eubank-Nigel Benn contest from 1990.
British Breakthrough Fighter of the Year: Liam Davies
At the beginning of 2021, Liam Davies was a six-round preliminary fighter, blowing out professional losers in what barely passed for a workout. By the end of the year he was fighting over ten rounds and had selected his alphabet on-ramp – now, as 2022 comes to a close, he is the British and European 122lb champion and ranks the tenth best fighter of his weight class in the world according to TBRB. Marc Leach was a significant favourite over Davies when they met this summer over twelve, a first for our British Breakthrough Fighter of the Year, but he looked huge in the ring, dwarfing Leach and apparently stepping into the ring closer to the lightweight limit of 135lbs. Davies looked for the one-two from the first and flashed Leach after mere seconds to take a lead he never surrendered. All three judges made him the winner. Davies boxed through some serious blood after a cut caused by a clash of heads, and although there was a move in some quarters to diminish the significance of this result after what was seen as an unrepeatable lightning start, Davies dispelled these notions by getting back in the ring just a few months later against Ionut Baluta.
Baluta is a well -known name on these shores for his performances against Michael Conlan (a narrow decision loss) and Brad Foster (who he beat over ten in May). It is fair to say that Baluta represents the style that most troubles Davies, a swarming, aggressive, brawling attack that introduces chaos and uncertainty against a fighter who wants to control distance. The result was a lo-fi classic of hard exchanges and urgent tactical tussles but Davies, despite ceding the territory often, won exchanges with speed, quality and composure, to take a clear decision and become perhaps the world's most unlikely ranked fighter. He currently has nothing slated, but 2023 will be a huge year for him one way or the other.
British Prospect of the Year: Ben Whittaker
There is a fascinating rematch in Ben Whittaker's future.
Now 2-0 as a professional light-heavyweight, it was in the 2021 Olympic finals of the same weight-class that the twenty-five-year-old ran up against the legendary Cuban amateur Arlen Lopez. Lopez, already an Olympic and World champion, added a second Olympic title and both men turned professional, perhaps to contest the big prizes in the paid code at some point in the future.
That Olympic final exposed Whittaker's two great weaknesses. Accurate, quick of foot and hand, tall for the weight-class at 6'3", he was criticised during his amateur career for a low workrate, preferring to admire his work or await a countering opportunity when his natural distance gives him a chance at a lead-jab. If he slips behind, as he did against Lopez, Whittaker has a dearth of power that may prohibit any come-from-behind dramatics, whatever the ruleset.
That's plenty for his training team to be going on with, but the training team is headed by the man who turned Tyson Fury from a slickster seeking a decision to a monolith who dominates opponents with meaty punches, SugarHill Steward.  "I don't need a yes man," Whittaker commented on Steward's appointment.  "He's a teacher of the sport."
"I like what Ben wanted," is Steward's own comment.  "He wanted the hard road.  He wants to be taught; he wants to learn…I believe this man is going to be a superstar."
For now, Lopez will have to wait, and has his own progress to worry about, his professional record also just 2-0.  If both he and Whittaker keep winning though, these two may meet as superstars somewhere around 2025.
To comment on this story in the Fight Forum CLICK HERE
Ryan "KingRy" Garcia Returns With a Bang; KOs Oscar Duarte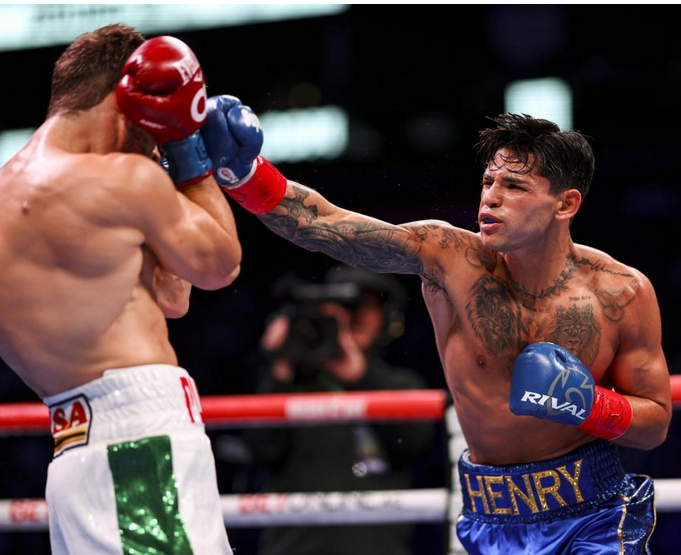 It was a different Ryan "KingRy" Garcia the world saw in defeating Mexico's rugged Oscar Duarte, but it was that same deadly left hook counter that got the job done by knockout on Saturday.
Only the quick survive.
Garcia (24-1, 20 KOs) used a variety of stances before luring knockout artist Duarte (26-1-1, 21 KOs) into his favorite punch before a sold-out crowd at Toyota Arena in Houston, Texas. That punch should be patented in gold.
It was somewhat advertised as knockout artist versus matinee idol, but those who know the sport knew that Garcia was a real puncher. But could he rebound from his loss earlier this year?
The answer was yes.
Garcia used a variety of styles beginning with a jab at a prescribed distance via his new trainer Derrick James. It allowed both Garcia and Duarte to gain footing and knock the cobwebs out of their reflexes. Garcia's jab scored most of the early points during the first three rounds. He also snapped off some left hooks and rights.
"He was a strong fighter, took a strong punch," said Garcia. "I hit him with some hard punches and he kept coming."
Duarte, an ultra-pale Mexican from Durango, was cautious, knowing full well how many Garcia foes had underestimated the power behind his blows.
Slowly the muscular Mexican fighter began closing in with body shots and soon both fighters were locked in an inside battle. Garcia used a tucked-in shoulder style while Duarte pounded the body, back of the head and in the back causing the referee to warn for the illegal punches twice.
Still, Duarte had finally managed to punch Garcia with multiple shots for several rounds.
Around the sixth round Garcia was advised by his new trainer to begin jabbing and moving. It forced Duarte out of his rhythm as he was unable to punch without planting his feet. Suddenly, the momentum had reversed again and Duarte looked less dangerous.
"I had to slow his momentum down. That softened him up," said Garcia about using that change in style to change Duarte's pressure attack. "Shout out to Derrick James."
Boos began cascading from the crowd but Garcia was on a roll and had definitely regained the advantage. A quick five-punch combination rocked Duarte though not all landed. The danger made the Mexican pause.
In the eighth round Duarte knew he had to take back the momentum and charged even harder. In one lickety-split second a near invisible counter left hook connected on Duarte's temple and he stumbled like a drunken soldier on liberty in Honolulu. Garcia quickly followed up with rights and uppercuts as Duarte had a look of terror as his legs failed to maintain stability. Down he went for the count.
Duarte was counted out by referee James Green at 2:51 of the eighth round as Garcia watched from the other side of the ring.
"I started opening up my legs a little bit to open up the shot," explained Garcia. "When I hurt somebody that hard, I just keep cracking them. I hurt him with a counter left hook."
The weapon of champions.
Garcia's victory returns him back to the forefront as one of boxing's biggest gate attractions. A list of potential foes is his to dissect and choose.
"I'm just ready to continue to my ascent to be a champion at 140," Garcia said.
It was a tranquil end after such a tumultuous last three days.
Other Bouts
Floyd Schofield (16-0, 12 KOs) blitzed Mexico's Ricardo "Not Finito" Lopez (17-8-3) with a four knockdown blowout that left fans mesmerized and pleased with the fighter from Austin, Texas.
Schofield immediately shot out quick jabs and then a lightning four-punch combination that delivered Lopez to the canvas wondering what had happened. He got up. Then Scholfield moved in with a jab and crisp left hook and down went Lopez like a dunked basketball bouncing.
At this point it seemed the fight might stop. But it proceeded and Schofield unleashed another quick combo that sent Lopez down though he did try to punch back. It was getting monotonous. Lopez got up and then was met with another rapid fire five- or six-punch combination. Lopez was down for the fourth time and the referee stopped the devastation.
"I appreciate him risking his life," said Schofield of his victim.
In a middleweight clash Shane Mosley Jr. (21-4, 12 KOs) out-worked Joshua Conley (17-6-1, 11 KOs) for five rounds before stopping the San Bernardino fighter at 1:51 of the sixth round. It was Mosley's second consecutive knockout and fourth straight win.
Mosley continues to improve in every fight and again moves up the middleweight rankings.
Super middleweight prospect Darius Fulghum (9-0, 9 KOs) of Houston remained undefeated and kept his knockout string intact with a second round pounding and stoppage over Pachino Hill (8-5-1) in 56 seconds of that round.
Photo credit: Golden Boy Promotions
To comment on this story in the Fight Forum CLICK HERE
Jordan Gill TKOs Michael Conlan Who May Have Reached the End of the Road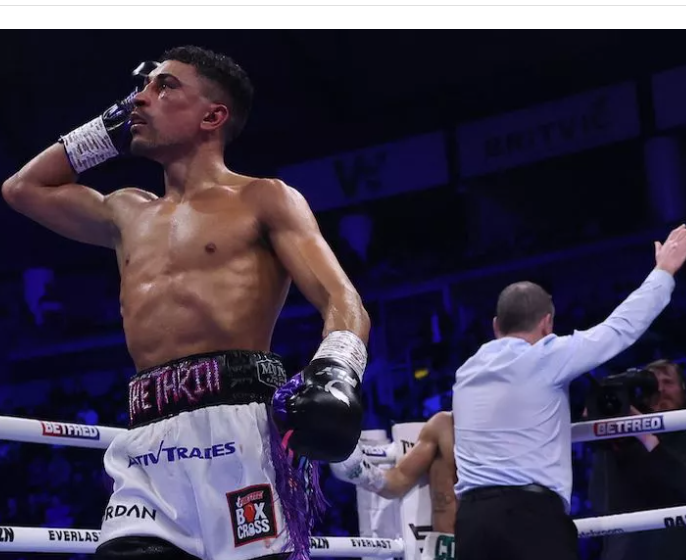 Fighting on his home turf, two-time Olympian Michael Conlan was an 8/1 favorite over Jordan Gill tonight in Belfast, Northern Ireland. Had he won, Matchroom promoter Eddie Hearn was eyeing a rematch for Conlan with Leigh Wood. Their March 2022 rumble in Nottingham was a popular pick for the Fight of the Year. But the 29-year-old Gill, a Cambridgeshire man, rendered that discussion moot with a seventh-round stoppage. It was Conlan's third loss inside the distance in the last 18 months and he would be wise to call it a day. His punch resistance is plainly not what it once was.
It was with considerable fanfare that Conlan cast his lot with Top Rank coming out of the amateur ranks. Tonight was his first assignment for Matchroom and his first fight at 130 pounds after coming up short in two world featherweight title fights. And he almost didn't make it past the second round. Gill had him on the canvas in the opening minute of round two compliments of a left hook and stunned him late in the round with a right hand that left him on unsteady legs.
He survived the round and for a fleeting moment in the sixth frame it appeared that he had reversed Gill's momentum. But Gill took charge again in the next stanza, trapping Conlan in the corner and unloading a fusillade of punches that forced referee Howard Foster to waive it off, much to the great dismay of the crowd. The official time was 1:09 of round seven.
Released by Top Rank, Conlan trained for this fight in Miami, Florida, under Pedro Diaz, best known for rejuvenating the career of Miguel Cotto. But the switch in trainer and in promoter made no difference as Conlan, who won his first amateur title at age 11, was damaged goods before he entered the ring. It was a career-defining victory for Jordan Gill (28-2-1, 9 KOs) who was not known as a big puncher and was returning to the ring after being stopped by Kiko Martinez 13 months ago in his previous start.
Semi-wind-up
In the "Battle of Belfast," undefeated welterweight Lewis Crocker seized control in the opening round and went on to win a lopsided decision over intra-city rival Tyrone McKenna (23-4-1). Two of the judges gave Crocker every round and the other had it 98-92, but yet this was entertaining fight in spurts. McKenna had more fans in the building, but Crocker, seven years younger at age 26, went to post a 7/2 favorite and youth was served.
Other Bouts of Note
Belfast super welterweight Caoimhin Agyarko, who overcame a near-fatal mugging at age 20, advanced to 14-0 (7) with a 10-round split decision over Troy Williamson (20-2-1). The judges had it 98-92 and 97-93 for Agyarko with a dissenter submitting a curious 96-94 score for the 31-year-old Williamson who wasn't able to exploit his advantages in height and reach.
Sean McComb, a 31-year-old Belfast southpaw, scored what was arguably the best win of his career with a 10-round beat-down of longtime sparring partner Sam Maxwell. Two of the judges gave McComb every round and the other had it 99-88. McComb, who has an interesting nickname, "The Public Nuisance, successfully defended his WBO European super welterweight strap while elevating his record to 18-1 (6). The fading, 35-year-old Maxwell, a former BBBofC British title-holder, lost for third time in his last four starts after winning his first 16 pro fights.
Photo credit: Mark Robinson / Matchroom
To comment on this story in the Fight Forum CLICK HERE
Avila Perspective, Chap. 262: Ryan Garcia Reloads and More Fight News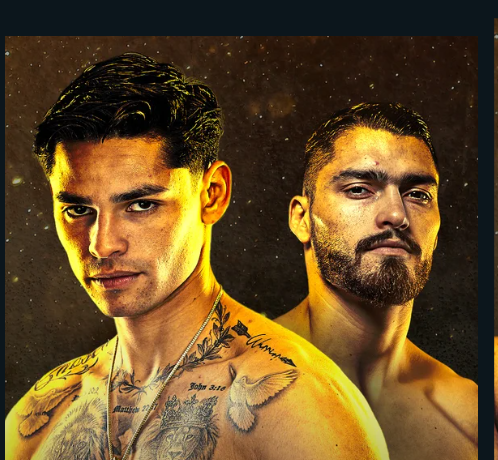 Avila Perspective, Chap. 262: Ryan Garcia Reloads and More Fight News
Nobody is perfect.
That's a mantra that everyone including boxers, promoters and managers should realize. No person is perfect. Everyone makes mistakes.
Ryan "King Ry" Garcia (23-1, 19 KOs) returns to the prize ring to face thunderous punching Oscar Duarte (26-1-1, 21 KOs) on Saturday, Dec. 2, at the Toyota Center in Houston, Texas. DAZN will stream the stacked Golden Boy Promotions card.
A press conference started slowly like a long-lit fuse slowly burning to the stick of dynamite. And when the fire reached the stick, it exploded with everyone in the vicinity burned.
Garcia unleashed pent-up frustration with verbal attacks on his promoters and burned the perimeter with fire. Poor Duarte sat there knowing something happened, but probably needed translation from his people to discover Garcia burned the room.
No survivors.
If that's just a sample of what's coming on Saturday night, well buckle-up and don't miss a second of Garcia and Duarte's confrontation.
Duarte has 11 consecutive knockouts and an 80 percent knockout rate. Garcia recently lost to Gervonta "Tank" Davis by stoppage and is looking to raze the earth. He has an 82 percent knockout rate.
Somebody is going to sleep in front of millions of fans.
"Oscar is a tough opponent. I know he's going to come to fight. But I'm right here to make an example for the 140-division," said Garcia with a death knell stare during the face-off. "This is how I'm coming. This is the Ryan Garcia you are going to get."
Duarte knows he's in the limelight. There's no better place to be. Or is there?
"This is a dream for me. I come very prepared. This Saturday you will see my best version," said Duarte. "I'm going to win."
Maybe he picked the wrong time.
Garcia looked as if he were General Sherman on his way to scorch the earth on his way to Atlanta. No survivors.
It doesn't look good for anyone.
"I'm laser focused" said Garcia with a stare that looked like Superman shooting lasers from his eyes.
The loss to Davis last spring was only on his ledger. In his pocketbook the lean, snap-quick fighter from Victorville, California gained $30+ million. That's what happens when you fight the best and the world wants to see it. Both he and Tank Davis broke the bank and the counting machine for pay-per-views.
But winning still remains important and few know better than promoter Oscar De La Hoya.
"You never know where the mindset is in a fighter after he loses. You have to give it up to Ryan. When you pick a guy who is dangerous and speedy and who has a shot, kudos to Ryan," said De La Hoya on social media in a statement that probably lit the Garcia's fuse that roasted the room.
"When fighters lose they have their emotional rollercoasters. But once you win and you get 30 million bucks everything is friggin good," De La Hoya added.
Others on the card are Shane Mosley Jr., Floyd Schofield, Darius Fulghum and Ryan's younger brother Sean Garcia.
It's loaded. Beware of fire.
SoCal
Amado Vargas, son of the great Fernando Vargas, makes his return.
Vargas (9-0, 4 KOs), a lightweight, meets Ezequiel Flores (4-1) in the main event on Saturday Dec. 2, at C. Robert Lee Center in Hawaiian Gardens, Calif. on the MarvNation Boxing Promotions card
All three of the Vargas brothers have been burning up to boxing ring and all are signed by promoters. Amado and Fernando Vargas Jr. signed with MarvNation and have attracted many fans.
This is the last boxing card of the year for MarvNation. Doors open at 5 p.m. For more information call (562) 713-9026 or (562) 639-3980.
Florida
Don King Productions has its last card of the year and ends it with five title fights including undefeated Antonio Perez (8-0, 5 KOs) versus Haskell Rhodes (29-5-1, 14 KOs) in a welterweight clash at Casino Miami Jai Ali in Miami, Florida.
Perez, 21, is only 5-6 in height and Rhodes is even shorter, but has experience against top competition such as Floyd Schofield and Sergey Lipinets.
Also on the card are Ian Green, Vaughn Alexander, Tre'Sean Wiggins, Chris Howard, Alex Castro, Harry Cruz and more.
The Don King Production card will be streamed at this link: https://itube247.com/
To comment on this story in the Fight Forum CLICK HERE