Former LA Times Scribe Steve Springer Reflects on His Days on the Boxing Beat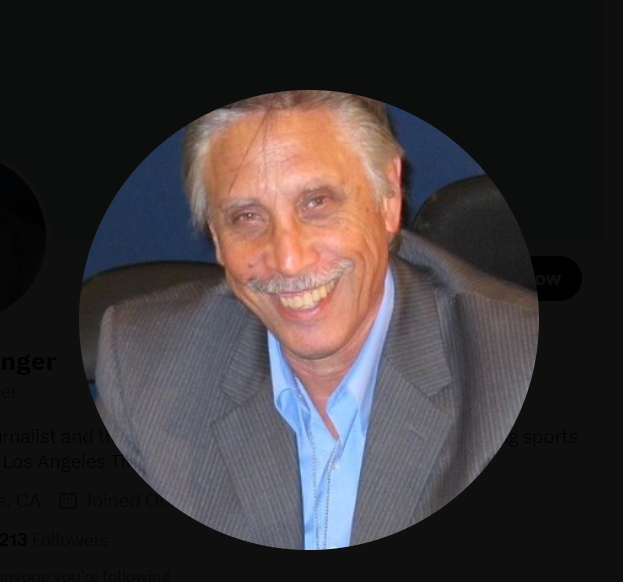 Nestled in Southern California's San Fernando Valley, Steve Springer, a former sportswriter who for nearly 35 years covered several sports including the world of boxing, is at peace.
Springer, who spent 25 years at the Los Angeles Times, is definitely thankful for the opportunity to be ringside, which he was for 23 years, but doesn't miss those days when he covered boxing.
"I really don't keep up with it like I used to. I don't find many of today's fighters interesting or exciting and I don't have any interest in MMA or WrestleMania," he said. "Yes, I know, I'm just an old guy living in the past, but it was a glorious past."
In what way is boxing different for Springer, who wrote 14 books including three bestsellers?
"It's changed, but not for the better. A century ago, the top sports columnists basically covered only four sports: boxing, baseball, horse racing and college football. Boxing's popularity had faded by the time I covered the sport (1985 to 2008), but was still relevant," he offered. "Today, however, it ranks third in popularity among combat sports behind MMA and WrestleMania. Back when I covered boxing, Butterbean, an overweight four-round fighter, was a novelty act, comic relief before the big matches. Today, Jake Paul, another gimmick, wannabe boxer, is a main attraction. Sad, but true."
Springer didn't intend to become a sportswriter. Instead he hoped to be the second coming of Vin Scully, the legendary Dodgers announcer who for 67 years was the voice of the team.
Springer did play-by-play for basketball, football and baseball at California State University Northridge, where he graduated in 1968 with a broadcasting degree and later did play-by-play for high school football in El Centro from 1969 through 1972.
Springer kicked off his writing career in 1974 at the Thousand Oaks News Chronicle where he later became sports editor and won various awards, then left in 1979 when he joined the Orange County Register where he worked until 1983, covering the Lakers before being hired by the Times that same year.
Once assigned to boxing, what was the attraction for Springer?
"The opportunity to cover dramatic life-and-death events and write about colorful, fascinating people who have often had to battle all their lives just to survive," he said of what made boxing exciting. "Every fighter has a story and no one in boxing ever refuses to tell it to you unless it's because they have just been knocked out."
Interviewing some of the legends was for Springer the whipped cream on the ice cream sundae.
"Given an opportunity to talk to Muhammad Ali, Don King, Mike Tyson, Bob Arum, Floyd Mayweather Jr., George Foreman and Joe Frazier, to name just a few, there's no chance you'll walk away without a dozen or more new stories floating around in your head," he said.
And if you're lucky, you might speak with someone not entirely famous but still worthy of your time.
"Actually, everybody in the sport has a tale worth telling, from the trainers and corner men to the promoters and managers," Springer said. "There was a little-known member of King's organization who once gave me a line that kind of summed up the richness of the material generated by those in the fight game. "I was in boxing for 40 years," he said. "The first three years were about boxing. The last 37 were about revenge."
Sometimes what happens inside the ring during the course of a career has debilitating results.
This wasn't pleasant for Springer, who was inducted into the Southern California Jewish Hall of Fame and was the recipient of the Nat Fleischer Award given by the Boxing Writers Association of America.
"I didn't like the results of the brutality in the ring. I covered two fights that ended with one of the boxers dying," he pointed out. "I wrote a story about a fighter named Bobby Chacon who had to carry a map of his neighborhood in his shirt pocket because he couldn't remember how to find his way home. He was 44 years old at the time. And, of course, there was the sadness of watching Ali in his final years. Very few boxing stories end happily."
A featherweight and super featherweight champion, Chacon passed away in 2016 at the age of 64.
Springer covered the entirety of Oscar De La Hoya's epic career and co-wrote a biography with the 1992 Olympic gold medalist titled "American Son: My Story."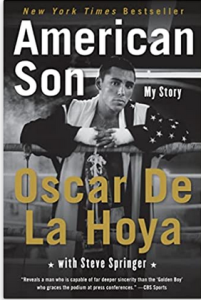 De La Hoya is a complex person and one Springer knows fairly well.
"Oscar has two passions outside of boxing: golf and singing. He often insisted that he was going to try to join the Senior PGA golf tour when he qualified by reaching the age of 50. He hit that milestone several months ago, but there are no signs yet that he's seriously considering trying to take that big leap," he said.
"Oscar has a great sense of humor on the golf course. Playing with him one time, I hit my tee shot into a ravine so far down that I couldn't see the flag on the green. With Oscar waiting for me on that green, I hit a blind shot that somehow landed in the cup. From then on, Oscar always called me Mr. Hole-In-Two."
Springer spoke about De La Hoya's fondness for music.
"His love of music came from his mother, Cecilia, who died of cancer at 39. He still remembers the day he got into his mother's car to join her in a loud duet in the driveway of their family home," he said. "Oscar went on to sing a song that was nominated for a Grammy for Best Latin Pop Performance."
Springer quoted De La Hoya. "If I boxed because of my father," he said, "why not sing because of my mother?"
When Mike Tyson was the heavyweight kingpin, noted Springer, anything could happen inside or outside the ring.
"The obvious choice [for the most bizarre fight that I covered] had nothing to do with the skills of the fighters. It was because of the jarring end of the fight after Tyson bit off part of Evander Holyfield's right ear and spit it out on the canvas in the third round, then bit Holyfield's left ear before the round was over," he said of that eventful evening at the MGM Grand Garden Arena in 1997.
Springer was also there at Tyson's hearing on the matter.
"At a hearing later held by the Nevada State Athletic Commission to decide if Tyson should be stripped of his license, he was asked if he wished to say anything before a vote was taken," Springer said. "All I have to say," Tyson said, "is, I'm not Mother Teresa, but I'm not Charles Manson either."
Springer added: "I was also present five years later at a New York press conference for a Tyson-Lennox Lewis match that turned into a brawl which ended with Tyson sinking his teeth into one of Lewis' legs," he recalled. "Tyson was definitely the Hannibal Lecter of the ring."
Springer's coverage and storylines included numerous all-time greats, whom he admired for different reasons.
"Manny Pacquiao for his ability to stretch his talent all the way from flyweight to junior middleweight, while winning the lineal championship in five weight divisions (flyweight, featherweight, super featherweight, light welterweight and welterweight) in a career that spanned four decades," he said, "George Foreman and Bernard Hopkins for their longevity, each fighting for 28 years with Foreman becoming the oldest heavyweight champion at 45, then retiring at 48, Hopkins at 51, and Floyd Mayweather for going 50-0, beating the record of the legendary Rocky Marciano."
Boxers have a vested interest in speaking with the press according to Springer.
"I've never had a boxer say, "No comment." In other sports, athletes are exposed to the media for months at a time through a long season," he said. "They get tired of talking to reporters, especially when they are in a slump. There is no pressure on them to talk because, if they duck reporters, they are still assured of their playing time as long as they produce."
This isn't true for boxers. "Fighters, on the other hand, have no guarantees about future bouts. If they are ambitious young fighters, they need to make a name for themselves. If they are serious contenders, they need a title-holder to agree to fight them. Even if they themselves hold a title, they need publicity to beef up interest in their next fight, thus beefing up the size of their purse," he said. "The more time they can get their face on TV or their name in the papers or on the Internet, the more opportunities they will have for fame and fortune. 'No comment' doesn't cut it."
There were some negatives covering the manly sport according to Springer.
"I never felt conflicted. I certainly didn't like seeing fighters sadly losing their lives or, even if they survived, losing their minds, suffering from pugilistic dementia, a condition often referred to as punch drunk," he said. "It's the risk they all knowingly take because, in so many cases, it's the best path open to them to escape the poverty and despair that plagues so many of them and their families."
What does Springer believe will make boxing more palatable for the viewer?
"The biggest problem facing boxing is the sanctioning bodies, the WBC, WBA, IBF, WBO and several smaller organizations," he said. "This alphabet soup spells disaster for the sport. While the WBC is the biggest and most authentic of the group, even though it too has flaws, the others often have their own designated champions. Every titleholder is forced to pay exorbitant sanctioning fees in order to keep their championship belts."
Springer does reference the good old days when he was on the boxing beat.
"Long gone and never to return are the days when there was only one recognized champ in each weight division and many qualified contenders," he said. "Back then, every sports fan, a follower of boxing or not, knew the name of the one and only heavyweight champion."
The offshoot is that there are additional hurdles for everyone involved.
"As a result of this mishmash system, the best fights often never happen because of disputes over money, rankings of the fighters and other issues," Springer said. "If there was a national boxing commissioner and he or she had the power to establish national rankings and order fights between champions of various sanctioning bodies, boxing itself would be the winner. Imagine if the Dodgers refused to play the Giants or the Lakers wouldn't schedule the Celtics for whatever reason. It wouldn't take long for fans of MLB or the NBA to start looking elsewhere to spend their dollars."
Springer concluded his thought: "I can't foresee this radical change to ever happen in boxing," he said. "Too much money and too much power would be lost by the powers that be. The biggest losers with the status quo are the boxing fans."
To comment on this story in the Fight Forum CLICK HERE
Ryan "KingRy" Garcia Returns With a Bang; KOs Oscar Duarte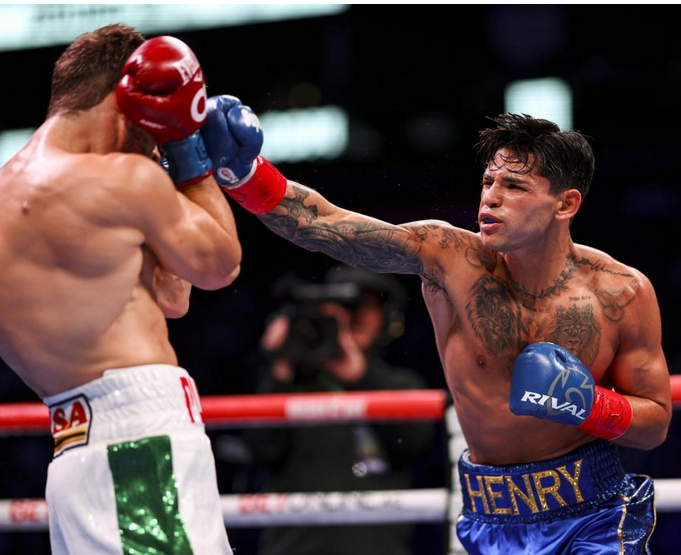 It was a different Ryan "KingRy" Garcia the world saw in defeating Mexico's rugged Oscar Duarte, but it was that same deadly left hook counter that got the job done by knockout on Saturday.
Only the quick survive.
Garcia (24-1, 20 KOs) used a variety of stances before luring knockout artist Duarte (26-1-1, 21 KOs) into his favorite punch before a sold-out crowd at Toyota Arena in Houston, Texas. That punch should be patented in gold.
It was somewhat advertised as knockout artist versus matinee idol, but those who know the sport knew that Garcia was a real puncher. But could he rebound from his loss earlier this year?
The answer was yes.
Garcia used a variety of styles beginning with a jab at a prescribed distance via his new trainer Derrick James. It allowed both Garcia and Duarte to gain footing and knock the cobwebs out of their reflexes. Garcia's jab scored most of the early points during the first three rounds. He also snapped off some left hooks and rights.
"He was a strong fighter, took a strong punch," said Garcia. "I hit him with some hard punches and he kept coming."
Duarte, an ultra-pale Mexican from Durango, was cautious, knowing full well how many Garcia foes had underestimated the power behind his blows.
Slowly the muscular Mexican fighter began closing in with body shots and soon both fighters were locked in an inside battle. Garcia used a tucked-in shoulder style while Duarte pounded the body, back of the head and in the back causing the referee to warn for the illegal punches twice.
Still, Duarte had finally managed to punch Garcia with multiple shots for several rounds.
Around the sixth round Garcia was advised by his new trainer to begin jabbing and moving. It forced Duarte out of his rhythm as he was unable to punch without planting his feet. Suddenly, the momentum had reversed again and Duarte looked less dangerous.
"I had to slow his momentum down. That softened him up," said Garcia about using that change in style to change Duarte's pressure attack. "Shout out to Derrick James."
Boos began cascading from the crowd but Garcia was on a roll and had definitely regained the advantage. A quick five-punch combination rocked Duarte though not all landed. The danger made the Mexican pause.
In the eighth round Duarte knew he had to take back the momentum and charged even harder. In one lickety-split second a near invisible counter left hook connected on Duarte's temple and he stumbled like a drunken soldier on liberty in Honolulu. Garcia quickly followed up with rights and uppercuts as Duarte had a look of terror as his legs failed to maintain stability. Down he went for the count.
Duarte was counted out by referee James Green at 2:51 of the eighth round as Garcia watched from the other side of the ring.
"I started opening up my legs a little bit to open up the shot," explained Garcia. "When I hurt somebody that hard, I just keep cracking them. I hurt him with a counter left hook."
The weapon of champions.
Garcia's victory returns him back to the forefront as one of boxing's biggest gate attractions. A list of potential foes is his to dissect and choose.
"I'm just ready to continue to my ascent to be a champion at 140," Garcia said.
It was a tranquil end after such a tumultuous last three days.
Other Bouts
Floyd Schofield (16-0, 12 KOs) blitzed Mexico's Ricardo "Not Finito" Lopez (17-8-3) with a four knockdown blowout that left fans mesmerized and pleased with the fighter from Austin, Texas.
Schofield immediately shot out quick jabs and then a lightning four-punch combination that delivered Lopez to the canvas wondering what had happened. He got up. Then Scholfield moved in with a jab and crisp left hook and down went Lopez like a dunked basketball bouncing.
At this point it seemed the fight might stop. But it proceeded and Schofield unleashed another quick combo that sent Lopez down though he did try to punch back. It was getting monotonous. Lopez got up and then was met with another rapid fire five- or six-punch combination. Lopez was down for the fourth time and the referee stopped the devastation.
"I appreciate him risking his life," said Schofield of his victim.
In a middleweight clash Shane Mosley Jr. (21-4, 12 KOs) out-worked Joshua Conley (17-6-1, 11 KOs) for five rounds before stopping the San Bernardino fighter at 1:51 of the sixth round. It was Mosley's second consecutive knockout and fourth straight win.
Mosley continues to improve in every fight and again moves up the middleweight rankings.
Super middleweight prospect Darius Fulghum (9-0, 9 KOs) of Houston remained undefeated and kept his knockout string intact with a second round pounding and stoppage over Pachino Hill (8-5-1) in 56 seconds of that round.
Photo credit: Golden Boy Promotions
To comment on this story in the Fight Forum CLICK HERE
Jordan Gill TKOs Michael Conlan Who May Have Reached the End of the Road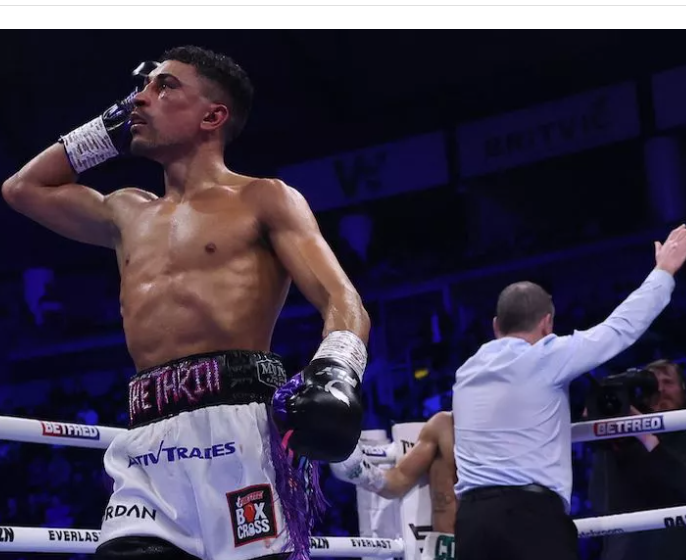 Fighting on his home turf, two-time Olympian Michael Conlan was an 8/1 favorite over Jordan Gill tonight in Belfast, Northern Ireland. Had he won, Matchroom promoter Eddie Hearn was eyeing a rematch for Conlan with Leigh Wood. Their March 2022 rumble in Nottingham was a popular pick for the Fight of the Year. But the 29-year-old Gill, a Cambridgeshire man, rendered that discussion moot with a seventh-round stoppage. It was Conlan's third loss inside the distance in the last 18 months and he would be wise to call it a day. His punch resistance is plainly not what it once was.
It was with considerable fanfare that Conlan cast his lot with Top Rank coming out of the amateur ranks. Tonight was his first assignment for Matchroom and his first fight at 130 pounds after coming up short in two world featherweight title fights. And he almost didn't make it past the second round. Gill had him on the canvas in the opening minute of round two compliments of a left hook and stunned him late in the round with a right hand that left him on unsteady legs.
He survived the round and for a fleeting moment in the sixth frame it appeared that he had reversed Gill's momentum. But Gill took charge again in the next stanza, trapping Conlan in the corner and unloading a fusillade of punches that forced referee Howard Foster to waive it off, much to the great dismay of the crowd. The official time was 1:09 of round seven.
Released by Top Rank, Conlan trained for this fight in Miami, Florida, under Pedro Diaz, best known for rejuvenating the career of Miguel Cotto. But the switch in trainer and in promoter made no difference as Conlan, who won his first amateur title at age 11, was damaged goods before he entered the ring. It was a career-defining victory for Jordan Gill (28-2-1, 9 KOs) who was not known as a big puncher and was returning to the ring after being stopped by Kiko Martinez 13 months ago in his previous start.
Semi-wind-up
In the "Battle of Belfast," undefeated welterweight Lewis Crocker seized control in the opening round and went on to win a lopsided decision over intra-city rival Tyrone McKenna (23-4-1). Two of the judges gave Crocker every round and the other had it 98-92, but yet this was entertaining fight in spurts. McKenna had more fans in the building, but Crocker, seven years younger at age 26, went to post a 7/2 favorite and youth was served.
Other Bouts of Note
Belfast super welterweight Caoimhin Agyarko, who overcame a near-fatal mugging at age 20, advanced to 14-0 (7) with a 10-round split decision over Troy Williamson (20-2-1). The judges had it 98-92 and 97-93 for Agyarko with a dissenter submitting a curious 96-94 score for the 31-year-old Williamson who wasn't able to exploit his advantages in height and reach.
Sean McComb, a 31-year-old Belfast southpaw, scored what was arguably the best win of his career with a 10-round beat-down of longtime sparring partner Sam Maxwell. Two of the judges gave McComb every round and the other had it 99-88. McComb, who has an interesting nickname, "The Public Nuisance, successfully defended his WBO European super welterweight strap while elevating his record to 18-1 (6). The fading, 35-year-old Maxwell, a former BBBofC British title-holder, lost for third time in his last four starts after winning his first 16 pro fights.
Photo credit: Mark Robinson / Matchroom
To comment on this story in the Fight Forum CLICK HERE
Avila Perspective, Chap. 262: Ryan Garcia Reloads and More Fight News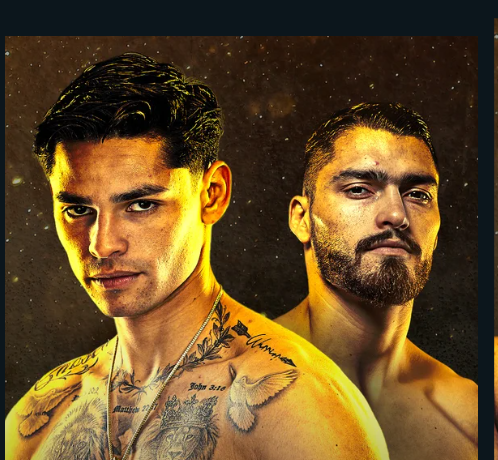 Avila Perspective, Chap. 262: Ryan Garcia Reloads and More Fight News
Nobody is perfect.
That's a mantra that everyone including boxers, promoters and managers should realize. No person is perfect. Everyone makes mistakes.
Ryan "King Ry" Garcia (23-1, 19 KOs) returns to the prize ring to face thunderous punching Oscar Duarte (26-1-1, 21 KOs) on Saturday, Dec. 2, at the Toyota Center in Houston, Texas. DAZN will stream the stacked Golden Boy Promotions card.
A press conference started slowly like a long-lit fuse slowly burning to the stick of dynamite. And when the fire reached the stick, it exploded with everyone in the vicinity burned.
Garcia unleashed pent-up frustration with verbal attacks on his promoters and burned the perimeter with fire. Poor Duarte sat there knowing something happened, but probably needed translation from his people to discover Garcia burned the room.
No survivors.
If that's just a sample of what's coming on Saturday night, well buckle-up and don't miss a second of Garcia and Duarte's confrontation.
Duarte has 11 consecutive knockouts and an 80 percent knockout rate. Garcia recently lost to Gervonta "Tank" Davis by stoppage and is looking to raze the earth. He has an 82 percent knockout rate.
Somebody is going to sleep in front of millions of fans.
"Oscar is a tough opponent. I know he's going to come to fight. But I'm right here to make an example for the 140-division," said Garcia with a death knell stare during the face-off. "This is how I'm coming. This is the Ryan Garcia you are going to get."
Duarte knows he's in the limelight. There's no better place to be. Or is there?
"This is a dream for me. I come very prepared. This Saturday you will see my best version," said Duarte. "I'm going to win."
Maybe he picked the wrong time.
Garcia looked as if he were General Sherman on his way to scorch the earth on his way to Atlanta. No survivors.
It doesn't look good for anyone.
"I'm laser focused" said Garcia with a stare that looked like Superman shooting lasers from his eyes.
The loss to Davis last spring was only on his ledger. In his pocketbook the lean, snap-quick fighter from Victorville, California gained $30+ million. That's what happens when you fight the best and the world wants to see it. Both he and Tank Davis broke the bank and the counting machine for pay-per-views.
But winning still remains important and few know better than promoter Oscar De La Hoya.
"You never know where the mindset is in a fighter after he loses. You have to give it up to Ryan. When you pick a guy who is dangerous and speedy and who has a shot, kudos to Ryan," said De La Hoya on social media in a statement that probably lit the Garcia's fuse that roasted the room.
"When fighters lose they have their emotional rollercoasters. But once you win and you get 30 million bucks everything is friggin good," De La Hoya added.
Others on the card are Shane Mosley Jr., Floyd Schofield, Darius Fulghum and Ryan's younger brother Sean Garcia.
It's loaded. Beware of fire.
SoCal
Amado Vargas, son of the great Fernando Vargas, makes his return.
Vargas (9-0, 4 KOs), a lightweight, meets Ezequiel Flores (4-1) in the main event on Saturday Dec. 2, at C. Robert Lee Center in Hawaiian Gardens, Calif. on the MarvNation Boxing Promotions card
All three of the Vargas brothers have been burning up to boxing ring and all are signed by promoters. Amado and Fernando Vargas Jr. signed with MarvNation and have attracted many fans.
This is the last boxing card of the year for MarvNation. Doors open at 5 p.m. For more information call (562) 713-9026 or (562) 639-3980.
Florida
Don King Productions has its last card of the year and ends it with five title fights including undefeated Antonio Perez (8-0, 5 KOs) versus Haskell Rhodes (29-5-1, 14 KOs) in a welterweight clash at Casino Miami Jai Ali in Miami, Florida.
Perez, 21, is only 5-6 in height and Rhodes is even shorter, but has experience against top competition such as Floyd Schofield and Sergey Lipinets.
Also on the card are Ian Green, Vaughn Alexander, Tre'Sean Wiggins, Chris Howard, Alex Castro, Harry Cruz and more.
The Don King Production card will be streamed at this link: https://itube247.com/
To comment on this story in the Fight Forum CLICK HERE