In the Homestretch of His Career, Philadelphia's Joey "Tank" Dawejko Keeps on Rolling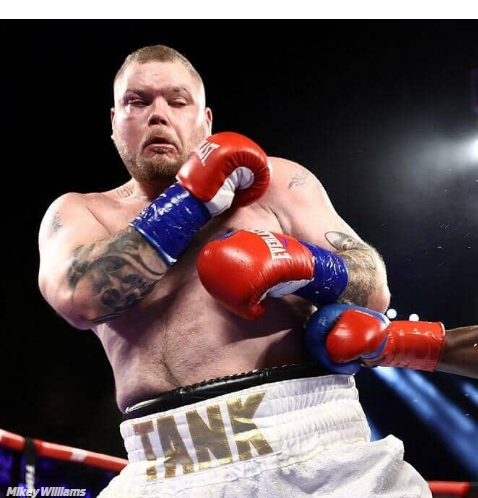 As he entered the ring for his 38th professional fight, veteran Philadelphia heavyweight Joey "Tank" Dawejko was clear about his current position in the sport. During his long involvement in boxing, Dawejko, 32, has experienced just about everything a fighter goes through. He's felt all the highs and the lows that the sport has to offer, both inside and outside of the ring. Although he has travelled the world because of boxing, much of his career has been spent doing so on other people's terms. Dawejko has been sought after by countless contenders and champions as training partners (most notably Anthony Joshua and Tyson Fury).
So, as he approached the twilight of his career, a decision was made last year by Dawejko to take one last crack at the sport's summit. To climb that mountain and be properly compensated during the climb, Dawejko enlisted the help of Hall of Fame promoter and Philadelphia legend, Russell Peltz. Together the two set on their quest by getting Dawejko a trio of fights that were intended to start pushing the tank up the mountain. These fights were against lesser competition that Tank could fight to get in the proper shape to sharpen his already skilled approach in the ring – a style that made one fan call him, "Philadelphia's white James Toney."
Indeed, it was Dawejko's effective use of a right shoulder roll paired with the appropriate counter straight right that helped the Tank roll past Colby Madison on Tuesday night, May 2, at South Philadelphia's LIVE casino. In Madison, Dawejko faced his toughest opponent since entering this phase of his career. Much to the fans' delight, Dawejko (who has been criticized in the past for inactivity during fights due to a variety of reasons), showed his loyal local fanbase that this time things could be different. Dawejko-Madison proved to be an entertaining six-round battle in which both fighters were willing to exchange power shots mixed in with hard jobs and a nice body attack by Dawejko.
In the end, Dawejko's hand was raised as the clear winner bumping his record to 25-10-4 (13 KOs). A slightly closed left eye along with the bruises of warfare were the badge of honor given to the Tank. Madison, the always game, tough, and sturdy Baltimore heavyweight suffered a busted nose and a loss that dropped his record to 11-5-2 (7 KOs). As Peltz has often mentioned, fans shouldn't let a record fool them into thinking that certain fighters aren't worth the price of admission. In this case, he was right.
Both Peltz and Dawejko were candid about what they feel is next for him. Simply put, they're going to keep having fun when dealing with the business side and the actual fights. "It's about opportunities and hanging around to take those opportunities when they're presented," stated Peltz. In other words, if Dawejko continues to win and look good doing so, eventually a fringe contender or prospect is going to have to step up and fight someone of Dawejko's caliber. When that happens, Dawejko and Peltz will be available to answer the call. If victorious on that occasion, they're aware that the type of fight Dawejko is craving should eventually present itself for the taking.
What is clear is that the days of Dawejko taking a phone call to be a last-minute replacement for a fight in Russia or some other part of the world are over. Several of his losses have come in this fashion or occurred during a time when Dawejko may not have had the fight game front and center in his life. Aside from fighting, he has a successful roofing company, So, since he seems to be taking this last run seriously, we might just be able to see the best of what the Tank has to offer the heavyweight division as his career winds down.
"I'll fight anyone, I've always been like that. My career up to this point proves that" said Dawejko as he was getting toweled off and checked out by the doctors in the back post-fight. "I just want another chance and big fight to show the world that." Immediately after the fight, fans in attendance started to ask the one question most in Philadelphia have been thinking about for some time – if Dawejko would be willing to fight fellow Philadelphia heavyweight Sonny Conto. Conto, who is signed to Top Rank, also has a huge following in the area and from a business sense a fight with Dawejko in Philadelphia would do big business on the local boxing scene.
It's the type of fight that would have been a natural fit for the legendary Blue Horizon as part of the Tuesday Night Fights series on the USA network, both now sadly gone. Unfortunately, it's also the type of fight that no longer is in a rush to be fought. For now, it's the event centers and ballrooms of the area for the Tank. Although these venues don't provide the financial compensation he deserves at this point in his career, it allows him to stay active and sharp for the moment when the right opportunity presents itself —  an opportunity that this time "The Tank" will be ready to go to war for.
****
For fight fans in the Philadelphia / South Jersey region there are a trio of professional fight cards scheduled for the rest of the month. Two shows take place on Saturday May 20th. Kings Promotions will be back in Philadelphia at the 2300 Arena while upstart R & B Promotions will be running a show at the Showboat Casino in Atlantic City. On May 27th, RDR Promotions will be having a show at the Newton Athletic Club in Newton PA.
To comment on this story in the Fight Forum CLICK HERE
Seasons Beatings from Philly where Local Fighters of Note are in Action This Weekend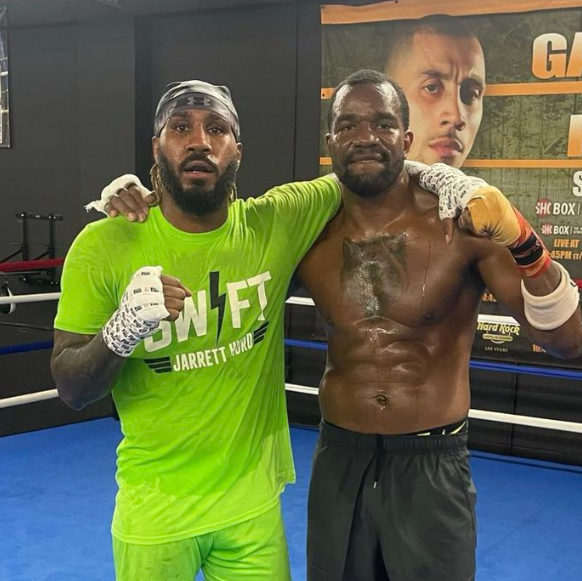 Seasons Beatings from Philly where Local Fighters of Note are in Action This Weekend
Tomorrow night (Friday, Dec. 8) begins a nice stretch of live boxing in the Philadelphia area after a relatively quiet fall schedule. These shows will wrap a bow on the 2023 fight schedule for the Delaware Valley with a slate of shows already scheduled for the early part of the upcoming new year.
This sudden boom, well overdue, is good for the Delaware Valley, for its fighters and its fight fans. So, while these shows aren't large-scale, they are a great way for fight fans to learn about fighters they may see competing on those larger shows in the future.
Let's look at what exactly fans are in for with the final shows of 2023.
Friday, December 8th – Wind Creek Events Center, Bethlehem, PA (Kings Promotions)
Jesse Hart (29-3) vs. Jeyson Minda (14-7-1) tops a massive 11-fight card. For years now, Marshall Kauffman's Kings Promotions has put on successful shows in the Philadelphia region. Not only do they hit the mark from a commercial standpoint, but his shows always have entertaining fights where the result could go either way and this show should be no different.
Jesse Hart (pictured with Jarrett Hurd) finds himself somewhat in limbo in the sport. Staying active and keeping his tools sharp is crucial for Hart to continue to keep his name out there and work his way back into the rankings.
A powerful fighter who often finds himself in engaging battles, Hart's three defeats happened against only two fighters — Gilberto Ramirez (twice) and Joe Smith, both former world champions. Since his last setback in 2020, Hart has won three fights on the local scene while enduring some setbacks outside of the ring due to hand injuries. Released from his contract with Top Rank, Hart finds himself in the position where his name and pedigree (he's the son of former middleweight standout Eugene "Cyclone" Hart) coupled with a string of quality victories could open the door to another crack at a marquee name in the super middleweight or light heavyweight division.
Former super welterweight king Jarrett Hurd (24-3) takes on Tyi Edmonds (14-5). In his most recent fight back in March, Hurd returned to the ring after a long absence and was shockingly stopped in the tenth round by Armando Resendiz.  Against Edmonds, Hurd looks to prove that he still has elite-level abilities as he too tries to work his way back to the top. A much-needed victory would start that process while a third defeat in a row, especially if it's physically taxing, would all but mark the end of having his name mentioned anywhere near the division's best.
Julian Gonzalez (11-0-1) is a talented Kings Promotions fighter who packs a punch, especially for a super featherweight. The 22-year-old Reading, PA native continues his growth against Texas journeyman Juan Antonio Lopez (17-15-1). If successful, Gonzalez will set himself up for a bright 2024 that should see him face quality fringe contenders as well as other prospects which will lead to bigger fights down the road.
Saturday, December 9th – Showboat Hotel, Atlantic City, NJ (Champions Sports and Entertainment)
Philadelphia fan favorite Joey "The Tank" Dawejko (26-10-4, 14 KOs) is staying busy in the twilight of his career. He's 3-0 thus far in 2023 which includes two exciting victories over Colby Madison (their first fight, a bruising tiff, will most likely be the 2023 Philadelphia Fight of the Year). On Saturday he returns to the ring to defend his WBC USA heavyweight title in an 8-round battle vs. Jesse Bryan (21-7-2, 16 KOs) of Jefferson City, Missouri. This fight headlines a nine-bout show by CSE which is trying to revive boxing on the boardwalk.
In the co-main, Glassboro, NJ native Derrick Webster (29-4-1) will take on the always durable Cleotis Pendarvis (22-19-2) in an 8-round battle of super middleweights.
Liverpool, NY super lightweight Bryce Mills (13-1, 4 KO) looks to add to his 7-fight winning streak when he battles the durable Tackie Annan (15-10) in a fight scheduled for six rounds. Mills has continued to grow his fan base in the northeast by taking part in action-packed fights from the opening bell. His fans tend to travel well and Saturday looks to be no different as a large contingent of his fans are expected to turn up in Atlantic City to support their young charge. It also helps that Mills, like Dawejko, has teamed up with Hall-of-Fame promoter J. Russell Peltz to help guide his professional career.
Edward Donovan (7-0), a super welterweight prospect from Limerick, Ireland, puts his undefeated record on the line when he battles tough Jetter Burgos (6-1, 5 KO) from the Bronx, NY. Puerto Rican lightweight Joey Borrero (11-1, 9 KO), along with super middleweight prospect Cali Box (2-0) from Franklin Township, NJ, will appear in separate fights.
Date TBD– 2300 Arena, Philadelphia, PA (R&B Promotions)
Tevin Farmer (32-5-1) and Patrick Okine (21-6-2) were slated to meet in the main event last Friday, Dec. 1, on a show at the always-fun 2300 Arena. At the last minute, the show was postponed. An e-mail announcing the unfortunate postponement stated that the show would be rescheduled soon. While a new date has yet to be locked in, all signs point toward the show coming to fruition at the close of 2023 or early in 2024.
A former IBF world super featherweight champion, Tevin Farmer was set to make his third appearance of 2023 as he continues to shake off the ring rust that formed after a much-needed break and continue his push toward becoming a two-time world title-holder. It's crazy to think, but it's already been more than three full years since Farmer lost his title to Jojo Diaz in January of 2020.
Farmer, who had a late start in the sport, turned pro without the glitz and glamour that accompanies a highly decorated amateur, but fought his way to the top, beating the odds to achieve his life's dream of championship glory. His break from the sport following his defeat to Diaz was needed to reenergize him from both a physical and mental standpoint.
In Okine he will find himself in the ring with a sturdy opponent that has faced some of the top contenders in and around the lightweight division. "I wanted Tevin [Farmer] to stay active and keep sharpening his tools and Okine provides that opportunity for him," stated Alex Barbosa, the promoter/matchmaker. "Okine is always tough and comes to win, which is just what Tevin needs at this point of his career."
With the lightweight division having had a changing of the guard at the top in terms of the championships, Farmer, 33, just may get that second chance at the top of the mountain. And if he continues to stay active while racking up solid victories, it may come sooner rather than later.
To comment on this story in the Fight Forum CLICK HERE
The IBHOF Class of 2024 includes Ricky Hatton, Michael Moorer, and Ivan Calderon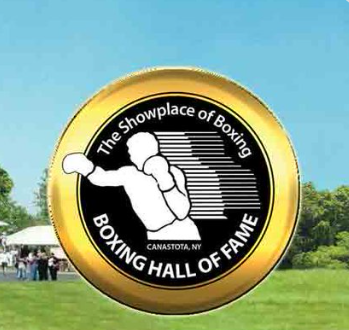 The IBHOF Class of 2024 includes Ricky Hatton, Michael Moorer, and Ivan Calderon
The International Boxing Hall of Fame and Museum in Canastota, New York, has unveiled its newest class of inductees. The Class of 2024 includes Ricky "The Hitman" Hatton, Michael "Double M" Moorer, Ivan "Iron Boy" Calderon and Diego "Chico" Corrales (posthumous) in the men's Modern category; Jane "The Fleetwood Assassin" Couch and "La Guerrera" Ana Maria Torres in the Women's modern category; trainer Kenny Adams, manager Jackie Kallen, and publicist Fred Sternburg in the Non-Participant category; journalist Wallace Matthews and broadcaster Nick Charles (posthumous) in the Observer category; Luis Angel Firpo (posthumous) in the Old Timer category and Theresa Kibby (posthumous) in the women's Trailblazer category.
The inductees will be formally enshrined during the annual Hall of Fame Induction Weekend. The 2024 event, a four-day jamboree, commences on Thursday, June 6.
The IBHOF is located at Exit 34 of the New York Thruway. Hours of operation are Monday-Sunday 10 a.m. to 4 p.m.
Biographies on the Class of 2024 can be found on www.ibhof.com
Fred Sternburg was previously honored with the Marvin Kohn Good Guy Award by the Boxing Writers Association of America, an honor bestowed upon him in 2004. Rick Folstad interviewed Sternburg for a story that appeared on these pages in December of 2005.
To comment on this story in the Fight Forum CLICK HERE
Ebanie Bridges Poised to Defend Her Title and Boost Her Brand in SanFran This Weekend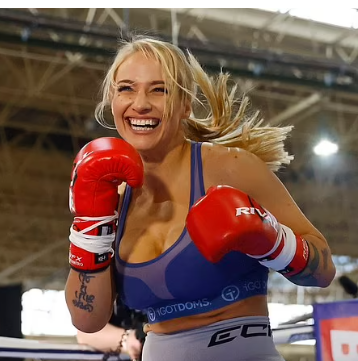 Ebanie Bridges opposes late sub Miyo Yoshida on the undercard of Saturday's Matchroom card in San Francisco featuring the WBC lightweight title fight between Regis Prograis and Devin Haney. It's doubtful that Bridges vs. Yoshida will steal the show (Prograis vs Haney is a compelling match-up), but it's a stone-cold lock that Bridges vs. Yoshida will steal the weigh-in. It goes at 1 pm Friday at the Chase Center and is open to the public.
This is all Bridges' doing. She can fight more than a little, as Damon Runyon would have phrased it, but is best known for turning up at weigh-ins in lingerie so sexy that Matchroom honcho Eddie Hearn averts his eyes to keep from blushing. Others can't keep their eyes off the 37-year-old, well-endowed Australian and on Friday the paparazzi will crash the scene to capture images that will be all over the internet within hours.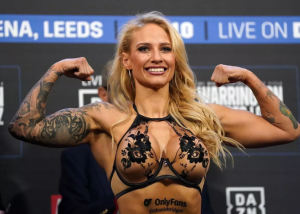 This doesn't sit well with a lot of people. Former opponent Shannon Courtenay, who saddled Bridges (9-1, 4 KOs) with her only defeat, chastised her for selling their fight for the wrong reasons and disrespecting the sport. Her most recent opponent, Shannon O'Connell, called her a skank and other terms of derision unfit for a family newspaper.
Bridges stopped her in the eighth round in what is her most gratifying win to date. "She made it personal," says Ebanie. "It felt good to make her eat her words."
Bridges, who set a withering pace, was making the first defense of the IBF bantamweight title she won with a comprehensive 10-round decision over Argentina's long-reigning Maria Cecilia Roman. Shannon O'Connell, a fellow Aussie, entered that bout on an 8-fight winning streak that included hard-earned decisions over Australian standouts Taylah Robertson and Cherneka Johnson.
So, although Bridges vs O'Connell was contested in Leeds, England, it was something of the culmination of an Australian round-robin tournament, and it would be Ebanie Bridges that emerged as the Queen Bee.
Bridges has a platform on Only Fans. Known for its "adult" content, the web site is also a place where B-list celebrities go to monetize their fan base by promising a closer look into their personal lives. For attractive female celebs, that usually means displaying more skin that can be found in generic publicity photos, but well short of hard-core. Current Only Fans performers include recording artist Cardi B, actress Denise Richards, the former spouse of Charlie Sheen, actress Drea de Matteo, best known for portraying Adriana on "The Sopranos," former "Baywatch" sex symbol Carmen Electra, boxer Mikaela Mayer, and former Miss USA Shanna Moakler who shares a daughter with Oscar de la Hoya.
Women that profit from cheesecake, to use an old word for racy photos, aren't known for having the brightest bulbs between their ears but Bridges, despite embracing her nickname, the Blonde Bomber, doesn't fit the stereotype. She's no bimbo.
Ms. Bridges has two college degrees, an undergraduate degree in math and a master's in secondary education. In her spare time, she finds solace in playing the piano and in drawing, a skill that she inherited from her father, a painter and commercial artist.
In her drawings, she is partial to British soccer coaches and athletes, in particular boxers. Some of her photos are embedded in her smart phone. These, I can attest, are very good. There was no mistaking her drawing of Sugar Ray Robinson. It ranked right up there with Stanley Weston whose illustrations adorned the covers of 57 issues of The Ring magazine.
Bridges is her own best publicist. It's an attribute she shares with UFC superstar Conor McGregor.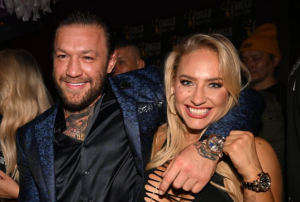 It comes as no surprise to learn that they are well-acquainted. Bridges and McGregor sat together at the first fight between Katie Taylor and Chantelle Cameron. She is a spokesperson for the latest product that McGregor is pushing, Forged Irish Stout, a brand of beer that debuted at the Black Forge Inn, the Dublin pub that McGregor owns.
"I love Conor," she says, "he's lovely," a rather odd adjective to apply to a man who once attacked a bus with a metal barricade at a UFC media event in Brooklyn, injuring three people.
"He's great for my brand," says Bridges of McGregor, "and I'm great for his brand."
Like it or not, this is the new world order. This reporter is old enough to remember when colleges and universities had football teams. Now they have football franchises, which isn't quite the same. A franchise requires a well-oiled marketing department to enhance the value of the brand.
Bridges got her first crack at a world title (the WBA version held by Shannon Courtenay) after only five pro fights against opponents who were collectively 12-25-5. Her opponent on Saturday, Miyo Yoshida, sports a 16-4 record and is coming off a loss.
This is fodder for critics of female boxing but, make no mistake, Bridges would be a tough out for any female bantamweight in the world and she has paid her dues. She had 30 amateur fights after previously training in karate, kickboxing, and Muay Thai. (In fairness to Matchroom's matchmaker, he salvaged Saturday's date for her, securing Yoshida after three previous opponents fell out.)
Looking ahead to 2024, Bridges envisions fighting England's Nina Hughes, the WBA belt-holder, and then Denmark's Dina Thorslund who owns the other two meaningful pieces of the bantamweight title. A match with Thorslund (currently 20-0, 8 KOs) with all four belts on the line would be a blockbuster and, by then, should it transpire, the Blonde Bombshell would undoubtedly be one of the most well-known boxers in the world.
To comment on this story in the Fight Forum CLICK HERE