The Hauser Report: A Club Fight Card in Philadelphia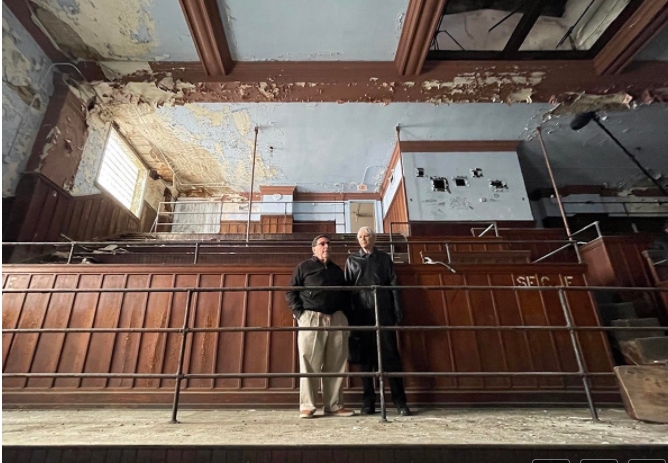 The Hauser Report: A Club-Fight Card in Philadelphia
Prentiss Byrd worked as a trainer with Emanuel Steward at the Kronk Gym in Detroit from 1978 to 2001. Long ago, Byrd voiced the view, "Boxing has been dead for years. We're just walking through the graveyard."
I've written at length in this space about the reasons for the decline of boxing in the United States. Phony championship belts, a pay-per-view economic model that separates fans from attractive fights, the failure of the sport's power brokers to make the fights that the public most wants to see, incompetent and corrupt officiating that mars the viewing experience (to say nothing of undermining the integrity of the sport).
In recent months, I've been involved in the making of a documentary that will examine the current state of boxing. On February 26, that project took me to Philadelphia to explore boxing through the prism of club fights.
There was a time when club fights were the lifeblood of professional boxing. Watching a fight live from up close is different from what most fans experience in a big arena. The only way to get close to the ring at a big fight is to be a member of the media or a child of privilege with a thousand-dollar ticket. At a club fight, spectators are close to the action. They hear punches land and see the pain etched on a fighter's face. It's a unique experience that can't be fully understood unless one has been there. Television cosmeticizes the violence and falls short of fully capturing the atmosphere at a fight.
Once upon a time, the Blue Horizon in North Philadelphia was the most famous club fight arena in the United States, The Ring called it "the number-one boxing venue in the world."
The building was constructed in 1865 as a row of three adjoining homes for the super-rich. In 1914, it was altered and became the Philadelphia home for a national fraternal lodge known as the Loyal Order of Moose. The first fight card contested there was held on March 1, 1938. In 1961, the building was sold to a new owner who named it The Blue Horizon and, after further renovation, began hosting regular boxing shows. Marty Kramer, Herman Taylor, and Russell Peltz are among the promoters who made their name there. The arena closed in 2010 and is now awaiting redevelopment.
Philadelphia gave boxing Joe Frazier, Bernard Hopkins, Matthew Saad Muhammad, Harold Johnson, Stanley "Kitten" Hayward, Meldrick Taylor, Tim Witherspoon, "Gypsy" Joe Harris, Eugene "Cyclone" Hart, Bennie Briscoe, and Jeff Chandler. Also Michael Buffer, Artie Pelullo (seen above with the author last Saturday on the famed Blue Horizon balcony), and (one might say) Rocky Balboa.
On arriving in the City of Brotherly Love on February 26, I went with the film crew to the Blue Horizon. The building is padlocked. A caretaker brought us inside. Prentiss Byrd's ghosts were in the house. Beyond that, it's difficult to describe what I saw.
The once-grand building where capacity crowds of 1,346 gathered for fights is now a monument to urban decay. A wreck, a ruin. Parts of it are structurally unsound. Clumps of plaster have fallen from the ceiling and litter the floor. The walls look like they've been torn apart by an explosion. Going anywhere inside requires walking through rubble. Twelve years of grime on the windows keep the sunlight out.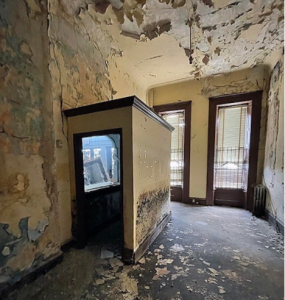 From that sad reminder of boxing's past, we went next to boxing's present.
The 2300 Arena is located in an industrial area of South Philadelphia beneath an overpass for Interstate 95. Built as a warehouse in 1974, it has been known at various times as Viking Hall, Alhambra Arena, The Arena, Asylum Arena, ECW Arena, and now 2300 Arena (a reference to its location at 2300 South Swanson Street). In recent years, it has been the site for weddings, bar mitzvahs, and other events. After winning the Super Bowl in 2018, the Philadelphia Eagles received their rings in a private ceremony there.
The 2300 Arena is also home to club fights promoted by RDR Promotions (named for its founder Rodney Rice).
Rice, age 55, grew up in South Philadelphia. His mother was the rock of the family. His father (in Rodney's words) was "in and out of the home." Mostly out.
Rice is open about past mistakes. He fought a lot on the streets when he was young and looks back on that time, saying, "I had a lot of anger issues." From ages ten through fifteen, he was in a child guidance program at Children's Hospital of Philadelphia but was still "getting into bad things." There was a conviction for burglary. He was "moving toward drug dealing." Then "my sister, Dionne, pushed me into the Army."
Rice served in the military from 1988 to 1999, rising to the rank of staff sergeant. After leaving the service, he took a job with Terminex (a pest control company). "But I didn't know how to act out of the military," he acknowledges. "I got into drugs to cope. For a year, it was bad. I knew I needed help."
In 2000, Rice entered a drug rehab program. Then he returned to the pest control business. That was followed by a job in vector control with the City of Philadelphia. Since 2012, he has worked for the United States Environmental Protection Agency in its Inspector General's office. He balances the requirements of that job with the demands of his promotional company.
Rice's introduction to formal boxing began with sparring after he left the military ("I got my butt kicked"). Then he began helping trainers work with their fighters. The first pro fight that he remembers being at was Hank Lundy vs. Reggie Sanders at the Blue Horizon in 2007. After that, he says, "the evolution to being a promoter was natural for me."
RDR Promotions promoted two fight cards in 2020 and ten in 2021. The February 26 show was its first of 2022 with the next two scheduled for March 25 and April 30. Rice has a few fighters under contract but, for the most part, fills out his cards with fighters who are independent or made available to him by other promoters on a fight-by-fight basis.
"I like building and rebuilding fighters," Rice says. "I love what I'm doing. The worst thing about the job is some of the people you have to deal with and the secrets you have to keep. I don't know where I'll go from here. There's no great plan. If I keep having fun, I'll keep doing it. If I'm not having fun, I'll stop."
Generic boxing doesn't sell well to the public at large anymore. That's why TV ratings are low for most bouts and arenas are largely empty during the undercard for big fights. But the sport has a hardcore fan base, and RDR Promotions has tapped into it.
The 2300 Arena is a barebones facility with the feel of a former warehouse. It has a high ceiling, plain walls, and concrete floor painted black. Tickets for the February 26 event were priced at $150, $100, and $75. RDR's shows are building a following, in part because matchmaker Nick Tiberi makes pretty good fights and in part because each card has a half-dozen or so Philadelphia fighters who are ticket sellers. The shows are also available via pay-per-view stream on BXNG.TV for $19.95.
Greg Sirb (executive director of the Pennsylvania State Athletic Commission) does a hands-on job of overseeing combat sports in Pennsylvania. And for a fraction of what it costs to regulate boxing in nearby states like New York. Four hours before the bell for round one of the opening bout on February 26, Sirb was checking in fighters and their camps in addition to performing chores like carrying chairs into the technical zone at ringside for fighters' seconds to sit on between rounds during the fights.
Upstairs, sixteen fighters and their teams were crammed into two dressing rooms on the second floor. There was no music, just quiet conversation with each camp respecting the others' space. The vibe in the "blue" dressing room (which housed the underdog fighters) was far less optimistic than in the red.
At 6:40 PM, the doors to the arena opened and the crowd began filing in. It was a good turnout. Most of the fans were in their seats when the first bout began at 7:20.
The fighters on the card were a mix of prospects, ticket sellers, and opponents. Being an "opponent" in boxing is one of the most painful, thankless jobs imaginable. Why do they do it? Wrigley Brogan answered that question several years ago when he wrote, "A few extra bucks, a chance to be admired for a few minutes, to be something uncommon, to know they have had a real life rather than a safe one."
The first bout of the evening was a mismatch between local prospect, 22-year-old Jabril Noble (2-0, 2 KOs) from Philadelphia and Joseph Santana (0-4, 3 KOs by) from Providence. Rice is an advisor to Noble. Santana was a last-minute substitute after Darnell Jiles (who'd won once in nine fights dating back to 2008) fell out. Noble KO'd Santana at 2:01 of round one and, in an in-the-ring interview afterward, declared, "He was scared. He didn't want to fight. I want a better opponent next time than the one I just fought."
Bout number two was equally predictable. Edwin Cortes (1-0) fought Jerrod Miner, who was introduced to the crowd as "a seventeen-bout veteran." Miner's actual record (two wins in those seventeen fights) was left unspoken. Cortes prevailed on each judges' scorecard by a 40-36 margin.
That was followed by another mismatch. Nineteen-year-old Philadelphian Isaiah Johnson (3-0, 3 KOs), with whom Rice has a promotional contract, showboated before, during, and after his fight against Dieumerci Nzau, who lasted 72 seconds and has now lost twelve fights in a row.
Philadelphia boxing fans are knowledgeable. They understood what they were watching. Then they saw the sort of upset that makes going to club shows worthwhile.
Robert Sabbagh (3-0, 2 KOs) from Brooklyn was matched against North Carolinian Joel Caudle (8-6-2, 5 KOs, 2 KOs by) in a scheduled six-round heavyweight bout. Caudle, age 31, is listed as 5-feet-10-inches tall and weighed in at 283 pounds. "Blubbery" doesn't begin to describe him. He'd lost his most recent five fights dating back to 2018. Sabbagh was expected to make it six losses in a row. But whatever Sabbagh might bring to the table, high-level boxing skills aren't on the list. Against Caudle, he seemed intimidated from the opening bell by the massive presence in front of him, took body shot after body shot, and never really fought back. His corner stopped the beating after four rounds.
Next up, 25-year-old Dominique Mayfield (0-1, 1 KO by) from Philadelphia fought 36-year-old Daryl Clark. Mayfield had been knocked out in the first round by a 3-11 fighter in his only other pro fight. Clark, from Houston, had a 1-1 record but that win came against a fighter who hurt his shoulder in the second round and had been unable to continue. Mayfield decisioned Clark by a 40-36, 40-36, 40-36 margin.
Mexican Oscar Barajas, who hadn't won since 2017 and had been brought to the 2300 Arena in the hope that he would lose to Philadelphian Jerome Conquest, turned the tables with a 58-56, 58-56, 57-57 majority decision triumph.
Then the third prospect on the card, 28-year-old cruiserweight Muhsin Cason (9-0, 6 KOs) from Las Vegas knocked out Louisianian Steven Lyons (winless in six fights dating back to February 2019) in five rounds.
Finally, the main event matched Ray Robinson (24-3-2, 12 KOs, 1 KO by) against Silverio Ortiz (37-28, 18 KOs, 6 KOs by). Robinson, age 36 and from Philadelphia, was once a prospect. But he couldn't beat the world-class fighters he faced and was winless in three bouts dating back to 2017. Ortiz, age 39, a last-minute substitute, had lost his last seven fights and 14 of 17 dating back to 2015. To be fair, the 14 guys Ortiz lost to during that stretch had a composite ring record of 230-13-5 at the time he fought them. He's a classic "opponent." KO 3 Robinson.
And that was boxing in Philadelphia on February 26, 2022.
Thomas Hauser's email address is thomashauserwriter@gmail.com. His most recent book – Broken Dreams: Another Year Inside Boxing – was published by the University of Arkansas Press this autumn. In 2004, the Boxing Writers Association of America honored Hauser with the Nat Fleischer Award for career excellence in boxing journalism. In 2019, Hauser was selected for boxing's highest honor – induction into the International Boxing Hall of Fame.
Alycia Baumgardner vs Elhem Mekhaled: Female Splendor at MSG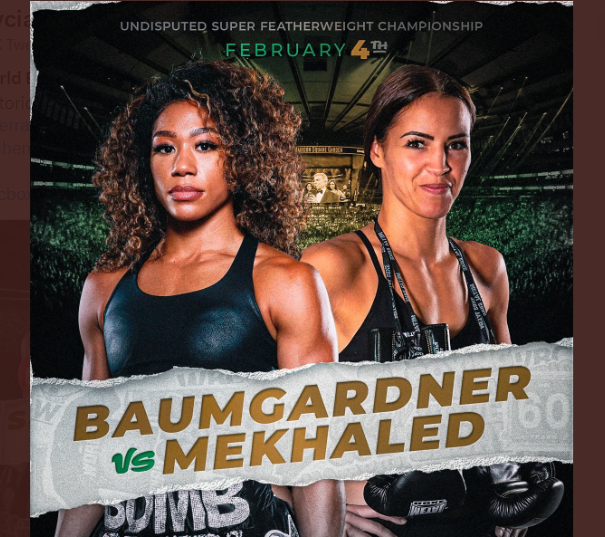 Alycia Baumgardner vs Elhem Mekhaled: Female Splendor at MSG
Two bouts between women, which will turn the winners into undisputed champions in the featherweight and super featherweight divisions, will create an electrifying atmosphere this Saturday, February 4th at Madison Square Garden.
In the duel between the two southpaws, Puerto Rican Amanda Serrano (43-2-1, 30 KOs), based in Brooklyn), will defend her 126-pound WBC, IBF and WBO titles, while Mexican Erika Cruz (15-1, 3 KOs) will defend her WBA title.
Also, of great interest will be the fight between American Baumgardner (13-1, 7 KOs), 130-pound WBC, IBF and WBO champion and her opponent, French challenger Elhem Mekhaled (15-1, 3 KOs), who will try to snatch Baumgardner's titles and get the vacant WBA title, which belonged to the undefeated Korean Choi Hyun-Mi (20-1, 5 KOs).
Choi, who was born in Pyongyang, North Korea but left the country with her family at the age of 14 and settled in Seoul, South Korea, was declared "Champion in Recess", as she suffers from a medical condition that prevents her from fighting. Once she fully recovers, she will have the possibility of facing, as a mandatory challenger, the winner between Baumgardner and Mekhaled.
For Baumgardner, who was born 28 years ago in Ohio, but now lives and trains in Michigan, the fight in New York will once again allow her to showcase her skills in the United States after three consecutive fights in the United Kingdom.
In her most recent bout, Baumgardner defeated her compatriot Mikaela Mayer (17-1, 5 KOs) in a difficult brawl, from whom she snatched the IBF and WBO belts, while retaining the WBC belt. The bout was October 15th of last year at the O2 Arena in London. Two of the officials, Steve Gray and John Latham, scored the fight 96-95 in favor of Baumgardner, but Terry O'Connor saw it 97-93 for Mayer.
Four days later, Choi unanimously defeated Canada's Vanessa Bradford (6-4-2, 0 KOs) in Seoul, earning the Asian her ninth successful defense of the WBA super featherweight crown, which she has held since May 2014, when she anesthetized the now retired Thai, Siriwan Thongmanit.
The following month, in November, the WBA ordered Choi to defend her belt in a mandatory duel against Baumgardner, making the winner the undisputed queen of 130 pounds.
ELHEM MEKHALED FILLS THE VACANCY OF SOUTH KOREAN CHOI
To fill the vacancy of the South Korean Choi, the IBF Committee awarded the position to Mekhaled who ranks third in the women's 130-pound rankings.
Former interim WBC titleholder, Mekhaled, 31 years old and born in Paris, has recently lost by unanimous decision to Belgian Delfine Persoon (47-3, 19 KOs) at the Etihad Arena in Abu Dhabi where they disputed the vacant WBC silver belt.
The duel against Baumgardner not only allows Mekhaled to debut in the United States, but also provides her the opportunity to become the undisputed champion at 130 pounds.
Mekhaled emphasized that the February 4th event has great significance for women fighters and that this is a sign that the discipline is growing, with more and more fight cards in which women exhibit the leading role.
The French boxer said that after winning the interim title in 2015, she waited a long time for the opportunity to fight for the regular belt, but unfortunately it never materialized.
Mekhaled explained that after a long period of focusing on her personal life and not really training, she accepted the duel with Delfine Persoon with only two weeks of preparation, which led to the setback against the Belgian boxer.
"Since my WBC interim 2019 title, I've been waiting for this moment," said Mekhaled. "Maybe fate has played well; instead of one belt, they're all on the line. I am super excited to fight on February 4th at the legendary MSG in New York. God knows how determined I am! It's my time to shine. Thank you to my advisor Sarah Fina."
Article submitted by Jorge Juan Álvarez in Spanish.
Please note any adjustments made were for clarification purposes and any errors in translation were unintentional.
To comment on this story in the Fight Forum CLICK HERE
How good is Jake Paul? Shane Mosley's Answer May Surprise You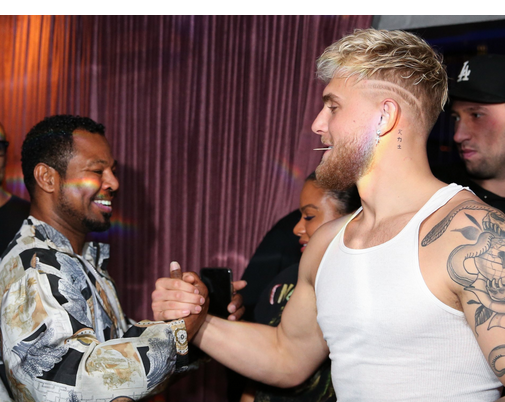 Few celebrities in the world today are as polarizing as Jake Paul. The 26-year-old Cleveland native who fights Tommy Fury in an 8-round match on Feb. 26 in Riyadh, Saudi Arabia, has fervent fans and equally fervent detractors. To long-time aficionados of boxing, especially those born before the arrival of the internet, Jake Paul and his ilk are widely looked upon as a scourge.
Paul first entered the squared circle on Aug. 25, 2018, at the Manchester Arena in England. He fought fellow YouTube star Deji Olatunji in the co-feature to a match between their respective older brothers, Logan Paul and the "influencer" known as KSI. The combatants promoted the event on their social media platforms
These were exhibitions fought with headgear. Jake Paul stopped Olatunji whose corner pulled him out after five rounds. However, the results wouldn't appear on boxrec, the sport's official record-keeper.
No serious boxing fan paid this curious event any heed, but the folks that profit from the sport without taking any punches stood up and took notice. The on-site gate reportedly exceeded $3 million. The event reportedly generated 1.3 million pay-per-view buys worldwide (youtube charged $10 a pop) with nearly as many beholders catching a free ride on a pirate stream. A new era was born, or at least a new sub-set of a heretofore calcified sport.
Jake Paul had his first professional fight on Jan. 30, 2020, in Miami. In the opposite corner was a British social media personality of Saudi Arabian lineage who took the name AnEsonGib. Paul stopped him in the opening round.
Paul fought once more that year, knocking out former NBA star Nate Robinson, and three times in 2021, opposing Ben Askren and then Tyron Woodley twice. Askren and Woodley were former MMA champions who had fabled careers as U.S. collegiate wrestlers, but both were newcomers to boxing.
According to Forbes, Jake Paul made $31 million from boxing in 2021. And therein lies the rub. While thousands of would-be future champions, many with deep amateur backgrounds, toiled away in boxing gyms honing their craft while hoping to attract the eye of an important promoter, a guy like Jake Paul came along and jumped the queue. It just ain't fair.
In preparation for his pro debut against AnEson Gib, Paul spent time in Big Bear, California, training at the compound of Shane Mosley. A first ballot Hall of Famer (class of 2020), Mr. Mosley needs no introduction to readers of this web site. And when he says that Jake Paul is legit, one is inclined to give him the benefit of the doubt.
"I taught him the fundamentals," says Mosley, "but Jake was a good listener and a hard worker. He's a good athlete and he has a boxer's mentality. We took him down the street to Abel Sanchez's gym and had him spar with real professional fighters. He would spar with anybody and when he got caught with a hard punch he wouldn't back down. He loves the sport and he relished the competition."
Mosley stops short of saying that Jake Paul could hold his own with Canelo Alvarez – Paul preposterously called out Canelo after out-pointing 47-year-old MMA legend Anderson Silva in his most recent fight – but with so many titles up for grabs in this balkanized sport, it wouldn't   surprise Mosely if the self-styled "Problem Child" latched hold of one before this phase of his life was over.
A three-time national amateur champion and a world champion at 135, 147, and 154 pounds as a pro, Shane Mosley put Pomona, California on the boxing map. He represented that city in LA county throughout his illustrious career. His son of the same name was born there.
Mosley fought twice in his hometown as he was coming up the ladder and will be back there again on Feb. 18 when Shane Mosley Jr appears on the undercard of a Golden Boy Promotions card at Pomona's historic Fox Theater. It's not official yet so we won't divulge the name of Shane's opponent, but the main event will pit Luis Nery against Azat Hovhannisyan in a WBC Super Bantamweight Eliminator, a match that shapes up as an entertaining skirmish as both have fan-friendly styles.
Shane Mosley Jr, who turned 31 in December, will never replicate his father's fistic accomplishments; his dad set the bar too high. But the younger Mosley is a solid pro who is on a pretty nice roll, having won five of his last six since losing a 10-round decision to Brandon Adams in the finals of season 5 of The Contender series. In his last outing, he out-slicked rugged Gabriel Rosado to win a regional super middleweight title.
The elder Mosely has been working with his son at Bones Adams gym in Las Vegas and will be in junior's corner on Feb. 18. It will be a double-homecoming for Pomona's favorite sons.
To comment on this story in the Fight Forum CLICK HERE
Arne K. Lang's third boxing book, titled "George Dixon, Terry McGovern and the Culture of Boxing in America, 1890-1910," has rolled off the press. Published by McFarland, the book can be ordered directly from the publisher or via Amazon.
Amanda Serrano Seeks Undisputed Status at 126 with Katie Taylor on the Horizon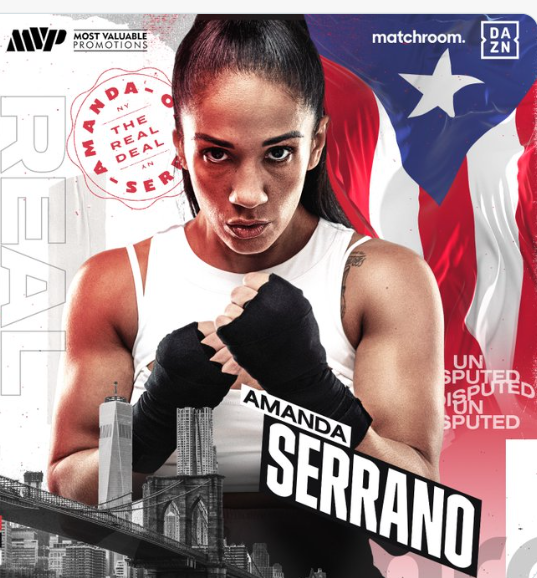 After becoming the boxing icon of Puerto Rico last year, Amanda Serrano will try to make history again when she faces the Mexican southpaw Erika Cruz on February 4th at the Hulu theater in Madison Square Garden.
Promoter Eddie Hearn stated, "Puerto Rico vs Mexico fights always deliver fireworks, and we can expect nothing less when Amanda and Erika meet. Their clash of styles will make for a brilliant spectacle as Amanda and her army of fans return to the scene of her history-making fight of the year with Katie, and we can expect a similar atmosphere to one of the greatest nights the sport has ever seen."
Champion in several sanctioning bodies, Serrano (43-2-1, 30 KOs) will put her WBC, IBF and WBO featherweight belts on the line, while Cruz (15-1, 3 KOs) will be defending the WBA belt. If she succeeds, the thirty-four-year-old Serrano, a native of Puerto Rico who has lived in Brooklyn, New York since childhood, will become the first boxer from Puerto Rico to hold the four most recognized belts in boxing.
"This is a pivotal moment, not just for me and my own career but for my home island of Puerto Rico," said Serrano. "Earning the opportunity to be an undisputed lineal champion is something most fighters only dream about but becoming the first boxer from Puerto Rico to be an undisputed champion would make it even more special. I look forward to entering the ring in my hometown of NYC back at Madison Square Garden, taking on a Mexican champion in Erika Cruz and making Puerto Rican history. I encourage all my fans to turn up and tune in!"
The Puerto Rican boxer, who has won 30 of her 46 fights within the distance, said that if Cruz has a tactical plan in place that consists of exchanging punches, the bout will not go the 10 scheduled rounds.
Last September, Serrano unanimously defeated then-undefeated Dane Sarah Mahfoud (11-1, 3 KOs, in Manchester, England. Previously, in April, Serrano lost a split decision to Ireland's Katie Taylor (22-0, 6 KOs) who successfully defended her four lightweight belts. Two judges scored the fight (97-93) for Taylor and the other (96-94) in favor of Serrano.
Taylor and Serrano became the first female boxers to headline a boxing match at Madison Square Garden. The two ladies also made history by each receiving a check for more than a million dollars which had an increase from pay-per-view earnings.
Referring to a possible rematch against Taylor, Serrano commented that if she beats Cruz, as expected, and if/when she meets Taylor for the second time (possibly in May in Ireland), it would be an epic duel between two undisputed champions: Serrano at 126 pounds and Taylor at 135.
Even though Serrano longs for a rematch with Taylor, she realizes that her immediate challenge is Cruz and has assured us that she is in excellent shape physically, technically, and mentally. She has increased the amount of sparring in camp, focusing on aggressiveness and explosiveness. She's also added a sports massage therapist to her team which has helped with recovery.
In regard to a second confrontation between Serrano and Taylor, promoter Eddie Hearn stated, "For Serrano to become undisputed at 126 and then fight Katie again for the undisputed at 135 at Croke Park in Dublin, it would make that rematch even bigger if you can imagine that."
Cruz, 32 years old and born in Mexico City, has put together a win streak of 14 following her loss to compatriot Alondra González on June 25, 2016, in Puebla, Mexico. Cruz conquered the WBA world belt on April 22, 2022, when she defeated Canadian Jelena Mrdjenovich who was unable to continue in the seventh round due to a cut caused by an accidental headbutt.
Five months later, on September 3, Cruz faced Mrdjenovich for a second time and again came out with her arm raised, this time winning by unanimous decision in Hermosillo, Mexico, where she retained the WBA title for the second time.
Cruz is looking forward to the matchup with Serrano. "I am grateful that this opportunity was finally given to me after many years of work," said Cruz. "I have always gone against everything, but God is on my side, and he has given me the strength to achieve my goals. It's time to make history and give Mexico its first unified champion at 126 lbs."
Article submitted by Jorge Juan Álvarez in Spanish.
Please note any adjustments made were for clarification purposes and any errors in translation were unintentional.
To comment on this story in the Fight Forum CLICK HERE