Crawford-Spence Gets More Buzz, but Inoue-Fulton is No Less Compelling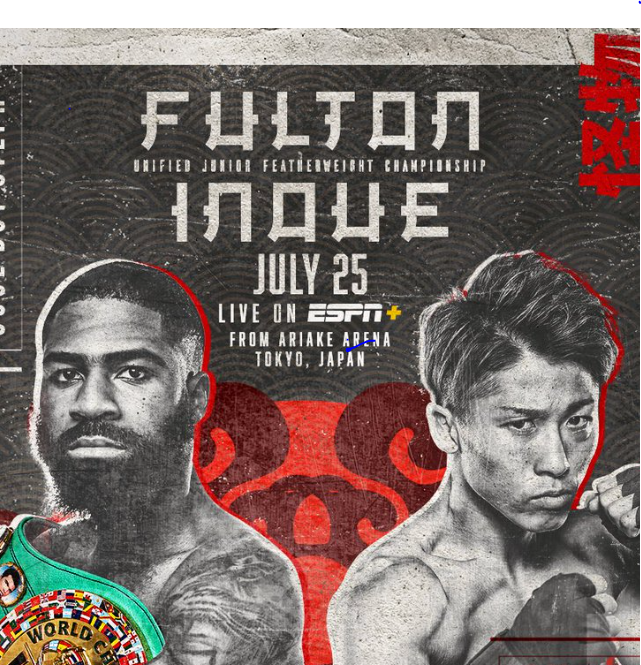 Writing about Japan's Naoya Inoue just over ten years ago I claimed that "Inoue is a monster. He controls his opponents with aggression for all the finesse. This means given even his extraordinary potential there will be limits for him and that limit will be 122lbs."
Naoya had legacy written all over him, even at 3-0. Appraising him was not a matter of speculation but of application of thought, so clear was his capacity for violence. At the very least he was to make a visitation to the pound-for-pound lists of the future, and at best? At best, Naoya was to become one of the greatest fighters of the century. What is at stake on Tuesday for Naoya is more than just a 122lb strap, a victory in yet another weight class over yet another divisional number one, his third, would make Naoya de facto pound-for-pound number one and default number three fighter of the decade behind Floyd Mayweather and Manny Pacquiao.
Such achievements are transitory and such arrangements can be temporary and with Usyk and Spence and Crawford in play, they will remain so – but they are better done than left undone. My earliest expectations were that Naoya would achieve great things in boxing but that 122lbs would be a bridge too far. It seems fitting then that the fighter Naoya is presented with to break these barriers is such a special one. Stephen Fulton, 21-0 out of Philadelphia, is not here just to add to Naoya Inoue's 24-0.
"I need some excitement in my life," Fulton told Brian Custer when the fight was made. "I like the idea of having my back up against the wall."
He does have his back up against the wall. Fulton will be fighting early Tuesday morning Philadelphia time. Well-travelled as an amateur and to be confronted by the traditionally polite Japanese crowd rather than the baying hordes of Scotland or Mexico; the honest promotions often associated with Japan rather than the questionable officiating sometimes associated with England or Germany, this risk seems to be a calculated risk in favour of what is rumoured to be a considerable purse. And Fulton appears confident.
That sounds like a minimum requirement, like something that could and should be said about every fighter before every championship level fight, but this is to underestimate the savage projection of the conqueror. Storied, experienced men have taken to the ring to face the Japanese with an air of a man ascending to the gallows rather than the ring. These men were not minor figures in their divisions, either, rather men like Adrian Hernandez, a Mexican warrior who travelled to Japan as the world's number one light-flyweight, climbed into the ring with his eyes down, and having won his last two fights by speedy knockout, here spent six rounds running from the 5-0 Naoya with fear in his moves. Omar Andres Narvaez was on a long win streak and ranked the best super-flyweight in the world when he visited the Land of the Rising Sun and he was summarily butchered in two, seeming to spend more time lying on the canvas than standing on his feet. Neither of these men troubled the pound-for-pound top twenty, but they were elite sportsmen and ranked the best in their division before Naoya caved them in. What is impressive is not that he won but how he won. Intimidating world class athletes is extremely difficult in a sport governed by weight classes, but fighters know fighters. Naoya Inoue was in a different echelon from these men after just a handful of contests.
What is the thing that troubled these opponents? The answer to that is concussive power on delivery. Naoya Inoue boxes with a trident, perhaps, a three-pronged attack of power, speed, and accuracy, but he also undermines this as a final word. Naoya can also trap, trick, he spends time trying to convince an opponent he can approach safely, and he unveils his attacks as time elapses. Naoya fights like a general: some of the most important aspects of his boxing lie in reserve. In other words, even when he is apparently unfolding within the ring, he is in fact boxing within himself.
So, I was interested in Nonito Donaire's words in discussion with Boxing Scene earlier this week. Donaire injured Naoya and forced him to box the most layered match of his career, nursing a fractured eye socket while scoring enough points to repel his most elite opponent to date.  In the rematch, Naoya inevitably inflicted the same butchery upon the ageing Donaire as the rest, but Donaire extended him in their first fight. His opinion would seem to matter. His reason for choosing Fulton is the best reason there is: size.
Naoya has never boxed at 122lbs before and in moving directly into the company of the very best fighter in the division he is bold indeed. It is the actions of the pound-for-pound best in the world, something I hold Naoya to be, and it is not the normal route. Marlon Tapales, an excellent fighter in his own right, is the man in possession of two of the more relevant divisional alphabet titles and as a Filipino, his promotional connections run deep in Japan. Naoya, though, prefers Fulton and Fulton certainly prefers Naoya. The latest batch of diva heavyweights could do well to learn lessons from these two men, who seem to have settled terms in a short series of phonecalls.
Fulton is listed at between 5'6" and 5'7". Naoya is consistently listed at 5'5". This is not a meaningful difference. In terms of reach, however, there is a difference and one that might matter. Fulton probably outreaches Naoya by three inches. This typically has not been significant. Naoya began his career at 108lbs and has found himself outreached by a lot or a little frequently since that time. Jamie McDonnell had a longer reach than that of Fulton for his 2018 visit to Japan. Naoya made a mockery of that advantage with speed, timing, and punch selection. Donaire's reasoning, "size" makes no more sense that his claims to Fulton's champion's advantage or his "hunger." These are not meaningful reasons for his selection.  But the fact that Fulton has a longer reach in conjunction with his style, that really might matter.
This is why this fight is exciting, this is why it might be the fight of the year, this is why I look forward to it more than Spence-Crawford: balance. Balance, speed of thought and the reaction time to match. It is not sensible to compare Daniel Roman, Fulton's last victim, to Naoya Inoue, but there are things we can see in that fight that speak to us about this one. There was a moment early where Fulton set himself to retreat out of the corner Roman had trapped him in, readying a move to his own right. He swept his weight back near his heels and prepared to step out when he noticed that Roman had dipped all the way in with his head and upper body, so on a dime he spun his plan. Throwing his right hand, full torque, away from himself and back, he simultaneously pitched himself forwards through his toes meeting the punch with his balance in time for it landing. This is an elite physical skill, one that most fighters do not possess, one that is improvised, and in my opinion one that very, very rarely manifests itself in punchers. The trick of balance and punch blending on a knife's edge is almost the opposite of a puncher "falling in love" with his power, something we hear all the time but rarely explore as an idea. Instead of fixating on the power, a fighter who lacks power – and Fulton does – can learn to make the punches that shouldn't even be thrown, land with meaning. They are often his most significant punches, and they are punches absolutely primed for punishing monsters. Sweeping offence is there to be victimised by the quick, balanced, learned slickster.  That is what Fulton is.
This, for me, is where the fight will be won and lost. Can Naoya Inoue, with his physical gifts, layered attack, undisputed adaptability, find the right punches against a man who doesn't have to wait for him but can rather improvise around his failures?
The aforementioned Tapales doesn't think so. He describes a very close fight, a fifty-fifty fight even, but one where Naoya "finds a way." Former Naoya opponent Jason Moloney goes much further telling 4C Media that Fulton "does not have enough in the kit to trouble [Naoya] too much." Brave words, but Moloney's account interested me because he appraised Fulton. He talks about Fulton's counter-punching ability and larger frame, but also Naoya's technical superiority and explosiveness. This seems enough for Moloney with a heavy full stop.
Explosiveness is the key, in the end. How Naoya's power translates against a genuine super-bantamweight is probably the key question for the fight. When I originally appraised the man Naoya succeeded as king of the lower weights, Roman Gonzalez, he was only a light-flyweight, as was Naoya the first time I looked at him. What I felt I saw in Gonzalez was a roof of 115lbs; I went far enough to predict that he would be stopped by a power-punching southpaw. So it proved. But it was not because I thought Gonzalez would be vulnerable to punchers at this weight. Rather it was because I felt that Gonzalez, who was already layering punches in world-class combinations, would himself surrender his status as a puncher at that weight limit.
I felt the same way about Naoya, only I saw him climb further, all the way to 118lbs. 122lbs would be where the dashing combinations would no longer end resistance.
Between 118lbs and 122lbs are only 4lbs, but there is more in the rehydration of the modern fighter. Fulton will come to the ring nearer 130lbs than the 122lbs limit he weighs in at the day before. Nobody imagines Naoya a puncher at middleweight – but where does the punching stop and the pure-boxing start? How will Fulton, personally, hold up to Naoya's onslaught?
For all those predictions about a twenty-year old Naoya, there is no way to finally know. What we can say is that he destroyed the opposition at 118lbs. Eight out of nine opponents were sent spinning, some of them in seconds, and the only man to survive him did so after inflicting a debilitating eye injury upon him. Naoya is a destroyer at 118lbs, like Carlos Zarate before him. And like Carlos Zarate before him, he will almost certainly carry serious power to 122lbs and only the right man will be able to take it and fire back. Is Fulton that man?
This is a question for next Tuesday. Sooner or later, we will see Fulton's reaction to Naoya's power and learn whether he is capable of returning it. My job here is to make another guess and my guess is that Naoya Inoue will force Stephen Fulton to retreat just often enough to take a comfortable decision victory. If I am right then he still has the challenge of some aggressive punching super-bantamweights ahead of him, but those assignments should be easier than this one, a typical Naoya Inoue contest which has opposite corners of the internet insisting that each has never met a man like the other. This is true, but it is also meaningless.
Aside from the fact that could make for an astonishingly good fight, one that Naoya will win but in doing so will realise that 126lbs is too big for him, that 122lbs is his limit.
Probably.
To comment on this story in the Fight Forum CLICK HERE
Skavynskyi and Bustillos Win on a MarvNation Card in Long Beach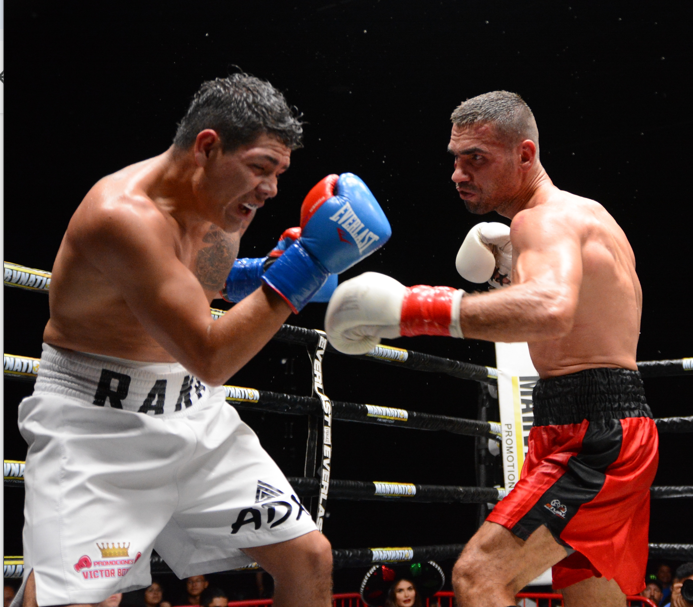 Skavynskyi and Bustillos Win on a MarvNation Card in Long Beach
LONG BEACH, Ca.-A cool autumn night saw welterweights and minimumweights share main events for a MarvNation fight card on Saturday.
Ukraine's Eduard Skavynskyi (15-0, 7 KOs) experienced a tangled mess against the awkward Alejandro Frias (14-10-2) but won by decision after eight rounds in a welterweight contest at the indoor furnace called the Thunder Studios.
It was hot in there for the more than 600 people inside.
Skavynskyi probably never fought someone like Mexico's Frias whose style was the opposite of the Ukrainian's fundamentally sound one-two style. But round after round the rough edges became more familiar.
Neither fighter was ever damaged but all three judges saw Skavynskyi the winner by unanimous decision 79-73 on all three cards. The Ukrainian fighter trains in Ventura.
Bustillo Wins Rematch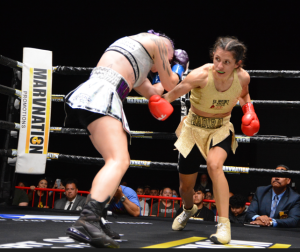 In the female main event Las Vegas' Yadira Bustillos (8-1) stepped into a rematch with Karen Lindenmuth (5-2) and immediately proved the lessons learned from their first encounter.
Bustillos connected solidly with an overhand right and staggered Lindenmuth but never came close to putting the pressure fighter down. Still, Bustillos kept turning the hard rushing Lindenmuth and snapping her head with overhand rights and check left hooks.
Lindenmuth usually overwhelms most opponents with a smothering attack that causes panic. But not against Bustillos who seemed quite comfortable all eight rounds in slipping blows and countering back.
After eight rounds all three judges scored the contest for Bustillos 78-74 and 80-72 twice. Body shots were especially effective for the Las Vegas fighter in the fifth round. Bustillos competes in the same division as IBF/WBO title-holder Yokasta Valle.
Other Bouts
In a middleweight clash, undefeated Victorville's Andrew Buchanan (3-0-1) used effective combination punching to defeat Mexico's Fredy Vargas (2-1-1) after six rounds. Two judges scored it 59-55 and a third 60-54 for Buchanan. No knockdowns were scored.
A super lightweight match saw Sergio Aldana win his pro debut by decision after four rounds versus Gerardo Fuentes (2-9-1).
Photos credit: Al Applerose
To comment on this story in the Fight Forum CLICK HERE
Tedious Fights and a Controversial Draw Smudge the Matchroom Boxing Card in Orlando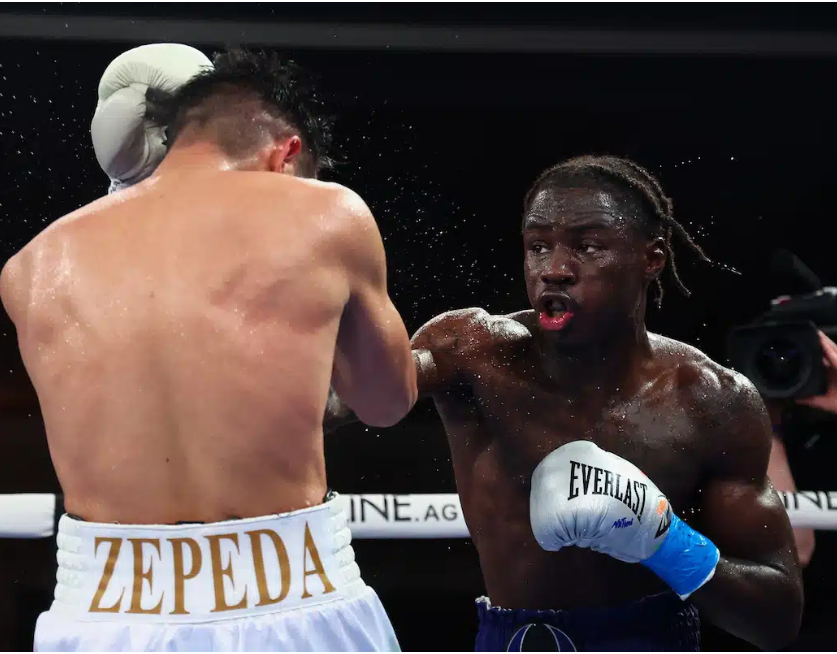 Matchroom Boxing was at the sprawling Royale Caribe Resort Hotel in Orlando, Florida tonight with a card that aired on DAZN. The main event was a ho-hum affair between super lightweights Richardson Hitchins and Jose Zepeda.
SoCal's Zepeda has been in some wars in the past, notably his savage tussle with Ivan Baranchyk, but tonight he brought little to the table and was outclassed by the lanky Hitchins who won all 12 rounds on two of the cards and 11 rounds on the other.  There were no knockdowns, but Zepeda suffered a cut on his forehead in round seven that was deemed to be the product of an accidental head butt and another clash in round ten forced a respite in the action although Hitchins suffered no apparent damage.
It was the sort of fight where each round was pretty much a carbon of the round preceding it. Brooklyn's Hitchins, who improved to 17-0 (7), was content to pepper Zepeda with his jab, and the 34-year-old SoCal southpaw, who brought a 37-3 record, was never able to penetrate his defense and land anything meaningful.
Hitchins signed with Floyd Mayweather Jr's promotional outfit coming out of the amateur ranks and his style is reminiscent in ways of his former mentor. Like Mayweather, he loses very few rounds. In his precious engagement, he pitched a shutout over previously undefeated John Bauza.
Co-Feature
In the co-feature, Conor Benn returned to the ring after an absence of 17 months and won a unanimous decision over Mexico's Rodolfo Orozco. It wasn't a bad showing by Benn who showed decent boxing skills, but more was expected of him after his name had been bandied about so often in the media. Two of the judges had it 99-91 and the other 96-94.
Benn (22-0, 14 KOs) was a late addition to the card although one suspects that promoter Eddie Hearn purposely kept him under wraps until the week of the fight so as not to deflect the spotlight from the other matches on his show. Benn lost a lucrative date with Chris Eubank Jr when he was suspended by the BBBofC when evidence of a banned substance was found in his system and it's understood that Hearn has designs on re-igniting the match-up with an eye on a date in December. For tonight's fight, Benn carried a career-high 153 ½ pounds. Mexico's Orozco, who was making his first appearance in a U.S. ring, declined to 32-4-3.
Other Bouts of Note
The welterweight title fight between WBA/WBC title-holder Jessica McCaskill (15-3-1) and WBO title-holder Sandy Ryan (6-1-1) ended in a draw and the ladies' retain their respective titles. Ryan worked the body effectively and the general feeling was that she got a raw deal, a sentiment shared by the crowd which booed the decision. There was a switch of favorites in the betting with the late money seemingly all on the Englishwoman who at age 30 was the younger boxer by nine years.
The judges had it 96-94 Ryan, 96-95, and a vilified 97-93 for Chicago's McCaskill.
In the opener of the main DAZN stream, Houston middleweight Austin "Ammo" Williams, 27, improved to 15-0 (10) with a 10-round unanimous decision over 39-year-old Toronto veteran Steve Rolls (22-3). All three judges had it 97-93. Rolls has been stopped only once, that by Gennady Golovkin.
Photo credit: Ed Mulholland / Matchroom Boxing
To comment on this story in the Fight Forum CLICK HERE
Zhilei Zhang KOs Joe Joyce; Calls Out Tyson Fury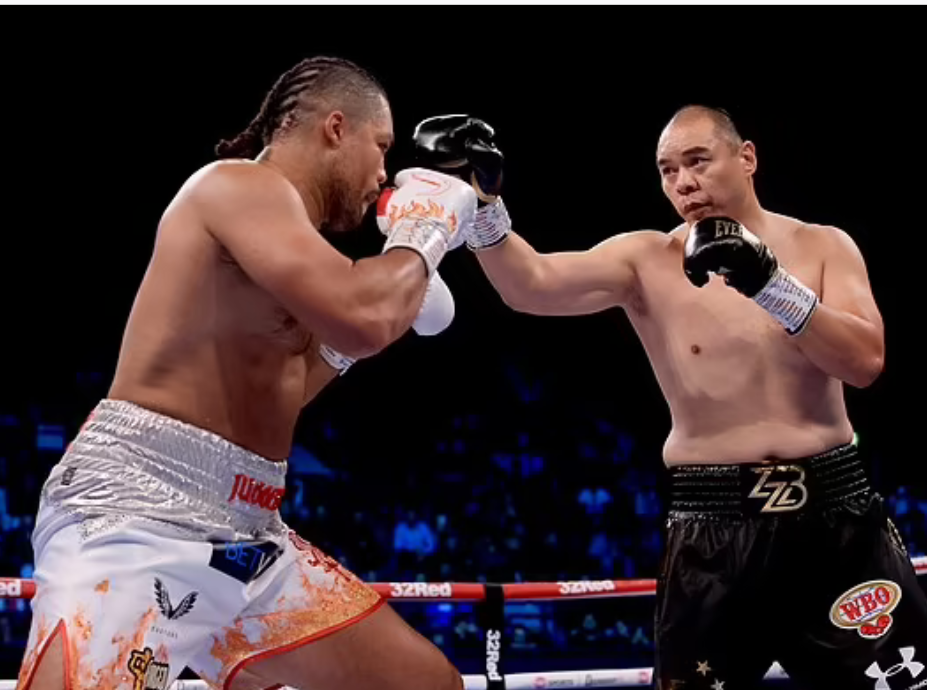 Joe Joyce activated his rematch clause after being stopped in the sixth frame by Zhilei Zhang in their first meeting. In hindsight, he may wish that he hadn't. Tonight at London's Wembley Stadium, Zhang stopped him again and far more conclusively than in their first encounter.
In the first meeting, Zhang, a southpaw, found a steady home for his stiff left jab. Targeting Joyce's right eye, he eventually damaged the optic to where the ring doctor wouldn't let Joyce continue. At the end, the fight was close on the cards and Joyce was confident that he would have pulled away if not for the issue with his eye.
In the rematch tonight, Zhang (26-1-1, 21 KOs) closed the curtain with his right hand. A thunderous right hook on the heels of a straight left pitched Joyce to the canvas where he landed face first. He appeared to beat the count by a whisker, but was seriously dazed and referee Steve Gray properly waived it off. The official time was 3:07 of round three.
Zhang, who lived up to his nickname, "Big Bang," was credited with landing 29 power punches compared with only six for Joyce (15-2) who came in 25 pounds heavier than in their first meeting while still looking properly conditioned. One would be inclined to say that age finally caught with the "Juggernaut" who turned 38 since their last encounter, but Zhang, 40, is actually the older man. In his post-fight interview in the ring, the New Jersey resident, a two-time Olympian for China, when asked who he wanted to fight next, turned to the audience and said, "Do you want to see me shut Tyson Fury up?"
He meant it as a rhetorical question.
Semi-Windup
Light heavyweight Anthony Yarde was matched soft against late sub Jorge Silva, a 40-year-old Portuguese journeyman, and barely broke a sweat while scoring a second-round stoppage. Yarde backed Silva against a corner post and put him on the deck with a short right hand. Silva's body language indicated that he had no interest in continuing and the referee accommodated him. The official time was 2:07 of round two.
A 30-year-old Londoner, Yarde (24-3, 23 KOs) was making his first start since being stopped in eight rounds by Artur Beterbiev in a bout that Yarde was winning on two of the scorecards. Silva, a late replacement for 19-3-1 Ricky Summers, falls to 22-9.
Also
Former leading super middleweight contender Zach Parker (23-1, 17 KOs) returned to the ring in a "shake-off-the-rust" fight against 40-year-old Frenchman Khalid Graidia and performed as expected. Graidia's corner pulled him out after seven one-sided rounds.
In his previous fight, Parker was matched against John Ryder who he was favored to beat. The carrot for the winner was a lucrative date with Canelo Alvarez. Unfortunately for Parker, he suffered a broken hand and was unable to continue after four frames. Tonight, he carried 174 pounds, a hint that he plans to compete as a light heavyweight going forward. Indeed, he has expressed an interest in fighting Anthony Yarde. Graidia declined to 10-13-4.
The Zhang-Joyce and Yarde-Silva fights were live-streamed in the U.S. on ESPN+.
To comment on this story in the Fight Forum CLICK HERE