Foreman Fondly Remembers "Geezers At Caesars"
His is the most distinct dual-era career in boxing history. There was the rise of George Foreman (Part I), in which a remorseless young destroyer from Marshall, Texas, pulverized opponents without ever seeming to crack a smile. That was followed by the rise of George Foreman (Part II), a physically and spiritually transformed individual who emerged from a 10-year retirement fat and happy, but with the same gift for bludgeoning the guy in the other corner into submission.
Now, at 67 (as of Jan. 10), Foreman has the luxury of sitting back and taking stock of both phases of his remarkable boxing journey, and even that portion which preceded Part I of his professional life. Upon reflection, he sees much that is good along the way, a journey of self-discovery from which he has culled four bouts he now considers to be his personal favorites.
No, the "Rumble in the Jungle" against Muhammad Ali is not included; Big George lost that one, in a monumental upset, and few fighters are apt to list a defeat among their most cherished memories. The first touchstone event for Foreman is his gold-medal run through the 1968 Mexico City Olympics, capped by his emphatic, second-round stoppage of the Soviet Union's Jonas Cepulis. A lot of people will forever remember the image of Foreman, his surliness temporarily put aside, parading around the ring while waving a tiny American flag.
Favorite Fight No. 2 is his two-round demolition of WBC/WBA heavyweight champion Joe Frazier in Kingston, Jamaica, on Jan. 22, 1973, in which the 6-foot-3 Foreman – then a lean and taut 217½ pounds – knocked down the favored Smokin' Joe six times, the last coming on a right uppercut that lifted the previously undefeated and indomitable conqueror of Ali into the air like a Cape Canaveral rocket during blastoff.
"I didn't think I belonged there," Foreman said, citing the stumpy left hooker from Philadelphia as the only man who ever elicited fear in him. "I was fighting Joe Frazier! Every time he threw a hook that missed, it was like a bullet whizzing by my head. I'm not ashamed to say I was afraid of him."
But didn't that sense of impending doom subside or even vanish once Frazier started going down?
"I never got to that point because he kept getting up," Foreman explained. "I'm thinking, `Man, if this thing goes to the fourth round, I could be in trouble.' I never did feel like I had it for sure. Not in that fight, not against the great Smokin' Joe."
Favorite Fight No. 3 came on Jan. 24, 1976, in Foreman's first bout after being upset by Ali, a loss that severely shook the defrocked champion's confidence in himself. His opponent that night at Las Vegas' Caesars Palace, for the vacant NABF title, was another huge puncher, Ron Lyle, who figured he could do unto Big George what Ali had done. And Lyle seemingly was in the process of doing just that, flooring Foreman twice in what eventually was named The Ring's Fight of the Year. Twice Foreman crumpled to the canvas and, after the second flooring, in a semi-stupor, he had an epiphany.
"When he knocked me down I was, like, `Wow, it wasn't a fluke (getting knocked out by Ali) in Africa,'" Foreman said. "I told myself, `You got to get up, you got to get up.' I got up, then he put me down a second time. That's when I asked myself, `Are you a fighter or are you going to quit?' If I hadn't gotten up then, nobody would have ever believed in me again. I wouldn't have believed in me.That would have been my exit from boxing, forever."
Favorite Fight No. 4 was … ah, here's where the surprise comes in. It's not what most people would expect, Foreman's one-punch knockout of WBA/IBF champ Michael Moorer, who was well ahead on points, in the 10th round of their Nov. 5, 1994 bout at the MGM Grand in Las Vegas when Foreman landed the straight right heard 'round the world. "It happened! It happened!" HBO blow-by-blow announcer Jim Lampley excitedly repeated as Foreman ascended to a second championship reign 20 years after the first one ended.
But, to Foreman's way of thinking, the bolt-from-the-blue conquest of Moorer was merely the culmination of a process that had played out in his mind even before he began his long-delayed comeback. On March 9, 1987, against journeyman Steve Zouski in Sacramento, Calif., the then-38-year-old Foreman, who had eaten his way up to 320-plus pounds and had pared down only to a distinctly unsvelte 267 pounds, put away journeyman Steve Zouski in five rounds.
As grand plans go, it was hardly an auspicious launch. But then it was just what Foreman had in mind. He was on a mission, but not one on an accelerated timetable. Like the tortoise that Aesop's fable, Big George understood that the race does not necessarily go to the swift. Sometimes slow and steady is preferable to fast and furious.
"Not everyone can plot and plan like I did. They don't have the patience," Foreman said of a return to the ring that, at first, drew mostly snickers and derision. "I deliberately took time. I stayed off television. I wanted to lay low until I developed my skills."
And so it went, Foreman winning 19 fights in as many outings against mostly has-beens and never-weres, beating 18 of them inside the distance. But eventually the moment came when he had to put up or shut up, and that night arrived on Jan. 15, 1990.
George Foreman vs. Gerry Cooney. The matchup of presumably past-their-prime sluggers (Cooney, 33, had not fought since his fifth-round technical knockout loss to Michael Spinks on June 15, 1987) officially was labeled "The Preacher and the Puncher," the preacher, of course, being Foreman. But UPI boxing writer Dave Raffo had dubbed it "The Geezers at Caesars," which the public quickly latched onto, and never mind that the scheduled 10-rounder actually would take place in Boardwalk Hall and not neighboring Caesars Atlantic City, which was sponsoring the event.
Although some dismissed the matchup as something akin to the circus coming to town – one Philadelphia reporter (that would be me) wrote that "America is and has always been a society of the curious, voyeuristic and gullible, which is why those modern Barnums, boxing promoters, continue to run freak shows up the flagpole to see just how many of us will salute" – both combatants understood it to very much be the real deal. Speculation already was rampant that the winner would move on to a megabucks matchup with heavyweight champion Mike Tyson.
"That fight turned everything around," Foreman said of the second-round knockout that legitimized what, until then, had seemed an impossible dream. "If Cooney had won that fight, even on points, that would have derailed me. That was the one fight that did it. Not only did I win, but the fashion that I did it determined my destiny."
Because he had been active, even if not against top-tier opponents, Foreman opened as a 3-to-1 favorite, which was whittled down to 9-to-5 by the opening bell when word began spreading that Cooney, whose pulverizing left hook was his weapon of choice, was looking very sharp in training under the watchfui eye of new trainer Gil Clancy, who had helped bring out the best in such notable fighters as Emile Griffith, Ken Buchanan and Jerry Quarry. There was a rising sentiment that if Cooney, who had whacked out Ken Norton in one round, Lyle in one round and Foreman conqueror Jimmy Young in four, connected with one of his trademark hooks, George and the 253¼ pounds he was packing (36¼ more than he weighed the night he walloped Frazier) would come crashing down like an imploded building.
"When you talk about left hooks, I think Cooney – when he was really at his best – had one that would match up with anybody's in terms of power," said Larry Hazzard, the boss of the New Jersey State Athletic Control Board. "That was his punch. I imagine it still is."
But Hazzard's optimistic view that Foreman-Cooney was a potential clash of the titans wasn't shared by all. Ferdie Pacheco, the NBC boxing analyst (the fight was televised via closed-circuit and pay-per-view) and former personal physician to Muhammad Ali, said that Cooney, who, depressed, had begun to drink heavily after his loss to Spinks, "has the face of a drunk trying to make a comeback" while deriding Foreman as "grossly overweight and flabby." Trainer Tommy Gallagher, who was the chief second for WBO middleweight champion Doug DeWitt, who would yield his title to Matthew Hilton on an 11th-round stoppage on the Foreman-Cooney undercard, said the main event was "a joke, in my opinion. But I guess I can see where some people might find it interesting."
For his part, Foreman didn't mind the verbal jabs aimed at him about his weight. He had come in at a relatively trim 235 pounds for his March 19, 1988, bout with Tyson-sized Dwight Muhammad Qawi and, although George won via seventh-round TKO, he felt like his legendary strength had been substantially drained.
"When I fought Qawi, my body was almost like it was in the '70s," Foreman said. "I had concentrated so much on losing all that weight that I lost track on who I needed to be the second time around. I didn't make that mistake again. From then on, I was always at or over 250.
"I knew what Cooney could do. He knocked out Norton. He knocked out Lyle. He was just going down the line of my generation, mowing us down one by one. I knew he had to be thinking, `OK, Foreman's next.'
"But you know what frightened me more than anything? It was that Cooney had hired Gil Clancy to work his corner. Gil was a good boxing man who knew how to get a fighter ready to fight his best fight."
Clany's prefight strategy was sound enough. The 6-7 Cooney would box the old, fat guy, take him into the middle rounds where his perceived lack of stamina would come into play, and try to stay out of Foreman's optimal punching radius until he saw openings to move in and connect with that big left hook. The plan might have worked, too, except that such an opening came too early.
When Cooney landed that big hook in the first round, Clancy instinctively knew that his guy had seized an advantage that needed to be capitalized on right then, when Foreman was still buzzed. But, curiously, Cooney hesitated.
"He didn't believe it (that Foreman was in trouble)," Clancy said afterward. "Inactivity does that."
For his part, Clancy changed course and advised Cooney to go right after Foreman in Round 2. It proved to be a disastrous miscalculation.
"After the first round Cooney went back to his corner and Clancy said, `You got him! You got him!'" Foreman recalled. "I was like, `Dang, I didn't think anybody knew that but me.' And he did come right after me. I had a fight on my hands. I knew I had to get him before he got me."
Foreman did exactly what he needed to do, He wobbled Cooney with a left hook of his own, which was followed by a succession of clubbing right hands that put "Gentleman Gerry" in deep trouble and drew a mandatory eight-count that would not be nearly a long-enough reprieve. Referee Joe Cortez didn't even bother with a count when Foreman followed up with a left uppercut and overhand right; Cooney was unconscious even before he landed on the canvas, face-first.
When he was revived, Cooney said that Foreman "hit me harder than anyone I've ever been in the ring with." Foreman graciously allowed that Cooney was "the hardest left-hook puncher I faced. His hook was harder than Joe Frazier's."
One can only imagine what might have happened had not Tyson lost his championship to Buster Douglas three weeks later in Tokyo. The Tyson-Foreman megafight that seemingly had been put into place by George's KO of Cooney never took place.
"Tyson truly was a tiger," Foreman said. "But it wasn't like I was begging to fight him. He was a short guy and, because I would be jabbing downward, I thought I'd have had a good chance of beating him. Then again, he'd been taught how to do well when he fought taller guys, so it would have been interesting. I had Tyson in mind when I boxed Qawi. But when Tyson lost to Douglas, that basically was the end of that."
Even missing out on a shot at Tyson, however, couldn't dull the high Foreman experienced from beating Cooney. It was a fight he needed to win to not only maintain relevance, but to build on it.
"It was a big night. A big night," Foreman said, savoring the memory. "And everybody knew it. It was in the air. Before the fight, people knew something momentous was going to happen, one way or the other. Fortunately, things went my way.
"Walking out of that arena in Atlantic City that night … I'll never forget it. I wasn't on top just yet, but I felt like I was back on top."
Cooney never fought again, but unlike the funk he fell into following his losses to Larry Holmes and Spinks, he made peace with himself. He now co-hosts a boxing program with Randy Gordon on Sirius XM, on which Foreman has been a guest several times.
"Gerry and I are great friends now," Foreman said. "Boxing is funny that way, isn't it? I was even friendly with him when we fought. Gerry Cooney is a very encouraging-type person. He inspires people. There are times when he's inspired me as well."
-30-
`Big Baby' Proves Again That Heavyweights Need Not Have Ripped Physiques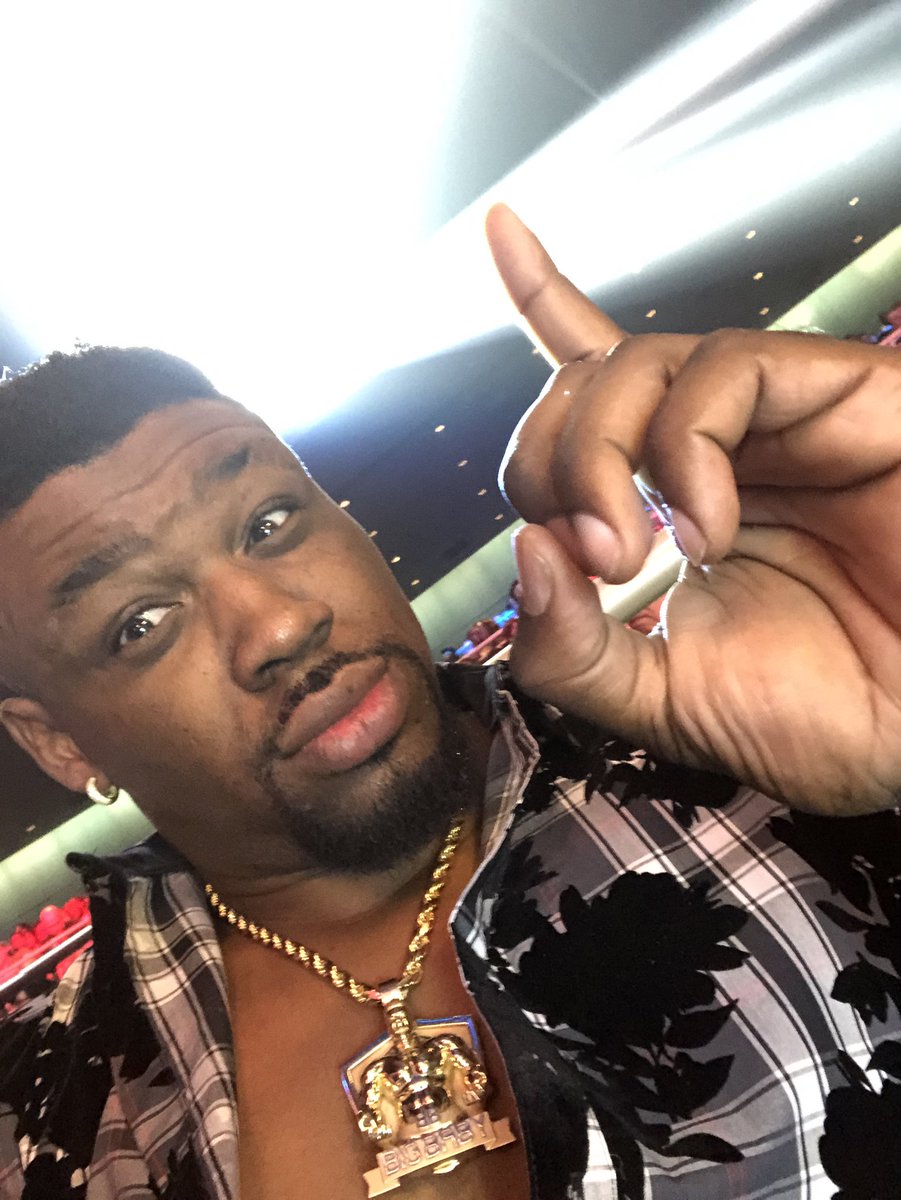 If we were to rate heavyweight champions on the basis of six-pack abs and overall confirmation, it's a pretty safe bet that the magnificently ripped physiques of Evander Holyfield and Ken Norton would place them at or pretty close to the top of the list of pugilism's most impressive big-man bodies. Also drawing consideration for a high slot would be Mike "Hercules" Weaver, who briefly held an alphabet title, but, his massive muscles notwithstanding, Weaver is hardly anyone's idea of a truly great heavyweight.
The old saying – "looks like Tarzan, fights like Jane" – doesn't come close to applying to Anthony Joshua (22-0, 21 KOs), the IBF/WBA/WBO heavyweight champ who defends those titles against Jarrell "Big Baby" Miller (23-0-1, 20 KOs) on June 1 in Madison Square Garden. Although the 6-foot-6 Joshua has fought as low as 229 pounds and as high as 254, at those weights and everything in-between he looks the part of a scary-good Tarzan who can and almost always pulverizes the guy selected to serve as his designated victim.
Which brings us to the 6-foot-4 "Big Baby" Miller, the well-fed Brooklyn, N.Y., native who has shown he can scrap a lot more like Tarzan than Jane, but at first glance is a closer physical approximation to Norm Peterson, the chubby guy on the end bar stool in Cheers so memorably played by George Wendt, winner of six Emmy Awards for Best Supporting Actor. Although Miller has averaged a semi-reasonable 265.7 pounds per ring appearance over the course of his professional boxing career, with a low of 242, he has come in at 300-plus for each of his last three bouts and it seems a safe bet he'll officially come in anywhere from 40 to 70 pounds heavier than Joshua when they square off three-plus months hence.
All of which raises a question of how much is too much when it comes to a corpulent heavyweight's scale reading? Talent comes in all shapes and sizes, and there are reasons why seemingly fat fighters are, well, seemingly fat fighters. It could be genetics (it's so convenient to blame mom or dad when you have to shop for pants with a larger waist size), a slow metabolism or simply a fondness for unhealthy fast food, second and third helpings at the dinner table and an insatiable sweet tooth.
George Foreman's body looked a lot like Joshua's does now in the earlier phase of his Hall of Fame career. No, the glowering Foreman that laid waste to Joe Frazier and Ken Norton didn't sport the six-pack abs of a male underwear model, but he had a thick – not overly thick – frame and could deliver battering-ram punches with either fist. It wasn't until he came off his 10-year retirement from boxing that Big George, now a smiling, playful jokester at press conferences, poked fun at his enlarged self, the one that came in at a career-high 267 pounds after paring down from 300-plus for his first comeback fight, against Steve Zouski. Foreman cracked wise about being on a "seafood" diet, telling media types that what he meant was he ate all the food he saw.
Other than Foreman, the best of the fight game's (too-)big men is Riddick Bowe, another Hall of Famer whose appetite for high-calorie fare was matched only by his top-tier skill set. The aptly nicknamed "Big Daddy" was terrific for a time and might have remained so for even longer had he been more diligent in heeding the dietary and training dictums of his strength-and-conditioning coach, Mackie Shilstone, and legendary trainer Eddie Futch, both of whom became understandably frustrated when Bowe would allow himself to blow up 40 to 50 pounds above his optimal fighting weight between bouts.
Other accomplished big guys who were able to overcome the burden of too many excess pounds are future first-ballot Hall of Famer James Toney, who fought as low as 157 pounds and won widely recognized world championships at middleweight and super middleweight before gorging himself up to the heavyweight ranks where he defeated, among others, Holyfield, Fres Oquendo and Dominick Guinn; "Two-Ton" Tony Galento, a veritable fireplug  of a man who shockingly knocked down seemingly invincible heavyweight champ Joe Louis before falling himself, and Buster Mathis Sr., the dancing bear whose jiggly love handles didn't prevent him from going the distance with Muhammad Ali and Jerry Quarry.
When it comes to almost unfathomable heft, however, special mention must be made to Eric "Butterbean" Esch, the erstwhile "King of the Four-Rounders," who despite being only 5-11½ logged 90 of his 91 pro bouts (77-10-4, 58 KOs) at 300 or more pounds, including three at 400-plus pounds. All right, so The Bean's list of opponents for the most part was hardly a Murderer's Row. It should be noted, however, that he defeated Louis Monaco, who defeated Kevin McBride, who defeated Mike Tyson, who defeated Larry Holmes, who defeated Muhammad Ali.
Honorable mention, if you want to call it that, is reserved for Gabe "Big G" Brown, who managed to compile a winning record (18-17-4, 12 KOs) despite weighing 300 or more pounds for 33 bouts, with a high of 367; Dustin "Worm" Nichols (5-12, 5 KOs), who came in at 400 or more four times and the rest at 300-plus, with all 12 of his losses by knockout; Alonzo "Big Zo" Butler (31-3-2, 24 KOs), who is still active and might yet evolve, considering his three most recent bouts were at 300-plus pounds, into an updated version of "Big Baby" Miller.
If you want to tick off "Bronco" Billy Wright (43-4, 34 KOs), he of the seven bouts at 300 or more pounds, try comparing him to Butterbean. "If you think I'm a bum or a joke, try saying that to my face. I guarantee you won't be laughing for long," the now-retired Bronco Billy, 54, said in 2015, when he was the WBC's 20th-ranked heavyweight. "I can knock out anybody on the planet, with either hand. I can knock them cold."
In retrospect, a matchup of Butterbean and Bronco Billy now rates among my all-time matchups that never happened, but should have. Whoever went down would cause a vibration that I'd like to think could have been registered on the Richter Scale.
Boxing, of course, is not the only sport where gifted but gluttonous athletes overcame, if briefly, their inclination to succumb to the more vexing temptations of food. Remember the time that third baseman Pablo "Kung Fu Panda" Sandoval's belt buckle snapped and his pants nearly slid down when he took a particularly vicious swing that missed? Basketball had the man with two nicknames, former University of Kentucky center Melvin Turpin, who alternately went by "Turp the Burp" and "Lard of the Rims", and no one will ever forget the sight of blimpish quarterback Jared Lorenzen, dubbed the "Pillsbury Throwboy," who could fire lefthanded lasers but ate himself out of the NFL, where he once received a Super Bowl ring as the backup to starter Eli Manning for the New York Giants' SB XLII victory over the New England Patriots.
It's a longshot that Big Baby Miller could pull off the upset of Anthony Joshua, but if he did it would serve as an inspiration to couch potatoes everywhere that athletic glory just might be theirs if they put aside the potato chips and beer, at least for a little while. After all, it isn't the size of the dog in the fight, it's the size of the fight in the dog that matters, right? Even if the dog in question is as large as a Clydesdale.
Bernard Fernandez is the retired boxing writer for the Philadelphia Daily News. He is a five-term former president of the Boxing Writers Association of America, an inductee into the Pennsylvania, New Jersey and Atlantic City Boxing Halls of Fame and the recipient of the Nat Fleischer Award for Excellence in Boxing Journalism and the Barney Nagler Award for Long and Meritorious Service to Boxing.
Check out more boxing news on video at The Boxing Channel
To comment on this article in The Fight Forum CLICK HERE
Fast Results from Minnesota: Rob Brant Retains His Title via TKO 11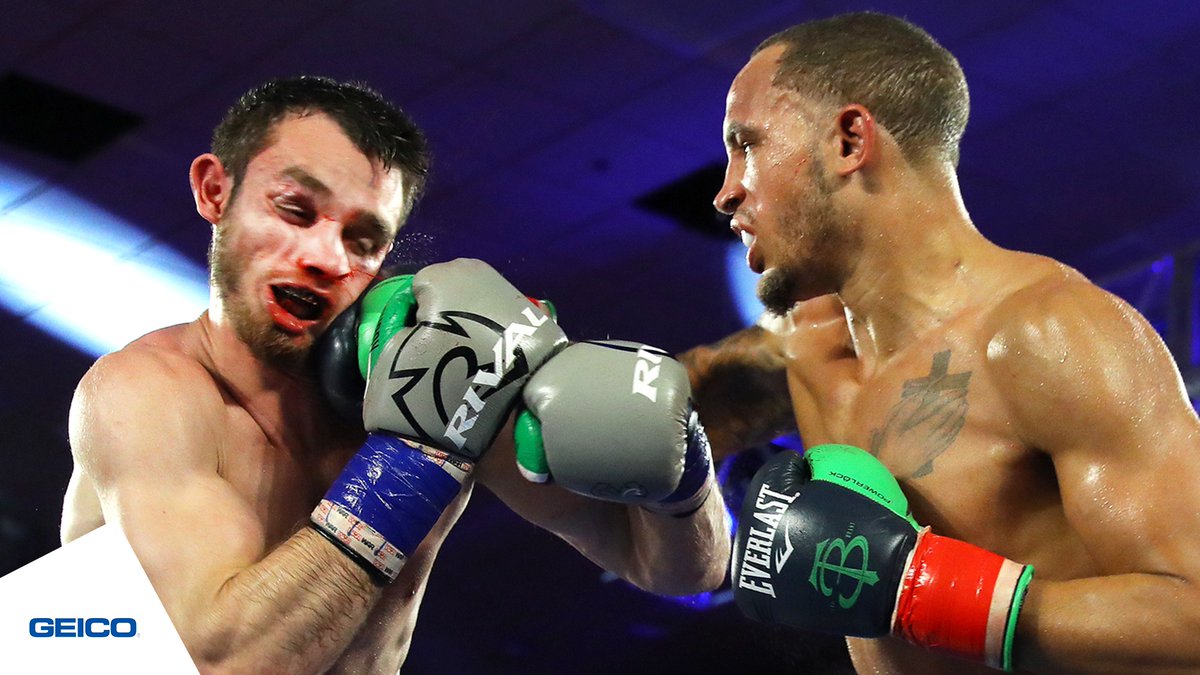 Rob Brant returned to his home state of Minnesota for the first defense of the WBA middleweight belt he won in Las Vegas with an upset of Ryota Murata. In the opposite corner was a 21-year-old Ukrainian making his U.S. debut, Khasan Baysangurov.
Baysangurov, who came in undefeated (17-0), had good boxing skills but fell behind early and lacked the power to reverse the momentum. Brant, who was the far busier fighter, knocked him down in the third round with a clubbing right hand that landed behind his left ear and finished him off in the 11th.
A flurry of punches, the last of which caught only air, knocked Baysangurov to his knees. He beat the count but was clearly hurt and when Brant snapped his head back with a straight right hand, referee Mark Nelson properly intervened. Brant improved to 25-1 with his 16th knockout. He is one of two middleweight champions recognized by the contemptible WBA, the other being Canelo Alvarez.
In a spirited 8-round affair in the junior lightweight division, 2016 U.S. Olympian Mikaela Mayer improved to 10-0 with a unanimous decision over spunky 20-year-old Yareli Larios (13-2-1). The scores were 80-72, 79-73, and 78-74. Mayer, who had a 5-inch height advantage, was too physical for Larios, the daughter of former WBC junior featherweight champion Oscar Larios, who worked her corner.
In the first TV bout, Chicago's Joshua Greer, a rising bantamweight contender, improved to 20-1-1 (12) with an eighth round stoppage of Giovanni Escaner (19-4) of the Philippines. The knockout punch was a short right hand to the pit of the stomach. Greer was down himself earlier in the fight, felled after walking into a short right hand in round three.
Other Bouts
 In an 8-round middleweight contest Tyler Howard improved to 17-0 with a split decision over spunky Christian Olivas who declined to 16-4. Howard, who hails from Crossville, Tennessee, has been attracting some buzz but tonight he didn't perform as advertised in what was nonetheless an entertaining bout.
In a crossroads fight between two 30-something super middleweights, both southpaws, Lennox Allen (22-0-1) won a unanimous decision over Derrick Webster (28-2). The scores were 97-92 and 98-91 twice. Allen, originally from Guyana, scored the bout's lone knockdown, decking Webster with a sweeping right hand a millisecond before the bell ending the third round. Webster, from Glassboro, NJ, had won nine straight going in.
 Former U.S. Army veteran Steven Nelson, who defeated Rob Brant as an amateur, won a unanimous decision over Felipe Romero in an 8-round light heavyweight contest. Nelson, based in Omaha, was cheered on by stablemate Terence Crawford. Romero (20-17-1) was once recognized as the cruiserweight champion of Mexico, but has degenerated into an "opponent." This was his ninth loss in his last 10 starts. Nelson advanced to 13-0 (10).
 In an 8-round lightweight contest, Ismail Muwendo, from Minneapolis via Uganda, scored a unanimous decision over Columbia's Hevinson Herrera (24-16-1). The scores were 60-54 across the board.
Check out more boxing news on video at The Boxing Channel
To comment on this story in The Fight Forum CLICK HERE
LA Area Fighters Leo Santa Cruz and John Molina Still Swinging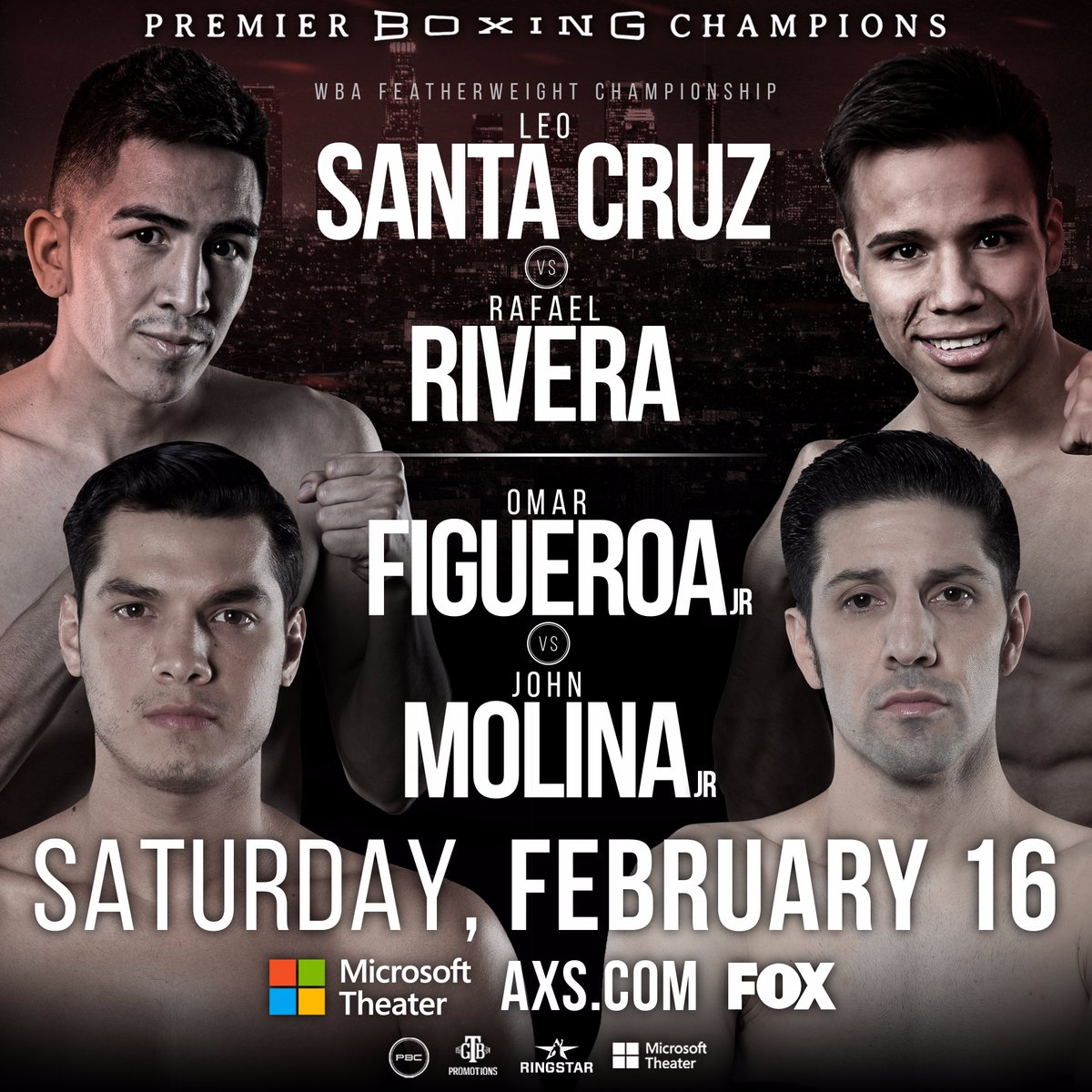 Two Southern California based prizefighters known for their longtime preference for slugging over slickness, will take center stage.
Both have withstood years of punishment with their battering styles and surprisingly remain staunchly relevant in the fight game despite the years of punishment endured in some of the most brutal fights in the past decade.
WBA featherweight titlist Leo Santa Cruz (35-1-1, 19 KOs) defends against Rafael Rivera (26-2-2, 17 KOs) and welterweight John Molina (30-7, 24 KOs) meets undefeated Omar Figueroa (27-0-1, 19 KOs) at the Microsoft Theater in downtown L.A. Fox will televise the PBC fight card.
The two Los Angeles area prizefighters are not the only pugilists who use aggressiveness over slickness, but they are among the few who still manage to go to war with a fighting style that requires toughness, grit and resilience after so many years.
Santa Cruz, 30, comes from a fighting family whose brothers Jose Armando, Antonio and Roberto all put on the gloves.
The East Los Angeles native has been fighting since 2006 with his nonstop punching mode that has enabled him to win world titles as a bantamweight, super bantamweight and twice as a featherweight.
Even before his professional debut Santa Cruz was engaging in wars inside gyms with older, bigger boxers on a daily basis. They're the kind of sparring battles that can sap the strength out of the strongest men both physically and mentally. Punishment like this can debilitate even the best over time like a hammer chiseling away the hardest granite.
But despite all the hammering Santa Cruz has endured in sparring sessions and prize fights, the rail thin featherweight with the jet black hair remains at the top of the pile in his weight division.
Now Santa Cruz faces Rivera, a dangerous Tijuana fighter who replaces Miguel Flores the original opponent felled by injury. Entering his 13th year as a pro the featherweight champion has bludgeoned his way to the top and remains king of the mountain.
"Leo is just gifted. He wears you down. Certain fighters are given this type of ability. Guys like Sugar Shane Mosley, Floyd Mayweather, Manny Pacquiao they are just born with these gifts," said Rudy Hernandez who worked with two Santa Cruz brothers as a trainer and cut man.
On Saturday, Leo Santa Cruz makes the third defense of the WBA title since reclaiming it from England's Carl Frampton in January 2017. Before that, he held it for one defense after beating Abner Mares for the first of two times.
"We were getting ready for Miguel Flores, but in the gym you have to always be ready for any kind of style. We had been already been working with sparring partners who brawl, and that's what we expect from Rafael Rivera," said Santa Cruz in Los Angeles on Thursday. "He can take punches, so we're ready for 12 rounds. We're going to be smart in this fight because we know what Rivera can do."
Rivera has already built a reputation as not just a brawler but someone with enough talent and power to upend the future aspirations of Santa Cruz. In his last fight in downtown L.A. he nearly toppled undefeated Joet Gonzalez. He's not an easy mark.
"I knew immediately that Rivera was a good opponent," professed Santa Cruz.
Molina
In the welterweight clash local slugger John Molina Jr. meets yet another foe in Omar Figueroa who's expected to defeat him. He relishes being the underdog.
"I've been down this road before. I was never given lofty expectations. There's no pressure here. I think Omar's style will accommodate mine and make it a fun fight for the fans," said Molina.
Molina, 36, has never been a model for how to look and fight with finesse and grace. Instead he's like a human battering ram you point in a direction and see how long it takes to blast the door down.
He started late in the boxing business at 23 years old. He was about 22 when he had a few amateur fights and was immediately sent into the pros. Balance was never a problem for Molina who had been a wrestler in high school. Power was never a problem either.
Molina was given the rudiments of boxing quickly by boxing guru Ben Lira then sent into the ring wars. Quickly he learned he could be losing a fight on points and eliminate his mistakes with one punch.
Several fighters realized this but far too late.
Back in July 2013, Mickey Bey was winning their fight and was in the last round when he decided to taunt Molina. One punch later he was counted out with 59 seconds left before the final bell.
A year ago Ivan Redkach had knocked down Molina and was eagerly looking to end the fight when he ran into a blow he didn't see. Down he went and got up groggily. The next round he was finished off by Molina.
That's how quickly a Molina fight can turn.
And if you think he can't box, well Molina has that trick up his sleeve as well. When he fought the dangerous Ruslan Provodnikov and used a box and move style to outpoint the heavy-handed Russian fighter, people were amazed.
"You can't count out John," said his father John Molina Sr. "Look what he did with Ruslan. Nobody gave my son a chance."
Figueroa has never been defeated in a boxing ring, but he's always had problems with the scale. The former lightweight world titlist only had one title defense when he was unable to make 135 pounds and moved up in weight. Against Antonio DeMarco three years ago Figueroa couldn't make 147 pounds and the fight was held at super welterweight. Though he won the fight, barely, he's battled the scale for the last four years.
"Training camp went great. I've made a lot of changes in my lifestyle and I'm dedicated 100 percent to boxing. Things have never been better," said Figueroa, 29 who hails from Weslaco, Texas. "Given our styles, there's no way this is going to go the distance. I think this is going to be an early night and I'm planning on having my hand raised."
Molina's ears perk up when he hears words like that.
"Talk is cheap. On Saturday night, we'll get down," said Molina at the press conference in L.A. "I've been down this road before. I was never given lofty expectations. There's no pressure here. I think Omar's style will accommodate mine and make it a fun fight for the fans."
Fans can expect the expected when it comes to both Santa Cruz and Molina in their respective fights: a lot of punching and a lot of bruises. It's prizefighting.
Check out more boxing news on video at The Boxing Channel
To comment on this story on The Fight Forum CLICK HERE