Controversial Wilder – Fury Draw a Case of Déjà Vu All Over Again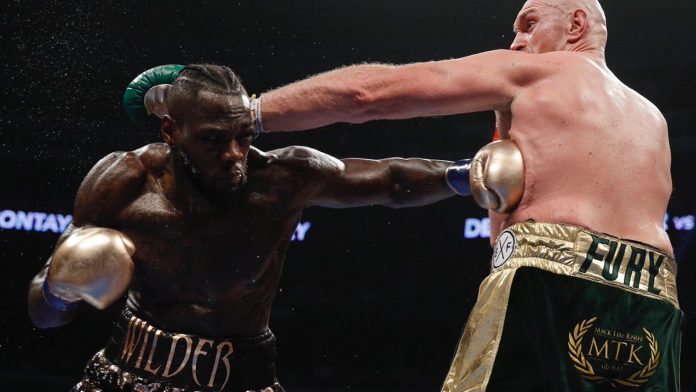 The moment ring announcer Jimmy Lennon Jr. revealed the official scoring of Saturday night's Deontay Wilder-Tyson Fury bout – a controversial split draw in Los Angeles that enabled Wilder, the WBC heavyweight champion who to many people's way of thinking, including mine, appeared to have received an early Christmas present – I had the feeling I had seen it all before.
And I had, 25 years earlier, on Sept. 10, 1993, in San Antonio, Texas. With one or two minor changes, what took place in the Staples Center ring closely mirrored what transpired in the Alamodome when WBC welterweight titlist Pernell Whitaker was obliged to settle for a hotly disputed majority draw against Julio Cesar Chavez in a heist of a fight which Whitaker appeared to have won handily. In this virtual replay a quarter-century later, British challenger Tyson Fury won – uh, make that should have gotten credit for winning – nine of the 12 rounds in the much-anticipated Showtime Pay Per View matchup, the most notable exceptions to the norm being rounds nine and 12, in which Fury (27-0-1, 19 KOs) was floored by an increasingly desperate Wilder (40-0-1, 39 KOs) who had to be aware his only chance at victory hinged on scoring a late, bolt-from-the-blue knockout. My personal scorecard thus gave Fury a 115-111 edge, the same tally arrived at by unofficial Showtime judge Steve Farhood, a vocal a majority of the 17,698 on-site spectators and, most vociferously, Showtime analyst Paulie Malignaggi.
Although Malignaggi, a former IBF super lightweight and WBA welterweight champion, presumably disagreed with the 113-113 scorecard submitted by the swing judge, England's Phil Edwards, his most withering criticism was directed at Mexican judge Alejandro Rochin, who somehow saw Wilder as a 115-111 winner. Canadian judge Robert Tapper was the realist of the group, with a 114-112 edge to Fury (originally announced as 114-110).
"I don't care about any replays," the exasperated Malignaggi replied when fellow analyst Al Bernstein suggested they check the tape for possible moments that might have negated Fury's steady stockpiling of rounds and thus allowed Wilder to surprisingly retain his title. "They matter nothing. This decision is a joke. Alejandro Rochin should better never work a day in his life again in boxing."
The guess here is that Rochin and Edwards will continue to be in the rotation for high-visibility WBC title-fight assignments, as was the case with Switzerland's Franz Marti and England's Mickey Vann, both of whom figured that crowd favorite Chavez had done enough to merit a 115-115 standoff in a bout in which the beloved Mexican national hero appeared to have been thoroughly schooled by Whitaker. In tandem they overrode the 115-113 card for Whitaker turned in by Texas-based judge Jack Woodruff, which still was too close to my way of thinking.
But for those who might not go along with my premise that Wilder-Fury was a near-exact replication of Whitaker-Chavez, which did not feature any knockdowns, I offer two other bouts that also reminded me of certain aspects of Wilder-Fury: Bernard Hopkins' 12th-round stoppage of Felix Trinidad in their middleweight unification fight on Sept. 29, 2001, in Madison Square Garden, and future heavyweight champion Wladimir Klitschko overcoming three knockdowns to register a unanimous, 12-round decision over Samuel Peter on Sept. 24, 2005, in Atlantic City Boardwalk Hall for Peter's minor NABF title.
Mash those three fights together and the combined result would be, in relation to Wilder-Fury as well as the immortal words of the late, great baseball philosopher Yogi Berra, déjà vu all over again.
Like Chavez, who complained that it was he, not Whitaker, who deserved better than a kiss-your-sister draw because "Sweet Pea" had done "more running that fighting," Wilder – whose nearly closed window of opportunity momentarily flung wide-open when he drilled Fury in the 12th round with the kind of power shots that had enabled him to win inside the distance 39 previous times – said the two knockdowns he registered should count for more than anything Fury had done in a performance that, on balance, was more impressive than his unanimous-decision dethronement of Wladimir Klitschko three years earlier.
"I think with the two knockdowns, I definitely won the fight," Wilder said in a post-fight interview with Showtime's Jim Gray. "You know, we fought our hearts out tonight. We're both warriors. We both went hand-to-hand, but with those two drops I feel I won the fight."
That argument was previously trotted out, with no success, by Ivailo Gotzev, Samuel Peter's manager, who said that his guy's three knockdowns of Klitschko – two in the fifth round, one in the 10th – trumped the fact that Wlad, with his metronome jab, had dominated virtually every other second of a fight that ended with all three judges favoring him by the same 114-111 margin.
"If a man who scored three knockdowns is declared a loser, to me, that's no loser," Gotzev groused. For what it's worth, there would be a rematch, on Sept. 11, 2010, with Klitschko scoring a 10th-round knockout victory over Peter to retain his IBF and WBO titles in Frankfurt, Germany.
Now let's flash back to Hopkins-Trinidad, which was presaged by the mind games played by B-Hop – which included his twice disrespecting the Puerto Rican flag at press conferences – and had the effect of so enraging Trinidad that he threw caution to the wind from the opening bell and tried to get the crafty Philadelphian out of there with every loaded-up punch that missed the mark. Hopkins fought superbly and under control until he felt it was time to really let loose, battering his favored opponent to the point that Trinidad's father-trainer felt he had no choice but to throw in the towel in the 12th round to save his son from further punishment.
Although Wilder had vowed he would pick his spots to go to the heavy artillery against Fury, whose gift is not necessarily in looking good himself but in making the other guy look bad, he seemed to forget whatever strategical refinements laid out for him in camp by trainers Mark Breland and Jay Deas. Swinging wide and wild from the outset, Wilder's fight plan, whatever it might have been as crafted by Breland and Deas, quickly devolved into pure brawling tactics. It seems a pretty safe bet that Fury's constant putdowns of him had made the excitable Wilder, well, just a little bit crazy.
"All the build-up for the fight, the hype and everything … I really wanted to get him out of there and give the fans what they wanted to see," Wilder told Gray. "It was just the simple fact that I was rushing the punches. When I rush my punches like that, they never land. I'm never accurate when I'm trying to force the punches. But the rematch, I guarantee I'm gonna get him."
And maybe Wilder would, as Klitschko did to Peter in their do-over, if it actually comes to that. But the rematch clause in the contracts signed by Wilder and Fury could only be invoked by Wilder in the case of the loss of his title to Fury, and with the draw that did not happen. Yeah, a rematch with Fury no doubt would do good business, but Wilder and his support crew have to realize – as do Fury and his people – that it would not be a blockbuster on the scale of a fight with WBA/WBO/IBF champ Anthony Joshua.
Although Wilder and Fury both paid obligatory lip service to the notion of an immediate rematch, their thoughts seemed to drift more to a clear-the-decks showdown with Joshua for all the titles, a likely attendance of 90,000 in London's Wembley Stadium and a super-sized payday beyond anything that even Wilder-Fury II could generate. For his part, Joshua and his promoter, Eddie Hearn, would now seem to have the luxury of picking which of the non-losers, Wilder or Fury, they would most want to share the ring with in what surely would be the most lucrative fight of 2019.
"There's a third heavyweight out there," Fury said in referencing the specter of Joshua that hung over the proceedings like a bad moon rising. Then, making clucking sounds, he yelped, "Chicken! Chicken! Joshua, where are ya, AJ?"
Wilder had hoped to use a victory over lineal champion Fury, preferably one ending in another emphatic knockout, as a springboard into the superfight with Joshua he most craves. It now seems reasonable to presume that to safeguard the route to Joshua, Wilder's team of advisers – that would be promoter Lou DiBella, Premier Boxing Champions honcho Al Haymon and co-trainers Breland and Deas – will think long and hard before consenting to a rematch with Fury, whose difficult-to-solve style did indeed prove to be troublesome to the lean and lanky Alabaman. Despite the public outcry for Whitaker-Chavez II, one fervently shared by Whitaker and his handlers, that fight never happened. Chavez was too valuable a property to be exposed to the kind of risk and potential embarrassment that might have resulted had he again tangled with Whitaker.
Curiously, some of the key figures in Whitaker-Chavez were represented, either live and in person or by extension, at Wilder-Fury. The late Jose Sulaiman was president of the WBC and present in San Antonio that night 25 years ago; at ringside in LA was Sulaiman's son and successor, Mauricio Sulaiman. And in the house at both widely separated fights was Shelly Finkel, who managed Whitaker then and is an adviser to Wilder now.
There is an old saying: the more things change, the more they remain the same. It's as true in boxing, and maybe even more so, than in any other area of human existence. The faces and names may be different, but the game remains constant.
Bernard Fernandez is the retired boxing writer for the Philadelphia Daily News. He is a five-term former president of the Boxing Writers Association of America, an inductee into the Pennsylvania, New Jersey and Atlantic City Boxing Halls of Fame and the recipient of the Nat Fleischer Award for Excellence in Boxing Journalism and the Barney Nagler Award for Long and Meritorious Service to Boxing.
Check out more boxing news on video at The Boxing Channel
To comment on this article at The Fight Forum, CLICK HERE
Three Punch Combo: Two Recent Upsets Trigger Memories of Forgotten Fights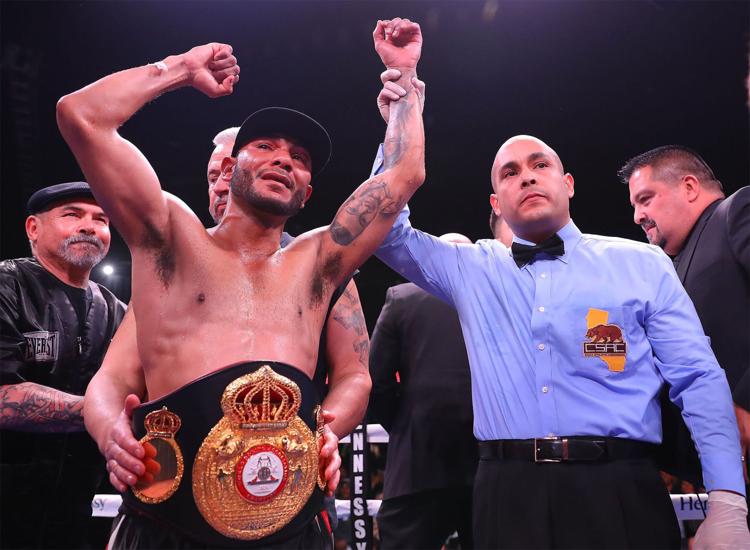 THREE PUNCH COMBO — There is just something magical about a longshot overcoming seemingly unsurmountable odds to accomplish a major feat in boxing such as winning a world title.
Earlier this month, undefeated 130-pound champion Alberto Machado defended his title against Andrew Cancio in Indio, CA. Cancio (pictured) was considered a solid pro, but he had been outclassed on the occasions when he stepped up his level of opposition and few expected him to remotely compete with Machado. But Cancio elevated his game and sprung an unthinkable upset, stopping Machado in the fourth round to become a world champion. Cancio's incredible backstory has since been well documented by several media outlets.
In terms of shock value, Cancio's upset was mindful of another recent upset, Caleb Traux's monster upset of James DeGale in December of 2017. Truax traveled to the UK to challenge 168-pound title-holder DeGale.  He was given no shot to win; most doubted that he would be competitive. But Truax overcame the odds and shocked the boxing world winning a majority decision to become a world title-holder. Truax's story of overcoming incredible odds to dethrone DeGale became the feel good boxing story of 2017.
The underdog stories of Truax and Cancio are still fresh in our minds. But often times, such stories become somewhat forgotten as time passes. In this week's three punch combo, I will look at three other incredible underdog stories that all occurred in 1997. They were all equally as heartwarming as those of Truax and Cancio.
Keith Mullings vs. Terry Norris, 12/06/1997
In 1997, 154-pound champion Terry Norris left his promoter Don King to sign with Top Rank with the express purpose of securing a big money fight against Oscar De La Hoya. After winning two non-title fights under the Top Rank banner against low level opponents, Norris was placed on the same pay-per-view card as De La Hoya who would be defending his WBC world welterweight title against Wilfredo Rivera. Top Rank was planting the seeds for a De La Hoya-Norris showdown the following year. Not wanting to take any chances, they selected a seemingly safe opponent for Norris in Keith Mullings.
Mullings entered with a record of 14-4-1. He had one win in his last six fights. However, Mullings was coming off a controversial split decision loss to another 154-pound champion in Raul Marquez three months earlier in a fight many believed Mullings deserved to win. The performance against Marquez gave Mullings credibility but his limited skills did not leave many to believe that he could compete with an elite fighter like Norris.
For the first seven rounds, the script seemed to be going according to plan. Norris boxed effectively using his left jab to control range and landing combinations behind that punch. He was seemingly in total control of the fight.
In round eight, Norris's movement slowed and Mullings began to land on a more stationary target. Although not known as a puncher, he dropped Norris with a hard right hand. Norris survived the round but Mullings came out aggressive to start round nine. After reigning punch after punch on Norris in the first minute of the round, referee Tony Perez stepped in to save Norris from more punishment.
Mullings would make one successful defense of his title three months later, stopping Davide Ciarlante in round five, but that would be the last win of his career. He would lose his title in his next outing to Javier Castillejo and then lose three more times before hanging up the gloves for good in 2001.
Mauricio Pastrana vs. Michael Carbajal, 01/18/1997
Entering 1997, 108-pound champion Michael Carbajal had only two losses on his resume in 46 professional fights. Both losses had come in 1994 to the great Humberto Gonzalez. One was by majority decision and one by split decision. Carbajal had won 12 fights in a row following the second defeat to Gonzalez and was still considered to be in the prime of his Hall of Fame career as he entered a title defense against unknown Mauricio Pastrana on January 18th, 1997.
Pastrana had an undefeated record of 15-0 with 13 of those wins coming by knockout. But he had fought nobody of note, feasting on inferior competition in his native Columbia. He was given literally no shot by most in boxing to even be competitive with the much more experienced and seemingly more skilled Carbajal. As a matter of fact, so little was thought of Pastrana that during the beginning of the fight a promo was run hyping Carbajal's next scheduled title defense in March.
The first two rounds were largely feeling-out type rounds. In round three, Pastrana announced his presence, shaking Carbajal with a hard right hand. From there, Pastrana upped his output using an effective well-timed stinging left jab to set up his combinations. He outworked Carbajal and landed the cleaner punches as the fight progressed. Carbajal certainly had his moments in what became a surprisingly exciting fight but in the end the judges preferred the activity and cleaner punching of Pastrana who would win a split decision.
Pastrana made two successful defenses against overmatched foes before losing his belt on the scales before a scheduled title defense in August of 1998. In his next fight, he would capture an interim title belt in the flyweight division but that would be his last success in any major title fight. He never was able to replicate the performance he had against Carbajal. Along the way, Pastrana suffered defeats to some big names including Rafael Marquez, Celestino Caballero, Jhonny Gonzalez and Gary Russell Jr. Following a knockout loss to Mikey Garcia in 2012, Pastrana retired with a final professional record of 35-17-2.
Uriah Grant vs. Adolpho Washington, 06/21/1997
In his second pro fight, Uriah Grant was fed to debuting 1984 Olympic Heavyweight Gold Medalist Henry Tillman and was knocked out in the second round. Three fights later, Grant was selected as an opponent for prospect Ricky Womack and dropped a six round decision. It appeared that Grant's career was ticketed to being that of a journeyman.
Grant's career would bounce up and down following the Womack loss. With a lack of depth in the cruiserweight division, Grant did get opportunities at bigger fights and even world title bouts but continued to fall short when he stepped up in class. The journeyman tag seemed appropriate as he entered his 13th year as a pro in 1997 with a pedestrian record of 25-12.
In August of 1996, Adolpho Washington traveled to Spain and scored a unanimous decision victory over the previously undefeated Torsten May to win a cruiserweight title. The win moved Washington's record to 26-3-2. After a bit of a layoff, Washington settled on a title defense against Grant to help shake off the rust.
Stuffed deep on a Don King promoted card in Florida, the fight was thought to be a mismatch with no US television interested and barely anyone in attendance. But in an absolute shocker, Grant defeated Washington by split decision. The unheralded cruiserweight went from journeyman to world champion overnight.
Unfortunately for Grant, his championship reign would be short. Five months later in his first title defense, he was out-boxed by Imamu Mayfield losing a unanimous decision.
Grant would not fight for a major title again, but in 2000 he would gain a little more notoriety when he defeated a faded Thomas Hearns. Four years after defeating Hearns and following a string of losses, Uriah Grant retired with a final record of 30-21.
Photo credit: Tom Hogan / Hogan Photos / Golden Boy Promotions
Check out more boxing news on video at The Boxing Channel
To comment on this article in The Fight Forum CLICK HERE
Ringside in LA: Leo Santa Cruz Educates Rafael Rivera in an Entertaining Fight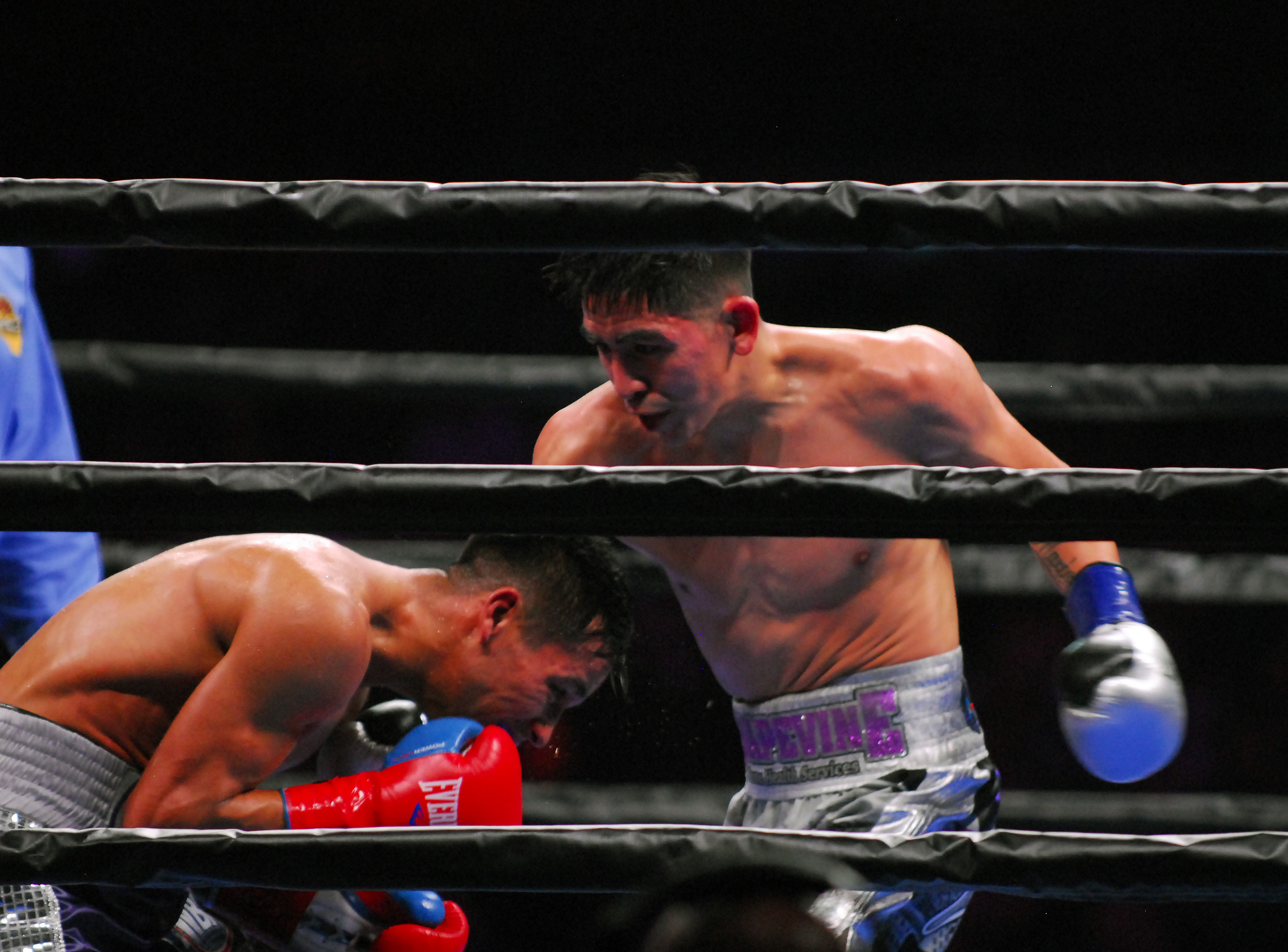 LOS ANGELES-Last minute substitute or not, Leo Santa Cruz met the future in Mexico's Rafael Rivera and banged it out with the youngster for 12 entertaining rounds to retain the WBA featherweight world title by decision on Saturday.
It was all about that learning curve.
Santa Cruz (36-1-1, 19 KOs) gave Tijuana's Rivera (26-3-2, 17 KOs) a lesson on elite prizefighting before more than 5,000 at the Microsoft Theater. Despite the disparity in experience the featherweight clash was still packed with action.
If fans expected Rivera to be run out of town by the much more experienced Santa Cruz, they were badly mistaken. The Tijuana fighter had fought in Southern California twice before and exhibited a toughness and grit you don't see from run-of-the-mill opponents. Though he was called in just weeks ago, Rivera was ready and willing.
Immediately Santa Cruz showed the skill and intelligence needed to be a world champion and targeted Rivera's body from the first round. Despite the painful looking digs to the body, the youngster Rivera held firm.
It was all Santa Cruz for the first four rounds as he showed off his ability to blast body shots at will. The painful looking shots seemed to bother Rivera, not because of the pain inflicted, but from embarrassment from not being able to defend against the onslaught.
"I hit him hard to the body and head very well, but he didn't go down," said Santa Cruz.
Rivera found his break in the fifth round when he managed to give the champion a different look. Multiple left hooks connected on the champion and he then capped the end of the round with a vicious left hook body shot and right uppercut. Santa Cruz smiled at the effort.
Santa Cruz never allowed Rivera much more from there on. He mixed up his attack and confused Rivera with different looks, except in the ninth round when both flurried with a barrage of blows like angry alley cats.
The winner of the fight was never in doubt during the last half of the fight. But fans enjoyed the high caliber exhibition of the art of banging Mexican style. After 11 rounds both fighters looked at each other with respect and were ready for an eventful finale.
Santa Cruz probably knew he was far ahead and though he relishes bang, bang type of fights, he was still careful enough to not make obvious openings for Rivera. It was a careful and scientific round until the final 10 second warning clap, then both looked at each other and nodded simultaneously and proceeded to unleash a barrage of punches in tornado-like fashion. The fans yelled in unison for the flourish of blows and cheered at the final bell.
But after 12 rounds the judges were in agreement and all tabbed the fight 119-109 for Santa Cruz.
"I'm very happy with my performance and I thought I gave everyone a great fight. I was in there with one of the best fighters in the world and throwing punches and exchanging with him. More than anything, I'm very proud to have fought 12 rounds with a great world champion like Leo Santa Cruz," said Rivera.
Santa Cruz was not as pleased with the performance, but happy that it was an entertaining fight.
"I tried to do my best and do what I could to give them a great fight," said Santa Cruz. "I would have loved to have been even better, but he's really tough and solid opponent."
Santa Cruz fans were pleased by the effort and the champion himself seeks even more challenges this year.
"I want to fight the best. I want to fight any of the champions at featherweight or a third fight with Carl Frampton," said Santa Cruz. "I want to be back this summer and fight three times this year against the best in the division."
Figueroa Wins
A battle between welterweight sluggers saw Omar Figueroa (28-0-1, 19 KOs) out-punch John Molina (30-8, 24 KOs) and win by unanimous decision after 10 rounds in a fight that surprisingly saw no knockdowns despite their lofty records for stoppages.
Figueroa was the busier fighter throughout but Molina had his moments especially with the overhand rights. Each fighter scored with heavy shots throughout the 10 round match but the judges liked Figueroa's busier output. The scores were 97-93, 98-92, 99-91 for Figueroa.
It was expected to be a fight resulting in a knockout but each fighter showed a good chin despite the big blows scored. Figueroa, who hails from Weslaco, Texas, is a former lightweight world titlist but has been forced to move up due to weight problems. Southern California's Molina showed a good chin and keeps his name in the game.
Ryosuke Iwasa Wins Elimination Bout
Japan's Ryosuke Iwasa (26-3) won by technical decision after 10 rounds against Mexico's Cesar Juarez (23-7) in an IBF super bantamweight elimination title fight. The fight was stopped because of a cut on Juarez from an accidental clash of heads in the second round, A ringside physician stopped the fight at the end of the ninth round and according to California rules it went to the scorecards where Iwasa was ruled the winner by majority decision 95-95, 97-93, 98-92.
Other Bouts
Giant super welterweight Sebastian Fundora (12-0, 8 KOs) knocked out Buffalo's Donnie Marshall (10-1, 6 KOs) at 1:08 of the third round to win the battle of undefeated 154-pounders.
Despite the nine-inch reach advantage and the six-inch height advantage Fundor fought most of the clash on the inside and scored heavily with long right uppercuts. It was a long right uppercut that caught Marshall moving away and floored him in the third round. Fundora then chased the dazed fighter around the ring and battered him with a dozen unanswered blows that forced referee Jerry Cantu to halt the fight and declare a knockout win for Fundora.
Fundora fights out of Coachella, Calif.
Argentina's Neri Romero (12-0) was blasted to the floor with a sneak punch by Thomas Smith (5-7-1) right during a break but managed to claw his way back to a win by unanimous decision after six rounds in a super featherweight match. Smith, who fights out of Dallas, showed he could really take a shot but tired at the end of the last three rounds and allowed Romero to win on endurance. All three judges saw it the same 58-55.
Shon Mondragon (1-0) stopped Julio Martinez (1-1) at 47 seconds of round two with a two-fisted attack that forced referee Ray Corona to halt the super bantamweight fight. Mondragon, a southpaw, fights out of Commerce, Colorado.
Photo credit: Al Applerose
Check out more boxing news on video at The Boxing Channel
To comment on this story in The Fight Forum CLICK HERE
`Big Baby' Proves Again That Heavyweights Need Not Have Ripped Physiques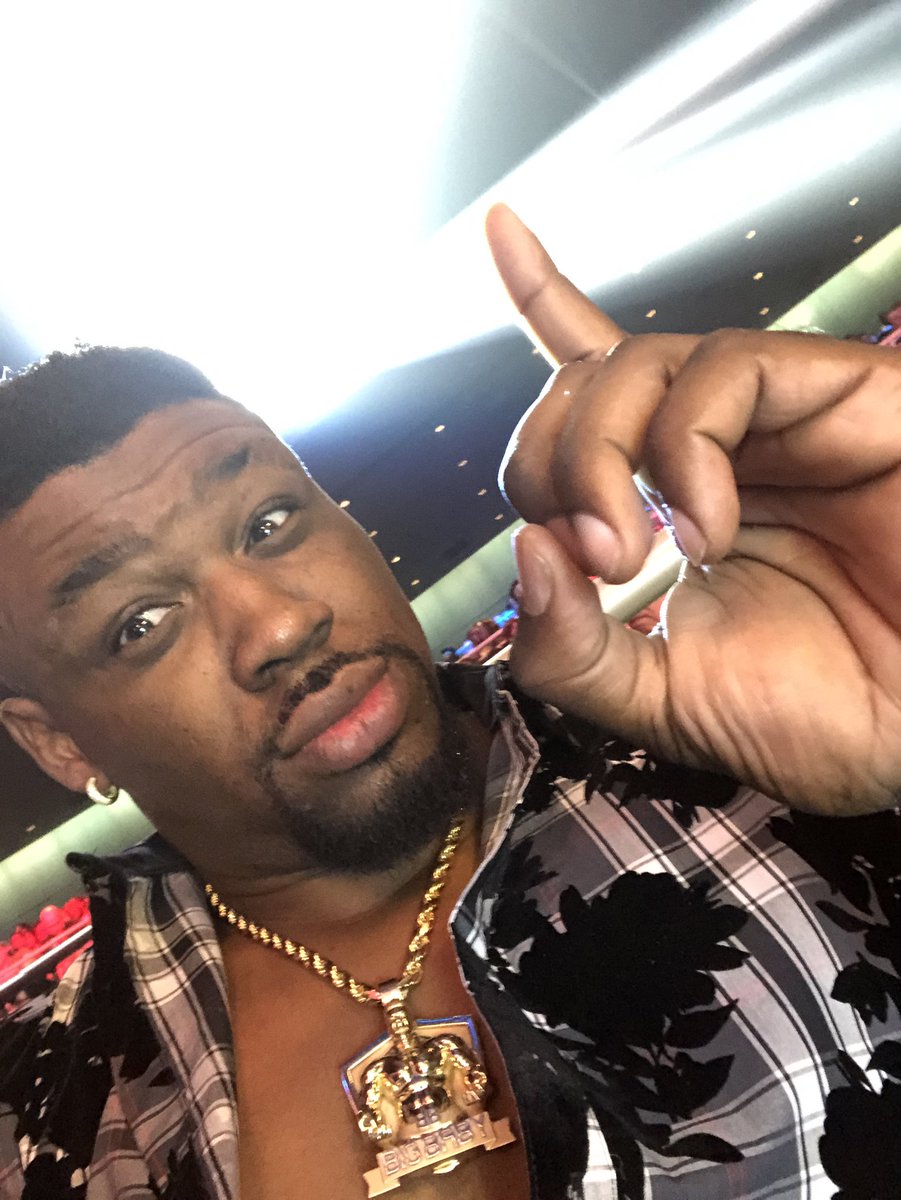 If we were to rate heavyweight champions on the basis of six-pack abs and overall confirmation, it's a pretty safe bet that the magnificently ripped physiques of Evander Holyfield and Ken Norton would place them at or pretty close to the top of the list of pugilism's most impressive big-man bodies. Also drawing consideration for a high slot would be Mike "Hercules" Weaver, who briefly held an alphabet title, but, his massive muscles notwithstanding, Weaver is hardly anyone's idea of a truly great heavyweight.
The old saying – "looks like Tarzan, fights like Jane" – doesn't come close to applying to Anthony Joshua (22-0, 21 KOs), the IBF/WBA/WBO heavyweight champ who defends those titles against Jarrell "Big Baby" Miller (23-0-1, 20 KOs) on June 1 in Madison Square Garden. Although the 6-foot-6 Joshua has fought as low as 229 pounds and as high as 254, at those weights and everything in-between he looks the part of a scary-good Tarzan who can and almost always pulverizes the guy selected to serve as his designated victim.
Which brings us to the 6-foot-4 "Big Baby" Miller, the well-fed Brooklyn, N.Y., native who has shown he can scrap a lot more like Tarzan than Jane, but at first glance is a closer physical approximation to Norm Peterson, the chubby guy on the end bar stool in Cheers so memorably played by George Wendt, winner of six Emmy Awards for Best Supporting Actor. Although Miller has averaged a semi-reasonable 265.7 pounds per ring appearance over the course of his professional boxing career, with a low of 242, he has come in at 300-plus for each of his last three bouts and it seems a safe bet he'll officially come in anywhere from 40 to 70 pounds heavier than Joshua when they square off three-plus months hence.
All of which raises a question of how much is too much when it comes to a corpulent heavyweight's scale reading? Talent comes in all shapes and sizes, and there are reasons why seemingly fat fighters are, well, seemingly fat fighters. It could be genetics (it's so convenient to blame mom or dad when you have to shop for pants with a larger waist size), a slow metabolism or simply a fondness for unhealthy fast food, second and third helpings at the dinner table and an insatiable sweet tooth.
George Foreman's body looked a lot like Joshua's does now in the earlier phase of his Hall of Fame career. No, the glowering Foreman that laid waste to Joe Frazier and Ken Norton didn't sport the six-pack abs of a male underwear model, but he had a thick – not overly thick – frame and could deliver battering-ram punches with either fist. It wasn't until he came off his 10-year retirement from boxing that Big George, now a smiling, playful jokester at press conferences, poked fun at his enlarged self, the one that came in at a career-high 267 pounds after paring down from 300-plus for his first comeback fight, against Steve Zouski. Foreman cracked wise about being on a "seafood" diet, telling media types that what he meant was he ate all the food he saw.
Other than Foreman, the best of the fight game's (too-)big men is Riddick Bowe, another Hall of Famer whose appetite for high-calorie fare was matched only by his top-tier skill set. The aptly nicknamed "Big Daddy" was terrific for a time and might have remained so for even longer had he been more diligent in heeding the dietary and training dictums of his strength-and-conditioning coach, Mackie Shilstone, and legendary trainer Eddie Futch, both of whom became understandably frustrated when Bowe would allow himself to blow up 40 to 50 pounds above his optimal fighting weight between bouts.
Other accomplished big guys who were able to overcome the burden of too many excess pounds are future first-ballot Hall of Famer James Toney, who fought as low as 157 pounds and won widely recognized world championships at middleweight and super middleweight before gorging himself up to the heavyweight ranks where he defeated, among others, Holyfield, Fres Oquendo and Dominick Guinn; "Two-Ton" Tony Galento, a veritable fireplug  of a man who shockingly knocked down seemingly invincible heavyweight champ Joe Louis before falling himself, and Buster Mathis Sr., the dancing bear whose jiggly love handles didn't prevent him from going the distance with Muhammad Ali and Jerry Quarry.
When it comes to almost unfathomable heft, however, special mention must be made to Eric "Butterbean" Esch, the erstwhile "King of the Four-Rounders," who despite being only 5-11½ logged 90 of his 91 pro bouts (77-10-4, 58 KOs) at 300 or more pounds, including three at 400-plus pounds. All right, so The Bean's list of opponents for the most part was hardly a Murderer's Row. It should be noted, however, that he defeated Louis Monaco, who defeated Kevin McBride, who defeated Mike Tyson, who defeated Larry Holmes, who defeated Muhammad Ali.
Honorable mention, if you want to call it that, is reserved for Gabe "Big G" Brown, who managed to compile a winning record (18-17-4, 12 KOs) despite weighing 300 or more pounds for 33 bouts, with a high of 367; Dustin "Worm" Nichols (5-12, 5 KOs), who came in at 400 or more four times and the rest at 300-plus, with all 12 of his losses by knockout; Alonzo "Big Zo" Butler (31-3-2, 24 KOs), who is still active and might yet evolve, considering his three most recent bouts were at 300-plus pounds, into an updated version of "Big Baby" Miller.
If you want to tick off "Bronco" Billy Wright (43-4, 34 KOs), he of the seven bouts at 300 or more pounds, try comparing him to Butterbean. "If you think I'm a bum or a joke, try saying that to my face. I guarantee you won't be laughing for long," the now-retired Bronco Billy, 54, said in 2015, when he was the WBC's 20th-ranked heavyweight. "I can knock out anybody on the planet, with either hand. I can knock them cold."
In retrospect, a matchup of Butterbean and Bronco Billy now rates among my all-time matchups that never happened, but should have. Whoever went down would cause a vibration that I'd like to think could have been registered on the Richter Scale.
Boxing, of course, is not the only sport where gifted but gluttonous athletes overcame, if briefly, their inclination to succumb to the more vexing temptations of food. Remember the time that third baseman Pablo "Kung Fu Panda" Sandoval's belt buckle snapped and his pants nearly slid down when he took a particularly vicious swing that missed? Basketball had the man with two nicknames, former University of Kentucky center Melvin Turpin, who alternately went by "Turp the Burp" and "Lard of the Rims", and no one will ever forget the sight of blimpish quarterback Jared Lorenzen, dubbed the "Pillsbury Throwboy," who could fire lefthanded lasers but ate himself out of the NFL, where he once received a Super Bowl ring as the backup to starter Eli Manning for the New York Giants' SB XLII victory over the New England Patriots.
It's a longshot that Big Baby Miller could pull off the upset of Anthony Joshua, but if he did it would serve as an inspiration to couch potatoes everywhere that athletic glory just might be theirs if they put aside the potato chips and beer, at least for a little while. After all, it isn't the size of the dog in the fight, it's the size of the fight in the dog that matters, right? Even if the dog in question is as large as a Clydesdale.
Bernard Fernandez is the retired boxing writer for the Philadelphia Daily News. He is a five-term former president of the Boxing Writers Association of America, an inductee into the Pennsylvania, New Jersey and Atlantic City Boxing Halls of Fame and the recipient of the Nat Fleischer Award for Excellence in Boxing Journalism and the Barney Nagler Award for Long and Meritorious Service to Boxing.
Check out more boxing news on video at The Boxing Channel
To comment on this article in The Fight Forum CLICK HERE