Best Female Boxers Pound for Pound, Sept. 2013
Only a few changes occurred in the female rankings for the best women boxers Pound for Pound list since my last posting. The most significant result came from the match between Ana "The Hurricane" Julaton and Celina "The Sweetheart" Salazar. This past August, in Cancun, Mexico, the San Antonio, Texas female fighter Salazar handily defeated Julaton by unanimous decision.
An addition to the list was Kaliesha "Wild, Wild" West who was omitted from the previous list after it was stated she was retiring from the sport of boxing. West recently denied she is retiring and is possibly fighting next month. She has been reinstated to the number 10 spot.
Welcome to the women's best fighters pound for pound, Sept. 2013:
1. Layla McCarter – (35-13-5, 8 Kos) – Anybody rating a female boxer above McCarter just hasn't been paying attention. The Las Vegas-based female boxer hasn't lost a fight since 2007. Not to berate other journalists, but Cecilia Braekhus didn't start boxing until 2009 and has not fought the same kind of competition as McCarter. The mop top McCarter is really a lightweight boxer who is now the current junior middleweight champion. The only way to prove Braekhus is the better fighter would be to meet in the boxing ring. McCarter is the most skillful female boxer without a doubt. I mean real boxing skills, not someone who simply throws a quick jab and combinations. McCarter has been the best female prizefighter for several years.
2. Jackie Nava – (28-4-3, 12 Kos) – Now 33, Nava is a skillful and strong 122-pound junior featherweight from Tijuana, Mexico who loves to put on the gloves. She has been out a full year due to giving birth. Don't count out Nava. She has been back in the Tijuana boxing gyms and looks ready to climb back into the ring. Since her short departure there have been a number of changes in the junior featherweight division. She will be tested very quickly.
3. Melinda Cooper (22-2, 11 Kos) – Las Vegas can boast it has two of the best female boxers on the planet. Cooper has problems getting opponents whether at junior featherweight down to junior bantamweight which is her real weight class. Blessed with speed and power, the attractive female boxer has ring generalship that allows her to compete with anybody from 113 pounds to 122 pounds. She's been a fixture in female boxing for more than a decade though she is only 28. Her last fight was a close win over Celina Salazar. People doubted Cooper's abilities after the fight, but this past August, Salazar blitzed Ana Julaton and won every round according to the judges. Now that win has people wondering just how good is Cooper and for that matter, Salazar?
4. Alicia Ashley (19-9-1) – The New York southpaw has been fighting for years but has problems finding opponents in her own country. She has a hit and run style that is effective but not very crowd pleasing. Still, she wins and despite her age at 46, has the ability to give anyone a rough time in the ring. She has been boxing since 1999 and is the current WBC junior featherweight world titlist.
5. Cecilia Braekhus (22-0, 6 Kos) – Many web sites and boxing publications with little knowledge of the female boxing world rank the fighter from Norway as the best female fighter pound for pound. They are wrong. She has athletic ability but that's never been enough in the sport of boxing. It's a skill sport, not a track meet. She recently defeated Oxandia Castillo by technical knockout in Norway. But Castillo is only 19 and though the Dominican had defeated Hanna Gabriel, she was no way ready for Braekhus. It remains to be seen if Braekhus and her backers will put her in a fight against Layla McCarter. That would be a true test for Braekhus.
6. Ava Knight (12-1-3, 5 Kos) – The female boxer from Chico, California has proven in fights with Mariana Juarez, Kaliesha West and Arely Mucino that she deserves to be ranked in the top pound for pound list for female boxers. She can box or bang and is quickly becoming adept at setting up opponents. For any fighters looking to meet Knight, sooner would be better than later. In no time at all she will have even more experience and be even more difficult to fight. Knight could easily win world titles in the junior bantamweight, bantamweight and junior featherweight divisions.
7. Erica Farias (16-0, 9 Kos) – Strength is her primary weapon and she knows how to use it. Argentina's Farias, 29, knows how to box but she loves to pressure her lightweight opponents and blast them with her strength. She's a relentless boxer and has great stamina to go with her pursuit skills. Farias easily defeated Chika Mizutani this past June by unanimous decision. A match with McCarter would be very interesting.
8. Susie Ramadan (23-1, 8 Kos) – The bantamweight world champion has only one loss on her resume and that occurred in Mexico against Yazmin Rivas. Despite that loss, she was willing to re-engage with the Mexican female prizefighter in her home turf. That's the kind of competitor instinct Ramadan shows time and time again. It's too bad the boxing world outside of her home country Australia hasn't seen her in action. At 34, she's still in her prime.
9. Jessica Chavez (18-3-2, 4 Kos) – Mexico's Chavez became the first junior flyweight to defeat Yesica Bopp and now looks to show the boxing world how she fares against the rest of the world. It's difficult to top her performance against Bopp, but the Mexican from Mexico City has plenty of competition in her own country alone, especially if she moves up in weight. At 25, Chavez is now entering her prime in the boxing rich country.
10. Kaliesha West (16-1-3, 4 Kos) – The Southern California boxer was dropped from the list after various sources said she was retiring. That was an error. West just took a sabbatical while she participated in a CW television reality show called "Capture." Now that filming is over, the former bantamweight world champion and now current junior featherweight titlist is returning to the ring soon.
11. Kina Malpartida (15-3, 4 Kos) – Peru's Malpartida, 33, a tall junior lightweight, could easily win every fight by simply by using her jab. Malpartida is a very under-rated fighter and the first world champion from Peru. She's been a fixture in 130-pound weight class and could easily move up to 135 pounds.
12. Yesica Bopp (24-1, 11 Kos) – Since losing to Jessica Chavez in Mexico, the petite Argentine boxer jumped back in the ring and defeated wily veteran Anastasia Toktaulova to retain the WBO and WBA junior flyweight world titles. Bopp, 29, has a lot of speed and movement and knows how to use it.
13. Anne Sophie Mathis (26-3, 22 Kos) – The hard punching Frenchwoman may not be the most nimble boxer on her feet, but if she connects, it usually means good night. Age hasn't taken anything away from her power and though she lost to Holly Holm and Cecilia Braekhus, they were not one-sided as the scores suggest. The knockout of Holm in their first encounter is a highlight reel for female prizefighting.
Honorable mention:
Mariana Juarez, Celina Salazar, Melissa Hernandez, Katy Wilson Castillo, Daihana Santana, Monica Acosta, Shindo Go, Delfine Persoon and Ina Menzer.
Avila Perspective, Chap. 105: Angry Welterweights and More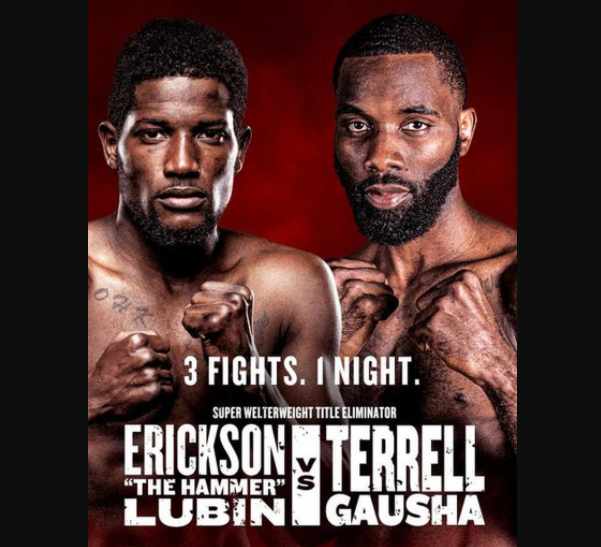 Those welterweights don't play.
One welterweight just got out of jail and wants to take out his angry frustrations in the boxing ring.
"One of us is getting knocked out. If it gets to where I'm behind on points, I'm just going to come forward and try to take him out, even if I end up getting knocked out," said Juan Carlos Abreu. ""If he stands and fights, it's better for me. That's what I want."
Standing in front of Abreu (23-5-1) will be one of the top welterweights in America, Philadelphia's Jaron Ennis (25-0, 23 KOs). This is could be Ennis' first true test against an experienced foe on Saturday Sept. 19, at Mohegan Sun Casino in Uncasville, Conn. Showtime will televise the Premier Boxing Champions card.
Ennis, 23, has been breezing easily since first jumping in the prize ring in April 2016. So far, the competition has been unable to cope with the athleticism he possesses. Will Abreu be the first to pose a problem?
"Whatever he brings, we are going to be ready. I'm going to go out there, do my thing, be smart, have my fun, and get that stoppage at the end of the night," said Ennis, whose last opponent Bakhtiyar Eyubov was eliminated in four rounds in January. "You can't just go in there and go for the knockout. That's how you get tired and lose your cool or even get hit with punches that you shouldn't be getting hit with."
Abreu hopes he loses his cool.
"If he stands and fights, it's better for me. That's what I want. I really want one of us to get knocked out," says Abreu of the Dominican Republic who was purportedly jailed for street fighting.
This welterweight matchup is the precursor to the WBC super welterweight eliminator between Terrell Gausha (21-1-1, 10 KOs) and Erickson Lubin (22-1, 16 KOs).
Gausha and Lubin both have lost once in their pro careers and need a win to get another crack at a world title.
Gausha lost a decision to Erislandy Lara three years ago. Lubin was stopped in one round by Jermell Charlo three years ago. Both realize the nature of the beast.
"I think Gausha has some problems with southpaws, but I'm not focused on that. I'm focused on my game plan and coming out victorious Saturday night," said Lubin, 24, a southpaw called "the Hammer" for a reason.
Gausha is originally from Cleveland, Ohio but trains in Southern California and has fought four elite southpaws in his career. He believes one more is not a problem.
"This will be my fourth southpaw in a row. So, I'm more comfortable and familiar this time around," said Gausha, 33, a former US Olympian who trains with Manny Robles Jr. "The guys before me, they all fought each other. Sugar Ray Leonard, Marvin Hagler, Roberto Duran. They all fought each other. To be the best, you have to beat the best. And you can see that the fights I take, even after a long layoff, they are tough fights."
Top Rank
Also, on Saturday Sept. 19, heavyweights and super lightweights lead a Top Rank card featuring some interesting bouts that will be shown on ESPN+.
Newly acquired Efe Ajagba (13-0,11 KOs) meets Jonnie Rice (13-5-1) in a 10-round heavyweight clash. It's Nigeria's Ajagba's second fight this year. Though still a little raw he shows immense potential and great natural strength.
Rice fights out of Bones Adams' Gym in Las Vegas and has some power. He built up his record on heavyweights in Tijuana boxing rings but has some pop. He's a sizeable heavyweight and good measuring stick for Ajagba.
The main event is a doozy.
Puerto Rico's Jose "The Sniper" Pedraza (27-3, 13 KOs) meets Southern California's Javier Molina (22-2, 9 KOs) in a 10-round super lightweight bout at the MGM Grand Bubble in Las Vegas.
This should be good.
Pedraza, 31, is a former WBO lightweight world titlist who lost in his first defense to Vasyl Lomachenko. Nothing bad about that. He defeated Mexico's Raymundo Beltran for the belt and has shown a penchant for showing up big when you least expect it.
Molina, 30, is a 2008 US Olympian and a member of the fighting Molina family. His brother Oscar was a member of Mexico's 2012 Olympic team. His other brother Carlos fought for the world title against Amir Khan. Though Javier Molina has never shown great power, he can truly fight.  His last win came against Amir Imam this past February.
Pending Lightweight Clash
Speaking of the lightweight division, is anyone else as excited as me about the looming showdown between the remarkable Vasyl Lomachenko and impressive Teofimo Lopez coming in less than a month?
Lomachenko, 32, the Ukrainian stylist known as "Hi Tech," has that incredible footwork and ability to control distance. He's a master of frustrating opponents and imposing his style of darting in and out of danger. But as good as he is, he can't sell tickets. Only hardcore fans appreciate his peerless boxing skills.
Lopez, 23, hails from Brooklyn and has that ex-factor you can't teach. He's pizzazz and panache with a punch. That combination of flair and power excites fans and seemingly makes him a natural gate attraction. But in spite of his electric abilities, he's facing a master boxer. Is he ready?
Top Rank is known for having a team of matchmakers headed by boxing wizard Bruce Trampler. It makes me wonder why they are pitting these two against each other?
The probable answer: neither sells out an arena alone. May the best man win.
A friend of mine from East L.A., who formerly boxed and comes from a boxing family, shared his knowledge and opinion on the matchup. He has an interesting take.
"His footwork is incredible," said George Rodriguez about Lomachenko. "Don't get me wrong, Teofimo is an incredible talent, but Lomachenko has that footwork."
Any way you look at it, the winner of this clash clearly bumps up his own image.
Lomachenko (14-1, 10 KOs) versus Lopez (15-0, 12 KOs) at the MGM Grand Bubble in Las Vegas on October 17. Mark down that date. It will be televised on ESPN.
Check out more boxing news on video at the Boxing Channel 
To comment on this story in the Fight Forum CLICK HERE
Boxing Odds and Ends: The Sept. 26 Horn of Plenty and Other Notes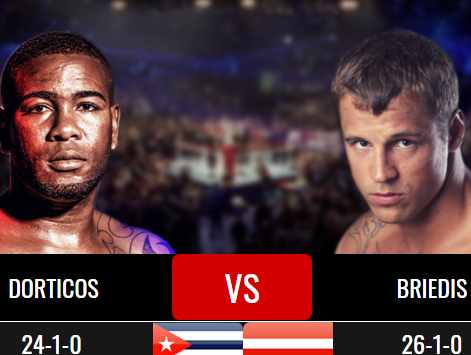 Considering the constraints, the month of September has been a pretty good month for professional boxing. And the month will close with a flourish. Eight world title-holders will be in action on the 26th, the last Saturday of the month.
Five of the belt-holders will appear on the SHOWTIME PPV doubleheader featuring the Charlo twins. The most intriguing fight on that card finds Jermall Charlo risking his belt and his undefeated record against rugged Sergiy Deveryanchenko. At last glance, Jermall was a consensus 17/10 (minus-170) favorite. In baseball, a 17/10 favorite is a heavy favorite. In boxing, not so. A serious handicapper who wouldn't think of laying 17/10 in a baseball game would have no hesitation about laying these odds in a boxing match.
When Deveryanchenko steps into the ring, 51 weeks will have elapsed since his last fight, his bruising tiff with Gennadiy Golovkin. Jermall Charlo hasn't been on the shelf for quite that long, having last fought in December.
A more interesting match on this particular Saturday, at least in the eyes of this reporter, will unfold earlier that day in Munich when the curtain finally comes down on Season 2 of the long-drawn-out World Boxing Super Series. Two titles will be on the line when Mairis Briedis (26-1, 19 KOs) meets Yuniel Dorticos (24-1, 22 KOs).
Briedis' lone defeat came at the hands of Oleksandr Usyk in a very competitive fight. Briedis won five rounds on two of the cards and won six rounds on the other. Dorticos' lone defeat came on enemy turf in Sochi, Russia when he was stopped with eight seconds remaining in a doozy of a fight with Murat Gassiev.
Forget the titles; titles are a dime a dozen. These two guys are plainly the two best cruiserweights on the planet.
"The tickets are flying out the door and we expect to sell out within hours, if not days," said co-promoter Kalle Sauerland at a pre-fight press conference.
That assertion was made way back on January 22 when the fight, originally targeted for late December of last year, was headed to Riga, Latvia, on March 21. That date didn't work, nor did the re-scheduled date of May 16, and ultimately Riga didn't work either.
Whatever tickets were sold, had to be refunded. There will be no fans in attendance when Briedis and Dorticos finally lock horns on Sept. 26 at a TV studio in Munich. The fight will air on DAZN in the U.S.
"Rest makes rust" was an often-heard caution when big gamblers of yesteryear dissected a boxing match. The late, great pricemaker Herb Lambeck reflexively shied away from boxers that had been inactive for a considerable period of time. For him, the Briedis-Dorticos match would likely be a head-scratcher. Both combatants have been inactive since June 15 of last year when they appeared in separate bouts on the same card in Riga, Briedis's hometown. And they aren't getting any younger. Briedis is 34 and Dorticos is 35.
The odds got nicked down somewhat when the site shifted from Riga with fans to Munich without, predictably so as Briedis, the first fighter from Latvia to win a world title, has an avid local following.
Briedis, the superior boxer, is a consensus 9/5 favorite. That seems a shade high as he won't be able to feed off the crowd – there won't be a crowd – and Dorticos, the Cuban KO Doctor, has a better chance of ending the fight with one punch. It wouldn't be shocking if the fight followed a similar tack as the recent fight between Dillian Whyte and Alexander Povetkin.
In case you missed it, Whyte was dominating his Russian adversary when things changed in a flash in the fifth round. Out of nowhere, Povetkin, the underdog, unleashed a picture-perfect uppercut that left Whyte flat on his back, unconscious before he hit the canvas. There have been other smashing one-punch knockouts this year – Ryan Garcia's demolition of Francisco Fonseca comes quickly to mind – and there may be a few more, but it's hard to visualize anyone topping Povetkin in the voting for Knockout of the Year.
By the way, if he wins it, Povetkin, 41, would be the second-oldest boxer to score the Knockout of the Year. George Foreman was 45 when he knocked out Michael Moorer in 1994. The source is The Ring magazine which has been issuing this award since 1989.
And if you happen to know the youngest fighter to score The Ring Knockout of the Year, then you're pretty sharp. No, it's not baby-faced Naoya Inoue, who is older (27) than he looks. The honor goes to the long-forgotten African-American/Filipino southpaw Morris East who was 19 when he knocked out defending WBA 140-pound champion Akinobu Hironaka in 1992.
In a rarity, it didn't take long for Alexander Povetkin and Dillian Whyte to agree on a rematch. They will meet again on Nov. 21. The venue is undecided, but Eddie Hearn is hopeful that he can pot the fight somewhere outside his backyard "fight camp" with fans in attendance. The first lines on the fight show Whyte the favorite in the vicinity of 13/5. Povetkin-Whyte II will be a nice appetizer for the Errol Spence vs. Danny Garcia match that goes off later that day.
In an unrelated development, Fury-Wilder III is purportedly going to Allegiant Stadium, the new home of the Las Vegas Raiders, in late December. Bob Arum anticipates a crowd of 10,000-15,000 with social distancing protocols in place.
Check out more boxing news on video at the Boxing Channel 
To comment on this story in the Fight Forum CLICK HERE
Meekins vs. Kawoya: File It Under Bizarre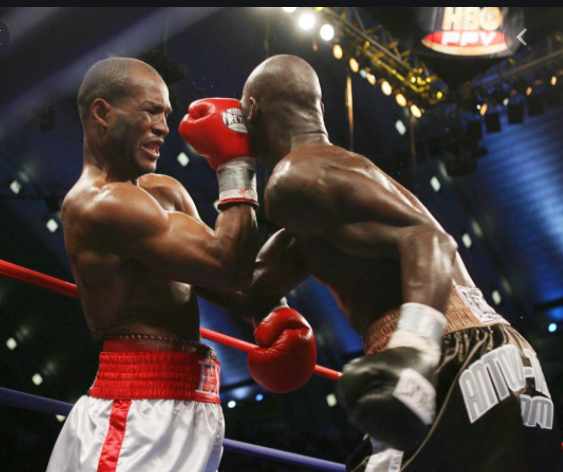 It was August 8, 1988. The location was Resorts International in Atlantic City. The main event featured New Yorker John Wesley Meekins (18-1-2) vs another New Yorker (via Uganda and Denmark) Mohammed Kawoya (11-3).
The rangy and skilled Meekins with a stellar amateur career was a clear favorite over the lesser known Kawoya who had fought only once in the US, losing to Jorge Maysonet on cuts at the Felt Forum. Meekins was expected to move on to a world title fight after dispatching Kawoya.
Meekins enjoyed a successful career between 1984 and 1994, fighting the likes of Davey Montana, Mike Mungin, Harold Brazier, Saoul Mamby, Santos Cardona, Darrin Morris (who won his last 16 fights in a row), and Terence Alli. He would lose to a prime Meldrick Taylor (20-0-1) in 1989 with the IBF World Super Lightweight title at stake.
On June 15, 1990, Meekins beat Santos Cardona over 12 rounds to win the NABF light-welterweight championship, but would lose it to Terence Alli some seven months later. It was downhill after that and he retired in November 1994 with a record of 24-5-2 after being stopped by so-so Darryl Lattimore.
Back to Meekins vs. Kawoya
 This one did not go as expected. After being decked in round 2, Kawoya dropped Meekins in the opening seconds of round 3. An exciting fight with multiple knockdowns and furious exchanges was in progress and the fans loved it.
An aroused Meekins then went after the Ugandan with a vengeance and set up one of the most bizarre endings that few boxing fans have ever heard about, much less witnessed, as he again dropped Kawoya this time with a fast left hook. He then went for the kill. Referee Paul Venti sensed it and moved in—perhaps prematurely– as Meekins unleashed what he hoped would be a fight-ending volley of hard shots.
 As soon as Venti stepped in to stop the fight, Kawoya landed a right that dropped Meekins and had him crawling on the canvas and holding on to the ropes devoid of his senses for at least ten seconds. The punch was thrown at the exact moment that Venti ended matters and Venti didn't realize what had occurred.
 While Kawoya thought he has scored a clean KO and celebrated wildly, the fact was that Venti had ended the fight a fraction of a second before and his decision would stand.
The fans not only enjoyed a great fight, they witnessed something truly memorable—something that had to be seen to be believed; namely, a winner struggling to get up and a loser celebrating what he thought was a knockout.
Kawoya pulled out of the rematch because of a throat infection and Saoul Mamby took his place as a late sub. The Ugandan never fought again, while Meekins never got the title shot that a more impressive effort might have gotten him.
Ted Sares can be reached at tedsares@roadrunner.com or on Facebook and welcomes comments.
Check out more boxing news on video at the Boxing Channel 
To comment on this story in the Fight Forum CLICK HERE