REMEMBERING THE ROCK & MR. BOXING
It was around 6:00 a.m. on Monday, September 1, 1969. I was headed into my third year in college and into my second year of competitive amateur boxing. I had gotten up early that first morning of September to head out for a fast-paced three-mile run, then jump in the pool. Before I left the house on Long Island, I went outside and picked up the morning's papers, which were delivered to my home and left on the front steps. It was a morning ritual for me, always an early riser, to go outside, retrieve Newsday and the New York Daily News, then tiptoe into my parent's bedroom and leave the papers on my father's side of the bed. As I picked up the papers, I looked at the headlines on both of the papers. I couldn't believe my eyes.
"ROCKY MARCIANO DEAD AT 45" was the headline on the Daily News. The sub-headline underneath read, "Former Heavyweight Champ Dies in Plane Crash."
I was stunned. I quickly took Newsday out of its protective plastic bag.
Newsday's headline was "MARCIANO KILLED IN PLANE CRASH."
I was breathing harder than if I had just finished my three-mile run. I needed to share this horrible information with someone.
Dad!
Why not? It was only natural. My dad, Carl, was the one who introduced me to boxing 10 years earlier. I needed to wake him. Had to wake him.
I quietly opened the door to mom and dad's room, then entered. I walked around to my sleeping dad. I took another look at the headline on Newsday, just to make sure I read it right. I did. I wished it wasn't true.
"Dad!" I whispered. He didn't budge. My second "Dad!" got him to open his eyes.
He looked at me and lifted his head off his pillow. He looked at the clock. It was a minute or two after 6:00.
"What is it, Randy?" he questioned softly. Is everything okay?
"Dad, look at the headlines," I said. I showed him Newsday, then held up the Daily News.
"Good Lord!" he exclaimed. He said it a few more times. Rocky Marciano was one of my dad's favorite fighters.
Then he turned to my mom, Roberta.
"Honey, wake up!" he said, tapping her lightly on a shoulder. "Wake up!"
She half-opened her eyes.
"Ughhh, what is it?" she mumbled, still half asleep. "What is it?"
He took the papers from my hands and held them over mom's face.
"Look!" he said.
She opened her eyes to read. In a flash, the sleep left her. Her mouth fell open.
"OH MY…" she clamped her hands over her mouth before she could finish.
"Rocky is dead?" my dad asked. "How could that be? He was still a young man. How'd he die?"
"He died in a plane crash, dad," I said. The news hit home even harder. My dad was a pilot.
He sprung up in bed and began reading one of the papers.
My mom rubbed the sleep from her eyes. I handed her the other paper.
"Rocky was in a Cessna 172 when it crashed into a corn field in Newton, Iowa," said my dad. "It appears there was bad weather."
He took a deep breath. You could see he was moved.
"Rocky was one of the greats," said my dad. "Next to Joe Louis, he may have been the greatest heavyweight of all time. And, guess what…today would have been Rocky's 46th birthday."
In 1969, there was no Youtube, no internet. My 10-year journey into boxing consisted of hearing stories from my dad, reading Ring Magazine and all the local papers. I truly considered Ring Magazine to be, as founder Nat Fleischer called his publication, the "Bible ofBoxing." In being the bible, I also looked at Fleischer to be the creator of all things boxing. His word was gospel.
The news of Marciano's death was nothing less than shocking. How could "The Rock" be gone? I couldn't believe it. I wanted to know more about Marciano. How great was he? Where did he fit in amongst the great heavyweights of the past? I decided I had to speak with Nat Fleischer himself. I decided to call him later that morning. Then, I decided I wouldn't give a secretary a chance to make up an excuse he was busy. I decided to go to his office and sit there for as long as I had to in order to meet him and talk with him.
The Ring offices were located in an old six-story building at 120 W. 31st Street in New York City. They had been in Madison Square Garden on 49th Street for years, relocating after that MSG faced the wrecking ball and the current MSG was opened in the late 1960's.
I got to the building shortly before 9:00a.m., Monday, September 1. I checked the directory on the wall and quickly found what I was looking for: Ring Publishing Corp, 5th Fl.
I excitedly stepped into the small elevator behind me and pressed the button withthe number 5 on it. Little did I know, but that elevator would take me up and down to The Ring offices thousands of times, beginning in another 10 years.
When the door opened, several odors were immediately evident: Cigarettes. Cigars. Perfume. Cologne. Mold. Mildew.
"May I help you," said a woman in an office with a sliding window to my right.
"Yes, I'm hoping to see Mr. Fleischer," I told her.
"Do you have an appointment with Mr. Fleischer?" the lady asked.
"No, I don't," I said, "but I have been reading Ring since I was a child and…"
She cut me off.
"I'm sorry, young man, but if you don't have an appointment with Mr. Fleischer, there is no way you can see him. He is very busy."
I tried explaining my desire to speak with the founder of Ring, but the lady kept apologizing and telling me she was sorry. Finally, she said in a stern voice, "Young man, I appreciate your enthusiasm, but Mr. Fleischer is very busy. There will be a TV crew coming in soon to interview him. I'm sure you heard that Rocky Marciano has died in a plane crash. Mr. Fleischer will be doing interviews all morning."
I sighed and nodded. Then I turned and went to press the button for the elevator. At that moment, the door to Nat Fleischer's office opened. Out walked the balding, short, roundish founder of The Ring, the man who began rating fighters, the man whose opinion in the sport was heard and worshipped the way Moses heard and worshipped his Lord in front of the burning bush over 2,000 years ago.
"Mr. Fleischer," I said, moving towards him. "Boxing lost such a great fighter last night. I am an avid reader of The Ring. I live on Long Island and just had to come in to meet you and talk to you. I know you're very busy, but if you can give me just five minutes, I would be honored."
He looked at me and for a moment—it seemed like an hour—he stared at me. Then he spoke.
"I'm sorry, I didn't catch your name, son," he said.
"It's Randy, sir. Randy Gordon," I replied nervously.
"Mr. Gordon, I would love to speak with you," he said. Turning to the receptionist, he said, "Millie, will you please show Mr. Gordon into my office? I must talk with Nat for a few moments."
"Nat?" I thought. "Nat must talk with Nat? It's got to be Nat Loubet, the Managing Editor, Fleischer's son-in-law, and the heir apparent to Fleischer's throne.
"Would that be Nat Loubet you're meeting with?" I asked, quickly realizing I was out-of-place for doing so.
"Yes it is," laughed the most respected boxing journalist in the world. Then he gave me a playful smack on the top of my head.
"Millie, take this young man into my office and give him a few copies of his favorite reading material."
We walked into a neat office with framed issues of The Ring hanging on the walls, along with photos of Nat Fleischer giving and receiving awards. There he was with Jack Dempsey. With Joe Louis. With Sugar Ray Robinson. With Willie Pep. With Henry Armstrong. With Gene Tunney.
This was the office, which, in 15 years, I would sit in—at that very same desk—as Editor-in-Chief of the magazine which Fleischer gave life to in 1922 and which Bert Sugar and I brought back from the dead in 1979.
I walked around the room. I looked at the photos. My love for the sport intensified with every minute I stayed there. Then, as I was looking at a photo of Nat Fleischer presenting an award to Rocky Marciano, the door leading from Loubet's office to Fleischer's opened. In walked Fleischer. He saw me looking at the photo of him and Marciano.
"I was presenting Rocky with the 'Fighter of the Year Award' at the Downtown Athletic Club," said Fleischer. He motioned to the couch in his office.
"Sit, Mr. Gordon," he said. "Stay and talk about Rocky Marciano."
"Thank you, Mr. Fleischer," I said, adding, "Please call me Randy. Mr. Gordon is my father."
Then, showing a sense of humor, he said, "Then you can call me Nat. Mr. Fleischer is my father!"
I walked over and sat on the couch. He walked over and sat down a few feet away. Then he turned and asked, "So, do you think Marciano was the greatest heavyweight champion ever?"
He watched as I looked up, obviously in deep thought. He answered for me.
"Marciano was good, real good," said Fleischer. "He may have been the toughest heavyweight ever…the most determined…relentless…a banger…he could take a guy out with either hand."
Then he paused and took a deep breath.
"But he wasn't the best ever," said Fleischer. "Far from it."
"Who was?" I asked. "Was it Joe Louis?"
Fleischer shook his head.
"Jersey Joe? Gene Tunney?" I inquired.
"No sir," said Fleischer. "The greatest was Jack Johnson."
"Where does Marciano fit in?" I asked.
He took a pad from the table from in front of the couch, then removed a gold pen from his shirt pocket and began to write. In about a minute, he handed me his list:
1 – Jack Johnson
2 – James J. Jeffries
3 – Bob Fitzsimmons
4 – Jack Dempsey
5 – James J. Corbett
6 – Joe Louis
7 – Sam Langford
8 – Gene Tunney
9 – Max Schmeling
10- Rocky Marciano
I looked it over. I was surprised to see Marciano at #10. I asked him why he was so low.
"It's not that's he's low," explained Fleischer. The ones above him were so great."
Just then, the TV crew arrived.
"Stay, Randy," said Fleischer. "They're from ABC News. They are going to interview me about the death of Rocky Marciano."
"I'd love to watch," I said. "I'll stay quietly out of the way."
I sat on the couch as around eight members of the ABC crew set up their lights, ran electric wiring along Fleischer's office floor and duct-taped it down, checked their cameras and microphones and connected a small microphone to Fleischer's shirt, running the wire down the back of his shirt and out to a small box connected to the back of his pants. One of the technicians powdered Fleischer's nose and held a piece of white typing paper next to his face as they did a white balance, making sure their wasn't too much light on the subject, causing an on-screen glare. The interview was underway within a half hour of the crew showing up.
"What was your reaction when you heard that Rocky Marciano had been killed?" Fleischer was asked.
"Like everybody else, I was stunned," he said. "I still am."
"Describe Rocky Marciano the fighter, Mr. Fleischer," came the next question.
"He lived up to his nickname. He was a Rock. A boulder. He was relentless. And tireless. His defense wasn't the best, but he didn't mind trading punches. With Rocky, it took only one shot. Just one!"
As Fleischer was interviewed, I stared at his list of top all-time heavyweights:
10. Rocky Marciano
I had long thought Marciano would have been in the top three, but that was from hearing my dad heaping praise on him whenever we talked about the heavyweight champs.
After the interview, and after the camera crew had left, I said, "Thank you, Nat, for taking the time to meet me and stay to watch you interviewed. Before I leave, can I ask you three things?"
Sure, Randy, ask away," said the Founder/Owner/President/Publisher & Editor-in-Chief of The Ring.
"My first question is, 'Are the guys above Marciano in your ratings so much better? Shouldn't he be rated a lot higher. He knocked out Louis, who you have at number six.'"
He looked at me and said, "Marciano is one of my all-time favorites. He had the biggest heart ever. Sure, he beat Louis, but Joe was a shell of himself them, and still gave Marciano a rough time. Other guys he beat, like Jersey Joe Walcott and Archie Moore were also past their prime."
I nodded my head.
"Muhammad Ali is in exile," I said. "If he didn't run into draft problems and was still fighting, do you think he would have become an all-time great?"
"Cassius Clay (Fleischer always referred to Ali—even rated him—as Cassius Clay) was a big, strong, lightning-quick heavyweight. But speed and agility is all he had. Anybody in my Top 10 would have had an easy night with him."
I remained expressionless, not wanting to tell Nat Fleischer I disagreed. Maybe another time.
"My last question, Nat, is 'How do I get a job as boxing writer? I want to be in the business. Where do I start?'"
He placed a hand on my shoulder.
"Well, it helps to know somebody," he said, looking directly into my eyes. Then he smiled.
"You know me," he continued. "I will help you get your start."
"You will?" I said with excitement.
"I will," he replied. "When do you graduate college?"
"In two years, sir," I answered.
"Stay in touch," he told me. "Send me some of the articles you write for your college newspaper. When you graduate, you've got yourself a job."
Excitedly, I embraced the Dean of all boxing writers.
"Thank you, Nat! Thank you!" I exclaimed.
He laughed.
We shook hands, and he walked me out of his office—my future office—to the elevator.
"Stay in touch, Randy," he said.
"I will, Nat, thank you so much," I replied.
The elevator door closed and we waved to each other.
I never saw—or spoke—to him again. A few months after we met, he celebrated his 82nd birthday. That winter, he contracted pneumonia, and the battle took its toll. He began to need more rest and went into the office less frequently. By the following year, he hardly went in at all. His son-in-law, Nat Loubet, took over the reigns of The Ring.
On June 25, 1972, a few weeks after I graduated college, Nat Fleischer went to that big arena in the sky. He was 84.
It was eerie, when, seven years later, I walked into that same office to team with Bert Randolph Sugar in rebuilding and revitalizing a near-bankrupt Ring Magazine, turning it into perhaps the finest, most-respected and widely-read boxing magazine of all time.
During those Ring years, and in the decades since, I have watched Marciano's legacy become almost mythical. The old-timers I knew back then who knew Marciano and covered him and used to tell me stories of The Rock are long gone.
I have been asked, as a former Editor-in-Chief of The Ring, to put together my list of Top-10 heavyweights, just like Nat Fleischer did and just like Bert Sugar did. Joe Louis was #1 on Sugar's list. Marciano was #6.
I can't do a list. Lord knows I've tried.
That's because dreams die hard. As a kid, Rocky Marciano was among the greatest, if not THE greatest. Today, he's a mythical name who my Italian friends love to talk about and ask if I think he was the best heavyweight ever.
It's tough for me to tell them he wasn't the greatest heavyweight champ ever, probably not even a Top-10 All-Time Heavyweight Champ.
Occasionally, I'll look skywards and ask Nat Fleischer and Bert Sugar for help, saying, "I am about to put together my Top-10 heavyweights. Where do I put Muhammad Ali? Where do I put Jack Johnson. Where do I put Joe Louis? How about Rocky Marciano? What do I do with him?"
When my book comes out, and I have my chapter of Lists, I just my leave my list of Top-10 heavyweights blank.
I still have no idea where to put Rocky Marciano.
Avila Perspective, Chap. 106: Return of LA Boxing, Josh Taylor, Charlos and More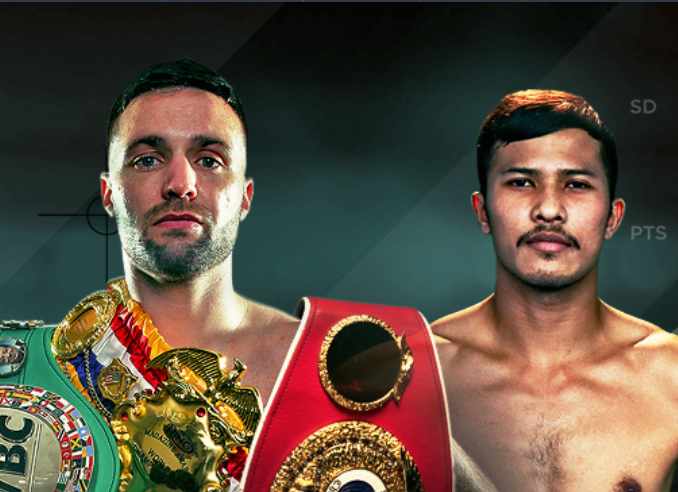 Avila Perspective, Chap. 106: Return of LA Boxing, Josh Taylor, Charlos and More
Let's call this week the Big Build Up.
Back in the 1920s to the 1950s the City of Angels was known as the place where Humphrey Bogart lived and played characters out of Raymond Chandler's novels. Books like the "Big Sleep" and "Lady in a Lake" were made into movies based in Los Angeles.
Well, here we are back where boxing thrives, people or not.
Los Angeles kicks off the big boxing week starting with a televised fight card that features home grown featherweight Vic Pasillas at the Microsoft Theater in the downtown area. Fox Sports 1 will televise the Premier Boxing Championship card on Wednesday, Sept. 23.
Pasillas (15-0,8 KOs) faces Dominican fighter Ranfis Encarnacion (17-0, 13 KOs) in the co-main event at a fan-less event that begins a crowded week of boxing as we near the end of 2020.
"Coming out on top against Encarnación is going to catapult me into some big fights at featherweight. The division is wide open and I know with hard work I can take it over," said Pasillas who is originally from Los Angeles. "This is by far the most important fight of my career. I'm coming with everything I got, because I know this is the turning point that will lead to bigger and better fights. I am ready to bring an exciting fight to the fans and get my hand raised in victory."
Both Pasillas and Encarnacion are undefeated and unknown to most of the boxing world. A win changes everything especially when it's difficult to even stage a boxing card.
Promoters are anxious to get their fighters in the ring by any means necessary.
On Thursday in Biloxi, Mississippi, super lightweight Michael Williams Jr. meets Thomas Miller in the headline attraction of a boxing card that will be streamed by UFC Fight Pass.
On Friday in southern Mexico, Serhii Bohachuk (17-0, 17 KOs) meets Alejandro Davila (21-1-2, 8 KOs) in Merida, Yucatan. No word if it will be streamed. The super welterweight from Ukraine has a 17-fight knockout streak and has become a main attraction in Hollywood, California for 360 Promotions.
"Serhii has become one of the most talked about rising stars in boxing," said Tom Loeffler, promoter of 360 Promotions. "Boxing fans are excited to see if he can continue his knockout streak against Alejandro Davila, the toughest opponent he's faced. He's been training very hard with Manny Robles for this fight and if victorious, we're certain there will be bigger opportunities for him in the near future."
These are all tasty appetizers for the big buffet coming on Saturday.
Breakfast, Lunch and Dinner
Saturday morning, especially if you live in the California area, ESPN+ will showcase the IBF, WBA super lightweight world title fight between champion Josh Taylor (16-0, 12 KOs) and Apinun Khongsong (16-0, 13 KOs) in London. It will be streamed live on Sept. 26, Saturday morning, starting at 11 a.m PST.
This is an important match for Taylor (pictured on the left) who needs a win to nail down a unification clash with Jose Carlos Ramirez the WBC and WBO titlist. If Scotland's Taylor emerges victorious the super lightweight clash will be one of the top fights of the year.
And if that fight happens to take place, then that winner more than likely meets WBO welterweight champion Terence Crawford.
But first things first. Taylor needs to defeat Thailand's Khongsong on Saturday.
"I didn't want a warm-up fight, so getting straight back in there against my mandatory challenger is great, as it's kept me fully focused. I want big fights in my career, so this is an important fight with my belts on the line," said Taylor.
Charlos Pay-per-view
The Charlos brothers asked for it and they got it.
Long have the brothers from Houston, Texas asked for a pay-per-view fight card and it never seemed possible until now. The Charlos will headline a pay-per-view double-header on Saturday via Showtime.
Beginning at 4 p.m PT/ 7 p.m. ET the Showtime pay-per-view card begins with three top notch bouts:
WBO bantamweight titlist John Riel Casimero (29-4) vs Ghana's Duke Micah (24-0, 19 KOs).
WBA super bantamweight titlist Brandon Figueroa (20-0-1, 15 KOs) vs Damien Vazquez (15-1-1, 8 KOs).
WBC middleweight titlist Jermall Charlo (30-0, 22 KOs) v Sergiy Derevyanchenko (13-2, 10 KOs).
Charlo was not impressed with Derevyanchenko's performances against Daniel Jacobs and Gennady Golovkin because both were losses. He expects to dominate.
Derevyanchenko says he's ready for Charlo.
"Golovkin is a very different fighter than Charlo, but Jacobs is similar stylistically, so that's something I'll be used to," said Derevyanchenko. "This training camp has been very similar to camps for my previous fights though. We just brought in different sparring partners for this one. We're using fighters who can show us what Charlo will bring to the ring."
After a 30-minute intermission the second half of the boxing card begins.
Former bantamweight world champion Luis Nery (30-0, 24 KOs) moves up in weight to face Aaron Alameda (25-0, 13 KOs) for the vacant WBC super bantamweight world title. Both fighters are from Mexico.
Former super bantamweight titlists Danny Roman (27-3-1) and Juan Carlos Payano (21-3) meet in a 12-round bout.
In the grand finale WBC super welterweight titlist Jermell Charlo (33-1, 17 KOs) challenges IBF and WBA super welterweight titlist Jeison Rosario (20-1-1, 14 KOs) in a fight for all three belts.
"We lions," said Charlo.
It's a very big week for boxing that begins on Wednesday and ends Saturday.
Check out more boxing news on video at the Boxing Channel 
To comment on this story in the Fight Forum CLICK HERE
The Return of Wednesday Boxing Evokes Memories of a Golden Era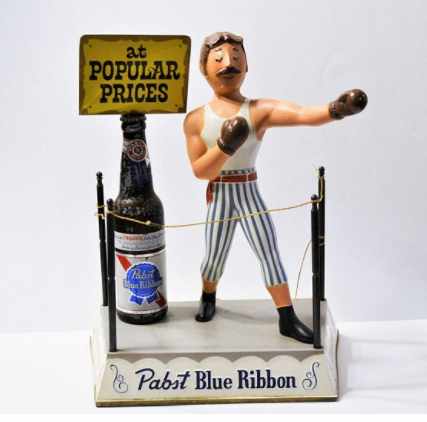 There's a Wednesday card on the boxing docket this week. The card, which features several undefeated up-and-comers of the sort usually found on Showtime's developmental series, "ShoBox: The New Generation," will play out at the Microsoft Theater in Los Angeles and air on Fox Sports 1.
Not to be out-done, "ShoBox" is returning. The long-running series, which suspended operations in March in obeisance to COVID-19 restrictions, returns on Oct. 7 with a show emanating from Connecticut's Mohegan Sun Casino. The contestants in the main go of the four-fight card, Charles Conwell and Wendy Toussaint, have identical 12-0 records.
It just so happens that Oct. 7 is also a Wednesday. And these upcoming Wednesday shows transported this reporter back to his boyhood when boxing was a fixture on radio and television on Wednesday nights. The Wednesday series sponsored by Pabst Blue Ribbon beer ran from 1950 to 1960, airing the first five years on CBS and then on ABC.
Fights were all over the TV dial during the 1950s, not that there was much competition. The Big Three — NBC, CBS, and ABC — ruled the airwaves with DuMont a very distant fourth and cable television well off into the future. (For a time, the short-lived DuMont network aired boxing shows on Mondays.)
When televisions first came out, they were a big-ticket item. In 1948, RCA's cheapest model sold for $395. That's the equivalent of $10,400 today. By 1954, the cost of the least expensive model had declined to $189 and it came in a bigger box, with a 17-inch screen compared with the 13-inch screen that was standard six years earlier.
With the cost of the coveted contraption beyond the means of many wage earners, saloonkeepers cashed in. Boxing fans flocked to the neighborhood tavern to get their boxing fix. The saloonkeeper could write off his television sets on his taxes as a business expense.
Those were the days, and I date myself, when every town had a TV repair shop and the repairman, like the family doctor, made house calls.
The Wednesday Night Fights were a spin-off of the Friday Night Fights on NBC. The matchmaker for both series (through 1958) was the International Boxing Club which was headquartered at Madison Square Garden. The president of the IBC was James D. Norris (who would come to be seen as a puppet for mobster Frankie Carbo, but that's a story for another day).
James D. Norris inherited a vast fortune from his father, Canadian businessman James E. Norris. The elder Norris was a big wheel in the sport of hockey and had a financial interest in the arenas that housed NHL teams in Chicago, Detroit, and St. Louis. He made these arenas available to his son and the Wednesday fight cards moved around, unlike the Friday fights which were pinned to Madison Square Garden.
Both series would eventually venture out at times into virgin territory, but the Wednesday series was the trailblazer. The first nationally televised boxing show from the West Coast was a Wednesday affair. Jimmy Carter defended his world lightweight title against LA fan favorite Art Aragon, the original Golden Boy, at the Olympic Auditorium on Nov. 14, 1951. Aragon had upset Carter in a non-title fight 11 weeks earlier, but Carter took him to school in the rematch, winning a lopsided decision.
The Friday boxing series, which took the name "Gillette Cavalcade of Sports," would come to be more fondly remembered, but once the TV became a living room staple, which happened fast, the Wednesday series drew higher ratings. This was predictable as more folks stayed home on Wednesday nights than on Friday nights. And although the Friday series had a larger budget, some of the most important fights of the era were staged on Wednesdays.
One of the highlights of the 1951 season was Ezzard Charles' world heavyweight title defense against Jersey Joe Walcott at Pittsburgh's Forbes Field. It was Walcott's fifth crack at the title and he was considered ancient at age 37, but he avenged his two previous losses to Charles with a thunderous one-punch knockout.
Carmen Basilio appeared in The Ring magazine Fight of the Year in five consecutive years (1955-1959). The first two — his second meeting with Tony DeMarco and his second meeting with Johnny Saxton – were televised on a Wednesday.
Although he would be quickly forgotten, the Wednesday series brought Bob Satterfield a cult following because of his unpredictability. He certainly left an impression on octogenarian boxing writer Ted Sares who recently named Satterfield his all-time favorite fighter.
To conjure up a portrait of Satterfield, think Deontay Wilder and then fix Wilder with a glass jaw. Satterfield, whose best weight was about 182 pounds, was a murderous puncher, but during his career he was stopped 13 times.
LA's Clarence Henry and Pittsburgh's Bob Baker were ranked #3 in the heavyweight division when they ventured to Chicago to tangle with Satterfield, Henry in 1952 and Baker the following year. Henry knocked out Satterfield in the opening round. Satterfield hit the canvas so hard, said a ringside reporter, the resin dust flew up.
The Satterfield-Baker fight would also end in the opening round. Baker out-weighed Satterfield by 34 pounds, but Satterfield flattened him. Later on, in a non-Wednesday fight, Satterfield knocked out Cleveland "Big Cat" Williams in the third round. Williams, 33-1 heading in, was the larger man by 25 pounds.
One bet on or against Bob Satterfield at one's own peril.
The Wednesday Night Fights had a nice run before the series was cancelled and supplanted in its time slot by "The Naked City," a critically acclaimed police drama series. Perhaps the return of boxing on Wednesdays augurs well for another mid-week boxing series, but we won't hold our breath.
Check out more boxing news on video at the Boxing Channel 
To comment on this story in the Fight Forum CLICK HERE
Erickson Lubin Wins, But Misplaced His Hammer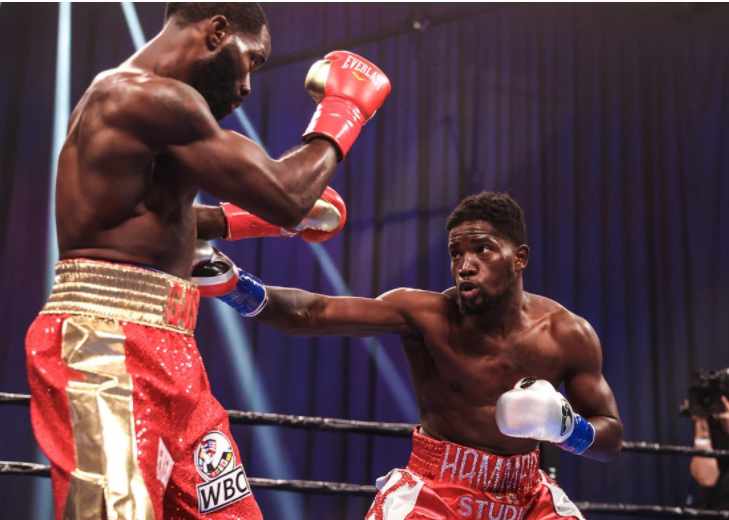 Erickson Lubin misplaced the hammer but found a way to victory over Terrell Gausha by unanimous decision in a slow-developing WBC super welterweight eliminator on Saturday.
Lubin (23-1, 16 KOs), a southpaw slugger, was unable to lower the boom on Gausha (21-2-1, 10 KOs) at the Mohegan Sun Casino in Uncasville, Conn. But he did enough in a tactical battle that only activated into a real fight in the later rounds.
Back and forth the two super welterweights mostly feinted and fired blows at each other's guard. Few managed to pierce for scoring blows and those that landed were mostly to the body.
"It was a chess match. I respected what he had, he was trying to counter what I had. My trainer was telling me to be cautious and not get hit with anything stupid," said Lubin, whose trainer is the respected Kevin Cunningham.
Gausha, 33, was the more accurate puncher but fired less than Lubin. Though he seemingly scored more often with counter rights, the scarcity of his blows allowed Lubin to control the pace of the fight.
It wasn't until the mid-rounds that Gausha stepped into a slightly quicker pace. In the 10th, a short right connected and wobbled Lubin who covered up.
"I knew I had hurt him, but he was able to recover," said Gausha, 24, who tried to finish off the hurt fighter but was unable to land another scoring blow.
"I'm in shape and I was able to recuperate," Lubin revealed.
It was still unclear who was winning the fight. In the 12th and final round Lubin stepped up the pace and connected with a crisp right hook that clearly snapped the head of Gausha. But he fought his way out of the dangerous corner.
After 12 rounds all three judges scored it for Lubin 115-113, 116-112, 118-110.
"Gausha is a tough competitor, he's at the top for a reason," said Lubin. "I feel I beat one of the top 154s and I'm going to keep doing that."
Gausha was classy in defeat.
"I take my hat off to Erickson Lubin. He was the better man tonight," said Gausha.
Lubin now awaits the winner between Jermell Charlo and Jeison Rosario who fight each other next week for the WBC, WBA and IBF super welterweight titles. Showtime will provide the title match on pay-per-view.
Featherweights
Former IBO featherweight titlist Tug Nyambayar (12-1, 9 KOs) floored Cobia Breedy (15-1) twice in the first two rounds but struggled the rest of the way to win by split decision. One judge scored it 115-113 for Breedy and two others for Mongolia's Nyambayar 114-112 and 114-113.
Nyambayar knocked down Breedy with a counter right cross in the first round and then floored him with four rights and a left hook in the second. After that, Breedy was the busier fighter and no one was able to take control.
"Boxing is boxing. It was a tough fight," said Nyambayar.
Welterweights
In a solid match Philadelphia's Jaron Ennis (26-0, 24 KOs) was able to find out exactly where he stands against real competition and stopped the unstoppable Juan Carlos Abreu (23-6-1, 21 KOs) in the sixth round by technical knockout in their welterweight showdown.
More than just a knockout win, Ennis discovered that he can indeed take a punch from an elite level puncher.
Nobody questioned whether Ennis had boxing skills or athleticism and power, but nobody knew if he could take a punch. They discovered it as Abreu was able to connect in the fourth and fifth rounds. The Dominican fighter pulled out his tricks and connected several times with sneaky rights and lefts. Ennis remained standing.
Abreu was looking to trade bombs with Ennis in the fifth and sixth round and paid the price in getting delivered to the canvas with a pretty right counter uppercut. He survived. But in the sixth a slew of punches along the ropes sent him down again. He beat the count again but during a fierce exchange he was floored a final time at 1:06 of the sixth round. It was the first time Abreu had ever been stopped.
"I feel I put on a wonderful show and got the knockout," said Ennis. "I feel I showed the division I am here."
Check out more boxing news on video at the Boxing Channel 
To comment on this story in the Fight Forum CLICK HERE