BKB 2 Rosado Keeps Title By Majority Draw; Layla McCarter Kos Prazak
LAS VEGAS-Brooklyn's Curtis Stevens scored a fourth round knockdown of Philadelphia's Gabe Rosado but it wasn't enough to take the BKB middleweight title, as two judges scored it a draw after seven somewhat tentative rounds on Saturday.
"It was the first time at BKB. I should have kept coming to him," said Stevens.
Rosado kept his composure but was not satisfied with the majority draw against Stevens at the Mandalay Bay Resort and Casino in Las Vegas. It was his second fight at BKB and he wanted to win convincingly.
"I thought I boxed the s**t out of him. I thought I even hurt him," said Rosado. "I'm the champion. I thought you had to take it from the champion. We can run it back. It was a draw. Anybody who knows boxing knows I won but we can run it back."
Stevens did most of the pressuring while Rosado spent most of the time shooting long left jabs. But the more effective blows seemed to be the Brooklyn fighter's punches. During an exchange of left hooks in round four Stevens beat Rosado to the punch and down he went. He got up and held. It was Stevens's moment but he could not finish off Rosado.
The taller Philly fighter had a much better sixth-round, landing combos and moving out but never did he land with any authority. In the seventh and last round it seemed Stevens landed cleaner blows while Rosado did connect with some light combos. One judge scored it for Stevens 69-63 while the other two saw it 66-66 despite the knockdown. That made it a majority draw and Rosado keeps the title.
Female title debut
Layla McCarter was a little worried about the small dimensions of the pit, especially against hard-hitting Diana Prazak, but her boxing skills translated well and her pinpoint accuracy gave fans something to gaze at in amazement.
McCarter moved side to side, changing direction with subtlety and small steps on the charges of Prazak, who's known for heavy punching. Combinations rained on Prazak, who never stopped trying to catch McCarter but the Las Vegas fighter slipped, ducked and countered like the pro she is.
"I've fought more in boxing than any woman ever had," said McCarter, who has amassed more than 50 fights.
Prazak had a good fourth round going but it seemed to wake McCarter up. A flurry of eight punches sent Prazak down near the end of the round.
Luci Rijker, a former great who trains Prazak, shouted instruction to her fighter but she couldn't get a bead on the slippery McCarter, who ducked under lefts and pivoted around her opponent like Willy Pep.
McCarter was near flawless until Prazak connected with a strong counter right in round six. McCarter rallied with a seamless stream of punches that seemed effortless.
In the seventh and final round McCarter looked eager to score a knockout and attacked with a little more bad intentions. Prazak fought back but was caught by an eight punch combination that pounded the Aussie to the floor. Referee Russell Mora stopped the fight at 1:50 of the round to give McCarter the win by knockout.
McCarter becomes the first female BKB lightweight champion.
"I want to fight Ronda Rousey. I heard she wants to try boxing, let's do it here," said McCarter to the fans in the arena. "I love BKB, they give women a chance to fight on pay per view."
Other bouts
Jesus Soto Karass got bumped up to a pay-per-view fight status and showed his experience edge by out-pointing Ed Paredes over five rounds to win by unanimous decision in a junior middleweight match. Soto Karass had few problems with Paredes who never seemed hurt by Soto Karass but couldn't stop the punches from landing. All three judges scored it the same 49-46.
"It was a like a normal ring. He hits pretty hard but I'm used to it," said Soto Karass about his first win in the BKB pit.
Russia's Khurshid Abdulaev scored two knockdowns to win by unanimous decision and grab the BKB junior middleweight title from Chicago's David Estrada. Abdulaev was on control for most of the fight but Estrada had his best round in the seventh and last round. It was far too late as all three judges scored it for the Russian 69-61 twice and 68-62.
Anthony Johnson kept the BKB cruiserweight title by unanimous decision in an entertaining fight against Joey Montoya. Both scored knockdowns in the first round and later in the fight. None of the knockdowns seemed to be from punishing blows but were scored as such. The judges scored it for Johnson 68-65 on all three cards.
Jonathan Chicas knocked out Javier "Pelos" Garcia at 16 seconds of round three in their welterweight BKB title fight. Chicas knocked down Garcia twice with right hands in the second round. Garcia rallied in that round but was caught by a left hook in the third round. Referee Tony Weeks stopped the fight.
Oxnard's Herbert Acevedo was too accurate for Pittsburgh's William Hutchinson but after repeated bombs could not seriously hurt the kid. Both junior welterweights fought toe to toe but Acevedo was landing everything he fired. Hutchinson was wobbled in the third and fourth round but never touched the floor. All three judges scored it 50-45 for Acevedo who is originally from Garden City, Kansas.
Boston's Gabe Duluc was too strong for Chicago's Antonio Canas and was given a unanimous decision after five rounds of a junior welterweight contest.
Julian Pollard knocked out Elijah McCall at 1:07 of round four in a heavyweight clash. McCall started out quickly but Pollard turned things around. Pollard was more accurate and hurt McCall several times before McCall finally went down.
Photo Credit: David Becker
Follow David A. Avila on Twitter:
Avila Perspective, Chap. 230: Haney and Lomachenko Hit Hollywood and More Fight News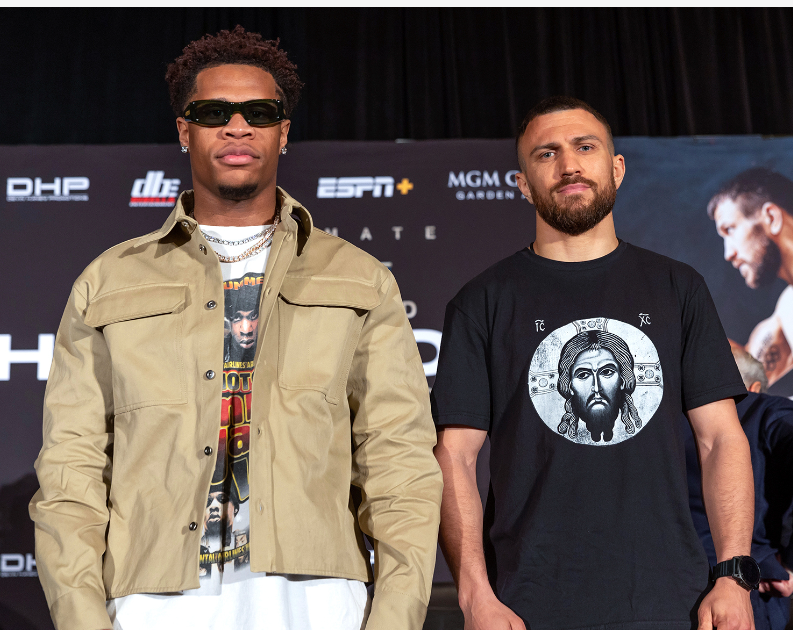 HOLLYWOOD, Ca.-Smack in the middle of glitzy Hollywood, two champions, Vasyl Lomachenko and Devin Haney, arrived to meet the press on Thursday despite another unusual California storm.
Also unusual was the low intensity press conference void of the now cliché verbal cursing and shoving performed to entice fans to buy tickets or pay-per-views.
This prizefight will be for the boxing scientists, the fans that appreciate the subtleties of the sweet science.
Undisputed lightweight world champion Haney (29-0, 15 KOs) will face challenger Lomachenko (17-2, 11 KOs) at the MGM Grand Arena in Las Vegas on May 20. ESPN pay-per-view will televise the Top Rank event.
At the Dolby Theater, the same location where Oscar winner Will Smith slapped comedian Chris Rock live in person without sanctioning, two actual prizefighters showed up to meet the media. Nobody slapped anyone.
There will be punches fired when they meet in two months.
Haney grabbed all the titles at once when he defeated Australia's George Kambosos twice in that fighter's home country. And Kambosos defeated Teofimo Lopez to win those same belts.
"This is a real fight. This is not an influencer fight. This is really for the belts. This is for the gold. This is possibly to determine the best in the world as well," said Haney.
Despite Haney holding all the belts some in the boxing world claim he does not deserve recognition.
Lomachenko, held three versions of the lightweight title after defeating Luke Campbell for the WBO, WBC and WBA lightweight titles, but lost to Teofimo Lopez who held the IBF version and became undisputed by beating Lomachenko. But Lopez lost to Kambosos and Haney beat the Aussie twice to show his superiority.
Both Haney and Lomachenko have elite fighting skills.
"We never know what will happen. We can prepare for one strategy, but in the ring it can all change. Right now, I don't know. I just train hard and prepare. I believe in God and in my team," Lomachenko said.
At age 24 Haney has demanded tough fights and took his team across the border for a couple of years to toughen up against Mexican sluggers who cared not about his impressive amateur career.
He excelled.
Lomachenko was an amateur boxing legend with countless fights and accolades including Olympic gold medals in the 2012 London Games and 2008 Beijing Games.
Lomachenko has always excelled.
Meeting face to face, the American Haney and Ukrainian Lomachenko realize they have no need to slap each other or unleash flammable comments at each other.
It's skill versus skill.
"I've seen hundreds of great matches over the years. But when I see a match like this, it stirs my blood because it is such an interesting fight to watch," said Top Rank's Bob Arum.
Absolutely.
London calling
Former heavyweight champion Anthony Joshua returns to the prize ring to re-establish his claims to the heavyweight title. Standing in the way is American Jermaine Franklin who predicts a knockout win over the British pugilist.
Joshua (24-3, 22 KOs) meets Michigan's Franklin (21-1, 11 KOs) at the O2 Arena in London on Saturday, April 1. DAZN will show the Matchroom Boxing card beginning at 11 a.m. Pacific Time.
Also on the card will be another American fighter, Ammo Williams (13-0, 9 KOs), who signed with Matchroom a few years ago and is ready to step up in class. He meets River Wilson-Bent (14-2-1, 6 KOs) in a middleweight bout.
Top Rank in Oklahoma
Former super bantamweight champion Isaac Dogboe (24-2, 15 KOs) opposes Robeisy Ramirez (11-1, 7 KOs) for the vacant WBO featherweight title on Saturday April 1, in Tulsa, Oklahoma. ESPN will televise the Top Rank card.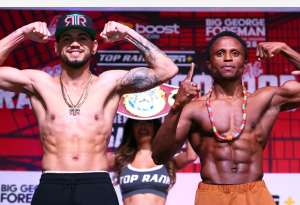 Also, Joet Gonzalez (25-3, 15 KOs) meets Enrique Vivas (22-2, 11 KOs) in a featherweight scrap. Both fighters are based in Southern California.
Tank vs Kingry All Access on Showtime
This Saturday night Showtime will be presenting the "All Access: Davis vs Garcia"   following the replay of last week's Las Vegas fight card that featured David Benavidez and Caleb Plant, plus three other fights. The programming begins at 10:35 p.m. PT.
Fights to Watch
Sat. DAZN 11 a.m. Anthony Joshua (24-3) vs Jermaine Franklin (21-1).
Sat. ESPN+ 4:05 p.m. Isaac Dogboe (24-2) vs Robeisy Ramirez (11-1).
Photo credit: Mikey Williams / Top Rank via Getty Images
To comment on this story in the Fight Forum CLICK HERE
The Latest Adventure of Glenn Azar: An Unconventional Boxing Story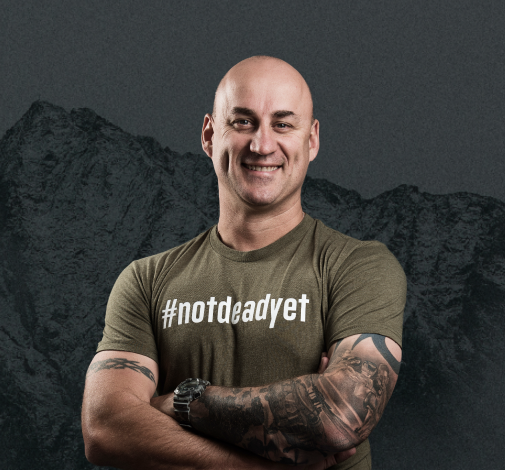 "I have never seen anything like it," said Glenn Azar, a world traveler who at age 51 was visiting Las Vegas for the first time. "There's great depth here and everyone has been so welcoming."
Azar wasn't a conventional tourist. He came here from Australia with a small stable of professional boxers. There's nothing unusual about that. Boxers come to Las Vegas to train from all corners of the world, just as artists that paint pictures once descended on Paris to hone their craft. The main lure for foreign boxers is the city's deep pool of useful sparring partners.
Where Azar deviates from the norm is that the fighters he mentors – Taylah Robertson, Cherneka Johnson, and Deanha "Dee Dee" Hobbs — are female. Brisbane's Robertson, a super flyweight, fights tonight (Thursday, March 30) on a Lee Baxter promotion in Toronto.
Azar spent 17 years in the Australian Army where he specialized in helicopter evacuations and advanced to the rank of lieutenant.
Before he got involved with the trio of boxers that he trains and manages, he turned his thirst for adventure into a successful business, leading intrepid adventure-seekers on long treks across daunting terrain such as New Guinea's Kokoda Track, a rugged 60-mile mountainous trail that can be traversed only on foot.
Azar's daughter Alyssa, now 26, inherited her father's thirst for adventure. At age 19 she became the youngest female to climb Mount Everest and has reached the summit from both the North and South sides.
Taylah Robertson was two fights into her pro career when she approached Azar about managing her. Thus began a new chapter in his life.
Before turning pro, Robertson was a two-time national amateur champion at 112 pounds and represented Australia in tournaments in Bulgaria, Poland, Russia, Turkey, Spain, and New Zealand. She brings a 7-1 record into tonight's assignment in Toronto with the setback coming in her fourth pro bout when she lost a split decision to 28-fight veteran Shannon O'Connell.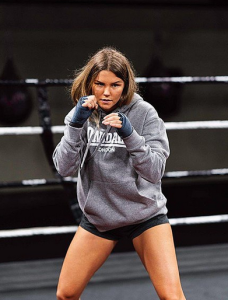 Unlike her coach, Robertson had been in Las Vegas before. Her prior visit was arranged by one of her biggest fans, Australian boxing legend Jeff Fenech, who arranged for her to train with Bones Adams at Adams' gym.
Bones' gym was on Glenn Azar's itinerary, but he and his little ensemble worked out at multiple boxing gyms during their three-week stay. Afternoons were often spent at the DLX gym where Azar arranged for one of boxing's hottest young trainers, Kay Koroma, to provide a helping hand. Koroma played an instrumental role in the amateur career of Claressa Shields and co-trains Mikaela Mayer alongside the venerable Al Mitchell. Taylah Robertson was familiar with Koroma from her amateur days.
Cherneka Johnson
Cherneka "Sugar Neekz" Johnson (15-1, 6 KOs) is the reigning IBF world super bantamweight champion. She makes the third defense of her title on May 20 in Dublin underneath Katie Taylor's homecoming fight with fellow unbeaten Chantelle Cameron. Johnson's opponent, Ellie Scotney, a 25-year-old Londoner, is 6-0 as a pro after a decorated amateur career. On paper it's a 50/50 fight.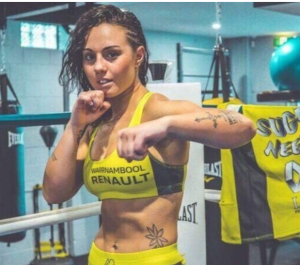 Cherneka spent the first 12 years of her life in her native New Zealand. She is a proud member of the Maori ethnic group and her tattoos pay homage to her culture. Last week, a robust sparring session with WBA world female bantamweight champion Jamie Mitchell attracted a crowd at the Mayweather Boxing Club.
Deanha Hobbs
At age 35, Hobbs is the senior member of Glenn Azar's team. She took up boxing, she says, to learn to defend herself against the schoolyard bullies that picked on her because of her tomboyishness. It's a fairly common thread in the life story of many female athletes in the combat sports communities.
Hobbs sports an 11-2 record and has knocked out six of her opponents. She has won three straight since suffering an eighth-round stoppage in a failed bid for Mary McGee's IBF 140-pound world title. To secure that assignment, which paid peanuts, Hobbs had to move up two weight classes and travel halfway around the world. She fought McGee, a Hoosier, in the Greater Chicago city of Hammond, Indiana.
—
When Taylah Robertson turned pro, one of her listed goals was to become the first female fighter to earn a million dollar purse. Katie Taylor and Amanda Serrano beat her to the punch, but she may yet reach that lofty sphere.
"Women train just as hard as men," says Azar, "and their fights can be just as exciting. I look forward to the day when there is purse parity. It will take time, but because she is only 24 years old, I can envision Taylah getting there before her career is finished."
And if that day should come, Glenn Azar can take a bow.
To comment on this story in the Fight Forum CLICK HERE
He Said, He Said: Who is at Fault for the Collapse of the Fury-Usyk Fight?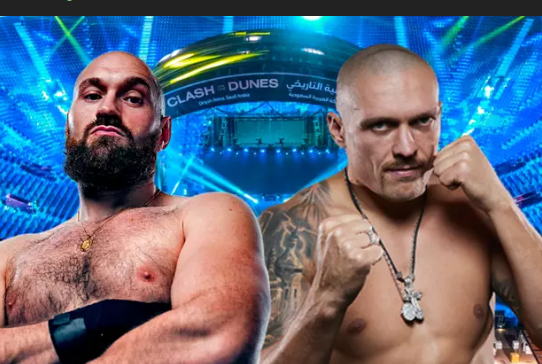 The last undisputed heavyweight champion was Lennox Lewis who held the WBA, WBC, and IBF belts after outpointing Evander Holyfield in their rematch at Las Vegas in November of 1999. (The WBO was around in those days, but didn't have their finger in the pot. The upstart organization, whose first "world heavyweight champion" was Francesco Damiani, had zero credibility among serious fight fans, many of whom still balked at ingesting the IBF.)
Lewis's reign as the undisputed champion lasted only five months. He was stripped of his WBA diadem after bypassing John Ruiz in favor of Michael Grant for his next fight. Ergo, twenty-three years have elapsed since boxing had an undisputed heavyweight champion and a Fury-Usyk fight would have produced the first fully unified heavyweight title-holder in the four-belt era.
There was talk that Tyson Fury and Oleksandr Usyk would meet on Dec. 17 of last year in Saudi Arabia on the day preceding the final game of the World Cup in neighboring Qatar. More recently, there was talk that they would meet at Wembley Stadium in London on April 29.
A week ago, representatives of Tyson Fury and Oleksandr Usyk appeared close to finalizing a deal, but negotiations hit a snag and, for the moment, the fight is dead.
Yesterday (March 27), Yahoo combat sports columnist Kevin Iole posted a story that was harshly critical of the Gypsy King. "The blame for this goes squarely on the broad shoulders of Fury," he wrote.
Iole noted that Team Usyk acquiesced to Fury's demand for 70 percent of the purse, notwithstanding the fact that the Ukrainian held three-fourths of the meaningful belts. Referencing Ali-Frazier I, the "Fight of the Century," Iole noted that this iconic event would have never happened if the larger-than-life Muhammad Ali had attempted to leverage his popularity with "grotesque financial demands." (The purse split was reportedly 50/50.)
Gareth Davies, the most well-known boxing scribe in the UK and something of a celebrity himself, had a somewhat different take. In a widely-circulated television interview, Davies noted that it was actually Team Usyk that pulled the plug. The sticking point, by all accounts, was the percentage splits to be built into a rematch clause.
Davies did not reproach Usyk for walking away from the negotiation table. His remarks were seemingly meant to shelter Fury, his British countryman, from the scathing rhetoric directed at him.
Assuming that the window for rekindling negotiations is shut tight, Oleksandr Usyk is expected to fight England's Daniel Dubois next. Dubois is first in line among Usyk's mandatory opponents. It has also been reported that deep-pocketed investors in the Middle East are interested in pitting Usyk against Deontay Wilder; a most delicious match-up indeed.
Former U.S. college cheerleader Joe Joyce is expected to be Tyson Fury's next opponent assuming that he gets by Zhilei Zhang on April 15. Joyce is a heavy favorite in the match at London's Copper Box arena. However, Matchroom promoter Eddie Hearn still holds out hope of luring Fury into a match with Anthony Joshua. By Hearn's reckoning, this is the biggest fight out there for the Gypsy King; bigger even than Fury-Usyk.
Anthony Joshua returns to the ring this Saturday at the O2 in London with U.S. import Jermaine Franklin in the opposite corner. It will be Joshua's first fight under the tutelage of new head trainer Derrick James.
In the meantime, boxing continues to shoot itself in the foot by failing to produce the fights that fans are most desirous of seeing.
To comment on this story in the Fight Forum CLICK HERE