Hopkins Gearing Up For One Last Battle With Father Time And, Oh Yeah, James DeGale
He is 50 years old and lost virtually every round in his most recent bout, a light heavyweight unification matchup with Sergey Kovalev on Nov. 8. Not only that, but his normally superb defense, while still effective, is not exactly fan-friendly and calls to mind the displeasure many fight fans voiced after another hard-to-hit technician, Floyd Mayweather Jr., turned his recent "Fight of the Century" against Manny Pacquiao into a 12-round tutorial on the pugilistic equivalent of dodgeball. He might set records every time he laces up the gloves, but even Bernard "The Alien" Hopkins isn't apt to brag on this statistic: he hasn't knocked anyone out since he floored Oscar De La Hoya with a body shot for the full count in the ninth round on Sept. 18, 2004. That's a KO-less streak of 17 bouts spread over nearly 11 years, during which time he posted a good but hardly invincible 10-5-1 mark with one no-decision.
Then again, the normal standards for assessing a fighter haven't applied to Hopkins since he moved past Archie Moore and George Foreman to become the oldest individual not only to win a widely recognized world championship, but to perform at a level at or near his long-ago entrance into a prime that, like the Energizer bunny, has kept going and going and going.
Now, as he eyes what he insists will (likely) be his final appearance as an active fighter, a highly motivated Hopkins seems primed to again confound and defeat Father Time, the one opponent that no one can indefinitely outlast. There are a couple more indelible entries he expects to add to a legacy unlike any his sport has seen, and even now, after the worst defeat of his 27-year professional ring career, it would be foolish to assume that the most age-defying fighter of all time doesn't have another miracle somewhere in his bag of tricks.
Although contracts have not been signed and nothing is definite until they are, Hopkins (55-7-2, 32 KOs) is pushing for a challenge of newly crowned IBF super middleweight champion James DeGale (21-1, 14 KOs), a fight that would be televised by HBO and likely would be staged in October in DeGale's hometown of London.
"This probably will be my last fight, win, lose or draw," said Hopkins, who has periodically hinted at retirement in the past but always returned to the one thing he knows and loves best. "I'm interested in beating a guy up – the same guy that beat up (Andre) Dirrell." That would be the 29-year-old DeGale, who scored two second-round knockdowns of Dirrell en route to a unanimous-decision victory when they squared off for the vacant IBF 168-pound title on May 23 in Boston.
"They (HBO officials) love the idea," Hopkins continued. "It would be another feather in my historic cap. I jumped over a division (from middleweight to light heavyweight) to do something that even the great Sugar Ray Robinson couldn't do because of heat exhaustion (when middleweight king Robinson, leading on points, had to retire on his stool after the 13th round against light heavy champ Joey Maxim in a sweltering (104 degrees!) Yankee Stadium on June 25, 1952). I can make 168 pounds, no problem. I never considered myself a full-fledged light heavyweight until I got together with (strength-and-conditioning guru) Mackie Shilstone. But that doesn't mean I was a natural light heavyweight. Now I want the chance to backtrack to the division I jumped over. It's something I'm really excited about doing if the fight can be made, and I think it can."
Hopkins refers to history often, which shouldn't come as a surprise since he is a native of Philadelphia, a city where the Declaration of Independence was signed, the U.S. Constitution ratified and Benjamin Franklin remains the most cherished civic icon. Make no mistake, it would mean plenty to B-Hop to go out by winning a world championship in a third weight class and to do it against a very capable opponent who is 21 years, 19 days younger than himself – the widest age differential ever for Hopkins, who has burnished his reputation by knocking off several men young enough to be his son.
Then again, DeGale figures to also be keen on the historic aspects of the proposed fight. He is the first British fighter to win an Olympic gold medal in boxing (in Beijing, China, in 2008) and also win a professional world title. That is something 16 previous gold medalists from across the pond failed to accomplish. And, while Hopkins seeks to defeat the tag team of DeGale and the calendar, the younger man no doubt would relish the notoriety of being the fighter to usher boxing's most elder statesman off the sideline for keeps and on a losing note.
Strangely enough – or maybe not so strangely – Kovalev's promoter, Kathy Duva, thinks Hopkins can and will rebound from his wide points loss to her fighter should the DeGale bout be made.
"Bernard is like a freak of nature," Duva said. "I can't explain it. I think he'd be very competitive with DeGale. Honestly, I'd pick him to win.
"If it was anybody other than Bernard Hopkins, I'd say a fight like this was crazy. But Bernard is amazing. Even though he lost to Sergey, he didn't take a real beating. One thing's for sure. It would be a huge fight in England. In Europe, when they bring these legendary American fighters over, regardless of their age, they're warmly received. It's a big, big deal. So I understand why they're talking. I know HBO's deal with Hopkins for the Sergey fight was for him to have the option of fighting one more time, if he so chose."
Hopkins has history against him – wouldn't that be a change? – should a pairing with DeGale be arranged. Even though he insists he can make 168 pounds without putting an undue strain on a body that should be preserved for scientific research, fighters who have to come down in weight seem to fare less well than those who go up. Three cases in point: After easily outboxing WBA heavyweight champ John Ruiz to claim that title, Roy Jones Jr., who had bulked up from light heavyweight, depleted himself in taking off the extra pounds of muscle he had added for his brief and successful foray; he lost three of his next four bouts, two by knockout. Two-time former heavyweight titlist Chris Byrd also tried to drop two weight classes and was clearly drained in being stopped in nine rounds by Shaun George, and heavyweight contender "Fast" Eddie Chambers appeared to lose the advantage in quickness he previously held against larger foes when he was easily outpointed by cruiserweight Thabiso Mchunu.
"I want to energize the 50-and-up club around the world that ain't boxing or playing football or basketball," pronounced Hopkins, ever the optimist. "You don't have to curl up and die once you reach a certain age.
"I'm getting ready to invade and take over the 168-pound division, and do it by taking out one of the top guys (DeGale) in that division."
Longtime HBO blow-by-blow announcer Jim Lampley understands the hunger that fuels Hopkins' desire to do things that no boxer has ever done and, in fact, no late-40s athlete has achieved with the possible exception of baseball Hall of Famer Nolan Ryan and hockey legend Gordie Howe.
"In spending time with him, I know that he wakes up with a curious mind every day," Lampley said. "He's energized by his own natural drive. Among the things he's curious about is, `Could I do this? Could I do that? Could I beat James DeGale?' That's not easily going to go way in him. He's not finished learning about the horizons that Bernard Hopkins can conquer. It's just that we're getting to the point where those horizons no longer will be carved out in the ring, but at ringside (as a new addition to the HBO broadcast team as a color commentator)."
So, what does Lampley – who isn't inclined to blow smoke up anyone's backside, even those belonging to the fighter/analysts working alongside him – think of a possible Hopkins-DeGale bout?
"I think it would add something to Bernard's legacy, in terms of the statistical anomaly of winning a title bout past his 50th birthday," Lampley said. "That's probably the main reason why he's considering it. He wants to put that on his resume.
"DeGale is a real talent, with a legitimate pedigree as an Olympic gold medalist. He scored a terrific win (over Dirrell). It's be youth against antiquity. There's a lot of appeal there."
And if the fight doesn't happen?
"I don't think the world tilts on its axis one way or another," Lampley said with his trademark honesty.
More so than other elite fighters who are obliged by time or circumstances to take their leave from the arena, often the worse for wear, Hopkins has been transitioning himself for the next phase of a career that figures to keep him close to the action. He scored high marks for his commentating during HBO's telecast of the Kovalev-Jean Pascal fight on March 14 in Montreal, and he spent the entire week leading up to Mayweather-Pacquiao offering insight into that super-hyped matchup for ESPN.
"I'm still at a relatively young age in the business of boxing, maybe not in a physical sense," said Hopkins, who remains an executive with Golden Boy Promotions. "The physical part ends for everybody, at some point. But the business side can continue, as long as you keep your health and keep your mind sharp. You can make that transition from athlete to the next phase of your life, as Michael Strahan (the former New York Giants defense end-turned-"Live! With Kelly and Michael" co-host) has. Michael is a good friend of mine. We talk or get together nearly every month.
"Really, it's not that big a change. You got to smile and have fun, and I've been doing that."
Lampley, for one, wasn't certain Hopkins, as boxing-savvy as he is, could pare down the 10-minute, stream-of-consciousness soliloquys he delivered upon being asked even the simplest of questions into the easily digestible 10-second sound bites required in his new role.
"He has extraordinary expertise and understanding of how to fight," Lampley said. "I had been concerned, based on past experience, that there might be a problem in his editing himself as to how long it takes to make a point for TV. But, bottom line, he was more disciplined (during the Kovalev-Pascal fight) than he needed to be in terms of keeping his comments short and concise.
"Really, the sky's the limit for him. Very much like Roy (Jones Jr.), he sees the fight in his uniquely knowledgable way. And very much like Roy, he's not political and not fearful of offending another fighter. He's secure enough to say what he thinks, and that's what you're looking for in a commentator."
If there is anything that's absolutely certain, it's that Hopkins the color analyst won't eat his way out of the tailored wardrobe that showcases that sculpted physique that has less body fat than skim milk. Don't expect him to show up any time soon doing commercials for NutriSystem.
"That whole week (leading up to Mayweather-Pacquiao) I had people coming up to me and saying, `You dress so well. Who dresses you?'" said Hopkins, as proud of his 30-inch waistline as he is of some of his signature victories inside the ropes. "I'd tell them `GQ' magazine and a men's fashion app that I have on my smartphone. Man, technology is beautiful."
Brandon Figueroa KOs Nery and Danny Roman Wins Too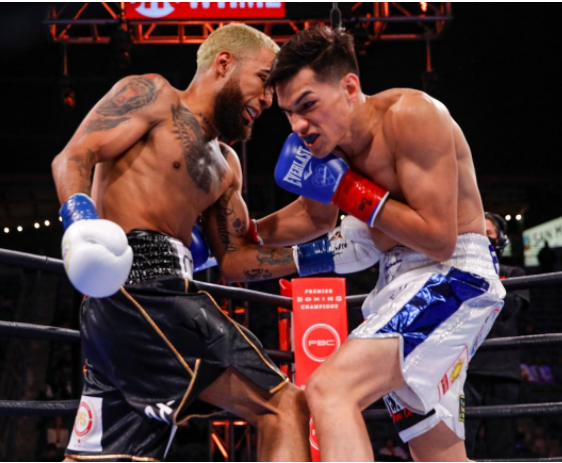 LOS ANGELES-Brandon Figueroa took the air out of Mexico's Luis Nery to win by knockout and unify the WBA and WBC super bantamweight titles on Saturday. It was a belly buster that did the job.
Texan Figueroa (22-0-1, 17 KOs) set out to prove that Tijuana's two-division world champion Nery (31-1, 24 KOs) could not endure a toe-to-toe battle with the bigger guys and he proved it before several thousand fans at the Dignity Health Sports Park.
It was a back-and-forth battle that saw Nery attack the body and head while Figueroa focused on winging big blows from a distance and in close. Many of the rounds were extremely close to score.
When Nery was able to battle from a distance and dive inside, he seemed the much more athletic between the two champions. But Figueroa just seemed stronger and unfazed by any of the Mexican fighter's blows.
Though Figueroa absorbed a lot of punishment, he never seemed in trouble. When Nery connected with a several combinations in the fifth round by landing five-punch and three-punch combinations, it looked like he was taking control.
He did not.
Figueroa opened the sixth round with two left hook blasts that reminded Nery that the taller Texan had a punch. When Nery tried to rally with his own blasts, Figueroa slipped under back-to-back left hooks. It seemed to change the tide.
"I knew he was getting tired," said Figueroa. "He was trying to box me."
In the seventh round Figueroa was able to connect with a left hook and followed up with a lead right. Nery countered with a three-punch combination that was met with Figueroa countering with a three-punch combination to the head and body. Then both fighters exchanged inside and Figueroa connected with a right to the chest and a left uppercut to the solar plexus and down went Nery.
Nery could not beat referee Tom Taylor's count and was counted out at 2:18 of the seventh round.
Figueroa is now the WBC and WBA super bantamweight unified champion.
"It feels amazing," said Figueroa. "I know everyone doubted me."
Roman Wins Super Bantam Eliminator
Los Angeles-based Danny Roman (29-3-1, 10 KOs) battered Mexico's Ricardo Espinoza (25-4, 21 KOs) to win convincingly by unanimous decision after 10 rounds in a super bantamweight fight.
After a slow start Roman began to out-maneuver the heavy-punching Espinoza and found openings for left uppercuts. Boy did he find openings.
"I concentrated on finding my distance," said Roman.
Roman snapped Espinoza's head back so many times it seemed that the Mexican fighter would not be able to last the full 10 rounds. But like most Mexican fighters he would not quit.
Espinoza tried every move in his catalogue but nothing worked against the superb technique used by Roman, who formerly held the IBF and WBA super bantamweight world titles. It was a perfect example of technical prowess defeating raw power.
The uppercut was the chosen weapon of choice and Roman exhibited how to throw it from various positions and angles. It landed perfectly every time as if targeted by a laser. Espinoza never could avoid the uppercut.
During the last three rounds Espinoza's face was bloody and battered while Roman looked as if he were merely sparring. The end seemed near but the fighter from Tijuana battled until the final bell.
"I thought he was going to go down," said Roman. "But he had a big heart."
All three judges scored it for Roman at 97-93 and 98-92 twice.
"It's a step closer to getting back my titles," said Roman who lost the titles to Murodjon Akhmadaliev a year ago by split decision. "I'm here to fight the best."
Martinez Beats Burgos
Sacramento's Xavier Martinez (16-0, 11 KOs) discovered that Tijuana's Juan Carlos Burgos (34-5-2, 21 KOs) still has plenty of fight remaining and showed it with a gutsy 10 rounds of back-and-forth battering. Still, Martinez won by unanimous decision though every round was competitive.
Boy was it competitive.
Martinez, 23, had a 10-year advantage in youth but was unable to convince Burgos. Every round saw savage combinations connect by each fighter, but the judges all felt that the Sacramento fighter was superior. All three scored it 99-91 for Martinez. The crowd booed the decision.
"I was landing the cleaner shots," said Martinez. "He's a tough competitor."
Other Results
A super lightweight match saw Jose Valenzuela (8-0) knock out Nelson Hampton (7-4) in the first round.
Gabriela Fundora (1-0) won her pro debut by unanimous decision over Jazmin Valverde (2-2) in a four round flyweight match. Fundora is the sister of super welterweight contender Sebastian Fundora.
A lightweight bout was won by Justin Cardona (5-0) by first round knockout of James De Herrera (4-7).
Check out more boxing news on video at the Boxing Channel
To comment on this story in the Fight Forum CLICK HERE
Buatsi Flattens Dos Santos in Manchester; Charr KOs Fraudulent Lovejoy in Cologne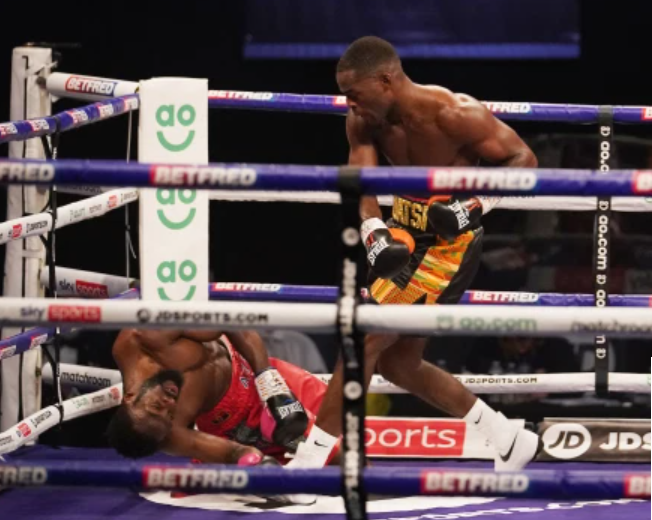 In a Knockout of the Year candidate, rising light heavyweight contender Joshua Buatsi (14-0, 12 KOs) leveled Daniel Blenda Dos Santos, an unheralded Frenchman, in the fourth round, closing the show with a pulverizing right hand – and for good measure, touching him with another right as he fell. A 2016 Olympic bronze medalist for England, the Ghana-born Buatsi trained for two months in the California Bay Area under his new trainer Virgil Hunter and his American sojourn paid dividends.
Dos Santos, who found his way to boxing after serving three-and-a-half years in prison, was undefeated (15-0, 8 KOs) coming in, but hadn't fought beyond six rounds. He was knocked down earlier in the fight with a chopping right hand. There were less than 20 seconds remaining in the fourth when Buatsi put Dos Santos to sleep, and to his credit he did not celebrate but consoled his distraught victim.
Other Bouts
In a shocker, 31-year-old southpaw Jason Cunningham improved to 29-6 (6) with a unanimous decision over Gamal Yafai (18-2) who was making the first defense of the European bantamweight title that he won in Milan.
Cunningham had Yafai on the canvas three times — knocking him down with left hands in the second, fourth and sixth rounds — but Yafai, the younger brother of former 115-pound world title-holder Kal Yafai — wasn't deterred and kept coming forward. In the end, however, Cunningham's lead was too big for Yafai to overcome. The judges had it 115-110 and 114-111 x2 for the southpaw who was a consensus 10/1 underdog.
Super middleweight Lerrone Richards breezed to a lopsided 12-round decision over Italian veteran Giovanni DeCarolis to snatch a vacant European title. Trained by Dave Coldwell, who previously handled Tony Bellew, Richards was content to rack up points and the one-dimensional DeCarolis, who was making his first start in 23 months, had no way to stop him.
The judges had it 120-108 and 119-109 twice. The London-born Richards, whose family roots are in Ghana, improved to 15-0 (3). This may have been the last rodeo for the 36-year-old DeCarolis who fell to 28-10-1.
Belfast's Tommy McCarthy (18-2, 9 KOs) was fed a softie for his first defense of his European cruiserweight title in the form of 36-year-old Romanian Alexandru Jur who brought a 19-4 record but had defeated only four men with winning records. Except for a few brief moments, Jur showed little inclination to mix it up. McCarthy put Jur down with a body punch in round four and finished him off two rounds later with another body punch. The official time was 2:09.
McCarthy, who is of Irish and Jamaican descent, moves on to a date with fellow Brit Chris Billam-Smith. Jur lost for the fourth time in his last six starts.
Cologne
Credit Christopher Lovejoy for having the gumption to defy Don King who threatened legal action if Lovejoy went ahead with his match today with WBA "champion in recess" Mahmoud (Manuel) Charr. But the 37-year-old Lovejoy, who arrived in Germany all by himself, traveled a long way to destroy whatever credibility he may have had. Fighting off the grid, he had rung up 19 fast knockouts in 19 fights against 19 presumptive Tijuana taxi drivers.
Carrying 306 ½-pounds, the six-foot-five Lovejoy lasted less than two full rounds against Charr who was making his first ring appearance in 42 months. Lovejoy was counted out after being dropped with a volley of punches in the second round.
Photo credit: Mark Robinson / Matchroom
Check out more boxing news on video at the Boxing Channel
To comment on this story in the Fight Forum CLICK HERE
Avila Perspective, Chap. 135: Danny Roman and Super Bantamweights Perform in L.A.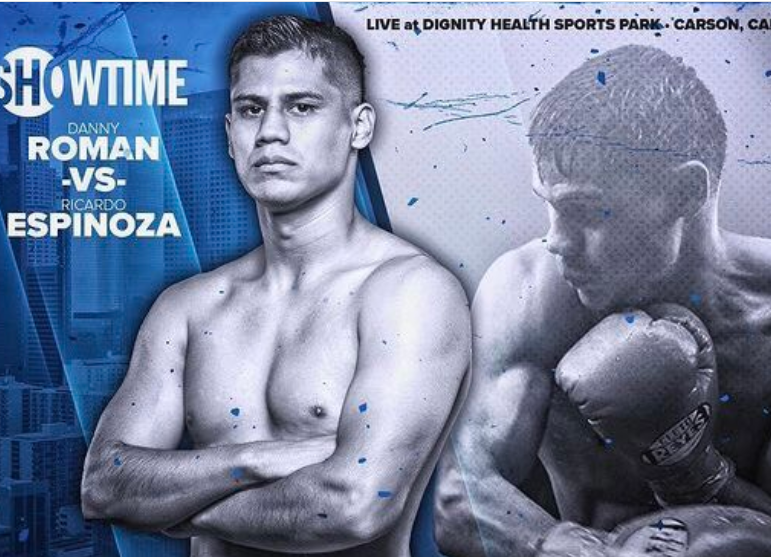 Avila Perspective, Chap. 135: Danny Roman and Super Bantamweights Perform in L.A.
The super bantamweight division was virtually unknown by most fans of prizefighting for the last decade.
Then Danny Roman arrived and re-booted the 122-pound division virtually by himself by challenging and defeating world champions from Japan and the United Kingdom.
Roman (28-3-1, 10 KOs) no longer holds the world titles but itches to regain his footing when he fights Ricardo Espinoza (25-3, 21 KOs) at Dignity Health Sports Park on Saturday May 15. Showtime will televise the battle on the Premier Boxing Champions card.
"Everything I do in boxing from here on out is to regain my status as a world champion," said the normally ultra-reserved Roman, 31.
Ironically, both Roman and Espinoza turned their careers around with numerous battles at boxing shows in Ontario, California. They entered as boys and emerged as battle-tested men.
For the last 20 years Thompson Boxing Promotions has been pumping out world champions and contenders at a furious rate despite their small size in Southern California. They do not pamper or cajole their prospects.
Both Roman and Espinoza suffered their first losses as professionals at Thompson Boxing's bloody battles at the Doubletree Hotel in Ontario. But despite losing, they continued to learn and evolve. Now they meet in Los Angeles on the big stage.
When Roman lost to Japan's Takashi Okada in 2011 and Juan Reyes in 2013, that could have derailed the Los Angeles-based fighter for good. Instead, he re-grouped and reloaded to become a unified world champion. Roman traveled to Japan and won the WBA super bantamweight world title by stoppage of Shun Kubo in 2017. A couple of years later after several defenses, he clashed with WBO super bantamweight titlist TJ Doheny to win an incredible battle by decision in Los Angeles. It was perhaps the Fight of the Year in 2019 and gained Roman the WBO belt.
Though Roman lost both the WBA and WBO titles to Murodjon Akhmadaliev, it was a disputed split decision. Many felt Roman was the true winner. So now he must battle back toward the top.
Espinoza also fought many bloody affairs at the Doubletree Hotel in Ontario including his first two losses. He lost to Sam Rodriguez in 2016 and Christian Nieto in 2017. Then the power-punching fighter from Tijuana, Mexico knocked out 12 of 13 of his opponents to gain a world title fight that he lost in April 2019. Since then, he has returned to his winning ways and upset undefeated Brandon Valdes last year.
"Danny Roman has fought some really quality opponents that are high in the rankings, but this is my time. This is when I show that I can step up in competition and prove that I belong with the best," said Espinoza who is very familiar with Roman.
The Tijuana fighter is a punching machine.
"This is not going to be an easy fight because I know my opponent is a tough fighter from Tijuana who is coming with everything he's got. He's got a lot of power, so I must be smart on how I throw my combinations," said Roman who lives within 10 miles of the event. "I believe my experience in big fights is going to be the difference on May 15. I'm expecting a rough fight and I'm ready for an intense battle."
Now the two veterans of the Ontario, California wars finally meet each other to see who advances toward a world title fight. They won't have to look far. The main event pits two titleholders against each other.
Unification Battle for Super Bantam Belts
Mexico's Luis Nery holds the WBC super bantamweight world title and faces Texan Brandon Figueroa who holds a version of the WBA super bantamweight title in the main event on the Dignity Health Sports Park card on Saturday. Showtime will televise.
Nery formerly held the bantamweight title too. But the Tijuana-based fighter had problems making weight and wisely moved up a weight division. So far, the extra pounds hasn't been a problem.
The problem facing Nery is Figueroa has a solid chin.
Figueroa may look like a pretty boy but he fights like he's ugly. The Weslaco, Texas native has firepower and a rock chin but does he have the skills to match Nery?
"I come forward. I bring the pressure and I'm definitely going to bring the power, the size and all the advantages I have to make sure that we give the fans a great show. I do respect him as a fighter but we're just going to have to find out Saturday," said Figueroa whose brother Omar Figueroa fought in the same venue two weeks ago.
Nery has quickness and agility to supplement his power. He also has experience in world class opposition and that's something Figueroa lacks.
"Brandon's style really fits with what I want to do in the ring," said Nery, a boxer-slugger. "This is going to be an all-out war from the first round on. People are going to be talking about it for a long time after."
The winner of this clash will hopefully meet the winner of Roman and Espinoza. That would really heat up the super bantamweight division to blue hot levels.
Some of my favorite fighters of the past occupied the super bantamweight division like Wilfredo "Bazooka" Gomez, Marco Antonio Barrera and Israel "Magnifico" Vazquez who twice fought in this same venue. His third fight with Rafael Marquez on March 1, 2008 was voted Fight of the Year for its brutal but spectacular display of super bantamweight power.
The winners of this quasi-super bantamweight tournament can equally achieve the same kind of greatness those former stars achieved. This is a good start.
Fights to Watch (All times are Pacific Coast)
Friday UFC Fight Pass 5:30 p.m. Heather Hardy (22-1) vs Jessica Camara (7-2); Melissa St. Vil (13-4-4) vs Olivia Gerula (18-18-4).
Friday Telemundo 11:30 p.m. Denilson Valtierra (14-0) vs Emanuel Lopez (30-12-1).
Sat. DAZN 10 a.m. Lerrone Richards (14-0) vs Giovanni De Carolis (28-9-1).
Sat. Showtime 7 p.m. Luis Nery (31-0) vs Brandon Figueroa (21-0-1); Danny Roman (28-3-1) vs Ricardo Espinoza (25-3).
Check out more boxing news on video at the Boxing Channel
To comment on this story in the Fight Forum CLICK HERE