The Fifty Greatest Light-Heavyweights of All Time Part Two – 40-31
Welcome to Part Two of the Greatest Light-Heavyweights of All Time, something of a generational sweep for the last decade with no fewer than four of the ten entrants for Part Two active in the last two years. With no truly dominant figure emerging among Glen Johnson, Bernard Hopkins, Chad Dawson, and Tarver it was inevitable that they would all rank in the same clutch; still, I was surprised to see them ranked in this ten rather than the last ten, or even outside the top fifty all-together.
Having done the groundwork for a similar project at middleweight I can advise that 160lbs has roughly double the depth of 175lbs, but there are reasons for this. Firstly, middleweight is much older and the years upon which light-heavyweight missed out were as rich as any period in fistic history. Even when the division was established fighters and promoters were generally suspicious of it and a fighter weighing 165lbs was far more likely to call himself a contender to the middleweight title than the light-heavyweight title. There was an unhealthy suspicion of anything different in boxing as 1899 became 1900 and the emerging 175lb division was no different.
Having said all that, light-heavyweight produced fewer truly elite boxers than middleweight or welterweight even after it had become enshrined as one of the "original eight", a mistruth that is told and re-told by modern historians for the sake of convenience. But I personally am glad of a certain lack of depth outside the top twenty-five, it has given me a chance to include champions and contenders who perhaps did not box a career at the weight but were nevertheless extraordinary and deserving of praise.
Beginning with a fighter who quite happily admitted that he was not the best but "just the guy who fought the best."
#40 – GLEN JOHNSON (54-20-2)
Fifty-four, twenty, and two.
And this isn't some monstrous battler lurching out of the stacked 1920s division with the scalps of a dozen world-class opponents hanging from his bloodied belt, some hideous fistic bogeyman that enjoyed a murderous prime before suffering some terrible drop off in form and talent as his body betrayed him to drunkenness and women. No, this is a modern day road-warrior who racked up numerous losses at middleweight, super-middleweight, and at light-heavyweight, where our interests lie.
But the career of Glengoffe Johnson, out of Jamaica and in to almost every major boxing nation on earth, is more complex than any set of raw statistics could ever capture.
He stepped up to light-heavyweight in the summer of 2001, stopping Thomas Ulrich in six before meeting Las Vegas regular Derrick Harmon in the Hard Rock. The judges saw it a clear ten round decision in favour of Harmon; the crowd voiced displeasure after what I saw as a narrow win for Johnson. Next up was an ugly loss to former Roy Jones victim Julio Cesar Gonzalez in a razor thin decision that one judge managed to score 98-92. I had it a draw.
Johnson managed an actual draw in his very next fight, with the prospect Daniel Judah; the problem was, Johnson dominated Judah almost bell to bell, clearly losing only one round, the eighth. I scored it, ironically, 98-92. In November of 2011, Johnson travelled to the UK and met ranked tough Clinton Woods and fought a draw in a fight I scored him winner. He lost a rematch in 2006 in a fight that again, looked like a narrow but certain Johnson win. Johnson was twice beaten by Chad Dawson as the decade trundled to an end, but again, I thought he was hard done by in their first fight, a clear win for Johnson and a signal for the crowd, once again, to boo a Glen Johnson loss.
This makes appraising him extremely difficult. Between his arriving in the division in 2001 and the end of 2009, I have him losing just twice, to divisional bosses Antonio Tarver and Chad Dawson – according to paid judges he lost six. The job here is to strike a balance between my sense that Johnson's career is the most tragic in modern boxing, the inevitable realisation of perhaps the most badly run professional sport in world, a perfect storm of bad luck and bad officiating – and what the men paid to be ringside saw. Fortunately, Johnson props himself up with excellent wins that the officials did manage to see, or, as was the case in his famous detonation of huge favourite Roy Jones Jnr., fights he denied them the right to judge.
Johnson launched himself at Roy Jones and threw punches at parts of his anatomy that Jones wasn't aware he had. At the end of a particularly aggressive fifth, Orlando Cuellar told a bemused Johnson in his corner that "this is what it will take to win this fight!" Johnson looked like a man who had been told riches beyond his wildest dreams were at his finger-tips if only he could swallow a bull. But Johnson stayed the course. He took the snapping punishment Jones crackled into him and maintained a more tempered version of this attack for the rounds that followed, bulldozing Jones into unconsciousness in the ninth. Jones had already been defeated by Antonio Tarver, setting up a showdown between him and Johnson, a showdown Johnson won making him the premier light-heavyweight in the world.
It is enough, along with victories over ranked men Clinton Woods and Eric Harding to place him under consideration for a top fifty spot; the injustice that served him throughout a career fought on the road sees him ranked here at the bottom end of the second ten. Some may not care for this elevated ranking given the losses he suffered, but it is my contention that Johnson is inarguably a better and more significant fighter than his paper record allows.
#39 – GUS LESNEVICH (60-14-5)
Depending upon your point of view, Gus Lesnevich either committed perhaps the most shameful duck in the history of the light-heavyweight title or was a fighter whose legacy was compromised by the outbreak of World War Two. After being thrashed by Jimmy Bivins in a non-title match in 1942, manager Lew Diamond told press that there would be no chance of a rematch between Bivins and Lesnevich. Lesnevich disappeared into the war-time coastguard – his title frozen for the duration, he remained true to his manager's word. What this adds up to is a title reign of around seven years – but one which encompassed a total of only five successful defences against only three different fighters.
Nevertheless there is much to admire about Lesnevich, not least an outstanding persistence and hearty directness that earned him status as a fan favourite. Thrashed by Billy Conn in his first title shot in November of 1939, Lesnevich was so popular that he was handed a second title shot in the summer of the following year. Beaten again, he nevertheless was able to win more than the four rounds generally reported in the first fight, and it can have been of little surprise when Lesnevich received a third title shot a year later, this time beating out Anton Christoforidis. After making two successful defences against the unranked Tami Mauriello (the first of them desperately close) and the beating at the hands of Jimmy Bivins, the service got Lesnevich and when he re-emerged in 1946 it was thought that he, like peers Billy Conn and Joe Louis, would have left his best behind him. This seemed confirmed when he was smashed out by Bruce Woodcock up at heavyweight, the only time in his career that Lesnevich heard the ten. But Lesnevich came again, and in fact was the Ring fighter of the year in 1947. His brutal stoppage of British rival Freddie Mills, as savage a knockout as can be seen on film, was likely the highlight of this second career; but it was Mills who would take the title from him in 1948 over fifteen after a torrid first round that left Lesnevich cut and hurt.
Other fine wins over contenders like Alabama Kid, Ambrose Palmer and Billy Fox help nurse a ranking earned in the main with elbow grease and hard work.
#38 – AL GAINER (77-23)
Al Gainer's record against the best he faced makes awkward reading. He went 1-1-1 with Tiger Jack Fox; 1-2 with Lou Brouillard; 2-2-1 with Bob Olin, 1-1 with Al McCoy and 1-1 with George Courtney. Splitting a series with Tiger Jack Fox speaks for, not against him, but the Brouillard series is troubling. The Canadian was a middleweight really, and one that had failed on three occasions to best Marcel Thil. Nevertheless, he twice dominated Gainer and for all that Gainer defeated him "easily" in their middle encounter, Brouillard clearly deserved the victory in their series. Aspects of his confrontation with Olin were more debatable but still, Gainer failed to prove his superiority over Olin just as he did Brouillard. Sometimes Gainer's failure to equalise these fights with what was perhaps the best left hook of the era seems curious, although such matters are abandoned forever to the realm of speculation.
That left hook did, in part, bring him wins over Olin, McCoy, Brouillard and Courtney and that shouldn't be forgotten for all that his overall record against them feels somewhat underwhelming. He also pounded out a one-sided victory over Joe Knight and several other solid contenders of this era, from Clyde Chastain to Lou Scozza and Dave Shade. Often his displays were dominant, but he, in turn, was dominated by Tony Shucco. They met four times and Gainer failed to return a single victory.
It is this last that in the end leads me to reject Herb Goldman's ranking of Al Gainer at #25. Gainer was special and names among the most outstanding fighters never to have earned the crown but a place in the top thirty must be beyond him based upon his actual track record.
On the other hand, he was ranked for an entire decade, the 1930s, mostly in the lower reaches of the Ring top ten, but present none-the-less. This, in keeping with a consistently high level of competition smuggles him in to the top forty – but no more for the once sparkling Al Gainer.
#37 – BERNARD HOPKINS (55-7-2)
As ridiculous as it seems now, the twin defeats of Bernard Hopkins by Jermain Taylor in 2005 was seen as something of a terminal for the great middleweight. If not quite finished, he had perhaps boarded the great train to nowhere, even if there was to be a quick stop at light-heavyweight for a beating at the hands of three to one favourite Antonio Tarver. As is so often the case in boxing, the unexpected occurred: Hopkins kicked the shit out of Tarver.
Tarver had had his problems in training, dropping forty pounds he had gained for a performance in a movie while Hopkins, of course, was moving up. It is this writer's opinion that no practice in boxing hurts a fighter so much as weight-making, and here was yet another beautiful demonstration of that fact. No longer shackled by the manacles of 160lbs, Hopkins weighed in at a liberating 174lbs and re-hydrated to a luscious 182lbs. It was like putting fuel in. He threw almost one-hundred more punches than he had managed in the first Taylor fight and found Tarver with the old unerring accuracy. Inside, he was clearly the stronger man despite being both smaller and older while on the outside he took by far the more steps but his engine remained greased. Aged forty-one years of age, Bernard's astonishing assault on the light-heavyweight division had begun.
Truly, these past eight years have had their peaks and valleys, but despite a winding road, Hopkins never stepped off the path that led to and through ranked men, except when he was thrashing the undisputed middleweight champion Kelly Pavlik, or losing a desperately close fight to pound-for-pounder Joe Calzaghe. It looks like that journey has finally come to an end with a dispiriting, damaging loss against the excellent Sergey Kovalev but I can't imagine marching into a bookmaker and actually laying a bet against Hopkins scraping together a couple more wins against good opposition in this division in 2015 – and perhaps even gaining another spot on this list.
#36 – MICKEY WALKER (94-19-4; Newspaper Decisions 37-6-2)
The absurd Toy Bulldog, Mickey Walker, would have fought a truck piloted by a meth-fuelled werewolf if the money was right. He was crazy.
He slipped his way onto my top 100 at heavyweight, at #94 no less, and his heroics in that division are well documented. Less well respected are his achievements at light-heavyweight, which is a shame, because they are outstanding. Although he never held the title himself, he defeated not one, not two, but three legitimate light-heavyweight champions of the world. Mike McTigue went first in 1925, the reigning title-holder but willing to meet Walker only in a twelve-round no-decision bout, Walker in need of a knockout in order to lift the title. The Bulldog pounded out a twelve round newspaper decision but couldn't put his man away; infuriatingly, Walker knocked McTigue, an underrated but carefully nursed champion, quite literally out to dry, hanging him over the second rope in a single round in 1927 – by which time he had been parted from the title.
After his overdue knockout of McTigue, Walker, absolutely no light-heavyweight at 5'7 and a great deal of history at welterweight and middleweight, bowled right into the wonderful Paul Berlenbach, who had lost his title to Jack Delaney just a year earlier. Barely over the middleweight limit, Walker gave away eleven pounds to Delaney who was a body-puncher and boxer of real repute – Walker won "every round" and gave his man "an unmerciful beating" according to The Montreal Gazette, even forcing the bigger man to the canvas with his indomitable left.
Last up was Maxie Rosenbloom. Rosenbloom, inevitably, won the championship match between the two but Walker dropped and bettered the champion in a non-title bout a few months later. It was the second time he had defeated a reigning light-heavyweight champion and he had done so an astonishing seven years apart.
Between, he had dropped a split-decision lost to the great Tommy Loughran and twice bested Leo Lomski. It wasn't quite meant to be for Walker at light-heavyweight – but few fighters have bested more lineal champions than he.
#35 – CHAD DAWSON (32-4)
All but finished at thirty-two years of age Chad Dawson was obliterated in a single round by Adonis Stevenson in 2013, out-fought by Jean Pascal in 2010 and narrowly edged by Nathan Cleverly victim Tommy Karpency in ten rounds towards the end of 2014. The other hand is weighed heavily in his favour, however. Dawson holds two wins over Glen Johnson, two wins over Antonio Tarver and a win over Bernard Hopkins making him a proud holder of victories over every post-Jones pre-Kovalev light-heavyweight of genuine significance apart from Zsolt Erdei, whose history of avoiding name fighters is legendary. His supplementary wins, too, are superb. He handed 31-0 Tomasz Adamek his first loss; clambered off the canvas to defeat the era's elite gatekeeper Eric Harding in a bloody, absorbing contest; and firmly outpointed the ranked Adrian Diaconu. I will be frank: I don't personally care for Dawson as a fighter, in hype, style or fistic class, but leaving him out is impossible and given his thorough defeat of Bernard Hopkins and a resume that is likely superior to The Executioner's, the disturbing nature of some of his losses can be ignored. He slips in here ahead of both Hopkins and Glen Johnson, despite my personal preference for both.
This, more than any other single factor probably indicates that Dawson has earned his ranking. The facts of the case outweigh my feelings.
#34 – JIMMY SLATTERY (111-13; Newspaper Decisions 3-0)
Welcome our first legitimate centurion, Jimmy Slattery, who stopped a total of forty-nine opponents and won sixty-two decisions.
A lot of this work was done at middleweight where Slattery served a long apprenticeship between 1921, when he turned professional, and 1925, when he began to probe the division above. These early advances bore surprisingly ripe fruit as Slattery netted wins over under-developed legends of the poundage, first Jack Delaney and then Maxie Rosenbloom both over the distance of six rounds – but Slattery's domination of the blooming Rosenbloom continued into 1926 and 1927 by which time Rosenbloom was ranked at the top of the division. This domination ended, however, when Max came to the title. Always a better fighter with the legitimate championship at his waist, Rosenbloom consistently out-scrambled Slattery when it came to that prize.
Slattery held a strap but never a lineage. He inevitably lost to the wonderful Tommy Loughran, too, but was able to scrape past the superb Lou Scozza with the NYSAC title on the line.
He never really delivered on that astonishing early promise. Part of the problem was that he lived like boxed – on his toes but in search of trouble, a fighter that led the life of a rogue and so could never reach his potential as a boxer. Winning a series with Rosenbloom is impressive but it must be said that every top light-heavy of the era seems to have beaten Max at some point – my feeling is that despite an impressive haul of scalps at 175lbs, Slattery doesn't quite belong up there with the very best.
#33 – JOEY MAXIM (82-29-4)
A grim persistence on the inside combined with a technical surety on the outside, an iron jaw and staid discipline saw Joey Maxim carve out one of boxing's most underrated careers – but a huge and surprising amount of his best work was done at heavyweight. Maxim was tackling these bigger men as early as his first year and as we have seen, time spent above 180lbs or matching these bigger men at a lighter weight impacts the standing of light-heavyweights because they cease to box in light-heavyweight contests.
But Maxim was the champion of the world at light-heavyweight, coming to the title in 1951, ten long, hard years after he turned professional. He was never going to hold it long with Archie Moore lurking in the brutal shadows of the murderer's row, but Maxim should be credited for tackling the universally ducked Moore in the first place – and for the work he did in the division before Moore reached him.
He took the title from Freddie Mills who reportedly lost three teeth and never boxed again as Maxim jabbed and hooked him into retirement. Not a puncher, his unerring consistency, accuracy and a persistence born of great durability and strength of character could nevertheless inflict severe suffering on all but the very best opponents. Certainly he had been too much for Gus Lesnevich, dominating him over fifteen rounds eight months earlier as he was for favourite Bob Murphy in his first title defence.
His third defence was far and away his most famous fight, Maxim defeating Sugar Ray Robinson in thirteen rounds as the middleweight champion of the world quit in appalling conditions, the heat in the ring said to be over one-hundred degrees Fahrenheit. Maxim never received credit for this win – Robinson weighed in as a middleweight, and the heat rather than Maxim was perceived as Robinson's chief foe (Robinson himself naming the source of his defeat as God himself, perhaps demonstrating the kind of self-belief necessary to blaze a trail from lightweight all the way to light-heavyweight). This is perhaps a little unfair. As Maxim remarked, "did people think I had air conditioning in my corner?" It was a victory for durability and size but it was a victory none the less, for all that it is a difficult one to judge. I've treated it here as a successful defence against a dangerous but unranked opponent. Robinson was certainly that, taking the lion's share of the rounds before he was pulled.
Then Moore came calling and Maxim's time at the top was over. Maxim wasn't so much out-classed by Moore as seemingly incapable of winning rounds, many of which were close but almost all of which seemed to be controlled by The Mongoose. Maxim fought Moore three times and at no time recorded a win.
Outside of those title fights, Maxim's best wins at the weight were likely over Nate Bolden and the wonderful if inexperienced Floyd Patterson but Maxim spent so little time actually boxing against light-heavyweights at light-heavyweight that he must even so rank in the thirties, rather lower than I expected to see him. Any Maxim fans who are disappointed in this could do a lot worse than to track down my heavyweight list, where Maxim's ranking is surprisingly high.
#32 – EDDIE MUSTAFA MUHAMMAD(50-8-1)
Eddie Mustafa Muhammad was dropped in the first round of his 1977 contest with Matthew Saad Muhammad but fought his way back to take a narrow, disputed decision on the scorecards. It was a battle of the greenhorns, and their friendship and shared religion would keep them from ever meeting in their respective primes, but both men carved out extraordinary careers independent of one-another. Eddie Mustafa would forever remain the poorer cousin in terms of legacy but he had his own great moments, not least in losing in his premature title shot against Victor Galindez later that same year. Eddie boxed with such patience, with such maturity that he belied his 22-2-1 record dropping a narrow decision against a wonderful world champion, first jabbing, then introducing the right hand, ending in a tactical stalk that fell just short of enough.
In the last round he showed a strange passivity however that was his greatest weakness. Against the colourful James Scott who forged a famous career from behind the bars of Rahway State Prison he boxed shamefully, holding and stalling his way to an inexplicable and wide decision loss. This postponed what had seemed an inevitable title shot for eighteen months, although when it came, against the deadly Marvin Johnson, he grabbed it with both hands, dominating and stopping the out-gunned champion. When he was on, Eddie was outstanding, but he could be placed under control both by counterpunchers and by maulers and when he was tempted, like so many light-heavyweight champions before and after him, by heavyweight riches, he perhaps gave way to his failings permanently. Beefing up to an absurd 200lbs, he followed a careful Renaldo Snipes around the ring for ten rounds dropping a decision over ten. When he had to drain his way back down to 175lbs to meet the brilliant Michael Spinks he left himself chanceless in what was his third title defence, fading down the stretch, a certain passivity beaten into his work by a Spinks who boxed rampantly in the second half of the fight.
"Not a natural fighter" is how old-timers probably would have diagnosed Eddie and although a little harsh, it might be about right. Certainly not fearful of absorbing punishment, he could be beaten or boxed into a kind of premature submission and that hurts his legacy and my appraisal of him head to head. But he had a superb body-attack is an under-appreciated counter-puncher and a good hitter. Even after the twin debacles versus Snipes and Spinks he remained a formidable fighter, his vicious, surreal knockout of the excellent Lottie Mwale probably the highlight. Certainly he belongs on this list, but a nagging sense that he failed to fulfil his potential remains.
#31 – ANTONIO TARVER (31-6)
Tarver's elevated position here will be troubling to traditionalist readers but for those men (you never hear it from the fairer, more balanced sex) I have two words: Roy Jones.
Beating Roy Jones is like beating Archie Moore or Harold Johnson. Jones was incredible, a Phenom, a monster, a terrifying mix of power and speed who appeared, from middleweight to heavyweight, the complete superior of all he shared the ring with. The first man to lay him low was always going to establish himself in the annals of history and Tarver has done so.
The first fight was a close decision in favour of Jones, but Roy had been put through his paces, made to fight the fight of his career, Tarver allowing himself to be pushed gently form the box-seat in rounds three to five, Jones fighting to hold it in the eleventh and twelfth. A rematch was inevitable and it is one of the more famous nights in the modern history of the light-heavyweight division. Knocked brutally, unreservedly, spectacularly out by a Tarver left-hand, Roy sat glassy-eyed as Tarver celebrated so raucously that he appeared to inadvertently damage a camera and camera-man; that even Don King seemed reluctant to approach and ingratiate. Immediately, people set out to discredit Tarver – some even produced photographs that appeared to suggest that Tarver "had his eyes closed" when he threw the "lucky punch" that signalled time on one of the greatest ring careers fought entirely in colour, ignoring the beauty of the counter that Tarver unleashed while under fire. So Tarver beat Roy Jones again in a strange and distant fight in which Roy Jones hardly threw and Tarver quietly out-hustled him with economy, patience and an almost uncanny ability to rush the easily startled Jones with near perfect timing.
Tarver was a 6'2 defensively sound southpaw with good athletic ability, and a fine head for distance for all that he could sometimes throw himself off-balance with over-enthusiastic lurching punches, and probably is underestimated in terms of skillset and head-to-head appraisement. In addition to his domination of the series with Jones, Tarver's most interesting performance may be his revenge TKO of Eric Harding. Harding and Tarver were both inexperienced when they first met in 2000 and went blow-for-blow up until the final third of the fight when Tarver, having suffered a broken jaw at the hands of his surprisingly aggressive opponent, went into survival mode. It was his bravest performance and in many ways I think it made him. By the time of their rematch in 2002 Tarver was a different kind of fighter, exhibiting all that patience and trickery he showed in his third contest with Jones; he took Harding out in five.
Excellent while dominating the veterans Reggie Johnson, Clinton Woods and Montell Griffin, superb in handing Glen Johnson what was arguably the first legitimate loss of Johnson's light-heavyweight career, Tarver has built a good resume independent of Jones; but those are the wins that absolutely root him in the thirties. Is it possible he cashed in on the decline of Jones to earn his spot? Yes – but it's always difficult to push a Ferrari off the cliff.
Jermell Charlo Unifies Super Welterweights Via Solar Plexus Punch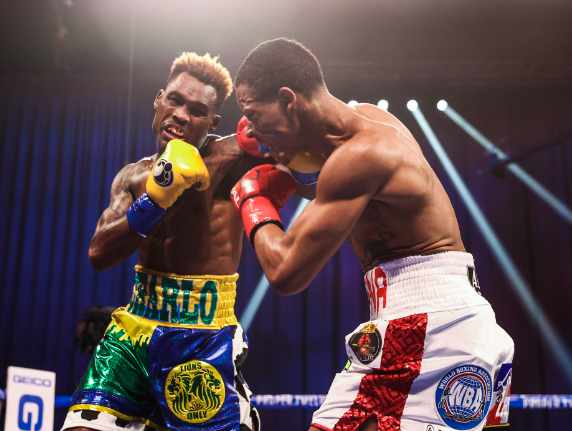 WBC super welterweight titlist Jermell Charlo knocked out IBF and WBA titlist Jeison Rosario with a knockout punch delivered to the solar plexus on Saturday to add two more belts to his collection.
"I'm definitely bringing home the straps," said Charlo.
Shades of Bob Fitzsimmons.
Back in 1897, Fitzsimmons used the same solar plexus punch to dethrone Gentleman James Corbett for the heavyweight title in Carson City, Nevada.
In another casino city Charlo (34-1, 18 KOs) floored Dominican Republic's Rosario (20-2-1, 14 KOs) three times at the Mohegan Sun Casino in Uncasville, Conn. He and his brother co-headlined a heavy duty pay-per-view card with no fans in attendance on the Premier Boxing Champions card.
Charlo jumped on Rosario quickly in the first round when he charged and clipped him with a left hook to the temple. Down went the two-belt champion for the count. But he got up seemingly unfazed.
For the next several rounds Rosario was the aggressor and put the pressure on Charlo who was content to allow the Dominican to fire away. Occasionally the Houston fighter jabbed but allowed Rosario to pound up and down with both fists.
After allowing Rosario to get comfortable with his attack, suddenly Charlo stopped moving and connected with a short crisp counter left hook and right cross in the sixth round. Down went Rosario again and he got up before the count of 10.
Charlo said it was part of the game plan.
"I'm growing and I realize that the knockout will just come," he said.
Charlo was in control with a patient style and allowed Rosario to come forward. But the Dominican was more cautious in the seventh.
In the eighth round Charlo jabbed to the head and then jabbed hard to Rosario's stomach. The Dominican fighter dropped down on his seat as if felled by a gun shot. He could not get up and convulsed while on the floor. The referee Harvey Dock counted him out at 21 seconds of round eight.
"That jab that got to him must have landed in a vital point," said Charlo after the fight. "I hope he recovers and bounces back."
Charlo now has three of the four major super welterweight world titles.
WBC Super Bantamweight Title
Luis Nery (31-0, 24 KOs) captured the WBC super bantamweight title by unanimous decision over fellow Mexican Aaron Alameda (25-1, 13 KOs) in a battle between southpaws. The war between border town fighters was intense.
Nery, a former bantamweight world titlist, moved up a weight division and found Alameda to be a slick southpaw with an outstanding jab. At first the Tijuana fighter was a little puzzled how to attack but found his groove in the fourth round.
But Alameda, who fights out of Nogales, Mexico, began using combinations and finding success.  A crafty counter left uppercut caught Nery charging in a few times, but he managed to walk through them.
In the final two rounds Nery picked up the action and increased the pressure against the slick fighting Alameda, He forced the Nogales fighter to fight defensively and that proved enough to give the last two rounds for Nery and the victory by unanimous decision. The scores were 115-113, 116-112 and 118-110 for Nery who now holds the WBC super bantamweight world title. He formerly held the WBC bantamweight title.
Roman Wins
Danny "Baby-Faced Assassin" Roman (28-3-1, 10 KOs) managed to rally from behind and defeat Juan Carlos Payano (21-4, 9 KOs) in a battle between former world champions in a nontitle super bantamweight clash. It wasn't easy.
Once again Roman fought a talented southpaw and in this fight Payano, a former bantamweight titlist, moved up in weight and kept Roman off balance for the first half of the fight. The jab and movement by the Dominican fighter seemed to keep Roman out of sync.
Roman, who fights out of Los Angeles, used a constant body attack to wear down the 35-year-old Payano and it paid off in the second half. Then the former unified world champion Roman began to pinpoint more blows to the body and head. With seconds left in the 12th and final round, a left hook delivered Payano down and through the ropes. Sadly, the referee missed the knockdown. It didn't matter as all three judges scored it identical at 116-112 for Roman after 12 rounds.
"I made some adjustments and picked up the pace and got the win," said Roman who formerly held the WBA and IBF super bantamweight world titles.
Photo credit: Amanda Westcott / SHOWTIME
Check out more boxing news on video at the Boxing Channel 
To comment on this story in the Fight Forum CLICK HERE
Jermall Charlo UD 12 Derevyanchenko; Figueroa and Casimero Also Triumphant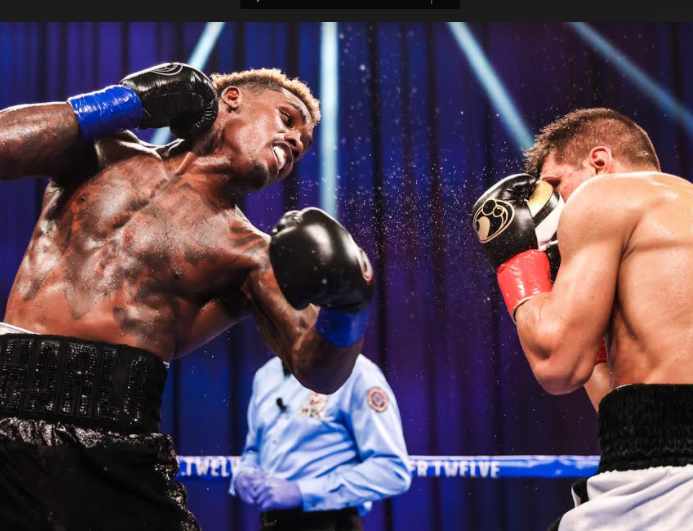 Jermall Charlo UD 12 Derevyanchenko; Figueroa and Casimero Also Triumphant
The Mohegan Sun Casino in Uncasville, Connecticut, was the site of the first pay-per-view boxing event in the United States since the Fury-Wilder rematch on Feb. 22. There were six fights in all, five of which were title fights and the other a title-eliminator. They were divided into two tiers but bundled into a package that cost approximately a dollar a round with a facile intermission tossed in at no extra charge.
The headline attraction of the first "three-pack" – and the most anticipated fight of the evening – found WBC world middleweight champion Jermall Charlo defending his title against Sergiy Derevyanchenko. The Ukrainian gave Gennady Golovkin a hard tussle when they fought in November of last year at Madison Square Garden – GGG won a unanimous decision but the scores were tight and many thought Derevyanchenko deserved the decision – and the expectation was that tonight's match would also be very competitive.  But it really wasn't although the rugged Derevyanchenko rarely took a backward step.
The fight went the distance and there were no knockdowns, but Charlo buckled his knees at the end of round three and Derevyanchenko ended the fight with cuts above both eyes. The judges had it 118-110, 117-111, and 116-112.
With Canelo Alvarez apparently headed to 168 and GGG showing his age at 38, one can make a strong case that the undefeated 30-year-old Jermall Charlo (31-0, 22 KOs) is now the top middleweight in the world. Derevyanchenko, who was 23-1 in the semi-pro World Series of Boxing before turning pro, saw his pro record decline to 13-3 with all three losses in middleweight title fights.
—
The middle fight of the first tier was a lusty encounter between Mexican-American super bantamweights Brandon Figueroa and Damien Vazquez. Figueroa, one of two fighting brothers from the Mexican border town of Weslaco, Texas, was a huge favorite over Vazquez, a Colorado native who moved to Las Vegas as a freshman in high school and had fought extensively in Mexico where he made his pro debut at age 16. But Vazquez, the nephew of former three-time world super bantamweight title-holder Israel Vazquez, came to fight and gave a good effort until the fight turned lopsidedly against him.
In the middle rounds, Figueroa's high-pressure attack began to wear Vazquez down. Vazquez had a few good moments in rounds six and eight, but when his right eye began swelling from the cut above it, he was fighting an uphill battle. He took a lot of punishment before referee Gary Rosato halted it at the 1:18 mark of round 10.
Figueroa, 23, successfully defended his WBA 122-pound title while improving his record to 21-0-1 with his 16th KO. Vazquez declined to 15-2-1.
—
The lid-lifter was a WBO bantamweight title defense by John Riel Casimero with Duke Micah in the opposite corner. Micah, from Accra, Ghana, came in undefeated at 24-0, but Casimero had faced a far stronger schedule and was a substantial favorite.
A Filipino who was been training in Las Vegas under Bones Adams, Casimero took Micah out in the third round. The Brooklyn-based Micah was somewhat busier in the opening frame, but the tide turned quickly in favor of the Filipino. Casimero hurt Micah with a left hook in round two and went for the kill. He wasn't able to finish him, but Micah was on a short leash and referee Steve Willis was quick to step in when Casimero resumed his attack after the break. The official time was 0:54.
Casimero (30-4, 21 KOs) was defending the title he won last November with a third-round knockout of favored Zolani Tete in Birmingham, England. He was slated to fight this past April in Las Vegas against Naoya Inoue, but that fight evaporated as a result of the coronavirus. After the bout, Casimero called out Inoue (and others): "I'm the real monster," he said. "Naoya Inoue is scared of me. You're next. I would have knocked out anyone today. If Inoue doesn't fight me, then I'll fight Guillermo Rigondeaux, Luis Nery, or any of the top fighters."
Check back shortly for David Avila's summaries of the remaining fights.
Photo credit: Amanda Westcott / SHOWTIME
Check out more boxing news on video at the Boxing Channel 
To comment on this story in the Fight Forum CLICK HERE
Mairis Briedis and Josh Taylor Impress on a Busy Fight Day in Europe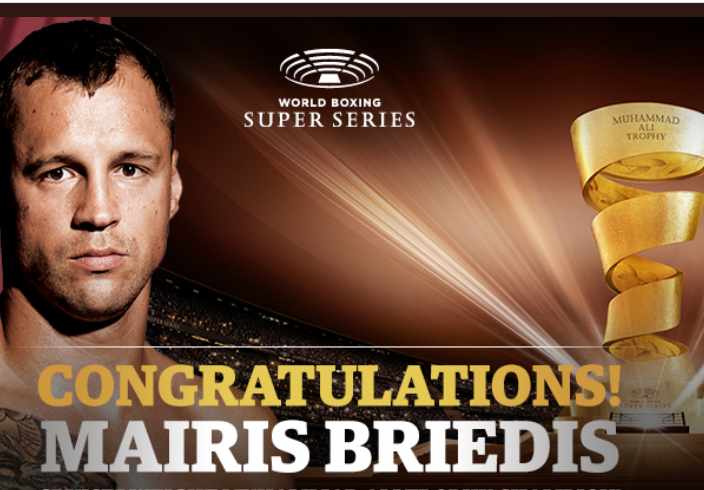 In the busiest weekend of boxing thus far in 2020, there were fights of note all over the map in Europe. The most compelling was held at the Plazamedia Broadcasting Center in Munich where the long-delayed WBSS cruiserweight final pit IBF world cruiserweight title-holder Yuniel Dorticos against Mairis Briedis. Both had only one loss on their ledger, that coming in a semifinal of Season One of the WBSS tourney.
Heading in, Briedis was recognized as the more well-rounder boxer. Dorticos had a style somewhat similar to Deontay Wilder, meaning that he was over-dependent on his big right hand. It figured that Briedis would fight with extreme caution, using his faster hands and superior footwork to keep out of harm's way, but to the contrary he wasn't afraid to trade with Dorticos and actually landed the harder punches. At the end, he captured the IBF belt and the more coveted Muhammad Ali Trophy with a majority decision. The judges had it 117-111, 117-111, and a confounding 114-114.
The first fighter from Latvia to win a world title, Briedis (27-1, 19 KOs) is now a two-time world cruiserweight champion. He previously held the WBO cruiserweight belt, but vacated it rather than adhere to the organization's mandate that he give Krzysztof Glowacki a rematch. (Their first fight, a TKO 3 for Briedis, was very messy and he was fortunate that he wasn't disqualified.) Dorticos, the Cuban defector, returns to his adopted home in Miami with a 24-2 record.
Briedis, 35, may own only one piece of the world cruiserweight title, but at the moment he is clearly the topmost fighter in the division.
York Hall, London
Apinun Khongsong's first engagement outside the Orient didn't go well for him. The 24-year-old Thai boxer with an Muay Thai background was out of his element against WBA/IBF champion Josh Taylor who dismissed him in a hurry with a "solar plexus punch" that would have made Bob Fitzsimmons proud. The punch from the left-handed Scotsman sent Khongsong to the canvas writhing in pain and he was down for several minutes before he was able to stand upright. The official time was 2:41 of the opening round.
Taylor, the Tartan Tornado, was making his first start since October of last year when he won a 12-round majority decision over Regis Prograis in a Fight of the Year candidate. His next fight may be a full unification of the 140-pound belt with Jose Carlos Ramirez in the opposite corner. Both he and Khangsong entered today's fight with 16-0 records, but Taylor, who scored his 13th knockout, was in a different league.
Undercard Bouts of Note
In a 10-round bantamweight contest, Charlie Edwards (16-1, 1 NC, 6 KOs) out-classed British countryman Kyle Williams (11-3). The referee awarded Edwards nine of the 10 rounds. Edwards, 27, previously held the WBC 112-pound title but was forced to relinquish it because he had trouble making the weight.
York Hall has been a jinx for David Oliver Joyce, the 33-year-old super bantamweight from Mullinger, Ireland, who is 0-2 in this building and 12-0 elsewhere. Joyce failed to last three rounds today in his match with Ionut Baluta. A Romanian who fights out of Bilbao, Spain, Baluta knocked Joyce down with a big left hook and then swarmed all over him when he arose, forcing the referee to intervene. The official time was 1:49 of round three.
It was the sixth straight win for Baluta (14-2, 3 KOs) and his third straight over a once-beaten opponent.
Riga, Latvia
Riga native Richard Bilotniks successfully defended his version of the European 175-pound title and advanced to the finals of the Golden Contract Light Heavyweight Tournament with a one-sided 10-round decision over Hosea Burton. A late bloomer who won only four of his first eight pro fights, Bilotnicks 30, won every round on one of the scorecards and eight rounds on the others to advance record to 17-5-1. Burton, who lost for the second time in 27 starts, let down his cousin Tyson Fury who flew to Latvia to cheer him on.
Struer, Denmark
At an arena in the city of Struer, hometown lass Dina Thorslund had a harder time than expected with Nina Radovanovic, but the Serb got no respect from the judges who didn't see fit to award her a single round. Thorslund (15-0, 6 KOs) successfully defended her WBO world 122-pound title.
In the chief undercard bout, heavyweight Filip Hrgovic (11-0, 9 KOs) moved a step closer to a world title opportunity with a second-round blast-out of late sub Alexandre Kartozia. There was no need to count when Hrgovic leveled Kartozia with a big right hand.
Check out more boxing news on video at the Boxing Channel 
To comment on this story in the Fight Forum CLICK HERE