Floyd Mayweather vs. Andre Berto Final Press Conference Quotes
FLOYD MAYWEATHER AND ANDRE BERTO FINAL PRESS CONFERENCE QUOTES AT MGM GRAND IN LAS VEGAS
"HIGH STAKES: MAYWEATHER VS. BERTO" 
This Saturday, Sept. 12, Live on SHOWTIME PPV®
Photo From Idris Erba/Mayweather Promotions
LAS VEGAS (Sept. 9, 2015) –Floyd Mayweather and Andre Berto participatedin the finalpress conference for"HIGH STAKES: Mayweather vs. Berto" on Wednesday at the David Copperfield Theatre at the MGM Grand ahead of their major showdown taking place this Saturday, Sept. 12 live on SHOWTIME PPV(8 p.m. E/5 p.m. PT) from the MGM Grand Garden Arena.
In what is expected to be the final fight of his illustrious 19-year career, boxing superstar and pound-for-pound king Mayweather (48-0, 26 KOs) will put his undefeated record and WBC and WBA Welterweight World Championships on the line when he faces power-punching, two-time welterweight world champion Berto (30-3, 23 KOs). Three days before they meet in the ring, the two fighters and their camps were business-like and confident as they took their turns at the podium.
Here is what the fighters and executives had to say Wednesday:
FLOYD MAYWEATHER
"We've been here so many times. I know talking doesn't win fights. I know trainers don't win fights. It comes down to the two competitors. I'm always prepared, physically and mentally. We have a remarkable game plan.
"I want to thank everyone that has covered this event and my career over 19 years. Whether it was a good story or a bad story, you guys wrote about me and kept me relevant. That's how I was able to do record breaking numbers.
"Training camp was unbelievable, like always. I was asked if I'd be able to get in top condition after the Pacquaio fight and I absolutely did. No matter who I chose, the critics would have something to say.
"I know what it takes for a fight at this magnitude. No matter what anyone says, it comes down to the two competitors and I know what I can do. One thing I can do, I can fight.
"When we talk about landing the highest percentage, I'm that guy. When we talk about doing the highest gate or PPV, I'm that guy.
"I can't say I'm going out 49-0 because you can't overlook anyone.
"Every fight played a major key. It's not just the intelligence; it's the sharp mind, the good chin, the tremendous heart. I never overlooked an opponent. I trained for every fighter the same way, by pushing myself. I believe in my skills and I believe in my talent. I've been in there with the best, and the results are always the same.
"You have fighters that may be faster than me, there are fighters that may hit harder than me, you have fighters who are very athletic, but you don't have a fighter who can make adjustments like me. You don't have fighters that can be on my level mentally.
"It's never personal for me, it's always business. Everyone fights for what they fight for. My thing is this; I keep my eyes on the prize. I don't focus on things outside the ring. I focus on the guy in front of me.
"You get to where you get to by staying focused. My dream was to be the best. No matter what happens Saturday, when it comes to boxing, I'm the best at this.
"Some guys wanted to rush me, well what's plan B? Pacquiao could set traps for other fighters, but he couldn't set traps for Floyd Mayweather. You need a plan A, a plan B and a plan C. I've never beaten a fighter with my plan A.
"Berto you've had a hell of a career. You're a tough fighter and competitor. It's obvious you've done something right. My thing is, just put guys in front of me, and we'll rate him after they face me.
"To be in the sport of boxing and make upwards of $800 million, my team has done their job. I've never focused on things on the outside. I've never put anything before boxing. At 4:30 in the morning when my opponent is sleeping, I'm working. I don't want to leave anything in this sport.
"No fighter in history has been in bigger fights than me. No fighter in history has beat more champions than I've beat. But it's not over yet. I'm going to push myself. I can go to places where no fighter can go mentally.
"The sport of boxing needs this. Berto is a tough, young, hungry fighter and that's what we need to bring the best out of us. I'm going to come forward and be Floyd Mayweather. Trainers and fighters try to find ways to throw fighters off, but I know what to do when it's all said and done.
"I want my legacy to be of a remarkable fighter inside the ring and a great businessman outside of it.
"We're going for the knockout. I'm pretty sure he's going for the knockout. It's going to be something special."
ANDRE BERTO
"It's funny, when it comes to the media and critics. They're not in that gym working and knowing the feeling of being a fighter. They don't know the miles we run and the sacrifices that we have to make to become a world champion or come up to this level of fight.
"This camp has been intense. It has definitely taken me up to levels that I've never achieved. We've left no stone unturned, I've busted my ass for the last couple months.
"Anybody that steps in the ring, I have to respect. When it's time to fight, I'm coming for my respect. Saturday night is going to be a good one I promise you.
"I've given my whole life to this sport. I've come in and I've entertained the people. That's what I do. That's why I came into this game. I've been counted out from day one coming from where I come from.
"I'm just coming for my respect. I'm coming for everything that I deserve.
"At the end of the day, I have to be able to take my game to a whole other level. Sometimes you need that opponent to get you to that point, and Floyd is the one.
"He has a great IQ, but one shot can change it all.
"You can be smart, you can be fast, but this is boxing.
"Floyd is sharp of course, but I have certain tools that I believe will make it a real difficult Saturday night. We're going for the knockout. You definitely don't want to miss it.
"This is huge for Haiti. The country of Haiti is just elated right now and Saturday night they will definitely be in the building. Saturday night will be historical for the country. This is the first time that an individual has been on this level to represent the country.
FLOYD MAYWEATHER SR., Mayweather's Father & Trainer
"I see a real fight on Saturday. Don't get me wrong because I don't know what's going on but I really think Floyd is coming to fight.
"I know Berto's coming to fight. One thing I've seen from Berto is that he has no defense – and he's messing with a defensive whiz.
"I definitely think Floyd will trap him somewhere along the way.
"Floyd respects Berto and is not overlooking him, but he might just stop him, it's very possible.''
VIRGIL HUNTER, Berto's Trainer
"There are some things that a lot of people don't understand. When you have two guys who were born in situations where they try to prove who the king of the school is, you get some real fights.
"I think about Joe Frazier in the "Thrilla in Manila", when people thought he was done, but he fought over his head. Does Andre Berto have that capability? Yes, of course he does. We see it all the time in sports. There are nights when it just happens. Andre Berto is going to take it over his head and that's what he intends to do and what he has to do.
"We can't match his IQ, but there are other elements that make a successful fight. There is something brewing in the air. I've been around a long time and I know when something is personal. You better tell your people to tune-in for this fight. Trust me; it's going to be a rumble.
"I've seen Floyd's Plan B. I've seen him go to war. I've seen him rumble with guys bigger than him. I'm not going to be swayed by his skill. This fight is going to be fought from way deep down."
LEONARD ELLERBE, CEO of Mayweather Promotions
"We are thrilled that this fight night will be filled with high stakes matchups all night. We have a tremendous fight card. Of course, the main event has the highest stakes of them all as Andre Berto will be taking on the undefeated Floyd Mayweather."
STEPHEN ESPINOZA, Executive Vice President and General Manager, SHOWTIME Sports
"Six fights in 30 months. Floyd, they said you wouldn't do it, they said you couldn't do it and once again you proved them wrong. The first five fights yielded nearly 10 million PPV buys, $750 million in PPV receipts and it's all led here to fight number six, fight number 49.
"19 years undefeated, 17 consecutive years as world champion, 16 consecutive opponents who are former or current champions. On Saturday night none of that matters. Andre Berto isn't fighting a legacy or a record book or history, he's fighting a man, and men can lose.
"The conventional wisdom is that Floyd is going to win this fight, but conventional wisdom said that the first Maidana fight would be easy for Floyd. It said Canelo would be Floyd's toughest challenger and it said Pacquiao could beat Mayweather. It didn't account for Hasim Rahman or Buster Douglas and it certainly won't account for Andre Berto's heart or desire to rewrite boxing history on Saturday night.
"Like you, I don't know what will happen on Saturday night. I do know that Berto is more athletic than any fighter Floyd has fought recently. One thing I do know, it's not going to be boring. When you have fighters like our entire PPV card has, it's a night not to be missed."
RICHARD STURM, President of Entertainment & Sports for MGM Resorts International
"We're thrilled to be a part of this championship fight between Mayweather and Berto that will kick off a sensational fall lineup of entertainment at MGM. We all look forward to history as Floyd looks to end his career at 49-0 and equal the record of Rocky Marciano that has stood since September 1955.
"We are pleased to welcome back Andre Berto. Berto will take on one of the sport's greatest champions and there is no doubt he will be prepared for the challenge."
BOB BENNETT, President of the Nevada State Athletic Comission
"There is no doubt that any commission in the world would be elated to have this fight, just like we are. We're very appreciative of Floyd Mayweather for having this show in our backyard. The NSAC actually commissioned Floyd's first fight 19 years ago and to date we have regulated 25 out of 49 of Floyd's fights come this Saturday night when he tries to tie Rocky Marciano's record.
"It's been our honor and privilege to regulate these fights. Our officials spend a lot of time in training and we're ready to go to work come Saturday night."
A Big Upset in London as Oleksandr Usyk Outclasses Anthony Joshua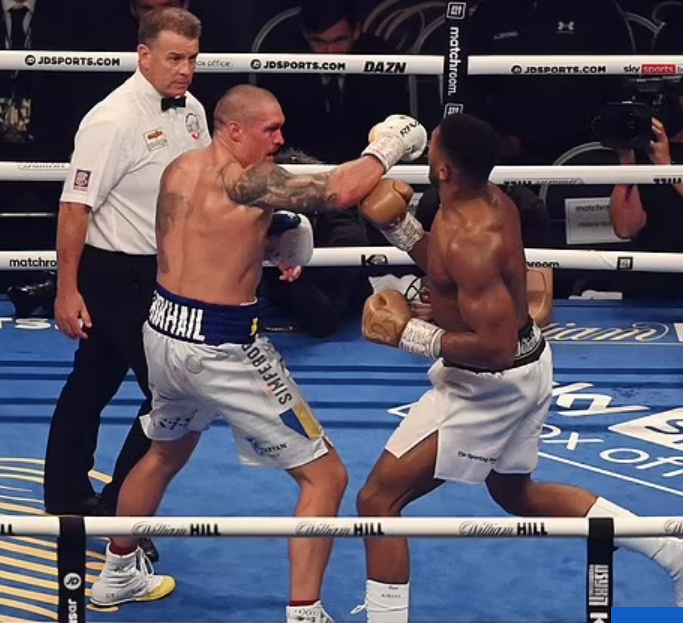 Oleksandr Usyk gathered up all four meaningful cruiserweight belts before leaving the division. Tonight, on a special night at London's Tottenham Hotspur Stadium, he acquired three of the four meaningful heavyweight belts to add to his rich collection. In a battle between former Olympic gold medalists, the 34-year-old Ukrainian cashed his ticket to the Hall of Fame (and on the first ballot) with a unanimous decision over Anthony Joshua. There were some strange scorecards turned in earlier in the evening so it was no sure thing that the judges would get it right, but they did. Usyk won by tallies of 117-112, 116-112, and 115-113.
There were no knockdowns but this was an entertaining fight with momentum shifts and the goosebumps that come whenever an underdog is acquitting himself well against a bigger man more capable of turning the tide with one punch.
Usyk, who improved to 19-0 (13) started strong. With his superior hand and foot speed, he actually looked a level above Joshua. But Usyk's pace slowed in the fifth and Joshua started closing the gap. Usyk had a strong seventh round, but Joshua came back strong in the next stanza and it seemed as if he had more fuel in his tank and was capable of a Garrison finish. But no, Usyk closed strong and ended the match with a flourish.
Joshua, whose ledger declined to 24-2 (22), was expected to land the more damaging punches but it was Usyk, who suffered a cut around his right eye, whose punches were more damaging. At the end, Joshua's right eye was swollen nearly shut.
Joshua's defeat spoiled a lucrative match with his countryman Tyson Fury (assuming Fury gets past Deontay Wilder). That match will likely come to fruition someday, but it won't be quite the mega-fight that it would have been under "normal" circumstances.
Co-Main
Lawrence Okolie drew a softie for the first defense of his WBO world cruiserweight title that he won with a smashing performance over Krzysztof Glowacki. In the opposite corner was Montenegro's Dilan Prasovic who came in undefeated (15-0) but against suspect opposition and was out of his element. Okolie stopped him in the third round, improving his ledger to 17-0 (14 KOs).
A former McDonald's burger-flipper who is co-managed by Anthony Joshua and trained by Shane McGuigan, Okolie decked Prasovic with a right hand in the second round and terminated the fight in the next frame with a body punch that didn't appear to land especially hard. The official time was 1:57.
Standing 6'5 ½" with an 82 ½-inch reach, the ever-improving Okolie hopes to unify the division before moving up to heavyweight. He may out-grow the cruiserweight class before a unification fight presents itself.
Other Bouts
Liverpool's Callum Smith, in his first fight as a light heavyweight and his first fight with Buddy McGirt in his corner, rolled back the clock to the days when he was running up a string of fast knockouts and sent Lenin Castillo to dreamland with a booming right hand in the second round. This was a scary knockout. Castillo's leg twitched as he lay on the canvas. He was removed from the ring on a stretcher and taken to a hospital where, according to promoter Eddie Hearn, he was fully responsive.
Smith (28-1, 20 KOs) was making his first start since losing to Canelo Alvarez in a match in which he was reluctant to let his hands go. Castillo, from the Dominican Republic, had previously taken Dmitry Bivol the distance (albeit while losing virtually every round) in a bid for Bivol's WBA 175-pound crown. He was 21-3-1 heading in and hadn't previously been stopped.
Chicago middleweight Christopher Ousley (13-0, 9 KOs) stepped up in class and won a 10-round majority decision over former world title challenger Khasan Baysangurov (21-2). Baysangurov, a Ukrainian, did well in the late rounds but it was too little, too late. The judges had it 95-95 and 97-94 twice.
While Ousley, 30, didn't look especially sharp, this was good win for him. He had been working with trainer Manny Robles and Anthony Joshua is one of his sponsors. Baysangurov had won four straight since suffering an 11th-round stoppage at the hands of Rob Brant.
Check out more boxing news on video at the Boxing Channel
To comment on this story in the Fight Forum CLICK HERE
Boxing Odds and Ends: The Russian Lion, an Exemplary Judge and More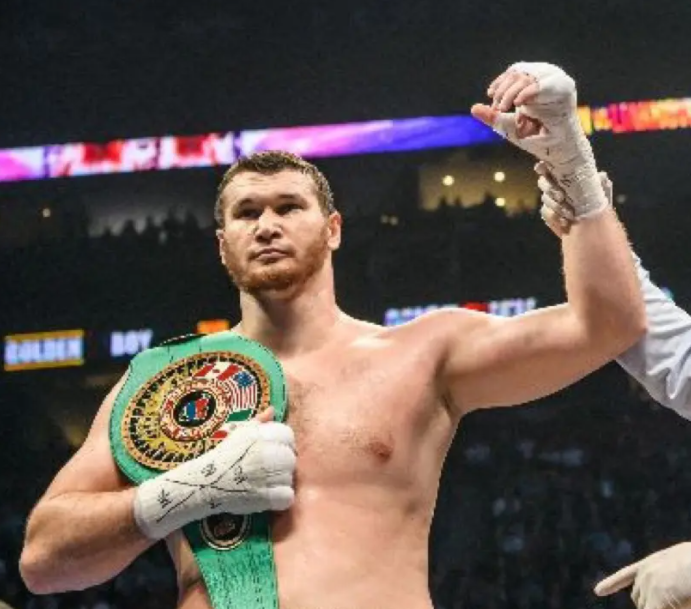 Boxing Odds and Ends: The Russian Lion, an Exemplary Judge and More
Arslanbek Makhmudov, says his promoter Camille Estephan, is the most feared heavyweight in the world. Makhmudov did nothing to discount that opinion last night (Friday, Sept. 23) in Quebec City where he needed only one round to dismiss Erkan Teper. That was his 13th knockout in as many pro starts. He's answered the bell for only 22 rounds.
Makhmudov is ponderous as is to be expected for a boxer who stands 6'5 ½" and weighs 260, but what he lacks in foot speed he makes up in hand speed and he carries power in both of his hands. Teper came out intent on pressing the action, but Makhmudov quickly had him fighting off his back foot. Teper was on the canvas three times in all — the second knockdown could have been ruled a slip – and his corner threw in the towel as soon as the first round ended.
The outcome wasn't totally unexpected although Teper, a 39-year-old German of Turkish descent, brought a 21-3 record and had gone 12 rounds on several occasions. In his previous match which was held at a Holiday Inn in Mexico, Makhmudov stopped Czechoslovakian slug Pavel Sour in 37 seconds.
Makhmudov's nickname is "Lion." He's hardly the first Russian to be cloaked with this cognomen. The most celebrated of the Russian lions was George Hackenschmidt, a wrestler who rose to prominence in the first decade of the twentieth century. In those days, pro wrestling was legitimate, or at least quasi-legitimate, and the biggest matches attracted heavy betting.
At age 32, it's past time for Makhmudov to ramp up his level of competition. He and his management say he's ready to tackle any heavyweight in the world.
In the co-feature on the Quebec City show, Christian Mbilli stopped Ronny Landaeta in the third frame of a 10-round super middleweight match. Mbilli, born in Cameroon, represented France in the 2016 Olympics. Akin to Makhmudov, he came to Canada to launch his pro career.
Mbilli improved to 19-0 (18). He won a one-sided, 8-round decision over sturdy Mexican veteran Humberto Ochoa on the lone occasion when he was forced to go the distance. Landaeta, a 38-year-old Spaniard, brought an 18-3 record and hadn't previously been stopped.
We would love to see Arslanbek Makhmudov fight the winner of the forthcoming battle between Efe Ajagba and Frank Sanchez and we would love to see Christian Mbilli in the ring with Edgar Berlanga. Of course, at the moment those are just fantasy fights not likely to happen anytime soon, if ever.
—
It's old news now, but a boxing judge took to social media to apologize for a bad scorecard. Who ever heard of such a thing?
The fight in question was the WBC 130-pound title fight between Oscar Valdez and Robson Conceicao staged in Tucson on Sept. 10.
A common opinion expressed by those tuning in on TV was that Conceicao was entitled to a draw, notwithstanding the fact that he had a point deducted for hitting behind the head, a questionable call. But the judges disagreed. Two had it 115-112 for Valdez and the other favored Valdez by a 117-110 score.
The outlier was Stephen Blea, a veteran arbiter from Denver. After reviewing a tape of the fight, Blea decided that his unpopular 117-110 tally was too generous to the defending champion and felt compelled to offer an apology. "I have decided to reach out to my NABF/WBC ring officials committee to undergo a thorough training and review program and will not accept any championship assignments until I complete the process," he wrote. "I am an honorable man with profound, love, knowledge and respect to the sport. I am sorry for having brought unnecessary controversy to such a sensational fight."
Blea noted that he had judged over 200 fights and refereed over 500 with no controversy and that his assignments had taken him around the world. A theology major in college, Blea has been a long-time supporter of amateur boxing in Colorado and had served as the head boxing coach of the Denver Police Department.
Boxing writer Patrick L. Stumberg had this reaction to Blea's letter of contrition: "We've seen tons of judges turn in inexplicably bad scorecards and just keep on trucking like nothing happened, so this is very refreshing."
Indeed. The Boxing Writers Association of America has intermittently handed out an award for "Honesty and Integrity" at their annual banquet. Stephen Blea would seem to be a worthy nominee.
—
Heavyweight boxers just keep getting bigger. Top Rank's newest signee, Antonio Mireles, stands six-foot-nine and weighs 265 pounds.
Mireles, 24, upset top-seeded Jeremiah Milton at the 2020 U.S. Olympic Trials (held in December of 2019 in St. Charles, Louisiana) but didn't get the chance to compete in Tokyo. The super heavyweight slot went to Team USA veteran Richard Torrez Jr who went on to win a silver medal.
Mireles hails from Des Moines, Iowa, a state that has produced a slew of outstanding wrestlers over the years but very few professional boxers. Only one Iowa man has fought for the world heavyweight title and he didn't fare very well. Ron Stander, the "Bluffs Butcher" from Council Bluffs was butchered by Smokin' Joe Frazier in 1972. Stander was a bloody mess when the ring doctor waived the fight off after four rounds.
Antonio Mireles has been training at Robert Garcia's boxing academy in Oxnard, CA. He is penciled in to make his pro debut on the Oct. 15 Top Rank show in San Diego anchored by Emanuel Navarette's WBO world featherweight title defense against Joet Gonzalez.
Check out more boxing news on video at the Boxing Channel
To comment on this story in the Fight Forum CLICK HERE
The Hauser Report: Ken Burns Explores Muhammad Ali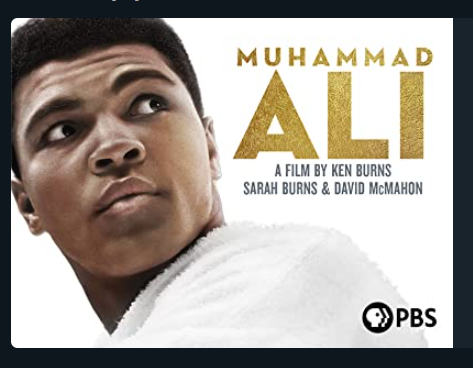 "I wanted to write about Muhammad Ali," Wilfrid Sheed told me years ago when we were discussing the text that Sheed had written for an elaborate coffee-table book. "He's one of those madonnas you want to paint at least once in your life."
Ali is also a subject that filmmakers want to make documentaries about. More documentaries have been fashioned about Ali than any other athlete ever.
There was a time when Ali was the most famous, most recognizable, most loved person on the planet. He was an important social and political figure in addition to being a great fighter. One day after Cassius Clay (as he was then known) beat Sonny Liston to claim the heavyweight crown, he met with reporters and told them, "I don't have to be what you want me to be. I'm free to be what I want to be and think what I want to think."
At a time when the heavyweight championship of the world was the most coveted title in sports, that lit a spark that grew into a raging fire. Commenting on the impact of Ali's refusal to accept induction into the United States Army at the height of the war in Vietnam, Islamic scholar Sherman Jackson observed, "You can't teach that kind of thing in lectures and books. That kind of thing has to be modeled."
Now Ken Burns – one of America's most honored filmmakers – has thrown his hat into the ring. Burns rose to prominence in 1990 when PBS aired his critically-acclaimed eleven-hour documentary on the Civil War. Since then, he has tackled subjects ranging from baseball, Mark Twain, and jazz to World War II, the war in Vietnam, and the Brooklyn Bridge. In 2005, he explored the life and times of Jack Johnson in a 3-1/2-hour documentary entitled Unforgivable Blackness. Now Burns has returned to the sweet science with Muhammad Ali – an eight-hour opus co-directed and written with Sarah Burns (his daughter), and David McMahon (her husband).
Muhammad Ali unfolds chronologically and is divided into four parts designated as "rounds" – a questionable designation since Ali was hardly a four-round fighter.
Round One: The Greatest (1942-1964) details Cassius Clay's upbringing in Louisville through his first fight against Sonny Liston with considerable exposition of the Nation of Islam and the allure that it had for Clay.
Round Two: What's My Name (1964-1970) covers Ali at his peak as a fighter [Liston II through Ali-Folley with Ali-Quarry I tacked on]. Also, Ali and the draft.
Round Three: The Rivalry (1970-1974) takes viewers from Ali-Bonavena, through Ali-Frazier I and II up to an introduction of Don King and the stirrings of Ali-Foreman.
Round Four: The Spell Remains (1974-2016) begins with "The Rumble in the Jungle" and lays out the remaining forty-two years of Ali's life.
In the interest of full disclosure, I should note that I was one of several people asked by the Corporation for Public Broadcasting in 2018 to review Burns's proposal for the documentary and answer a series of questions keyed to whether or not CPB should fund it. Given the excellence of Burns's work, I began my response with the thought, "It feels presumptuous to be critiquing a proposal by Ken Burns," and added, "I have no doubt that Ken Burns will do a masterful job in the areas that he covers. His track record speaks for itself. Muhammad Ali is important. And Mr. Burns's proposal, coupled with his reputation for excellence as a filmmaker, promise a comprehensive entertaining look at his subject."
The finished documentary bears out that promise. It's thorough and nicely put together. Burns lays out both the positive aspects and also the ugly underside of the Nation of Islam without sugarcoating the principles that Ali espoused at a time in his life when he adhered to the teachings of Elijah Muhammad. The glorious and ultimately tragic arc of Ali's ring career is well told. The cruelties that he visited on Joe Frazier outside the ring and Ali's profligate womanizing are honestly addressed. The archival footage and still photos are excellent.
Keith David's narration is smooth. Some of the talking heads are exceptionally good.
Former WBO heavyweight beltholder Michael Bentt is particularly insightful in describing Ali's ring technique.
Professor and media commentator Todd Boyd is a welcome voice. Speaking about Ali's taunting of Joe Frazier, Boyd declares, "Ali is making the sort of jokes that racist white people would make. I feel like, in that instance, he used his powers for evil as opposed to using them for good."
Khalilah Ali (Muhammad's second wife) and two of his daughters, Rasheda and Hana, provide valuable personal insights. Veronica Porche (Muhammad's third wife) is a particularly welcome inclusion.
Journalist Salim Muwakkil makes a solid contribution. And Burns gives ample time to three wise men who covered Ali for much of his journey – journalists Robert Lipsyte, Jerry Izenberg, and Dave Kindred.
Kindred is the most lyrical of the three. Recalling Ali-Frazier III, he states, "They turned each other into monsters. That's boxing at its cruelest. That's what the game is. And they were at their best cruelest that night." Later, commenting on Ali's horribly debilitated physical condition, Kindred observes, "The game that we asked him to play to entertain us has left him looking like this."
On the minus side, the documentary is too long. Its eight hours drag in places. Some of the material (e.g., the extensive film footage from Ali's amateur career and some of his professional fights) could have been shortened with no loss in quality.
More significantly, Burns offers no new interpretations of Ali.
In responding to the Corporation for Public Broadcasting questionnaire, I advanced the thought, "There has been an endless stream of Ali documentaries over the past half century. More are currently in production. For maximum impact and to make a maximum contribution to history, it's not enough for Mr. Burns to do what has been done before better than it has been previously done. He has to break new ground."
How could he break new ground?
"I hope," my response continued, "that Mr. Burns devotes some time to the final twenty years of Ali's life in a more than superficial way. These decades cry out for interpretation. What did Ali mean to the world over these years? Was his legacy corrupted by the calculated filing away of rough edges from his persona and the 'sanitization' of his image by CKX, ABG [two companies that owned commercial rights to Ali's name, likeness, and image], and others for economic gain? Is there still an Ali message that resonates? In memory, can Ali be a force for positive change? Is there a way to harness the extraordinary outpouring of love that was seen around the world when Ali died?"
"Round Four" of the documentary could have addressed these issues. But it didn't. The last thirty-five years of Ali's life (everything after the end of his ring career) are compressed into twenty-five minutes. And much of this time is devoted to Ali lighting the cauldron at the 1996 Atlanta Olympics.
The 1996 Olympics were an important marker in the public's embrace of Ali. But they were also the point at which corporate America rediscovered Muhammad and the sanitization of his image for economic gain began. This was evident in everything from subsequent superficial advertising campaigns to the 2001 feature film starring Will Smith. Burns's documentary doesn't sanitize Ali. But it doesn't talk about the sanitization either. And that sanitization was a corrosive force.
Decades ago, Alex Haley (who fashioned The Autobiography of Malcolm X with its subject) told me, "I think it's important for future generations to know who Muhammad Ali was. So, if I were to talk to a young boy about Ali today – a young boy who wasn't alive in the 1960s, who didn't live through Vietnam, someone for whom Ali is history – I'd talk to that boy about principles and pride. I'd say, 'If you really want to know about people and history in the times before you were born, you owe it to yourself to go back, not read books so much, but to go to a library where you'll have access to daily papers and read about this man, every single day for years. That might give you some understanding of who Muhammad Ali was and what he meant to his people.'"
Every single day. Day after day. For years.
Muhammad Ali's spirit is inside all of us. At its best, Ken Burns's film reminds us of how charismatic, charming, electrifying, wise, foolish, generous, loving, cruel, kind, complex, simple, and great Ali could be.
Thomas Hauser's email address is thomashauserwriter@gmail.com. His next book – Broken Dreams: Another Year Inside Boxing – will be published in October by the University of Arkansas Press. In 2004, the Boxing Writers Association of America honored Hauser with the Nat Fleischer Award for career excellence in boxing journalism. In 2019, he was selected for boxing's highest honor – induction into the International Boxing Hall of Fame.
Check out more boxing news on video at the Boxing Channel
To comment on this story in the Fight Forum CLICK HERE