The Real Main Event On Saturday Night Is….
Lethal power-puncher Gennady Golovkin, the world's best middleweight, 33-0 and thirty-three years of age out of Karaganda, Kazakhstan, meets Canadian David Lemieux, 26 years old and 34-2 in Madison Square Garden on the seventeenth of this month.
It's a good fight, and, should he win, Golovkin is on his way to becoming a great fighter. But it's not the main event.
It is receiving top billing because the main protagonist is a middleweight power-puncher and because there are people in powerful positions that believe him a possible long-haul golden-goose but the real main event is in fact the chief support, the meeting between three weight strapholder #1 pound-for-pound, 43-0 lineal flyweight champion Roman Gonzalez, a man who has more knockouts to his name than Golovkin has fights, and Brian Viloria, a former strapholder at two different weights, 36-4 and a former TBRB top-ten pound-for-pounder. Viloria exited the pound-for-pound line-up only after a loss to the monstrous Juan Francisco Estrada, currently ranked #7 on the same list.
While Gonzalez and Golovkin are the main attractions and while Gonzalez dominates Golovkin in terms of prestige and titles, of the respective opponents, Viloria is also the more prestigious then. In 2011, when Lemieux was losing to the likes of Marco Antonio Rubio and Joachim Alcine, Viloria was knocking out beasts like Giovani Segura and Omar Romero. Being frank: Golovkin is in Gonzalez's class as a fighter but clearly to be ranked below him pound-for-pound while, as opposition, Viloria is by far the more accomplished of the two opponents.
That said, arguments that Lemieux has more momentum than Viloria going in are sound. "The Hawaiian Punch", continues to rebuild in the wake of his hurtful 2012 loss to Estrada, after which the first thing he did was take a whole year off before returning against granite-chinned Puerto Rican journeyman Juan Carlos Herrera. The fight was not a satisfying one with Viloria boxing and moving and potshotting his way to a wide unanimous decision. My initial thoughts were that Viloria had become gun-shy, but he looked more alive if not quite himself against Jose Zuniga in the summer of 2015, stopping the Mexican with a body attack after five. Bodyshots, too, were the formula for his fourth round stoppage of Armando Vazquez, but it was clear that Viloria was now treading water; that perhaps the seemingly overstated criticism of him from earlier in his career, namely that he was not always necessarily a natural fighter or one that could be relied upon to be switched on to his boxing in the manner of most top fighters, seemed worth recalling.
Then came his most recent fight, his June meeting with Omar Soto.
This fight was significant not just because, despite losing a two round blow-out to Roman Gonzalez in 2011 that sent him into a tailspin of form so bad he was no longer ranked, Soto was a step up from the very limited competition he had been meeting, but also because it was a rematch. Soto had pushed Viloria to a split decision back in 2010 in a fight I thought the Mexican had won with steady pressure and a dogged persistence in taking any and all punching opportunities. It was clear his style troubled Viloria and certainly, despite Soto's drop in form, this was an interesting test for the American.
Viloria looked almost frightening against a clearly compromised Soto. He looked fast, angry, balanced and heavy-handed. Soto was forced to take a knee three times in 119 seconds, twice by right hands, once with a scything left-hook to the liver. Soto failed to make it out of the first round for the very first time.
First round knockouts appear often as mirages. One thinks one knows things that one does not, sometimes, behind a first round knockout. It was a first round knockout of Floyd Patterson by Sonny Liston that told us that Liston could not be beaten, least of all by a lightweight mimic like Cassius X, soon to be Muhammad Ali. In fact, Liston was already a past-prime alcoholic who was ready to be taken. Mike Tyson was only twenty months short of his destruction at the hands of James "Buster" Douglas when he flattened Michael Spinks, his private life already spinning dangerously out of control. This knockout, brutal and succinct though it was, has not answered key questions about Viloria – does he have the stamina for twelve hard rounds, does he have the stomach for another hard fight, but I don't think these are the questions at hand for his fight against Roman Gonzalez.
Returning to 2013 and Viloria's Waterloo against Estrada for a moment, the factors that made Estrada so much the master may not be present when Viloria meets Gonzalez.
Viloria landed two hard left hooks in the opening minutes but a distant warning note was already sounding. Viloria looked slow of foot. This enabled Estrada to repeatedly forage and even to audition punches until he settled on a right uppercut, no less, perhaps the hardest punch to land in such guerrilla fashion but the one that repeatedly found the target.
This is not an ability that Gonzalez has. He doesn't pounce, but rather brings the most adept pressure of any fighter currently active, with all due respect to Golovkin, who may be the second. Catching fleet-footed flyweights is perhaps the most difficult job in all of boxing and it is one at which Roman Gonzalez absolutely excels, as I wrote in my detailed accounting of the new pound-for-pound king. But he is not recreating the jack-rabbit attack executed so faultlessly by Estrada.
Once Estrada had softened Viloria up, he came inside and dominated here also, really hurting his man in the ninth round in the process. Viloria, who has an iron jaw and is as hard as nails, barely made it out of the twelfth.
Estrada couldn't get Viloria out of there, but Gonzalez is a better puncher. However, while Estrada enjoyed a huge (and generally overlooked) stylistic advantage over Viloria, Gonzalez does not. In fact, I suspect that Viloria is in the stylistic box-seat here, if he finds the right fight plan.
Viloria likes come forward fighters who wait for their turn. Gonzalez may be the best technician in the world and he is certainly capable of the unexpected but while he can counter-punch, you won't generally see him pre-counter or try to pull the trigger on an opponent who has shaped a punch. He is too excellent for this. What this means is that a fighter with the guts to attack him might get to spend a few rounds on the same plane as him.
When fighters break, Gonzalez has already beaten them. It is only a matter of time before he catches them and fillets them. When they run from the off, Gonzalez builds terrifying momentum hunting them down and wins, at worst, a lop-sided decision. What Estrada did was fight him, and fought him for every minute of every round with a wonderful mix of movement and aggression. He prevented Gonzalez getting set with his superior speed and stalled his momentum with aggression and fluidity.
In a sense, Estrada has "lain down the blueprint" in the vocabulary of the Mayweather obsessive, but I suspect it is not one that Viloria can follow. He doesn't have Estrada's speed – in fact I think Gonzalez will be the faster fighter as well as the volume puncher – and he's always struggled with that type of fighting retreat. He becomes disorganised. If he elects to box-punch for as long as he can hold the heat I think Gonzalez will stalk him down for the knockout. That's a bold prediction – dig up the Estrada fight for an example of what Viloria can swallow without effect – but it's one I stand by. If, on the other hand, Viloria strikes out to attack Gonzalez, to knock him out, and to do so early, I think he introduces enough variance, enough chaos, that such a result be possible. Viloria has excellent power when he lands right, and although he can sometimes seem strangely staid in fights of a certain nature, when he is aggressive and direct he can be devastating.
Like he was against Giovani Segura; like he was against Soto.
Of course, Gonzalez is a different matter altogether but trying to box-punch with the best box-puncher in the world and trying to move off against the best pressure fighter in the business, seems to me the greater of the evils, should Viloria be determined to win.
But if he can tap into that vein of power that surges in both his right and his left glove, if he can hurt Gonzalez early, and if he is fit, well and mentally adjusted so that he be able to maintain an attack in such circumstances, anything can happen. Whether or not Viloria and his team strike upon such a solution is another matter of course, in my experience most fighters want to believe that fighters can win boxing "their way."
Against Gonzalez, boxing his way is going to get Brian Viloria hurt, badly, in an entertaining fight. But if he can find the heart and the nerve to set sail into the storm, we might just see a shock on this weekend. At 112lbs or below, Gonzalez is always going to be the right pick, regardless of the opposition, but Viloria is not chanceless.
So, by all means enjoy Golovkin-Leminuex on Saturday – just don't be late, you might miss the main event.
Check out The Boxing Channel video "Golovkin vs Lemieux HBO PPV – Quick Results".
Canelo-Charlo Gets All the Ink, but Don't Overlook the Compelling Match-up of Gassiev-Wallin in Turkey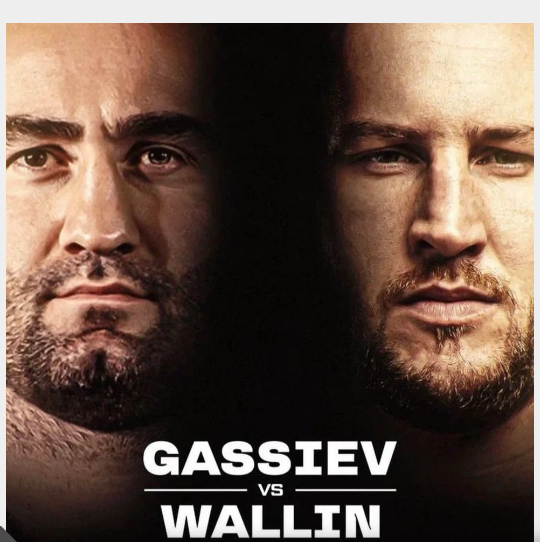 Canelo-Charlo Gets All the Ink, but Don't Overlook the Compelling Match-up of Gassiev-Wallin in Turkey
The eyes of the boxing world will be on Las Vegas this Saturday where Mexican superstar Saul "Canelo" Alvarez risks his four super middleweight title belts against unified 154-pound champion Jermell Charlo. Earlier that day at a luxury resort hotel in the city of Antalya on the Mediterranean coast of Turkey, there's a heavyweight match sitting under the radar that may prove to be the better fight. It's an intriguing match-up between former world cruiserweight title-holder Murat Gassiev and Swedish southpaw Otto Wallin, a bout with significant ramifications for boxing's glamour division.
Gassiev (30-1, 23 KOs) and Wallin (25-1, 14 KOs) have only one loss, but those setbacks came against the top dogs in the division. Gassiev was out-boxed by Oleksandr Usyk back in the days when both were cruiserweights. Wallin gave Tyson Fury a world of trouble before losing a unanimous decision.
Since those fights, both have been treading water.
Gassiev
Gassiev was inactive for 27 months after his match with Usyk while dealing with legal issues and an injury to his left shoulder. He is 4-0 (4 KOs) since returning to the ring while answering the bell for only eight rounds. The only recognizable name among those four victims is German gatekeeper Michael Wallisch. After stopping Wallisch, Gassiev was out of action for another 13 months while reportedly dealing with an arm injury.
A first-round knockout of Carlouse Welch, an obscure 40-something boxer from the U.S. state of Georgia on Aug. 26, 2022, in Belgrade, Serbia, was promoted as a title fight. The sanctioning body was the Eurasian Boxing Parliament (insert your own punchline here). Gassiev followed that up with a second-round knockout of former NFL linebacker Mike Balogun who came in undefeated and was seemingly a legitimate threat to him.
Although he has yet to fight a ranked opponent since leaving the cruiserweight division, Gassiev — a former stablemate of Gennady Golovkin who has been living in Big Bear, California, training under Abel Sanchez – is one of the most respected fighters in the division because he has one-punch knockout power as Balogun and others can well attest. The rub against the Russian-Armenian bruiser is that he is somewhat robotic.
Wallin
Otto Wallin, a 32-year-old southpaw from Sweden who trains in New York under former world lightweight champion Joey Gamache, fought Tyson Fury on Sept. 14, 2019 at the MGM Grand in Las Vegas. There was a general feeling that the Swede would be a stroll in the park for Fury, but to the contrary, he gave the Gypsy King a hard tussle while losing a unanimous decision.
Wallin is 5-0 since that night beginning with victories over Travis Kauffman (KO 5) and Dominic Breazeale (UD 12), but his last three opponents were softer than soft and all three lasted the distance. In order, Wallin won an 8-round decision over Kamil Sokolowski, who was 11-24-2 heading in, won a 10-round decision over ancient Rydell Booker, and won an 8-round decision over Helaman Olguin. His bout with Utah trial horse Olguin was at a banquet hall in Windham, New Hampshire.
It isn't that Wallin has been avoiding the top names in the division; it's the other way around. His promoter Dmitriy Salita reportedly came close to getting Wallin a match with Anthony Joshua whose team had second thoughts about sending Joshua in against another southpaw after back-to-back setbacks to Oleksandr Usyk.
Gassiev vs Wallin is a true crossroads fight. Both are in dire need of a win over a credible opponent. At last look, Gassiev, who figures to have the crowd in his corner, was a 3/1 favorite.
To comment on this story in the Fight Forum CLICK HERE
Skavynskyi and Bustillos Win on a MarvNation Card in Long Beach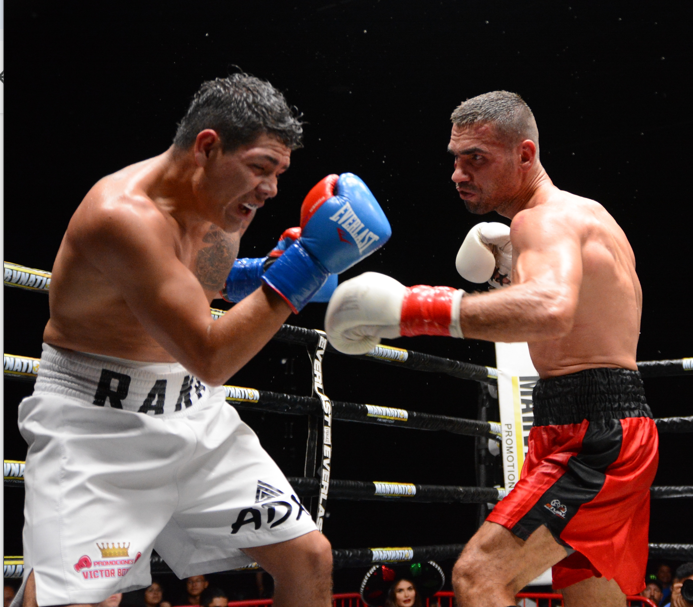 Skavynskyi and Bustillos Win on a MarvNation Card in Long Beach
LONG BEACH, Ca.-A cool autumn night saw welterweights and minimumweights share main events for a MarvNation fight card on Saturday.
Ukraine's Eduard Skavynskyi (15-0, 7 KOs) experienced a tangled mess against the awkward Alejandro Frias (14-10-2) but won by decision after eight rounds in a welterweight contest at the indoor furnace called the Thunder Studios.
It was hot in there for the more than 600 people inside.
Skavynskyi probably never fought someone like Mexico's Frias whose style was the opposite of the Ukrainian's fundamentally sound one-two style. But round after round the rough edges became more familiar.
Neither fighter was ever damaged but all three judges saw Skavynskyi the winner by unanimous decision 79-73 on all three cards. The Ukrainian fighter trains in Ventura.
Bustillo Wins Rematch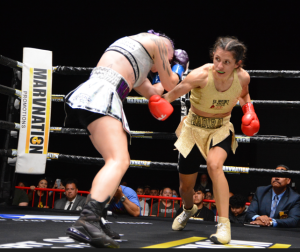 In the female main event Las Vegas' Yadira Bustillos (8-1) stepped into a rematch with Karen Lindenmuth (5-2) and immediately proved the lessons learned from their first encounter.
Bustillos connected solidly with an overhand right and staggered Lindenmuth but never came close to putting the pressure fighter down. Still, Bustillos kept turning the hard rushing Lindenmuth and snapping her head with overhand rights and check left hooks.
Lindenmuth usually overwhelms most opponents with a smothering attack that causes panic. But not against Bustillos who seemed quite comfortable all eight rounds in slipping blows and countering back.
After eight rounds all three judges scored the contest for Bustillos 78-74 and 80-72 twice. Body shots were especially effective for the Las Vegas fighter in the fifth round. Bustillos competes in the same division as IBF/WBO title-holder Yokasta Valle.
Other Bouts
In a middleweight clash, undefeated Victorville's Andrew Buchanan (3-0-1) used effective combination punching to defeat Mexico's Fredy Vargas (2-1-1) after six rounds. Two judges scored it 59-55 and a third 60-54 for Buchanan. No knockdowns were scored.
A super lightweight match saw Sergio Aldana win his pro debut by decision after four rounds versus Gerardo Fuentes (2-9-1).
Photos credit: Al Applerose
To comment on this story in the Fight Forum CLICK HERE
Tedious Fights and a Controversial Draw Smudge the Matchroom Boxing Card in Orlando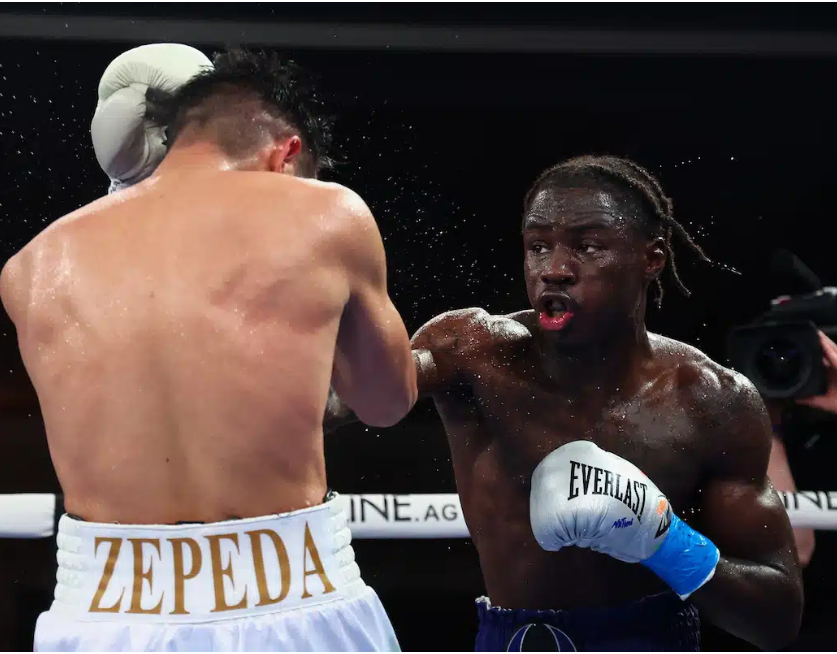 Matchroom Boxing was at the sprawling Royale Caribe Resort Hotel in Orlando, Florida tonight with a card that aired on DAZN. The main event was a ho-hum affair between super lightweights Richardson Hitchins and Jose Zepeda.
SoCal's Zepeda has been in some wars in the past, notably his savage tussle with Ivan Baranchyk, but tonight he brought little to the table and was outclassed by the lanky Hitchins who won all 12 rounds on two of the cards and 11 rounds on the other.  There were no knockdowns, but Zepeda suffered a cut on his forehead in round seven that was deemed to be the product of an accidental head butt and another clash in round ten forced a respite in the action although Hitchins suffered no apparent damage.
It was the sort of fight where each round was pretty much a carbon of the round preceding it. Brooklyn's Hitchins, who improved to 17-0 (7), was content to pepper Zepeda with his jab, and the 34-year-old SoCal southpaw, who brought a 37-3 record, was never able to penetrate his defense and land anything meaningful.
Hitchins signed with Floyd Mayweather Jr's promotional outfit coming out of the amateur ranks and his style is reminiscent in ways of his former mentor. Like Mayweather, he loses very few rounds. In his precious engagement, he pitched a shutout over previously undefeated John Bauza.
Co-Feature
In the co-feature, Conor Benn returned to the ring after an absence of 17 months and won a unanimous decision over Mexico's Rodolfo Orozco. It wasn't a bad showing by Benn who showed decent boxing skills, but more was expected of him after his name had been bandied about so often in the media. Two of the judges had it 99-91 and the other 96-94.
Benn (22-0, 14 KOs) was a late addition to the card although one suspects that promoter Eddie Hearn purposely kept him under wraps until the week of the fight so as not to deflect the spotlight from the other matches on his show. Benn lost a lucrative date with Chris Eubank Jr when he was suspended by the BBBofC when evidence of a banned substance was found in his system and it's understood that Hearn has designs on re-igniting the match-up with an eye on a date in December. For tonight's fight, Benn carried a career-high 153 ½ pounds. Mexico's Orozco, who was making his first appearance in a U.S. ring, declined to 32-4-3.
Other Bouts of Note
The welterweight title fight between WBA/WBC title-holder Jessica McCaskill (15-3-1) and WBO title-holder Sandy Ryan (6-1-1) ended in a draw and the ladies' retain their respective titles. Ryan worked the body effectively and the general feeling was that she got a raw deal, a sentiment shared by the crowd which booed the decision. There was a switch of favorites in the betting with the late money seemingly all on the Englishwoman who at age 30 was the younger boxer by nine years.
The judges had it 96-94 Ryan, 96-95, and a vilified 97-93 for Chicago's McCaskill.
In the opener of the main DAZN stream, Houston middleweight Austin "Ammo" Williams, 27, improved to 15-0 (10) with a 10-round unanimous decision over 39-year-old Toronto veteran Steve Rolls (22-3). All three judges had it 97-93. Rolls has been stopped only once, that by Gennady Golovkin.
Photo credit: Ed Mulholland / Matchroom Boxing
To comment on this story in the Fight Forum CLICK HERE