The Fifty Greatest Middleweights of All Time Part Four: 20-11
I have to take you back now.
In the top ten we will find a handful of men who box in colour. You can guess their names if you are giving to guessing – here though, in Part Four, we are looking at the middleweights of time past exclusively. The most ancient of these warriors turned professional in 1883 and the most modern retired in 1948. Sometimes, people want to complain about bias to old-timers. There is no bias. But it is true that the criteria I have selected to judge fighters by lends itself to the busier contenders and champions of eras that unfortunately displayed less care for the physical health of the boxers involved.
That being said, two of their more modern cousins rank above their ancestors on this list and the likes of Lennox Lewis and Muhammad Ali populated the upper reaches of my heavyweight list; Bob Foster, Matthew Saad Muhammad and Michael Spinks all made the top ten at light-heavyweight.
Inclusion in the upper echelons of fistic greatness for the modern counterparts of those we are about to reveal is not just possible, it is inevitable. You see, it's not the criteria that make a fighter great.
It's the fighter.
#20 – TIGER FLOWERS (117-15-7)
Making sense of Tiger Flowers under strict criteria is a genuinely perplexing task. Here is a fighter who treated the boxing scene of the 1920s like a roller coaster, hoping from one fight at 158lbs to the next at 170, taking on a light-heavyweight in the first instance and a heavyweight in the second. Almost as likely to be knocked out by a journeyman as he was to out-point a legend, Flowers is the antithesis of a modern career with its ordered progression and sense of identity. He was the very definition of a jobbing African-American contender, forced to compromise himself for his piece of the pie.
But middleweight was likely where he belonged, although his legacy hinges for the most part upon three of the most controversial decisions in the history of the middleweight division.
The first of these was against middleweight don Harry Greb, who had defeated Flowers in a light-heavyweight contest in 1924. Their second fight, fought in February of 1926, was for Greb's middleweight title and it was a raucous, sloppy affair between a slipping champion and a coming contender. Flowers opened, or re-opened, a cut over Harry's one remaining good eye early giving him an enormous advantage over the already half-blind Greb; worse, an injury to Greb's left rendered him one-handed as well as one-eyed.
Flowers seemed to have fought in counter-rushes and it was a style that made him extremely difficult to defeat on points and in a fight populated by clinches, missed punches and a severe lack of expected championship excellence, fifteen completed rounds resulted in the passage of the title from Greb to Flowers. The majority of ringside reports seem to indicate a desperately narrow Flowers victory that many saw as unsatisfactorily close to crown a new champion. A rematch was called for, but it settled little; indeed, it is generally held to be even more controversial, with such luminaries as William Muldoon, Gene Tunney and referee Jim Crowley all of the opinion that Greb was the true winner. Thumbing, wrestling (at one point Greb appears to have fixed a choke-hold on the champion), slipping and incessant holding on the part of Flowers decorated the fight.
In general, the second meeting has been held to have been something of a robbery, but in fact it appears that it was more the case that it was difficult to score and once again, rather dissatisfactory with Greb biographer SL Compton summarising that general agreement in the day-after newspaper reports make it "clear that Flowers won a close but deserved victory."
Greb was clearly past his best, but his ability was still such that Allentown Joe Gans and Jimmy Delaney were unable to take advantage of him in the way that the deeply devout but ruthlessly determined Flowers had. He showed great determination too in his first defence, against Mickey Walker, another all-time great at the weight. "According to many ringsiders," wrote Maurice Mermey in The Evening Independent, "Mickey Walker had won only two rounds" but was nevertheless handed the middleweight title on a widely criticised decision which was also roundly booed by the ten-thousand in attendance.
In truth, Tiger Flowers' wider resume at the weight is nothing very special. He spent far too much time boxing at light-heavyweight to build one. But wins over Greb and an almost certain victory over Walker, stolen from him by corrupt officiating, are more than enough to earn him a berth in the top twenty and one wonders where he might have ended up had Walker got what he deserved rather than the middleweight title when the two met. Successful defences would certainly have elevated Flowers .
#19 – JACK DILLON (94-8-15; Newspaper Decisions 93-19-17)
Jack Dillon's middleweight career is hard to unpick from his wider resume, which is, frankly, astonishing. An excellent heavyweight and light-heavyweight, middleweight probably represents his most natural poundage but it may not be the one in which he most astonished. Nevertheless, he did extraordinary work there. He stepped up from a short apprenticeship at welterweight around 1910 struggling at first with Eddie McGoorty, whom he eventually bested by ten round newspaper decision – but only after he had been confirmed a contender with a victory over the same distance against the veteran Jimmy Gardner. Gardner had once been considered one of the more lethal middleweights of a stacked era but had begun to slip, although not so far that he could be prevented from taking a twelve round decision against Frank Klaus the year before. Nevertheless, Dillon pursued Gardner relentlessly in their first fight, over ten, and while Gardner remained brilliant enough to keep Dillon out early, he eventually succumbed, letting Dillon inside where the man they nicknamed "Bearcat" went to work, dropping the veteran for a no-count in the seventh. By the time of their second contest fought just a few months later, Gardner wasn't even fighting to win. Rather, he contented himself with a defensive display, boxing to avoid the violence Dillon sought to inflict on each and every one of his opponents.
Nobody suffered more at his hand than the world champion George Chip. Dillon met Chip on twelve separate occasions and Chip managed only a single victory and not until after Dillon had begun to slip. Bob Moha, Eddie McGoorty, Leo Houck, Jack and Mike Sullivan, Gus Christie, Frank Mantell, Buck Crouse, Tony Caponi, Hugo Kelly – Dillon out-fought and out-thought a whole generation of middleweights before making way for Harry Greb and Mike Gibbons. He struggled, always, with Frank Klaus, who bettered him in a four fight series, and that, for me, always makes uncomfortable reading – Dillon was a fighter not dissimilar to Klaus with the caveat that he seems to have had a better defence. That Dillon may have been beaten by a fighter of a similar type, for all that it was an excellent one, is a limiting factor upon his all-time ranking, as is his inability to beat either Greb or Gibbons despite his being afforded multiple opportunities.
#18 – MICKEY WALKER (94-19-4)
Mickey Walker is one of the greatest fighters to have ever lived. Pound-for-pound, I rank him above Willie Pep, Barney Ross and Archie Moore. But his greatness lies not in his achievement at middleweight nor at any single poundage but rather his fearless swagger through so many weights; from welterweight all the way to heavyweight, his contribution to every single one of them was meaningful. His contribution at middleweight, too, was meaningful – just not as meaningful as has been painted by generations of boxing history buffs.
Two things jolt Walker up short of the top ten for me. The first is that he was so unbound by the divisional rules that defined other fighters that he never really knuckled down to a dominating middleweight run. He made his first impressions upon the division while in possession of the welterweight title, and welterweight was where his heart apparently lay. Later, when in possession of the middleweight title, he spent an inordinate amount of time battling light-heavyweights, and later, heavyweights.
So superb was Walker that this did not prevent him from cobbling together one of the longest title reigns in middleweight history; nor was he beaten but rather vacated the title. Tempering this is the fact that he only defended his title against three different men and that none of them were the very top contenders of his era, men such as Len Harvey, Dave Shade, Rene DeVos and, most of all, the man who was unquestionably his number one contender immediately after his victory for the title, Tiger Flowers.
As discussed above, Walker won the title in what was almost certainly one of the era's most grotesque robberies; following that, for one reason and another, he failed to meet his top contenders and he didn't defend his middleweight title nearly often enough to justify the many months he held it.
He was also thrashed to the point of embarrassment by Harry Greb.
Nevertheless, he was a lethal swarmer who dispatched a hatful of good contenders and in Ace Hudkins, against whom he showed good variety in his style, a superb one. Walker shouldn't appear in the top ten at the weight, not when achievement at that weight is the defining factor, but it is hard to imagine a top twenty without him.
#17 TEDDY YAROSZ (106-18-3)
Teddy Yarosz, one of the very few men on this list to assemble one-hundred or more victories, does not come across as hugely impressive on film relative to his status; a superb and sudden left hand and good feet seem to be the makings of his split decision victory over belt-holder Vince Dundee in September of 1934 but perhaps isn't quite enough to explain all those victories, including several over great fighters. Then you notice, perhaps, that he is still boxing on his toes after fifteen fast, rough rounds against a pressure fighter who brought a savage body-attack to bear against him. Then he looks a little more than impressive. He had a superb engine and it kept him working across three different decades and for the most part in the middleweight division.
Turning professional in 1929, he defeated every single fighter he met between that date and 1937, avenging both middleweight losses to Young Terry and Babe Risko. Risko actually defeated Yarosz twice, but in their first contest Yarosz fractured his kneecap in the very first round, lasting until the seventh when he fell trying to put his weight on it and was pulled by his corner. Bizarrely, he re-injured the same knee in the fourth round of a rematch eight months later and lost that fight in fifteen rounds; after an operation to repair the knee a healthy Yarosz out-pointed Risko over ten close rounds.
Then Yarosz ran into a youthful Billy Conn.
Their first fight, a bad tempered affair fought over twelve in the summer of 1937, was close but despite the fact that it was fought in Conn's Pittsburgh back yard, an hour of protest followed the decision with "chair flying through the air" as a vocal and seeming majority howled their discontent at the decision in Conn's favour. The rematch, fought over fifteen just months later, seemed Yarosz's fight to lose as he dominated the first twelve rounds, bamboozling Conn completely by some sources before that engine, so reliable for so many years, seemed to abandon him and he spent the final three rounds being punched around the ring by a rampant Conn. Conn's biographer, Andrew O'Toole wrote that "by every manner of scoring, Yarosz easily won the fight", but the decision went to Conn.
Yarosz eventually extracted revenge on Conn up at light-heavyweight but the work he did even before these losses would have been enough to get him into the top fifty, Solly Krieger, Jimmy Smith and, most especially, Ken Overlin the highlights of his excellent resume pre-Conn. Post-Conn and post-knee operation, he had definitely slipped but was still able to add a second win over Overlin, not to mention a victory over a middleweight Archie Moore.
With no footage available of Teddy's fights with Billy, overturning the result in even the second fight seems rather rash, but it was probably that knee injury rather than that undeserved loss or pair of losses that prevents him climbing higher here.
#16 – FRED APOSTOLI (61-10-1)
What cements Fred Apostoli to the top twenty is his January 1938 victory over Freddie Steele. Steele's run in at middleweight was not auspicious, his status as a scalp severely reduced by a broken breastbone that would leave him a diminished fighter. Apostoli's victory over Steel e remains significant, however, a nine round brutalisation over a man who was at that time completely unbeaten at the weight. Indeed, he had only lost two fights in a hundred, both at welterweight, both avenged, his paper record standing at 120-2-11 at bell. The relatively green Apostoli was just 27-2, but he beat Steele to the punch from the first, out-landing him from the outside with straighter, quicker punches, beating him heartily when they came together ring-centre. His victory was clouded somewhat by the accidental low blow he landed in the seventh which preceded a titanic beating in the eighth, with Apostoli landing around fifty power-punches to the mangled Steele's head.
But Apostoli's resume is so deep that it is far from defined by this single excellent win. Fighting in an era in which the title was hopelessly fractured behind the abdication of Mickey Walker, Apostoli had succeeded in defeating America's number one strapholder – but in a non-title fight. Deepening this irony was the fact that he had also thrashed the champion as recognised by Europe and Ring Magazine in similar circumstances, having beaten Marcel Thil by TKO stoppage via a hideous cut that impeded the Frenchman badly. Apostoli had defeated the holders of both shards of the title but held no gold.
Babe Risko, Solly Krieger, Georgie Abrams and Young Corbett III were among the other titlists he defeated in his career, with only this last throwing up a belt. Apostoli lost this belt in his first defence versus Ceferino Garcia, one of several fights he lost that one might feel he perhaps should not have.
A higher ranking can be justified but his lack of championship credentials makes me more comfortable with this one.
#15 – JACK DEMPSEY (52-4-11)
Jack Dempsey, the Nonpareil, was the greatest pound-for-pound fighter of his day. That day stretched from the third of September 1883, the date of his pro debut, to the fourteenth of January 1891, the day of the terrible beating administered to him by Bob Fitzsimmons. Between these dates he was almost invulnerable, a mix of superb generalship and much admired skill combining with near-limitless stamina and a superb defence to see him all-but unbeaten between his debut and 1889. The two blips were a four round "loss" to the 180lb Billy Baker who was rendered the victor only by his ability to go the four round distance with the middleweight legend, as agreed by the fight contract. Dempsey's only true defeat during this core run was to former victim George LaBlanche.
Their first meeting was regarded as the greatest middleweight battle on record by more than one newspaper reporting from the site of the fight, the New York-Connecticut border where the two made war at seven in the morning with just forty big-spending spectators in attendance, in keeping with the shadowy legality boxing enjoyed in the period. LaBlanche hunted the body and throat; Dempsey gave ground and retreated into his boxing, which soon drew blood from his aggressive foe. LaBlanche was literally spitting teeth before the fight was even old and by the twelfth Dempsey was hitting him almost at will with the most celebrated left-hand of the era. Repeatedly, heavyweight king James J Corbett is named "the grandfather of boxing" but if such a title can ever really be laid at one man's door, that man is Dempsey. LaBlanche refused to quit but when he fell helplessly into his opponent's arms in the thirteenth, the fight was called.
The rematch between the two was fought just over two years later and once again it was a fight to the finish – it was also one of the most peculiar fights in the history of the weight division and one that remains something of a mystery to me even today. The pace was slower and this led to an elongation of the battle. By the twentieth, Dempsey was taking control with vigorous counter-punching but he couldn't put his man away. "By far the fresher of the two" in the thirty-second round, Dempsey put the pressure on but suddenly was face down on the canvas "blood spurting out onto the floor" of the ring. Accounts of the damaging punch vary, some going so far as claiming that LaBlanche shut his eyes and swung wildly back and forth with his right-hand, landing but out of sheer luck. Others just describe a sudden punch. The more dramatic accounts, as always, are the ones that have generally held and history has robbed LaBlanche of the victory to some degree, perhaps unfairly. A knockout, is, after all, a knockout and is treated as such for the purposes of this list.
Although a detailed look into the accountancy of the fight can't produce a definitive statement as regards the finish, what it does do is help uncover the high regard LaBlanche, "The Marine", was held in. This is true of many Dempsey opponents, whose anaemic paper records as they are reported today are more a matter of their incompleteness than the standing of the fighter in question. Billy McCarthy, who Dempsey disposed of in twenty-eight rounds in 1890, was viewed as strong, fearless and experienced, a real threat to the title. Nor can the extremity of the conditions Dempsey fought in be exaggerated. In 1887 he matched the savage John Reagan in a finish fight and was cut literally "to the bone" of his left leg by his opponent's spiked shoes. Dempsey's corner claimed that not only was the foul so bad that their man couldn't continue but that furthermore it had been deliberate. The referee ruled against him and the fight, incredibly, continued. When the ring, pitched on the shore of Long Island, New York, began to flood they simply moved it and continued the fight. At the end of an absurd forty-five rounds of combat, Dempsey finally stopped his game foe.
The Nonpareil was made of bricks.
#14 – BOB FITZSIMMONS
Bricks or no, Jack Dempsey's placement in the top twenty is forever anchored by Bob Fitzsimmons. "Fitz" is most famous as a heavyweight but he first came by honours at middleweight, out-fighting and out-generalling a faded and possibly unwell Dempsey completely and utterly over thirteen one-sided rounds in January of 1891. Fitzsimmons never defended his title – a four round 1893 KO of Jim Hall was billed as a middleweight title fight but Hall weighed 168lbs – but in his run to the title he accrued some significant scalps and in scintillating and dominant fashion.
Immediately prior to his title-tilt was Arthur Upham, destroyed in five one-sided rounds (not the nine reported on Boxrec), finally dispatched after being driven repeatedly to the canvas with an assortment of punches, then taken out with a right-hand so devastating that it rendered Upham cold. Fitzsimmons actually caught his newly unconscious opponent and eased him to the canvas.
Prior to that, Fitz had obliterated the admired Billy McCarthy, in nine. McCarthy used trickery and shifts to gain the inside where he liked to work but against Fitzsimmons he was all at sea. Fitzsimmons had an unparalleled control of range that made McCarthy all but ineffective and as he would with Upham, Fitz spared McCarthy the crash, not just the canvas but through the ropes and to the floor, hauling him back to safety.
The Australian fight scene that bore him offered a little more competition pre-prime in the form of Jim Hall, who took the losing end of a split series 3-2-0-1 with the Cornishman in controversial circumstances.
What strikes about Bob's time at middleweight is its dominance. Once he hit his stride, nobody really tested him at all.
#13 – DICK TIGER (60-19-3)
I suspect that the fighter capable of attacking Dick Tiger during his savage prime and defeating him has yet to be born. I don't think that Walker could do it, I don't think that Dillon could do it and I don't think that Flowers could do it; I don't think that Bob Fitzsimmons or Jake LaMotta could do it and I don't think anyone in the top ten could do it. In a fire-fight, he could beat any fighter of the poundage, alive or dead.
Tiger proved this with a string of wins over some of the most savage brawlers in middleweight history. Florentino Fernandez, the lethal Cuban hooker, tried his luck with a pounding pressure style in 1962. Fernandez was coming off a narrow decision loss against Gene Fullmer and had had the monstrous Fullmer in serious trouble in the late rounds. You can see Dick Tiger beat the crap out of a man with forty-three knockouts in fifty victories on YouTube. Not that this was the record timing for the defeat of Fernandez; the terrifying Ruben Carter had managed to stop him in a round. A round was perhaps what Carter managed to win when he tried to bulldoze Tiger in May of 1965. Tiger hooked him viciously and repeatedly to the canvas, was so destructive in fact that Carter suffered the rare humiliation of mounting a retreat. It is said that Carter had to move house because Sonny Liston boxed at his local gym and he found it impossible to back down from sparring sessions with the world's most deadly heavyweight – but he went on the run when Tiger got after him.
Most of all he tormented the slate-faced Gene Fullmer. Fullmer and Tiger met three times and at no time did Fullmer best him. Tiger, in fact, had so little difficulty mastering Fullmer physically that he once threw the monumentally strong middleweight champion directly to the floor when Fullmer made the mistake of trying to test the Biafran bull for strength. Needless to say he became the latest in a long line to change tactics.
But Tiger had a certain vulnerability to boxing movers and this leaves him inconsistent; Joey Archer boxed his way to an unpopular decision over him in 1964 – Joey Giardello went 2-2 with Tiger by boxing him and as described in Part Three and Emile Griffith grabbed the title from him by mixing strategies accordingly. Overall though, Tiger is arguably overqualified for the #13 spot. He is 5-3-1 against men on this list (at middleweight), 3-2-1 in middleweight title fights and was the two-time champion of the world.
#12 – JAKE LAMOTTA (83-19-4)
Jake LaMotta, the Bronx Bull, is the first man we encounter who has, at some point, ranked among the top ten in an earlier draft on this list. We have been knee deep in true greatness for some time now, but LaMotta represents a new height; he is a gatekeeper, at the very least, for the very greatest of the great middleweights.
"Jake never stopped coming, never stopped throwing punches and never stopped talking," offered Sugar Ray Robinson, who defeated him 5-1 in perhaps the most celebrated middleweight series in boxing history. "You hit the guy with everything and he would just act like you were crazy."
It's as succinct and complete a description of LaMotta as a man and a fighter as you are likely to read. The Italian-American was a monster of durability, stopped just once in a long middleweight career by Robinson, who was in absolute top gear in forcing the referee's intervention in the thirteenth round of their masterpiece from 1951, their sixth and final fight now known as "The Saint Valentine's Day Massacre." This aside, LaMotta surged inexorably forwards, the ultimate middleweight tank, not devoid of skill (his jab is his best punch), but his real strength lay in the hellish pressure he brought to bear upon a generation of middleweights, most of whom folded to him in one way or another. Key among them are Robinson, Holman Williams, Robert Villemain, Marcel Cerdan and Laurent Dauthuille.
What kept him that bare smidge from the top ten are the asterisks that are scattered among those key results. Holman Williams was still dangerous when LaMotta edged him in 1946 but was unquestionably slipping and although probably sound, the decision was booed by some sections of the crowd. His determination to meet Williams and the other inhabitants of the Murderer's Row marked him out as special but rarely went according to plan; he was soundly beaten by Lloyd Marshall and probably very fortunate to take a decision versus a green Bert Lytell.
Robert Villemain, a superb contender but certainly not a fighter under consideration for this list, split a pair with LaMotta and Jake's winning effort seems to have been anything but with ringsiders almost unanimous in seeing Villemain as having been robbed. Villemain's fellow Frenchman Laurent Dauthuile also went 1-1 with LaMotta, meeting first him over ten in 1949 in a thrilling fight that saw both cut and Dauthuile triumph on the cards. He came within seconds of taking the title in their 1950 rematch, ahead on points when LaMotta staged the most incredible rally in the history of the division to score a fifteenth round knockout and protect his championship.
Cerdan was the man LaMotta took the title from and he is fully credited for that thrilling victory – but it should be noted that Cerdan was injured in the course of the fight and certainly entitled to the rematch that fate interceded to prevent.
Nevertheless, LaMotta butchered numerous contenders in an action style. Had he a punch to match his chin, he would likely inhabit a spot in the top five.
#11 – FREDDIE STEELE (123-5-11)
Freddie Steele, possibly the most underrated middleweight ever to draw breath, moved up to the division in 1934 and spent the next three years and slightly less than fifty contests undefeated. Consider in the light of that fact the media cacophony that has accompanied Floyd Mayweather's similar undefeated streak.
Not as storied as Mayweather in term of titles (he held a strap but never the lineal crown), nor is it likely that Steele defeated competition as excellent as Mayweather but he certainly did severe damage to the middleweight division from his Washington stronghold. Of his early middleweight displays (Steele had already done damage down at welterweight in his youth), his destruction of the creaking Vince Dundee is probably the most impressive. Feinting Dundee out of position, he was brutal in his aggressive rushing of the older fighter and very nearly destroyed him in the first with a flashing left hook that left Dundee sagging on the ropes; he barely beat the count and perhaps should not have bothered as Steele proceeded to batter him around the ring for three rounds until he was quite rightly rescued from his own diamond-cut determination.
Steele was a little over-exuberant once he had Dundee hurt and this caused him to miss often, rather compromising his excellent power, wonderful boxing and superb footwork (watch him repeatedly spin a bewildered Dundee off the ropes) but by 1936 he was in possession of a belt and had evolved into a much more deadly beast. Matching top fifty all-time light-heavyweight Gus Lesnevich he again he dropped his man with a pulverising left-hook in the first, but this time he did not forget his boxing as he closed and Lesnevich was brutalised, horrifically, pulled before the end of the second.
Fred Apostoli, Solly Kreiger, Ken Overline and Babe Risko were among the other top men to fall to him and while readily available film is limited, he looks, to me, as good in the ring as just about any middleweight that ever boxed.
So why no higher? After all, when he finally began to lose it was only after having his breastbone broken, past-prime, against top-drawer opposition. Well, to my eye, Steele, also not unlike Mayweather, was often a little lucky in the timing of his fights with some of the big names he dispatched. Apostoli was a raw-green 6-0 when Steele defeated him; Solly Krieger was highly ranked at the time of their meeting but had just been beaten by the three-fight losing streak Glen Lee; Babe Risko was 3-3 in his last six; even Lesnevich was a number of years from his best wins. Ken Overlin may be his best victory, but even his form was a little patchy going in.
Steele has an argument for the top ten but it doesn't quite find purchase here. He heralds monsters.
Boxing Odds and Ends: A Farewell to Bob Sheridan, Canelo-Charlo Notes and More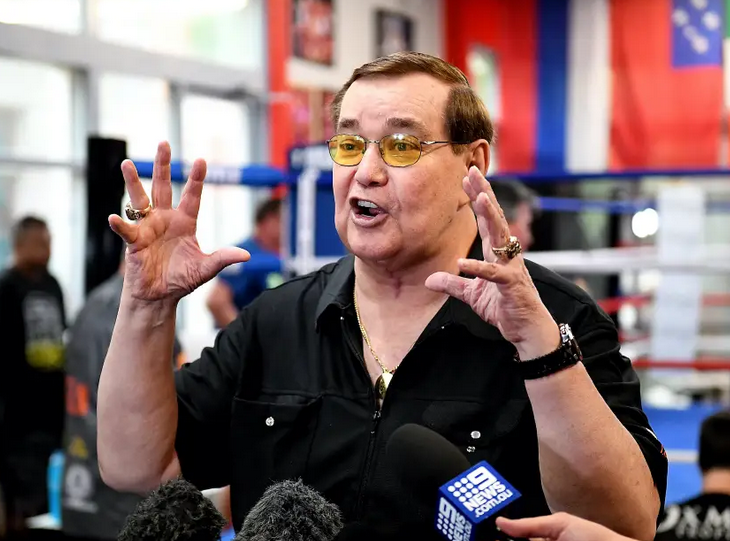 Boxing broadcaster Bob Sheridan passed away at his home in Henderson, Nevada on Wednesday, Sept. 27. Sheridan was 79 years old.
As noted by Ron Borges in a 1999 story for the Boston Globe, "Colonel Bob" (an honorary title) called "more fights in more places watched by more people than anyone else in history." All told, he was the blow-by-blow announcer for more than 10,000 fights, a number that included more than a hundred heavyweight title fights. The irony is that he was more well-known in places like Australia than in the United States. This was because when boxing switched from closed-circuit to pay-per-view, Sheridan didn't make the transition, except for those tuning in overseas. During his long association with Don King, he was the anchor of the international feed.
Born in Boston to Irish immigrants who arrived in the U.S. as toddlers, Sheridan grew up in nearby Lexington, Massachusetts. He attended the University of Miami on a baseball scholarship and cut his teeth as a boxing broadcaster covering Chris Dundee's Miami Beach club fights on WGBS radio.
Sheridan's first heavyweight title fight was the 1968 match in Oakland between Jerry Quarry and Jimmy Ellis for the vacant WBA belt (Ellis won a narrow 15-round decision). He would subsequently sit ringside for some of the sport's most legendary fights, including the "Rumble in the Jungle" (Ali-Foreman), the "Thrilla in Manila," (Ali-Frazier III), and Tyson-Holyfield II, the infamous "bite fight."
During his early days on closed-circuit telecasts, Sheridan was often forced to take on a celebrity as his color commentator. For Ali's fight with Chuck Wepner, it was Pearl Bailey. For the "Rumble in the Jungle," it was British TV talk show personality David Frost. (Sheridan recalled that Frost was very professional, assuaging his qualms that he would be a train wreck.)
In an article for The Ring written seven years ago, New Jersey good guy Henry Hascup noted that it was a miracle that Sheridan was still alive considering his myriad health issues which included seven heart attacks and a quadruple bypass. He famously announced one fight with his cardiologist sitting next to him with a defibrillator just in case.
Colonel Bob was inducted into the International Boxing Hall of Fame in 2016, the second announcer accorded this honor following the legendary Don Dunphy. May he rest in peace.
***Will Canelo-Charlo be a sellout?
The word on the street here in Las Vegas is that tickets to Saturday's card at T-Mobile Arena headlined by the match between Canelo Alvarez and Jermell Charlo are moving very slow. Without a strong walk-up sale or serious discounts, goes the scuttlebutt, the event has scant chance of being a sellout.
A common explanation for the sluggishness (assuming it is true) is the date on the calendar. The event arrives too soon after Mexican Independence Day Weekend. For many Mexicans and Mexican-Americans, the mid-September holiday is an occasion to spend money, perhaps a mini-vacation to Las Vegas or flying out of town to visit friends and family. Money that otherwise would have been spent to see Canelo Alvarez in action had already been spent, or so it is theorized.
At Stub Hub, last we checked, prices for a single ticket ranged from $282 to $31,850.
The four-fight SHOWTIME pay-per-view, which includes a delicious match between super welterweights Jesus Ramos and Erickson Lubin, carries a list price of $84.99. It airs at 8 p.m. ET / 5 p.m. PT.
***A new phenom?
We sat mesmerized at the Mayweather Boxing Club a few days ago watching a boxing trainer work the pads with Curmel Moton who makes his pro debut in a 6-round featherweight fight on the Canelo-Charlo undercard. One did not need a trained eye to see that Moton is very advanced for his age.
Moton, a protégé of Floyd Mayweather Jr, is 17 years old and looks 15. As an amateur, he lost his first and last fights, but was 48-0 in-between.
In a conversation with Fight Hype, Mayweather said that Moton would be a good match for Leigh Wood right now. Wood is the reigning WBA featherweight champion.
Mayweather uses hyperbole very sparingly. The last neophyte over whom he gushed as effusively was Gervonta "Tank" Davis. History would show that Floyd wasn't blowing smoke.
To comment on this story in the Fight Forum CLICK HERE
International Brotherhood of Prizefighters Rankings: Week of September 24, 2023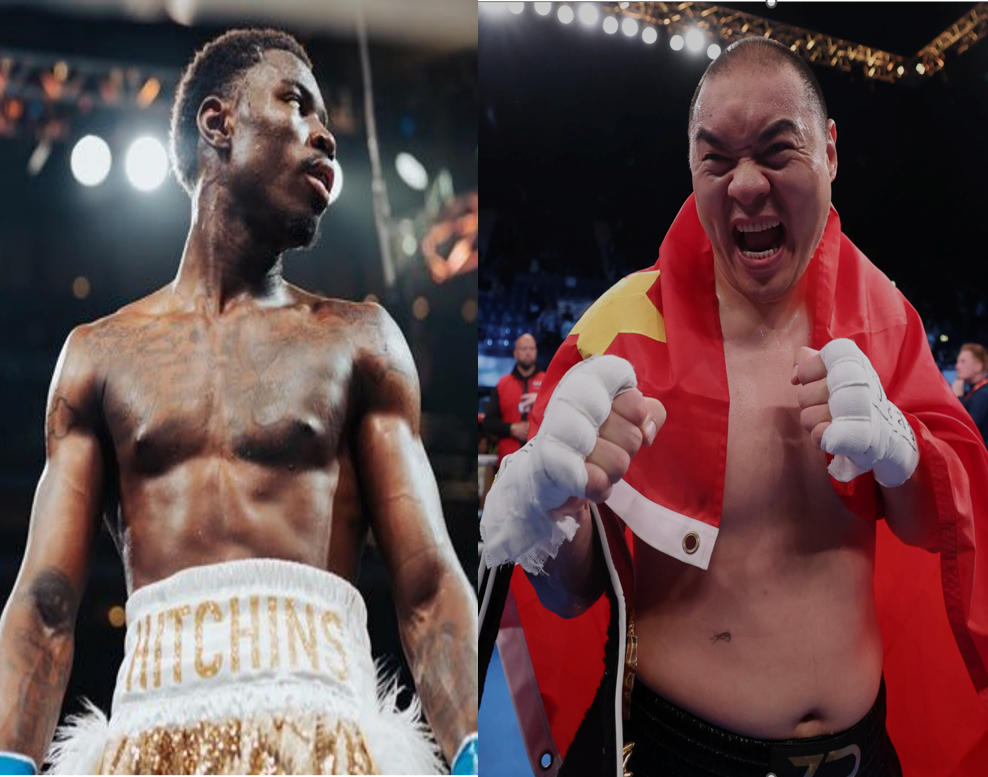 International Brotherhood of Prizefighters Rankings: Week of September 24, 2023

What's in a nickname, you ask?  Zhilei "Big Bang" Zhang exhibited shades of the legendary "Brown Bomber", Joe Louis; the exception being he conducts business from the port side.  Zhang's 3rd round stoppage of Joe Joyce sees Joyce exiting the top 10 in the heavyweight division.  Also exiting due to inactivity is Andy Ruiz and Luis Ortiz, who last fought each other on September 4, 2022.  Gaining entries are Daniel Dubois, Dillian White and Derek Chisora, at 8, 9 and 10 respectively.
At 140, Richardson Hitchins earned his asterisk with a one sided decision over Jose Zepeda.  Hitchins enters the top 10 in the 7th slot, while Zepeda falls to 8th.  Zhankosh Turarov drops to 9th in the world and immediately underneath him, rounding out the top 10, is Elvis Rodriguez. Scotland's Josh Taylor gets bumped from the 10th slot.
At 108, World Champion Kenshiro Teraji defended his title with a stoppage of 4th ranked Hekkie Budler in round 9 of a scheduled 12.  Budler drops to 7th, see list for reshuffle.
*Please note that when the fighter's name appears with an asterisk it represents a movement in ranking from the previous week.
105lbs
♛ Vacant
1            Thammanoon Niyomtrong (Knockout CP Freshmart) (Thailand)
2            Panya Pradabsri (Petchmanee CP Freshmart) (Thailand)
3            Oscar Collazo (USA)
4            Ginjiro Shigeoka (Japan)
5            Daniel Valladares (Mexico)
6            Yudai Shigeoka (Japan)
7            Melvin Jerusalem (Philippines)
8            Masataka Taniguchi (Japan)
9            Rene Mark Cuarto (Philippines)
10          Yudai Shigeoka (Philippines)
108lbs
♛ Kenshiro Teraji (Japan)
1            Jonathan Gonzalez (Puerto Rico)
2            Masamichi Yabuki (Japan)
3            Sivenathi Nontshinga (South Africa)
4            Elwin Soto (Mexico)*
5            Regie Suganob (Philippines)*
6            Shokichi Iwata (Japan)*
7            Hekkie Budler (South Africa)*
8            Carlos Canizales (Venezuela)
9            Daniel Matellon (Panama)
10          Miel Fajardo (Philippines)
112lbs
♛ Vacant
1            Sunny Edwards (England)
2            Artem Dalakian (Ukraine)
3            Julio Cesar Martinez (Mexico)
4            Angel Ayala Lardizabal (Mexico)
5            David Jimenez (Costa Rica)
6            Jesse Rodriguez (USA)
7            Ricardo Sandoval (USA)
8            Felix Alvarado (Nicaragua)
9            Seigo Yuri Akui (Japan)
10          Taku Kuwahara (Japan)
115lbs
♛ Juan Francisco Estrada (Mexico)
1            Roman Gonzalez (Nicaragua)
2            Kazuto Ioka (Japan)
3            Fernando Martinez (Argentina)
4            Junto Nakatani (Japan)
5            Srisaket Sor Rungvisai (Thailand)
6            Kosei Tanaka (Japan)
7            Andrew Moloney (Australia)
8            Francisco Rodriguez Jr. (Mexico)
9            Pedro Guevara (Mexico)
10         Donnie Nietes (Philippines)
118lbs
♛ Vacant
1            Emmanuel Rodriguez (Puerto Rico)
2            Alexandro Santiago (Mexico)
3            Jason Moloney (Australia)
4            Vincent Astrolabio (Philippines)
5            Gary Antonio Russell (USA)
6            Takuma Inoue (Japan)
7            Nonito Donaire (Philippines)
8            Ryosuke Nishida (Japan)
9            Keita Kurihara (Japan)
10          Paul Butler (England)
122lbs
♛ Vacant
1            Naoya Inoue (Japan)
2            Marlon Tapales (Philippines)
3            Stephen Fulton (USA)
4            Luis Nery (Mexico)
5            Murodjon Akhmadaliev (Uzbekistan)
6            Sam Goodman (Australia)
7            Azat Hovhannisyan (Armenia)
8            Kevin Gonzalez (Mexico)
9            Ra'eese Aleem (USA)
10          Liam Davies (England)
126lbs
♛ Vacant
1            Luis Alberto Lopez (Mexico)
2            Leigh Wood (England)
3            Brandon Figueroa (USA)
4            Rey Vargas (Mexico)
5            Mauricio Lara (Mexico)
6            Robeisy Ramirez (Cuba)
7            Mark Magsayo (Philippines)
8            Josh Warrington (England)
9            Reiya Abe (Japan)
10          Otabek Kholmatov (Uzbekistan)
130lbs
♛ Vacant
1            Emanuel Navarrete (Mexico)
2            Joe Cordina (Wales)
3            Hector Garcia (Dominican Republic)
4            O'Shaquie Foster (USA)
5            Oscar Valdez (Mexico)
6            Shavkatdzhon Rakhimov (Tajikistan)
7            Otar Eranosyan (Georgia)
8            Lamont Roach (USA)
9            Eduardo Ramirez (Mexico)
10          Kenichi Ogawa (Japan)
135lbs
♛ Devin Haney (USA)
1            Gervonta Davis (USA)
2            Vasily Lomachenko (Ukraine)
3            Isaac Cruz (Mexico)
4            William Zepeda Segura (Mexico)
5            Frank Martin (USA)
6            Shakur Stevenson (USA)
7            Maxi Hughes (England)
8            George Kambosos Jr (Australia)
9            Keyshawn Davis (USA)
10          Raymond Muratalla (USA)
140lbs
♛ Teofimo Lopez (USA)
1            Regis Prograis (USA)
2            Jose Ramirez (USA)
3            Jack Catterall (England)*
4            Subriel Matias (Puerto Rico)*
5            Arnold Barboza Jr. (USA)*
6            Gary Antuanne Russell (USA)*
7            Richardson Hitchins (USA)*
8            Jose Zepeda (USA)*
9            Zhankosh Turarov (Kazakhstan*)
10          Elvis Rodriguez (Dominican Republic)*
147lbs
♛ Terence Crawford (USA)
1            Errol Spence (USA)
2            Jaron Ennis (USA)
3            David Avanesyan (Russia)
4            Cody Crowley (Canada)
5            Alexis Rocha (USA)
6            Rashidi Ellis (USA)
7            Souleymane Cissokho (Senegal)
8            Roiman Villa (Venezuela)
9            Egidijus Kavaliauskas (Lithuania)
10          Shakhram Giyasov (Uzbekistan)
154lbs
♛ Jermell Charlo (USA)
1            Tim Tszyu (Australia)
2            Brian Mendoza (USA)
3            Jesus Alejandro Ramos (USA)
4            Sebastian Fundora (USA)
5            Erickson Lubin (USA)
6            Michel Soro (Ivory Coast)
7            Magomed Kurbanov (Russia)
8            Tony Harrison (USA)
9            Israil Madrimov (Uzbekistan)
10          Bakhram Murtazaliev (Russia)
160lbs
♛ Vacant
1            Gennady Golovkin (Kazakhstan)
2            Carlos Adames (Dominican Republic)
3            Zhanibek Alimkhanuly (Kazakhstan)
4            Chris Eubank Jr. (England)
5            Liam Smith (England)
6            Sergiy Derevyanchenko (Ukraine)*
7            Vincenzo Gualtieri (Germany)
8            Felix Cash (England)
9            Michael Zerafa (Australia)
10          Esquiva Falcao (Brazil)
168lbs
♛ Canelo Alvarez (Mexico)
1            David Benavidez (USA)
2            Caleb Plant (USA)
3            Christian Mbilli (France)
4            David Morrell (Cuba)
5            John Ryder (England)
6            Pavel Silyagin (Russia)
7            Vladimir Shishkin (Russia)
8            Carlos Gongora (Ecuador)
9            Jaime Munguia (Mexico)
10          Demetrius Andrade (USA)
175lbs
♛ Artur Beterbiev (Canada)
1          Dmitry Bivol (Russia)
2          Joshua Buatsi (England)
3          Callum Smith (England)
4          Joe Smith Jr. (USA)
5          Gilberto Ramirez (Mexico)
6          Anthony Yarde (England)
7          Dan Azeez (England)
8          Ali Izmailov (Russia)
9          Michael Eifert (Germany)
10        Igor Mikhalkin (Germany)
200lbs
♛ Jai Opetaia (Australia)
1            Mairis Breidis (Latvia)
2            Chris Billam-Smith (England)
3            Richard Riakporhe (England)
4            Aleksei Papin (Russia)
5            Badou Jack (Sweden)
6            Arsen Goulamirian (France)
7            Lawrence Okolie (England)
8            Yuniel Dorticos (Cuba)
9            Mateusz Masternak (Poland)
10          Ilunga Makabu (So. Africa)
Unlimited
♛ Oleksandr Usyk (Ukraine)
1            Tyson Fury (England)
2            Zhilei Zhang (China)
3            Deontay Wilder (USA)
4            Anthony Joshua (England)
5            Filip Hrgovic (Croatia)
6            Arslanbek Makhmudov (Russia)*
7            Frank Sanchez (Cuba)*
8            Daniel Dubois (England)*
9            Dillian White (England)*
10          Derek Chisora (Zimbabwe)*
To comment on this story in the Fight Forum, CLICK HERE.
Canelo-Charlo Gets All the Ink, but Don't Overlook the Compelling Match-up of Gassiev-Wallin in Turkey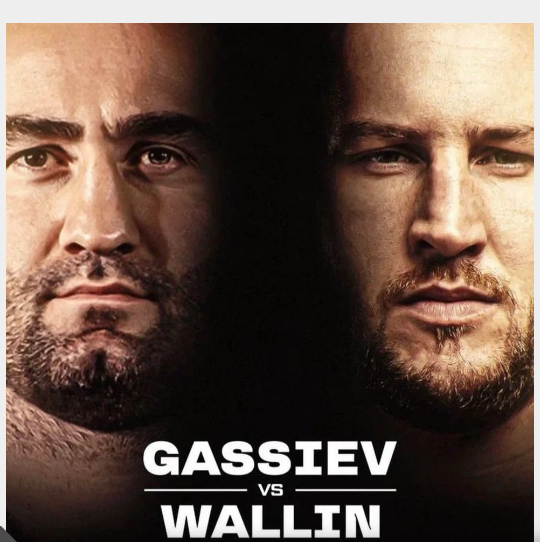 Canelo-Charlo Gets All the Ink, but Don't Overlook the Compelling Match-up of Gassiev-Wallin in Turkey
The eyes of the boxing world will be on Las Vegas this Saturday where Mexican superstar Saul "Canelo" Alvarez risks his four super middleweight title belts against unified 154-pound champion Jermell Charlo. Earlier that day at a luxury resort hotel in the city of Antalya on the Mediterranean coast of Turkey, there's a heavyweight match sitting under the radar that may prove to be the better fight. It's an intriguing match-up between former world cruiserweight title-holder Murat Gassiev and Swedish southpaw Otto Wallin, a bout with significant ramifications for boxing's glamour division.
Gassiev (30-1, 23 KOs) and Wallin (25-1, 14 KOs) have only one loss, but those setbacks came against the top dogs in the division. Gassiev was out-boxed by Oleksandr Usyk back in the days when both were cruiserweights. Wallin gave Tyson Fury a world of trouble before losing a unanimous decision.
Since those fights, both have been treading water.
Gassiev
Gassiev was inactive for 27 months after his match with Usyk while dealing with legal issues and an injury to his left shoulder. He is 4-0 (4 KOs) since returning to the ring while answering the bell for only eight rounds. The only recognizable name among those four victims is German gatekeeper Michael Wallisch. After stopping Wallisch, Gassiev was out of action for another 13 months while reportedly dealing with an arm injury.
A first-round knockout of Carlouse Welch, an obscure 40-something boxer from the U.S. state of Georgia on Aug. 26, 2022, in Belgrade, Serbia, was promoted as a title fight. The sanctioning body was the Eurasian Boxing Parliament (insert your own punchline here). Gassiev followed that up with a second-round knockout of former NFL linebacker Mike Balogun who came in undefeated and was seemingly a legitimate threat to him.
Although he has yet to fight a ranked opponent since leaving the cruiserweight division, Gassiev — a former stablemate of Gennady Golovkin who has been living in Big Bear, California, training under Abel Sanchez – is one of the most respected fighters in the division because he has one-punch knockout power as Balogun and others can well attest. The rub against the Russian-Armenian bruiser is that he is somewhat robotic.
Wallin
Otto Wallin, a 32-year-old southpaw from Sweden who trains in New York under former world lightweight champion Joey Gamache, fought Tyson Fury on Sept. 14, 2019 at the MGM Grand in Las Vegas. There was a general feeling that the Swede would be a stroll in the park for Fury, but to the contrary, he gave the Gypsy King a hard tussle while losing a unanimous decision.
Wallin is 5-0 since that night beginning with victories over Travis Kauffman (KO 5) and Dominic Breazeale (UD 12), but his last three opponents were softer than soft and all three lasted the distance. In order, Wallin won an 8-round decision over Kamil Sokolowski, who was 11-24-2 heading in, won a 10-round decision over ancient Rydell Booker, and won an 8-round decision over Helaman Olguin. His bout with Utah trial horse Olguin was at a banquet hall in Windham, New Hampshire.
It isn't that Wallin has been avoiding the top names in the division; it's the other way around. His promoter Dmitriy Salita reportedly came close to getting Wallin a match with Anthony Joshua whose team had second thoughts about sending Joshua in against another southpaw after back-to-back setbacks to Oleksandr Usyk.
Gassiev vs Wallin is a true crossroads fight. Both are in dire need of a win over a credible opponent. At last look, Gassiev, who figures to have the crowd in his corner, was a 3/1 favorite.
To comment on this story in the Fight Forum CLICK HERE