Foreman Fondly Remembers "Geezers At Caesars"
His is the most distinct dual-era career in boxing history. There was the rise of George Foreman (Part I), in which a remorseless young destroyer from Marshall, Texas, pulverized opponents without ever seeming to crack a smile. That was followed by the rise of George Foreman (Part II), a physically and spiritually transformed individual who emerged from a 10-year retirement fat and happy, but with the same gift for bludgeoning the guy in the other corner into submission.
Now, at 67 (as of Jan. 10), Foreman has the luxury of sitting back and taking stock of both phases of his remarkable boxing journey, and even that portion which preceded Part I of his professional life. Upon reflection, he sees much that is good along the way, a journey of self-discovery from which he has culled four bouts he now considers to be his personal favorites.
No, the "Rumble in the Jungle" against Muhammad Ali is not included; Big George lost that one, in a monumental upset, and few fighters are apt to list a defeat among their most cherished memories. The first touchstone event for Foreman is his gold-medal run through the 1968 Mexico City Olympics, capped by his emphatic, second-round stoppage of the Soviet Union's Jonas Cepulis. A lot of people will forever remember the image of Foreman, his surliness temporarily put aside, parading around the ring while waving a tiny American flag.
Favorite Fight No. 2 is his two-round demolition of WBC/WBA heavyweight champion Joe Frazier in Kingston, Jamaica, on Jan. 22, 1973, in which the 6-foot-3 Foreman – then a lean and taut 217½ pounds – knocked down the favored Smokin' Joe six times, the last coming on a right uppercut that lifted the previously undefeated and indomitable conqueror of Ali into the air like a Cape Canaveral rocket during blastoff.
"I didn't think I belonged there," Foreman said, citing the stumpy left hooker from Philadelphia as the only man who ever elicited fear in him. "I was fighting Joe Frazier! Every time he threw a hook that missed, it was like a bullet whizzing by my head. I'm not ashamed to say I was afraid of him."
But didn't that sense of impending doom subside or even vanish once Frazier started going down?
"I never got to that point because he kept getting up," Foreman explained. "I'm thinking, `Man, if this thing goes to the fourth round, I could be in trouble.' I never did feel like I had it for sure. Not in that fight, not against the great Smokin' Joe."
Favorite Fight No. 3 came on Jan. 24, 1976, in Foreman's first bout after being upset by Ali, a loss that severely shook the defrocked champion's confidence in himself. His opponent that night at Las Vegas' Caesars Palace, for the vacant NABF title, was another huge puncher, Ron Lyle, who figured he could do unto Big George what Ali had done. And Lyle seemingly was in the process of doing just that, flooring Foreman twice in what eventually was named The Ring's Fight of the Year. Twice Foreman crumpled to the canvas and, after the second flooring, in a semi-stupor, he had an epiphany.
"When he knocked me down I was, like, `Wow, it wasn't a fluke (getting knocked out by Ali) in Africa,'" Foreman said. "I told myself, `You got to get up, you got to get up.' I got up, then he put me down a second time. That's when I asked myself, `Are you a fighter or are you going to quit?' If I hadn't gotten up then, nobody would have ever believed in me again. I wouldn't have believed in me.That would have been my exit from boxing, forever."
Favorite Fight No. 4 was … ah, here's where the surprise comes in. It's not what most people would expect, Foreman's one-punch knockout of WBA/IBF champ Michael Moorer, who was well ahead on points, in the 10th round of their Nov. 5, 1994 bout at the MGM Grand in Las Vegas when Foreman landed the straight right heard 'round the world. "It happened! It happened!" HBO blow-by-blow announcer Jim Lampley excitedly repeated as Foreman ascended to a second championship reign 20 years after the first one ended.
But, to Foreman's way of thinking, the bolt-from-the-blue conquest of Moorer was merely the culmination of a process that had played out in his mind even before he began his long-delayed comeback. On March 9, 1987, against journeyman Steve Zouski in Sacramento, Calif., the then-38-year-old Foreman, who had eaten his way up to 320-plus pounds and had pared down only to a distinctly unsvelte 267 pounds, put away journeyman Steve Zouski in five rounds.
As grand plans go, it was hardly an auspicious launch. But then it was just what Foreman had in mind. He was on a mission, but not one on an accelerated timetable. Like the tortoise that Aesop's fable, Big George understood that the race does not necessarily go to the swift. Sometimes slow and steady is preferable to fast and furious.
"Not everyone can plot and plan like I did. They don't have the patience," Foreman said of a return to the ring that, at first, drew mostly snickers and derision. "I deliberately took time. I stayed off television. I wanted to lay low until I developed my skills."
And so it went, Foreman winning 19 fights in as many outings against mostly has-beens and never-weres, beating 18 of them inside the distance. But eventually the moment came when he had to put up or shut up, and that night arrived on Jan. 15, 1990.
George Foreman vs. Gerry Cooney. The matchup of presumably past-their-prime sluggers (Cooney, 33, had not fought since his fifth-round technical knockout loss to Michael Spinks on June 15, 1987) officially was labeled "The Preacher and the Puncher," the preacher, of course, being Foreman. But UPI boxing writer Dave Raffo had dubbed it "The Geezers at Caesars," which the public quickly latched onto, and never mind that the scheduled 10-rounder actually would take place in Boardwalk Hall and not neighboring Caesars Atlantic City, which was sponsoring the event.
Although some dismissed the matchup as something akin to the circus coming to town – one Philadelphia reporter (that would be me) wrote that "America is and has always been a society of the curious, voyeuristic and gullible, which is why those modern Barnums, boxing promoters, continue to run freak shows up the flagpole to see just how many of us will salute" – both combatants understood it to very much be the real deal. Speculation already was rampant that the winner would move on to a megabucks matchup with heavyweight champion Mike Tyson.
"That fight turned everything around," Foreman said of the second-round knockout that legitimized what, until then, had seemed an impossible dream. "If Cooney had won that fight, even on points, that would have derailed me. That was the one fight that did it. Not only did I win, but the fashion that I did it determined my destiny."
Because he had been active, even if not against top-tier opponents, Foreman opened as a 3-to-1 favorite, which was whittled down to 9-to-5 by the opening bell when word began spreading that Cooney, whose pulverizing left hook was his weapon of choice, was looking very sharp in training under the watchfui eye of new trainer Gil Clancy, who had helped bring out the best in such notable fighters as Emile Griffith, Ken Buchanan and Jerry Quarry. There was a rising sentiment that if Cooney, who had whacked out Ken Norton in one round, Lyle in one round and Foreman conqueror Jimmy Young in four, connected with one of his trademark hooks, George and the 253¼ pounds he was packing (36¼ more than he weighed the night he walloped Frazier) would come crashing down like an imploded building.
"When you talk about left hooks, I think Cooney – when he was really at his best – had one that would match up with anybody's in terms of power," said Larry Hazzard, the boss of the New Jersey State Athletic Control Board. "That was his punch. I imagine it still is."
But Hazzard's optimistic view that Foreman-Cooney was a potential clash of the titans wasn't shared by all. Ferdie Pacheco, the NBC boxing analyst (the fight was televised via closed-circuit and pay-per-view) and former personal physician to Muhammad Ali, said that Cooney, who, depressed, had begun to drink heavily after his loss to Spinks, "has the face of a drunk trying to make a comeback" while deriding Foreman as "grossly overweight and flabby." Trainer Tommy Gallagher, who was the chief second for WBO middleweight champion Doug DeWitt, who would yield his title to Matthew Hilton on an 11th-round stoppage on the Foreman-Cooney undercard, said the main event was "a joke, in my opinion. But I guess I can see where some people might find it interesting."
For his part, Foreman didn't mind the verbal jabs aimed at him about his weight. He had come in at a relatively trim 235 pounds for his March 19, 1988, bout with Tyson-sized Dwight Muhammad Qawi and, although George won via seventh-round TKO, he felt like his legendary strength had been substantially drained.
"When I fought Qawi, my body was almost like it was in the '70s," Foreman said. "I had concentrated so much on losing all that weight that I lost track on who I needed to be the second time around. I didn't make that mistake again. From then on, I was always at or over 250.
"I knew what Cooney could do. He knocked out Norton. He knocked out Lyle. He was just going down the line of my generation, mowing us down one by one. I knew he had to be thinking, `OK, Foreman's next.'
"But you know what frightened me more than anything? It was that Cooney had hired Gil Clancy to work his corner. Gil was a good boxing man who knew how to get a fighter ready to fight his best fight."
Clany's prefight strategy was sound enough. The 6-7 Cooney would box the old, fat guy, take him into the middle rounds where his perceived lack of stamina would come into play, and try to stay out of Foreman's optimal punching radius until he saw openings to move in and connect with that big left hook. The plan might have worked, too, except that such an opening came too early.
When Cooney landed that big hook in the first round, Clancy instinctively knew that his guy had seized an advantage that needed to be capitalized on right then, when Foreman was still buzzed. But, curiously, Cooney hesitated.
"He didn't believe it (that Foreman was in trouble)," Clancy said afterward. "Inactivity does that."
For his part, Clancy changed course and advised Cooney to go right after Foreman in Round 2. It proved to be a disastrous miscalculation.
"After the first round Cooney went back to his corner and Clancy said, `You got him! You got him!'" Foreman recalled. "I was like, `Dang, I didn't think anybody knew that but me.' And he did come right after me. I had a fight on my hands. I knew I had to get him before he got me."
Foreman did exactly what he needed to do, He wobbled Cooney with a left hook of his own, which was followed by a succession of clubbing right hands that put "Gentleman Gerry" in deep trouble and drew a mandatory eight-count that would not be nearly a long-enough reprieve. Referee Joe Cortez didn't even bother with a count when Foreman followed up with a left uppercut and overhand right; Cooney was unconscious even before he landed on the canvas, face-first.
When he was revived, Cooney said that Foreman "hit me harder than anyone I've ever been in the ring with." Foreman graciously allowed that Cooney was "the hardest left-hook puncher I faced. His hook was harder than Joe Frazier's."
One can only imagine what might have happened had not Tyson lost his championship to Buster Douglas three weeks later in Tokyo. The Tyson-Foreman megafight that seemingly had been put into place by George's KO of Cooney never took place.
"Tyson truly was a tiger," Foreman said. "But it wasn't like I was begging to fight him. He was a short guy and, because I would be jabbing downward, I thought I'd have had a good chance of beating him. Then again, he'd been taught how to do well when he fought taller guys, so it would have been interesting. I had Tyson in mind when I boxed Qawi. But when Tyson lost to Douglas, that basically was the end of that."
Even missing out on a shot at Tyson, however, couldn't dull the high Foreman experienced from beating Cooney. It was a fight he needed to win to not only maintain relevance, but to build on it.
"It was a big night. A big night," Foreman said, savoring the memory. "And everybody knew it. It was in the air. Before the fight, people knew something momentous was going to happen, one way or the other. Fortunately, things went my way.
"Walking out of that arena in Atlantic City that night … I'll never forget it. I wasn't on top just yet, but I felt like I was back on top."
Cooney never fought again, but unlike the funk he fell into following his losses to Larry Holmes and Spinks, he made peace with himself. He now co-hosts a boxing program with Randy Gordon on Sirius XM, on which Foreman has been a guest several times.
"Gerry and I are great friends now," Foreman said. "Boxing is funny that way, isn't it? I was even friendly with him when we fought. Gerry Cooney is a very encouraging-type person. He inspires people. There are times when he's inspired me as well."
-30-
Avila Perspective, Chap.192: Ryan Garcia and Another Look at the HOF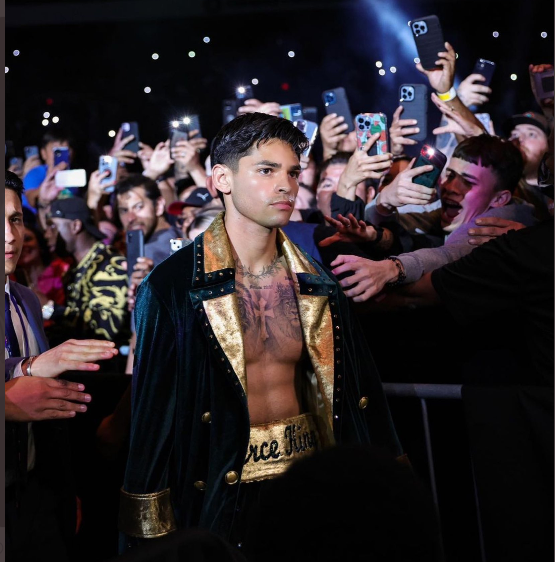 Twenty-two years ago, two talented Southern California fighters baptized the Staples Center sports arena for prizefighting with a performance hard to top. Can Ryan Garcia equal or surpass their performance?
It's a lot to ask of anyone.
No longer called the Staples Center, the newly dubbed Crypto.com Arena will be a staging area for Garcia (22-0, 18 KOs) who fights Javier Fortuna (37-3-1, 26 KOs) for a regional lightweight title on July 16. Tickets are on sale for the Golden Boy Promotions card streamed on DAZN.
Back on June 2000, Oscar De La Hoya and Sugar Shane Mosley became the first prizefighters to perform at the arena located on 11th and Figueroa Ave. Their match was never topped by any other in that building in terms of excitement and electricity.
When Mosley and De La Hoya traded blows, they were already world champions so its not fair to compare Garcia to either. But the De La Hoya-Mosley fight did set the standard for all future prize fights in Los Angeles.
Garcia (pictured) has a California cool and honesty that's more associated with tennis pros than prizefighters. His feathers don't get ruffled when asked about a former mate's comments or when potential foes deride his former opposition.
When it comes to star power, even the best recognize that Garcia has all the important ingredients like the back of a Kellogs' cereal box. In the case of the Victorville boxer with the quick snap left hook, the small almost unreadable print would say very, very few professional boxers have all the same ingredients as Garcia.
If you need a more vivid example simply look at the promoter Oscar De La Hoya. No other fighter possessed the same formula as the former fighter from East L.A. who began a Hall of Fame career by winning an Olympic gold medal in the 1992 Barcelona Games.
Though De La Hoya would later win a world title at age 21, there were slips and trips suffered by the Golden Boy such as knockdowns by Narciso Valenzuela and Giorgio Campanella. He obliterated both after the knockdowns, but many reporters questioned his chin. Of course, after his career was finally over, no one questioned his ability to take a punch after he won world titles in six weight divisions. Not once was he knocked out by a blow to the head.
De La Hoya sees many comparable traits in young Ryan Garcia.
"Ryan Garcia's performances have proved over and again why he belongs on the global stage with the best," said De La Hoya who possessed many of the same physical traits and became one of boxing's biggest attractions in history.
When Garcia faces former world champion Fortuna in the center stage it's essentially the Southern California fighter's debut as a main event fighter in the city of Los Angeles. Though he's fought four times before in the L.A. area, he was never the main event.
This is essentially the big stage debut for the fighter called "KingRy."
"I'm hungry to show the world I'm the best fighter," said Garcia. "I'm just eager to show people I'm more than meets the eye when you're in the ring with me."
Fortuna, a former world champion, has repeatedly talked about using a win over Garcia to springboard back into world title competition.
"I'm going to knock him out," said Fortuna.
Garcia doesn't blink an eye at the prediction made by Fortuna. He's heard it all before. It's boxing.
"After I obliterate Fortuna, I hope they support me when I fight Gervonta Davis and support me when I obliterate both of them," said Garcia about boxing fans.
It's been 22 years since Mosley and De La Hoya lit up the same arena with their Hall of Fame ability. Will Garcia be the next big thing?
"With Ryan Garcia's star power and with the promotion behind him we expect a sell-out," said De La Hoya.
Is this just the beginning?
Looking Back at HOF Inductions
It's been a few weeks since the Boxing Hall of Fame formally inducted the newest group to its prestigious roster at Canastota, New York. They all deserve to be acknowledged once again. However, due to the ongoing pandemic all three years were lumped together and that's too many to review in one look.
For the next three weeks I'll go over their boxing careers briefly.
This week it's the class of 2020 with Bernard Hopkins, Juan Manuel Marquez, and Sugar Shane Mosley.
I'll start with Mosley simply because of his Los Angeles roots. When "Sugar Shane" began hitting the boxing circuit it was first as an amateur that people took notice. Though he was an amazing amateur boxer his style was always more suited for the pros.
I remember watching him trade blows with pros like the late Genaro "Chicanito" Hernandez and Zack "Attack" Padilla in various L.A. gyms. They were ferocious wars and foretold their abilities as superior fighters. All three would become world champions.
Mosley's big moment was a showdown with Oscar De La Hoya at the Staples Center in Los Angeles. How big was their fight?
That night Hollywood stars and sports celebrities combined to watch their epic clash including Halle Berry, Denzel Washington, Jack Nicholson, Salma Hayek and sports legends Joe Frazier and Muhammad Ali.
It doesn't get bigger than that.
We all know that Mosley would win that night by a razor slim margin and go on to collect world titles in three weight divisions. He came close to knocking down Floyd Mayweather when they fought. I'll never forget that night. I was sick and barely able to keep my head up after suffering food poisoning. but didn't dare miss that fight.
The fighter from Pomona, CA. never ducked anyone and was amazing as a lightweight.
His dad Jack Mosley was named Trainer of the Year in 2000 and still works with fighters.
Bernard Hopkins.
The fighter from Philly was one of those angry guys early on who despite being a world champion, felt ignored. Then came his invitation by promoter Don King to the big dance in the form of a middleweight tournament between world champions. That opened the door for Hopkins.
Puerto Rico's great and popular Felix "Tito" Trinidad had departed the welterweight division and moved up two divisions to the 160-pound middleweights. He knocked out William Joppy in five rounds. Hopkins defeated Keith Holmes by decision and the stage was set.
The original date was September 15 at Madison Square Garden in New York City. With just four days until fight day, the 9/11 terrorist attack on the World Trade Center took place and the world stopped. After much discussion the fight was moved to September 29 at Madison Square Garden.
I remember arriving in Manhattan to a seemingly empty city with smoke from the ruins still visible. The area near the ruins of the World Trade Center was still blocked off. People were friendly and eager to resume their lives as they were before the devastating tragedy.
The night of the fight several other major stars like Mexico's Ricardo "Finito" Lopez performed on the Don King fight card. When the main event was finally announced the fan's cheers erupted when their hero Tito Trinidad appeared. Many boos were heard when Hopkins appeared.
That night belonged to Hopkins.
The Philly fighter was locked in and took apart the Puerto Rican slugger. Each round seemed to get worse for Trinidad who never stopped trying to land the big blow but was thwarted repeatedly by the defensive moves of Hopkins.
It was apparent that Hopkins felt comfortable and began to pick apart Trinidad. In the 12th round Hopkins was punishing Trinidad and the fight was stopped by Tito's father. Hopkins was finally recognized as one of the sport's best fighters. He would later win a light heavyweight world title at age 49. He retired at age 51. Remarkable.
Mexico's Marquez
Juan Manuel Marquez had fought for years in Los Angeles and was known very well by those fans and in his native Mexico City. Little did I know that his last fight against Mike Alvarado at the Inglewood Forum in May 2014 would be his last.
Ironically, it's the same arena where Southern California fans first saw him fight. It also is where I almost didn't make it out alive. At the time I was suffering from a brain bleed and didn't know it. I could barely walk out of the arena and would soon be hospitalized for a month.
Marquez was known as a scientific boxer and had been molded by Mexico's Nacho Beristain. I was at his first attempt at a world title bid in September 1999 when he clashed with Freddie Norwood in Las Vegas. He lost by unanimous decision and was furious by the scorecards. Ironically, Floyd Mayweather was also on the card and defended the super featherweight world title.
The skill level and punching prowess of Marquez led many to avoid him at all costs. It would take four years until he got another shot at a world title when he fought fellow Mexican Manuel "Mantecas" Medina and knocked him out for the vacant IBF featherweight title in 2003.
A year later Marquez would begin a four-fight journey with another legend, Manny "Pacman" Pacquiao. We all know how that transpired. Four of the most competitive fights ever seen at the championship level. His one-punch knockout of PacMan in 2012 was the pivotal moment in their battles.
I remember watching the two battling when another journalist yelled at me from the other side of press row to get my opinion of who was winning. I motioned with my hand stop so I wouldn't miss the action. Glad I did, because Marquez suddenly unleashed that right cross that left Pacman unconscious.
Big lesson: never turn your head during a fight, even if you are a journalist. You might miss one of the most iconic knockout finishes in boxing history.
Big Dan
Several promoters also were inducted too. Kathy Duva, Lou DiBella and Dan Goossen were all voted into the 2020 class. All three put on some great fight cards in their time with Duva and DiBella still going strong.
Goossen passed away in 2014. We became friends over the years as our paths crossed many times. While I was in a hospital in May 2014, I received a call from Goossen who wished me well. I was barely conscious but spoke briefly with him, not knowing he was suffering from cancer at the time. When I finally recovered, I expected to see him at a function in early August that year. He didn't show and I knew something was wrong. A month later the great man had passed away.
It was a big loss to boxing and to his many friends. The Goossen family still has members involved in the sport and remains beloved by all who know them. Big Dan Goossen was one of the best human beings I ever met in the sport. He is truly missed by his friends and family.
To comment on this story in the Fight Forum CLICK HERE
This Week in Boxing History: Tyson Goes Bonkers, Sowing Mayhem Outside the Ropes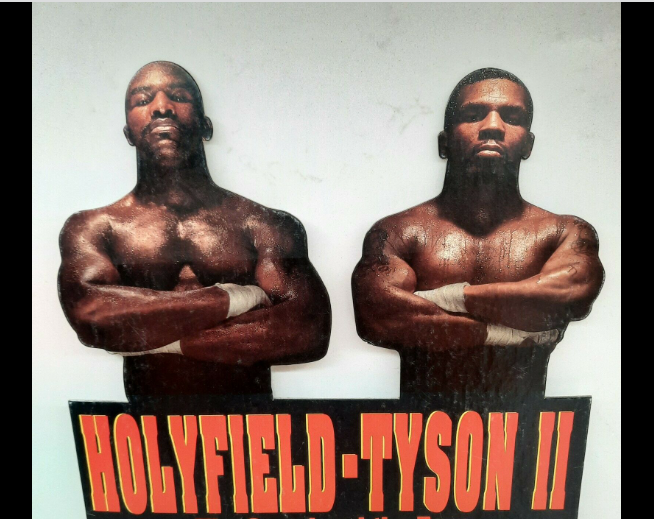 This week marked the 25th anniversary of one of the most infamous fights in boxing history. On June 28, 1997, Mike Tyson was disqualified at the conclusion of the third round for "chomping" on both of Evander Holyfield's ears. Iron Mike wasn't the first boxer to go ballistic during a match and cause a riot, but no boxer ever imploded on such a big stage. Tyson-Holyfield II, contested before a full house at the MGM Grand in Las Vegas, drew 1.95 million pay-per-view buys in the U.S. market alone, making it the largest audience in boxing history to that point in time.
The details of what happened inside the ring are well-documented; the aftermath less so. Before the night was over, portions of the MGM Grand were a battle zone. Fist fights erupted like brushfires. Two $100-minimum blackjack tables were overturned. $134,000 in casino chips disappeared and the gaming pit was shut down for two hours as a safety precaution.
It could have been a lot worse. Management had sealed off the escalator that would have taken people on the second level to the closest exit. Those leaving the arena were funneled into the corridor that led into the casino. They were wedged together like New York subway riders at rush hour and had there been anything that would have triggered a stampede, it would have been catastrophic. Later that evening, there was an incident in the casino where a champagne bottle exploded, simulating the sound of a gunshot, and several people were injured in the ensuing chaos.
This reporter was among those logjammed in that corridor. I'm told that there was bedlam back in the arena, but no one said a word as those of us anxious to leave progressed in baby steps toward a place that offered more breathing room.
Back in those days, I usually hung around the press room after a big fight, chewing the fat with those of my colleagues who weren't busy filing their stories. But one could sense that bad things were going to happen before the night was over — a Tyson fight attracted a different element than, say, a De La Hoya fight — and I just wanted to get the hell out of there. I remember it like it was yesterday.
Eleven days after the fight, on Wednesday, July 9, the Nevada State Athletic Commission convened to determine what penalty to impose on Tyson. It was a public hearing in conformance with Nevada's open meeting law and a meeting that would have normally been held in a boardroom was moved to a large auditorium in City Hall in an attempt to accommodate everyone that wanted to be there.
The press turned out in droves and that's an understatement. The NSAC issued 175 media credentials. "This is a tougher ticket than the fight ticket," quipped Athletic Commission Executive Director Marc Ratner. In his recently-published memoir, Ratner recalled that there were so many satellite trucks outside City Hall that it blocked the building.
Mike Tyson wasn't obligated to be there and to the great dismay of the horde of reporters, he didn't show up, nor did his charismatic promoter, Don King. Tyson was represented by the well-known mob attorney Oscar Goodman, the city's future mayor, and Goodman's law partner Marty Keach who did most of the talking. (Las Vegas was a lot smaller back then; Keach was my son's Little League coach.)
The Commission slapped Tyson with the maximum fine that it could legally impose, $3 million (10 percent of his purse). That wasn't merely the largest individual fine in boxing history, but the largest in any sport. (In Nevada, the previous record was the $35,000 fine assessed on Riddick Bowe's manager Rock Newman for punching a photographer after the first Bowe-Holyfield fight.)
The Commission also suspended Tyson's license for one year and mandated that he undergo a thorough psychiatric exam. This was performed at Massachusetts General Hospital. Predictably, the examiners concluded that Mike had psychological deficits including impulsivity exacerbated by low self-esteem.
The infamous "bite fight" had deep repercussions. The MGM Grand imposed an informal moratorium on boxing that lasted 566 days. Over at the Las Vegas Hilton, the bantamweight title unification fight between bitter Albuquerque rivals Johnny Tapia and Danny Romero, scheduled for July 18, was kicked out the door on the pretext that co-promoters Bob Arum and Cedric Kushner failed to provide evidence of insurance before the agreed-upon deadline. Arum, who went ballistic in his own way, calling upon fight fans to boycott all Hilton properties, was able to salvage the show by shifting it to the Thomas and Mack Center at UNLV where it played out before a well-mannered crowd.
It speaks reams about how larger-than-life Tyson was in 1997 that news gathering teams from around the world would turn up at a hearing where there was no guarantee that he would even be there. Mike Tyson on his best and on his worst days was front-page news in the print editions (there was no other kind) of the leading U.S. newspapers; not just the tabloids. Perhaps another boxer of his stripe will come along some day, but for now he represents the last of the breed.
To comment on this story in the Fight Forum, CLICK HERE
Arne K. Lang's latest book, titled "George Dixon, Terry McGovern and the Culture of Boxing in America, 1890-1910," will shortly roll off the press. The book, published by McFarland, can be pre-ordered directly from the publisher (https://mcfarlandbooks.com/product/clashof-the-little-giants) or via Amazon.
Jason Cunningham and Zolani Tete at the Crossroads This Weekend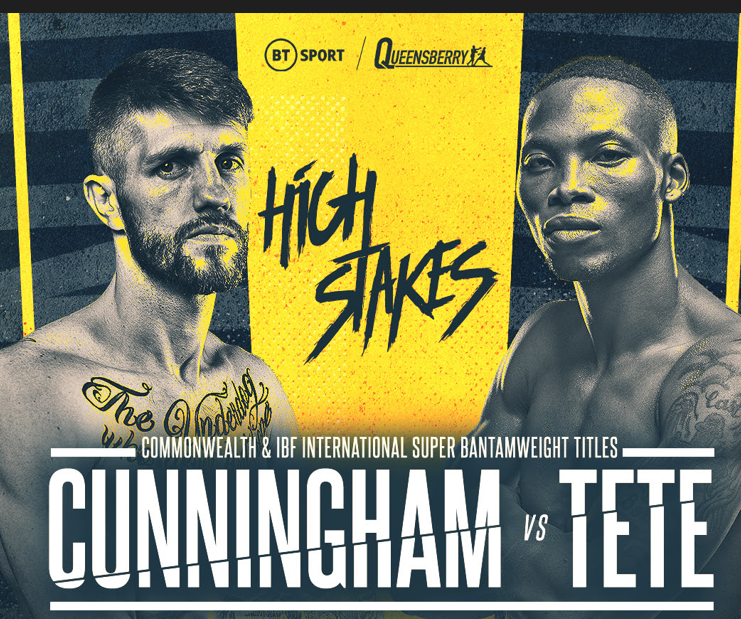 It is probable that one must go all the way back to the mighty Dick Tiger to find a fighter who courted the British public with the determination Zolani Tete has exhibited during the last decade.  Between the final days of 2015 and the final days – the disastrous final days – of 2019, he fought on this country's soil on six occasions, dashing not the hopes of native sons but rather turning away Filipinos, Mexicans, Argentines and even a fellow South African. Slowly, surely, Tete was earning British trust, pounding out impressively one-sided decisions over the once dominant Omar Narvaez and Arthur Villanueva, dusting others with impressive punching power and a pleasing, aggressive style.
When Tete met John Riel Casimero in Birmingham, it was a fight he was favoured to win, despite their being ranked neck-and-neck by the TBRB. Tete, who had been scheduled to face Nonito Donaire for the right to meet Naoya Inoue earlier in 2019, had been forced to withdraw from that match with a shoulder injury. Donaire went on to lose to Inoue in the TSS Fight of the Year and Boxing News was far from alone in looking ahead to Tete's seemingly inevitable showdown with Inoue in a preview of the Casimero fight. Tete was "granite tough" and Inoue's "closest 118lb rival…he might also turn out to be his worst nightmare."
BN was far from alone in taking the bait, but it's certainly possible to see strains of the defence of a British pugilist in the legendary London publication's enthusiasm.
Casimero, with what seems retrospectively to be a certain inevitability, stepped in to wreck both these plans and Tete himself. The Filipino, who had been active while Tete recovered from injury, fought low-handed and in small, clever increments, popping Tete out in three with short sharp shots in what looked an awful lot like an exposure. Tete's technical acumen seemed brittle and tired in the face of Casimero's quickness.  Silence followed.
While Tete was recovering from an injured shoulder, Yorkshireman Jason Cunningham was in a rehabilitation of his own, overcoming the most hurtful sporting injury of them all: a series of hidings in the boxing ring. He picked up the commonwealth featherweight title in 2017 by way of split decision over Ben Jones in a close fight in which Jones was the aggressor. Cunningham lost the title by way of a brutal stoppage sixth months later to Reece Bellotti in a fight where he was clearly the quality operator but was mowed down by a bigger man throwing bigger punches. He betrayed a certain fragility in finding himself on the canvas in five before the fight was waved off in the sixth.  When he lost a British featherweight elimination match to Jordan Gill in 2018 and then dropped a harrowing decision to Michael Conlan that December, Cunningham teetered on the most desperate of ledges and in the eyes of some had already slipped. Still in his twenties and with a paper record of 24-6 he was now little more than a journeyman.
So, while Tete nursed apparent tendonitis, Cunningham nursed a broken career, turning out at the Doncaster Dome for a series of short fights at a series of random weights coming in just over bantamweight one minute, over the lightweight limit the next. Then he got a call from Gamal Yafai's people.
Gamal, younger brother of former world champion Kal, was on his own comeback trail after losing out to the excellent Gavin McDonnell. For Cunningham it looked like something of a last chance at the big time and the odds were not in his favour.
"This has been probably the quickest camp I've had," he told Boxing Social. "I've had three weeks' notice…but this time I've had to renew my medicals, sort out kit and everything else, so I've been flat out for this."
He was flat out in the ring, too, using his southpaw range and footwork to out-punch and out-work the younger Gamal for a clear twelve-round decision. It was the best fight he had been involved in, one of the best domestic matches of 2021 and it was, in his own words, his best performance. He had dropped the favourite three times on the way to restoring twelve-round status and much more importantly, respect. It brought with it the EBU European Super Bantam Title and a fight with Brad Foster where the British, Commonwealth and European titles would all be at stake.
Once more, Cunningham defeated a favoured house fighter in a raucous, dirty fight I saw 114-113 to Cunningham, victorious by the single point referee Foster had deducted for a range of fouls from heeling to low blows to headbutts. Better was to follow – in April of 2022, Cunningham defeated Frenchman Terry Le Couviour via sixth round stoppage on body shots. Cunningham has always had a nice line in body attack, often opening up the midriff with feints off the jab, but in these two fights it matured to a weapon of real substance. These punches had dragged Cunningham from the bottom of the pile to the top of the domestic heap.
And then the ostensibly world-class Tete hovered into view.
While Cunningham had been motoring, Tete had found himself in the doldrums. COVID-19 controls in South Africa made travelling nearly impossible and there were even rumours of a car crash.  Finally, just before Christmas 2021, in a tiny ring in the Booysens Boxing Club in Johannesburg, Tete returned against 14-4-1 Tanzanian Iddi Kayumba. Tete blew him out in fifty-five seconds.
What all this means is that Tete has boxed just under a minute in the best part of three years.   When he steps back into a British ring this weekend on the undercard of the Joe Joyce-Christian Hammer match in the Wembley Arena, he will be fighting a tough, primed fighter who has boxed the thirty toughest and the thirty best rounds of his career in the past fourteen months, while Tete cooled his heels and blasted out a sparring partner. That this fight is being ignored in favour of a stay-busy contest being fought by a heavyweight contender is strange and Sweet Science readers should not count themselves among the number: Tete-Cunningham is the real main event in London on Saturday.
What will occur?
Tete, at thirty-four, two years older than Cunningham, is no longer ancient for the weight – but he is old to be stepping out of the garage. Cunningham, who is running on high quality experience now, is as good a manifestation of himself as is likely ever to be seen and Tete, it must be presumed, will be at or around his worst. Tete is still likely to hit as hard as anyone Cunningham has boxed, featherweights included, but does he still have the technical apparatus and speed to get those punches to where they need to be?
It is impossible to know, but therein lies the rub. Essentially this fight stacks a very good domestic fighter who is big at the weight against the remains of a world-class one. The question in these circumstances is always the same: how much does the world-class fighter have left? If it's a lot, he will win (see Vitali Klitschko versus Samuel Peter); if it's a little, he will lose (see Ricky Hatton versus Vyacheslav Senchenko). Then, of course, there is a sweet spot somewhere in between where the fight hangs in the balance. More, because the traditional strengths of Tete – power and technical competence on attack – line up so dramatically with Cunningham's – grit, toughs, quick-footed, awkward persistence – we could be in line for a dual sweet spot.
But whether we see a sweet spot war, or Cunningham grinding out a decision, or even if Tete just marches in and bangs Cunningham out like he did Kayumba or Siboniso Gonya or the dozen others he's dispatched in the first round, we will have seen something special.
Like so much of Jason Cunningham's career this fight is dipping under the radar. Do not miss it.
To comment on this story in the Fight Forum CLICK HERE